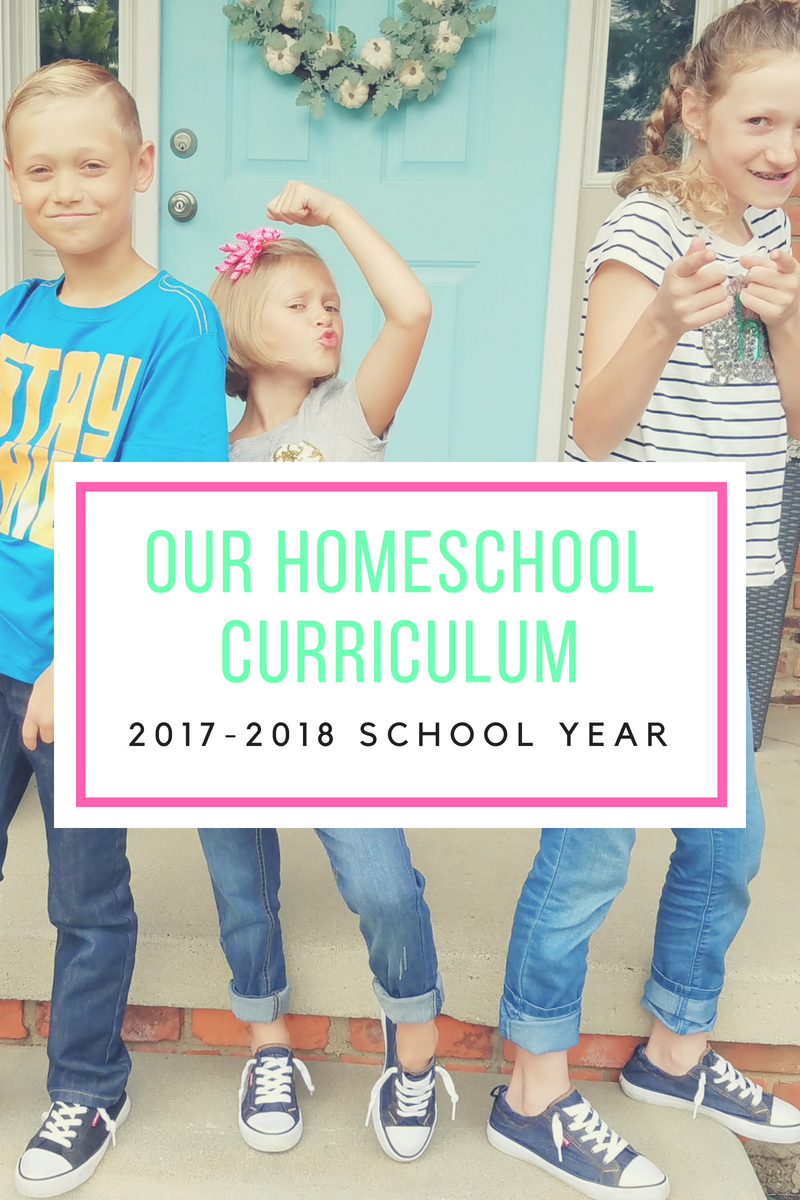 Our Homeschool Curriculum
I'm a little late in posting this, but as the school year is coming to a close, I wanted to wrap things up by sharing what we used in 2017 and 2018. I'll be sharing full reviews on individual items mentioned here, but for now, here is a quick summary!
Olivia – 1st Grade
The older kids used a lot of web-based curriculum options that don't start until 3rd grade. Olivia's 1st grade curriculum was pieced together with hard copy books as well as some digital learning resource. We relied heavily on Sonlight history and literature as well as a lot of overlap with things she learned alongside her older siblings!
Taylor – 4th Grade
We based most of Taylor's curriculum around Monarch, which is a streaming web-based curriculum. We used several hard copy workbooks and readers that supplemented the computer based learning.
Carissa – 5th Grade
Carissa moved in with us near the 4th quarter of the school year. Because we had purchased the family membership for Monarch, we were able to get her started right away at her 5th grade level.
Natalie – 6th Grade
Natalie's curriculum was also based mostly on Monarch. We use Teaching Textbooks math instead of Monarch math because it's so good and we love it. We supplemented with hard copy workbooks and activities.
Additional Learning Experiences
In addition to the things listed here, our family also took several trips and participated in service projects, read books and wrote reports on the things we learned. As homeschoolers, we're always looking for ways to learn and enrich our knowledge of the world and other cultures! Here are just a few of the things we did this past year:
Legoland Field Trip
Sea Life Aquarium Field Trip
Greenfield Village Field Trip
Nankin Mills Field Trip
Served food at homeless shelter in Detroit
Collected food and household items for homeless families in Detroit
Weekly church involvement and church hosted service projects
Homeschool skate days at Riverside Arena
Camping in Mackinaw City and Visit to Mackinac Island
Sleeping Bear Dunes National Park
Trip to New York City

Studied the history of the Brooklyn Bridge and read books on crime in Brooklyn through the years
Walked around Brooklyn and across the Brooklyn Bridge

Trip to South Carolina

Field Trip to Alligator Adventure, studied marine life and ocean conservancy

Trip to California

Studied the life of Walt Disney and wrote report on Disney
Visited Disneyland in Anaheim and the Walt Disney Family Museum in San Francisco
Saw the Golden Gate Bridge and other points of interest in San Francisco
Visited Muir Woods National Park

Trip to Hawaii

Studied the history of first natives to the Hawaiian Islands and about Hawaiian culture, first Christian missionaries to Hawaii and their impact on Hawaiian way of life
Learned about marine life and ocean conservancy
Studied about Pear Harbor
Learned how to make lei and helped make lei to place on graves at veterans cemetery
Attended Memorial Day service at veterans cemetery
Hiked to bamboo forest and Waimoku Falls at Haleakala National Park