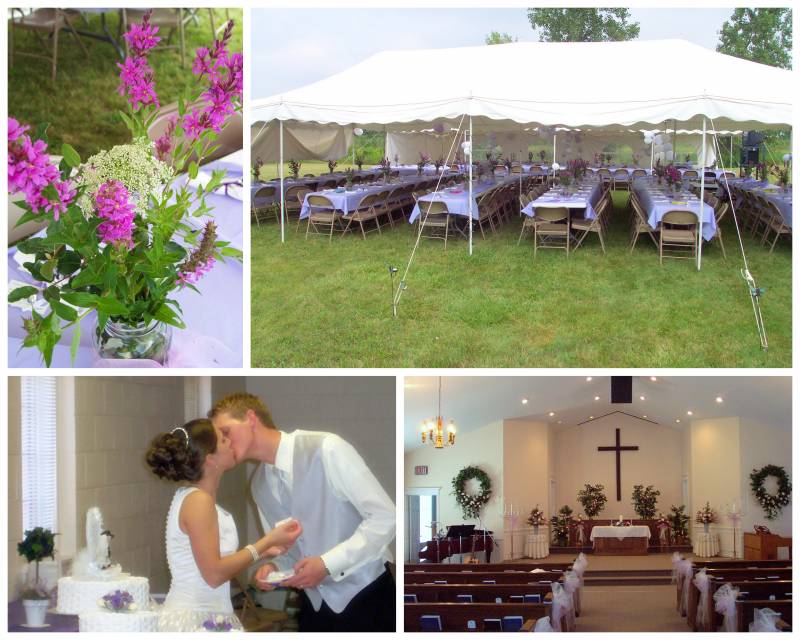 I've joked many times about wanting a do-over wedding.
All the "Pre-Pinterest" brides out there, do you feel me?
I was married in a small town in rural, Mid-Michigan. There were no banquet facilities at the time, other than an American Legion hall or two. There were 2 catering options and one photographer who had yet to invest in a digital camera. In fact, we bought our first *ever* digital camera to take on our honeymoon and it boasted a whopping 4 megapixels. My uncle (who always was the first one have the latest technology) had a fancy digital camera that he brought with him. I am forever grateful he brought it along. Many of these pictures you see here are a product of that Kodak DC4800.
Our wedding budget was $3,000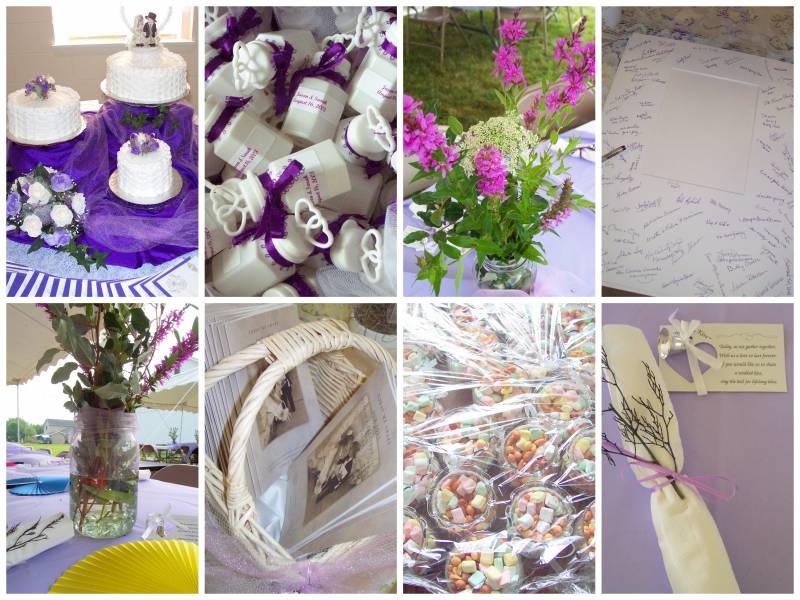 I've done a lot of growing up since that day in August of 2003. I've seen a lot of things and been to a lot of grand weddings. I've been a bridesmaid and helped coordinate numerous weddings, all with different budgets and at all different kinds of venues.
But oh, how I wish I could have pinned all my hopes and dreams to a virtual bulletin board of amazingness! I wish I had had the endless wealth of ideas and inspiration at my fingertips that can only come from Pinterest.
But alas, all I had was a Trapper Keeper binder and an issue of Brides Magazine.
Maybe you can relate?
No one told me that a rustic barn would have been the perfect spot for a beautiful, budget friendly wedding! No one told me the abandoned vintage camper in our neighbors back yard would have made an adorable photo opp or that burlap was a far superior alternative to tulle. Was I supposed to just come up with those ideas on my own?? Who knew the groomsmen could have worn Converse shoes or that hand pies were an acceptable alternative to cake? I didn't know when or where it was acceptable to break from tradition.
I had only been to one other wedding as an adult by the time I got married, partially because I was only 19 when I got married. I had only been in 2 weddings, and those were as a young child.
I was really new to the whole wedding thing.
We lived in a tiny town, we had a tiny budget and oh yea, my dad was a pastor. Which meant we had a tiny budget and a very large guest list.
Do you feel bad for me yet?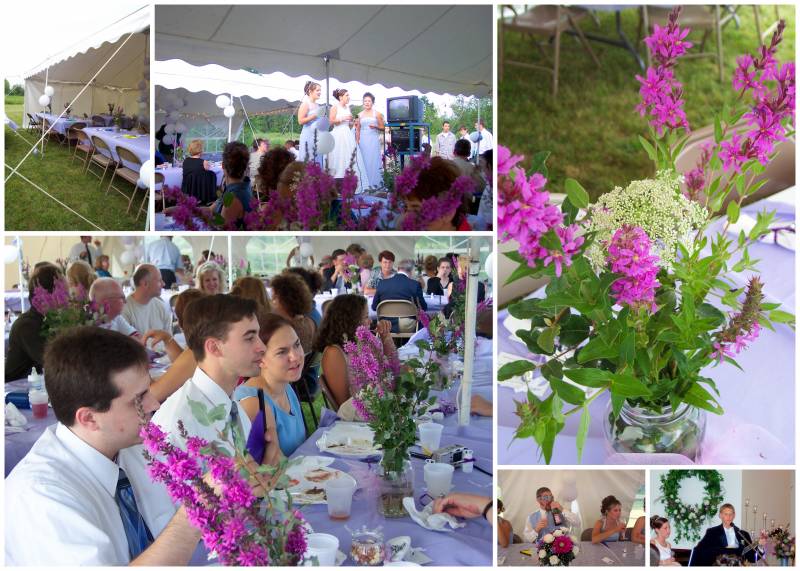 I've looked back on that day and thought many times of things I would have changed, but in the end, it was our wedding!
We worked with what we had, allowed our personalities to show through,
and we didn't go into debt!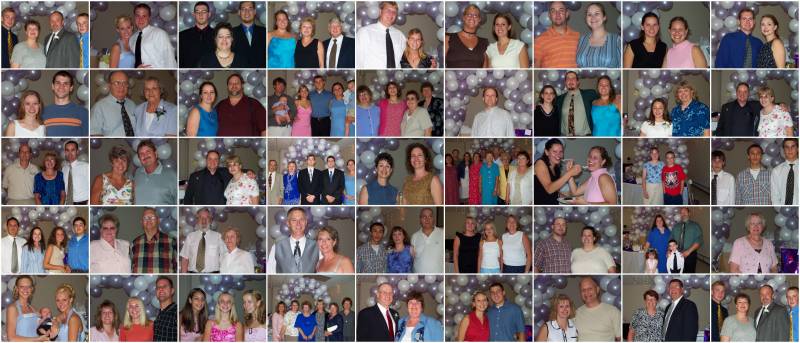 One of the things we tried to do was get a picture of all our guests. There were some that slipped through the cracks or dodged the camera, but it's fun to look back and see who was there to celebrate with us!
Some details…
Location: Beaverton, MI
Date: August 16, 2003
Colors: Periwinkle blue, purple and fuchsia
Songs during the ceremony: Worship songs lead by Jay, "For the Beauty of the Earth" and "A Heart Full of Love" from Les Mis played on piano, "Shine On Us" sang by Jay and I, "That's All I Ask of You" from the Phantom of the Opera sang by my college roommate and Jay's college roommate, "If You Could See What I See" sang by Jay's RD.
Meal: Fettuccine Alfredo
Honeymoon: Hawaii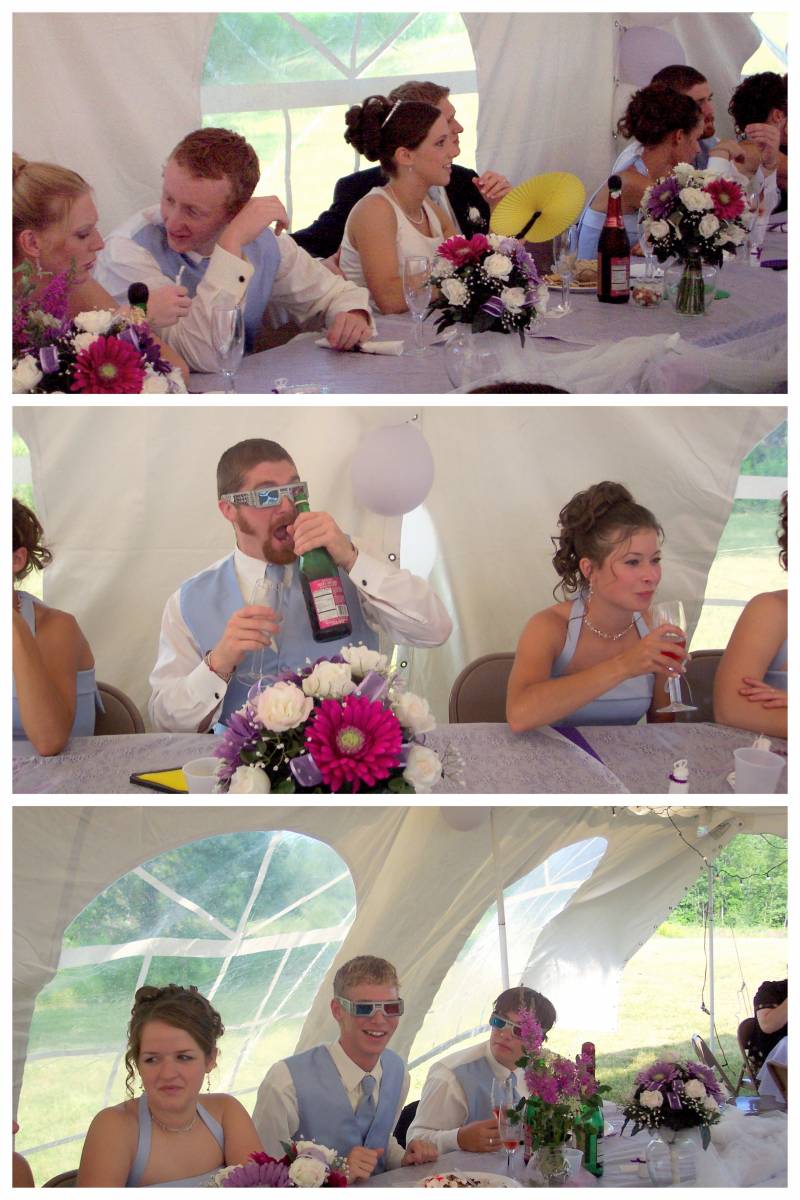 Quirky things I look back and laugh about…
The bottles of sparkling cider with clearance stickers still attached.
3D glasses from the movie our groomsmen all went to see at the local, one-screen theater.
Apparently, pickles were a non-negotiable food item that came with every meal, including Fettuccine Alfredo.
Our reception was at a church where dancing was not permitted, and not one ounce of alcohol was served… so naturally, we rented a karaoke machine.
We rented quite literally the smallest tent we could possibly get away with, to save money, and people were packed in so tight you couldn't walk between the tables.
I really wanted to splurge on the fancy white plastic plates with gold rim, but my mom won out with the clear plastic plates – they were cheaper.
I really wanted to rent white, wooden chairs, but it just wasn't in our budget.
Other things we did to fit within our budget of $3,000
A friend of the family made our wedding cake.
We hired a local caterer and came up with a value priced meal.
We made our own invitations and included post cards for the RSVP's.
Many of the people we invited did not receive a formal invitation. Instead, we sat a sign-up sheet out after church!
Most of our bouquets, arrangements and boutonnieres were made by a friend using silk flowers.
Our centerpiece were mason jars filled with wild flowers from the field behind our house.
Most of our favors, including our toasting glasses, were purchased at the local Dollar Store.
I purchased my dress (used) for $200, from a lady I did cleaning for in Scranton, PA.
A friend did the alterations on my dress.
Our musicians were all friends and family members.
Our Hors D'oeuvre time consisted of Chex Mix, a cheese ball, and punch.
Our honeymoon was a gift from Jay's grandparents.
The minister was my dad.
We bought Christmas lights on after-Christmas sales the year before.
Our reception was held in a tent behind the church where the ceremony was conducted.
The earrings and necklaces I gave my bridesmaids and the jewelry and headpiece I wore were all from Claire's (hey, I was 19!).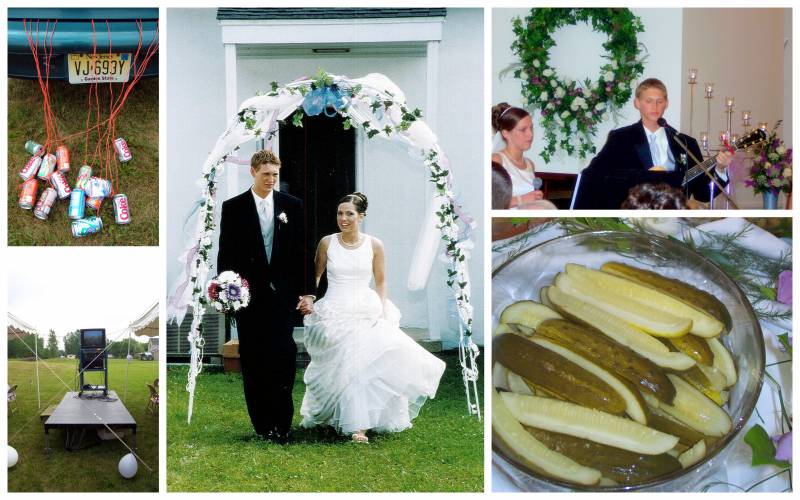 It was quirky, and it was beautiful. It was our wedding!
At the time, all I cared about was the fact that we were getting married. I had no idea what Pinterest would do to the wedding planning process roughly 10 years later. I had no other weddings to compare ours to and no weight of expectations from social media.
I wanted a marriage more beautiful than the wedding.