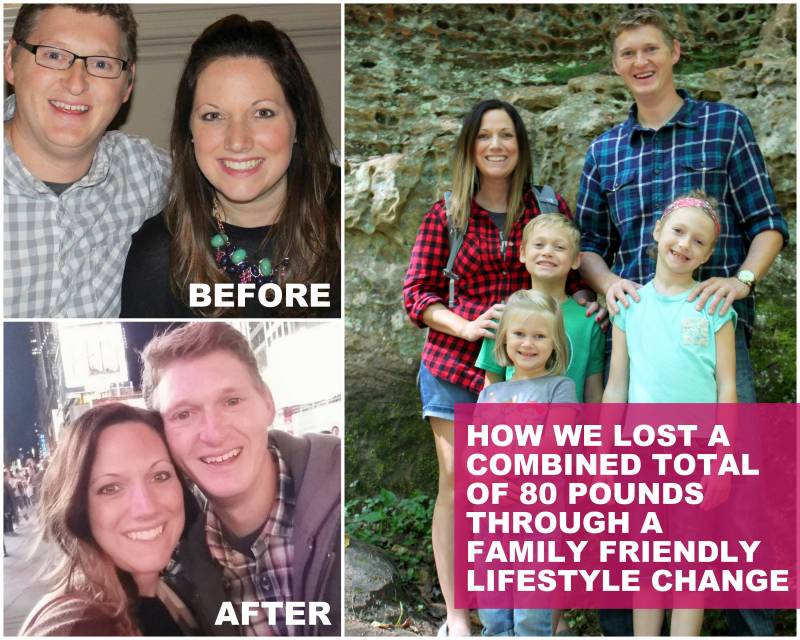 I want to share with you how my husband and I lost a combined total of 80 pounds in 6 months and the small changes we have made as a family to live healthier, fuller lives!
Jay has been very adamant from day one, that this is not a diet! "The word 'die' is in diet," he has repeated more than once. He has always wanted to feel in control and unrestricted in his eating. What can I say, he loves food. He was afraid that if he stripped out all the good stuff that he loved, he wouldn't last long. Hence the phrase "lifestyle change." His goal from the beginning was to indulge briefly at times and enjoy the good stuff in moderation. He realized that his love for food had been controlling him and it was time to take back the reigns.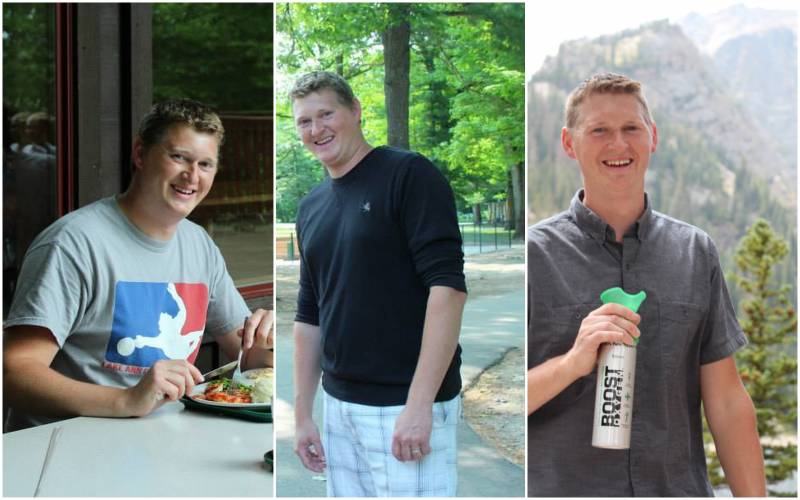 We have both struggled through our own health scares and weight loss challenges. For Jay, his biggest motivation for getting in shape was to keep his high blood pressure under control. High blood pressure and heart attacks run in his family on both sides. After suffering a mini stroke and realizing how high his own blood pressure had become, it was time for him to get serious about his health.
No more "crabby, flabby Jay" as he likes to say!
My weight has gone up and down so much over the years. When I got married I was 115 pounds and at my heaviest, while pregnant, I tipped the scales close to 220 pounds. I have PCOS, and I've had so many hormonal changes and struggles take place because of that, which has really made it a challenge for me to find something that works. My biggest struggle of course, is being short.
The struggle is real, ya'll.
5 extra pounds on my short body looks more like 10. Add to that, my family history of type 2 diabetes and high cholesterol. I am on a mission to stay active and healthy. I want to feel good and have energy for my kids. But who doesn't want that?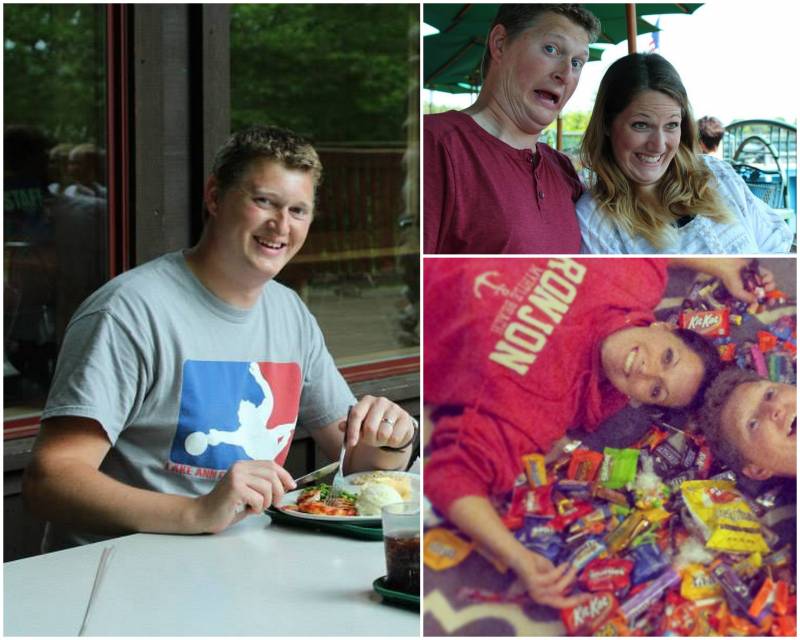 As a couple and as a family, it's really hard for one person to attempt this on their own. I had a hard time dieting when Jay was stocking the pantry with Doritos. It would be challenging to do anything too out of the norm or weird so that your kids can't eat the same thing you're eating. I know people do it, but if you're looking for a long term solution, small changes that work for everyone win out in the end.
Out with the old
I would like to point out that most of our family activities and date nights were centered around food. The highlight to every trip was what local restaurants we were going to try out. Next up on the list of favorite past times is binging on Netflix. Now, I'm not going to say we don't still do that, just not as often. Who am I kidding, we still love to check out local restaurants too, but it's just different now…. continue reading to find out how.
Some of the things we STOPPED doing:
Stockpiling the pantry with junk food – no more Doritos, cookies, etc. anything we don't have the willpower to stop from consuming in one setting.
Ordering soft drinks with our meals at restaurants. When we do drink soda, which is pretty rare, we drink diet (hold your diet soda bashing comments). Most of the time we drink water, which is zero calories and free!!
Eating out more than once a week. We didn't cut buffalo wings or pizza completely out of our lives, but we did limit it as much as possible.
I cut out one of my favorite things in all the world….CHEESE. I would eat tortilla chips with melted cheese on top, almost every single night in front of the TV. In fact, by the process of elimination, I've discovered that my body doesn't respond very well to dairy in general. I've cut out dairy almost completely.
Ordering dessert at restaurants. Obviously we have our little areas of indulging now and then, but this is something we just don't make a habit of doing.
Change in cooking styles. Early on in marriage I had this silly idea that I needed to cook my husband all his favorite meals, all the time. His favorite meals were meat (usually breaded/fried chicken) and mashed potatoes loaded with butter and sour cream, oh and vegetables covered in white sauce and bread with butter. We eat so differently from those first years of marriage. And guess what, he still likes what I make! Instead of meat and starchy sides, I will usually bake fish or saute chicken in olive oil and serve it with a vegetable… with no white sauce. In the past we ate a lot of pasta, now I opt for taco salad or stir fry with brown rice.
Staying up late and needing a 4th meal. When you stay up past Midnight and it's been 6 hours since dinner, you get hungry! We've really tried to have a better sleeping schedule and get to bed earlier so we don't end up snacking so much.
In with the new
Here are the practical things we started doing right away:
Counting calories with My Fitness Pal. We both installed this app on our phones and pulled it out obsessively for every meal and sometimes in between. Jay had never in his life understood the concept of calorie counting. Once it made sense to him (like a math equation) it was highly motivating! He viewed it more like a game than a burden. We did this for about 6 months straight and it's surprising how well it retrains your mind. It reprograms the way you see food and the choices you make.
Get out there and stay active as a family! We did LOTS of active trips together as a family this Summer. We hiked in Northern Michigan, Colorado and Kentucky, we ran a 5K, camped and explored. In general, we tried centering our vacations and activities around active things.
Change the Coffee Habits. Since I started cutting out dairy, I began using a coconut milk creamer in my coffee and then eventually just started drinking my coffee black. Jay has made strides – instead of adding a whole cup of sugar to his coffee on top of sweetened creamer, he found a creamer that is sweet enough without using extra sugar. It's the little steps, guys!
We joined a local gym and actually went! This was big. We've had gym memberships in the past but hardly ever used them. When we started making changes at the first of the year, we went to the gym obsessively, almost every day of the week. The gym that worked for us was Planet Fitness, mainly because it is soooo close to our house and open 24 hours. We knew we needed as little excuses as possible. A gym too far away or with limited hours would be hard to make happen.
Make well informed food choices. Because of counting calories, we were more aware of what foods we were choosing. When going out to eat or eating at home, you'd be surprised to find out where all the hidden calories are. Jay discovered that he could still eat his wings – he just ordered a smaller portion and cut out the blue cheese, which is where most of the calories were found!

Find a way

to drink water! I don't have a problem getting my suggested intake of water, but Jay really struggles with this one.

Do what works

. If you're environmentally conscious, you may struggle with the idea of buying bottled water. But for Jay, having the fridge stocked with bottled water is the only way he will drink it. It literally has to be that easy or he wont do it. He also keeps Vitamin Water Zero on hand. I know you could make a case for that stuff not being the best either, but it's a step up from what he was drinking…

no water.
Other kid friendly suggestions
I try not to keep junk food on hand, but my kids constantly ask for snacks. Saying no can get exhausting, so I try and keep things on hand that can always be a "yes." We always keep fruit and vegetables on hand. My kids know they can always grab an apple (the rule is, they have to finish it). I keep them in a bowl on the counter or in the fridge within their reach so they are "self serve." Vegetables are on hand and can be dipped in Ranch dressing or hummus.
My kids only drink water. We use milk for cereal in the morning, and when they were really little we did watered down apple juice. The one and only thing they drink around the house is water and they help themselves whenever they need it.
We save treats and candy for designated times. My kids don't eat a lot of sugar contrary to popular opinion! They sure do LOVE candy, but they don't eat it all that often. I always have a candy jar on hand – which I try to keep stocked with things that aren't tempting to me. We use candy for special treats, rewards or special occasions. I like having a balance with this – I'm not going to outlaw it, but I'm obviously not going to let it get out of hand. When it is time to pull down the jar, everyone gets one small piece.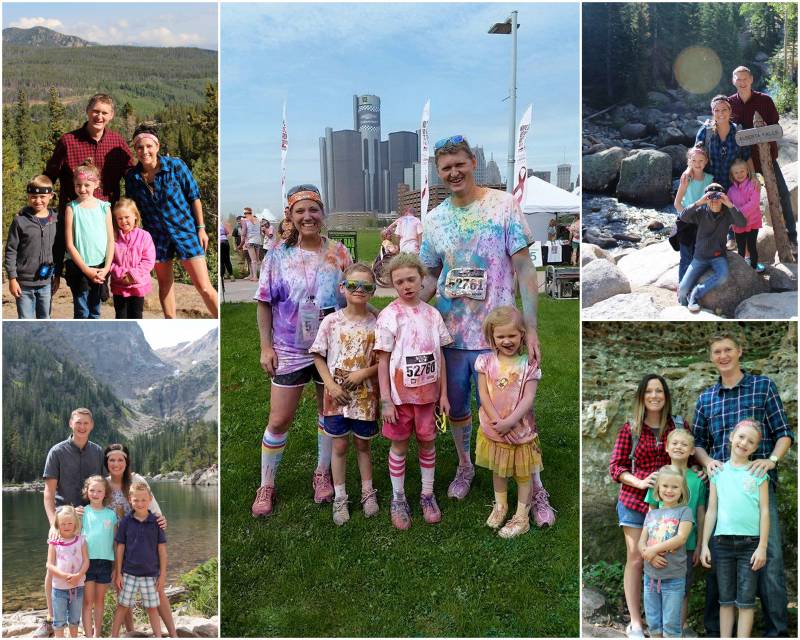 It's almost a New Year! What healthy changes are you going to make? It REALLY helps having a supportive spouse or partner on board with you, but if that's not possible, what about a friend? Who can you team up with for accountability and support? What other things have you done that helped motivate your healthy lifestyle change?
Most importantly… get off the couch and get active!!