This post was sponsored by BEHRⓇ Paint.
I was provided with products to review, but all opinions are my own!
Our New Breakfast Nook
I've always wanted a little corner banquette seating area. I've looked at corner benches and table-sets so many times over the years and never found one that I liked in my price range. There was always another project or thing that took priority, and my corner table was placed on the back burner. After rearranging some rooms a few months ago, this little corner of the kitchen found itself in desperate need of updating. We were able to pull off this look using (mostly) things we had on hand! I'm sharing today how I created this look and transformed it with a little help from BEHR spray paint!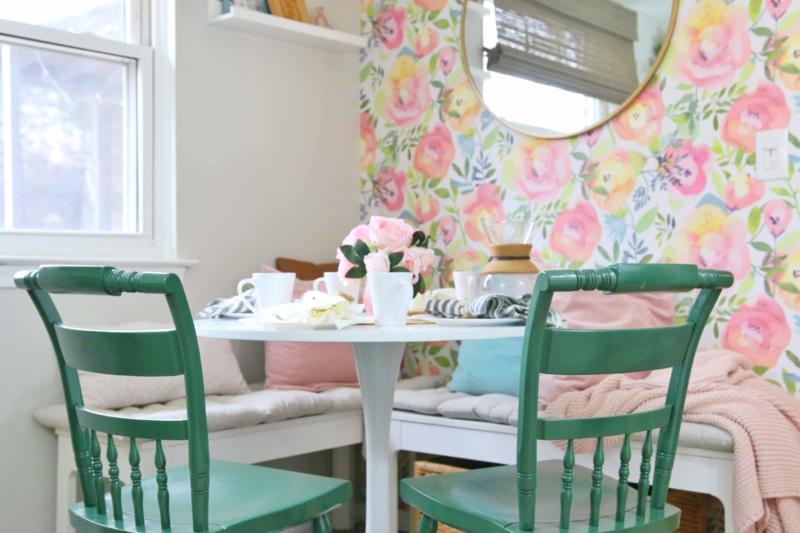 I created a faux banquette by pushing two benches together. They are not the ideal benches for this purpose, but I already had them, so here they are! I purchased this small, inexpensive table and created long bench cushions by sewing 3 chair cushions together!
I had pieced everything together so it looked the way I wanted it to, but the chairs needed work. I grabbed two old dining chairs that had been painted once before. I love keeping wooden chairs on hand, especially when they are in good shape. These chairs had been painted black, but I really wanted to add a POP of color!
[twenty20 img1="60938″ img2="61279″ offset="0.5″]

New! BEHRⓇ Spray Paint
I have been a fan of Behr paint for years. It is literally my go-to paint for almost every project. When I heard they had come out with a spray paint line, I was intrigued! It makes sense, right? Many of my favorite Behr paint colors are now available in a spray paint version, which is great! See all the colors HERE. Behr sent me several cans of their new spray paint to put to the test. I chose the color, "Congo" for that pop of color I was hoping for! It's a really nice shade of green, almost like a Kelly green but a little deeper.
I was pleasantly surprised at the quality and coverage. I asked for several cans, not knowing how many it would take to cover 2 chairs. It covered so well, it probably could have been done with one can, but this will vary a bit with each project. I was covering dark chairs with a dark color, so that probably helped.
I'm always nervous working with high gloss paint. Gloss tends to be less forgiving, and will highlight any imperfections. I love that the Behr spray paint in gloss, dried to a silky smooth finish that didn't seem to highlight anything other than the charming curves and edges of my old chair.

Tips for Spray Painting Chairs
Chairs can take a real beating, especially with 5 kids in the house! I wanted to make sure that whatever color I painted these chairs, they would hold up well. Here are my tips for creating a smooth, durable finish with spray paint:
Inspect your chair and make any repairs that are needed.

Scrape off any loose or chipping paint.

Sand lightly with a fine grit sandpaper or use a liquid sander to remove any remaining sheen.

I like to clean everything off really well after I have sanded, using a lint-free cloth and rubbing alcohol.

Shake your can of spray paint really well!

Hold can about 12 inches away from your chair and make smooth strokes to create several thin coats.

I like to tip my chairs upside down and do a quick coat to the underside first, then flip them over once that paint is dry to paint the top.
TIP: Circle around your chair several times and get down low, then look down from up top. It can be tricky getting every angle covered!
TIP: To avoid drips, apply several thin coats. Allow each coat to dry thoroughly before adding additional coats.
Allow to dry thoroughly before use. I found that it dried to the touch in a matter of minutes, but I waited until the next day before letting anyone use them.

Clean your can's valve before storage by tipping it upside down and spraying until only clear gas comes out.
TIP: I love to spray paint outside on a warm day with very little breeze. The optimal temperature is between 50 and 90 degrees, with low humidity. Lay tarps down on the grass and put a weight in each corner so they don't blow in the wind.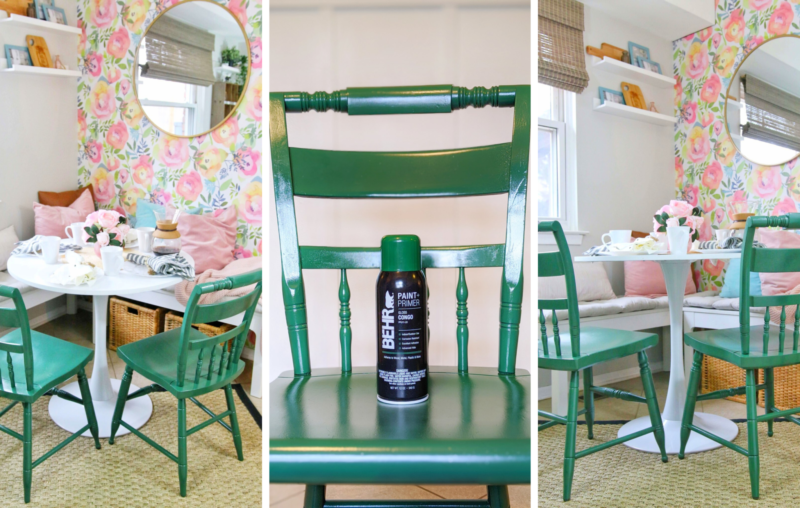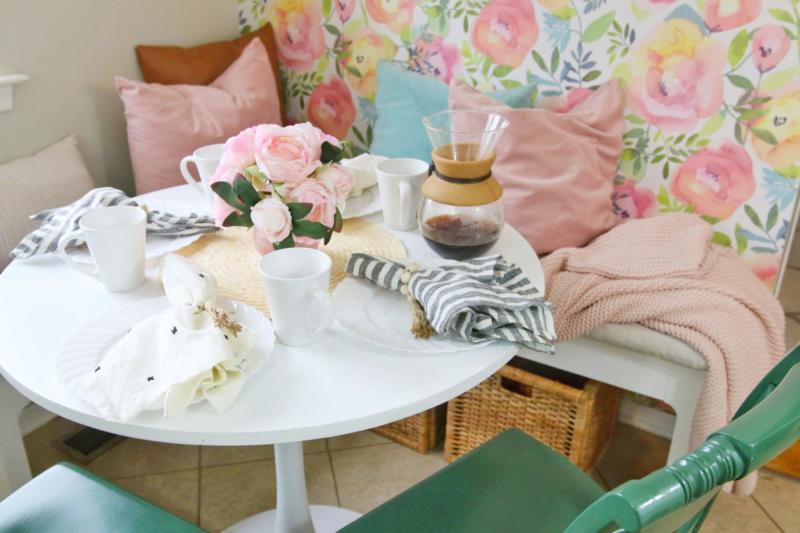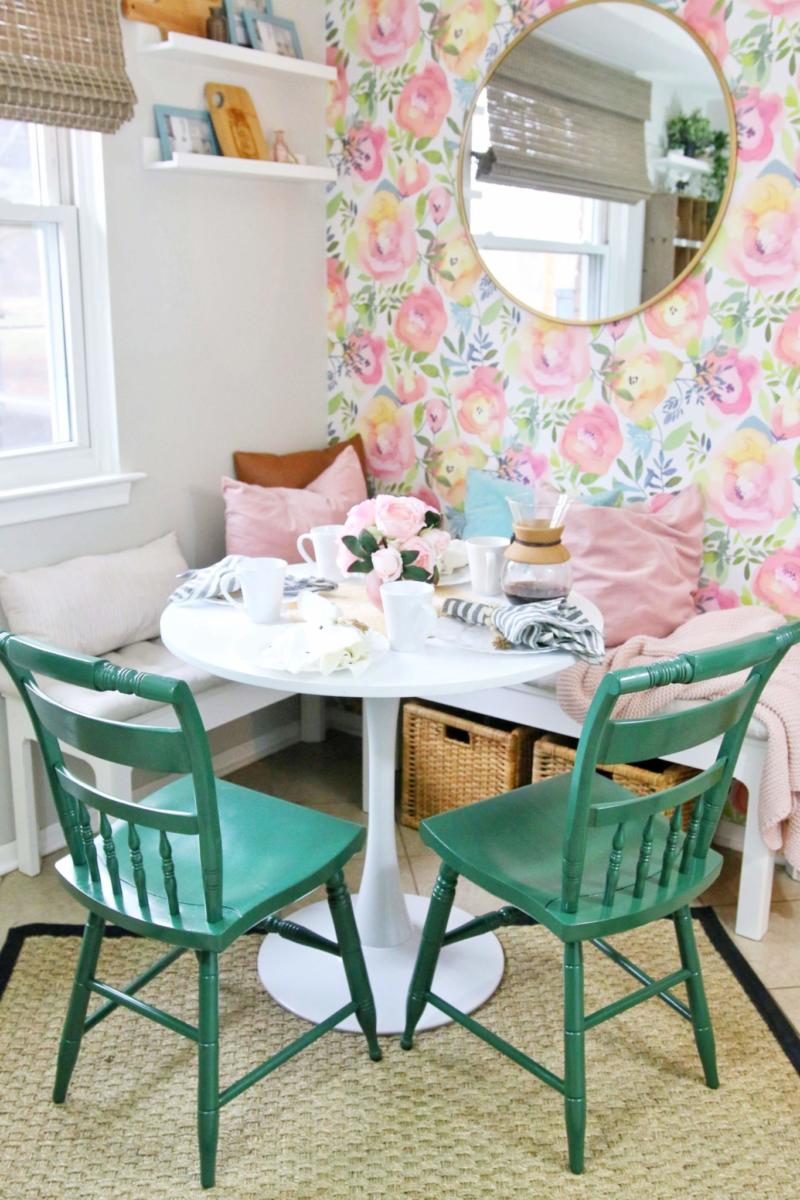 More About BEHRⓇ Spray Paint
Right now, you can find BEHR Spray Paint in select Home Depot stores nationwide, so check your local store to see if they have it yet! For a list of current store locations, go HERE. Just in case you were curious about any of the other info on this new line of spray paint by BEHR, here are the details!
BEHR Spray Paint is acceptable for both indoor and outdoor use.

It comes with excellent adhesion to wood, metal, plastic and more, and offers up great hide and coverage over new or previously coated surfaces.

The product is currently available in 20 unique colors, including the most popular white, black and gray colors:

Black Gloss, Orion Gray Gloss, Lunar Surface Gloss, Hidden Sea Glass Gloss, Inked Gloss,Blazing Bonfire Gloss, Baronial Brown Gloss, No More Drama Gloss, Flirt Alert Gloss, Unmellow Yellow Gloss, Luck of the Irish Gloss, Congo Gloss, Venom Gloss, Tropics Gloss, Mayan Treasure Gloss, Sugar Beet Gloss, Outdoor Café, Khaki Shade Gloss, White Gloss, White Flat, Black Flat, Lunar Surface Flat, Clear Flat, Resort Sunrise Gloss

BEHR also offers a flat, clear protective coating.
For more info, and frequently asked questions, go HERE.
PIN-IT!