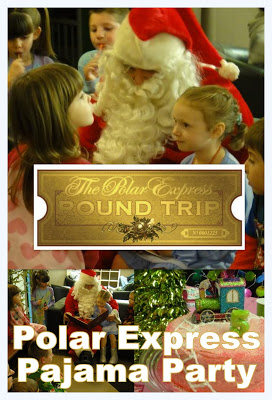 Last year, my daughter specifically requested a Polar Express birthday party. I had no idea at the time, how many great ideas were out there or how many fun activities and decorating options would come along with it. This is a great theme for boys or girls with birthdays in November or December.
Invitations: I pasted the image below into a Publisher file. I printed them in color with the party information printed on the back, then cut them out. Guests were instructed to wear their pajamas and bring their favorite stuffed animal!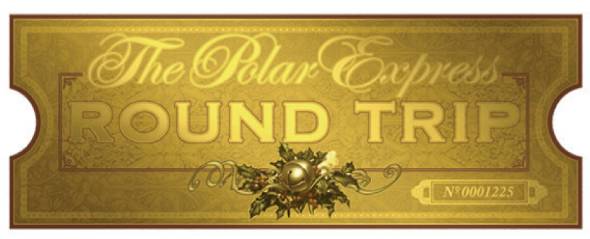 Activities: Santa showed up for a visit and gave out bells (the first gift of Christmas!) to each of the children. I had found some really cute, colorful bells at Target (bright pink, orange, green and blue). He also read the complete "Polar Express" story from the book. Let me tell you, I have never seen a group of active children stay more still and focused! We had toy trains set up for kids to play with, we also showed the Polar Express movie on a big screen.
Decorations: I used a pretty, sparkly train ornament as a cake topper and decorated the table with pastel Christmas decorations. If you're using this theme during November or December, you should have no problem finding things to use for a boy or a girl's party! Decorate with snow flakes, Christmas trees, etc. Have the Polar Express sound track playing in the background.
Food: We served an easy and kid friendly meal of Sloppy Joe's. We also served hot chocolate with marshmallows! For some extra fun, drink hot chocolate and have kids dance to the "hot chocolate" song from the movie.
More Ideas:
Amazon.com/PolarExpress
: I came across this just recently. This link directs you to the special 25th anniversary edition of the book, complete with audio CD. It also includes several links to Polar Express themed activities, recipes, coloring page and more!