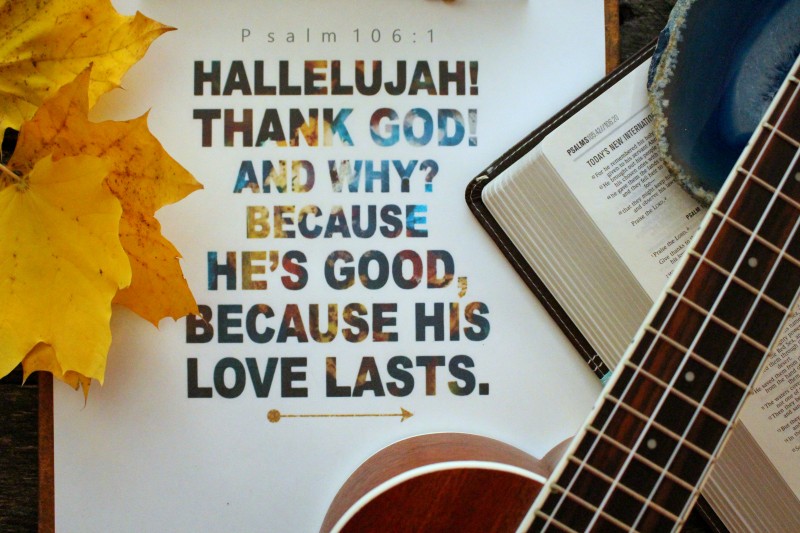 Happy November! I've been thinking and praying all this past month about what verse to use for our November printable. I've been thinking on the key words like gratitude and contentment. I've read through the Psalms and searched for words like "thankfulness." I kept coming back to Psalm 106 verse one. You've probably heard it before:
Praise the Lord. Give thanks to the Lord, for he is good; his love endures forever. Psalm 106:1 (NIV)
Now, I don't know about you, but I love the fresh feel of this verse from the Message version of the Bible.
Hallelujah! Thank God! And why? Because he's good, because his love lasts. Psalm 106:1 (Msg)
I'm not really a hallelujah kinda girl. There are lots of little moments throughout the day that make my heart sing, and lots of times during worship that I sing for joy with everything I've got. But I don't really shout and I don't really use the word "hallelujah" in my regular vocabulary. Ya know?
I'm a rule follower. I'm a level headed type A. Something about the word hallelujah seems reckless.
Like, you better not say it unless you really mean it.
But this verse makes me want to shout hallelujah (in my own little way).
Why? Because God. Is. Good.
Are you stressed? God is good. Are you worried? God is good. Are you weighed down? God is good. Are  you stretched thin? God is good. His love lasts.
I know what it's like to have extra, and I know what it's like to live pay check to pay check. I've been stressed, and I've also felt at rest. I've felt betrayal and know what it is to be judged unfairly. I've also been accepted and loved. I've been sleep deprived and had the glorious opportunity to sleep in. In all those times, God was good.
Maybe you're not a "hallelujah" shouter.
…But let's make thankfulness the cry of our hearts!
Hello, November.
Let's meditate on his goodness.
Rest in the faithfulness of his love.
Thank him loud. Wild and free.
Loud from your mouth, like that one time you were alone in the car.
Or quietly under your breath after the second cup of coffee.
Throw off selfishness, pride and discontentment. Set your heart free with praises and thank him for the good stuff.
Make thankfulness your song this month and all year long.