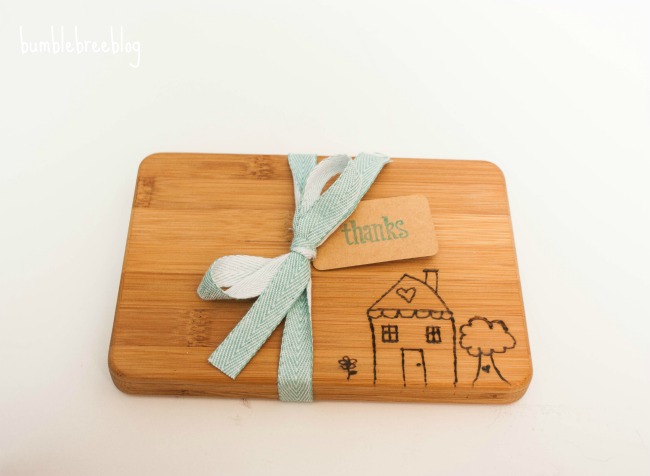 Realtor Thank You Gift
Hi There! I am Bree from bumblebreeblog and I am so happy to be here as a contributor to All Things with Purpose! I'm excited to share my realtor thank you gift idea today. I love to feel inspired and create homemade gifts, share my tips and tricks, and write about our journey of decorating our first home. I hope you stop by for a visit and check out the honeycomb of inspiration floating around at bumblebreeblog.
The hubby and I just bought our first home and we are super excited. Its a 3 bedroom, 2.5 bath townhome in East San Diego. We are super excited to start filling it will memories, love, and DIY decor. :) We had an amazing Realtor so the day we got our keys I gave her a DIY wood-burned cutting board, to say thank you. So today I am sharing with you how to create your own realtor thank you gift!
Realtor Thank You Gift
STEP 1: I started off by hand drawing a house scene onto a basic bamboo cutting board with a pencil. I found some examples from a Google image search for inspiration, and just let myself create a whimsical scene. I work with small children so you can see that simple drawings are something I do a lot.
STEP 2: Once the drawing was finished I took my wood burning tool and went over my designs.
STEP 3: Once it cooled down enough I used some blue fabric ribbon, created a bow, and added a kraft colored thank you tag.
Looking for a great wood burning kit?
Try this one: Walnut Hollow Versa Tool
I hope you enjoyed a look at my fun Realtor Thank Your Gift. Who would you create a DIY wood burned cutting board for? I think it would also make a great house-warming gift, wedding gift, or hostess gift.
You might Also Like…
My DIY Hoop wreath tutorial found HERE