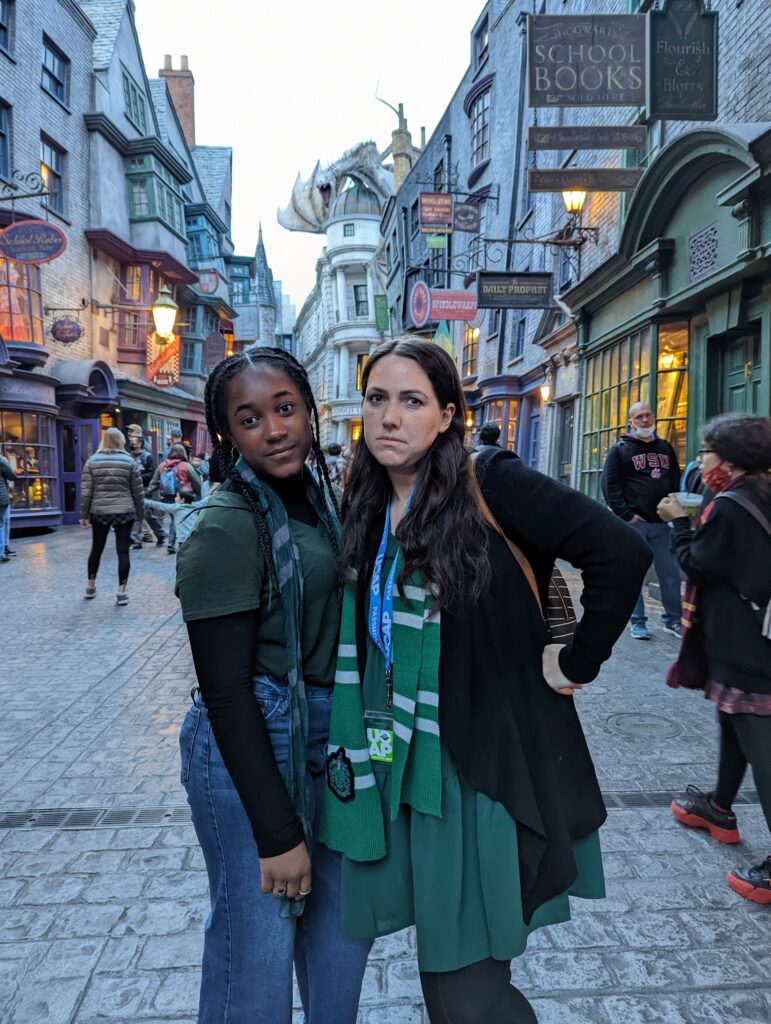 Harry Potter and the Escape from Gringotts
Escape from Gringotts Bank is an immersive experience where you will join Harry Potter and his friends on a unique and thrilling adventure! Your cart will speed, twist, and turn during your Gringotts Bank tour, and you will encounter a few unexpected surprises along the way. No longer will your ride be a tour under the grounds of Gringotts, but an escape from the grasps of Lestrange and Voldemort! Thankfully, with the help of the Order of the Pheonix members, Harry Potter and his friends will defeat Voldemort once more and help quickly get you and your group to safety. Even better, you and Harry Potter's team will quickly escape Gringotts Bank on the back of a fire-breathing dragon! This ride is packed with action, telling a wonderful story that's super engaging and exciting!
Location
Universal Studios – Universal Orlando Resort
Type of Ride
Dark, 3D, and 4D ride
Location
Located in Diagon Alley of Universal Studios in Florida. Diagon Alley has a secret entrance past the Hogwarts Express. The entrance is through a moving brick wall as seen in the movies. The ride itself is located in the Gringotts bank: the giant white building with the fire-breathing dragon on top.
What Age is it Best for?
I recommend ages 10 and up. The majority of the ride is dark and loud, and many of the 3-D effects may scare young children.
How to Ride
You can wait in a standby line, or buy an express pass to skip the long wait. Expect to wait for at least one hour in the stand-by line (on very busy days, the wait time can be as long as 150 minutes). A single-rider line is also available for this ride, and it is guaranteed that the wait will be shorter, but your party will be split up.
Will I get Motion Sickness on this Ride?
If you are prone to motion sickness, I do not recommend that you ride this attraction. In addition, I recommend only riding this attraction if you are free of high blood pressure, neck, back, heart, or any other conditions that this ride may aggravate.
What Items Can I Take on This Ride?
Smaller items (phones, wallets, hats, and glasses) may be taken on this ride, as long as they fit securely in a pocket. Waist packs are also allowed, but all other types of bags, large items, and loose items that do not fit in a pocket must be stored in the lockers; you are not allowed to stow things at your feet for this ride. Smaller lockers are free, but larger lockers are not.
How Many People Fit it a Row?
Four people fit together in one row, and there are 3 rows per cart.
Can Children Ride on Your Lap?
Children cannot ride on your lap. If you wish to take children with you on this ride, you must make sure they meet the minimal 42″ height requirement before riding.
Are there Ride Photos Available?
There are no ride photos available for this attraction.
Accessibility
Must be able to transfer out of a wheelchair for the attraction, either independently or with the help of a person in their party. Attraction members may not assist.
Insider Tips
Don't push too tightly down on your lap bar; the lap bar is very uncomfortable if you push down too tightly.