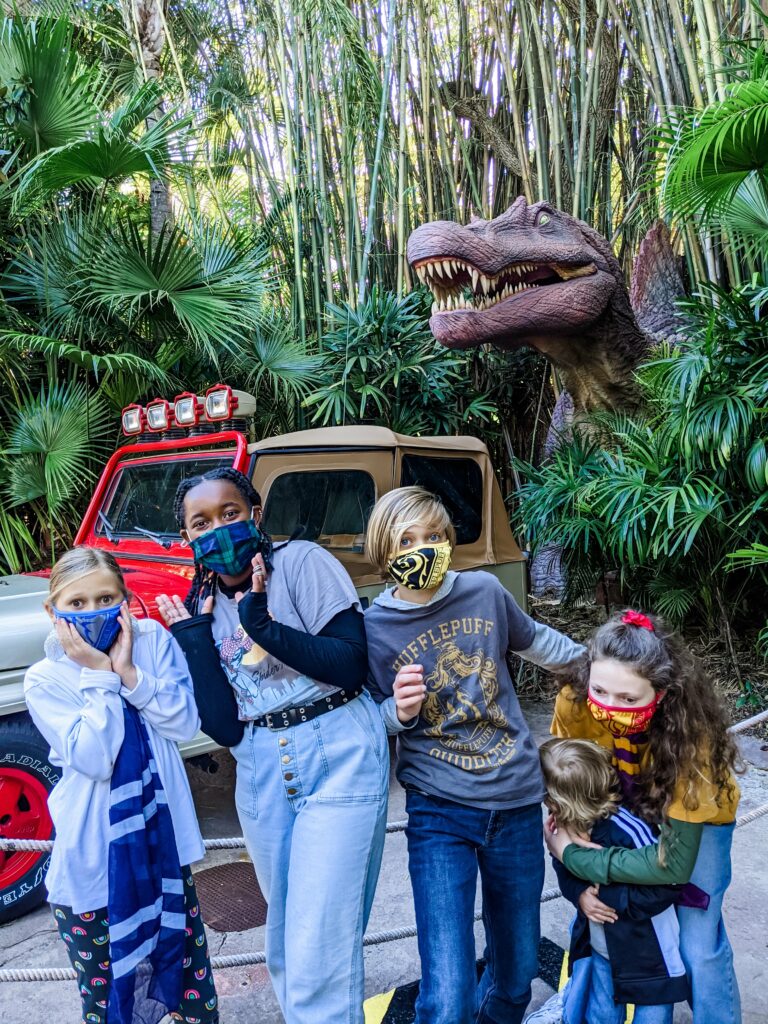 Location
Islands of Adventure – Universal Orlando
Type of Ride
Water-based Ride
Jurassic Park River Adventure
The Jurassic park River Adventure is a peaceful tour ride of some of Jurassic Park's most gentle dinosaurs… until something goes wrong! We are quickly transitioned into an intense, dark coaster-like ride. Can you escape the T-Rex? Or better yet, can you stay dry?
Location
This water adventure is located in the Jurassic Park area at Universal Islands of Adventure. You can enter this area through Hogsmeade or Skull Island.
What Age is it Best for?
Due to the intensity of this ride, I recommend 7 years old and up for this ride. This ride has jump scares and loud sound effects.
How to Ride
To ride this River Adventure, you either enter the standby line, or purchase the express line for the day. During fall, spring, and winter the wait for this ride is rarely over an hour. During summertime, however, this ride's wait may increase to over an hour.
Will I get Motion Sickness on this Ride?
This ride isn't 3D, neither does it spin. This River Adventure goes to the top speed of 50 mph. If you don't get motion sickness from speed, you most likely won't get motion sickness from this ride.
What Items Can I Take on This Ride?
You may take something as large as a backpack on this ride, as long as it can be stowed at your feet. Just keep in mind, whatever you bring on this ride may get wet!
How Many People Fit it a Row?
5 people fit in a row, and there are 5 rows.
Can Children Ride on Your Lap?
Each person must have their own seat on this ride. The only restraint provided is a lap bar for the entire row.
Are there Ride Photos Available?
The ride photo spot for this River Adventure is mid-way through the large drop. If you are able, it is usually fun to try and hold a pose or the photo!
Accessibility
For those using a wheelchair, you must be able to transfer from your wheelchair to the ride boat.
Insider Tips
This ride is so unpredictable when considering how wet you will get, but either way I would avoid sitting on the sides.
KEEP YOUR PHONE AWAY!!! The entire ride will stop, and you will get singled out.