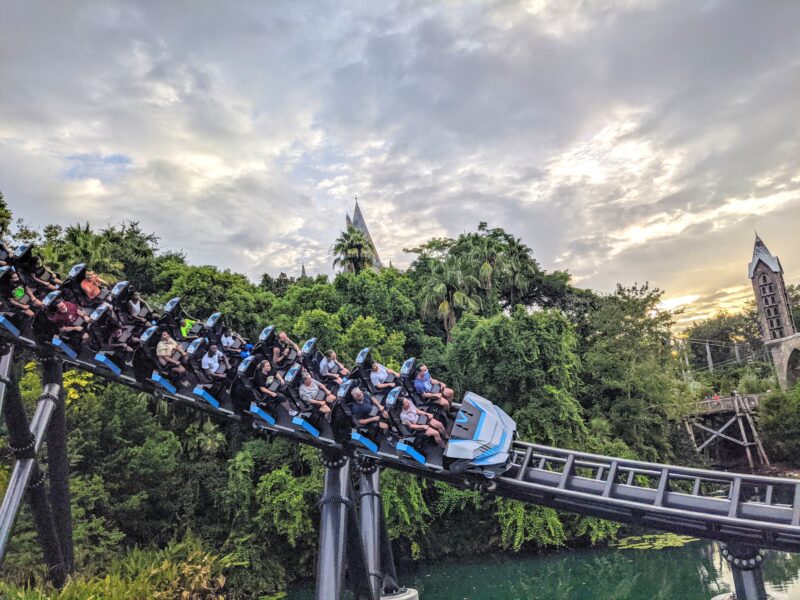 Location
Islands of Adventure – Universal Orlando Resort
Type of Ride
Launched rollercoaster
Jurassic World VelociCoaster
The VelociCoaster sure lives up to the statement: "More speed, more thrill, more teeth!" The VelociCoaster is a high-speed thrilling ride that puts you face-to-face with some of Jurrasic World's Velociraptors. If you are up for this unique adventure, be prepared for two launches with maximum speeds of 70mph, sharp turns, sudden drops, and several inversions – one going over the lake! This rollercoaster is an all-time favorite for many, and I'm sure it could be your new favorite, too!
Location
Located in Jurassic Park of Universal's Islands of Adventure. If you take the main Jurrasic park entrance approach, the ride entrance will be in sight on the first left you take in that area. You can also go through Dr. Suess Land and past Poisiden's Fury to the big bridge as an alternative way to get to the ride.
What Age is it Best for?
If you can't handle big and intense rides, then this ride is not the ride for you. I recommend ages 12 and up because of the intensity of the ride.
How to Ride
There's a single rider, an express lane, and a stand-by line. you are not allowed to take a hat or phone or bag or anything loose. But don't worry, there are free lockers inside, but if you have any big items, you'll have to pay extra.
Will I get Motion Sickness on this Ride?
If you are prone to motion sickness, I do not recommend this ride to you. In addition, if you have high blood pressure, neck or back pain, or any other condition that may be aggravated by this ride, I recommend that you skip riding this one.
What Items Can I Take on This Ride?
Watches and park tickets are allowed on the ride, but everything else must go in a locker. Regular lockers are free, but large lockers are not. You will need to keep your park ticket with you to open your locker after the ride.
How Many People Fit it a Row?
This ride fits two people per row.
Can Children Ride on Your Lap?
Children cannot ride on your lap. If you wish to take kids with you, they must meet the minimum height requirement.
Are there Ride Photos Available?
There are ride photos available for this attraction. You can view and buy them at the ride exit.
Accessibility
There are no weight restrictions on any universal ride. However, you are encouraged to check out the test chairs at each ride beforehand.
Insider Tips
The safety restraints on this ride were purposefully designed to make you feel like you are flying out of your seat. There is a lap bar, but nothing that goes over your shoulders. I can assure you that they are 100% safe and there are plenty of safety precautions in place to make sure they stay that way.