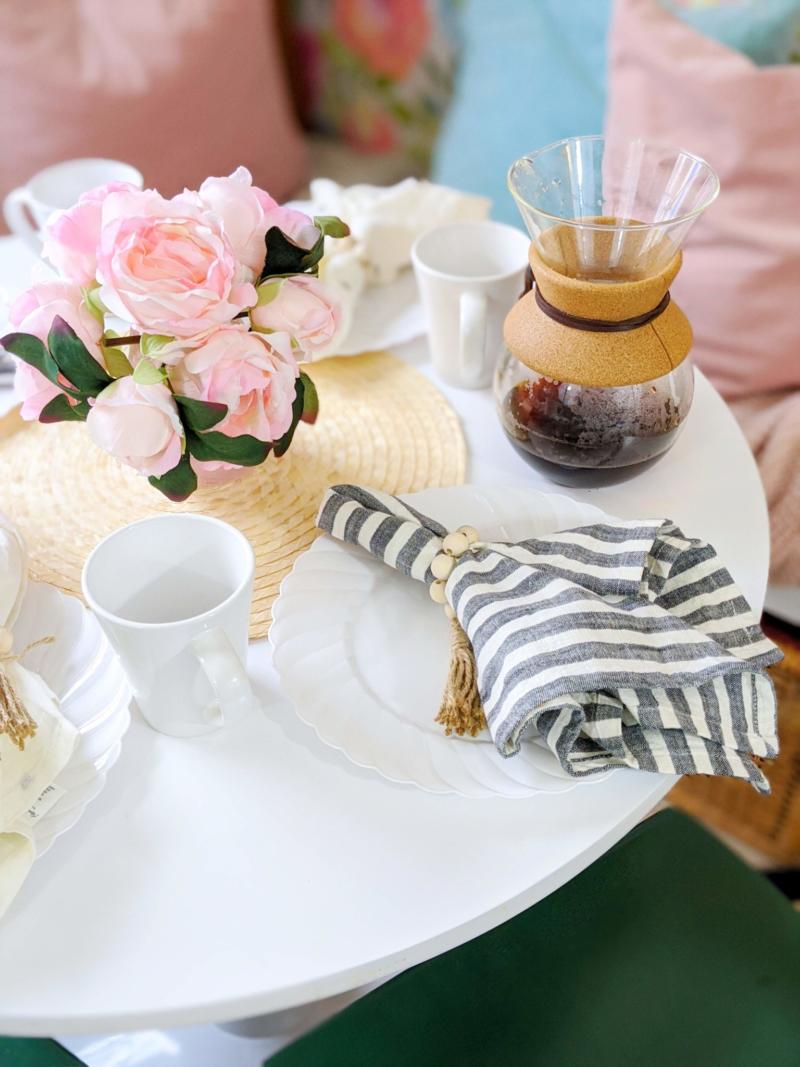 Happy Spring!
We're all bunkered down over here, waiting out the Coronavirus and avoiding human contact. The good news is, I'm sharing a virtual tour of my home today and you are invited inside (with a 0% chance of picking up any germs)! Isn't it an interesting time to be alive? Join me and my blogging friends for a Spring home tour, all this week. This tour was organized by Krista, The Happy Housie. I love Krista's perspective that she shared today in an email:
It's a crazy time out there, but more then ever our homes are a haven for our families. – Krista Aasen
More than ever, our homes need to be a place of comfort. We need to foster a spirit of peace and encourage positive conversations. We can set the example by speaking kindly and calmly about what is happening in the world. Encourage your kids to share their feelings of fear or anxiety and offer hugs and cuddles in return. Clean out some clutter, add a pop of color, pull out a Spring tablecloth, and start thinking happy thoughts!
Weather you're already missing girls night out, or you're an introvert that's been preparing for this moment your whole life, I'm happy that you're here! Be sure to check out the other tours going on today, all the way at the bottom of this post.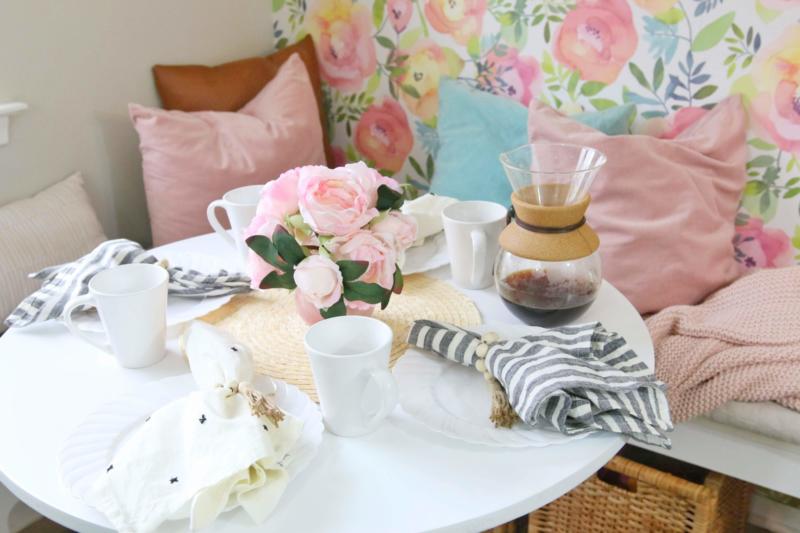 The Breakfast Nook
This is literally the debut appearance of my breakfast nook area! We did some rearranging earlier this year, and this little corner of the kitchen opened up to some new possibilities. I've always wanted a little corner banquette seating area. I've looked at corner benches and table sets so many times over the years. I've either never found one that I like in my price range, or had other things that got in the way.
This little area is kind of a faux banquette, because it is created with two IKEA benches pushed together. They are not the ideal benches for his purpose, but I already had them, so here they are! I purchased this small table on Amazon and created bench cushions by sewing some IKEA cushions together!
Get the Look…
[show_shopthepost_widget id="3942069″]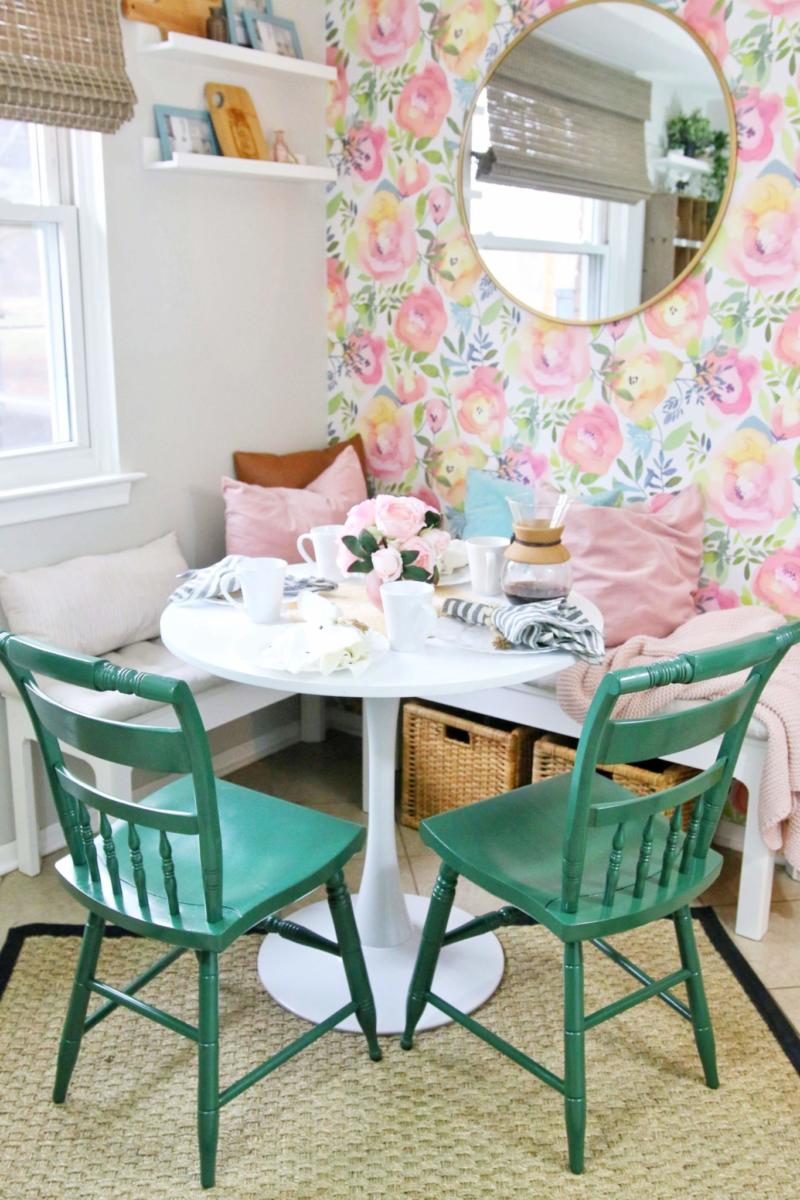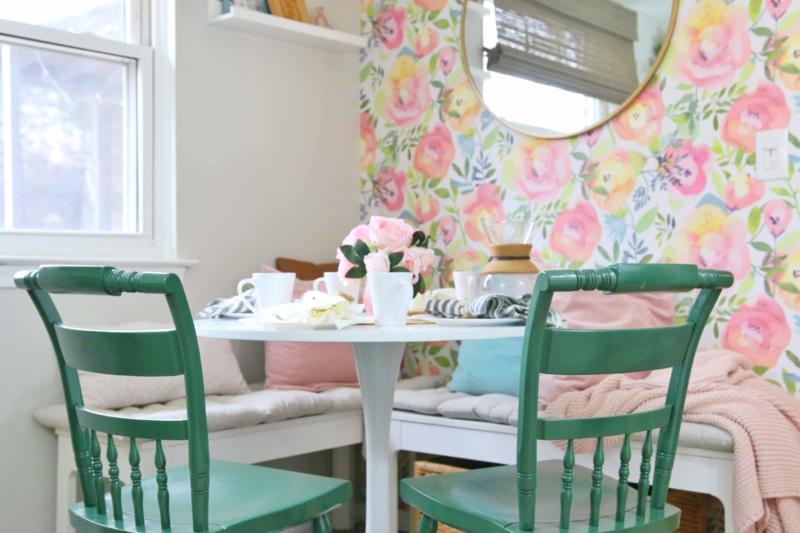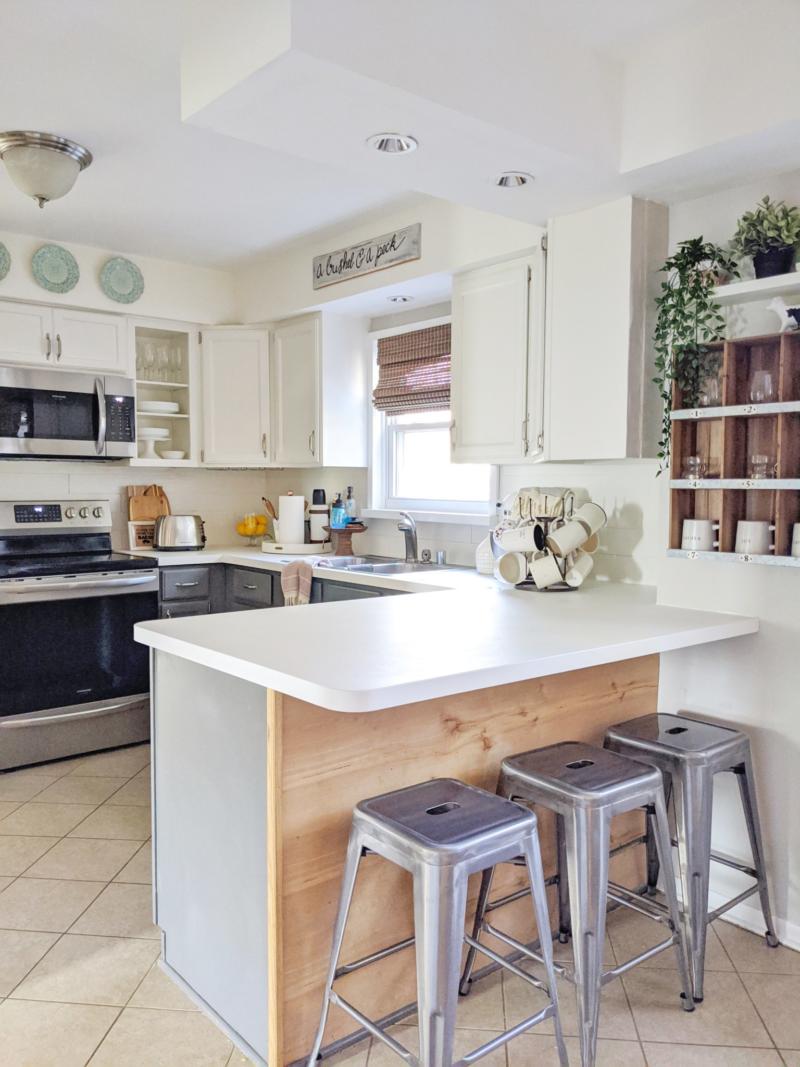 The New Dinning Room
Like I said, we did some rearranging earlier this year. We're always on a mission to utilize space in the smartest way possible. We have two 13-year-olds that wanted their own rooms. Being the amazing parents that we are, we moved the kids around and ended up having one of them take over the multi-purpose room that has at different times, been a play room, office and guest room.
Long story short, I missed having an actually office area, but all our rooms were taken up with kids! So, in an effort to use space in a smart way, we moved a couch set downstairs, moved the dining room into the extra living room and I took over the dining room with my office!
Where our dining area is now, was once a living room. It is actually a much bigger space, which I love. There is a TV hanging over the mantel, which i decided to leave up. I created this canvas art and framed it in so it would fit right over top of the TV!
Get the Look…
[show_shopthepost_widget id="3943538″]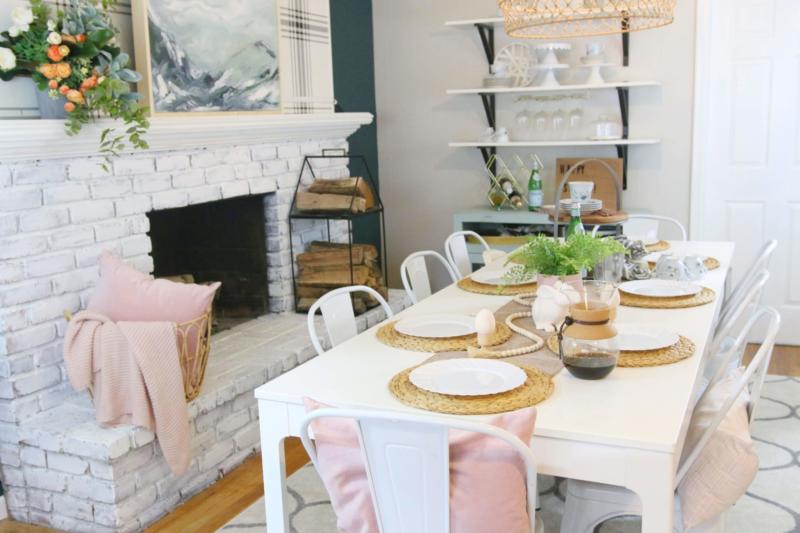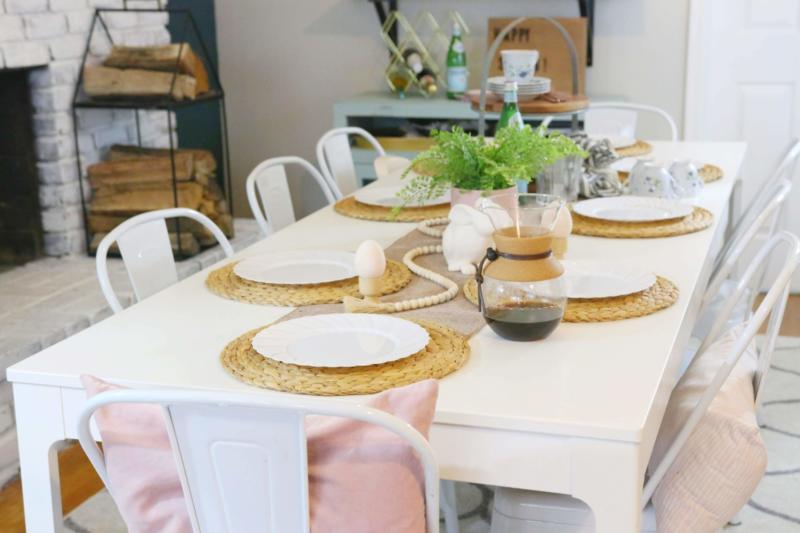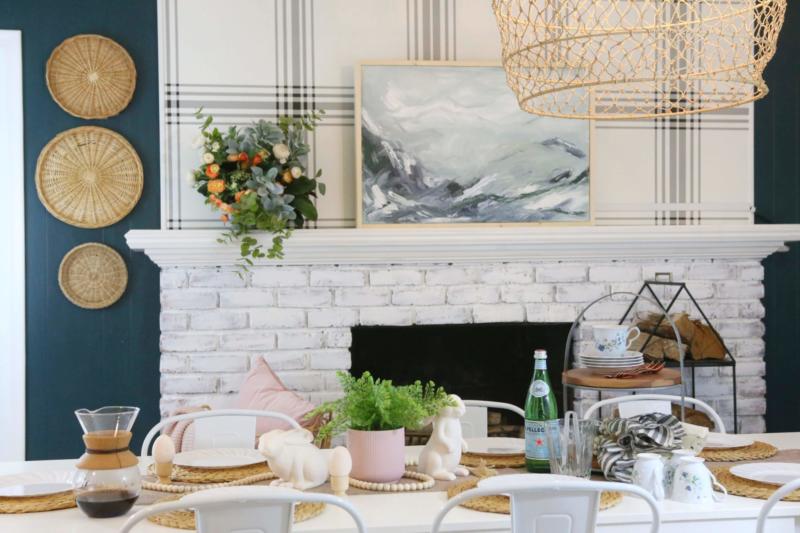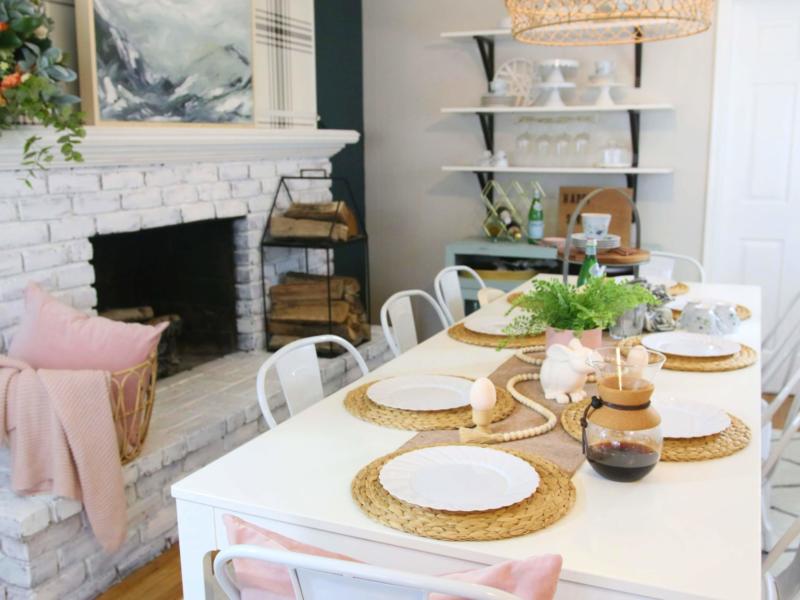 The Living Room
This living area is the main room where we hang out together as a family. Against my better judgement, we bought this giant sectional sofa instead of a beautiful, white slip covered set. It was probably the best decision we ever made. All 7 of us can fit on it at once while watching a movie, and that alone is pretty great.
Get the Look…
[show_shopthepost_widget id="3942076″]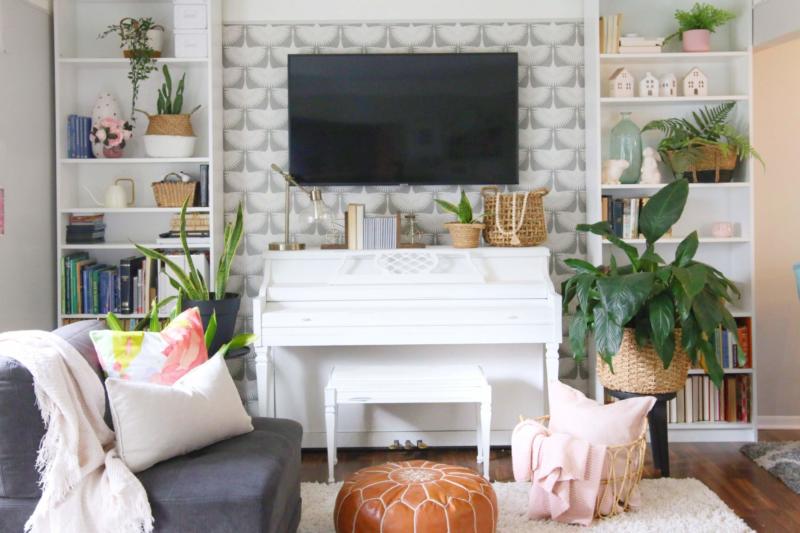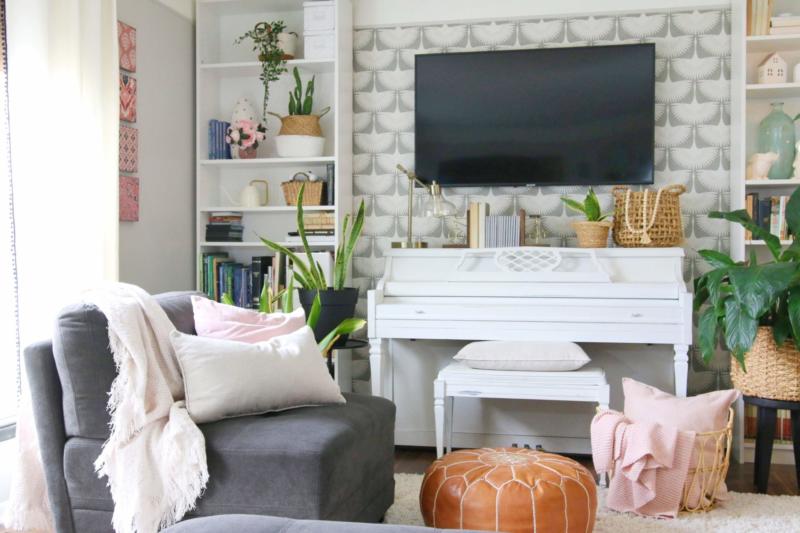 Dinging Room Turned Office
This is the area that used to be our dining room! It was always a little tight as a dining room. When we had large family gatherings and all the chairs were full of people, it was always hard to get around. The new dining room space is much wider and less squished feeling when hosting large groups.
This spot is the perfect size for a home office! The draw back, is that there is not a door or a way to close it off completely. There is a pocket door into the kitchen that does help with some noise. I actually really like being in a spot that feels like the command center for the whole house. Because this area is right in the middle of it all, with a great view of multiple rooms, I feel like I can keep an eye on everyone, at all times (mwahahaha).
While most of the furniture you see here is from IKEA, I've linked to a few other options below that are similar. The desk, display cabinet and secretary desk are all from the HEMNES line at IKEA, Find the desk HERE. Sadly, the secretary desk has been discontinued here in the states. There are other options in this line of furniture though, and all great for mixing and matching.
Get the Look..
[show_shopthepost_widget id="3943545″]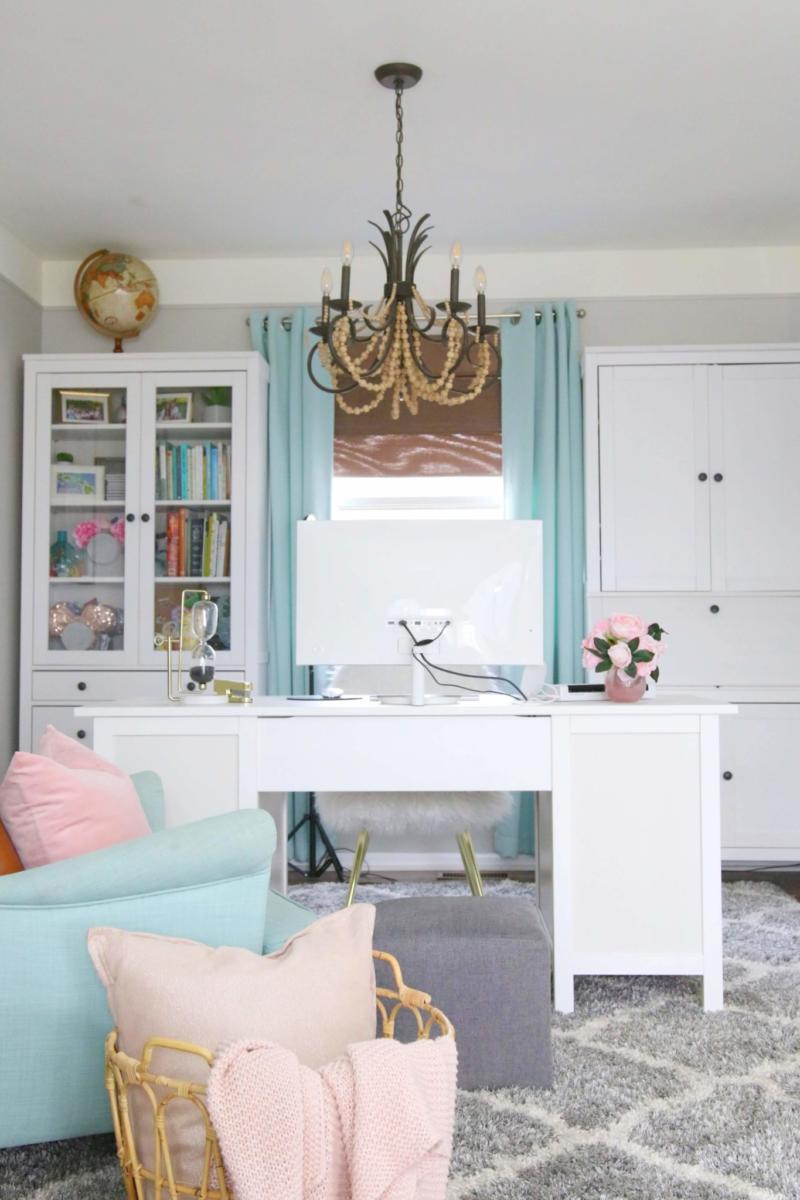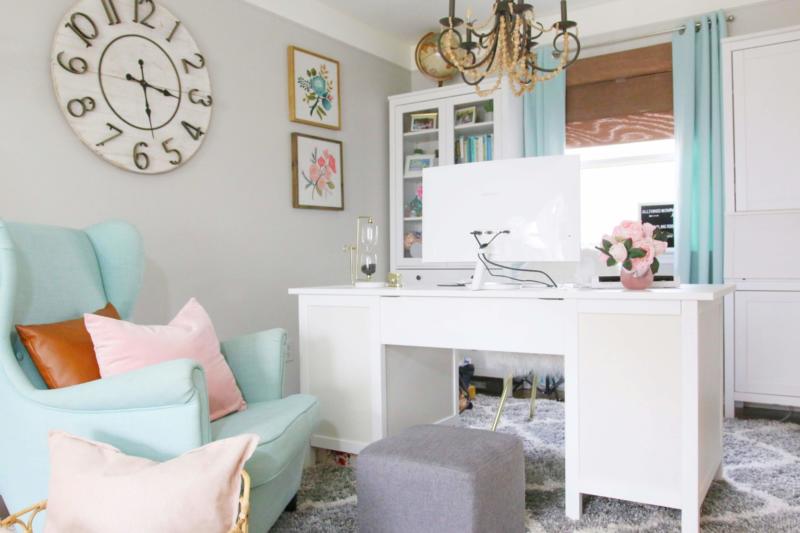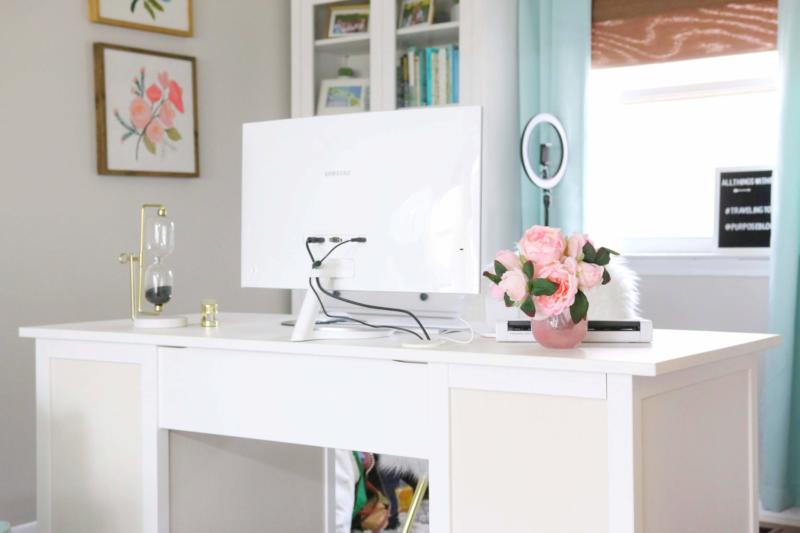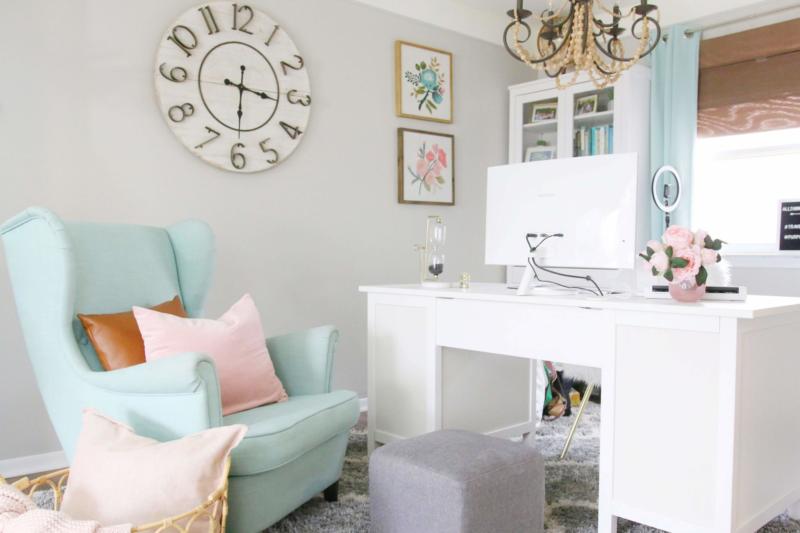 This week I'm joined by some of my talented blogging friends who are also sharing their Spring Home Tours with you. Be sure to see what they are sharing by clinking the links below the images.
Also sharing with me today, are…
Tuesday
Cassie Bustamante
All Things With Purpose
Modern Glam
Lemon Thistle
Zevy Joy
Sharing the rest of this week…
Monday
The Happy Housie
Grace in My Space
Life is Better at Home
She Gave it a Go
Amidst the Chaos
Wednesday
Amber Tysl
Life is a Party
Town and Country Living
Finding Silver Pennies
Joanna Anastasia
Thursday
Cherished Bliss
Tatertots & Jello
Deeply Southern Home
Rambling Renovators
The DIY Mommy
Friday
Home Made Lovely
Willow Street Interiors
Sincerely, Marie Designs
Rooms FOR Rent