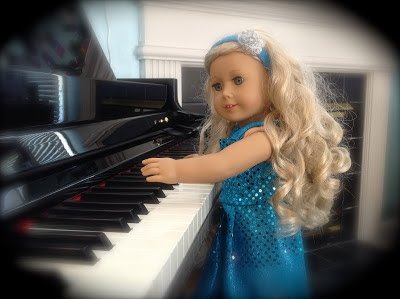 Sew Easy Dress Pattern
Here's a sew simple pattern for your daughter to learn to sew her doll a dress. This pattern was designed by Natalie's grandma. Natalie has been watching me sew doll clothes and has been excited to sew for Caroline, but she is still learning how to sew. Could she make a slightly more finished dress? Yes. But she wants results within thirty minutes!! This was so successful she is probably going to start making some as gifts for her friends.
Instructions
Here is a step-by-step tutorial for your daughter to sew a dress for her special doll. All of our patterns fit American Girl Dolls.
Hey, friends! After years of providing this printable for free to my readers, I've had to make the hard decision to move it to my shop page where it can now be purchased individually or as part of a giant printables collection!

Many of you know, my website experienced a huge loss this year as it was down due to a cyber attack for over a month. I'm attempting to rebuild and regain the income my family lost. I would love for you to check out my shop page and let me know what you think!

SHOP HERE
Pattern
Bundle
9.00
---
Get access for 1 year to my entire collection of doll patterns!
Download and Use Forever
Giant
Bundle
19.99
---
Get access for 1 year to my entire collection of printables!
Download and Use Forever