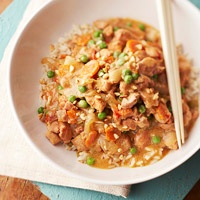 This was originally a peanut chicken recipe I found on Pinterest via
BHG
. I was looking for an easy meal to throw in the crock pot, that would cook quickly in a hotel room while we relaxed by the pool! With a little improvising (since I'm all about simple and don't have a lot of fancy ingredients on hand) this was the PERFECT recipe for anyone looking to do a night away on the cheap.
We checked into our room at 1:00, I turned the crock pot on high and started the rice cooker (which was also perfect!). By 5:00 when we were out of the pool and ready to eat, dinner was done and the yummy aroma filled the halls!
Ingredients:
2 Pounds boneless, skinless chicken breasts cut into cubes
2 Medium onions cut into small wedges
1 1/2 Cups sliced carrots
1 Sweet pepper cut into small pieces
3 Tablespoons creamy peanut butter
2 Tablespoons lemon or lime juice (whatever you have on hand!)
2 Tablespoons soy sauce
1 Tablespoon powdered or fresh ginger
1 Tablespoon curry powder
1 Tablespoon garlic powder or 4 minced cloves
1/2 Cup milk or coconut milk (coconut milk would be yummy, but all I usually have on hand is regular milk, so that's what I used)
3/4 Cup water and 2 chicken bullion cubes or 3/4 cup chicken broth
Apply non-stick cooking spray to the inside of your crock pot. Combine all ingredients except the milk and cook on high for 2 1/2 to 3 hours, low for 5 to 6 hours. Stir in the milk and let stand, covered for 5 minutes.
Serve over rice and enjoy! ~Sarah
P.S. To travel with this meal, I mixed all my ingredients together at home and sealed them in a zip lock bag which fit easily in the cooler. My crock pot and rice cooker fit nicely down inside of a 31 utility tote :)