Today I am sharing over 25 different ways to make a s'more, plus a free printable menu!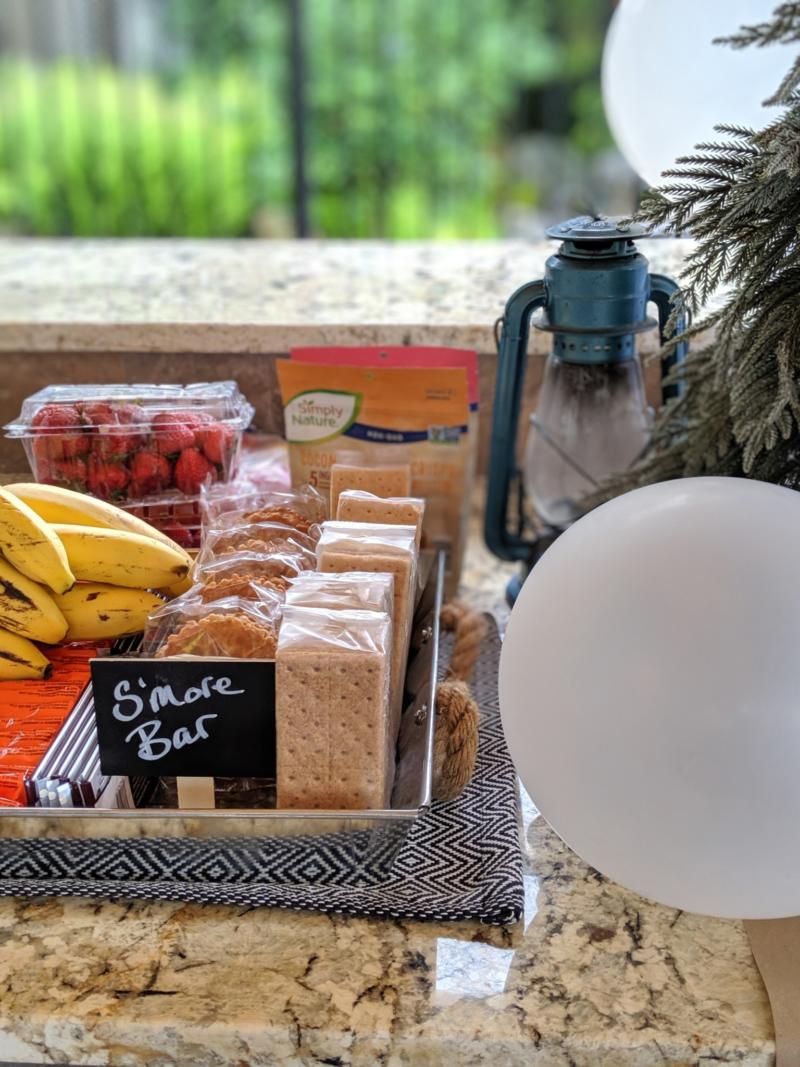 Putting Together a S'mores Bar
It's officially s'more season! Nothing says "Summer" more than roasting marshmallows around a campfire, but what if you (gasp!) don't like traditional s'mores? Some people are allergic to the ingredients in traditional s'mores and others just prefer something less sweet. Maybe you're trying to eat healthy this Summer or maybe you just want to switch things up. Either way, I've put together a whole collection of new and improved ways to make a s'more! Gather these supplies to create a s'morgasbord of flavors (see what I did there?)! Create a cute display and diverse collection of ingredients that will surely please everyone in your crowd. I've even created a free printable menu with some great options.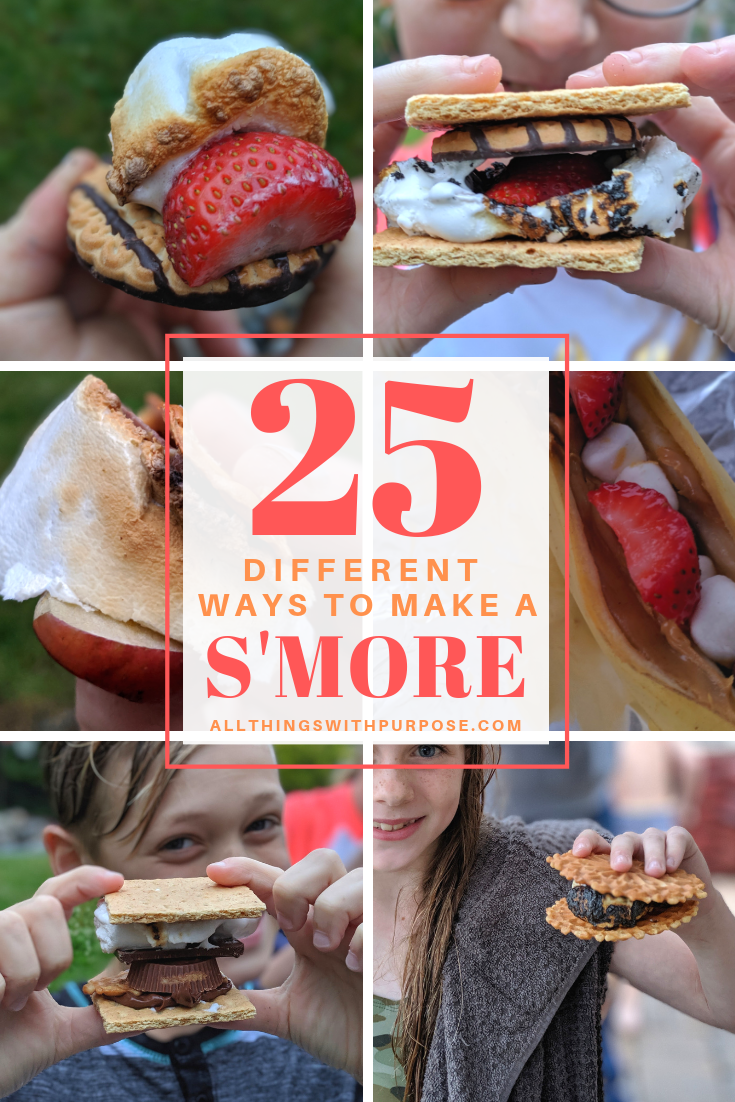 What You Need
For my s'mores bar, I wanted it to look cute while on display, but I also wanted it to be easy to move. I put things on metal trays that would be easy to move closer to the fire. I put marshmallows in large glass gars and used little chalkboards for signs. I bought most of my supplies at Aldi. I wanted a large selection of gourmet items and I knew Aldi would give me the best bang for my buck. Here is a complete list of items I used:
Graham crackers
Large marshmallows
Mini marshmallows
Chocolate bars
Peanut butter cups
Caramels
Hazelnut spread
Peanut butter
Raspberry jam
Bananas
Strawberries
Apples
Dark chocolate
Mint chocolate
Pretzel crisps
Crackers
Pizzelle
Fudge ripple cookies
Chocolate chips
Tin foil
Plastic knives and spoons
Trays
Bowls
Roasting sticks
Instead of Graham Crackers Use…
Graham crackers are great and all, but have you thought about using something else? Try one of these:
Pizzelle
Fudge ripple cookies
Pretzel crisps
Apple slices
Ritz crackers
Rice cakes
Banana slices

Instead of Regular Chocolate Use…
What is even better than plain chocolate? Chocolate with peanut butter, of course! Try thinking outside the box and reaching for another form of chocolate. Try one of these:
Peanut butter cups
Almond Joy
Caramels
Consider Spreading Some of This…
Even if the classic s'more is your style, spreading something on the graham crackers before adding a marshmallow and chocolate might be just enough of a change. Try spreading one of these:
Peanut butter
Hazelnut spread
Fruit preserves or jelly
Marshmallow fluff

Free Printable S'mores Menu
Subscribe now for instant access to this one, and many more!
You'll also gain access to my exclusive facebook community groups, just for members!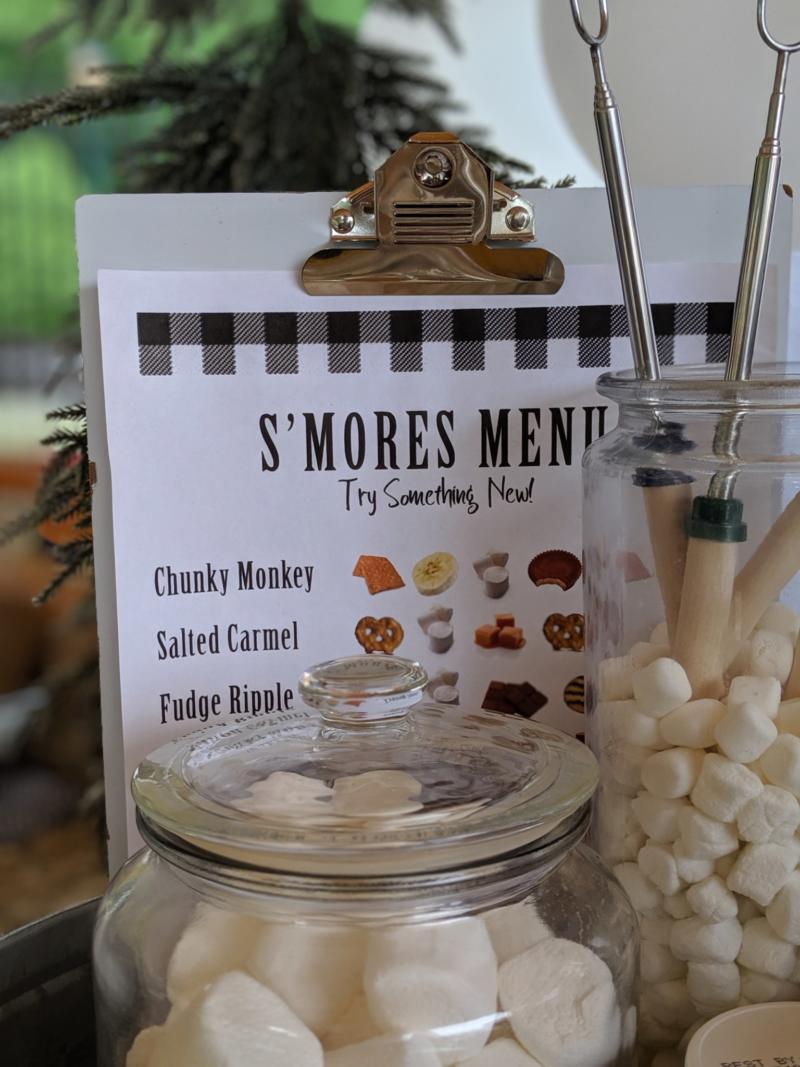 Try One of These Combinations
If you need a little help thinking up some new combinations, try one of these!
Pizzelle + hazelnut spread + marshmallow
Graham cracker + banana slice + marshmallow + peanut butter cup
Pretzel crisp + caramel + marshmallow
Apple slice + caramel + peanut butter + marshmallow
Banana slice + mini marshmallow + hazelnut spread
Fudge ripple cookie + marshmallow + chocolate
Fudge ripple cookie + strawberry + marshmallow
Graham cracker + peanut butter cup + marshmallow
Ritz cracker + apple slice + soft cheese
Apple slice + peanut butter + marshmallow

Here are Some Other Things to Switch Up
I have to mention a few other obvious things you can try:
Cinnamon or chocolate graham crackers
Strawberry or chocolate flavored marshmallows
Dip strawberries in marshmallow fluff and roast them over the fire!
Make a banana boat instead! Do not peel the banana. Slice the banana on one side, lengthwise. Stuff with mini marshmallows, chocolate chips and peanut butter. Wrap in tin foil and place near the fire for 10 minutes. Enjoy!