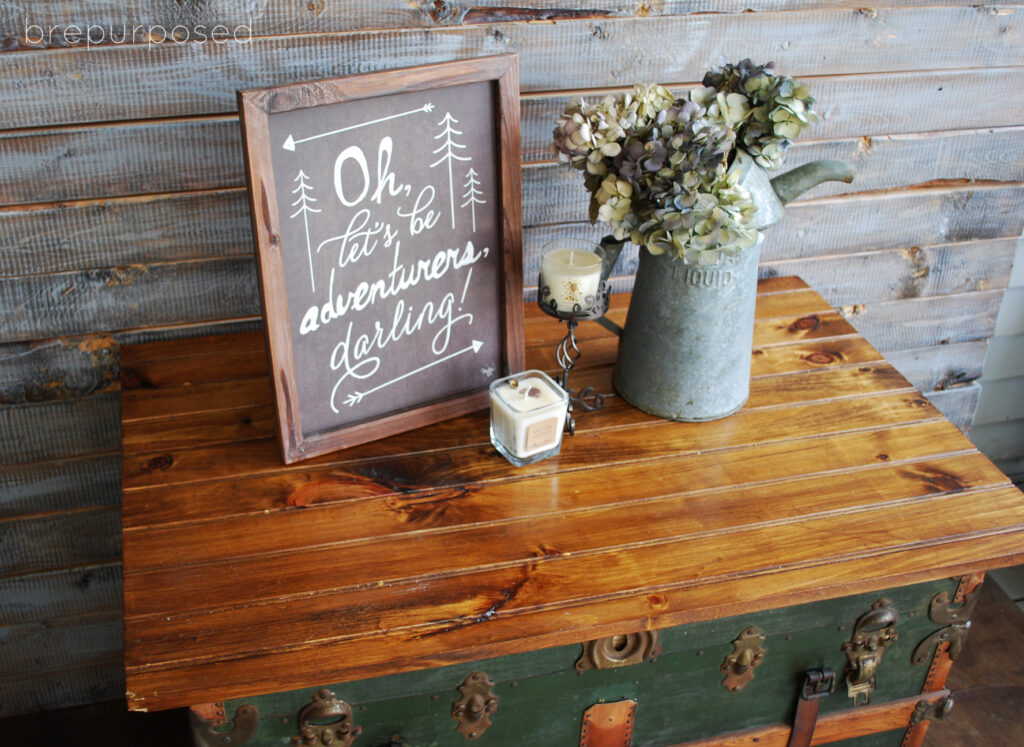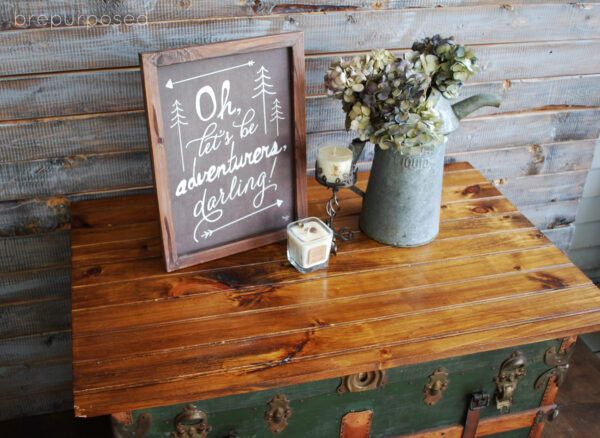 Hi everyone! I'm Bre and I'm so excited to be here as a contributor for All Things With Purpose. I blog over at Brepurposed, where I refinish old furniture and turn the old into the new. I hope you'll join me as I stalk Craigstlist, thrift stores and friend's basements to find those hidden gems and give them new life! Oh and make sure to stop by every Friday for a FREE printable :)
Today I'm here to share with you one of my first projects. An Antique Steamer Trunk turned Coffee Table! I posted about it when I was first starting out on this blogging journey (AKA when I had no followers) so I thought it would be fun to give this guy some love again with a proper photo shoot.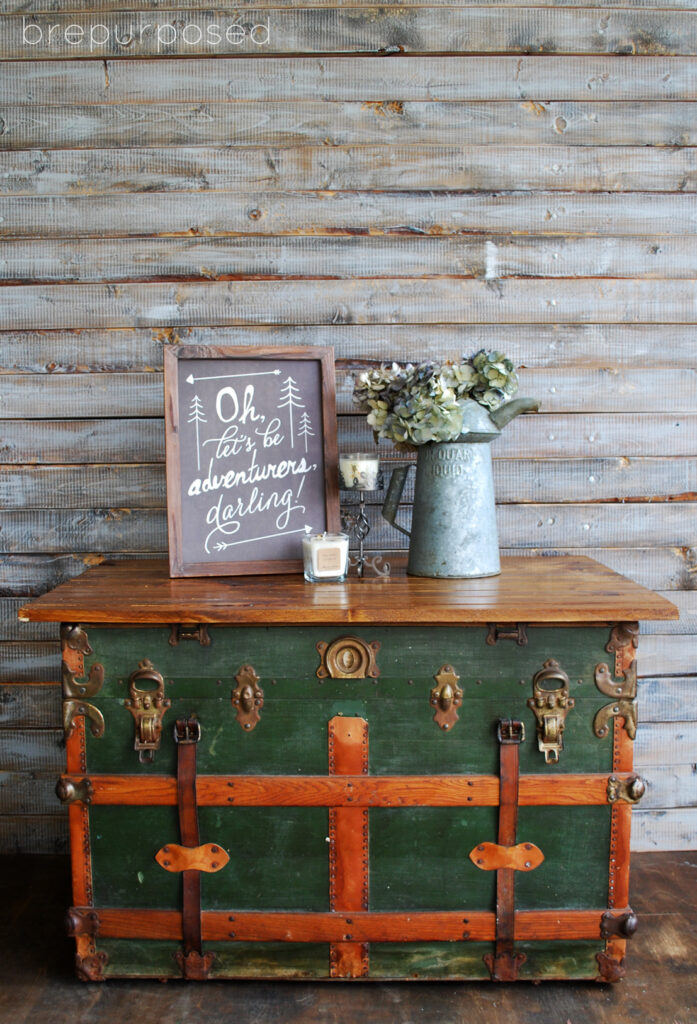 My parents picked this trunk up for me last summer at an antique show for $10 and I knew it was a gem. Right off the bat, I imagined turning it into a coffee table; I just wasn't quite sure how I was going to do that. My Dad and brother helped me out big time with this project so I have to give a shout out to them. Here's what we were working with…
The bottom inside was coated with paper that was pretty loose and falling apart at this point. We used a wire brush to scrape it all out before spraying the entire inside with a hose.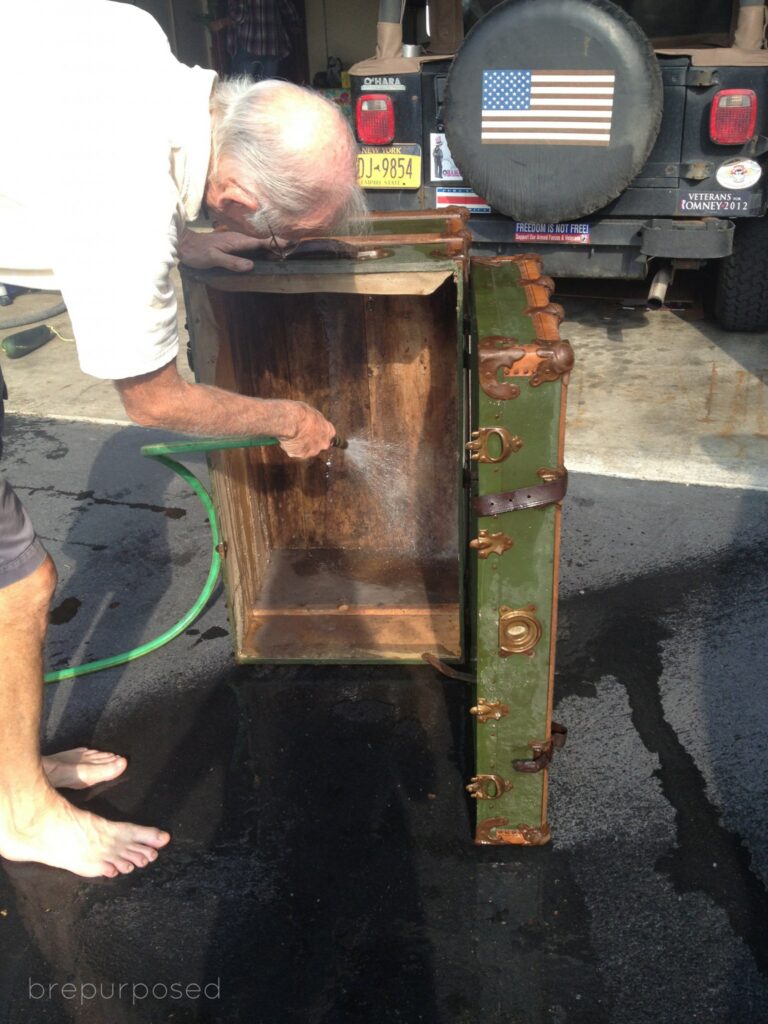 Next, was trying to figure out what we were going to use on top of the trunk. Glass was a suggestion, but I was pretty stuck on the idea of using wood. My brother had some old scraps of Pine wood laying around that were going to be perfect. He glued them together and my Dad cut it to size for me.
My next step was freshening up the wood panels on the outside. I read on Pinterest that a good truck for this is using Coconut Oil, which I happened to have a jar of.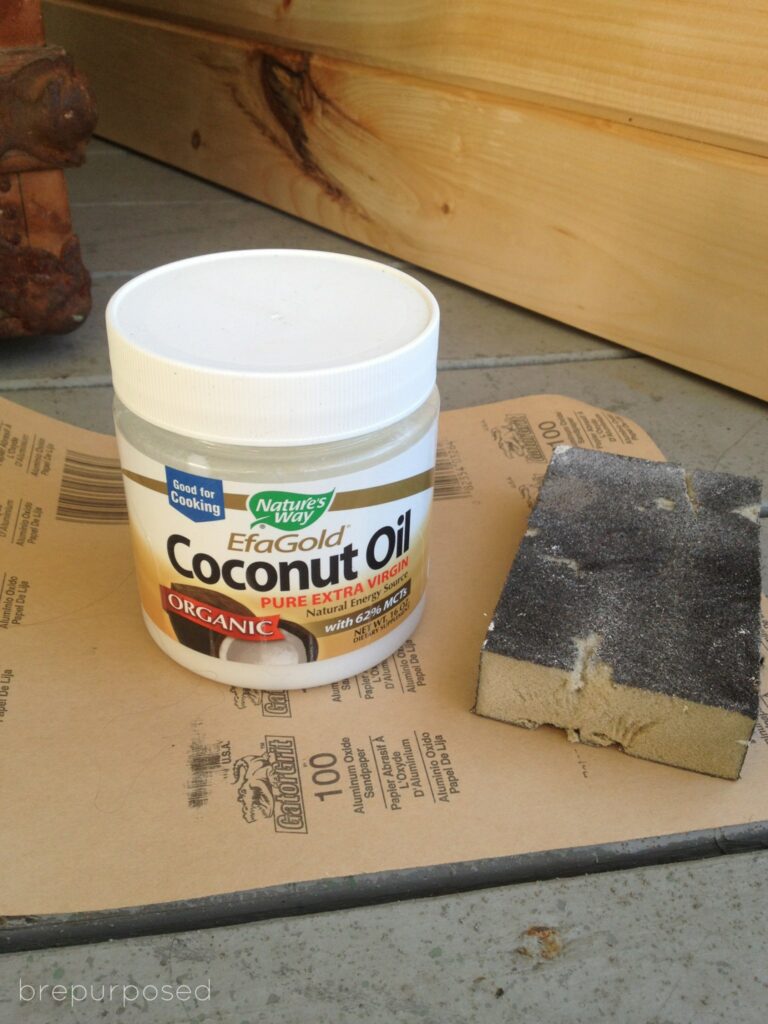 This stuff works wonders. Check out the before and after below of how it richens up the wood.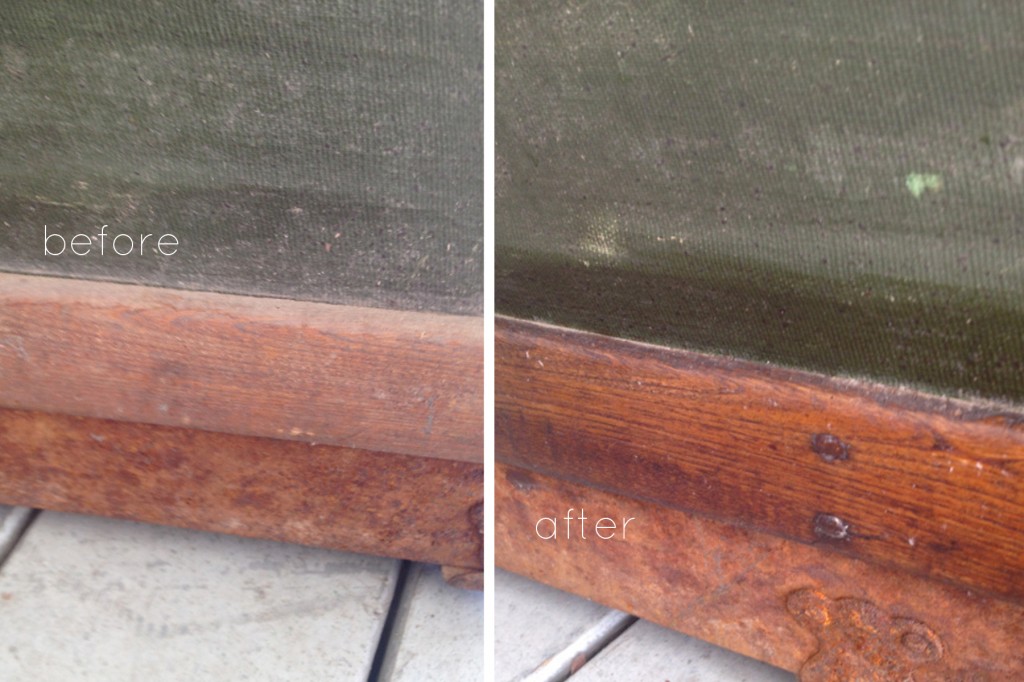 Amazing! I used some hot water and soap to clean up the green canvas, which didn't help too much, but did get some of the dirt off. Next up was staining the Pine. I learned that Pine is a very soft wood and doesn't soak up stain very well. To fix this problem, my Dad gave me a jar of pre stain conditioner.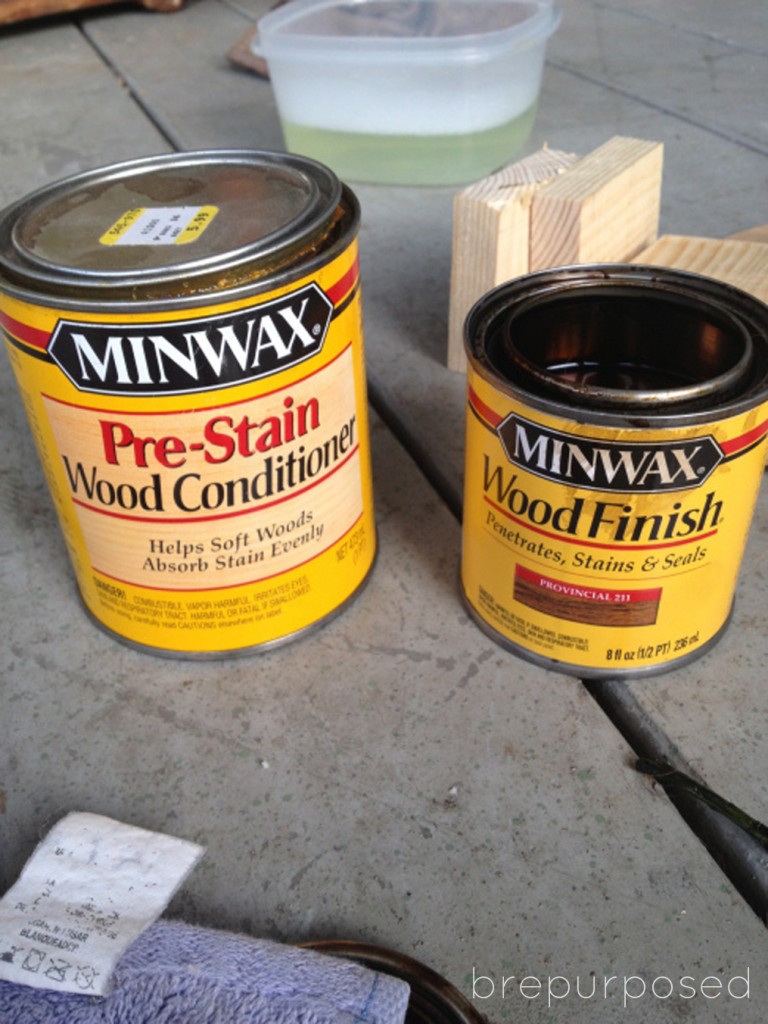 I applied 3 coats of stain to get the color I wanted. So pretty!
In between waiting for the coats of stain to dry, I talked the inside of the trunk. There were tons of possibilities with this, but since we were going to be using it as a coffee table and the top would be down most of the time, I decided to just paint it and clean it up a bit.
As you can tell, this trunk is very old and has a lot of rust on it. I used a wire brush to clean up some of the accents and remove some of that rust but there was no way I was getting it all off. I could have spent hours upon hours doing this, but my little arms couldn't handle it!
Even though I didn't get all the rust and dirt off, I really like the way they look. I think it cleans it up just enough to still keep the antique look.
Once the stain was dry, I applied a couple coats of Poly to seal it up. My Dad came up with the idea for attaching the wood to the top. He cut four small squares of wood about a half inch thick. I glued these to the corners of the trunk and once they were dry applied another coat of glue to the top of them. I placed the wood on top and covered it with a towel and placed an old tire on it overnight to help weigh it down.
I debated selling this piece but I fell in love with it and can't imagine it not being in our home!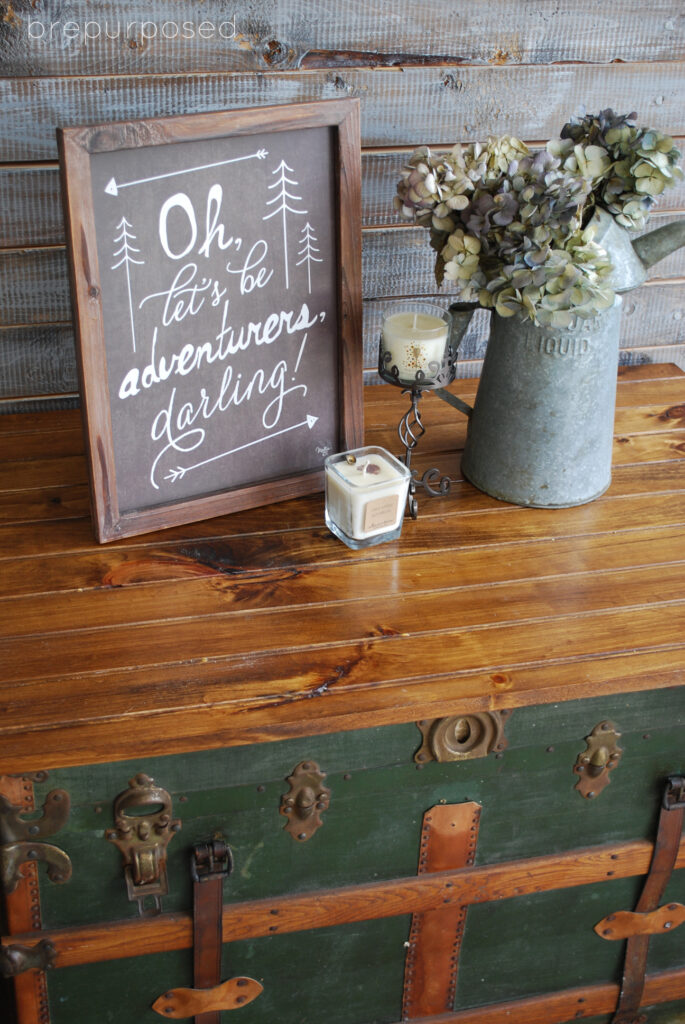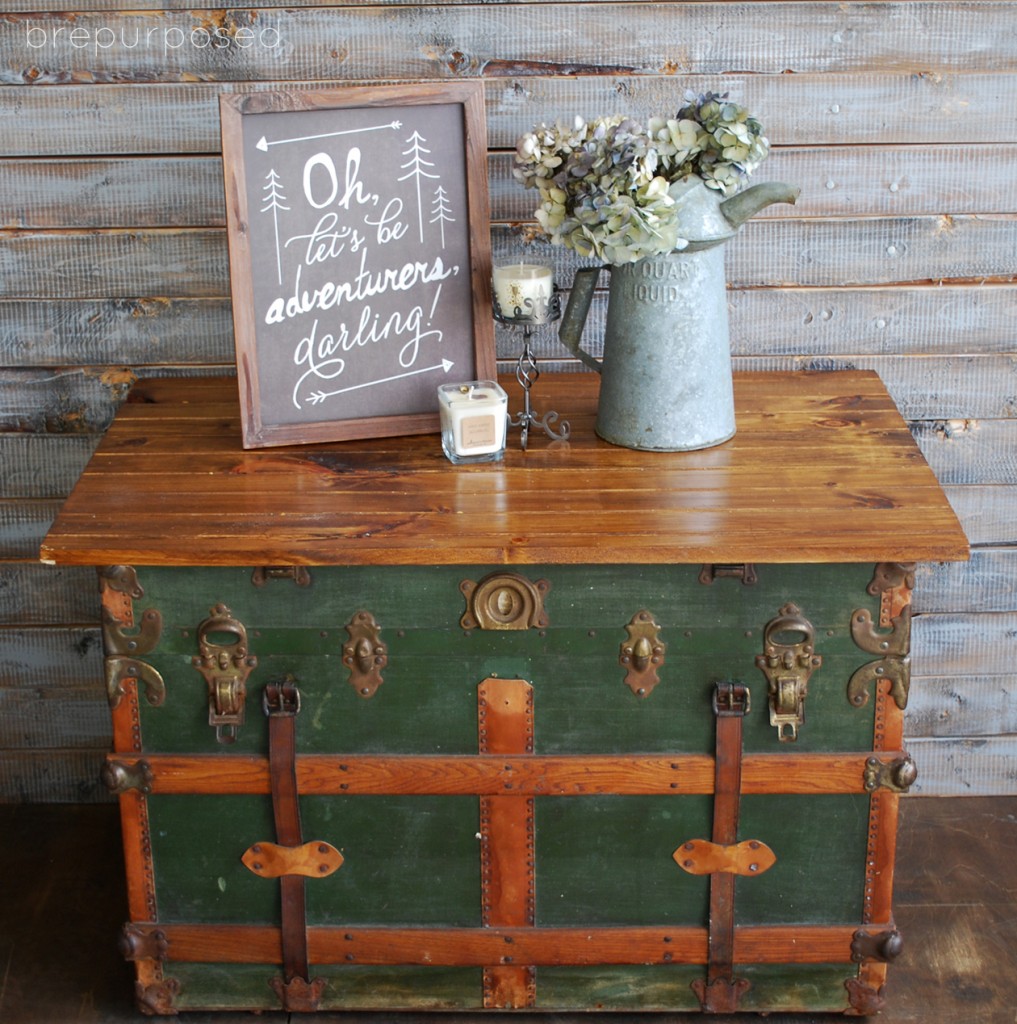 I hope you guys enjoyed this little look into Brepurposed and are excited to see more! I'll be back here posting every 2nd Monday of the month, but if you can't wait until then, head over to my blog and check out some of my recent projects. You might like my most recent freebie or this table transformation that I used some fun fabric on! I love hearing from my readers so feel free to leave some love or ask a question!
You can find me linking up at these fabulous parties!