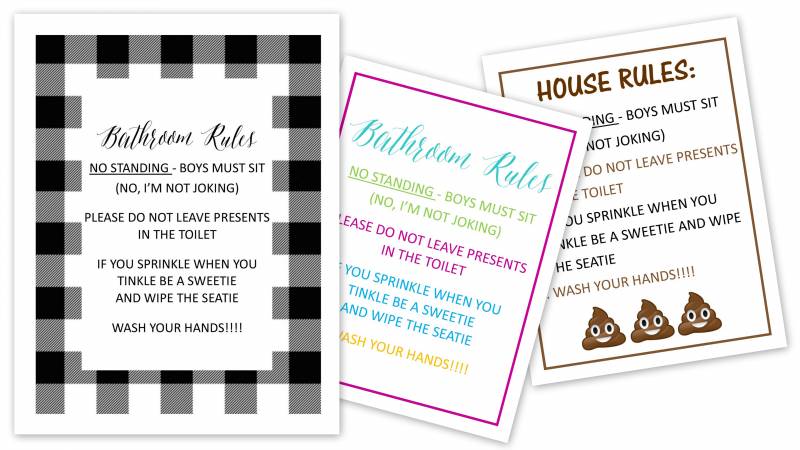 Alright friends. I just can't keep this valuable information to myself any longer. There comes a point when you've got to do the dirty work and talk bathrooms.
Yep. We're going there.
The smell, the slime, the sludge, that nasty film… it's gross to look at and gross to clean. I honestly fight the urge to shower after performing a good bathroom cleaning routine. If I've spent any amount of time hugging a toilet while scrubbing around it, I definitely shower.
A fellow germaphobe reminded me a few weeks ago that every time you flush your toilet with the lid up, you're hurling germs into the air as far as 10 inches above the seat. Read more about it in Women's Health, there it's referred to as a scientifically discovered phenomenon known as "Toilet Plume."
Gross.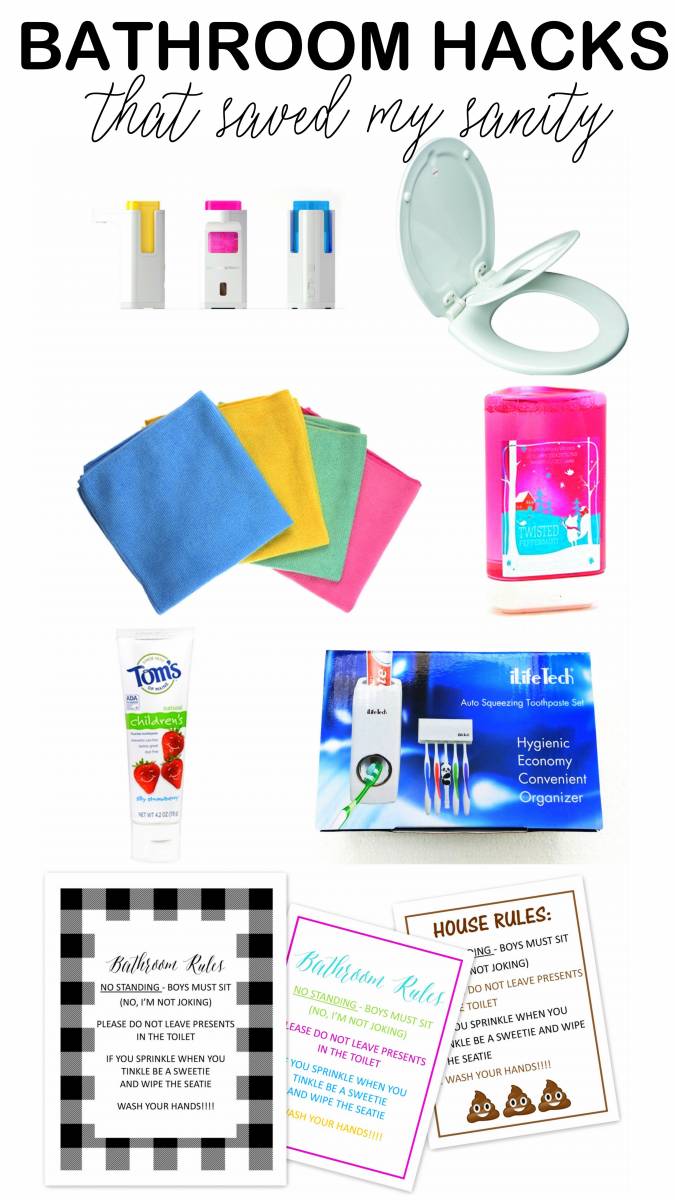 This post contains affiliate links for your convenience.
My husband is a youth pastor, and we quite regularly have large groups of junior high and high school age kids in our home. I'm fighting daily with my own kids, training them to clean up after themselves and not to make nasty spills and messes. What was I was cleaning up on a regular basis, after the junior highers left my house?
Pee on the walls.
Yea, that's right. There is only so long a marginal germaphobe like myself can handle teenage boy urine on the walls.
Want to know what has (so far) provided a 100% success rate in our home? Hanging up this list of bathroom rules (#1 is the key!):
NO STANDING – BOYS MUST SIT (NO, I'M NOT JOKING)
PLEASE DO NOT LEAVE PRESENTS IN THE TOILET
IF YOU SPRINKLE WHEN YOU TINKLE BE A SWEETIE AND WIPE THE SEATIE
WASH YOUR HANDS!!!!
Unless you're a lumberjack, on a solo trek through the wilderness or at an actual real life urinal, you will not be standing up to pee. Whoever started that trend or allowed men to get away with it for years needs to be locked up. Many people will think I am crossing the line on this one, but I'm standing my ground (see what I did there?).
I'm not even sure why all the teenage and preteen boys are strictly following my set of rules hanging over the toilet, but they are. I haven't had to clean one puddle off the floor or wipe any pee off the walls since hanging this sign.
I haven't had to reiterate, speak of it in person or publicly shame anyone yet! Just kidding… I would never do that!!! Or would I?
[tweetthis remove_twitter_handles="true" remove_hidden_hashtags="true" remove_hidden_urls="true"]Unless you're a lumberjack or on a solo trek through the wilderness, you will not be standing to pee #bathroomrules[/tweetthis]
Here is a list of the other things I keep on hand to save my sanity:
Bath and Body Works SmartSoap – A hands free soap dispenser is a no brainer to me. What I like about the Bath and Body brand is that I can get all my favorite Bath and Body scents, and the foam is dispensed in a pre-measured portion. I thought that we'd fly through soap way too fast, but so far it has lasted as long as any other foam pump would last. Plus, I know they're using enough soap!
Toothpaste Dispenser – This has not fixed 100% of the toothpaste residue in the sink problem, but it has drastically reduced it. This product is fairly easy to take apart and clean which is nice.
Toms Children's Toothpaste – In addition to using the toothpaste dispenser, I like to use Toms children's toothpaste because it is fairly colorless and doesn't leave as bad of a residue on the counter and in the sink.
Child/Adult Built-in Potty Seat – This is one of the best inventions of the 21's century!
Honest Co Shampoo and Body Wash – I like a dual soap like this that is natural and comes in a pump. It can be used as shampoo and body wash for kids and adults = less bottles in the shower.
Norwex Mirror Cloths and Envirocloth and a spray bottle of vinegar water. This link directs you to my friend Nikki's online store. If you like using natural products and like that you can store this in the bathroom without worrying about your kids accessing it – this is the way to go! Keep these supplies under the sink to wipe things down and clean mirrors with ease.
Clorox Wipes – If you're not so concerned with being natural but don't want a ton of chemical sprays laying around, these are so convenient.
My Free Bathroom Rules Sign… of course! Get it by signing up for our printables club. The rule chart is located in my archive with over 50 other free printables.
THIS PRINTABLE IN LOCATED IN THE ARCHIVES
Subscribe now for instant access to this one, and many more!
[wcm_nonmember]
[/wcm_nonmember]
[wcm_restrict]
Wait a minute, you're already a member! Go there now!
[/wcm_restrict]