This past week, our family's dream came true to attend a Disney Creator Celebration! I know that many of you followed along as we experienced some out-of-this-world events and parties that were hosted by Disney. You're probably wondering what a Disney Creator Celebration actually is, so I thought I'd share a quick summary!

What is the Disney Creators Celebration?
The Disney Creators Celebration is an invite-only VIP event for bloggers, creators and online influencers. This particular event consisted of 3 nights at the brand new Riviera Resort (a deluxe vacation club property), followed by a 3 night Disney cruise aboard the Disney Dream. As a Disney-loving blogger that has spent years writing about Disney and sharing my love for family vacations, I appreciate that Disney sees the value in what bloggers do. I love that they have an event like this, designed to provide opportunities for bloggers and their families to create content and experience things that we can share with our readers!
While we did pay for a small portion of the trip at a deeply discounted price, we were gifted with so many priceless opportunities and VIP events that were truly once-in-a-lifetime experiences. When Disney invites you to something, you can fully expect it to be more magical than anything you've ever experienced. I feel so honored and thankful to have been invited to this event.
Dear Sarah,

You're invited to the Most Magical Place on Earth!

We would like to invite you to attend Disney Creators Celebration. This invitation-only celebration is a Disney Land & Sea Event celebrating content creators through educational opportunities, one-of-a-kind experiences and Disney magic. The event will be held February 18-24, 2020, beginning with a three-night stay at Walt Disney World Resort and culminating with a three-night Disney cruise aboard the Disney Dream. This event is designed for content creators and is one of the only family-friendly events of its kind. Our goal is to present not only a dynamic lineup of speakers and networking opportunities for you, but to curate memorable experiences for you and your guests…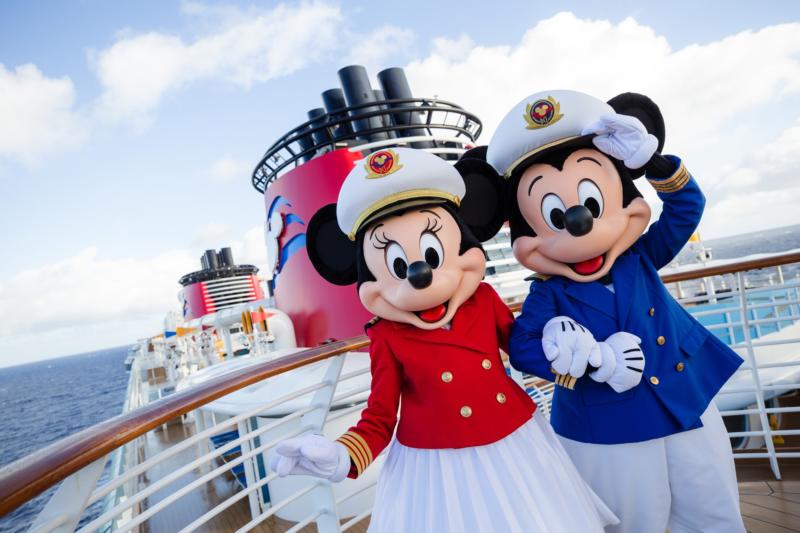 How Do You Get Invited?
You might be wondering, "This sounds amazing, how do I get invited to future events?" This is one of life's greatest mysteries and I can honestly tell you, I have no idea! Like I said, I have been creating content for Disney for years. Over the years, I have always followed along and watched as other bloggers were invited to events like this (it used to be called "Disney Social Media Moms"), but my invite never came. I dreamed of the day that someone from Disney would notice me and invite me to come. Well, that day finally came!!
Like I said, I really have no idea how I got invited. However, after attending this event and getting a feel for who was there, here are some tips I can suggest:
Create quality, family-friendly content (not necessarily about Disney!): One of the things that intrigued me, was that about half of the people on this particular trip had never been to Disney World before! In the past, I assumed you had to be a "Disney blogger" or at least have written something about Disney World to be eligible. But, this event proved that Disney isn't looking specifically for bloggers that have a large repertoire of Disney related posts! What everyone had in common, was quality content in their particular niche, great photography, professional website design and a healthy following across all social media channels.
Do things that get you noticed by Disney: Like I said, not everyone on this trip had even been to Disney World before, but it can't hurt to do things that might get you noticed. I suggest sharing quality content and tagging or hash-tagging Disney on social media. You can also try reaching out to the Disney PR team and pitching an idea you'd like to partner with them on.
Make yourself easy to reach: Is your website PR friendly? Do you have a media kit easily available and your email address visible? If you want big brands or companies like Disney to reach out to you, make sure it's easy for them to find your contact info!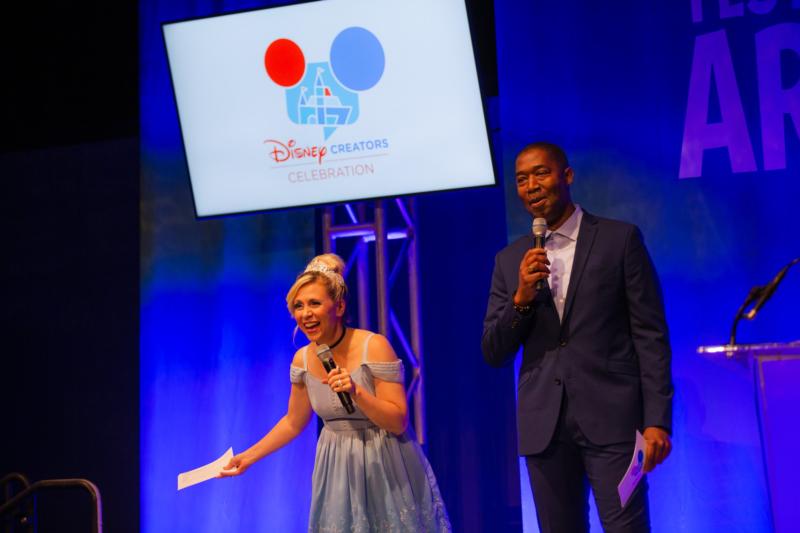 How I Almost Missed Out!
Like I said, I have been dreaming about this day for so long. I have always wondered how other bloggers got invited to Disney social media events and secretly cried inside when my invitation never came (if you're a blogger, you know what I mean). Every once in a while, I actually do a search through my spam folder or search my entire inbox for the word "Disney," in hopes of discovering something I might have missed. Well, something finally did come and I almost missed it!
It came the day after my newest nephew was born. I had spent the last 24 hours standing by my sister's side as she labored and gave birth. I came home late at night, exhausted and completely confused over what day it was. When I woke up the next morning, I deliriously attempted to check my emails and respond to messages, when…what?! There it was, the subject read, "Please RSVP before it's too late." What!? I was literally shaking as I opened the message. It was a reminder to RSVP to an event I had always dreamed of being invited to, but had somehow missed the invitation!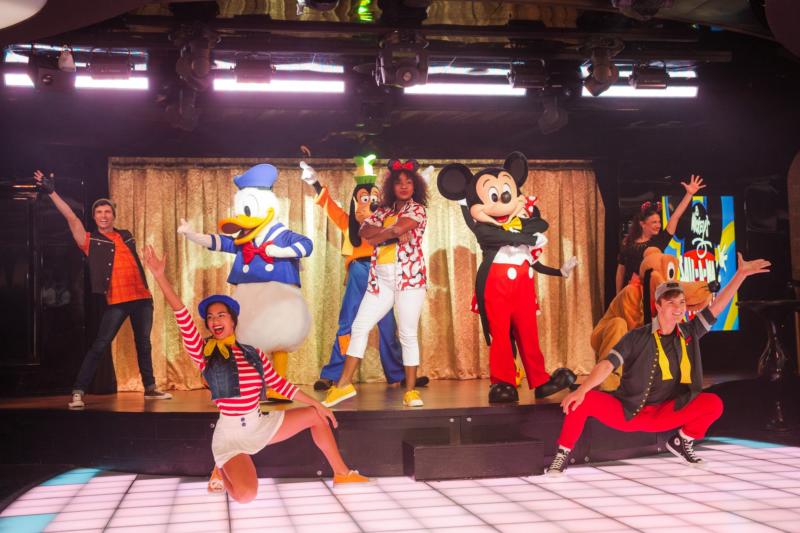 A Happy Ending
What happened next was a whirlwind of emails between me and the event planners at Disney, as well as multiple conversations with my husband who was more hesitant to commit than I was. Because I had missed the original invite (which, of course, had gone to my spam folder!), we didn't have a very long time to plan this out. We already had commitments made that conflicted with the event and my husband wasn't sure it was something we could back out of. After numerous phone calls and conversations between my husband, friends and the Disney event team, I finally laid in bed to cry and pray. I was a mix of sleep-deprived exhaustion and disappointment over potentially missing out on a once-in-a-lifetime opportunity. I finally laid it before God and let go of my dream. If it wasn't going to work out, I needed to be OK with that and not allow it to affect my attitude.
Well, you know the ending to this story, because we did go on the trip of a lifetime! Some awesome friends stepped in to help us make the proper arrangements and take over some responsibilities here at home. We officially committed to the trip and waited until Christmas to share the news with the kids!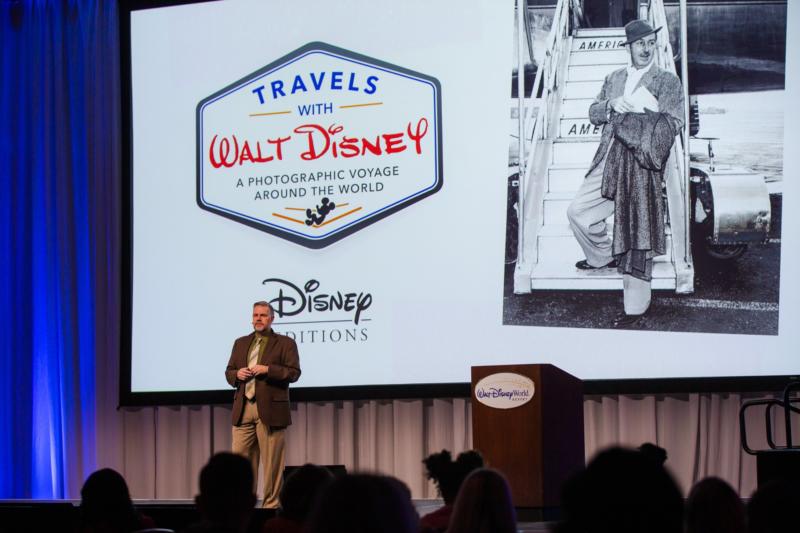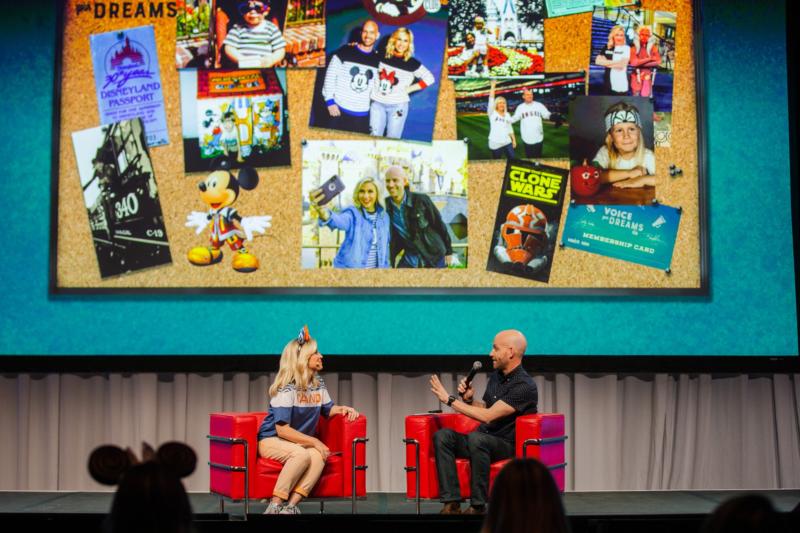 Our Itinerary and What Was Included
Our itinerary was jam-packed with amazing new content, celebrity guest appearances, training and tips on the topics of SEO and google ranking, VIP experiences in the parks and even an advanced movie screening! While we did pay for a small portion of the trip, I can't even begin to imagine what the actual value of everything we experienced would come to! Because our flight came in on Monday, we stayed at the Riviera for 4 nights and were each given 5 day park hopper tickets. We were also given media FastPasses, a dining gift card, VIP transportation to all events, character meet-and-greets, and little gifts left in our room each night.
You can find my insta stories from the trip saved to my highlight section on Instagram: Instagram.com/purposeblog
Here is a summary of our itinerary: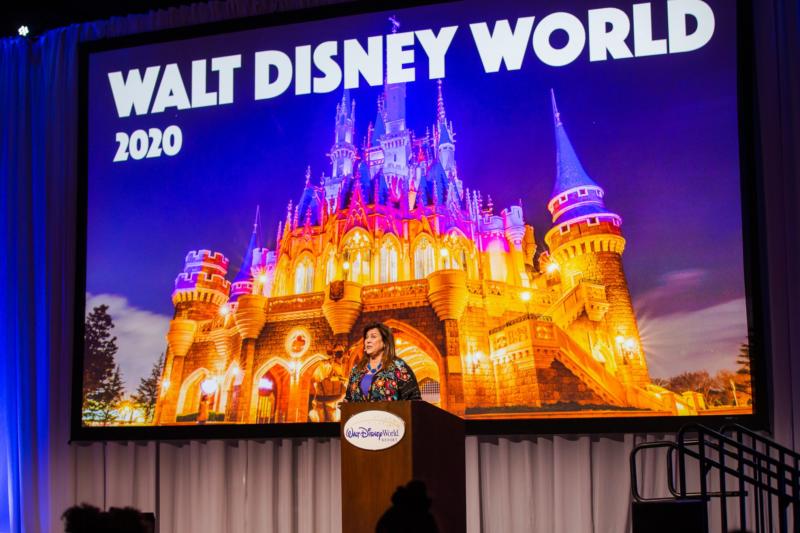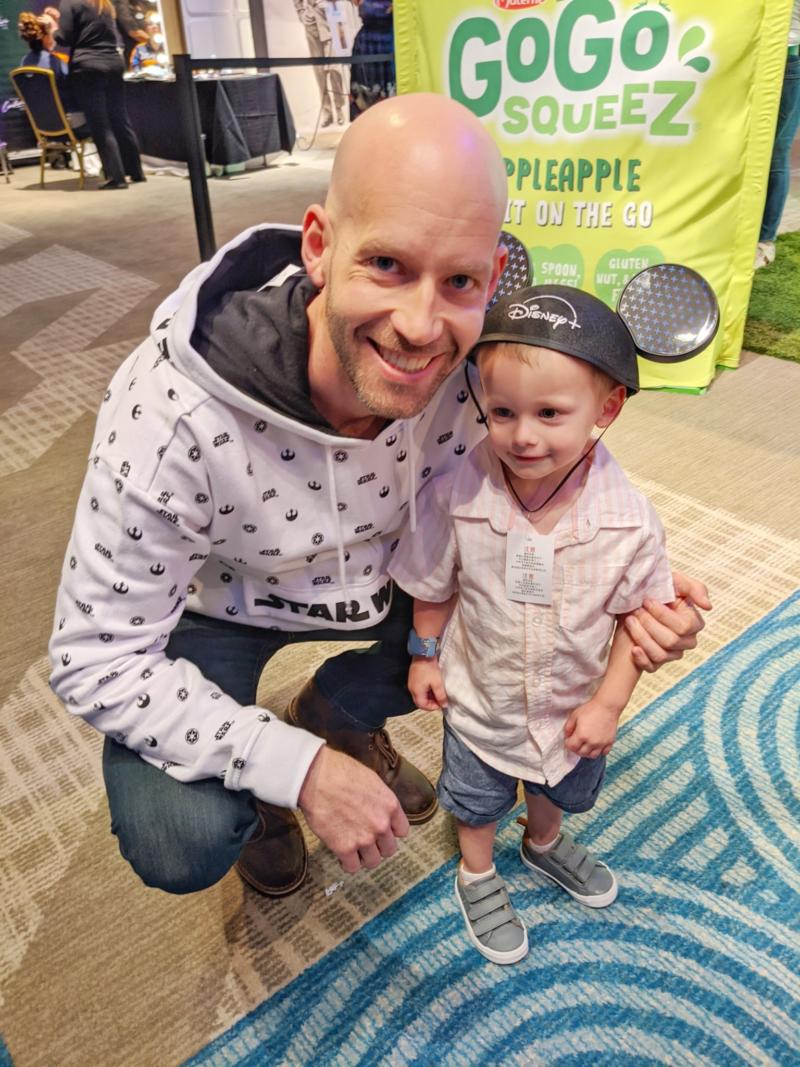 Monday:
The official event didn't start until Tuesday, but we flew in a day early to take advantage of the 5 day park hopper tickets that were provided! After checking into the Riviera, we took a bus over to Animal Kingdom to ride a couple of our favorite rides and visit Pandora at night while it was all lit up.
Tuesday:
We had free-time on Tuesday morning, so we made reservations to experience the newest character breakfast, Topolinos at the Riviera. After breakfast, we took the Skyliner over to Hollywood Studios and came back for an afternoon nap.
Welcome reception (for creators only) at Epcot – This was a time to network and get to know everyone. They provided free drinks and gifts at every seat. Our MC's for the week were Ashley Eckstein (founder of Her Universe and voice of Ahsoka Tano on Star Wars: The Clone Wars) and comedic host, Mark Daniel.
Adventure Awaits! Welcome dinner for creators and their families – We were fed, entertained and had the opportunity to meet and greet with Disney princesses!
Epcot Forever VIP viewing and dessert party – Flombeed waffles with vanilla ice cream and warm caramel topping, need I say more? We were treated to a buffet of endless desserts and given the opportunity to watch Epcot Forever from a prime viewing area.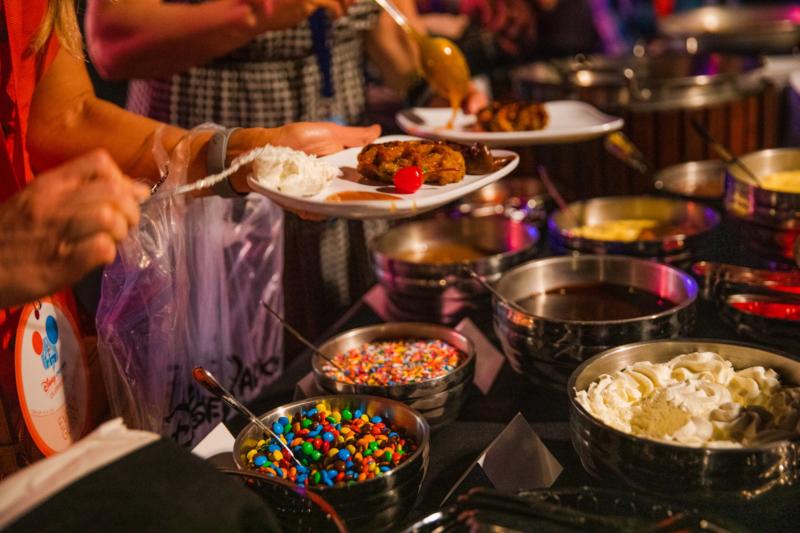 Wednesday:
Breakfast and general session (for creators only) at the Contemporary Resort – We learned about SEO from Disney media experts, listened in on a panel discussion from successful Tik Tok users, were entertained by a Disney a capella group, learned some Disney history from author, Jeff Kurtti, and were surprised with key note speaker, Tamron Hall!
Creators Celebration showcase (for creator and their families) – We had the opportunity to meet brand reps from American Tourister, Havaianas, Disney+ and more. We were also given gifts, autographed copies of books, met celebrities and took pictures with the characters from Onward.
We spent the rest of the afternoon at the Magic Kingdom where I had booked a new "Capture Your Moment" private photography session.
Treat pick-up in the Magic Kingdom
We watched the fireworks from Main Street and headed back to the Riviera where we collapsed from exhaustion!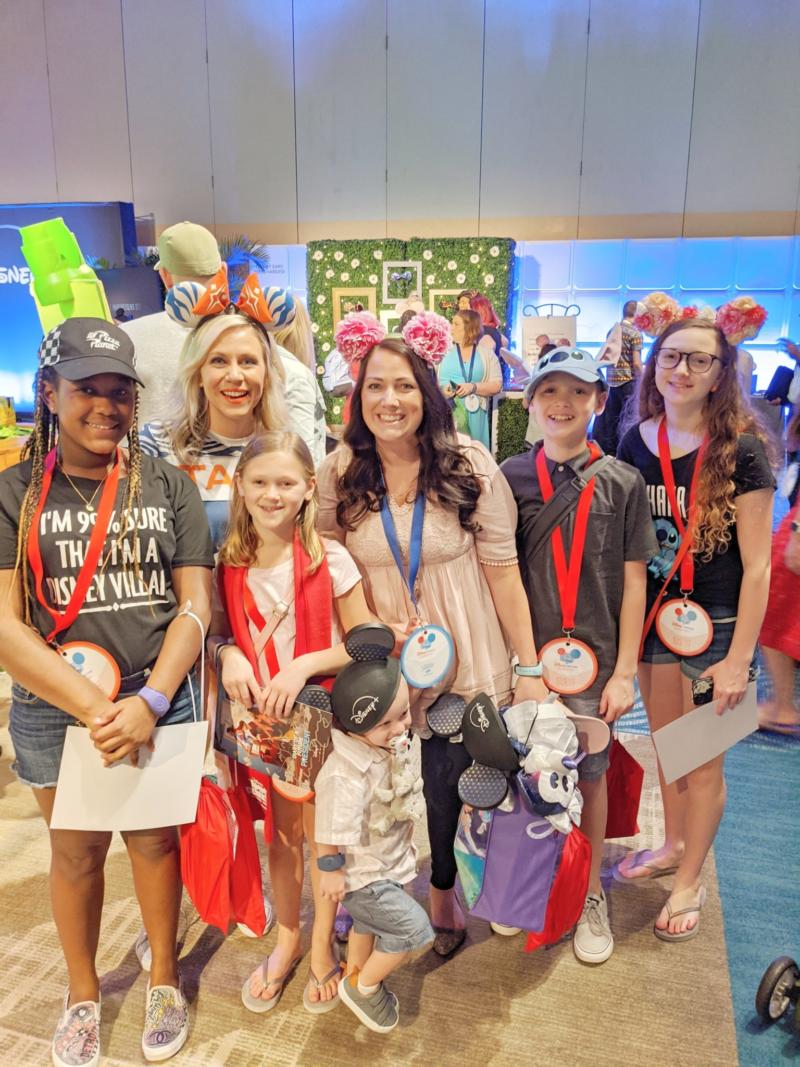 HIGHLIGHT: Meeting Ashley Eckstein, founder of Her Universe and voice of Ahsoka Tano on Star Wars: The Clone Wars. I also won a pair of Star Wars Minnie Ears, designed by Ashley!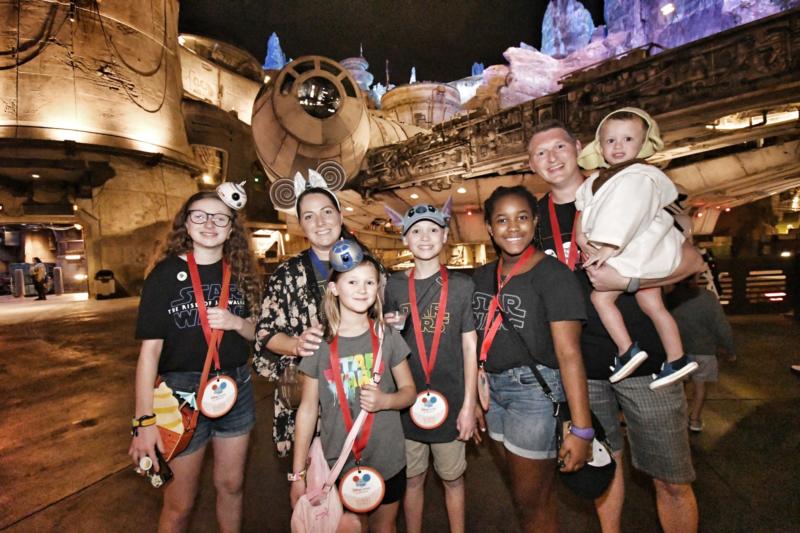 Thursday:
Private breakfast on Pandora – Our group was given private entrance to the land of Pandora before the park opened to the general public! We had breakfast, could get endless pictures in spots that are normally full of people, and could ride Flight of Passage or the Na'vi River Journey over and over again with no lines!
Private dessert party in Galaxy's Edge – This was the highlight of our trip for everyone in our family! We had private access to Galaxy's Edge once it was closed to the public. We were able to ride Rise of the Resistance (without arriving before the park opens and frantically hoping to snag a boarding group!) and Smugglers Run, we had an out-of-this-world dessert buffet and the undivided attention of Chewie, Rey and the Stormtroopers.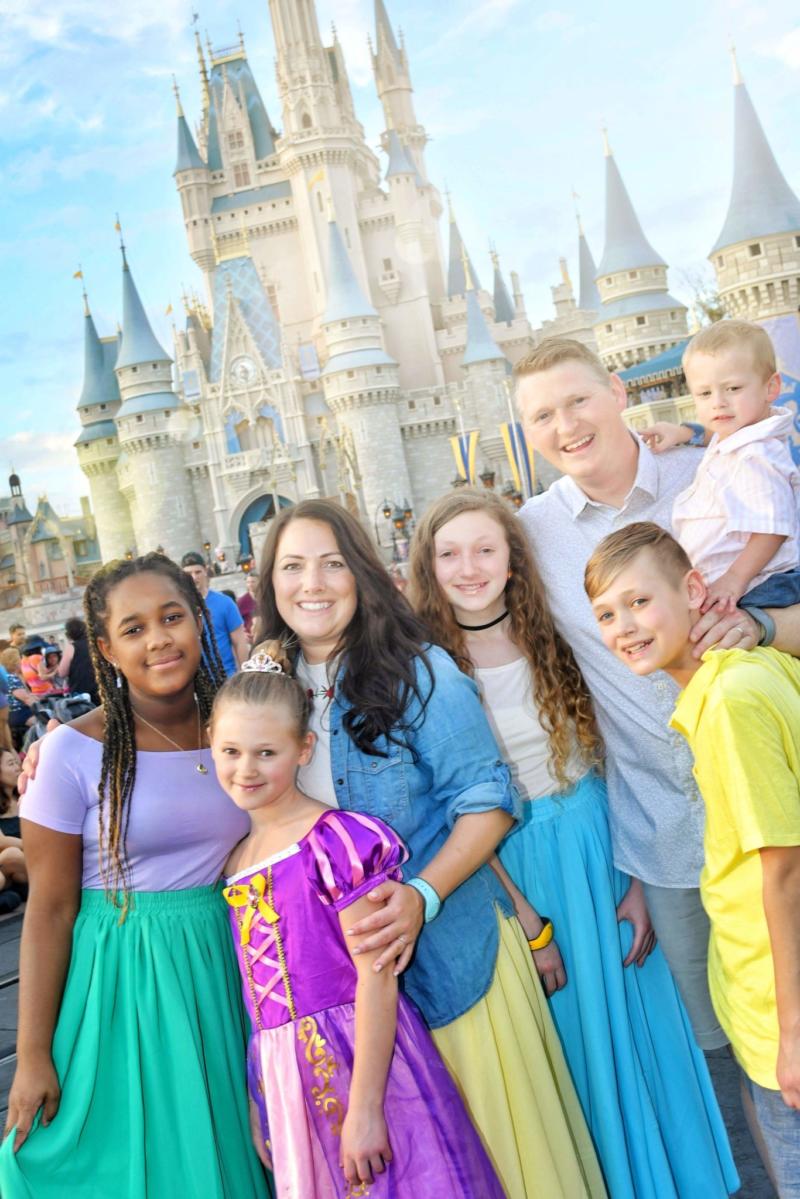 The Second Half of the Trip
After we had spent the first portion of the trip at the Rivera, enjoying the parks, we moved onto the cruise! This was our family's first experience on a cruise and the kids could not wait!
Friday:
Advanced screening of Onward at Disney Springs – I give this movie 5 stars, but pack your tissues! Onward is a heartwarming, emotional roller-coaster (what else would you expect from Pixar?)!
Welcome aboard reception on the Disney Dream (for creators only) – Cheers to an awesome first half of the trip before starting the second!
Saturday:
Photos with Captain Mickey and Minnie
Optional exclusive experiences throughout the afternoon
Dinner at the Enchanted Garden
Beauty and the Beast stage show
Pirate night party and fireworks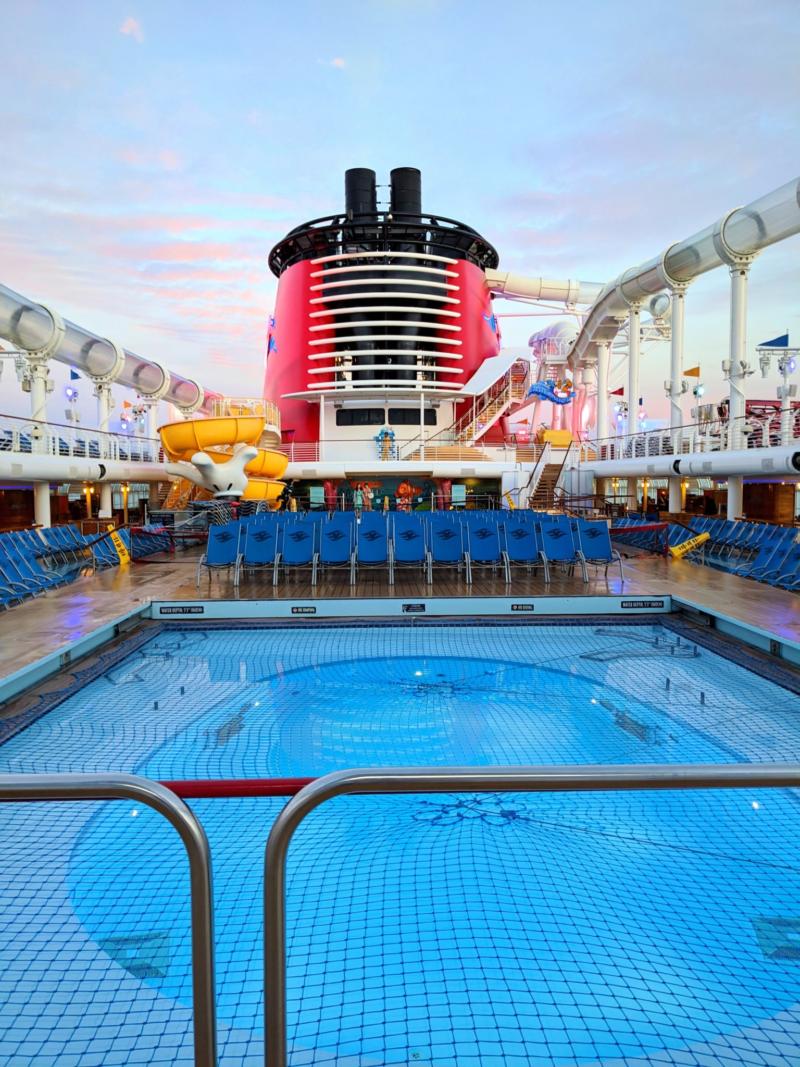 Sunday:
Castaway Cay 5K – This was such a fun way to start the day!
Bike rental or tube rental – Jay took a couple kids on a bike ride around the island while I stayed on the beach with the ones that wanted to rent tubes.
BBQ lunch – Amazing lunch, with endless ice cream and chocolate chip cookies.
Farewell reception (for creators only)
Dinner at the Royal Palace
Disney's Believe stage show
Monday:
Breakfast
Disembarkation at Port Canaveral
We rented a car right here at the port and drove it to our favorite place: the Disney Character Warehouse
Because it was cheaper to stay another night and fly home on Tuesday, we stayed a night at the All Star Sports Resort (a Disney value resort)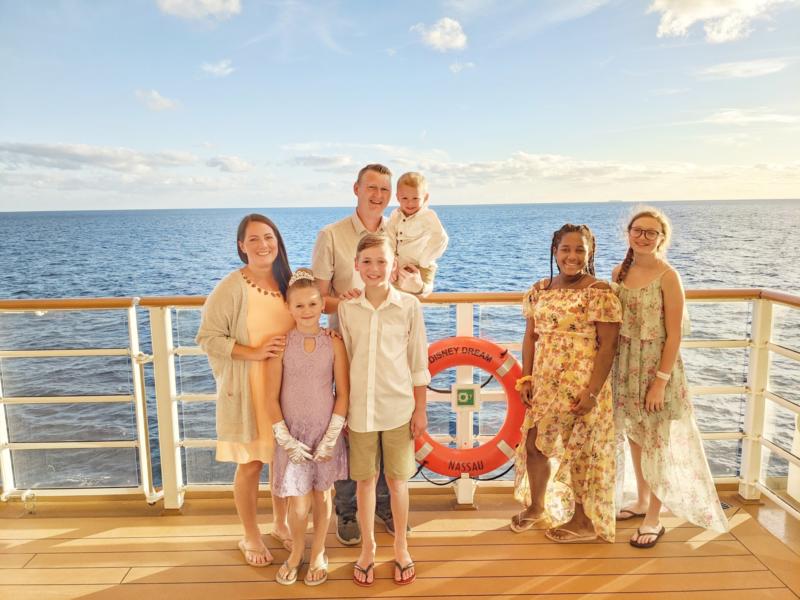 Tuesday:
We had one day left on our event tickets, so we spent the first part of the day at Hollywood Studios and then the Magic Kingdom before heading to the airport!
Summary
This has been the most magical, non-stop exciting vacation we've ever been on. I'm so thankful to have been invited to this event, and so proud of the opportunity to take my family along. Disney treated us like royalty, the service was exceptional, and there was always something for each of our kids ranging from age 2 to 13.
Do you know what the best part is? You don't have to be a celebrity or member of the press to experience that same Disney magic!! When the official event ended and we had to go back to reality, we spent our last night in Florida at a Disney Value Resort. Let me tell you, it was obviously not as fancy as the Riviera Resort or the Disney cruise, but it was still super fun and the staff was just as accommodating and kind. From the Disney value resorts to the Disney Cruise Line, there is something for everyone and every budget. Nobody does a family vacation like Disney!
Pin-It!