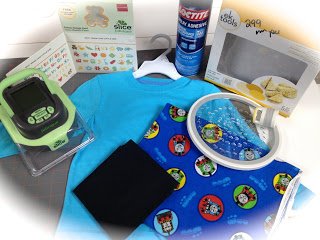 Making a T-Shirt can be intimidating. This T-Shirt took me less than 15 minutes from concept to finish! The train party was quickly approaching and I originally wanted to make a Rail Road Crossing sign to match his cake, but of course I forgot to pick up the yellow fabric while I was at JoAnn's.
I had it in the cart and forgot what I needed it for, but that's another story! I had a circular cutter and a slice, but when I got down to it I saw that it may be best to cut out the characters on the fabric. I purchased my
ek tools cutter
from Goodwill for $2.99. I cut a 1 1/2 inch circle and had my characters.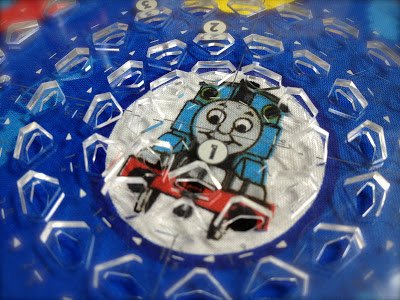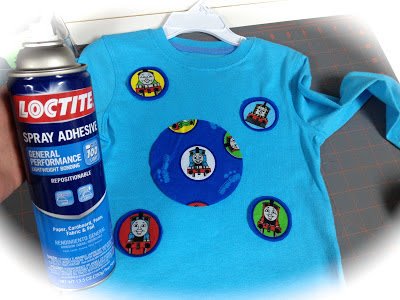 This adhesive is great. I got mine at JoAnn's and it's repositionable. I placed my fabric upside down in the sink and lightly sprayed. Then I changed my design and simply picked them up and placed them in their new position. This was the ticket. I didn't use any other type of interfacing. It is very important to change your tension to a two or a three. Check your machine manual. I know it's a pain, but the finished product will be well worth it.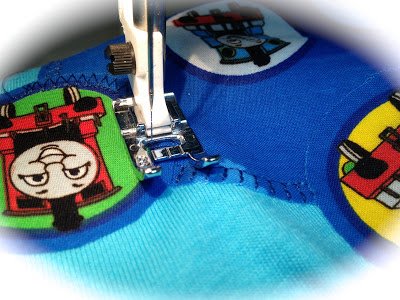 I picked a decorative stitch that also lined the edge. Sew around the big circle first. Then apply the smaller design and sew around those.
Whala!! A Thomas the train t-shirt.