Take Great Pictures While Wearing a Mask at Disney World
Our family has visited Disney World several times in recent months, because of how strictly they enforce mask wearing and social distancing. We appreciate the safety measures Disney has put in place to keep everyone safe while enjoying the magic. Here are all my favorite tips for taking great pictures while wearing a mask at Disney World!
Tip #1: Focus on the Eyes
If you are a make-up wearer, perhaps you appreciate how much wearing a mask has shortened your routine! Go ahead and skip the lipstick, focus on your eyes!
When taking picture, be sure to focus on catching the eyes in the best light. Pull masks down just slightly, especially on children, if they are up too high and touching the eyes. For little ones, it can be challenging finding masks that are small enough to fit their tiny faces and not cover their eyes. I like to do a quick check before snapping a photo and make sure the mask is not up too high and their eyes are the focus.
Eyes have a tendency to look shadowy in pictures. Use a photo editing app to brighten them up and lift the shadows.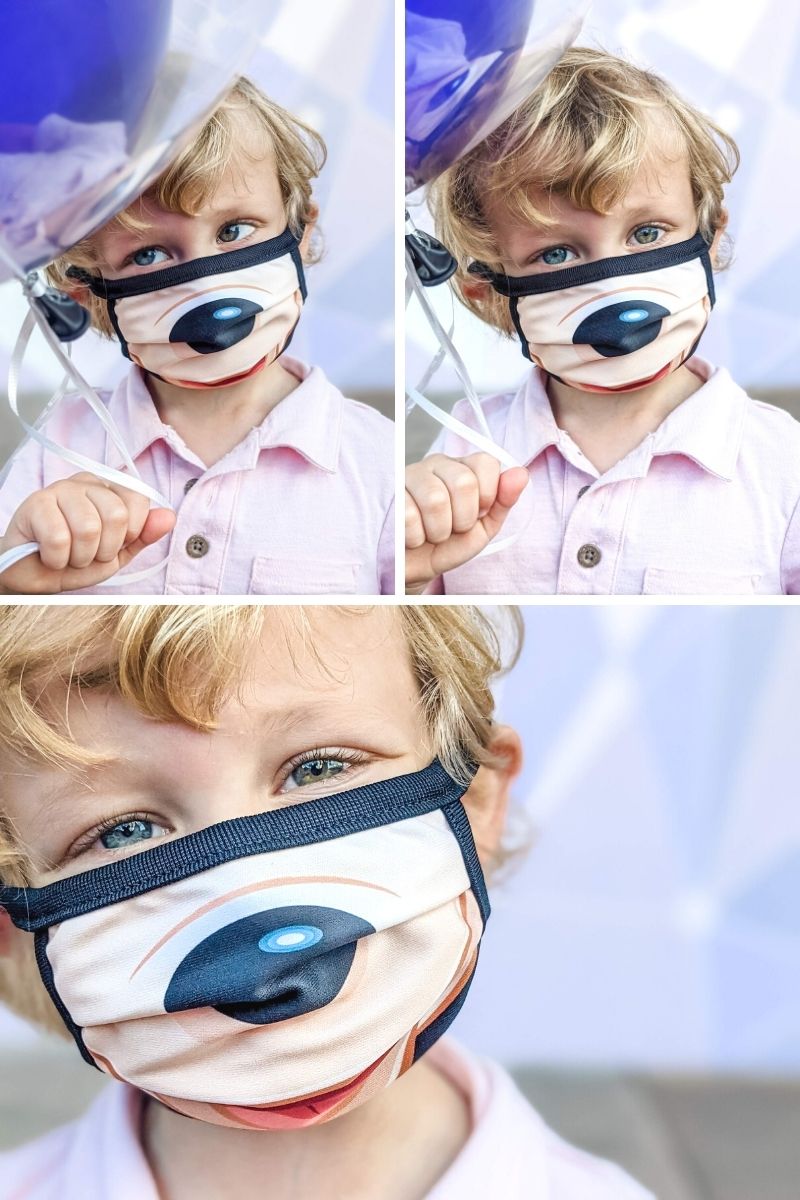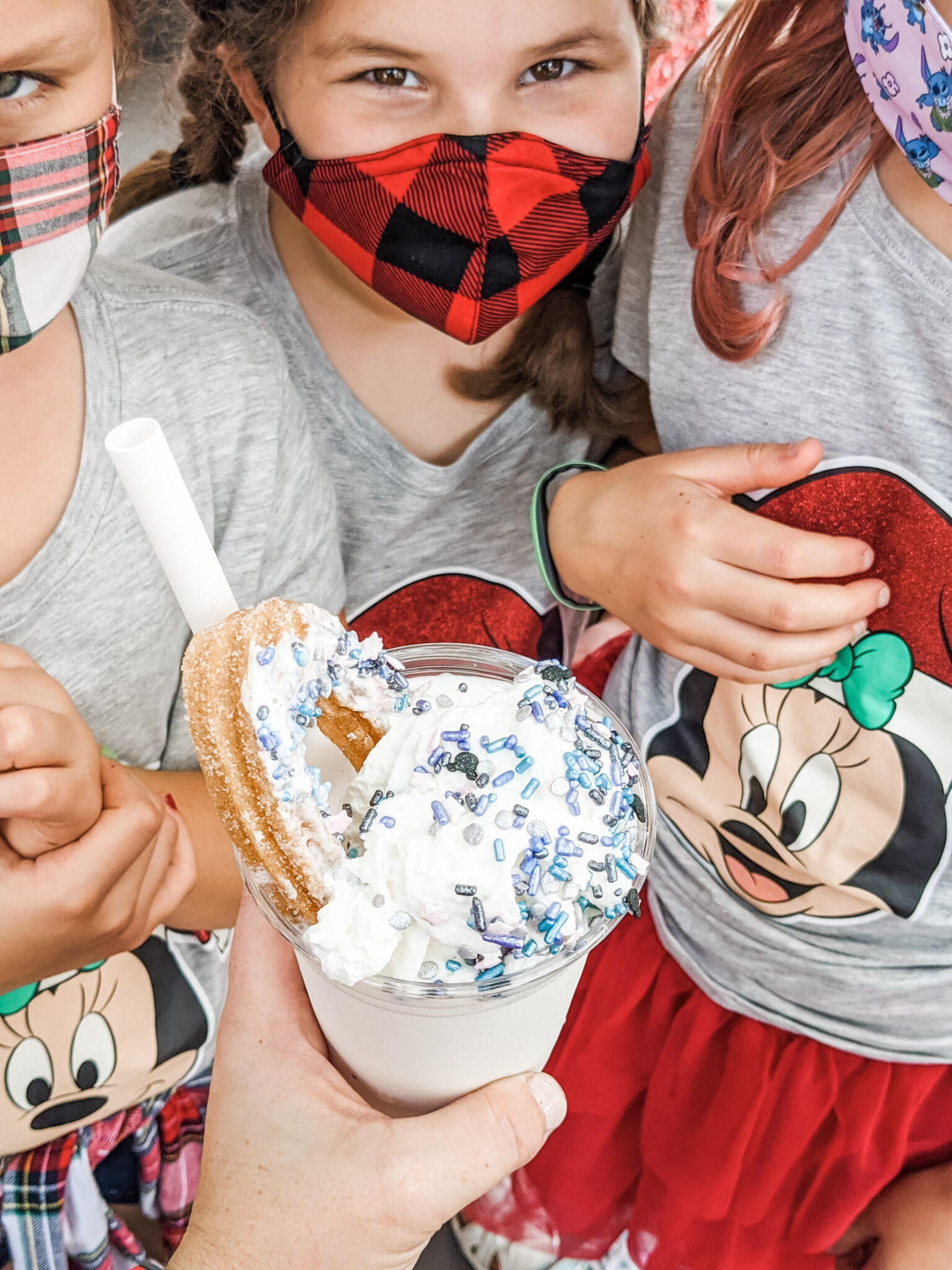 Tip #2: Coordinate Your Mask with Your Outfit
Don't skip this most basic step! Plan ahead of time and take lots of mask options to coordinate with your outfits. You may also want to do coordinating family masks as well. This simple step can really take a picture from mediocre to stunning.
Great Places to Buy Masks
Here are a few of my favorite places to find masks. I love the newer style from Disney over the original design. The new ones have a different fabric and fit a little better. Asher wears a size Small and I wear a size Medium.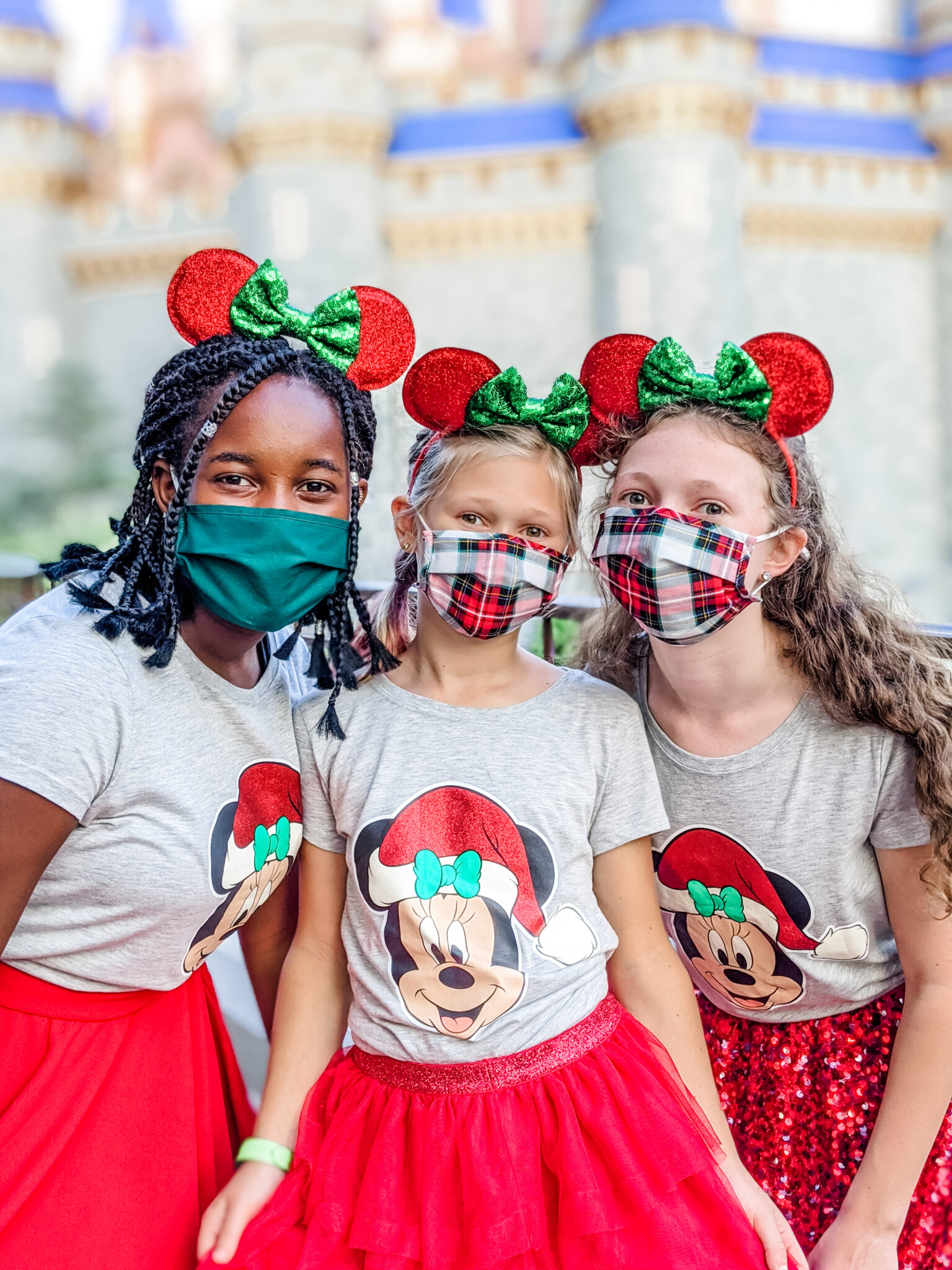 Tip #3: Smile!
This may seem counter-intuitive, but don't forget to smile. My favorite line to shout out while taking pictures is "smile with your eyes!" I also encourage my kids to "think happy thoughts!" When you think happy thoughts and smile with your mouth, your eyes look brighter and more alert. With so much riding on your eyes to stand out behind the mask, make sure they look happy!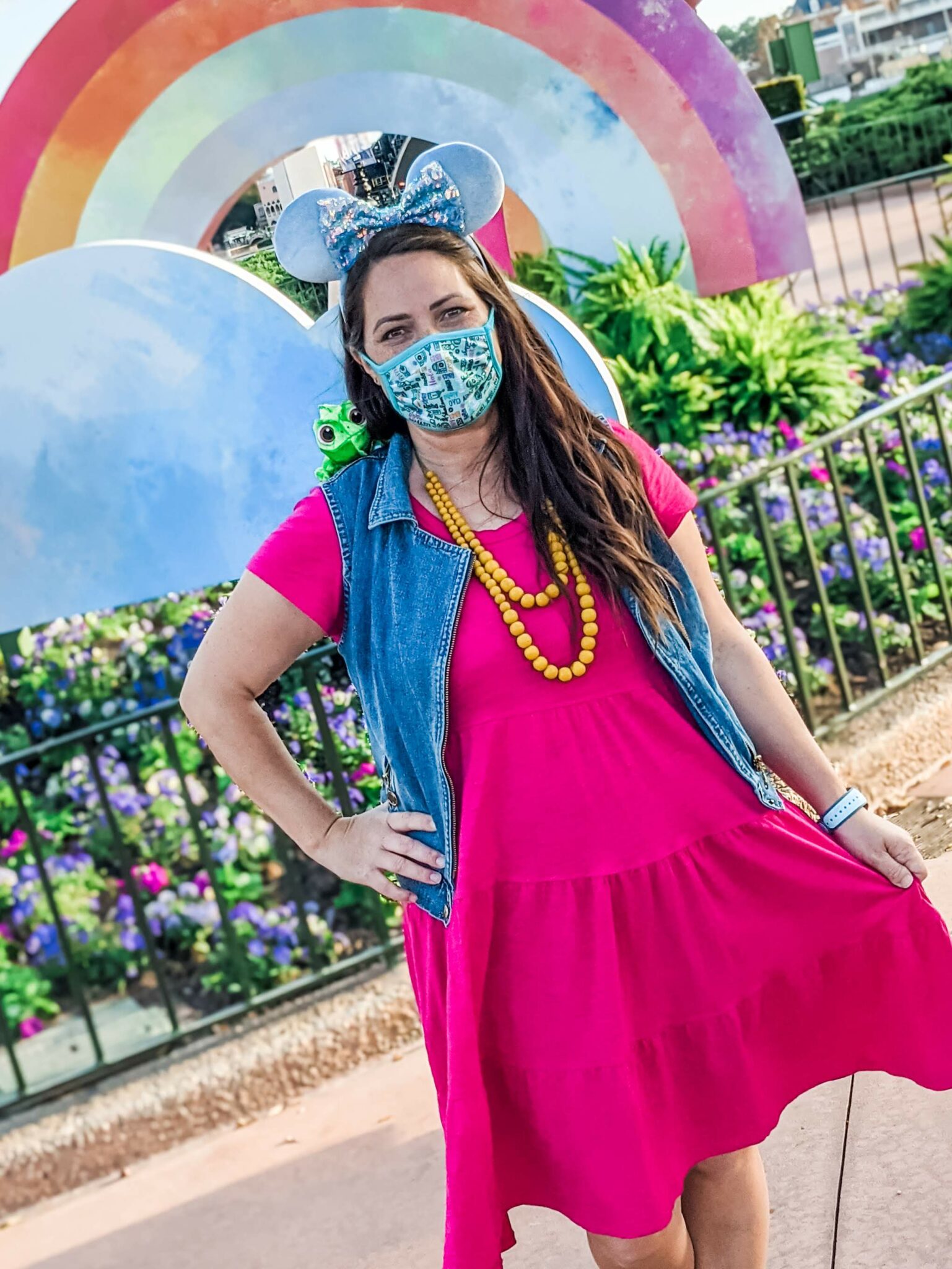 Tip #4: Take a Picture from Behind
If you don't love the idea of wearing a mask in pictures, get creative and include a couple shots that don't show it. I like to get a few shots from behind, showing my kids looking at something of interest. Stand in front of the castle or your favorite ride!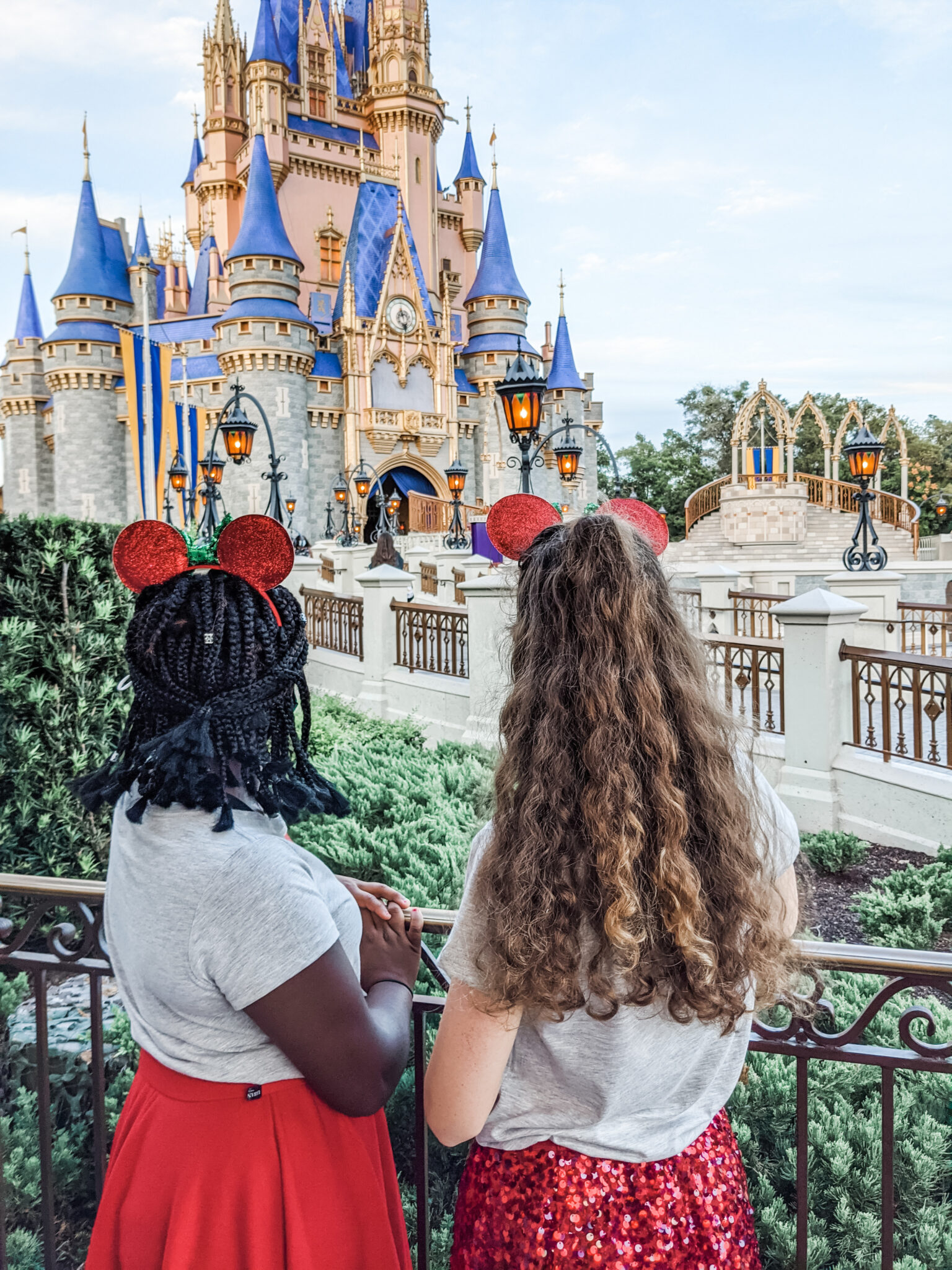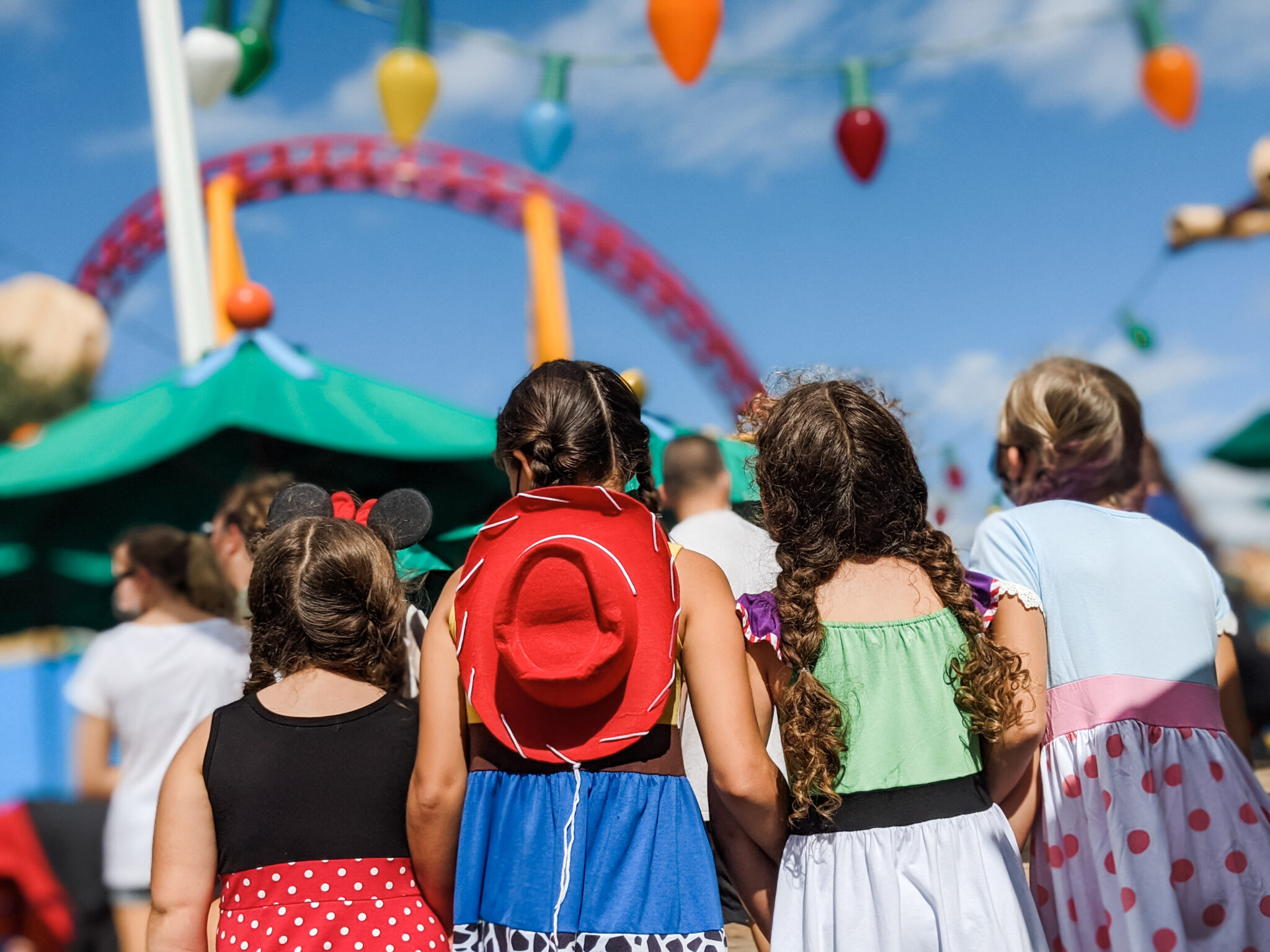 Tip #5: Don't Take Your Mask Off on Rides
This is a friendly reminder and a tip! If you think you can get away with taking your mask off for the ride photo, think again. Disney will block your photo and you will miss out if masks are removed.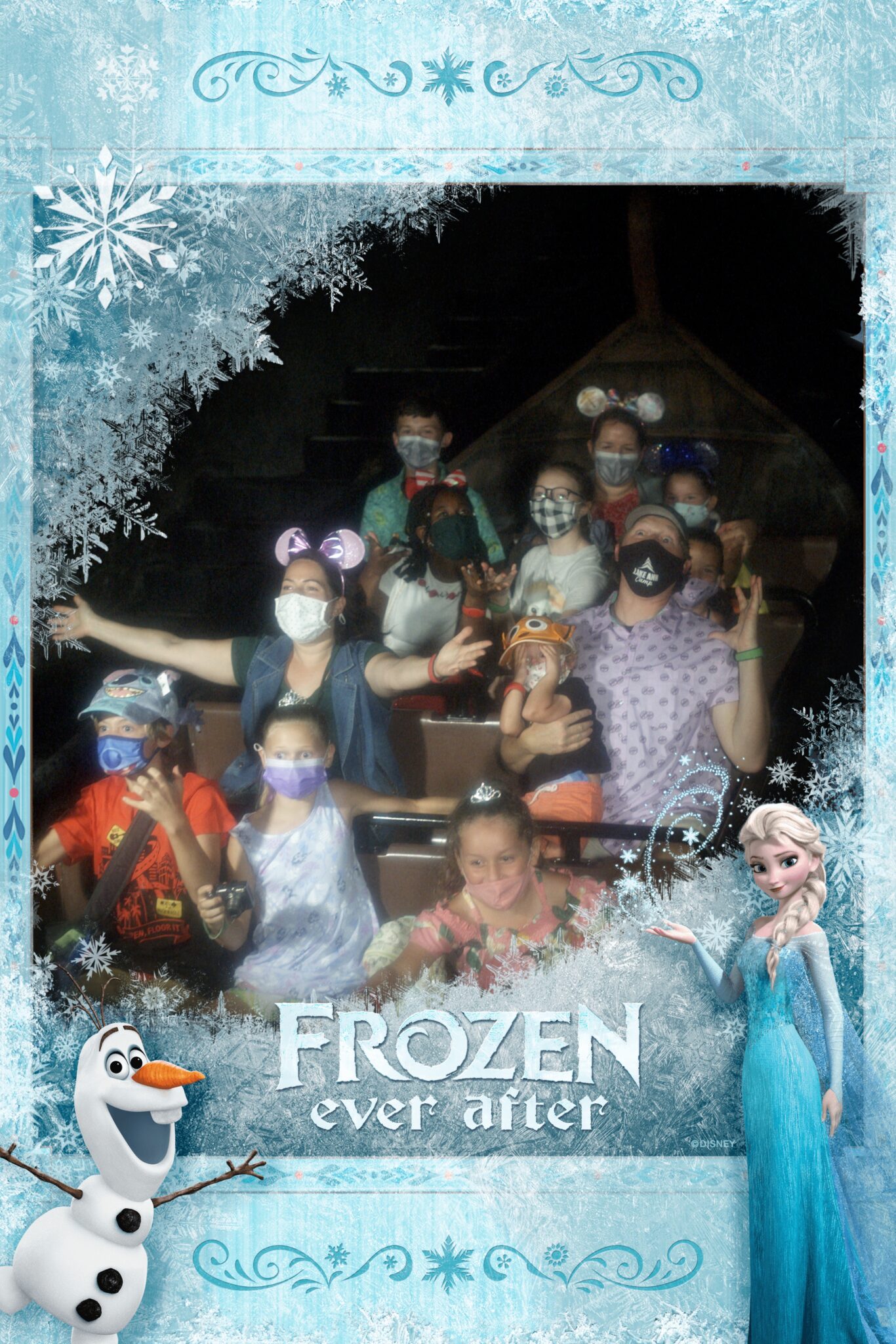 Tip #6: Cover Your Face
Here's another cute way to work around the mask. Use a prop or get creative with covering your face. Use a balloon, a hat or your favorite dessert. Hold an object out in front of you and tap the object so your camera focuses on that instead of your face.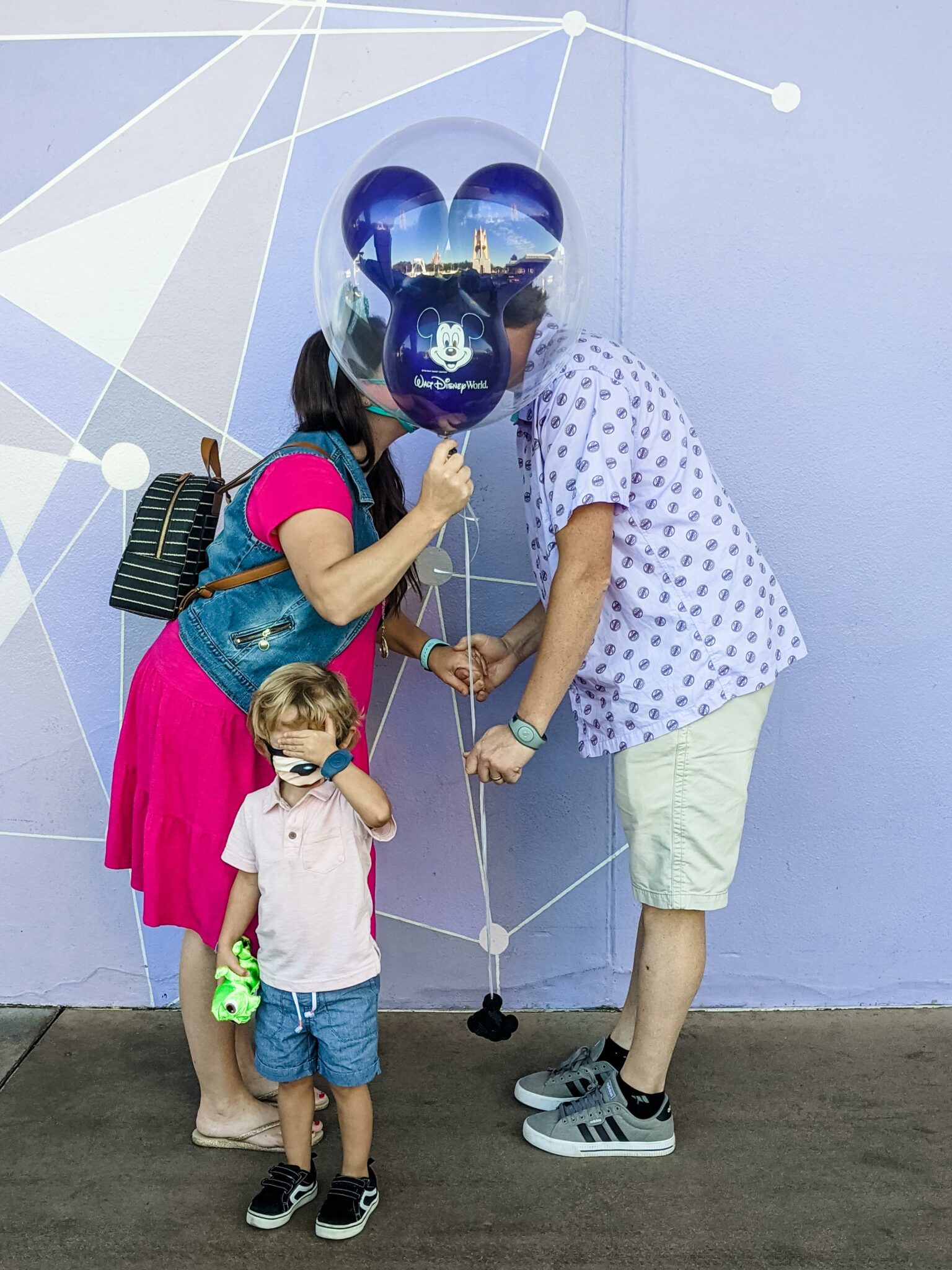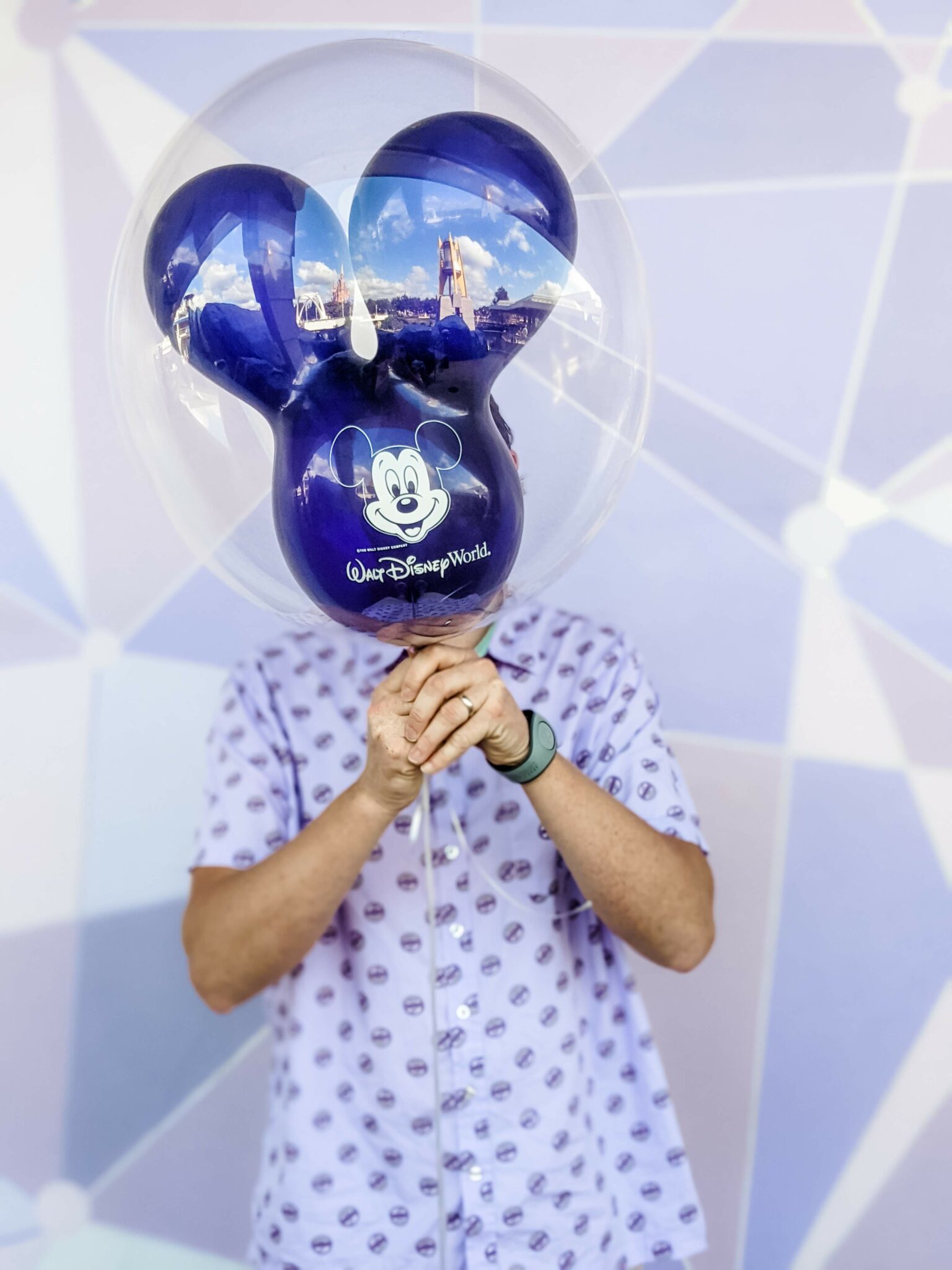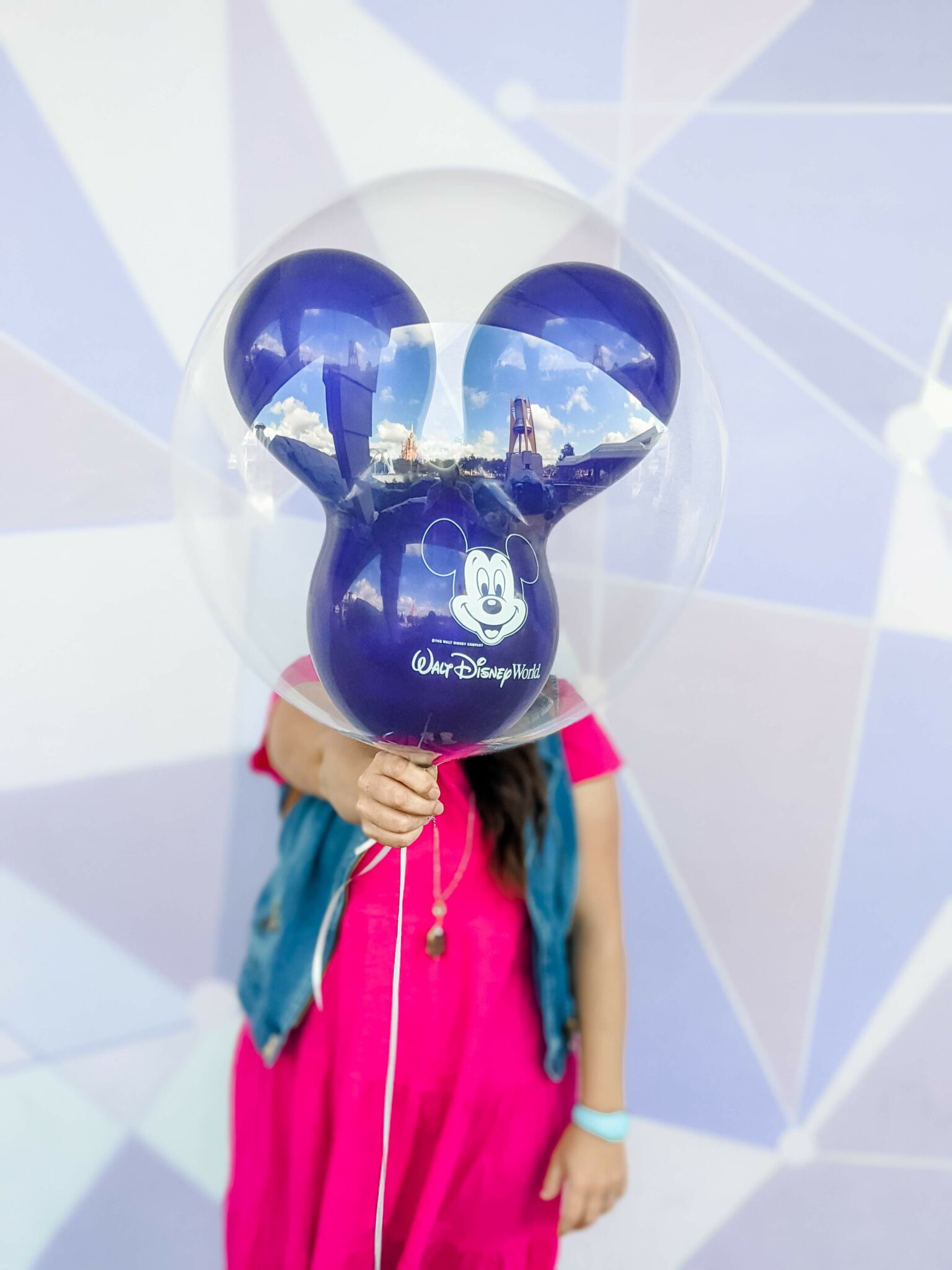 Tip #7: Show Some Love
Just because you're wearing a mask, doesn't mean you can't snap some cute cuddly pictures. Don't let the mask stand in the way!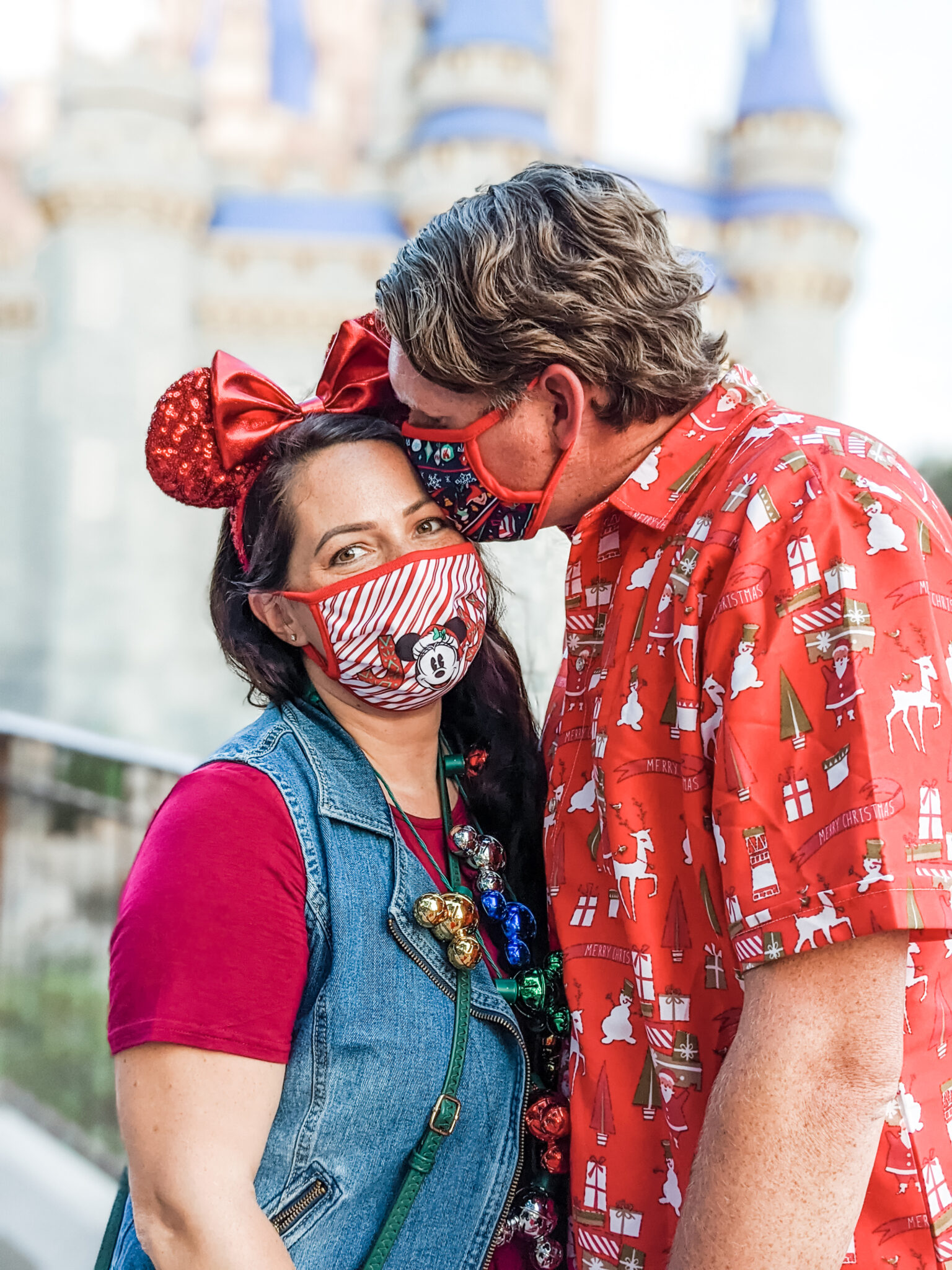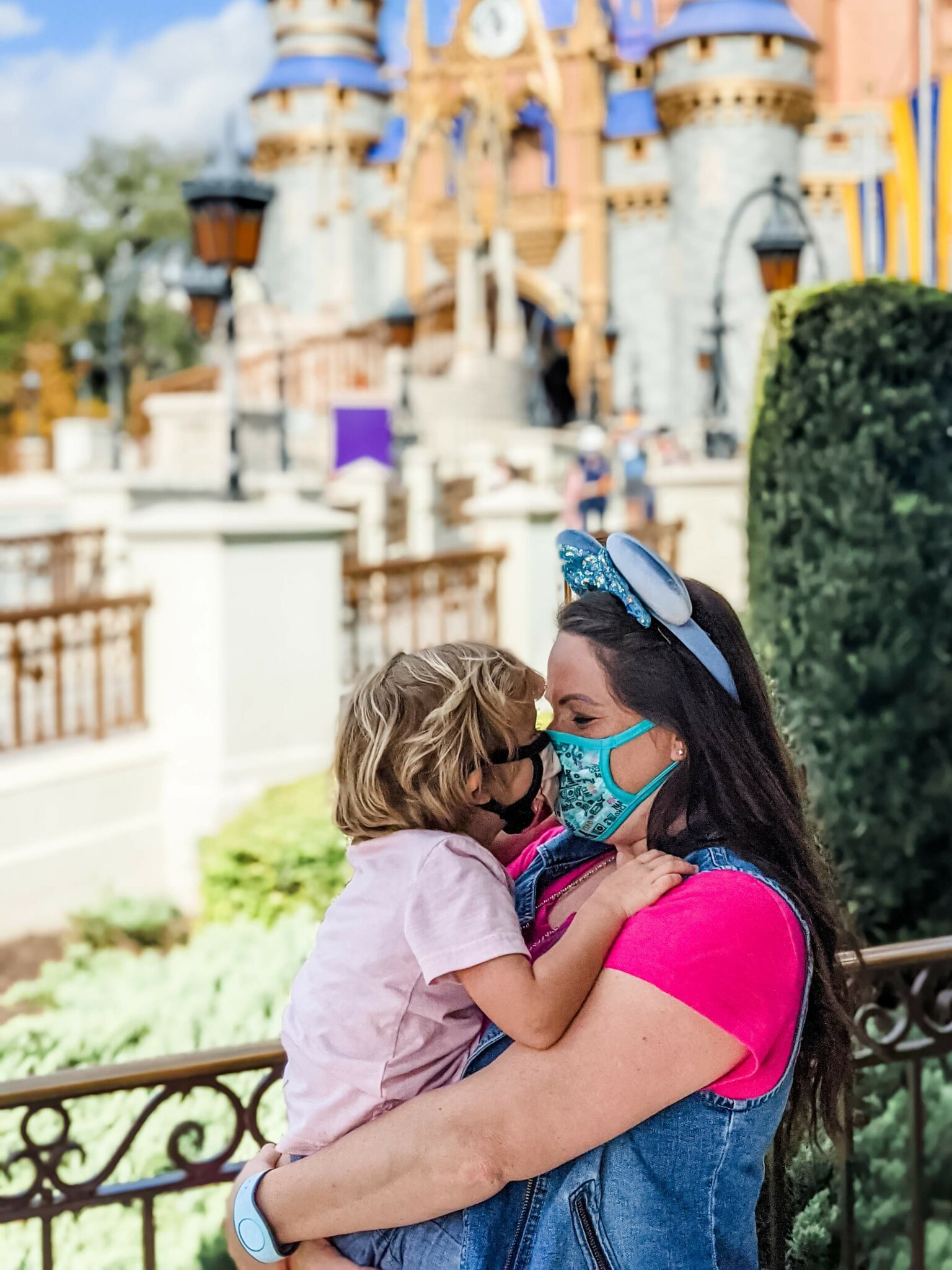 Tip #8: Take Pictures of Things Other Than Your Face
Get creative and capture some of the other little moments and memories of things other than your face! We like getting pictures of our hands with our Magic Bands, shoes, food, etc.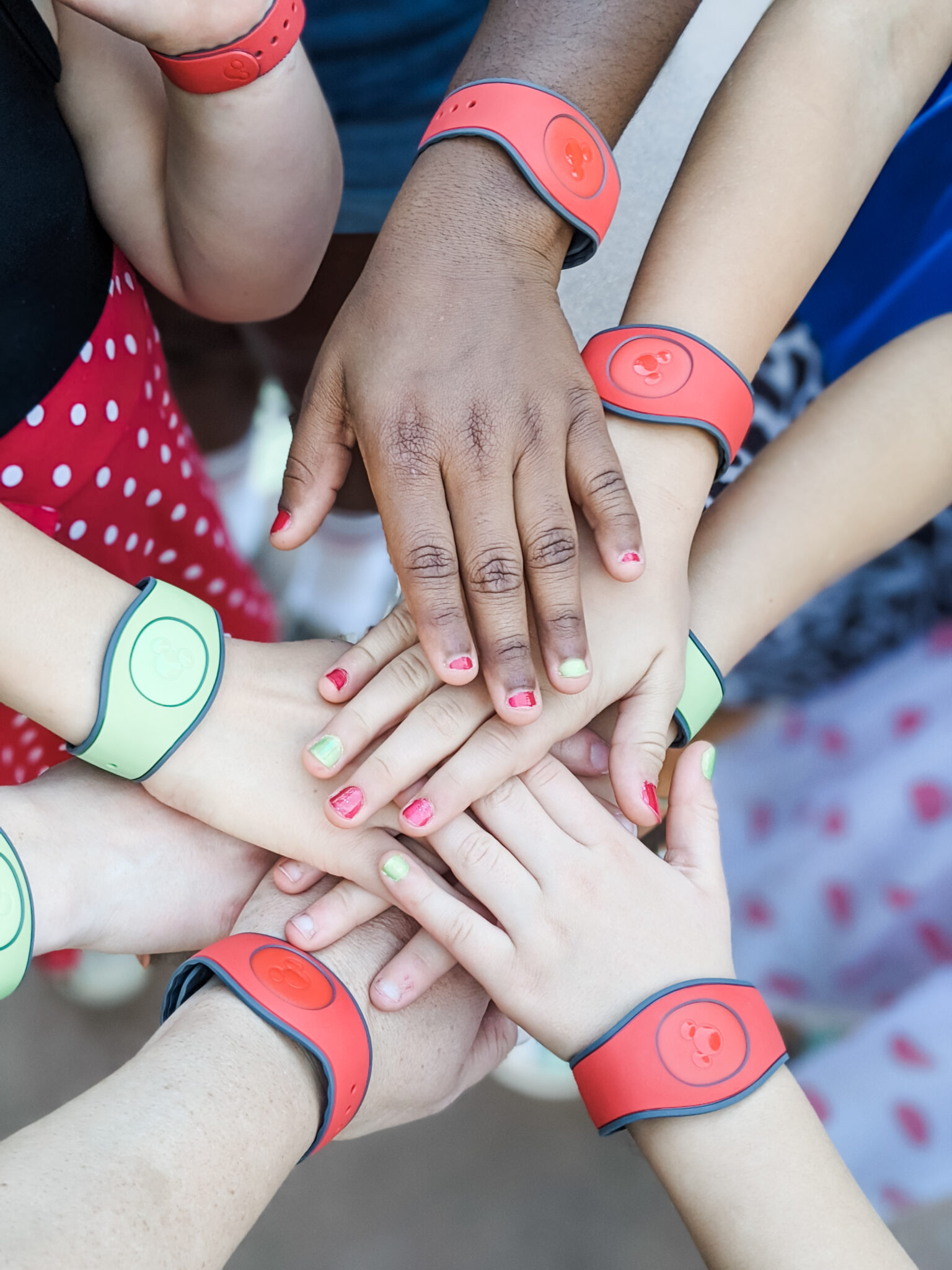 Tip # 9: Utilize the Disney PhotoPass
This might be one of those times you are tempted not to spend money on the PhotoPass or Memory Maker package, but there are some good reasons to still consider it. In the past, Disney photographers were happy to snap a picture with your camera or phone, but currently that is not allowed. If you are going with a group and want everyone in the picture, your best option is to purchase a Memory Maker package ahead of time. When we went with my sister in November, we got a lot of great group shots with the Memory Maker package.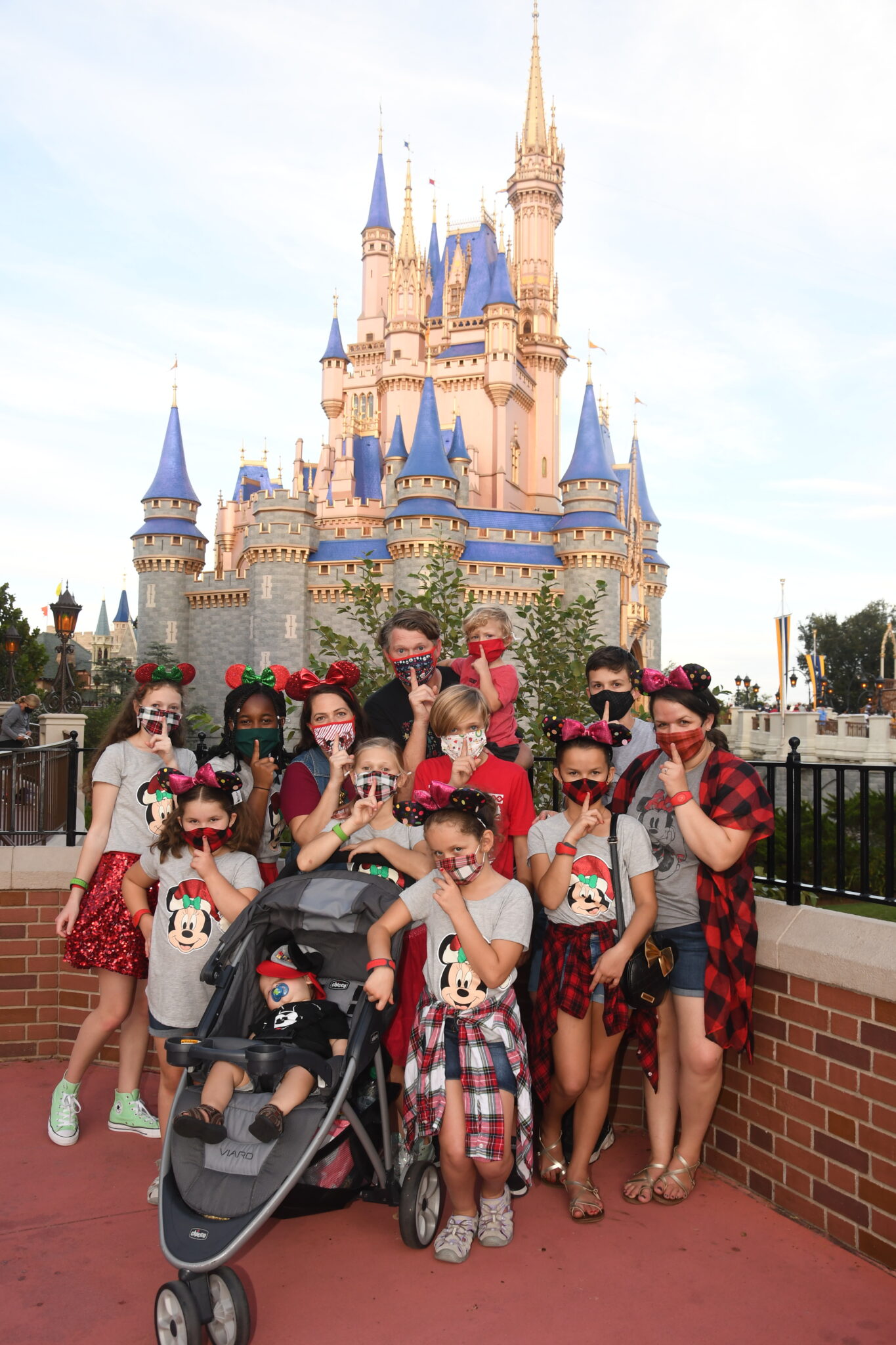 Tip #10: Embrace the Mask
In the end, you might as well just embrace the mask! Don't be afraid of taking pictures with your mask on. One day we will look back on this time period with many mixed emotions, but it would be odd not to have pictures of masks included in those memories.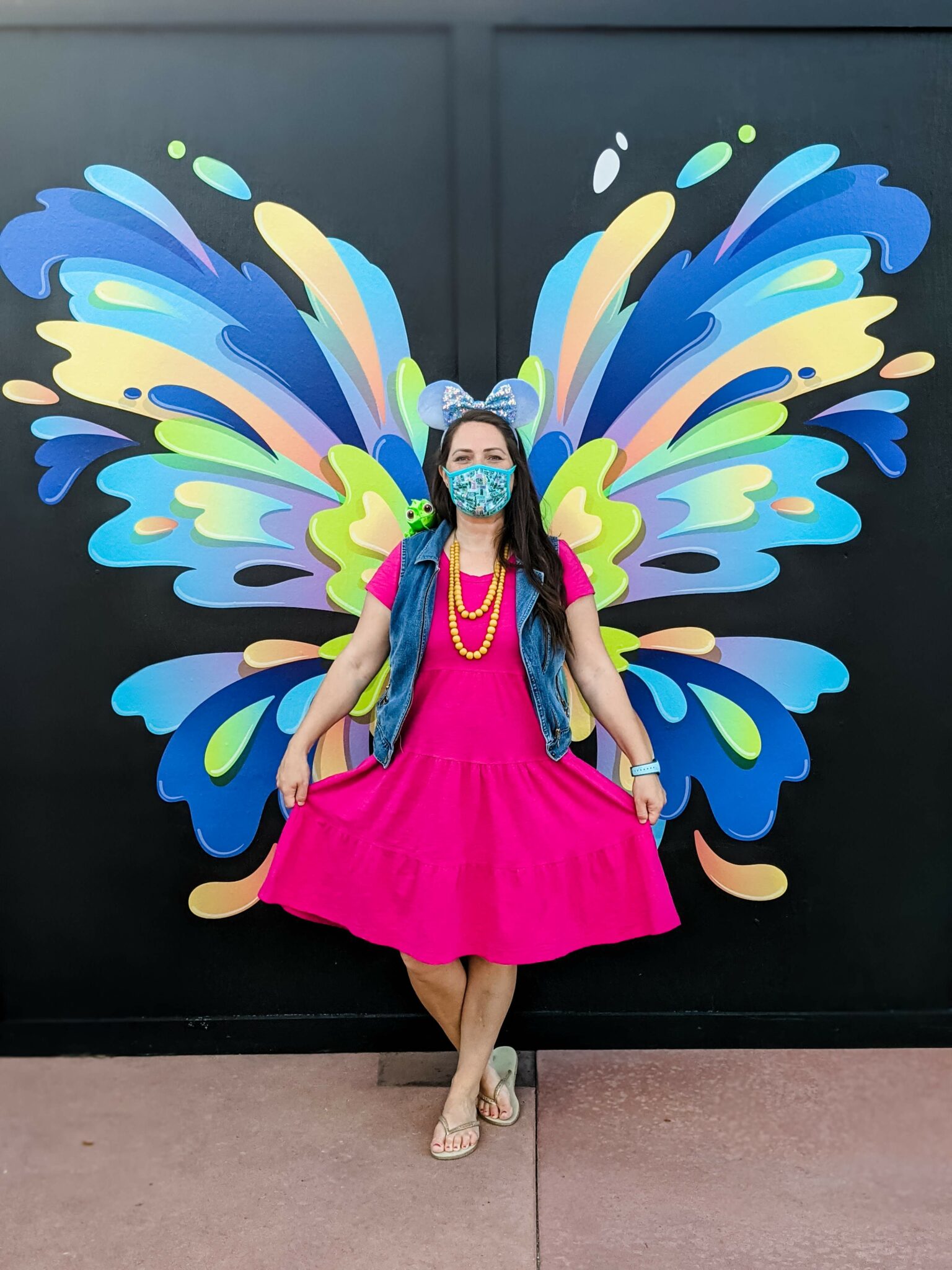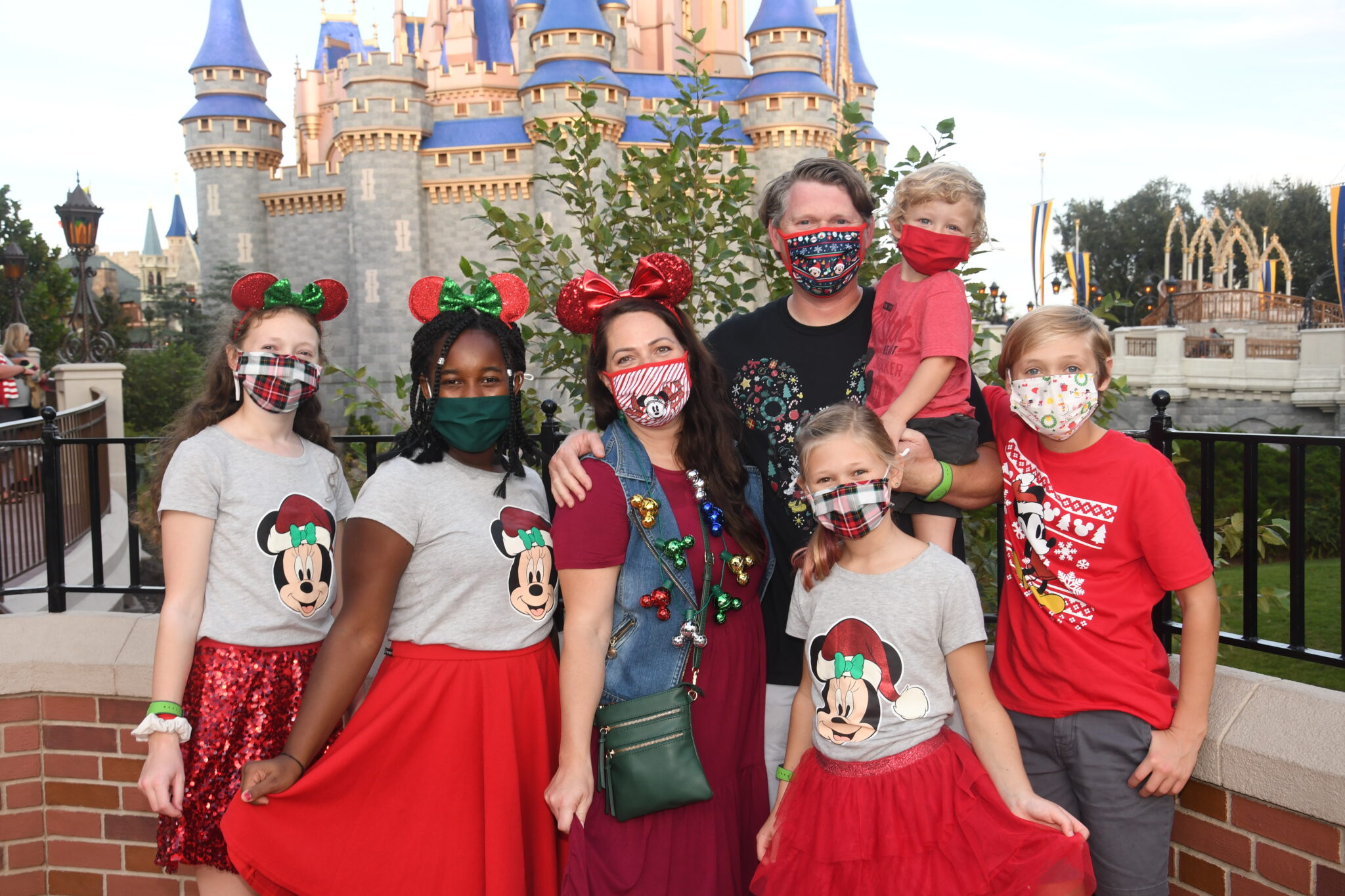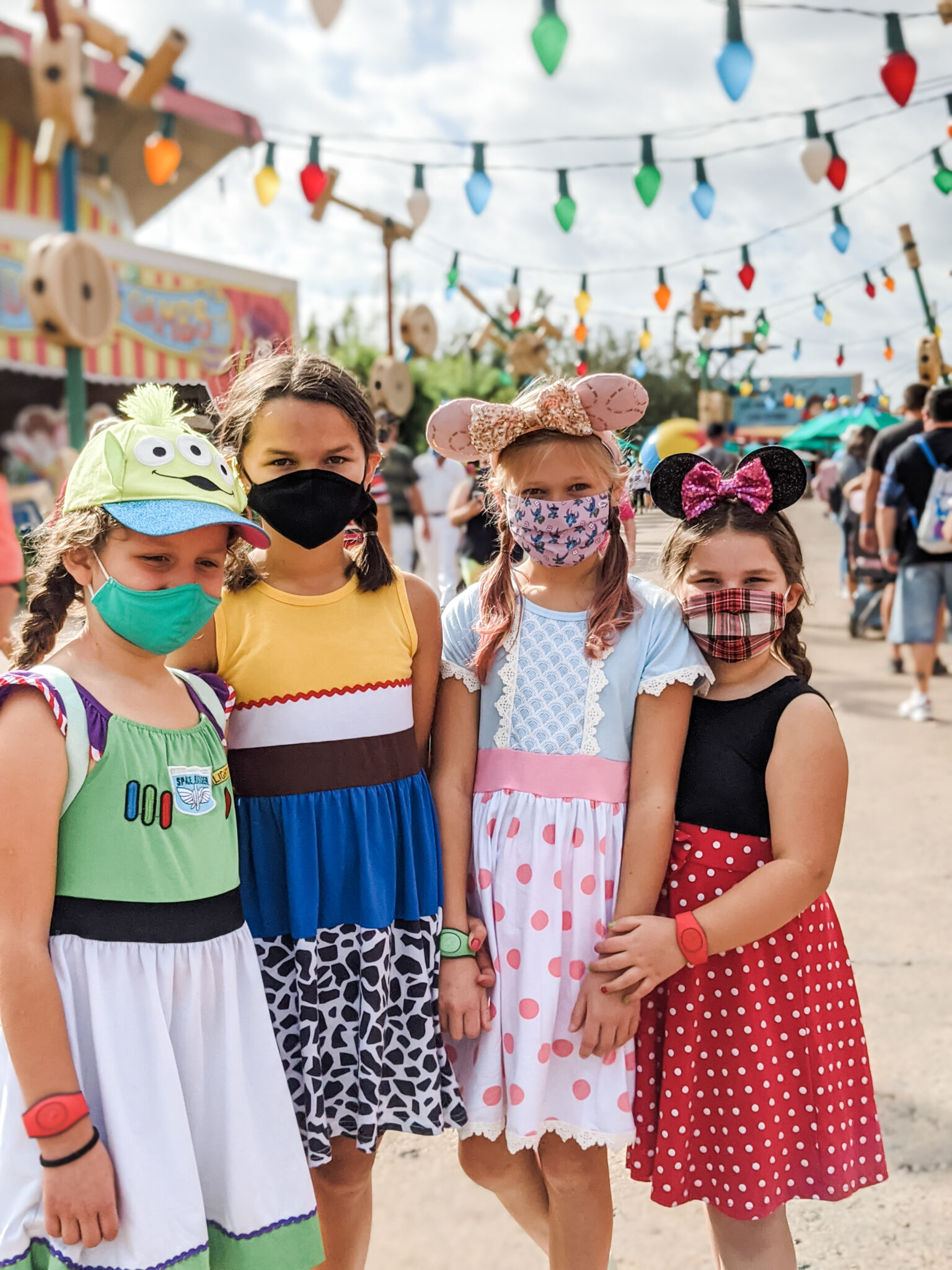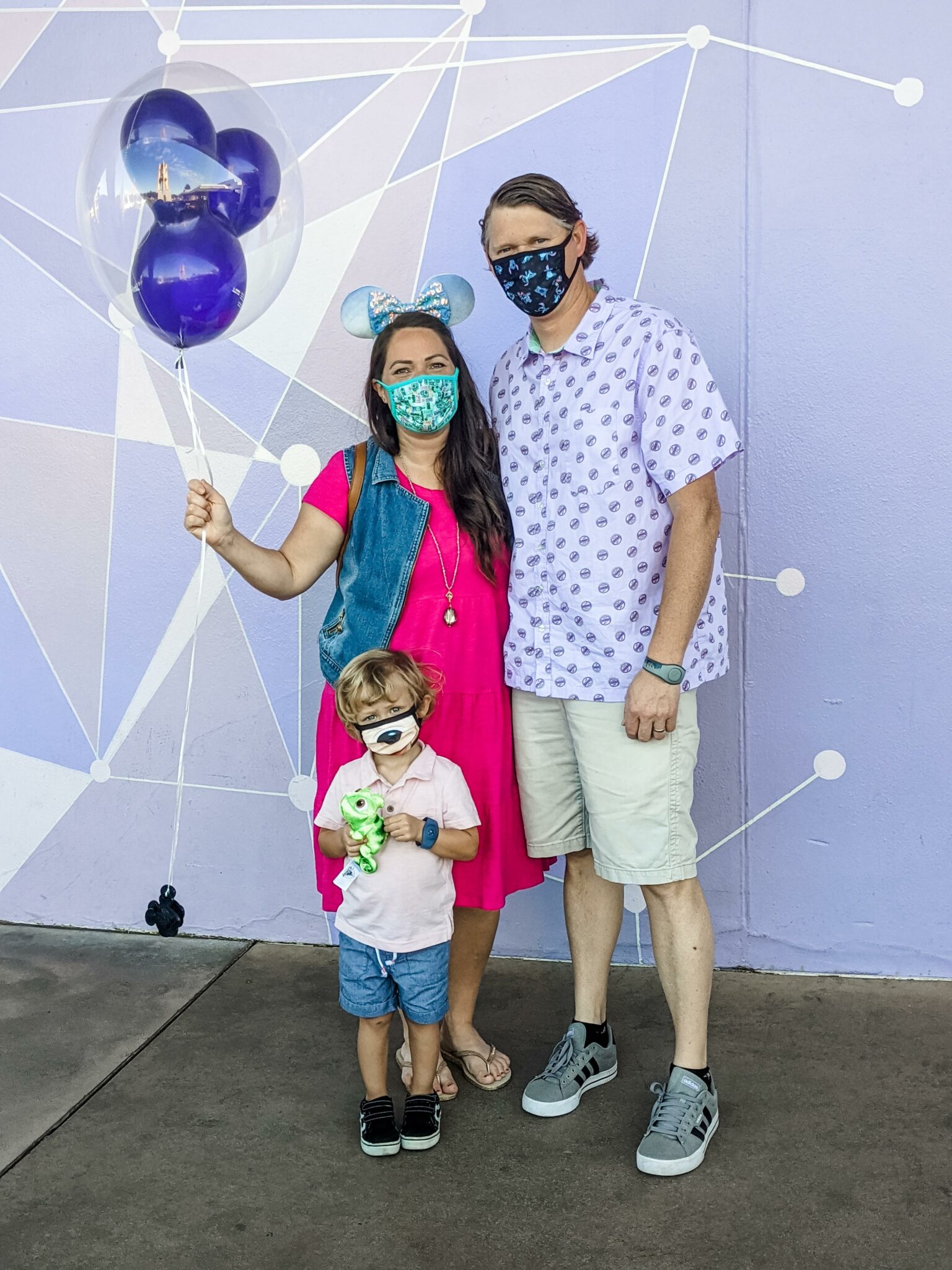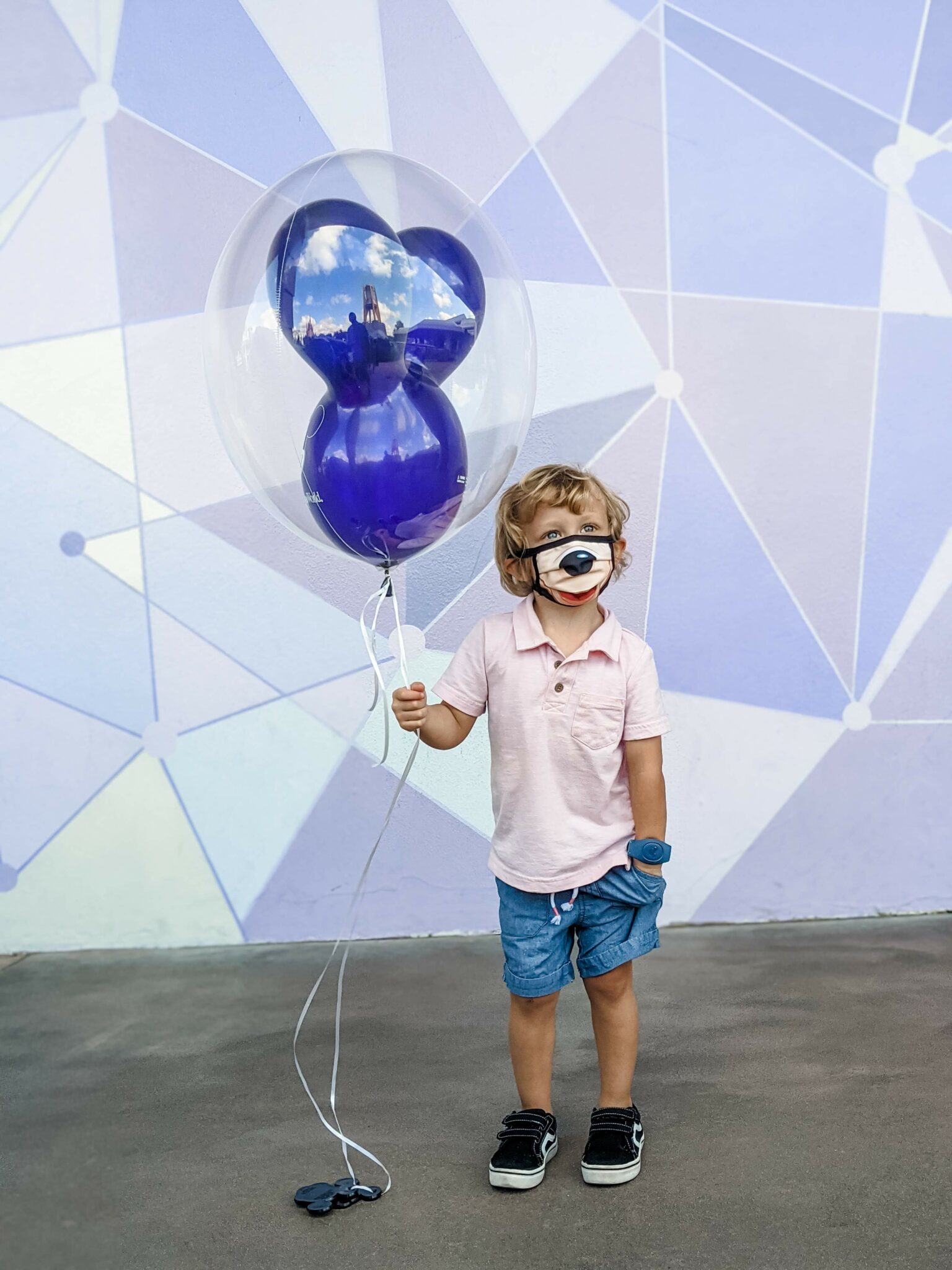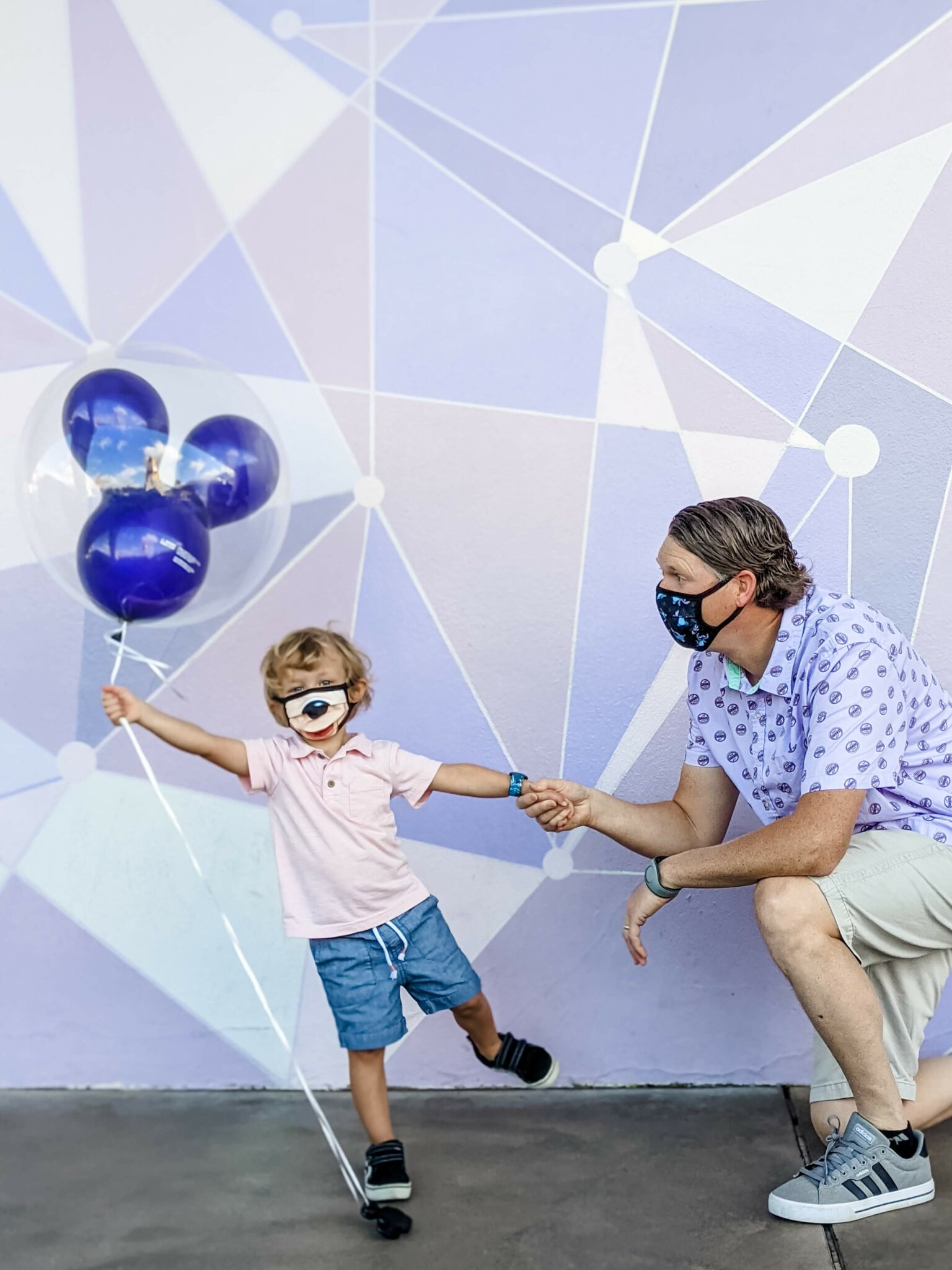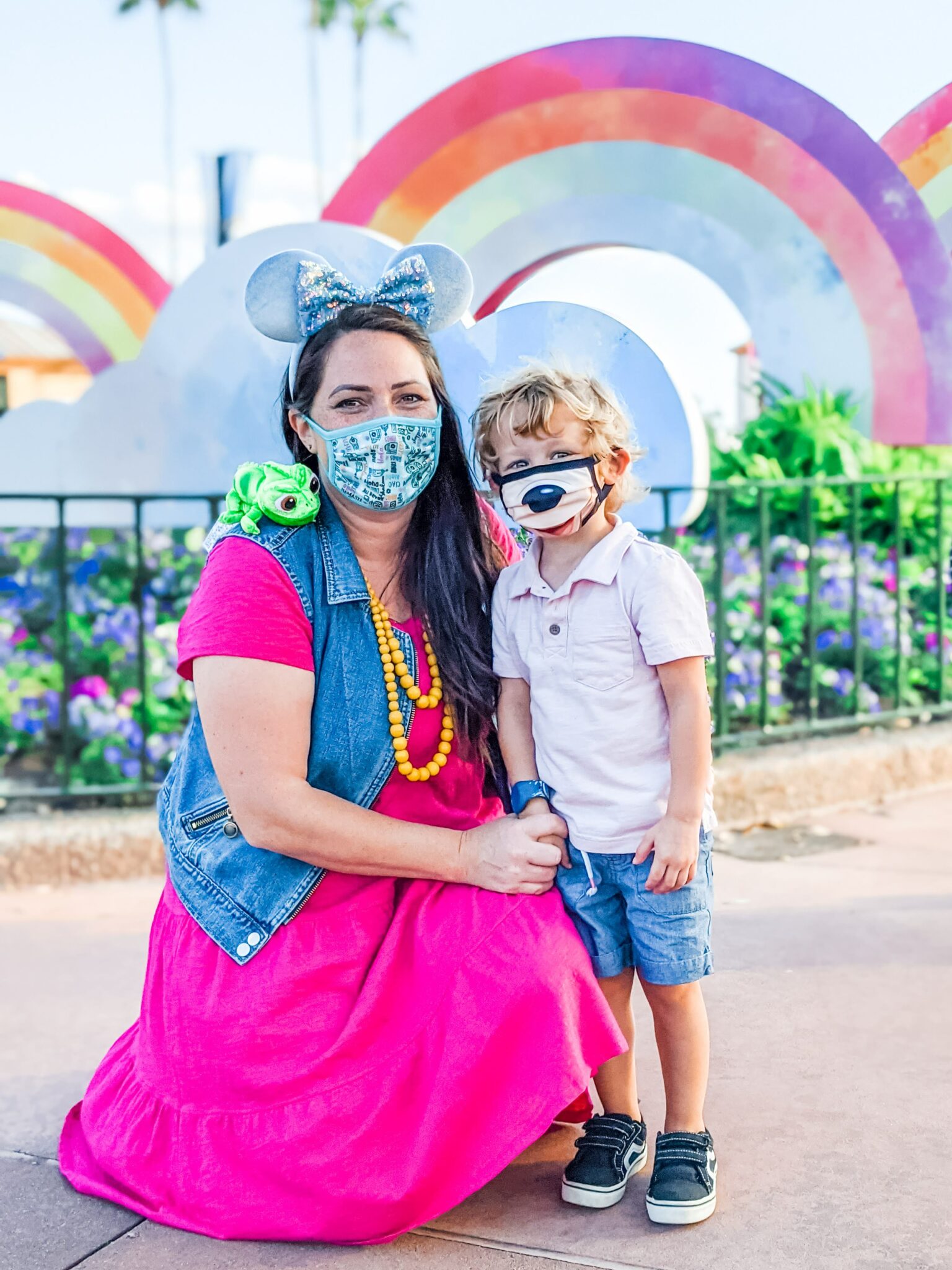 Pin-it!