I received a weight distributing hitch and sway control system from Equal-i-zer.
I installed this system myself and tested it out. All opinions are my own.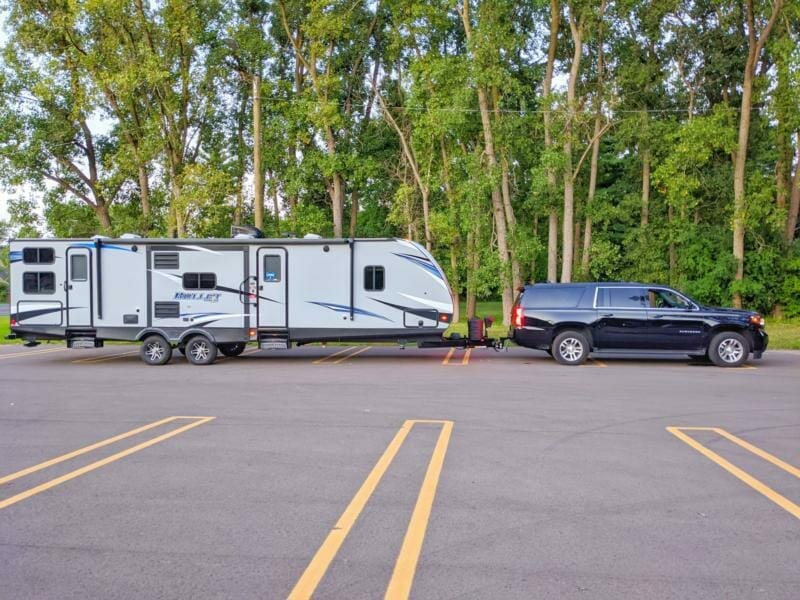 Towing Basics
There is so much that we have learned over the years as we have traveled with different size trailers and motorhomes. Towing any size rig can be intimidating at first. I want to try and break it all down for you as simply as possible. There is a lot that goes into towing a trailer safely: Proper hitching, weight distribution, sway bars and speed to name a few.
The Tow Vehicle
Let's start with the tow vehicle. When we first started camping, we were pulling a tiny 16′ vintage trailer that weighed under 2,000 lbs, with a mini van. As we have upgraded our trailers, we have upgraded our tow vehicles. The bigger the trailer, the more important it is to have the proper vehicle. The vehicle that is towing a lightweight pop-up or vintage camper, for example, may not need to have wiring for electric breaks or automatic transmission cooling system and tow package. As long as the vehicle is rated to tow the weight and has the proper electrical hookup for lights, you should be good to go.
Once you move onto bigger travel trailers, you will want to look for a vehicle that is specifically built for towing. Rather than adding on a hitch, look for vehicles that come with a factory installed tow package. This may include a hitch, special tow button that shifts the transmission into towing mode, electric break control for the trailer, and a transmission cooling system. When a vehicle has had these features built in at the factory, it increases the towing capacity considerably.
Our Current Vehicle
When we decided to purchase a travel trailer after owning a motorhome for a few years, we knew we would need to upgrade our vehicle. At the time, we owned a Chevy Traverse with factory installed tow package that could tow 5,500 lbs. Because of having 5 kids, we wanted a large trailer, but also needed a vehicle that could hold 7 of us (which automatically ruled out a pick-up truck). We settled on a Chevy Suburban, but not just any Suburban. We wanted a Suburban with the Max Trailering package. This meant it would come with a factory installed hitch, electric break control, towing mode, transmission cooling system, and sway control. The most important thing we looked for was a rear axle ratio of 3.42. This allows us to tow up to 8,300 lbs. We settled on a trailer that has as dry weight of 7,000 lbs, hoping that would give us enough wiggle room for loading it up with supplies and people.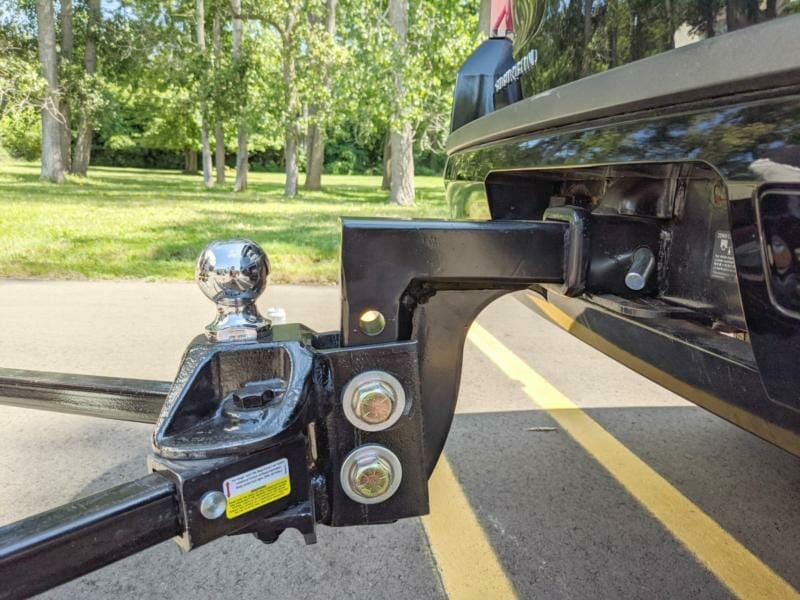 Weight Distributing Hitch and Sway Control
Having the proper hitch and sway control will make a world of difference in how well you are able to tow. We have had great success with Equal-i-zer brand sway control systems. We have owned both the E2 hitch from Fastway Trailer for our smaller trailer and the Equal-i-zer 4-point Sway Control hitch with our current trailer. With a larger trailer, you will probably still feel the effects of wind and speed on your ability to drive safely, but a sway control system will dramatically improve your experience.
Sway Control
Think of your car and trailer like a hinge. When wind pushes your trailer from one side, the hinge-like connection (the hitch) will naturally want to swing open and closed, causing sway. The smallest amount of sway can quickly get out of control. The high tension that a sway control system creates, will make it harder for your trailer to swing back and forth with every gust of wind. We have noticed a remarkable difference in the quality of the Equal-i-zer hitch and the amount of tension it creates compared to other models.
Weight Distribution
The other thing that a weight distributing hitch does, is transfer the weight from the tongue, to the car's front axle. This allows your car to handle and break better while towing. The Equal-i-zer system has 4 points of friction that help distribute the weight, while dramatically cutting down on sway. A weight distributing hitch does NOT decrease the weight of your trailer or allow you to tow more weight. It DOES improve your overall towing experience.
Installing an Equal-i-zer Hitch
We have had weight distributing systems installed by dealers in the past, but my husband and I recently installed one ourselves for the first time! I talked at length with an Equal-i-zer representative to get tips and advice before starting this project. He explained that while dealerships used to be the main source of sales and installation, they have seen a considerable increase in the number of people wanting to DIY their own installation.
We were a little intimidated at the beginning, but after watching several YouTube videos and reading through the owners manual, we felt pretty good. The owners manual was actually incredibly helpful and Equal-i-zer has a reputation for having great customer service and support. We really liked having the opportunity to install, go for a test drive, make adjustments and then test it out again. This attention to detail wouldn't have happened at a dealership where time is limited.
Here are a few pointers:
Read through the owners manual thoroughly before starting
Borrow the tools that you don't have from a friend
Begin installation once your trailer and car are loaded for a trip
If you car has an automatic leveling system, allow it to run and do it's thing – except for when you are connecting the sway bars (otherwise it will be working against you)
Our Chevy Suburban sits very high and needed a larger shank to drop the hitch lower
Make sure the tire pressure on your vehicle and trailer are correct before installing (don't ask me how I know
See the video below for our installation experience!

How to Pack Weight Correctly
Keep your vehicle's weight limit in mind, as well as where you place heavy items within a trailer. As a general rule, 10-15 percent of your gross trailer weight (GTW) should be over your tongue. Another way to look at it would be to keep 60% of your weight towards the front, with 40% over the axle. Most travel trailers are designed with weight appropriately distributed between the axle and tongue, with the main storage compartment located in front by the tongue. This storage compartment is where your heaviest items should go. You should never load heavy items in the back of your trailer, or on the back bumper. Some travel trailers come with storage racks on the back, and have fresh water tanks located near the back as well. Be cautious not to overload these with heavy items, and you may not want to travel with a water tank completely full.

Key Terms
When shopping for a new trailer, you may notice a lot of stickers with different numbers and abbreviations on them. These can be a little confusing, and it's hard to understand what they all mean. Here are a few of the key terms to keep in mind.
Gross Combination Weight Rating (GCWR)
This is the maximum operating weight of a tow vehicle and anything it is towing, loaded.
Gross Vehicle Weight Rating (GVWR)
This is the maximum operating weight of any vehicle on the road and is set by the original equipment manufacturer (OEM). All tow vehicles, towed vehicles, motorhomes and trailers have a GVWR.
Gross Axle Weight Rating (GAWR)
This is the maximum amount that can be placed on any one axle of a vehicle, evenly distributed across the axle, and includes the weight of the axle.
Unloaded Vehicle Weight (UVW)
This is the weight of the tow vehicle, as shipped from the factory.
Gross Trailer Weight (GTW)
Gross Trailer Weight (GTW) is the same as Gross Vehicle Weight (GVW) when referring to a trailer. While GVW can be applied to tow vehicles and trailers, GTW makes it clear that we are speaking of a trailer.When connected, a portion of the trailer's weight is transferred to the tow vehicle through the hitch.
Dry Weight
Dry Weight is the actual weight of a vehicle or trailer containing standard equipment without fuel, fluids, cargo, passengers, or optional equipment.
Tongue Weight
Tongue Weight is the actual weight pressing down on the hitch ball by the trailer. The recommended amount of Tongue Weight is 10-15% of the GTW.
Safety Tips
When hitching or unhitching a trailer, there are a few key safety items we always try to remember.
Place wheel chocks behind wheels before hitching or unhitching
If using a cinder block under your tongue, position it with the holes facing up and use a pressure treated piece of wood on top
Always crisscross chains between your trailer and vehicle while towing
Test break lights and turn signals before travel
Always insert a pin through the coupler hole before travel
Make sure a breakaway wire is in good condition and secured to your tow vehicle
Pin-It!