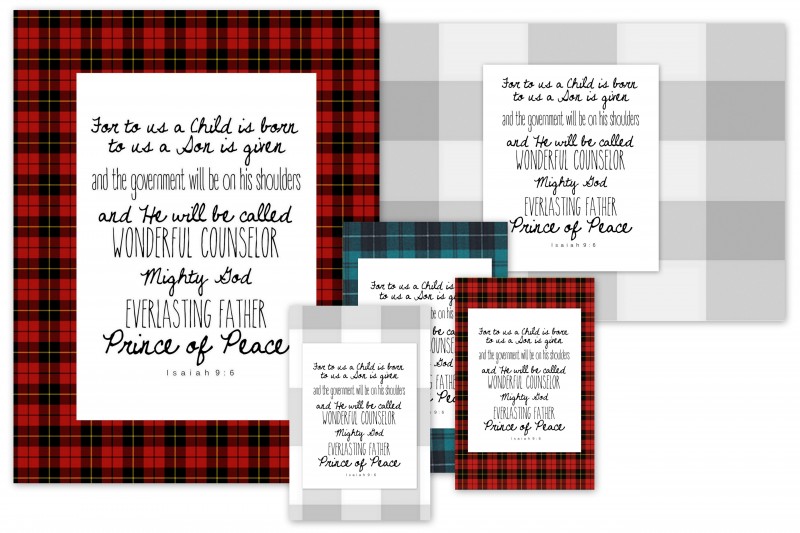 Welcome, friends and Merry Christmas!
This month, I wanted to highlight a verse that summarizes
the spirit and message of Christmas…
and I wanted it to be plaid :)
Yep, that's about it.
I have been full swing into Christmas tree decorating, light stringing, cookie baking, present wrapping, sledding, play practicing, caroling, chalkboard writing, glitter house making, family dinners, friendsgiving and Pinteresting it up! I love every minute of it. To me, this season is full, not necessarily busy… full of the good stuff. The stuff we do as a family is intentional, not meaningless. Not meaningless because if every decoration was gone, if no lights worked, no friends came to visit, the snow never fell and the cookies burnt, we would still have something to celebrate.
Christ came near. God became flesh. The creator of the universe made Himself small and lived with us. Regardless of what the world says or how our culture now perceives it, the truth is that Christ's coming to our world shattered history and created a reason to celebrate… and celebrate big. Some many people have missed the point along the way. Many people have filled this season of celebration with empty traditions and stressful demands. Sure, there is plenty of commercialism and greed out there trying to steal the show, but why let it? Walk with your family into a season of meaning.
That hope that stirs in your soul at Christmas, that giddy excitement, that childish dream, it's real. There really is a reason to celebrate.
For to us a child is born, to us a son is given, and the government will be on his shoulders. And he will be called Wonderful Counselor, Mighty God, Everlasting Father, Prince of Peace
THIS PRINTABLE HAS MOVED TO THE ARCHIVES
Subscribe now for instant access to this one, and many more
[wcm_nonmember]
[/wcm_nonmember]
[wcm_restrict]
Wait a minute, you're already a member! Go there now!
[/wcm_restrict]