Our family enjoyed the trip of a lifetime at
Walt Disney World
in Florida with my husband's siblings, their spouses, kids and parents! The entire Lemp clan converged in Orlando, 22 of us in all with kids age infant through 10 years old. It was a trip my mother-in-law had dreamed of for years. She spent months planning, meeting in person with Disney travel agents and speaking on the phone with Disney representatives. It was a magical trip for sure, but a challenging one to coordinate. Here are some tips we picked up along the way.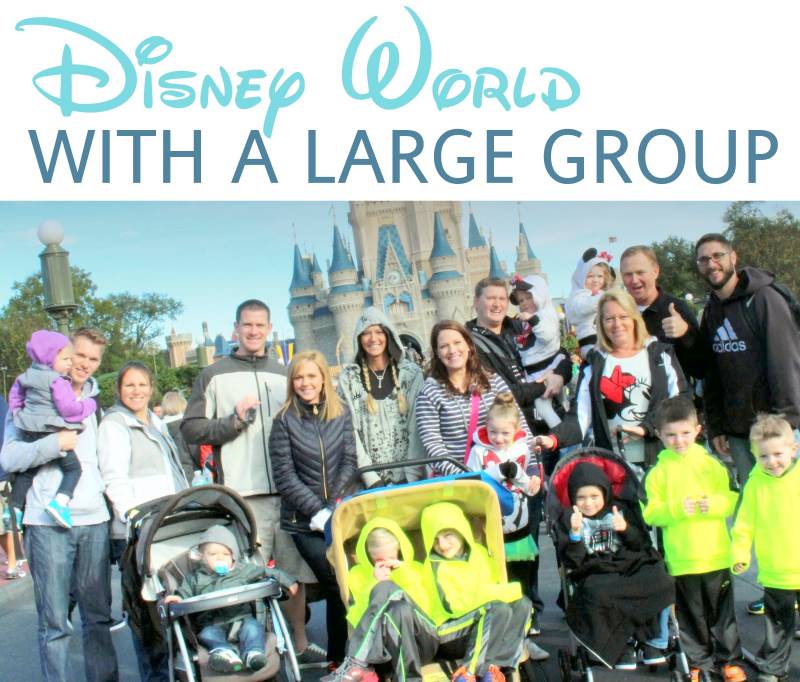 Utilize the Fast Passes. With a large group that includes lots of small kids, navigating around the park and waiting in lines can get really tiring. Anything that cuts down the wait time helps.
Take pictures of your kids in what they are wearing and write your cell phone number on their hands. In case you are separated from your child at any point, it helps to have a good picture to show people and they should have some form of contact info on them if they don't have the number memorized.
Plan as much as you possibly can, but stay flexible! You can find suggested itineraries at My First Visit and on Disney's official site
Make dining reservations as far out as you possibly can. Our travel agent called for us as soon as she could and was able to get us into most of the places we wanted but not all. Disney was really good with doing what they could to seat us all together, but some of the restaurants are just not equipped to hold large groups. We wanted to sit together or as close as possible, and that just wasn't possible at every restaurant. If you've made a reservation, show up at least a half hour early and be specific about the seating you are hoping to get.
Use a travel agent like Kingdom Konsultants. These are travel agents, officially licensed through Disney. Many of them started as moms that LOVE Disney and traveled their often. They are FULL of helpful tips and tricks. YOU DO NOT PAY THEM ANYTHING EXTRA! They are paid through their agency/Disney for offering their services. Utilize their knowledge and let them do the work for you!
Talk with your group about meeting places and sticking together. Does everyone want to do the same stuff all day? Do you want to stick together or split up? Talk it out ahead of time, don't wait till you enter the park.
Many hotels cannot guarantee your rooms will be together or connected. It depends what Disney hotel you stay at, but many of them do not offer connecting rooms and cannot guarantee you will even be in the same building. Make sure your accounts are all LINKED to each other, or have one person do all the booking. This will help, but will not guarantee anything.
Arrive extra early for any shows or reservations, plan on everything taking extra time.
Utilize the Disney Photopass services, and remember to hand off your camera to the Disney photographers. They are more than happy to also take a picture using your camera and it's the best way to get everyone in your group in the pictures!
Visit guest services if anyone in your group has a disability. We had 2 kids in our group with disabilities. I'm not advocating for this service to be abused if there is not a legitimate need, but I wont' lie, we really appreciated the extra services they extended and the kindness we received as a group because of the disability pass they provided us with. Learn more about the services they provide here.
Have you traveled to Disney World with a large group?
What tips would you add to this list?