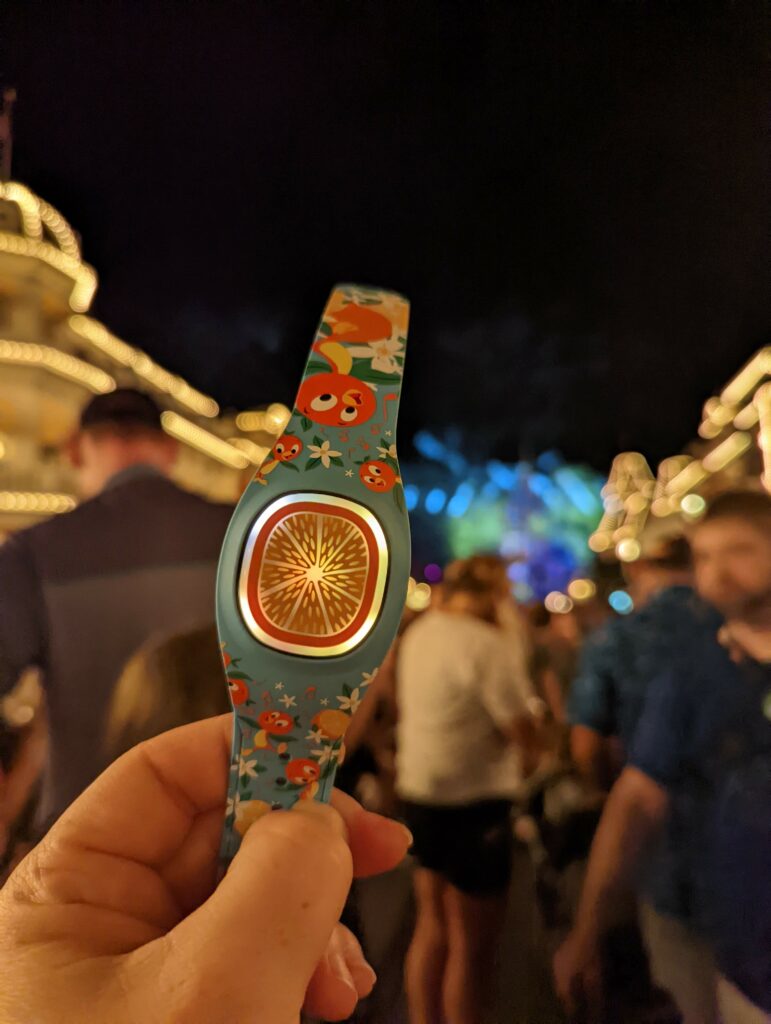 Magic Band+
If you've heard the buzz about the release of the new Magic Band+ at Walt Disney World, but you're wondering what it is, I've got you covered. What are they and do you need one? How are they different from the regular Magic Bands? What added features do they have?
We were staying at a Disney resort on Tuesday night, so we got in early to the parks on Wednesday morning, July 27, and got in line immediately for the release of the Magic Band Plus. Lines were insane as the day went on. There were plenty of styles available first thing in the morning at the parks and online, but by the end of the day, many styles were sold out. We purchased one band, just to see if it was worth it. So, what did we think?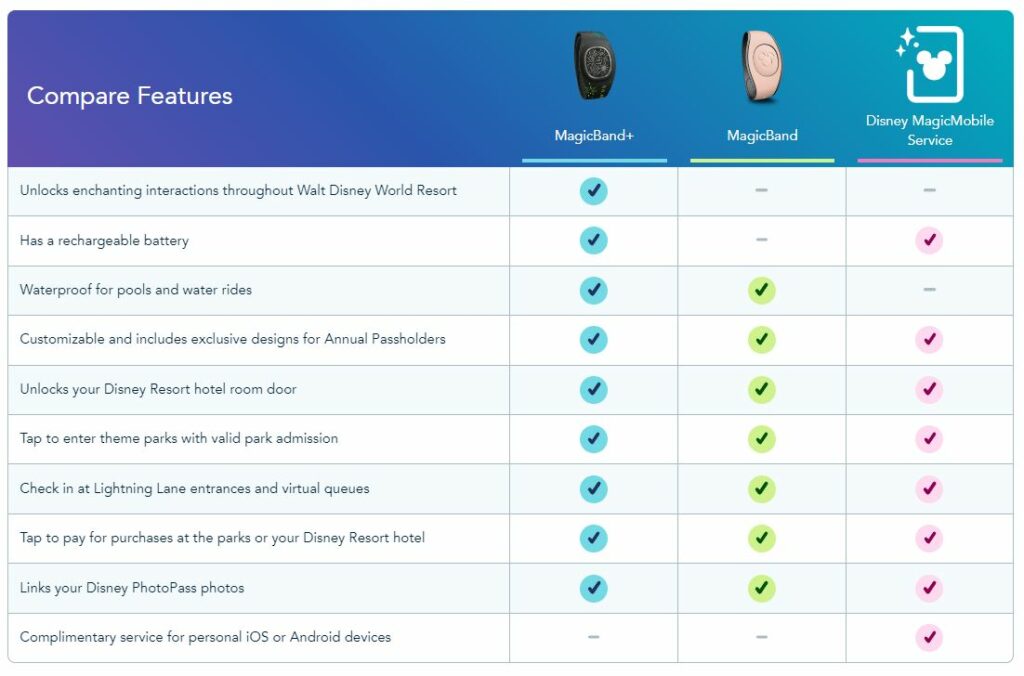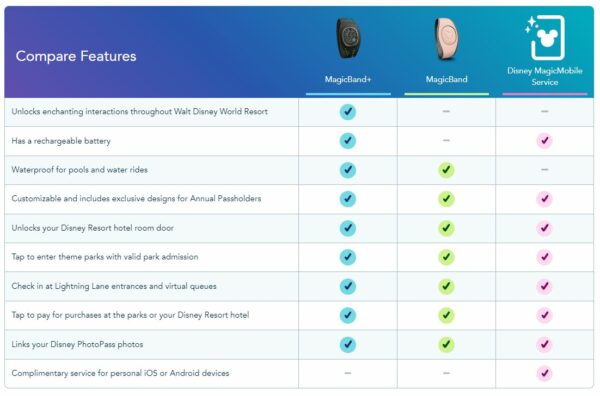 What Magic Bands Do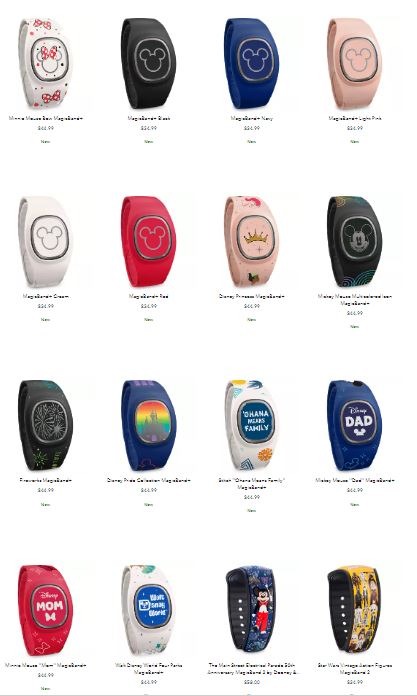 First off, let me remind you how great regular Magic Bands are. You don't have to have one, especially now that so many features are available on your mobile device as well. However, there is no denying the convenience and cute factor of the Magic Band. Who can resist all the different styles to show off your Disney personality? The Magic Band does everything from open your resort hotel room, link to your credit card for charging capabilities, hold your ticket to get you into the park, and links your Disney PhotoPass and ride photos. Even when you're not staying at a Disney resort (so you don't have a room to open or charging capabilities), they really do make your time at Disney World more convenient between park entrance and PhotoPass ride photos easily linking to your account.
Standard Magic Bands
The regular Magic Bands still work, and you can continue using any of the ones you still have. However, the old Magic Band styles do not have a rechargeable battery. I have older Magic Bands that have been working for years, but there is really no guarantee of how long they will work. In fact, the battery may still work to scan you into a park but might not be strong enough to detect you on a ride and link your ride photos.
Added Features the Magic Band+ Offers
Most of the features that the Magic Band Plus offers are the same as the regular Magic Band and the mobile app. There are a few key differences. You can see these differences highlighted in the image above. I'll go ahead and explain these added perks as well. There are a few magical, interactive features that make the Magic Band+ extra fun!
Rechargeable Battery
Some people may think of the rechargeable battery as a downside because it means you have to remember to charge your Magic Band Plus before it dies. I think this is a bonus though because the previous Magic Bands just died eventually and then you could never use them again. Being rechargeable means you can continue to use your Magic Band Plus and be assured it will work the way it was designed to work.
Star Wars: Batuu Bounty Hunters
This is a fun, new way to experience Galaxy's Edge at Disney's Hollywood Studios! You are assigned a bounty at the bounty board across from Ronto Roasters in Galaxy's Edge. As you walk around Batuu, your Magic Band+ will vibrate and light up with different colors that indicate how close or far you are from collecting your bounty. Once you collect your bounty, use the Play Disney Parks app to exchange it for credits!
Nighttime Spectaculars at All Four Parks
While watching the Enchantment fireworks at Magic Kingdom, Harmonious at Epcot, and the Beacons of Light projections at all four parks (including Hollywood Studios and Animal Kingdom), your Magic Band+ will light up and sync with the show! We tested this out during Enchantment at Magic Kingdom. My band lit up and vibrated at the beginning, a few times throughout, and then again at the end. I wouldn't say this was a huge added benefit, but it was kind of fun and my 5-year-old loved waiting for it to glow.
Disney Fab 50 Quest
Using your Magic Band+ and the Play Disney Parks app, go on a virtual quest to find all the Fab 50 golden character statues to unlock all the magical features! The Fab 50 Quest keeps track of which statues you have found. Each one has a special, hidden feature. As I walked around the Magic Kingdom, my band would start vibrating when I was nearing a statue. I only had time to interact with a couple of them the day I was there, but they each talked to me and played music! You don't have to use the app either, I just waved my band and waited to hear what they would say.
Where to Purchase
You can purchase Magic Band+ starting at $34.99 online at shopdisney.com and at select stores. As of July 27 you could find Magic Band+ at:
Magic Kingdom: Emporium
Disney's Hollywood Studios: Celebrity 5 & 10 and Tatooine Traders
EPCOT: Pin Traders

Disney's Animal Kingdom: Discovery Trading Company

Disney Springs: Disney's Pin Traders
Also at select shops within Disney hotels
If you are eligible for a discounted Magic Band because of a hotel stay or as a new Annual Passholder, these options should show up on your My Disney Experience desktop version of the site. When purchasing at the parks, you can use DVC or Annual Passholder discounts on your purchase.
Frequently Asked Questions
Q: Is the Magic Band+ Waterproof?
A: Yes
Q: Does the Magic Band+ track my steps?
A. No
Q: Can I link the Magic Band+ to a credit card and use it for purchases while at Disney World?
A: Yes, if you are a current resort guest. Charging capabilities are only available for resort guests at this time.
Q: Is Magic Band+ available at Disneyland?
A: At this time the Magic Band+ is only available at Disney World
Q: Can I make the Magic Band+ smaller for children the same way the regular Magic Bands did?
A: Yes
Q: How long does the battery last?
A: Once fully charged, the battery should last around 3 days. When first purchased the band may turn on but it is not fully charged.
Q: Do I have to use a Magic Band+?
A: No
Q: Will my regular Magic Bands still work?
A: Yes! All the regular Magic Bands that you have can still be used as long as their batteries are still working. Remember, these can't be charged and will only work for a limited time.
Q: Are regular Magic Bands being discontinued?
A: As of now, now. Disney is still selling regular Magic Bands.
Q: What happens if my battery dies while at the park?
A: Once the battery dies on a Magic Band+ it won't light up or vibrate, but you can still use it as your ticket into the park.