SeaWorld Christmas Celebration
Have you ever experienced the Christmas Celebration at SeaWorld Orlando? We visited SeaWorld for the first time last week and were blown away by their extravagant Christmas festivities, shows and decorations. Being avid theme park goers, we love experiencing everything that each park does for Christmas. We have seen and done a lot of great Christmas special events over the years. Christmas really is the most wonderful time of the year, especially at the parks! But we had never been to SeaWorld, can you believe it? I started hearing chatter about the SeaWorld Christmas Celebration in several of the other theme park Facebook groups I'm in. People were raving about the quality shows and decorations they saw and how much less expensive it was compared to other Orlando theme parks. I knew we needed to see it for ourselves.
View this post on Instagram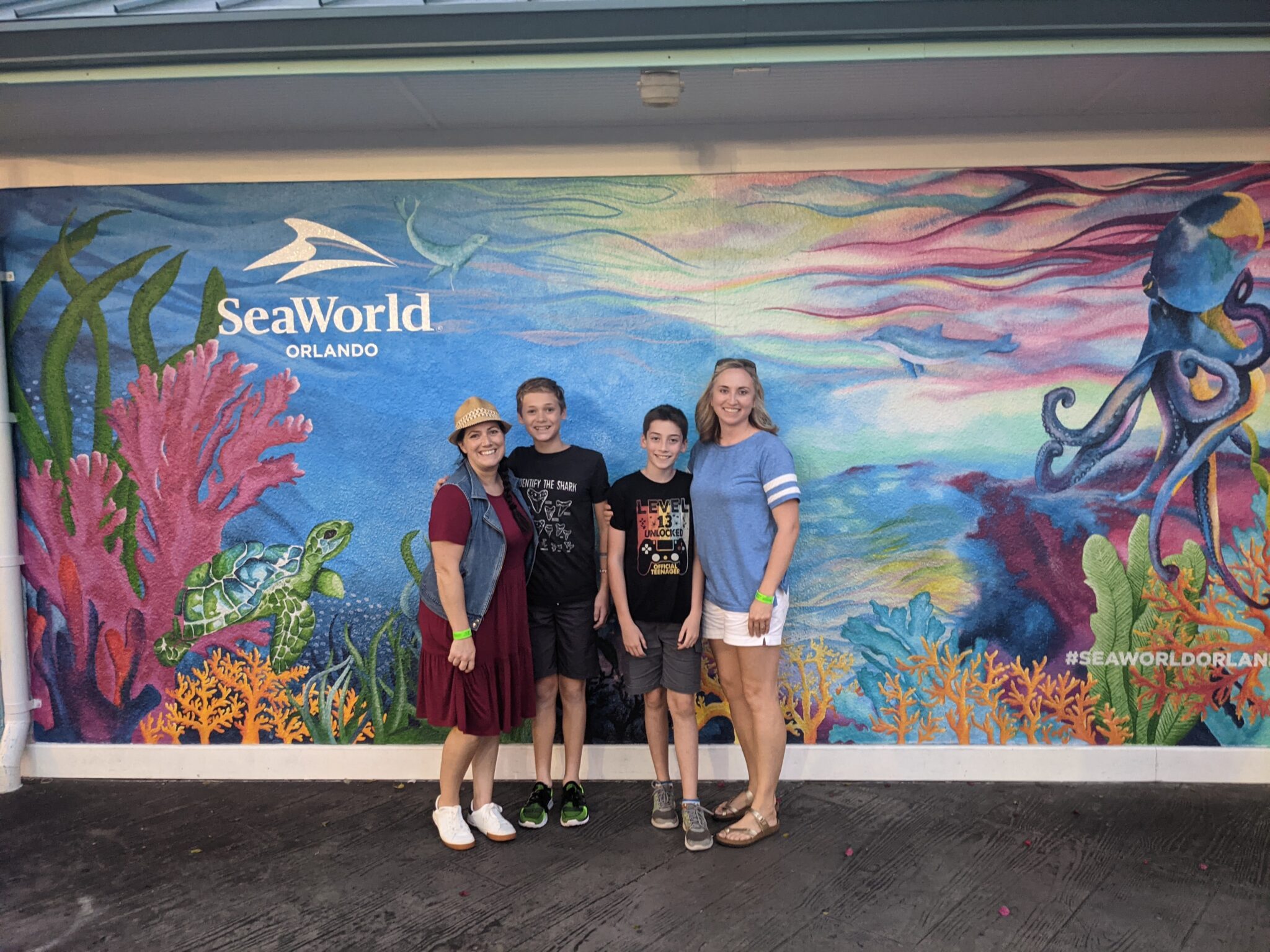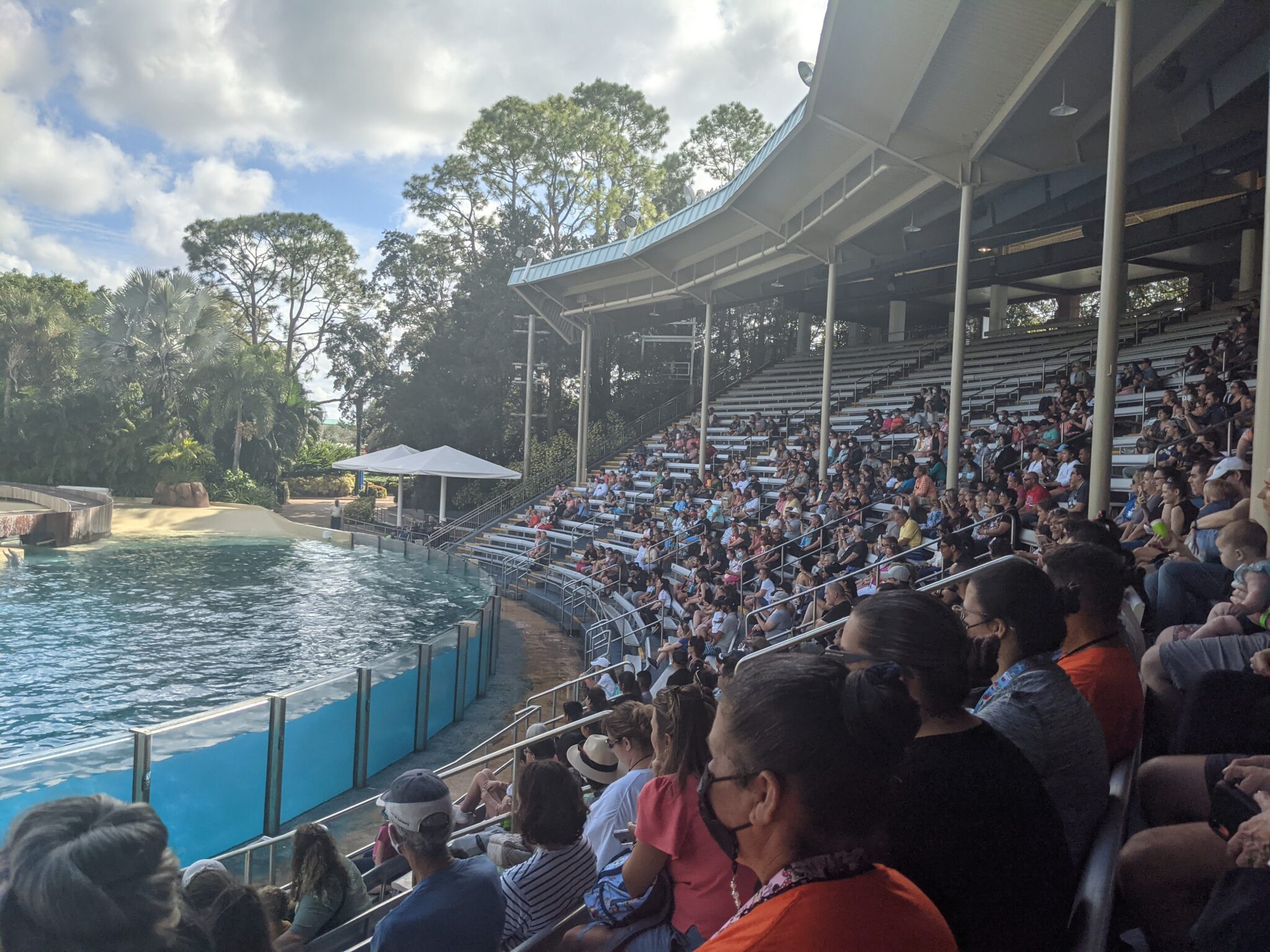 Where to get Tickets
Tickets can be purchased several ways, but we went right through SeaWorld's website. Head to their Special Offers page to see what deals they're running currently. We took advantage of an amazing "Pre-Black Friday" deal, but they are always offering something different. You will notice that SeaWorld offers several different ticket options. There is a one day option just for SeaWorld Orlando or a two, three and four day ticket that allows entrance to any combination of their parks: SeaWorld Orlando, Aquatica Orlando, Busch Gardens Tampa Bay and Adventure Island. We did the one day ticket just to SeaWorld and had no problem filling the day from open until close.
TIP: Download the SeaWorld app before heading to the parks! Use the app to check wait times and show times!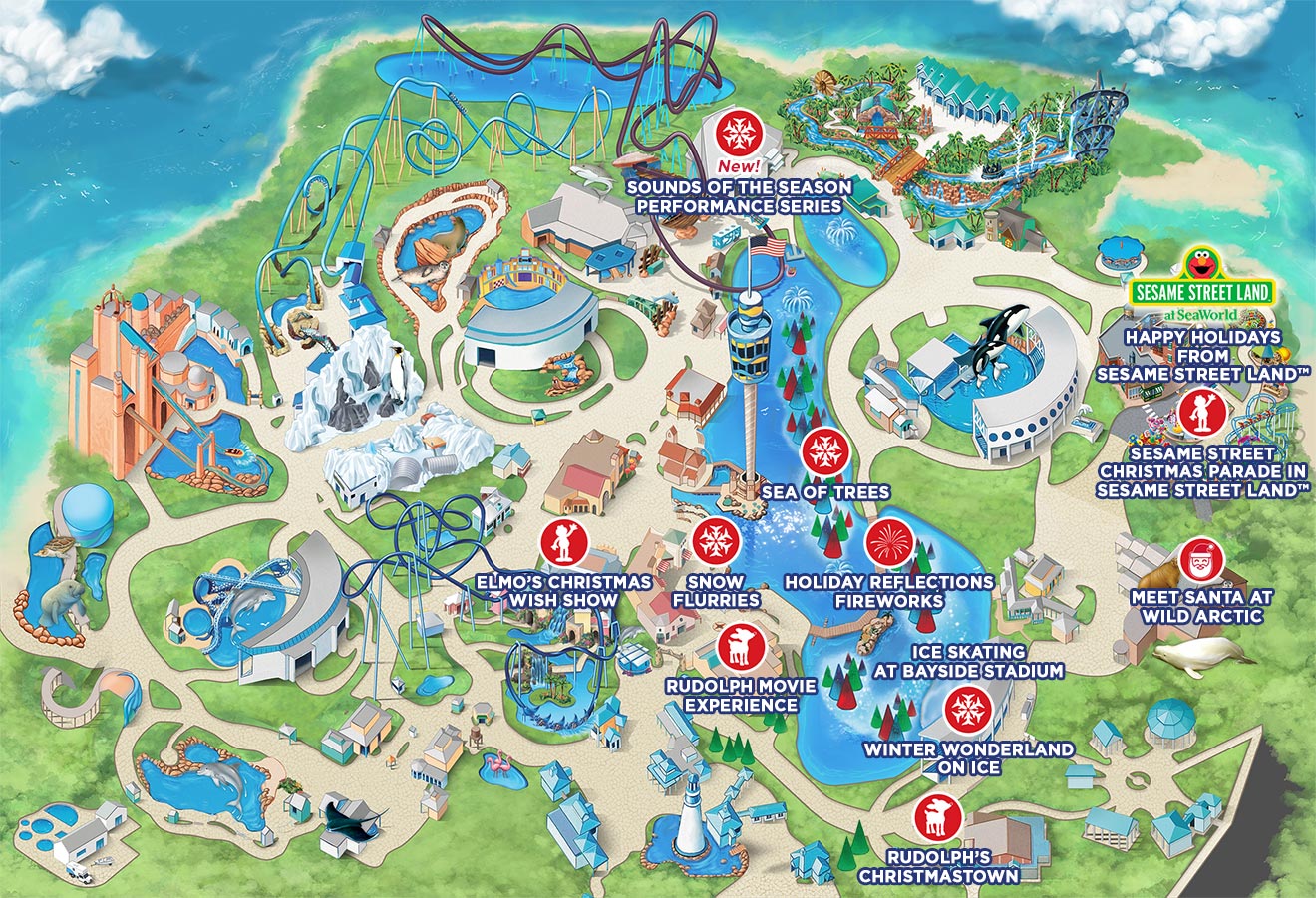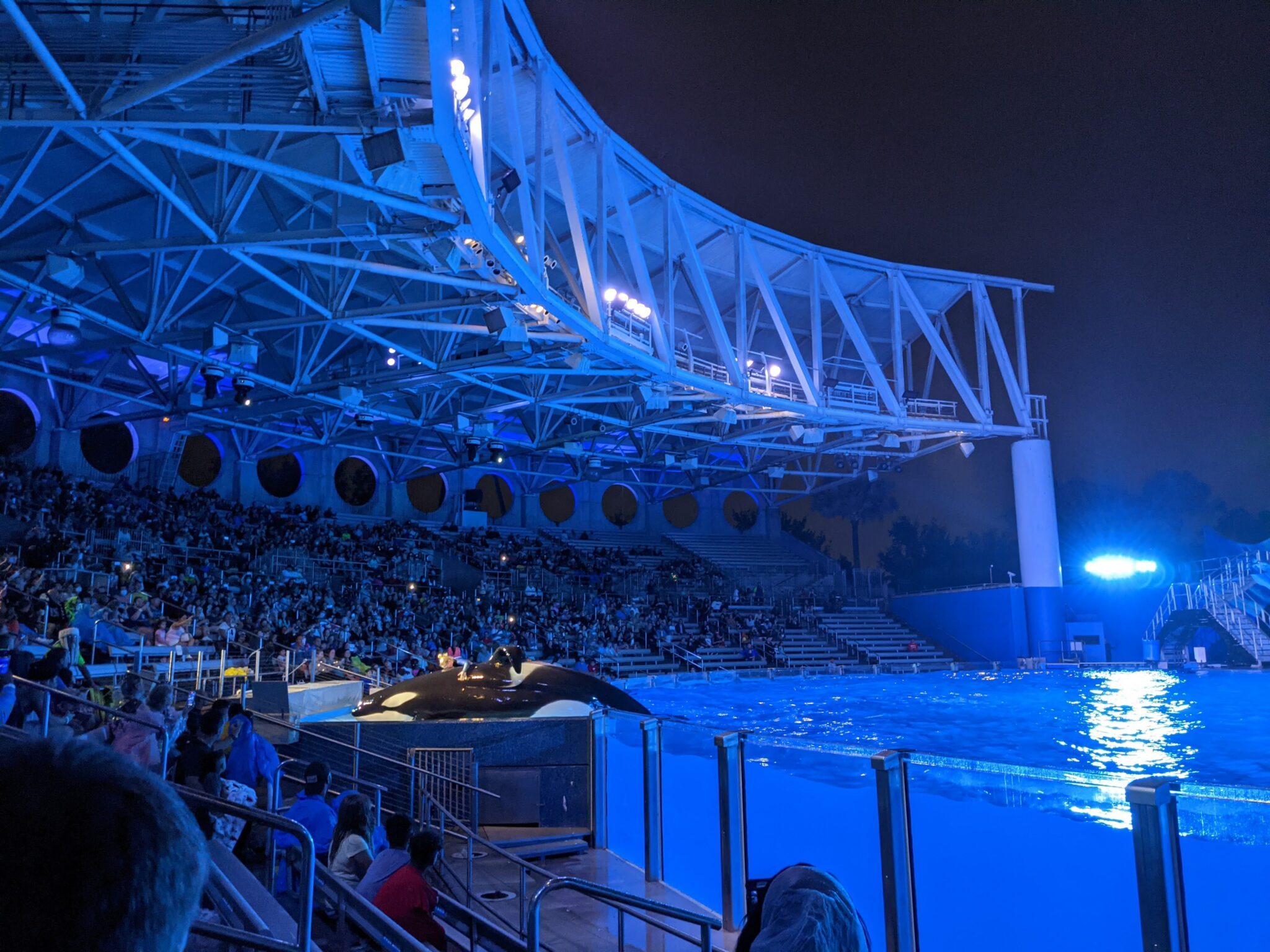 Ticket Add-Ons
Everything at SeaWorld feels à la carte. You pay for your base ticket, but there are so many add-on options it felt a little confusing. We chose to add-on the All Day Dining package and the Quick Que options. You can also choose to add-on reserved seating for shows, sit-down dining with up close animal encounters. The day we went was not busy and while the Quick Que did save us some time, it wasn't necessary. We didn't do any reserved seating and no problems getting last minute seats at the shows (but it wasn't that busy). The All Day Dining package was 100% worth it. You are able to get a complete meal with a side or dessert and a drink every hour, all day long at most of the restaurants around the park. We were very impressed by the amount and quality of meals we got. Trying all the different food was an event in itself!
TIP: When doing the Quick Que add-on, you're given a printed receipt to carry around with you all day. Bring a plastic bag or lanyard to carry this if you're planning on using it for water rides!
A note about Big Rides
The day we were there, the newest rollercoaster (Ice Breaker) had yet to open and one was closed. All in all, there were only 4 big rides that the boys used their Quick Que pass on. It didn't necessarily bother them, because they road these rides over and over again and loved every minute. We had no problem filling our day with rides and shows, but if you're expecting a lot of rides you might be disappointed. Bush Gardens on the other hand has the most roller coasters in all of Florida as well as the tallest and fastest ride, the Iron Gwazi. If you're looking for roller coasters, a multi day ticket that includes Bush Gardens might be for you. The boys loved riding Mako, which was one of the tallest roller coasters in Florida until the Iron Gwazi opened in 2021. For us, SeaWorld was a great mix of rides and shows, especially for the animal lover.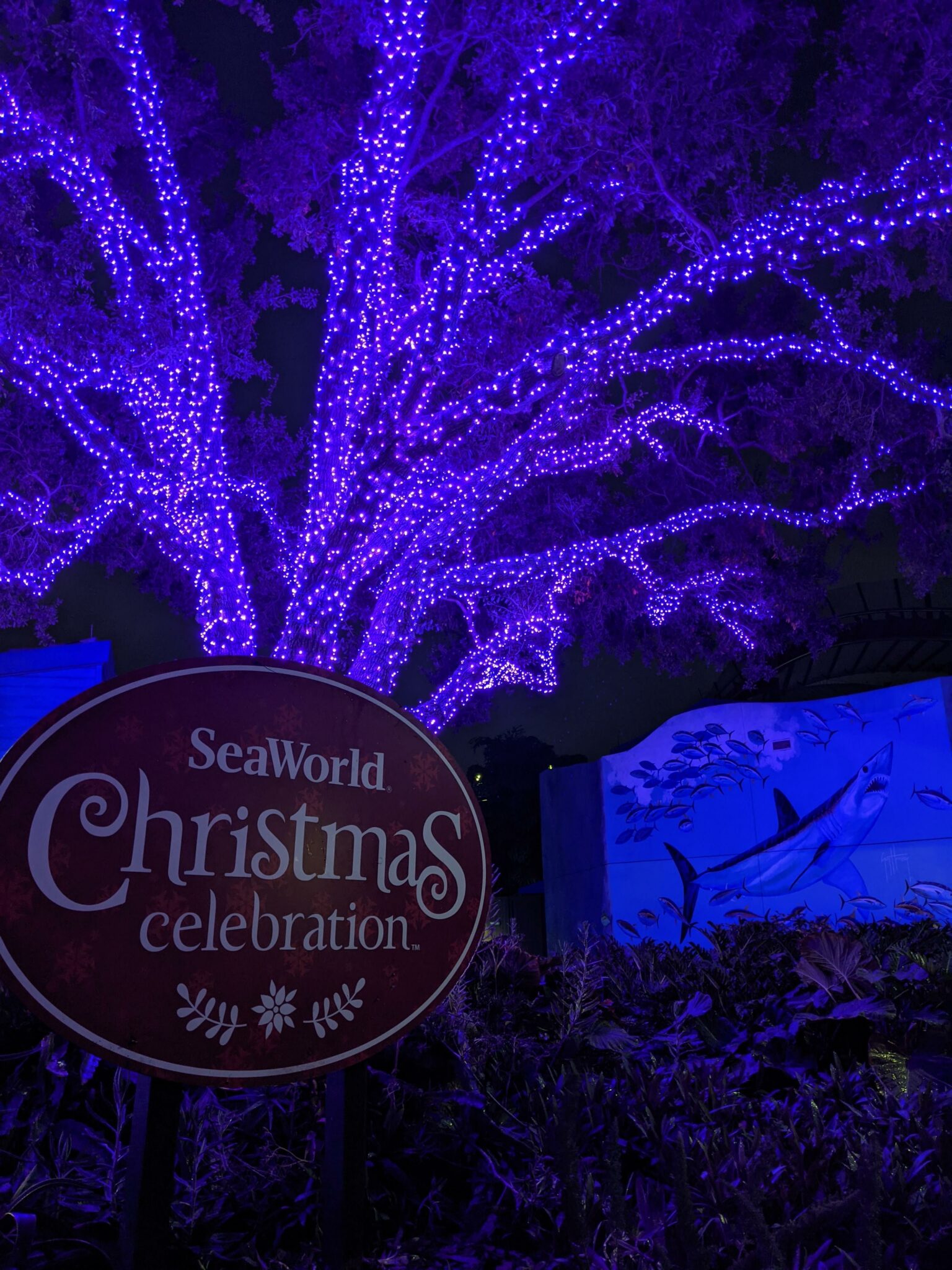 Special Christmas Events
The reason we were so impressed by the Christmas Celebration at SeaWorld, is that it really felt like they went ALL out. There were so many special extra surprises sprinkled throughout the regular attractions. We were constantly surprised and impressed. For example, we showed up for the Orca Encounter show at the end of the night and were surprised by a live saxophonist pre-show and choir to close the night. These were not advertised anywhere, so my guess is they are dependent on staffing, but it felt like such an extra bonus! Here are the regularly scheduled events you won't want to miss:
Holiday Reflections: Fireworks and Fountains Finale – Don't miss this! Such an impressive firework display to close out the night. You will want to be somewhere near the water to view these over the lake.
Sesame Street Christmas Parade and Elmo's Christmas Wish Show – If you have young children (or even if you don't!), this is absolutely adorable! The day we went we did not have our small children with us, but walking through the Sesame Street area made me wish we did.
Snow Flurries – Check daily schedules to catch the flurries happening near the Shoppes at Waterfront
Sea of Trees – Don't miss this! It happens several times during the evening hours, check your schedule for specific times. Head to the bridge that cuts through the park for 360 degree views of the beautiful trees.
Sounds of the Season Performance Series – It's incredible that these shows are included in your park admission! The schedule doesn't show you who will be there very far in advance, but keep an eye on it for surprise performers.
Winter Wonderland On Ice – This was probably our favorite part of the whole day! We got there early to get a good seat and caught a surprise pre-show of a very talented violinist. The skating show was a perfect blend of warm-fuzzy inducing holiday music, impressive synchronized lights and water fountain affects.
TIP: Keep a close eye on the schedule for the day you are there. My only complaint is that the day we were there, the Sound of the Season performance and the Winter Wonderland on Ice were at the same time. There was no way for us to attend both, we had to choose one. I'm glad we chose the Winter Wonderland on Ice show, because it was amazing, but we were disappointed to miss hearing Britt Nicole perform for the Sounds of the Seasons show.
Rudolph the Red-Nosed Reindeer and Rudolph's Movie Experience – This whole area was so cute to walk around. You can stand in line for a picture with Rudolph, find a great selection of Rodolph merch and check out each of the adorable movie vignettes along the way.
Meet Santa at Wild Arctic – What Christmas celebration would be complete without a visit with Santa?