This post was sponsored by Treetopia – I received this beautiful lavender tree from them for my honest opinion and involvement in their Witches and Wonders blog hop.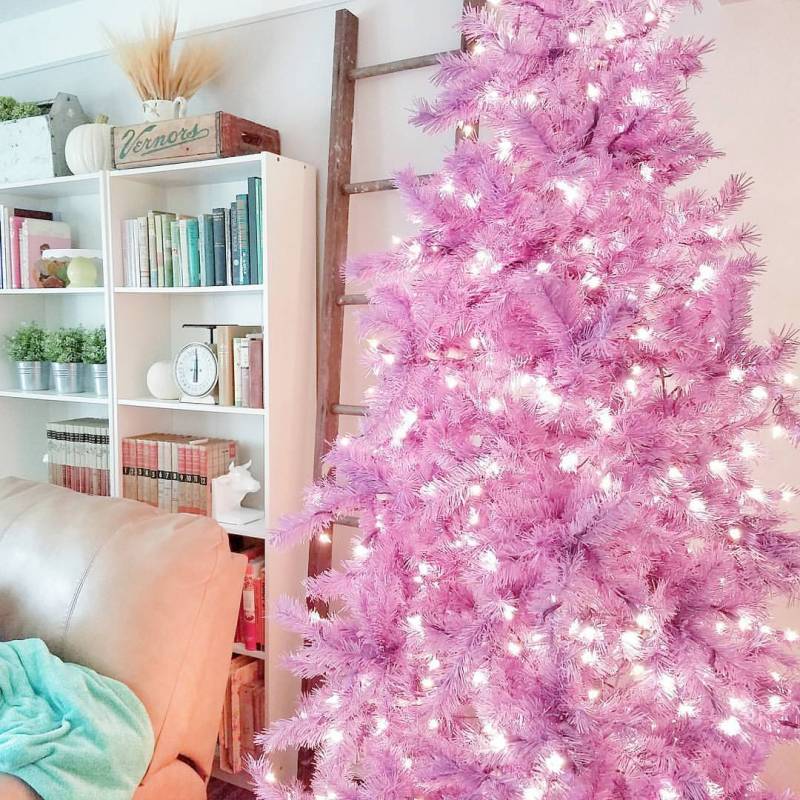 It's time for my big reveal!! Are you ready?
There is a first time for everything! Can you believe I have never decorated a Halloween tree before? I did a Fall tree one year, but truth be told, it was really just a Christmas tree I put up super early… ahem.
I received this gorgeous lavender tree from Treetopia with the challenge to transform it into my favorite character that celebrates the season! I went to social media and you guys gave me so many awesome ideas!!
And for real, I wanted to do ALL. THE. IDEAS.
But in the end… I went with the characters that really do capture the entire Fall season. Halloween and Thanksgiving just wouldn't be the same without them (not to mention Christmas!).
Did you guess??
…It's Charlie Brown, of course!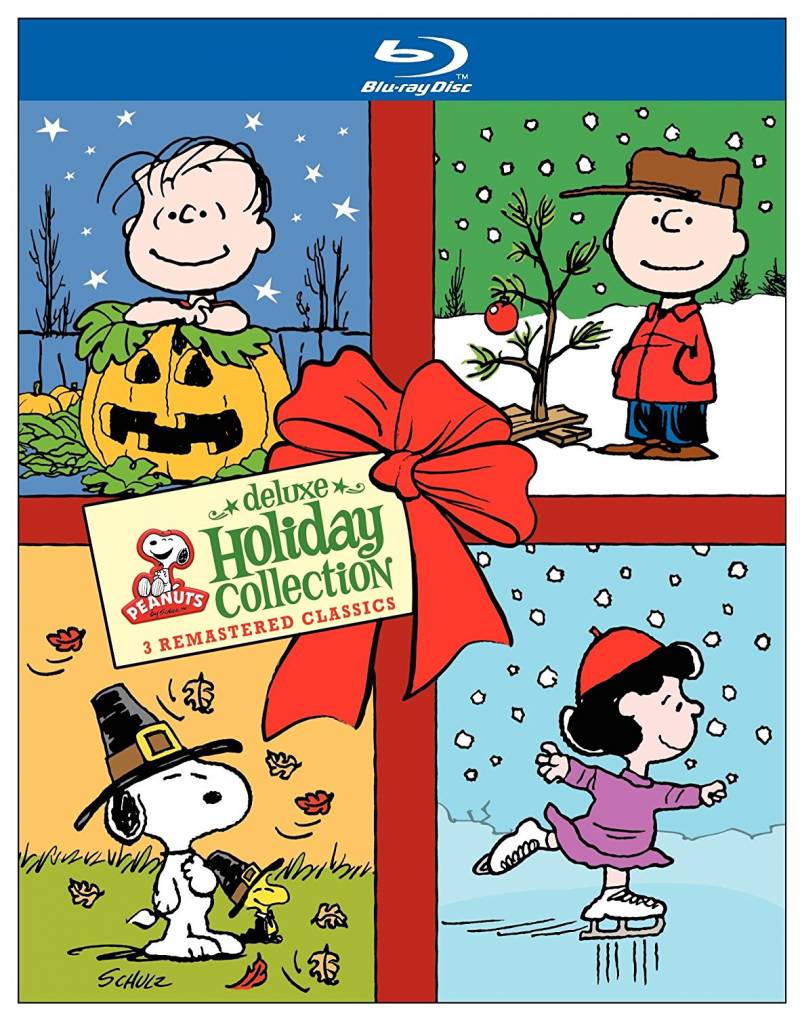 If you remember the Charlie Brown Thanksgiving photo shoot I did with my sister last year, you might say we have a soft spot for the Peanuts gang.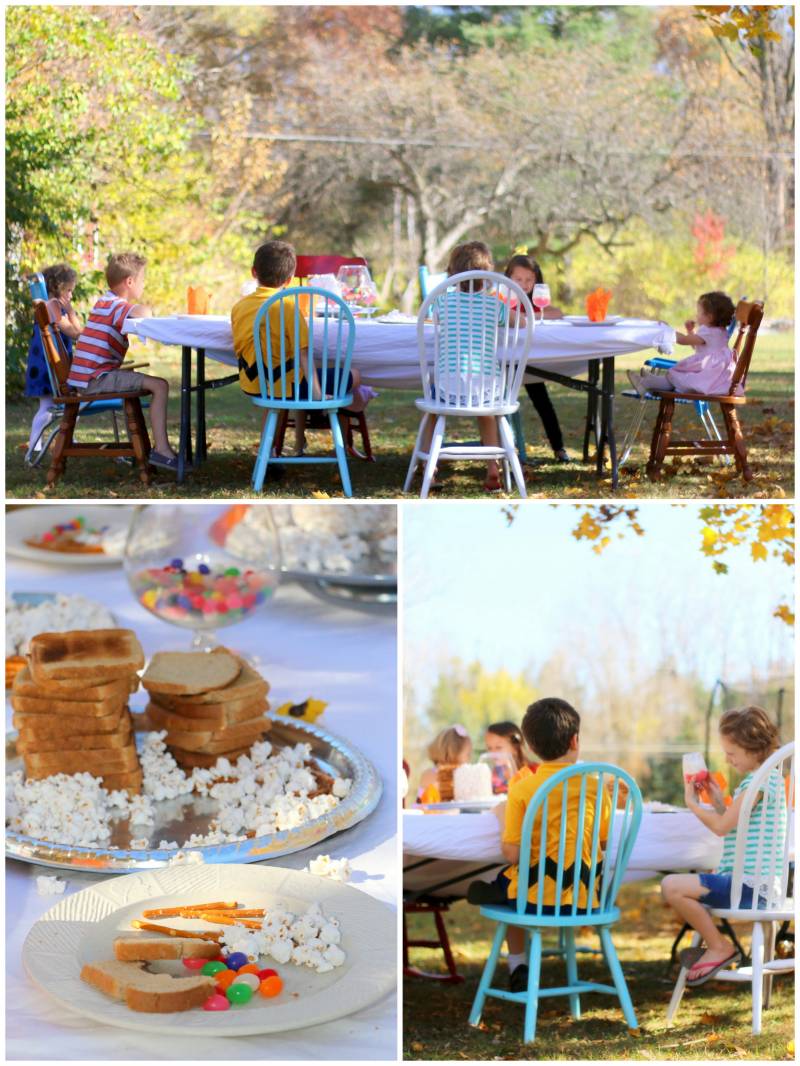 Here is my Peanuts inspired tree!

Key Elements to My Charlie Brown Halloween Tree:
Jelly Beans
Pretzel Sticks
Popcorn
Yellow and Black Chevron
Pumpkins
Cute, Sparkly Bats
Pilgrim Hats (find them here)
Peanuts Plush Dolls
I stole the pumpkin on top from one of my kids. It's a trick-or-treating pumpkin that I cut a hole in and removed the handle. I owe someone a new pumpkin!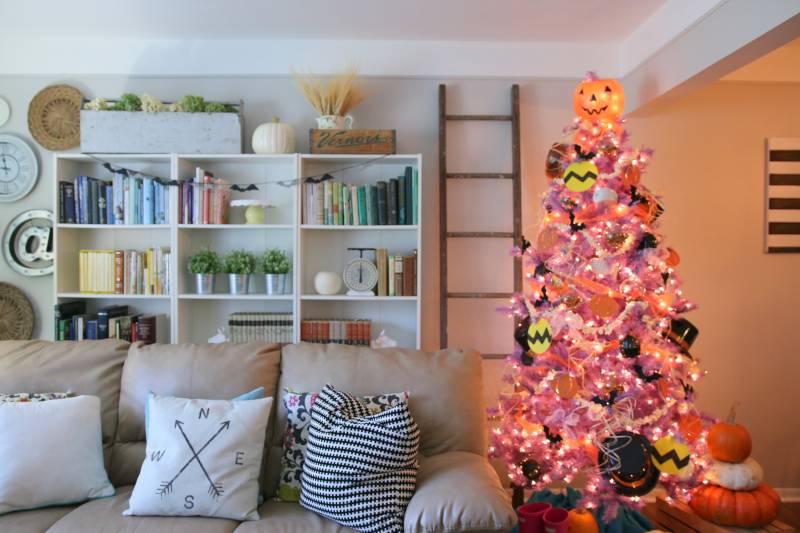 The sparkly bats and pumpkins are from the dollar section at Target and the yellow Charlie Brown inspired ornaments are just pieces of yellow foam from the dollar store that I colored with a Sharpie. I bought clear glass ornaments from Hobby Lobby and filled them with jelly beans and pretzel sticks. I strung popcorn on thread for the garland.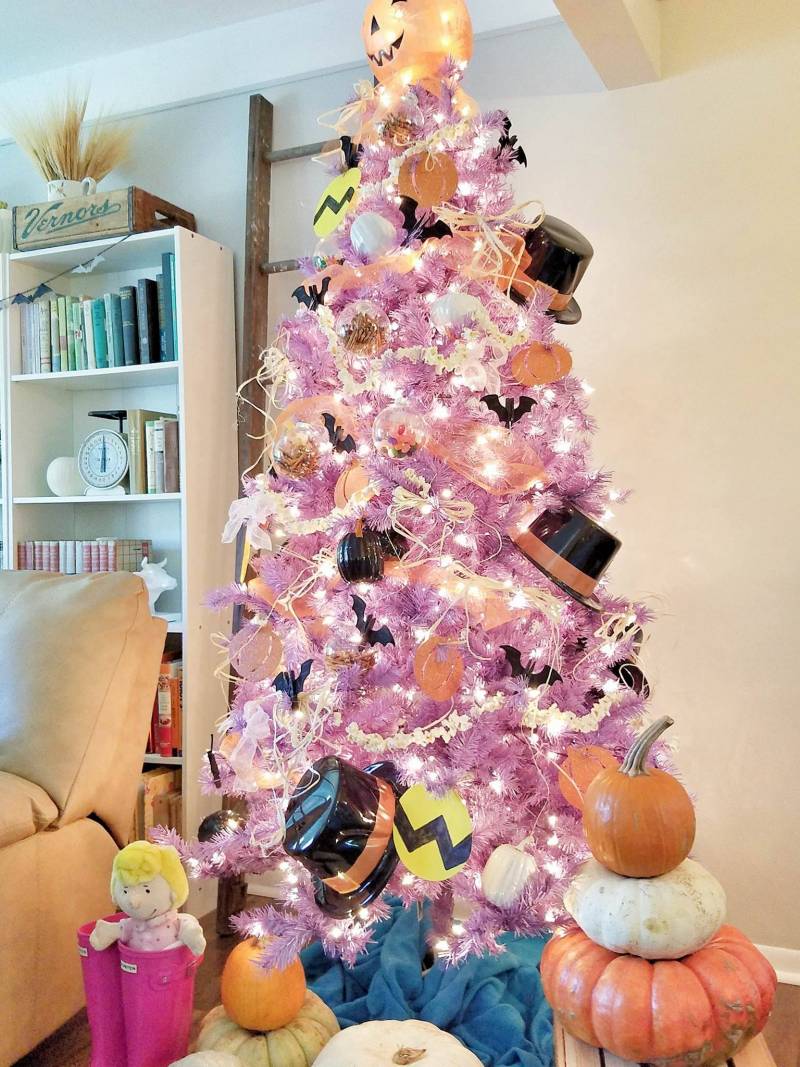 I loved the whimsical color of this tree and knew it gave me so many options for a not-so-scary theme.
Here are some of the ideas I got from you guys!!
Princesses
Sully from Monsters Inc
The Nightmare Before Christmas
Bats and Spiders
Boo from Monsters Inc
Ursula
Princess Jasmine
Rapunzel
Minnie Mouse
Purple Minions
Star Wars
Election Tree – Red and Blue Joining Together in Unity!
Frozen Characters
Witches
Purple People Eater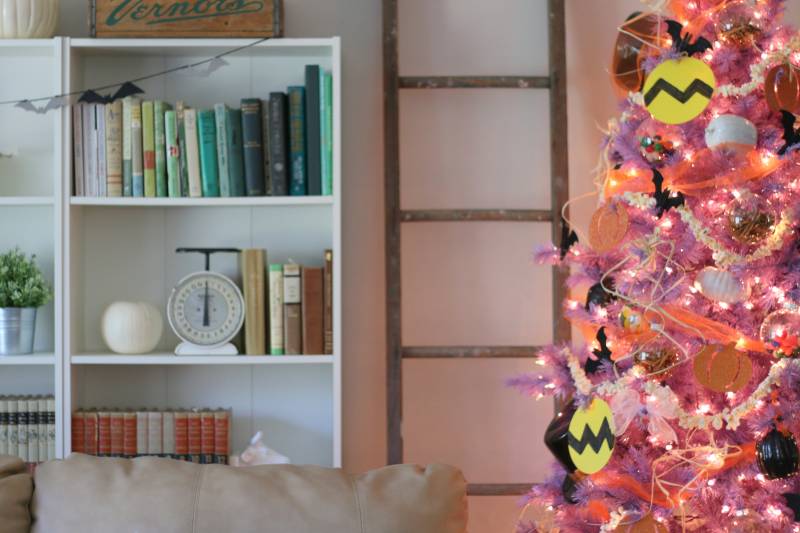 In the end, the Peanuts theme just made sense to me, but I totally wish I could have just done all the ideas! There were so many good ones!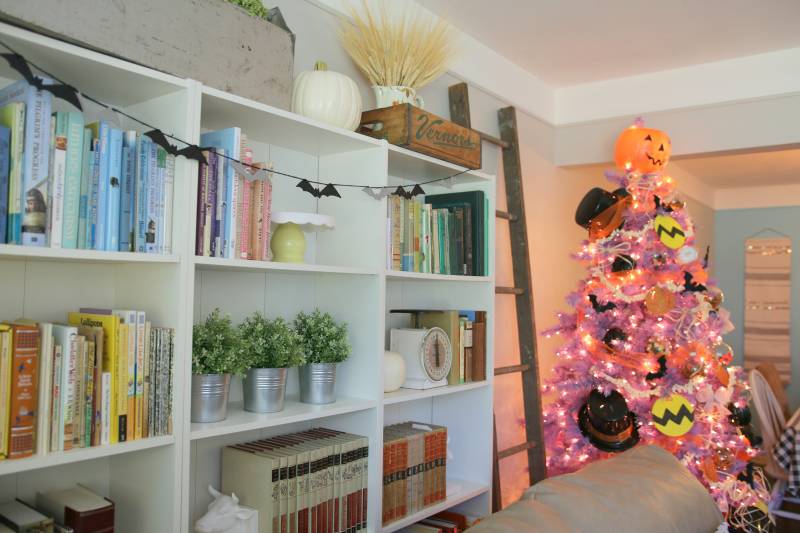 This was my first time ordering a tree from an online company. The experience was perfect! It arrived in the mail and was easy to set up. Now my only problem is deciding what to do for Christmas!! Do I leave this one up or pull out my white tree?? This is way too much pressure and too many options for an incredibly indecisive girl like me.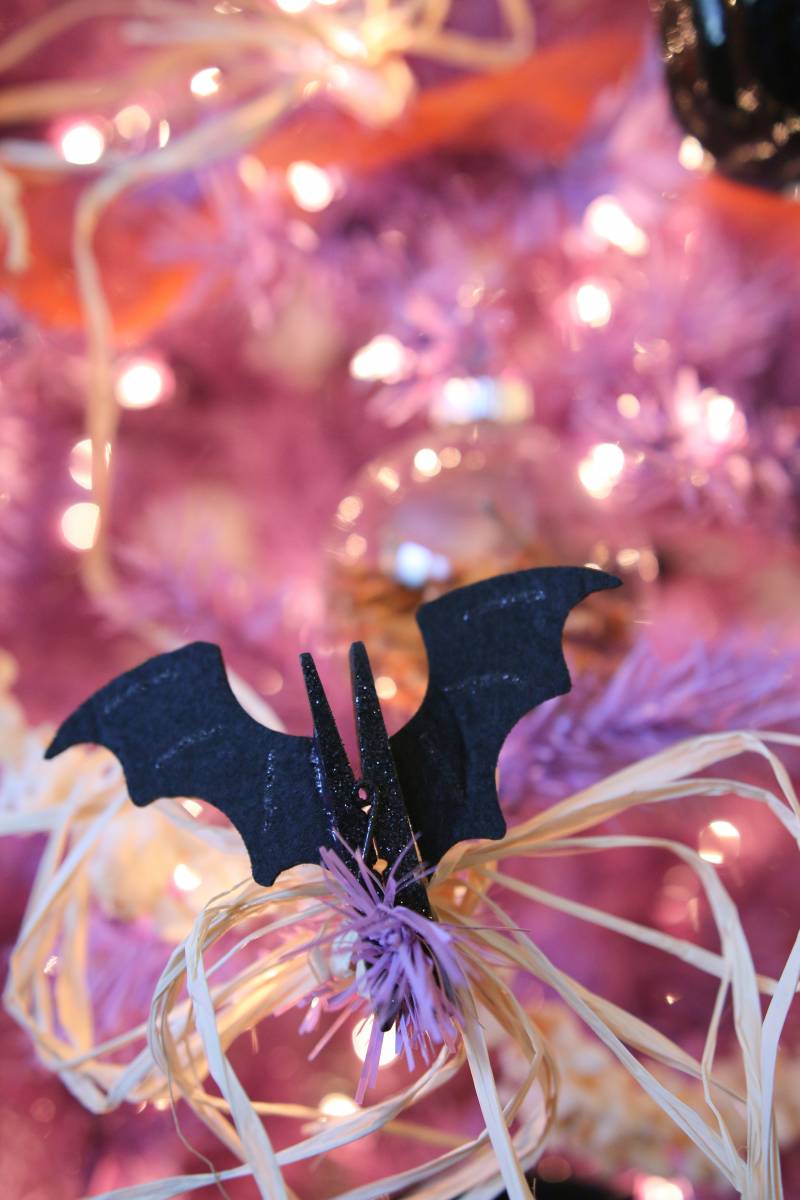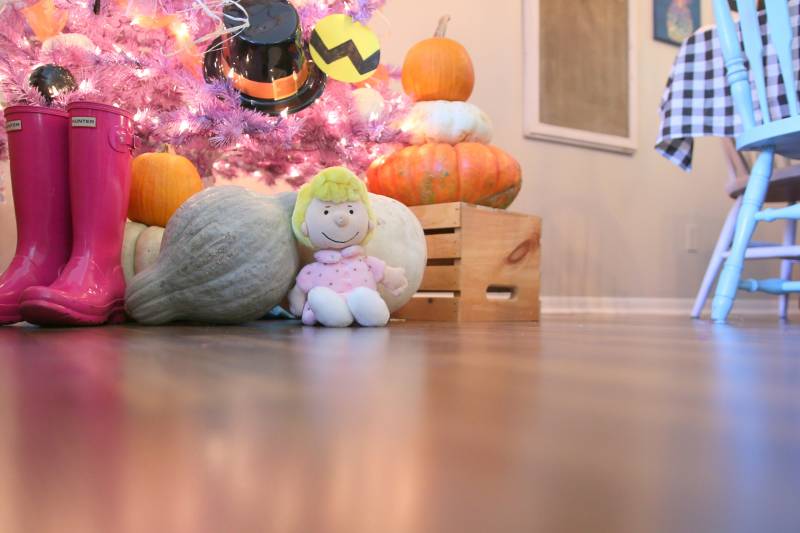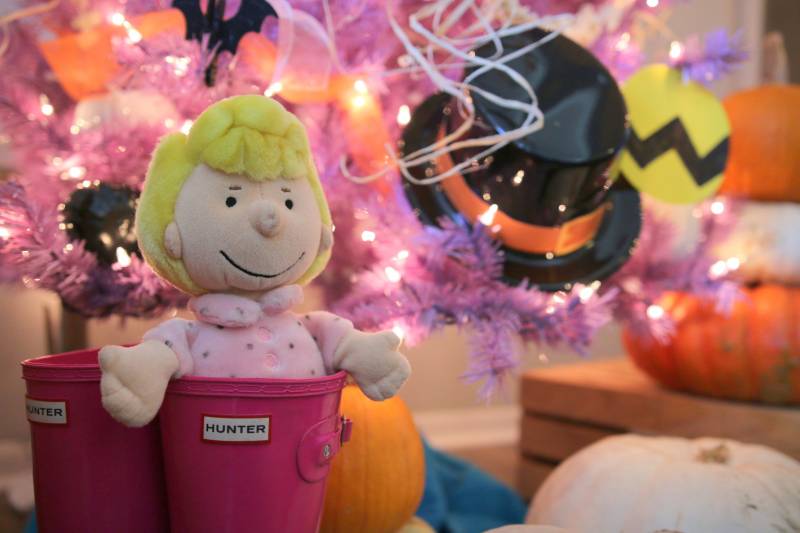 Be sure to visit the other blogs on this hop!
Monday – Jennifer Perkins for Treetopia
Tuesday – All Things with Purpose
Wednesday – Farmhouse Chic
Thursday – Sunshine and Sippy Cups
Friday – The Latina Next Door
Saturday – Treetopia