Hey everyone! I'm excited to be participating in this fun "Trim the Tree" blog hop! There are LOTS of great tree trimming ideas from other creative bloggers.
Be sure to check them all out!
I am sharing all the fun ways I came up with to utilize wood slices. This concept is not new. There are plenty of other awesome wood slice ideas out there… I just utilized some of them for the first time this year! I had a stock pile of logs in the garage and a compound miter saw calling my name.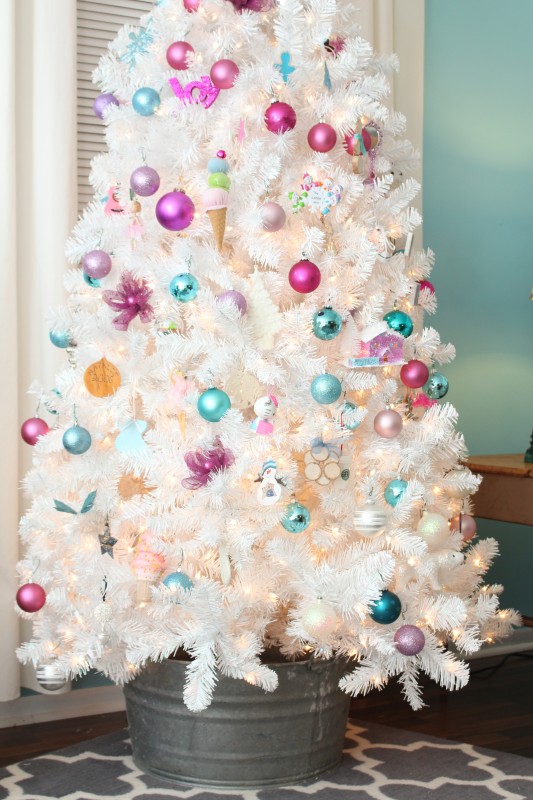 I am so excited about my white tree this year!
I've been dreaming of a white tree for years, buy my husband was always against it.
Something weird and magical happened this year…
the hubs spotted a white tree at the store… and he fell in love!!!
He bought if for me and the rest is history.
Of course I already had this galvanized tub ready and waiting.
I had to saw off the ends of the tree stand to make it fit.
But you better believe I made it fit.
FUN FACT!
My kids decorated both my trees this year. That's right, with the exception of a few ornaments near the top, my 8, 6 and 4 year old put every ornament on this tree. One of our trees is traditional colors and the other is pastels. I pulled out all the ornaments and told them to put all the red ornaments on the one tree and anything pink or teal on this white one!

There really isn't much to say about the details for this little project. Find a small log and a miter saw. Slice pieces as thin as possible to get as many as possible out of your log. I had to take the saw pretty slow to slice through the wood without it giving any kick back. I left several of the larger pieces so I could use them as a centerpiece.

I painted several slices with chalkboard paint and drilled holes into them to be used as ornaments and place cards for my holiday table.

My favorite ones are the snowman – I hot glued a piece of cardboard on the back and glued a string for a hanger and for the scarf. I also made the wreath by hot gluing the pieces together, then I painted gold paint on the edges and drilled a hole for a bow. The last one pictured here is a silhouette I thought I'd try at the last minute! It's not of any of my kids – I just free handed it from a googled image. What can I say? I just like the look of silhouettes :)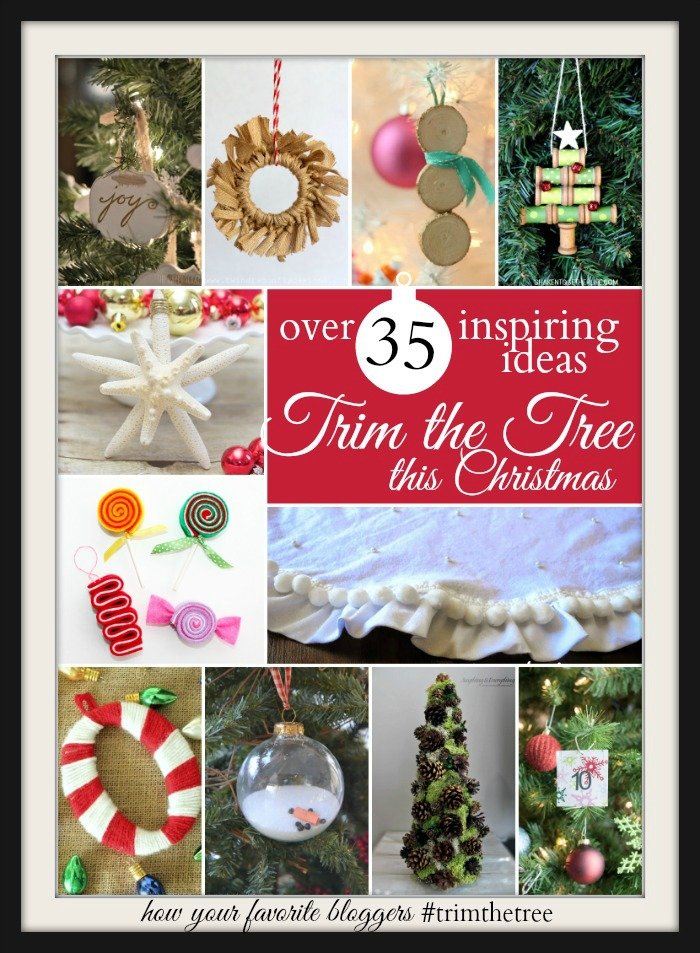 Have you started decorating for the Holidays? Over 35 of your favorite bloggers have come together to share their fun and festive ideas. From Ornaments to Tree Skirts, you are sure to be inspired by all of these amazing homemade ideas to Trim the Tree!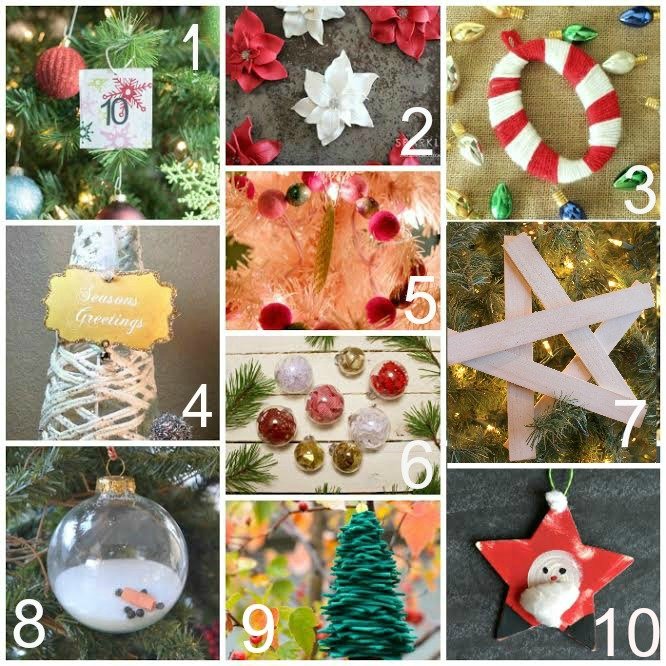 4. Vintage Green Paper Ornament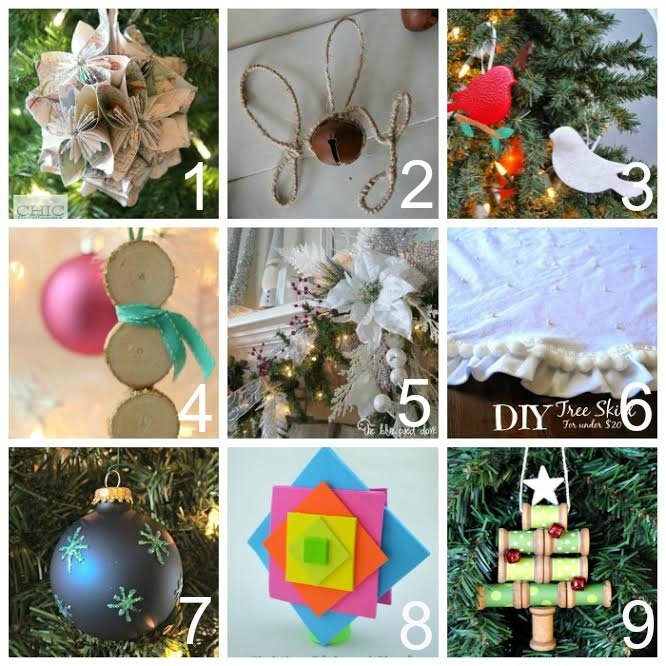 3. Embossed Wood Bird Ornament
4. Snow Man Wood Slice Ornament
9. Wooden Spool Christmas Tree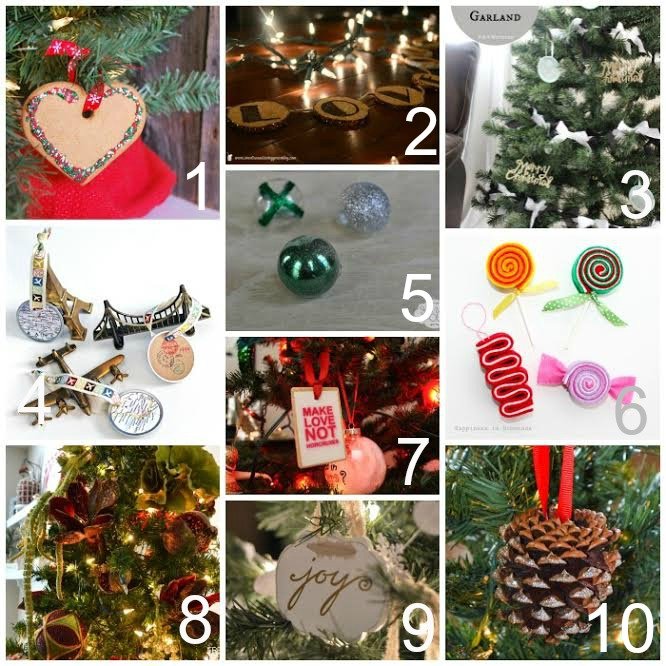 1. Gingerbread Cookie Ornament
8. How to Decorate your Tree like a Pro
9. Joy Ornament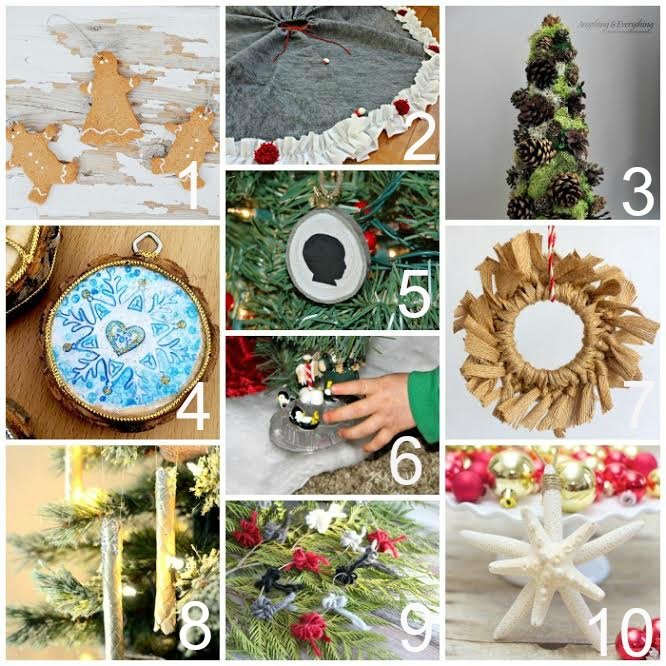 1. Scented Gingerbread Ornament
5. Wood Slice Child Silhouette Ornament
6. Tips for Decorating the Christmas Tree
9. Rustic Christmas Tree Garland