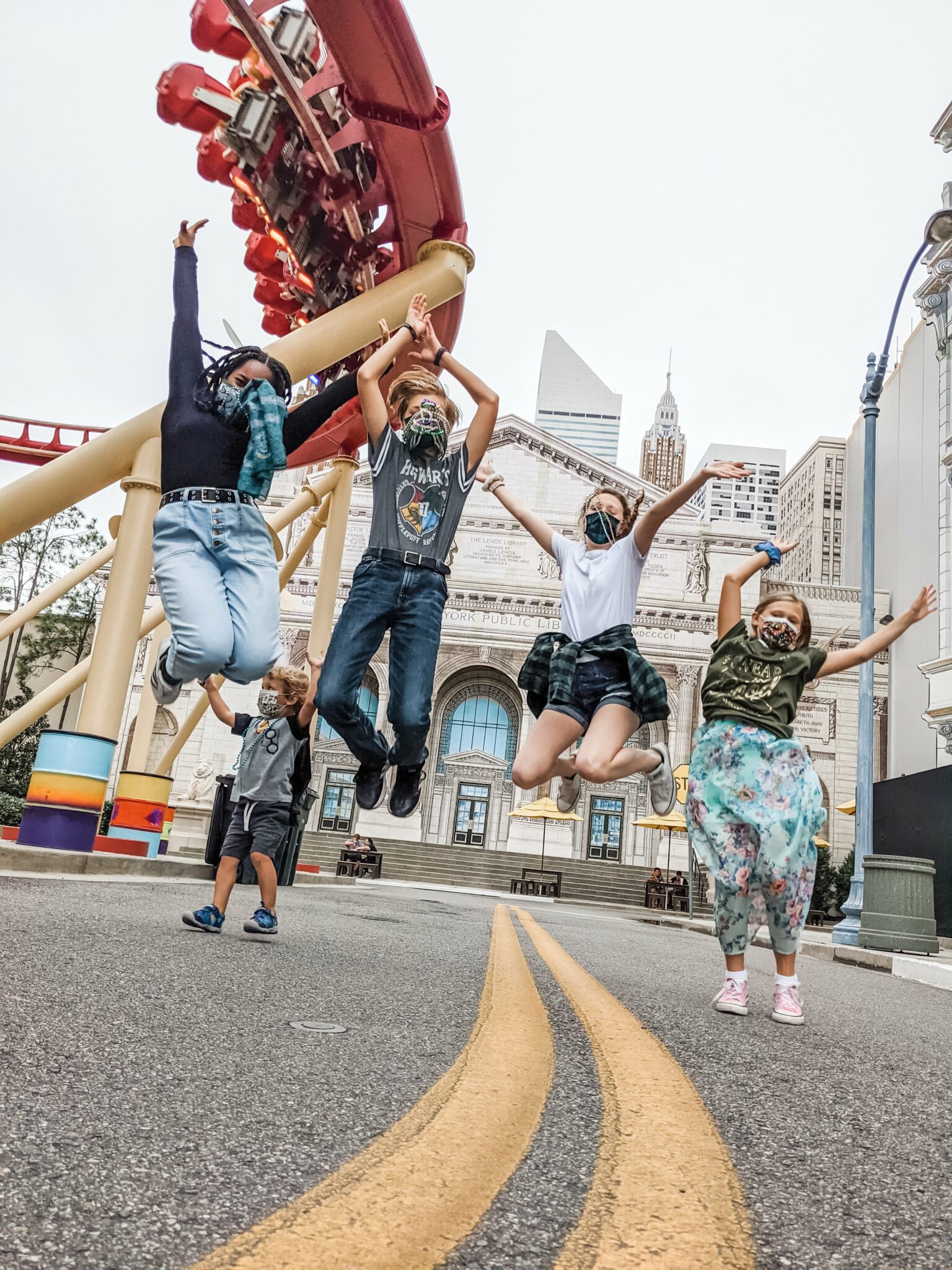 Photos That Keep Memories Alive
I'm a sucker for a good photo op and I generally rate the success of a trip based on the photos that we take! #sorrynotsorry I love taking pictures and I love looking back at them from years passed. Whether you're really into picture taking or not, everyone likes going home with pictures from a vacation that they have invested money and time into. I like the saying "collect memories, not things," but for many of us, a picture is what keeps the memory alive. Whether it's scrolling back through your Instagram history, a photo album, or Facebook memory, who doesn't love pictures?
Where to Take the Best Photos at Universal Studios Orlando
I'm going to share some of my favorite theme park picture taking tips, and all my favorite spots to stop for a picture while visiting Universal Studios Orlando. Take a deep breath. Taking pictures shouldn't be stressful. The beauty of our modern cell phones is that we have an amazing camera at our fingertips at all times. Keep it charged up and ready to go.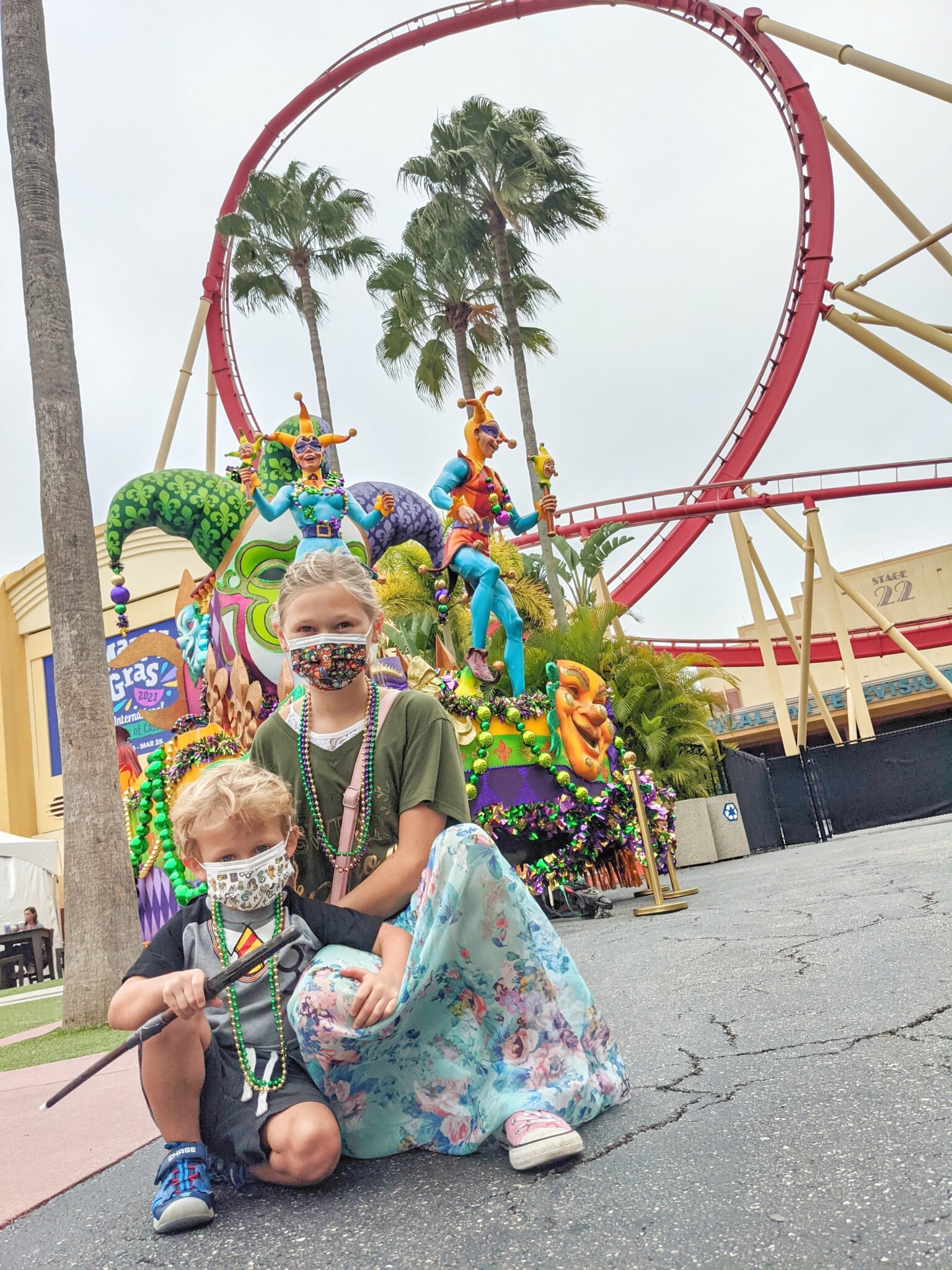 Theme Park Photo Tips
Here are a few quick tips to get you started at any theme park:
Bring a portable charger with you. Using your camera frequently will drain your battery faster than normal!
Clean your camera lens. This may seem like a no-brainer, but when is the last time you cleaned it?
Rehearse a couple poses. This might seem silly and you may get a few groans from your family, but you will appreciate it later! If you ask everyone to gather for a group shot, they'll know exactly where to go and the picture taking will be over faster! Win-win!
Make people disappear. If there are lots of people around that you don't want in the shot, you can either wait patiently for the crowds to thin out, come in close to crop people out, or get down low and shoot up so the people behind your subjects disappear!
Play around with fun poses. Have your group huddle together and spread their arms out wide, try having them bend their knees and lean forward, get down low and take a picture from the street level.
Talk beforehand about having a good attitude. My kids know that pictures mean a lot to me. We talk ahead of time about having a good attitude and responding quickly when I ask them to pose for a picture. Responding out of love, instead of groaning and complaining is like giving me a gift or a way of saying "thank you for bringing us here, Mom!"
Leave the Selfie Stick at home. Most theme parks will confiscate these from you before going in and you won't be able to get it back.
Take your most important pictures during the magic hour. The photography "golden hour" or "magic hour" is right before sunset when the harsh sun has softened and the lighting is pure magic. Many times this is between 5:00 and 6:00 depending on the time of year. If you have a specific photo that you really want, but find yourself squinting from the sun, chances are the lighting is too harsh to make a good photo. Plan on going back to this spot during the magic hour.
Utilize a good photo editing app. Don't rely on filters, simply take a few minutes to brighten a photo, lift shadows and adjust saturation. My favorite apps for photo editing are Lightroom, a Color Story and Snapseed.
Dress for Success
One of the best ways to create a cute picture is to wear the appropriate outfit. When visiting Universal, you'll want to dress comfortably for the weather, but you'll also want to look the part. This is your opportunity to have fun with your love for Harry Potter, Minions, Dr Seuss, etc. Scroll through the images below for links to our favorite park attire!
Must-Take Pictures at Universal Studios Islands of Adventure
I'll break this into a few sections to share my favorite photos at each park. First up, Islands of Adventure.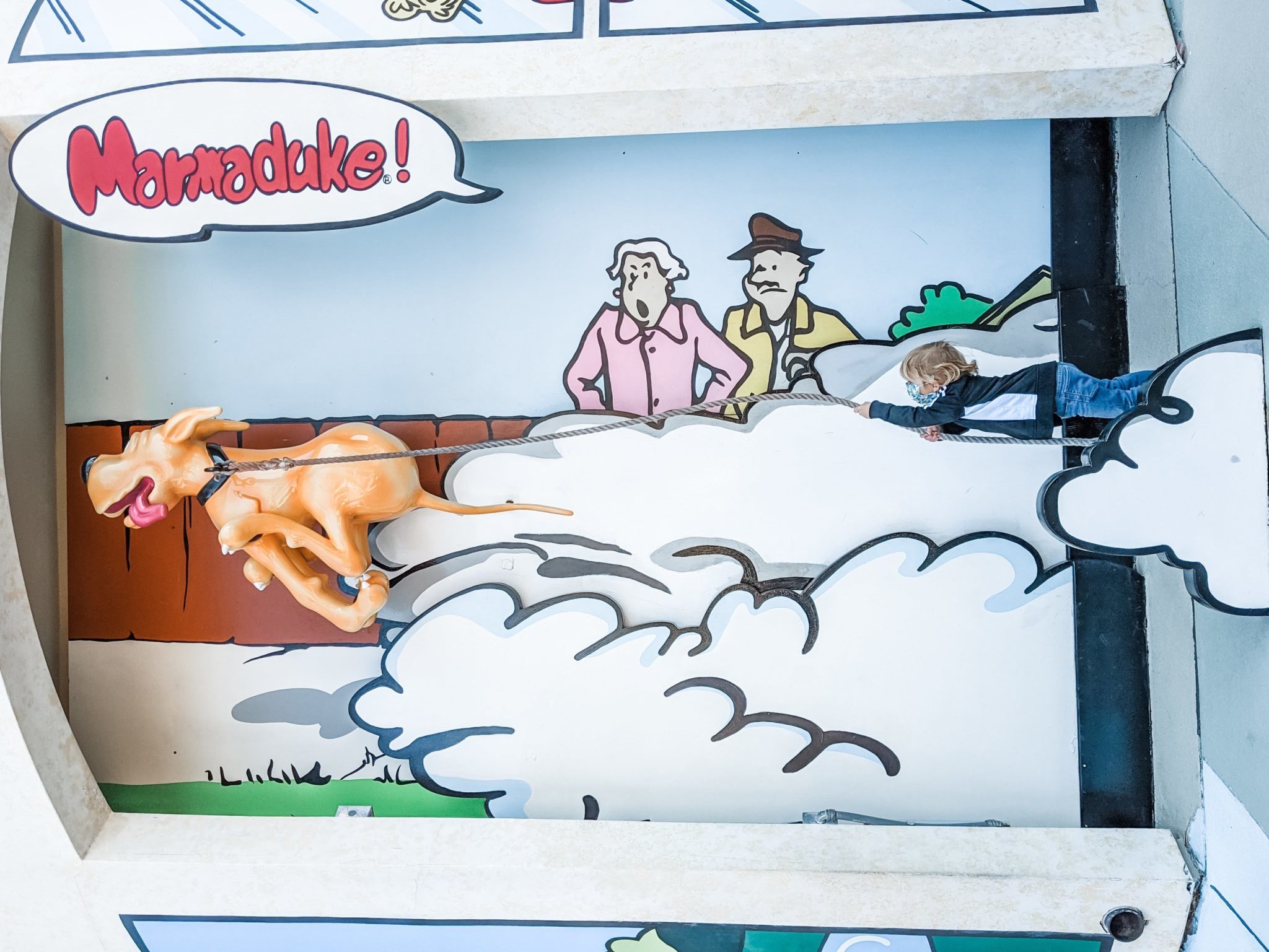 1. Toon Lagoon: This isn't necessarily our favorite spot, but it is FULL of photo ops! Many of these will probably go over your kid's heads, but it's fun either way.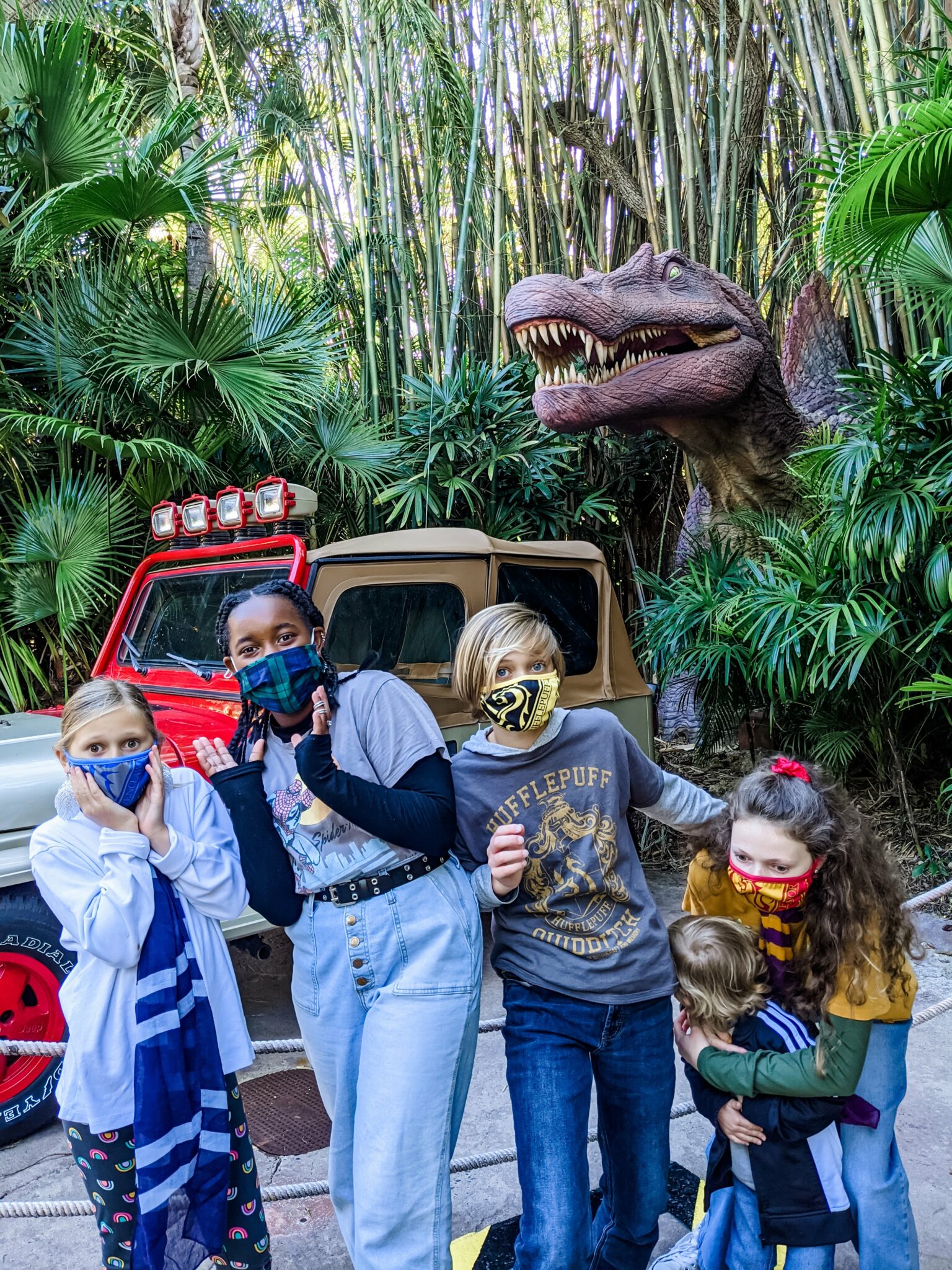 2. Jurassic Park photo op: This spot has an automated photo capture machine where you can pay to get a print-out. We like posing and taking our own, but the print-out is also cool.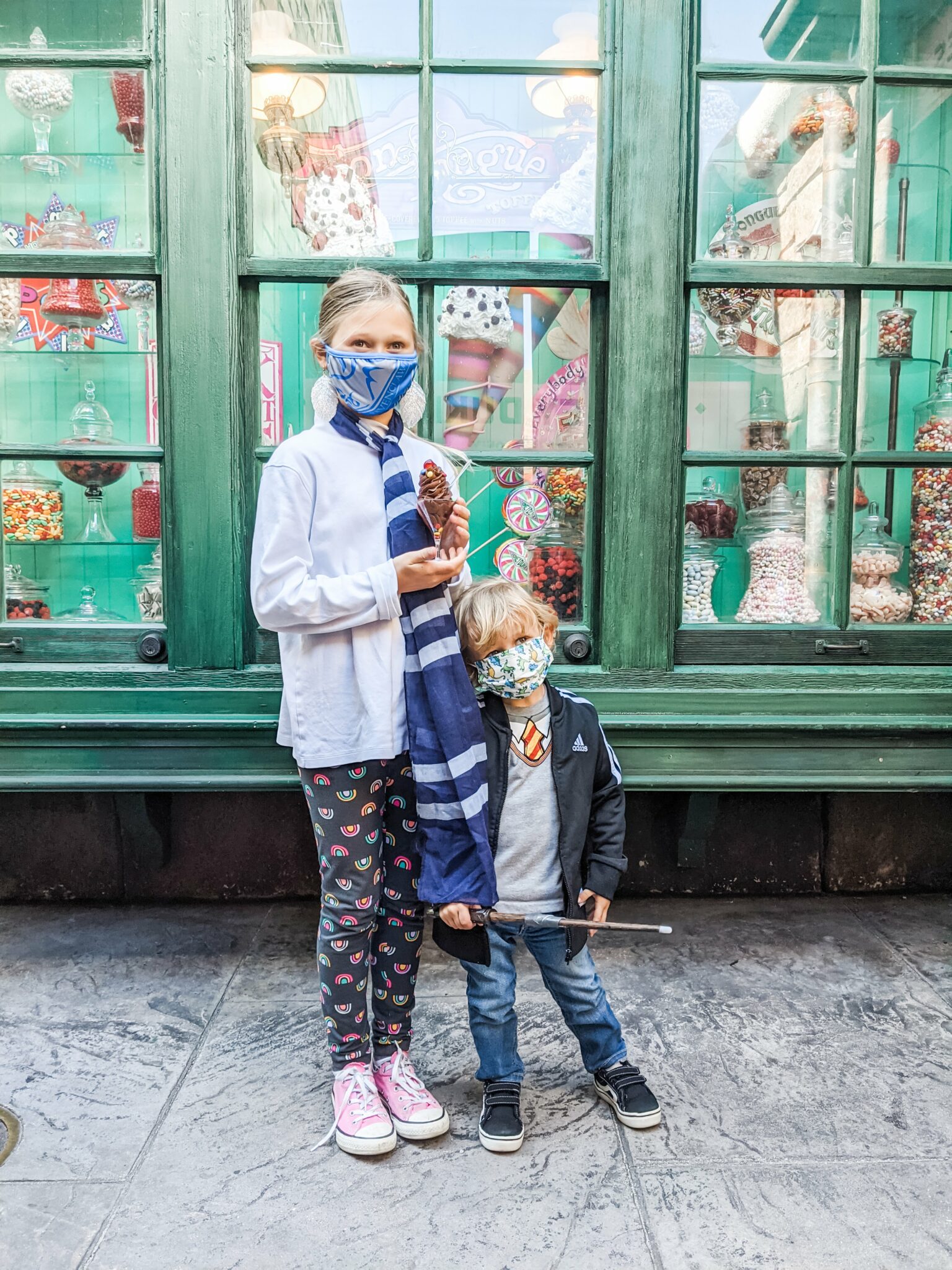 3. The "secret" alley behind Honeydukes: If you walk around the right side of Honeydukes, you will find a little alley way to leads back to a cute window display. It's the perfect spot for taking pictures because there are hardly ever people!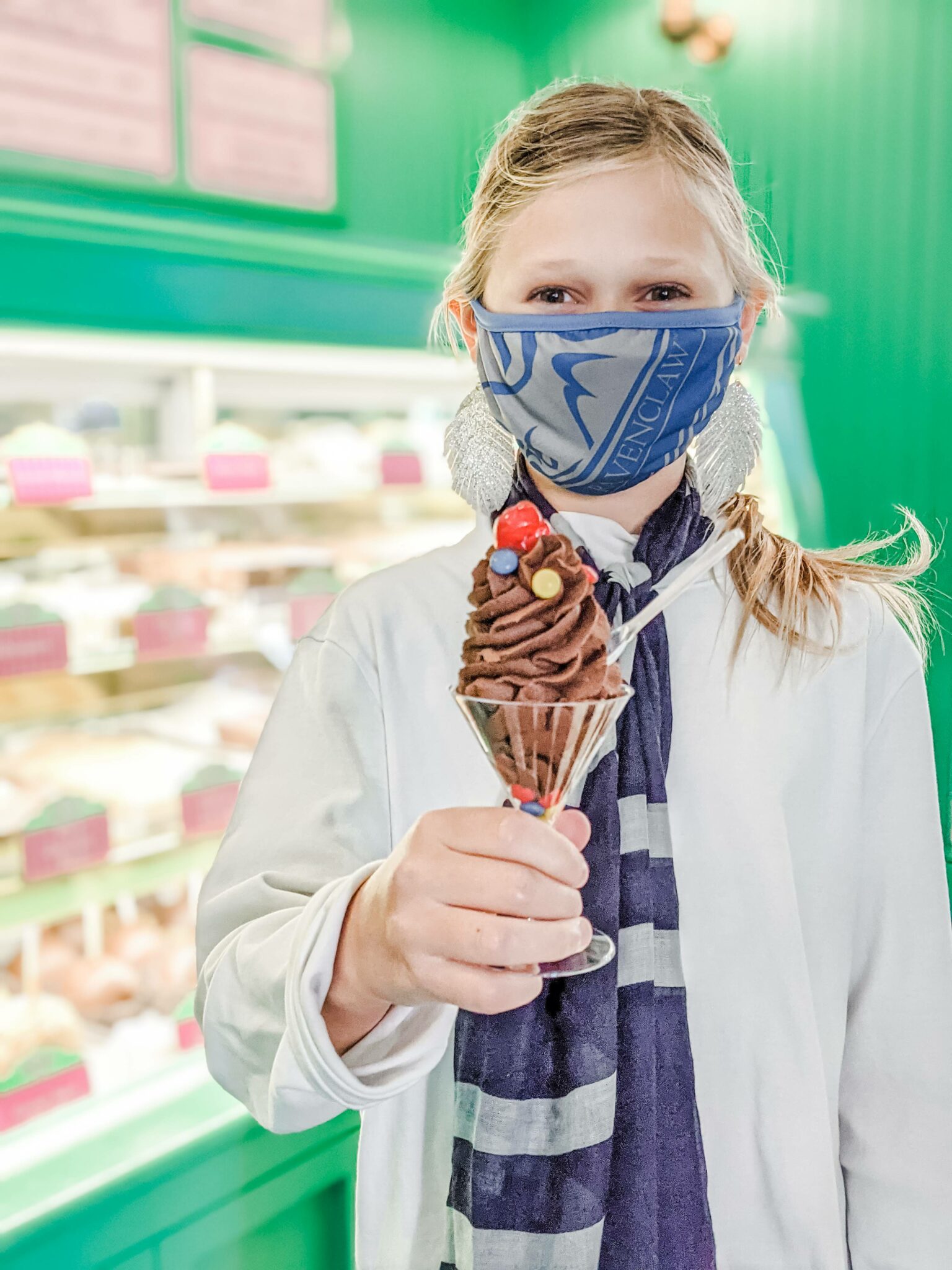 4. Inside Honeydukes: I just love the colors inside this candy store! I think it's definitely worth the price of a sweet treat to stand with it in front of the candy counter for a picture!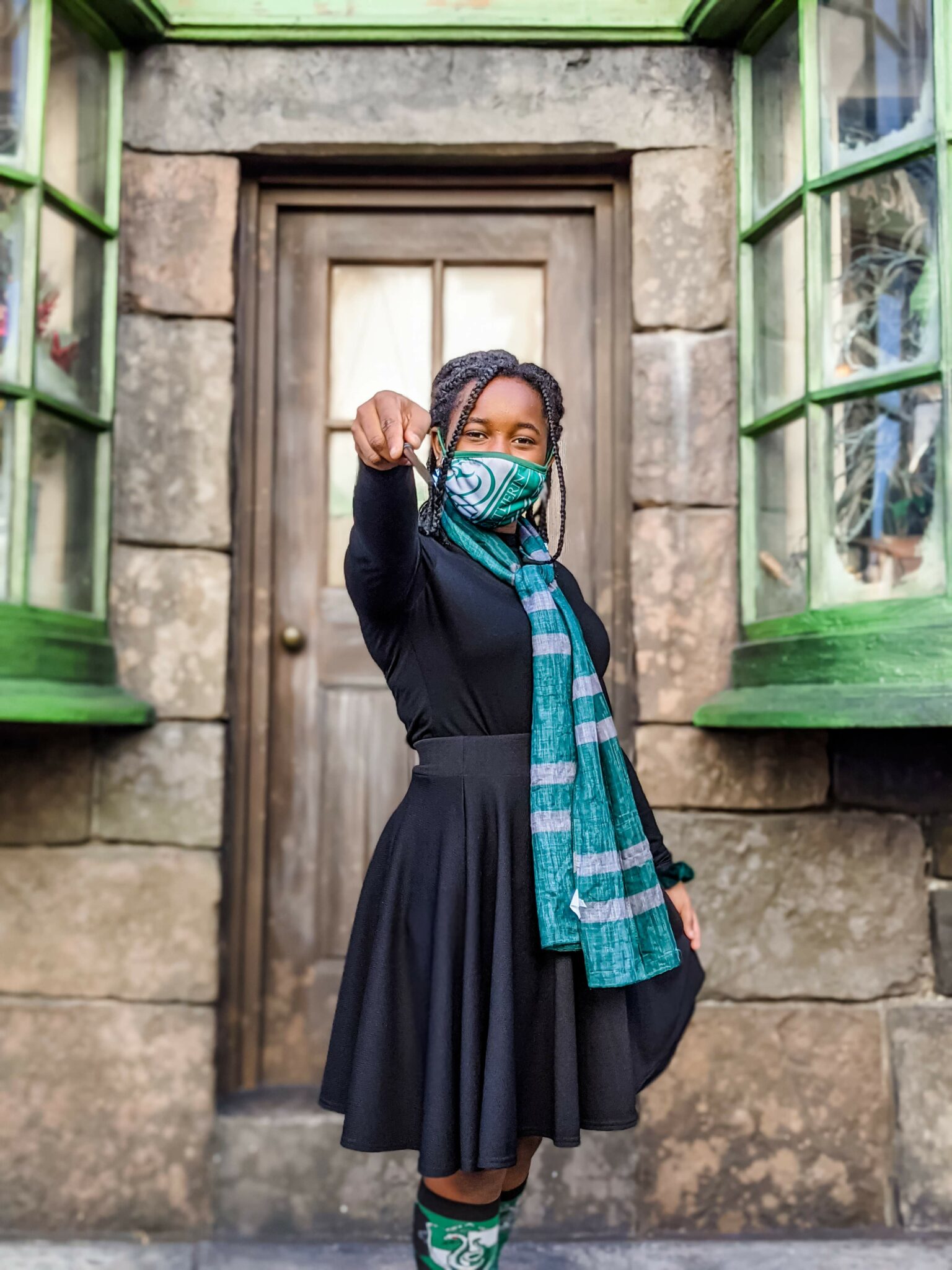 5. Green windows in Hogsmeade: Across the street from Hogsmeade station are some pretty, green windows, perfect for a Slytherin photo op!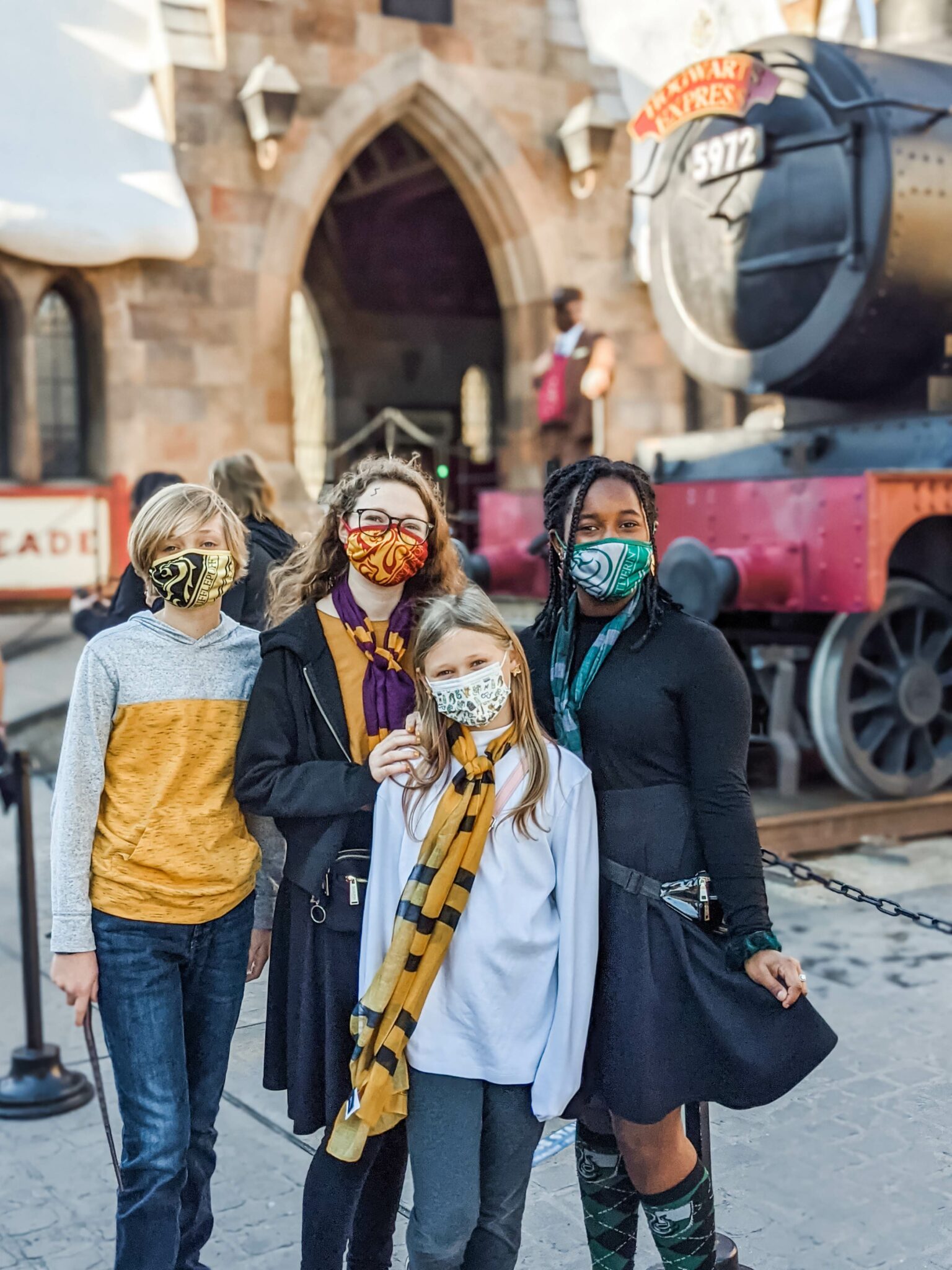 6. In front of the train outside Hogsmeade Station: You can patiently wait for a break in the ride queue to open up behind you, or snap a quick picture while waiting to ride Hagrid's Magical Creatures.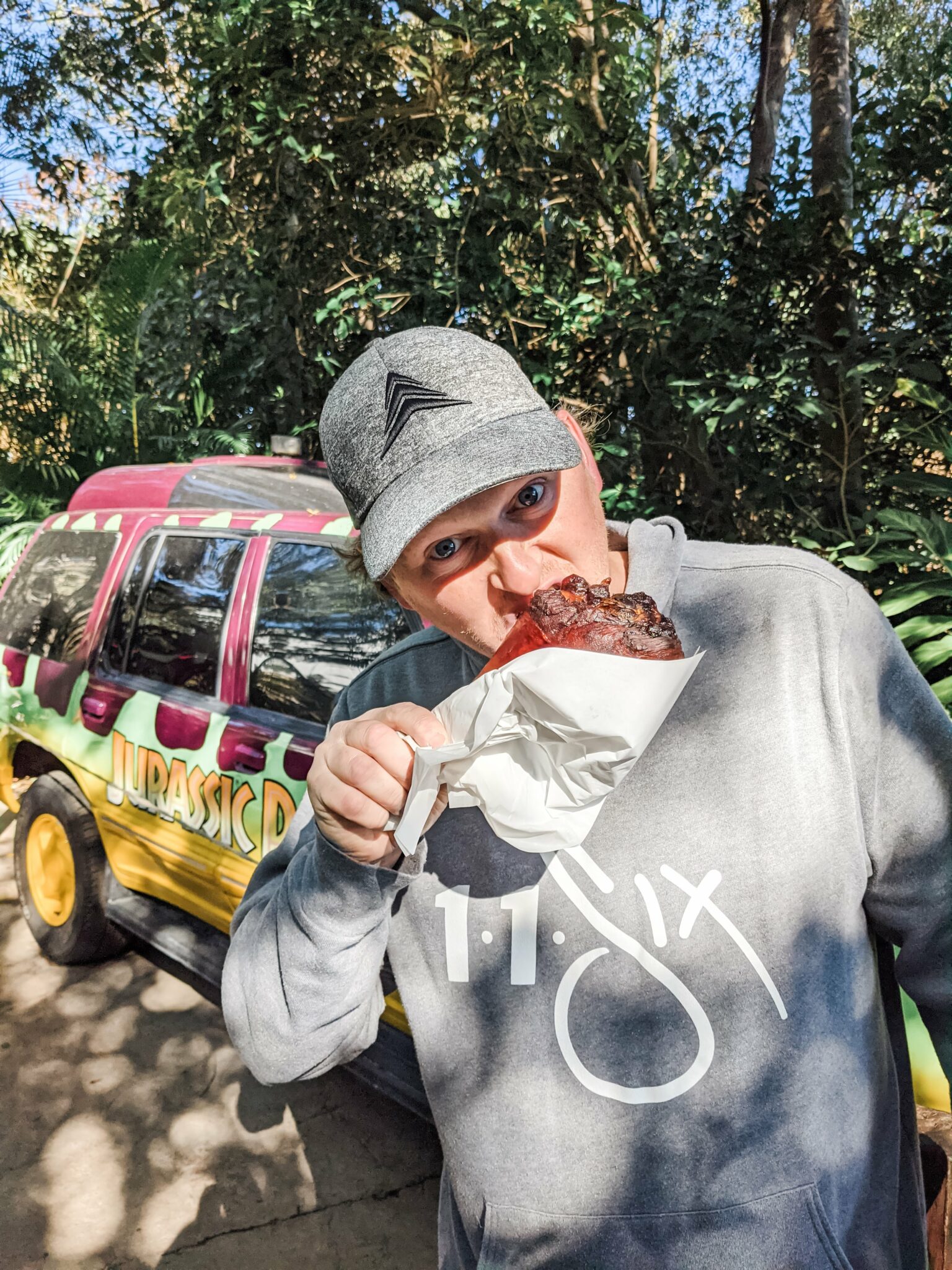 7. Eating a turkey leg in Jurassic Park: You can buy turkey legs throughout the park, but we like to eat them specifically in Jurassic Park for some reason!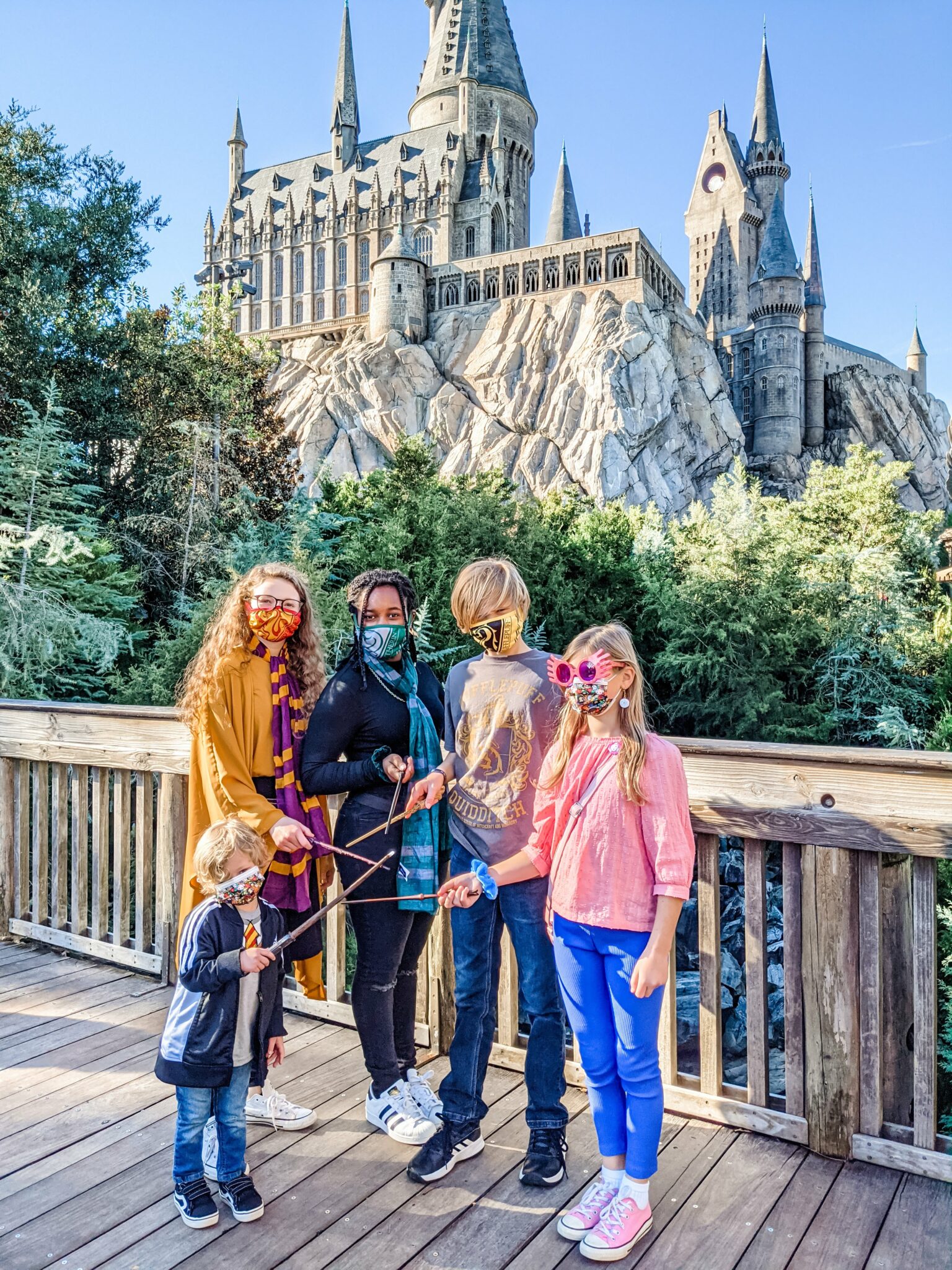 8. On the Bridge in Front of Hogwarts: This photo is a must. Have your wands ready!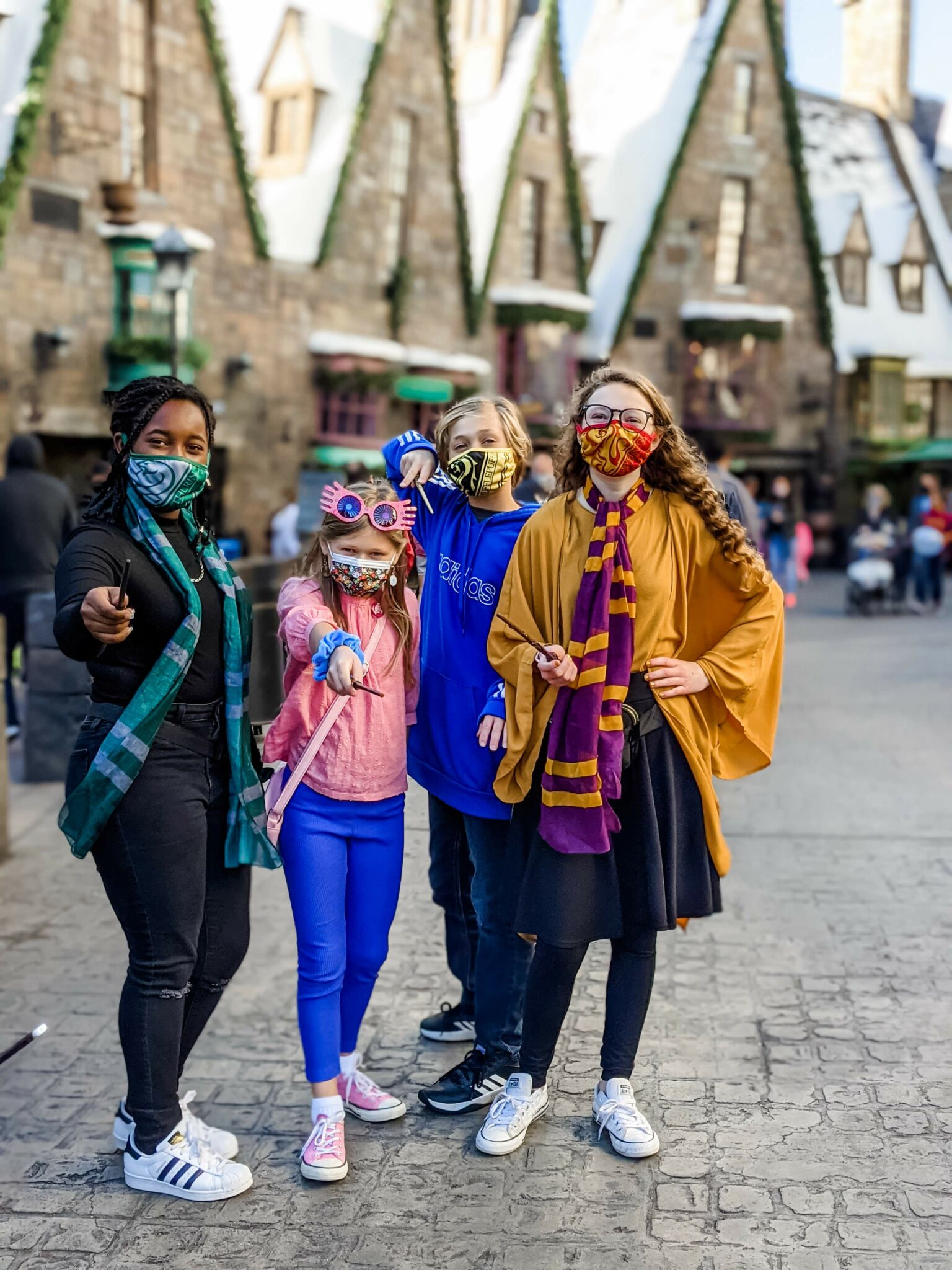 9. Anywhere in Hogsmeade: This entire area is so breathtaking and picturesque. You really can't pick a bad spot.
Tip: To get a picture in high traffic area like this, go early in the day or on a weekday for less crowds. Be prepared to wait for the crowd to thin out. Put your camera on portrait mode to blur out the background, or get low and shoot up to make people in the background disappear!


Universal Studios
Over on the Universal Studios side, our favorite place to get pictures is in Diagon Alley! You'll either need an annual pass that gets you in early, or energy to book it back here before the crowds arrive if you want photos without other people in them. This is one of the most crowded areas at the park. We like to go on weekdays during the off season to get the best shots.
Tip: If you stand in the street of Diagon Alley and time it perfectly, you might catch a photo with the fire breathing dragon in the background! Be warned, this might startle young children. The fire is on a timer and goes off every 10 minute if the weather is cooperative. Ask a nearby wizard when it will go next and wait for the low rumble leading up to the blast!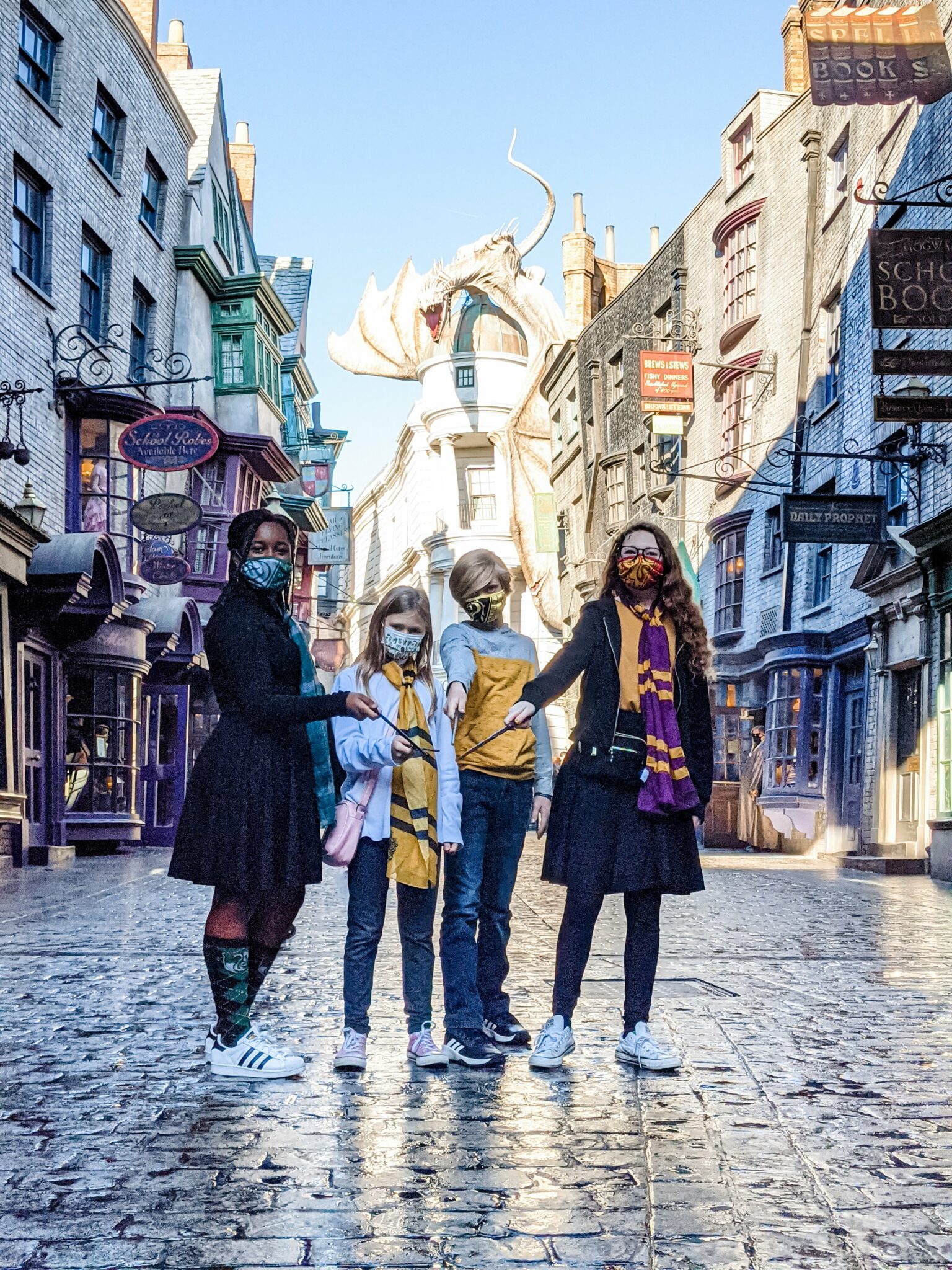 1. Diagon Alley: Our favorite place for pictures! If you missed the tips I shared above, go back to read them. Use the slider below to compare the weekday offseason crowd to a weekend crowd.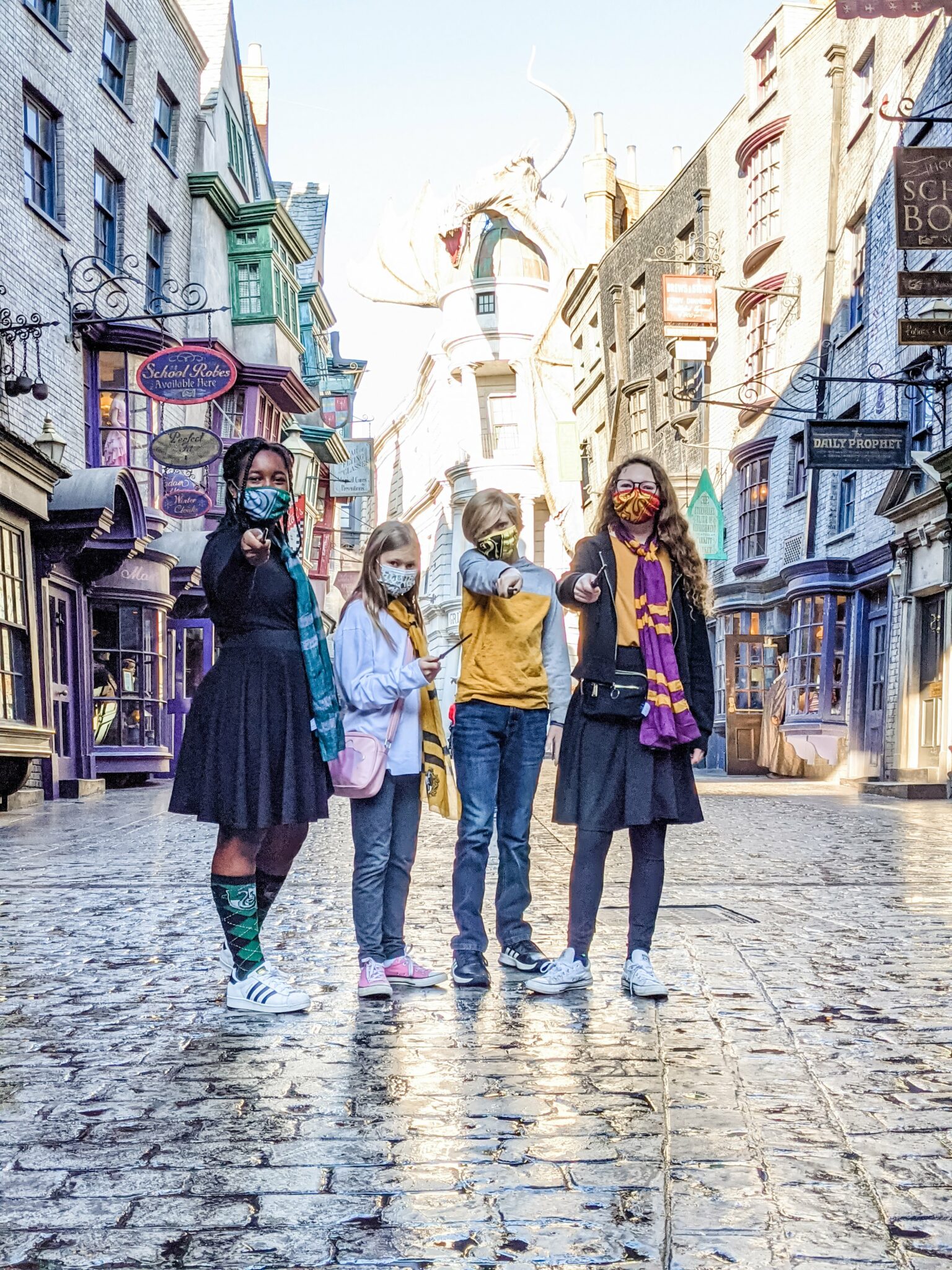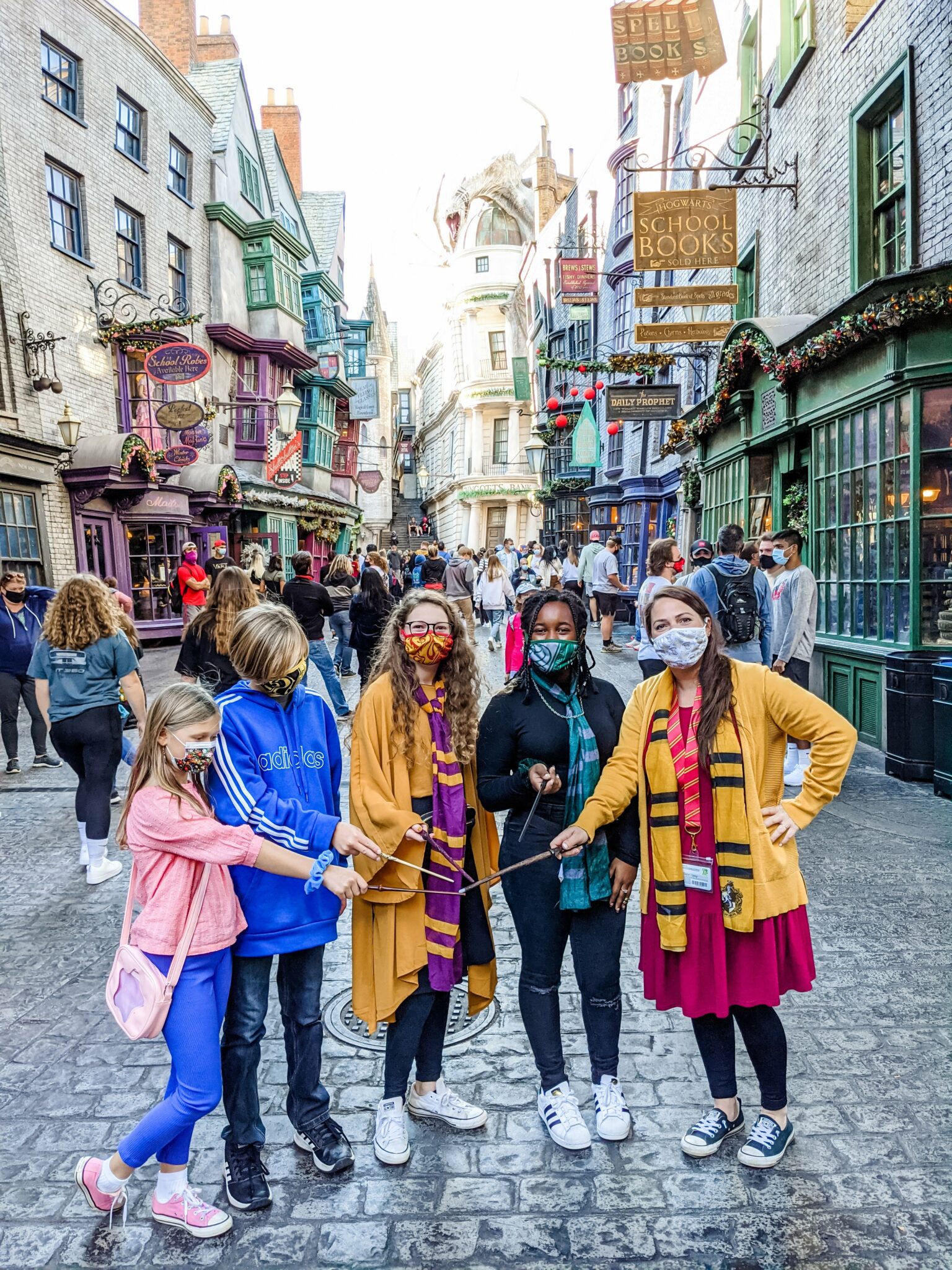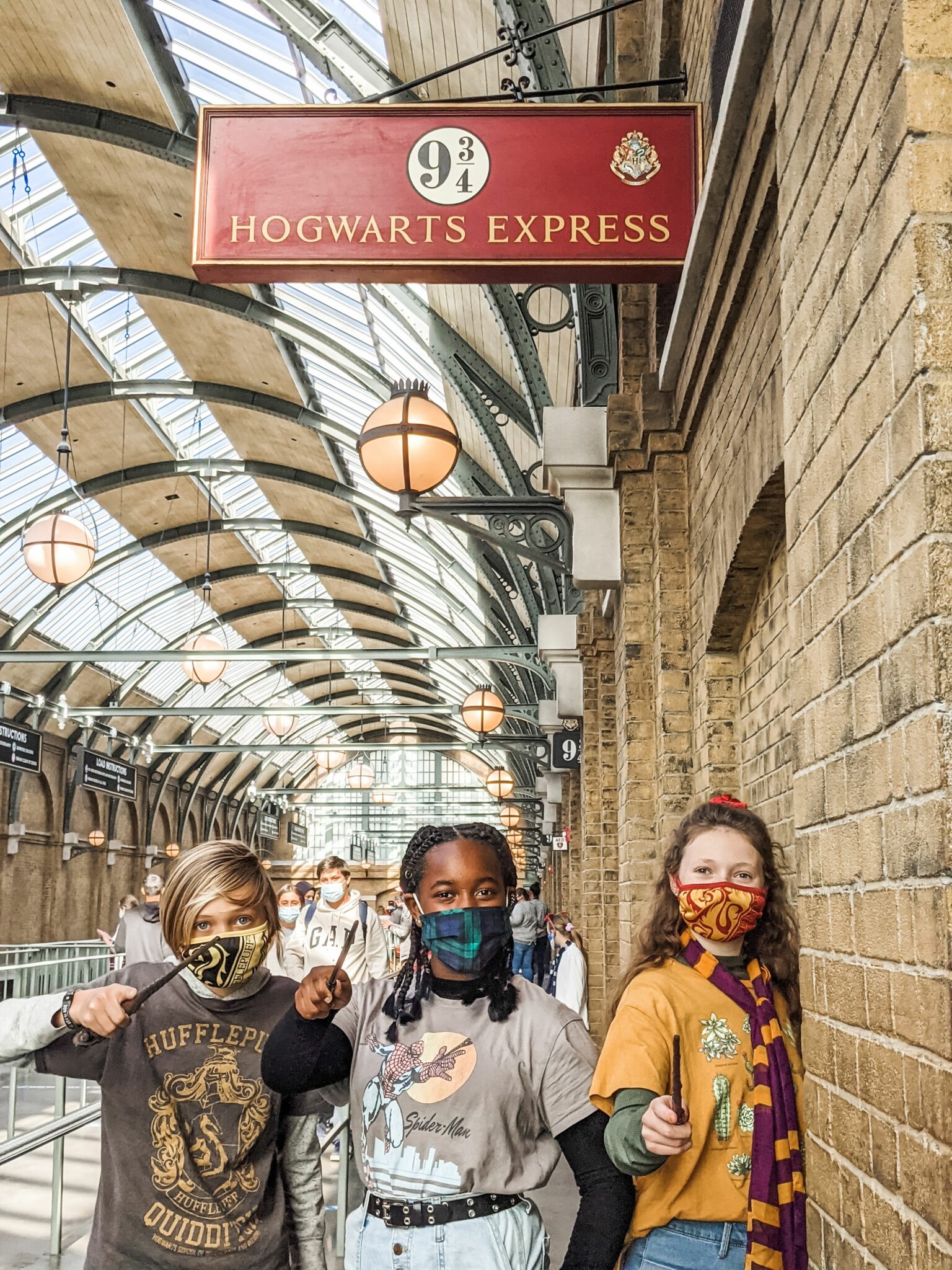 2. Under a 9 3/4 sign at King's Cross Station: While waiting in line to board the Hogwarts Express at King's Cross Station, be sure to snag a picture under a 9 3/4 sign.
Tip: Not a picture, but you will want to have one member of your group stand back to video everyone else running through the wall at King's Cross Station! Ask a team member where this is so you will be prepared.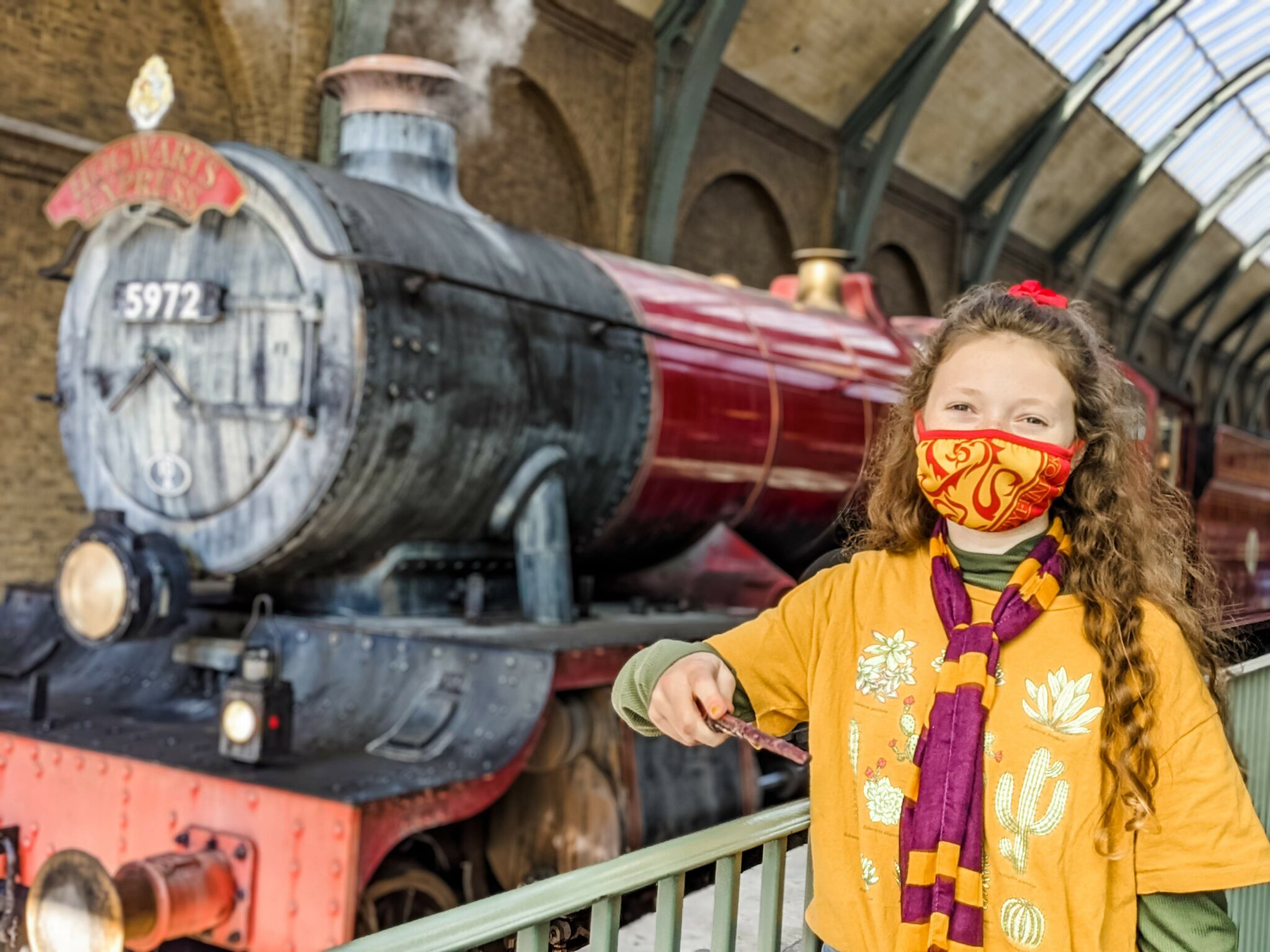 3. In front of the train at King's Cross: You can get a good picture in front of the train at Hogsmeade station too, but either way you'll want to get one!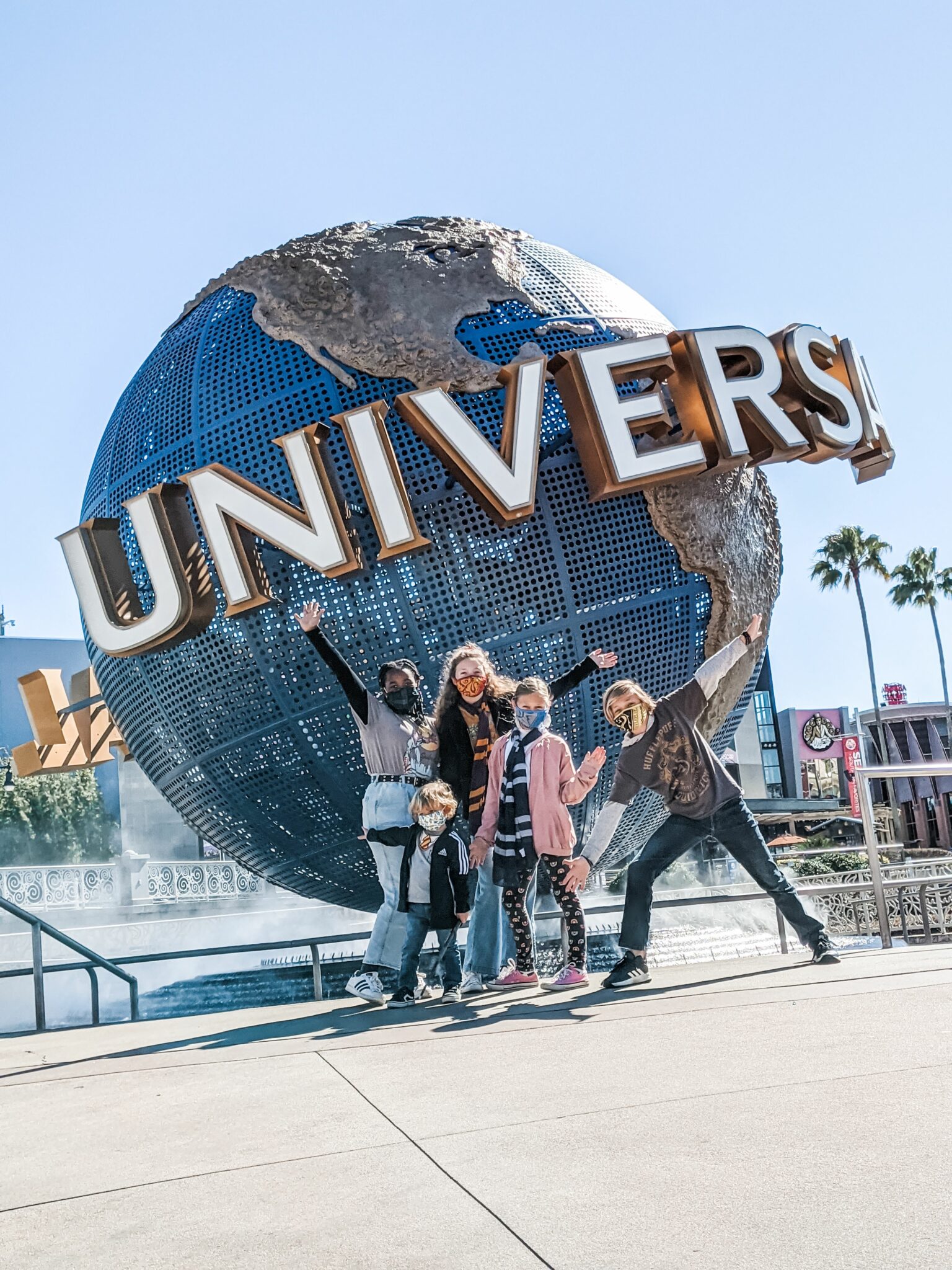 4. In front of the Universal globe: This is probably the most iconic spot to get a picture! We like to wait for the crowd to disperse a little and the "Universal" to show up in front. Get down low for a more epic picture!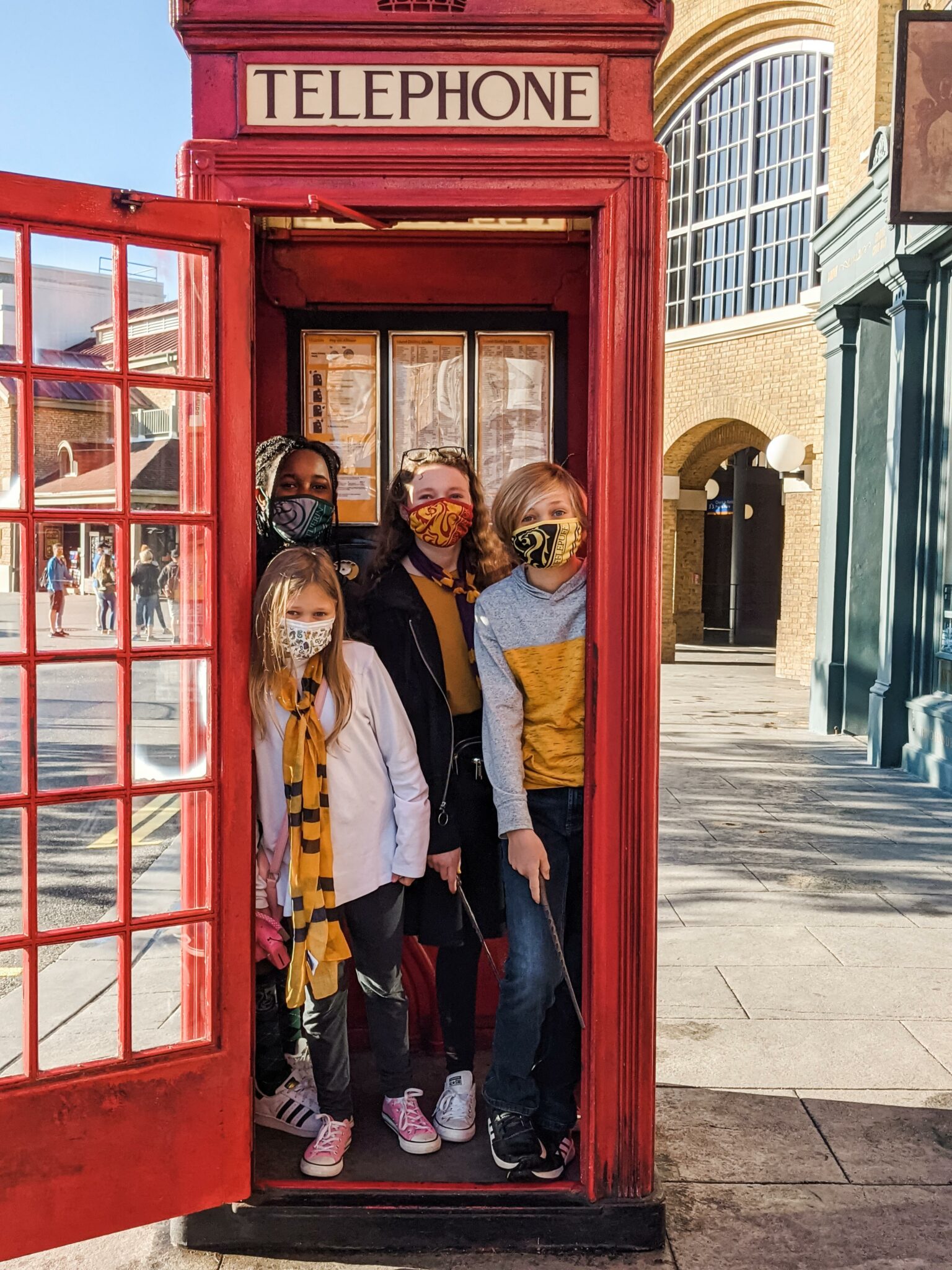 5. The phone booth in London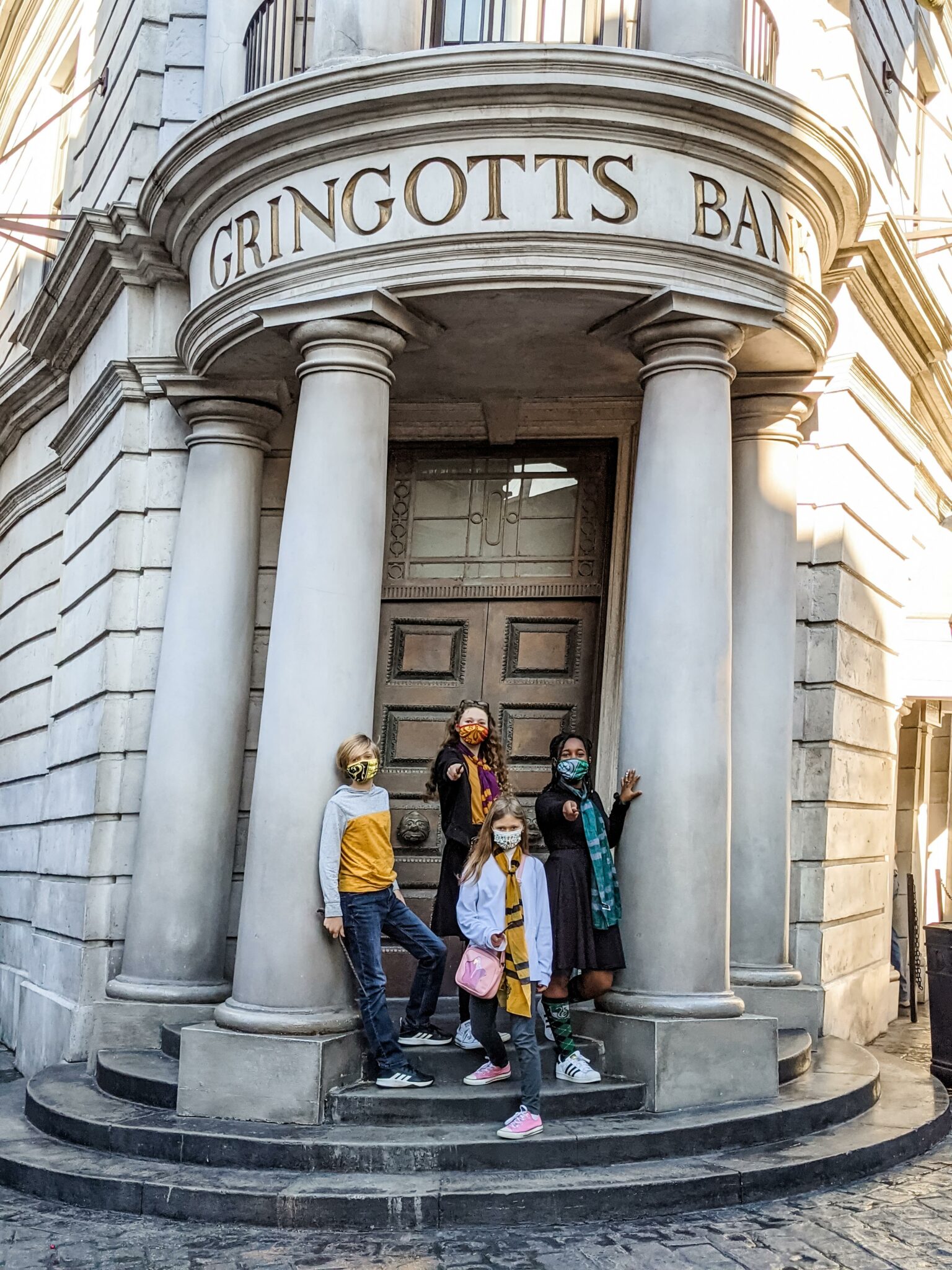 6. Gringotts Bank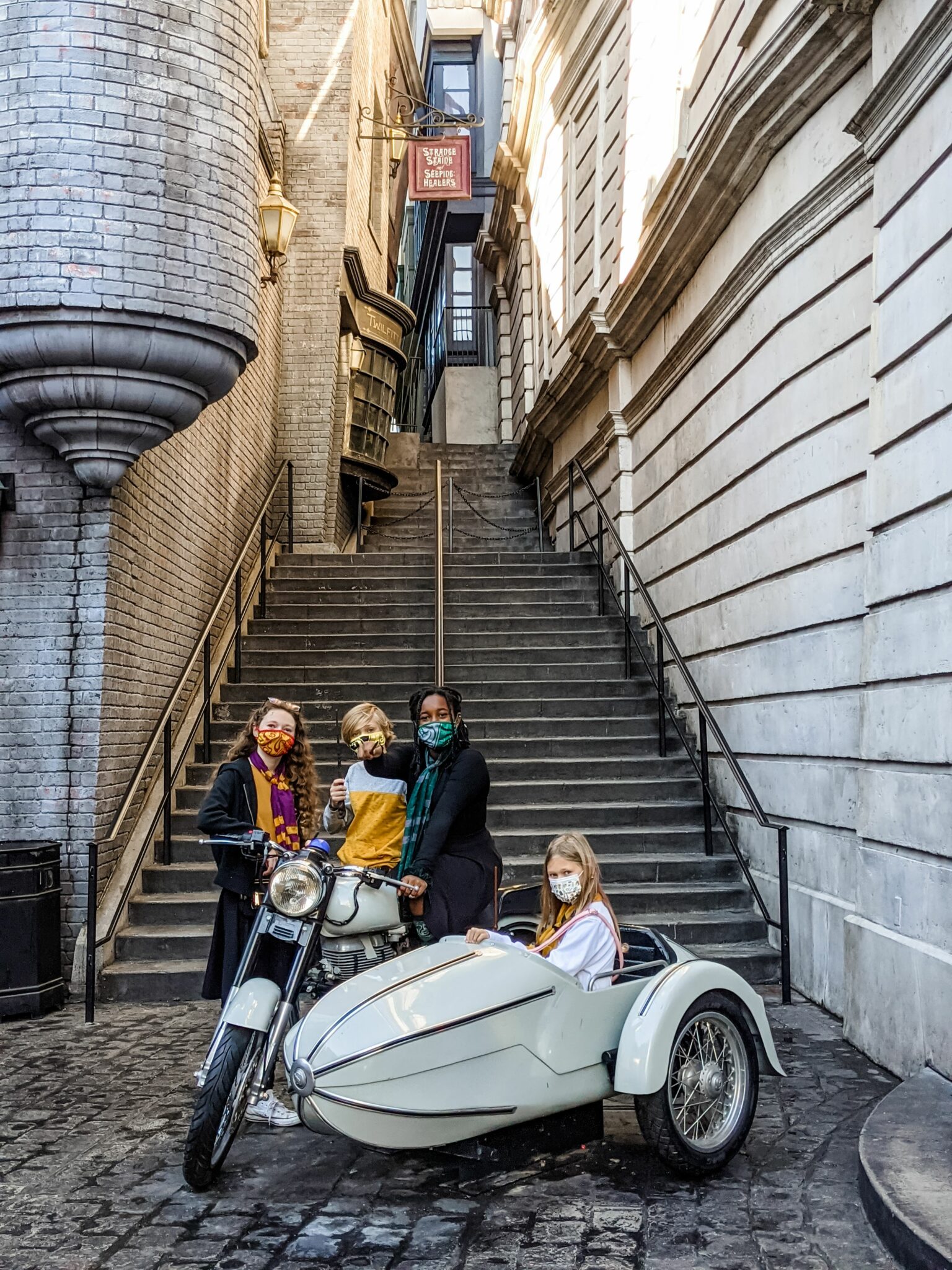 7. Motorbike next to Gringotts Bank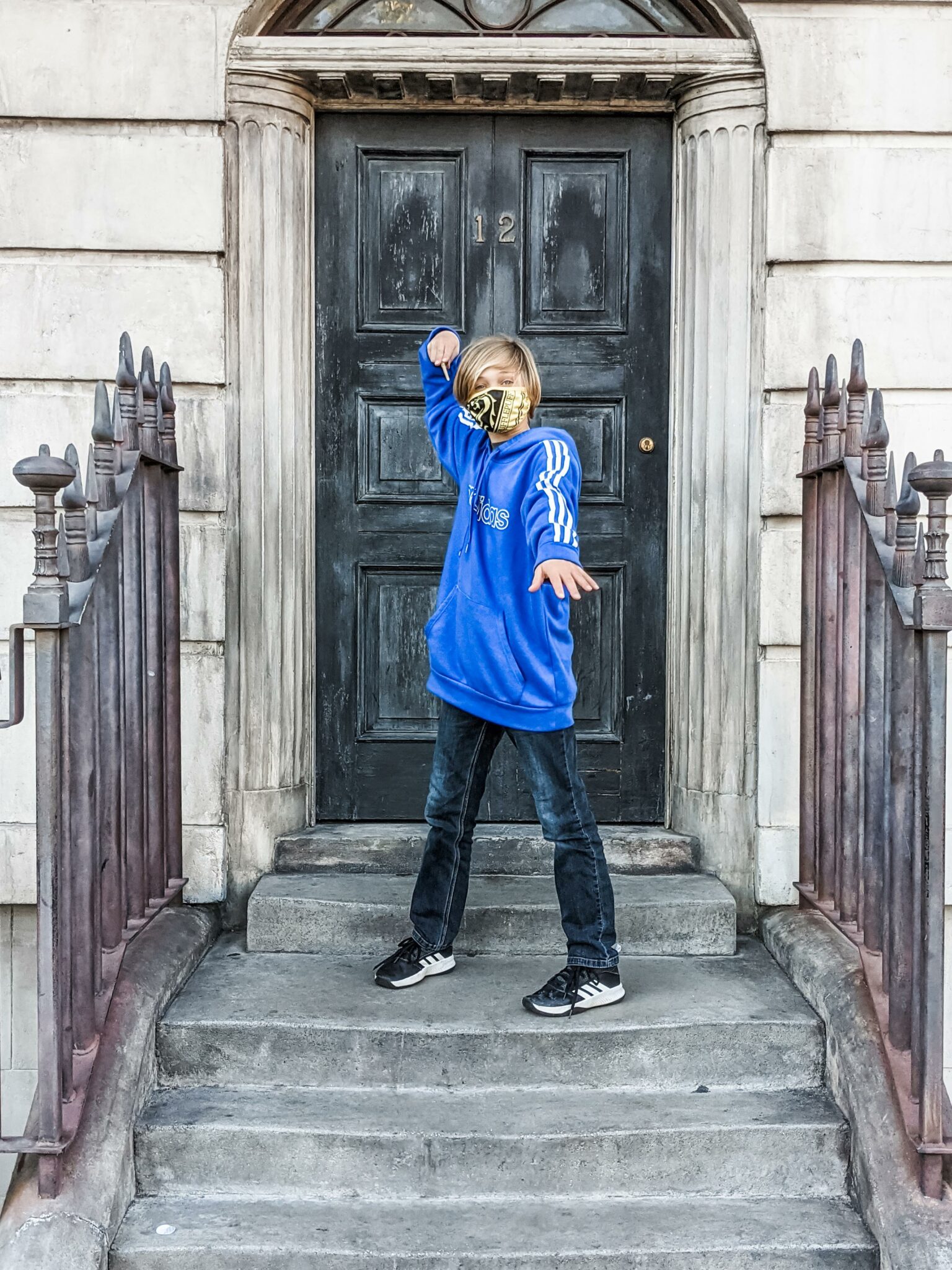 8. Grimmauld Place in London outside Diagon Alley: Watch for Kreature in an upstairs window!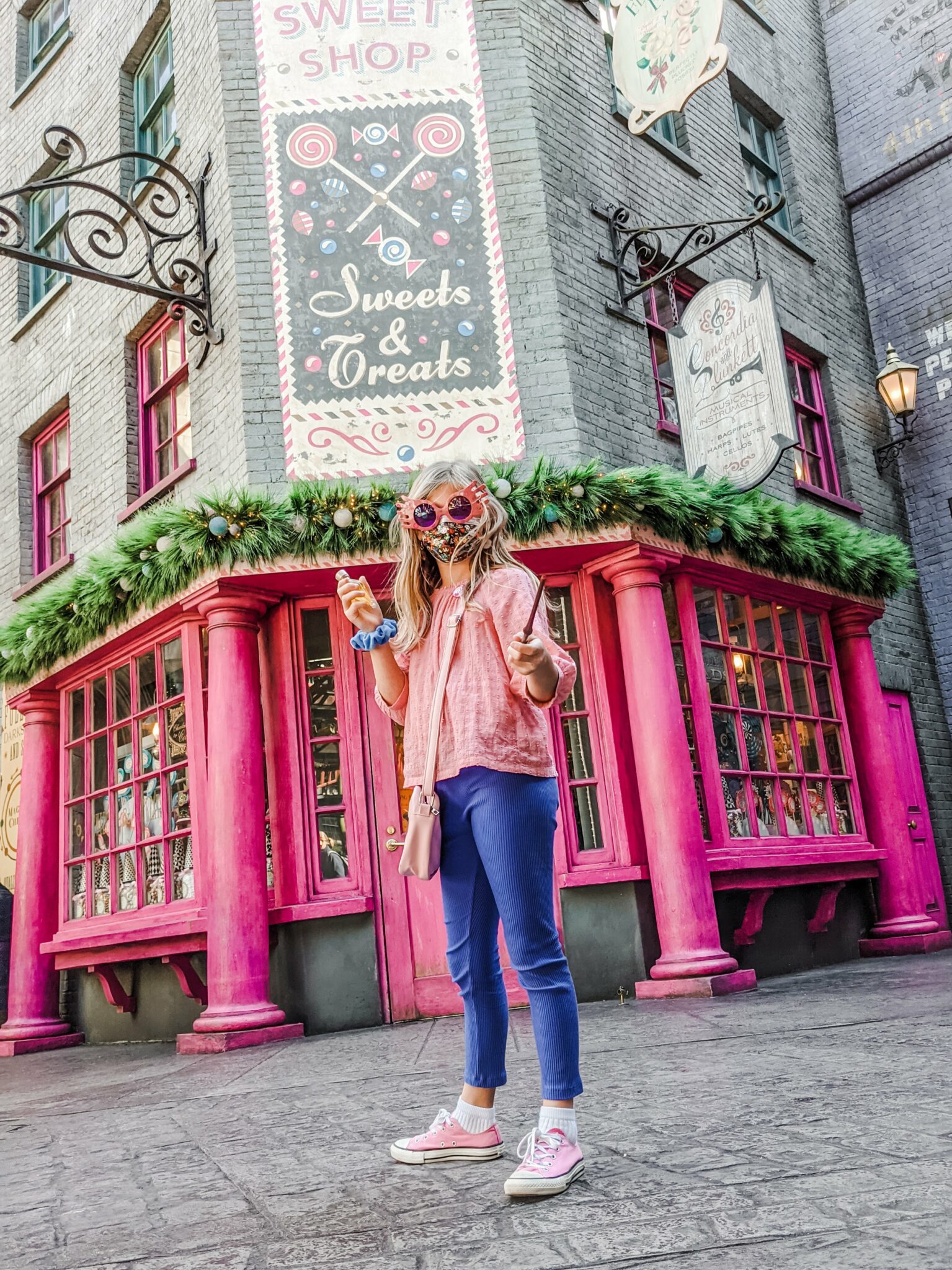 9. In front of Sugarplum's Sweet Shop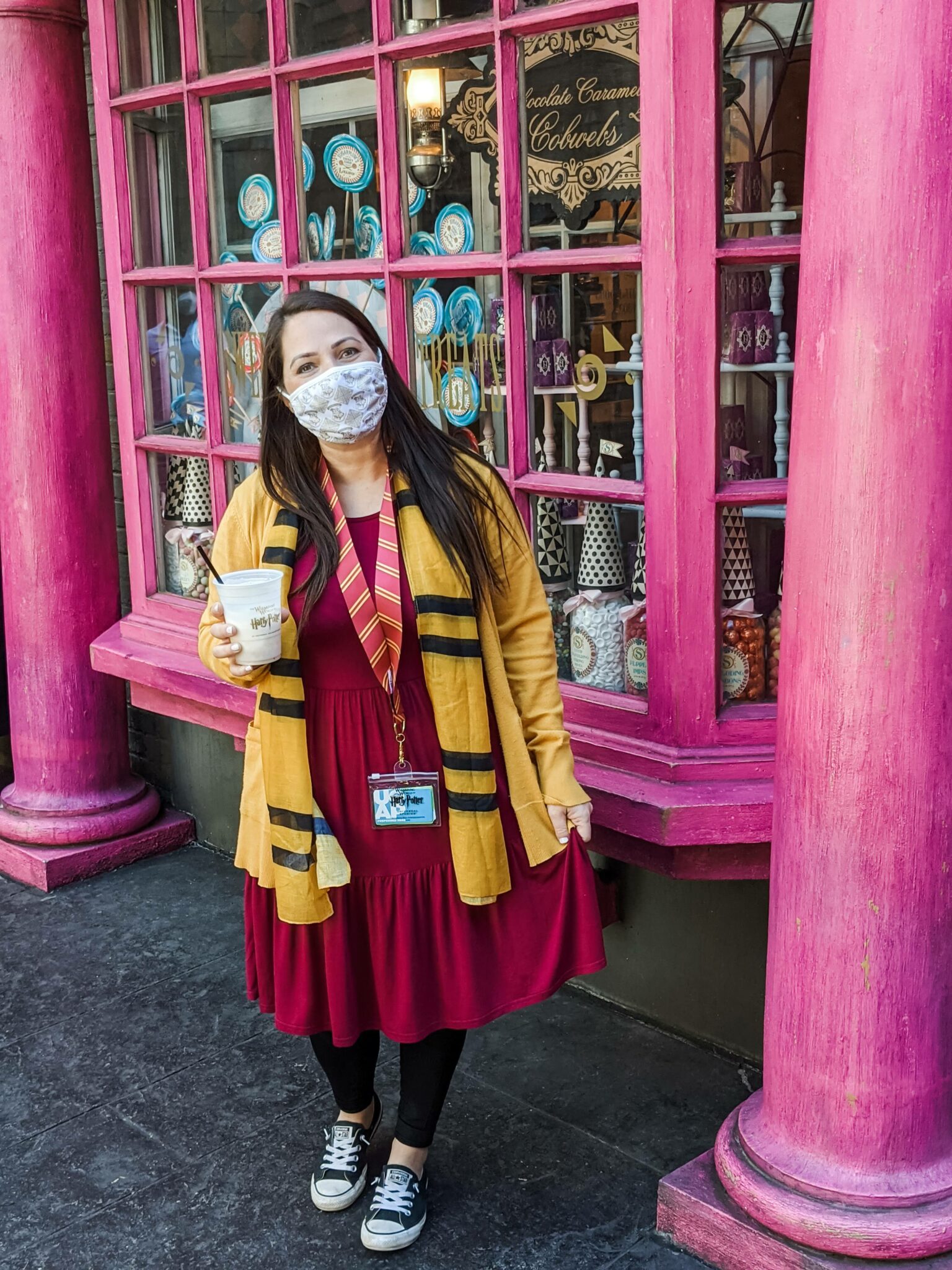 10. next to Sugarplum's Sweet Shop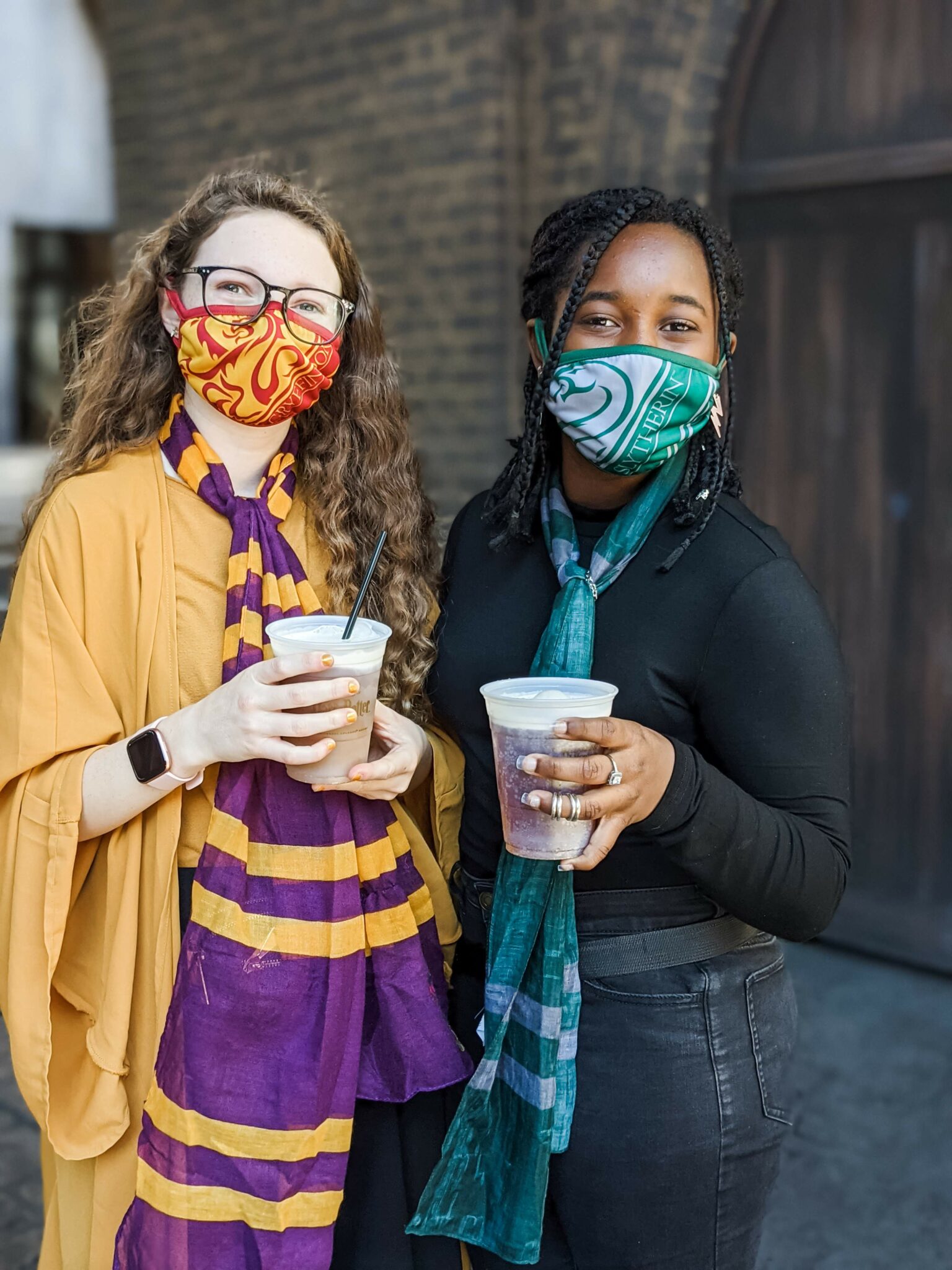 11. Holding a Butterbeer: Grab a Butterbeer in either park, but make sure you get a picture of it!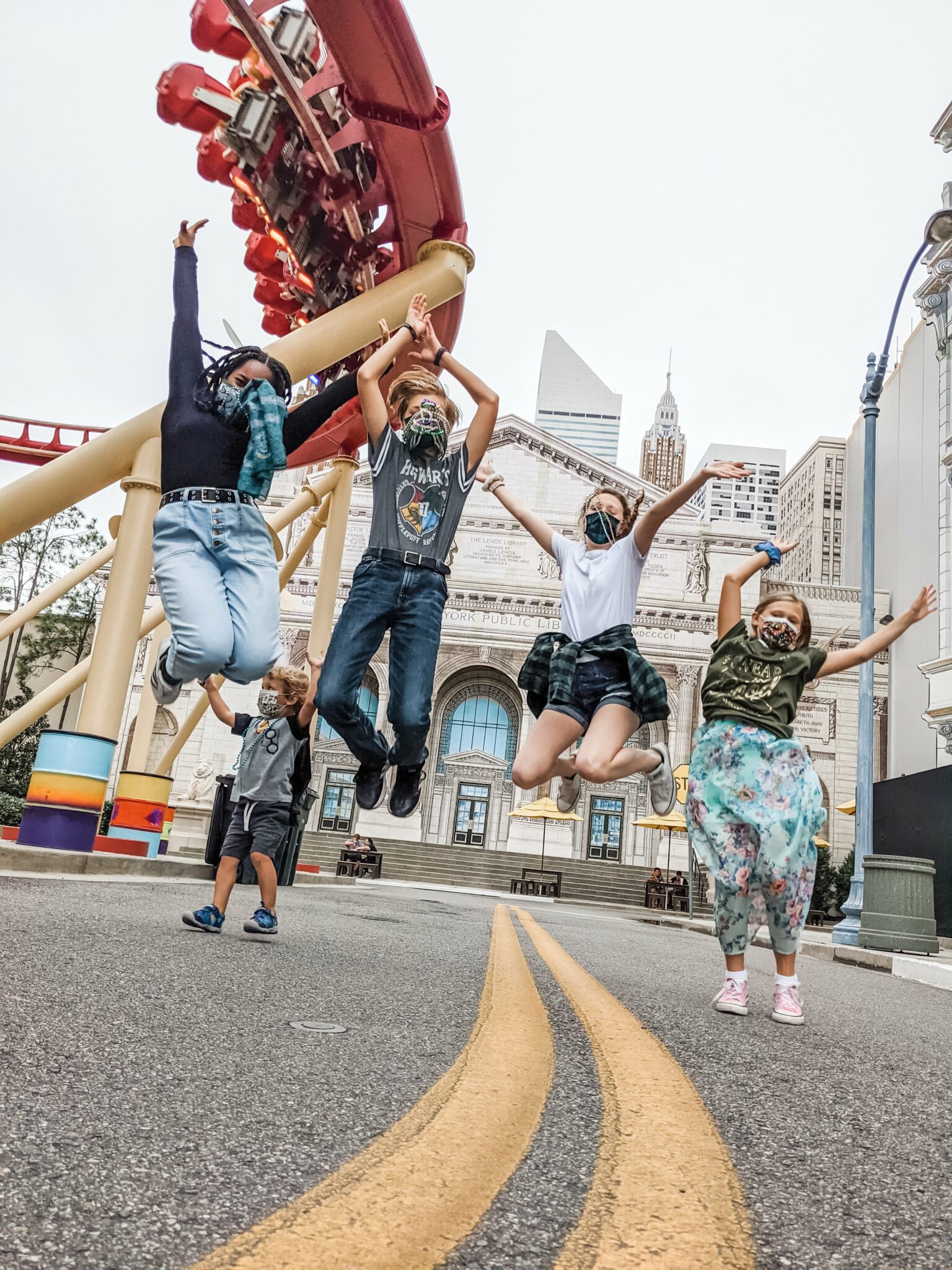 12. Next to the Rip Ride Rockit where it sticks out in front of New York
City Walk
The City Walk area has a lot of fun photo spots! Be sure to watch for them as you walk around this area outside the parks.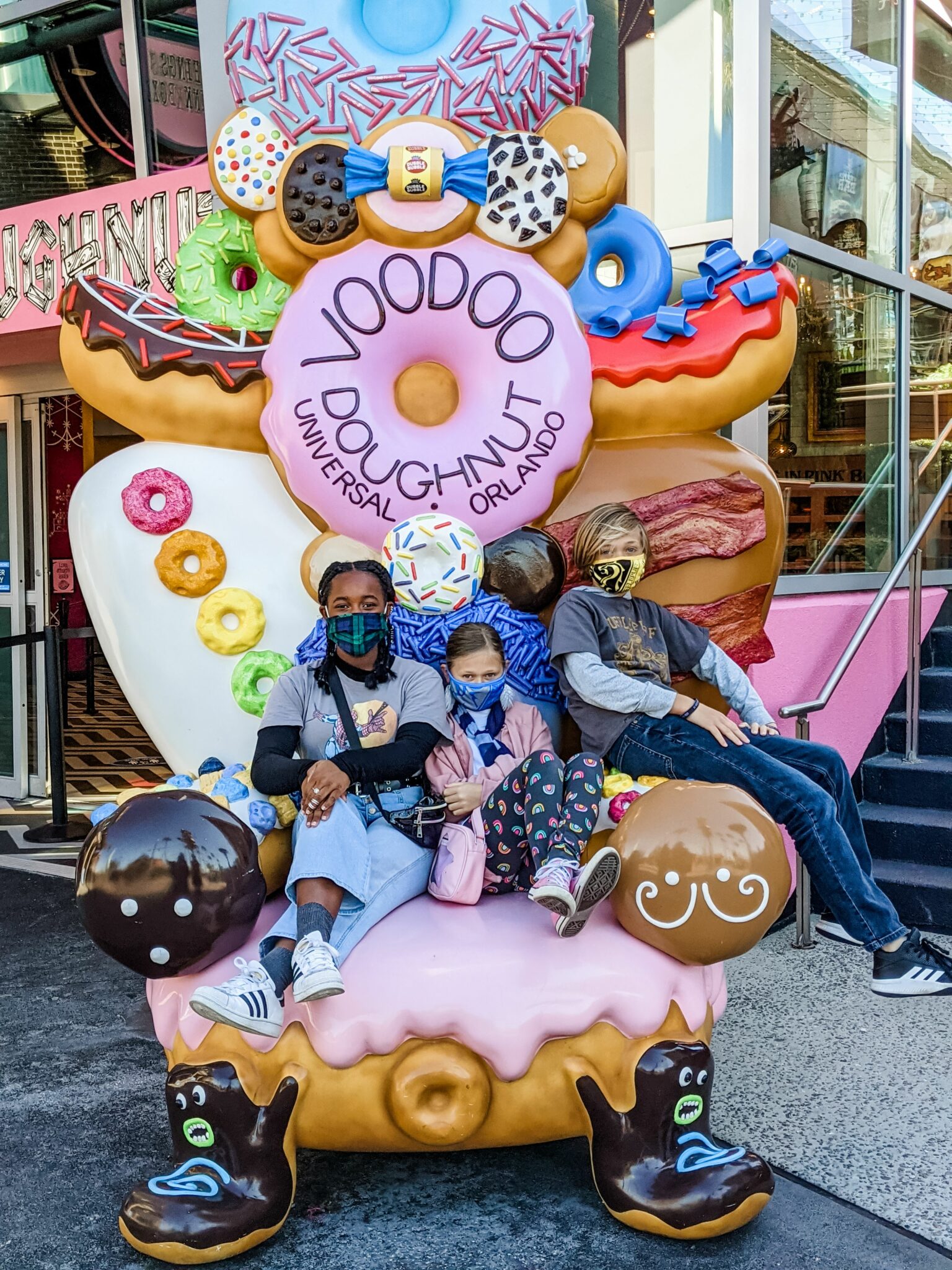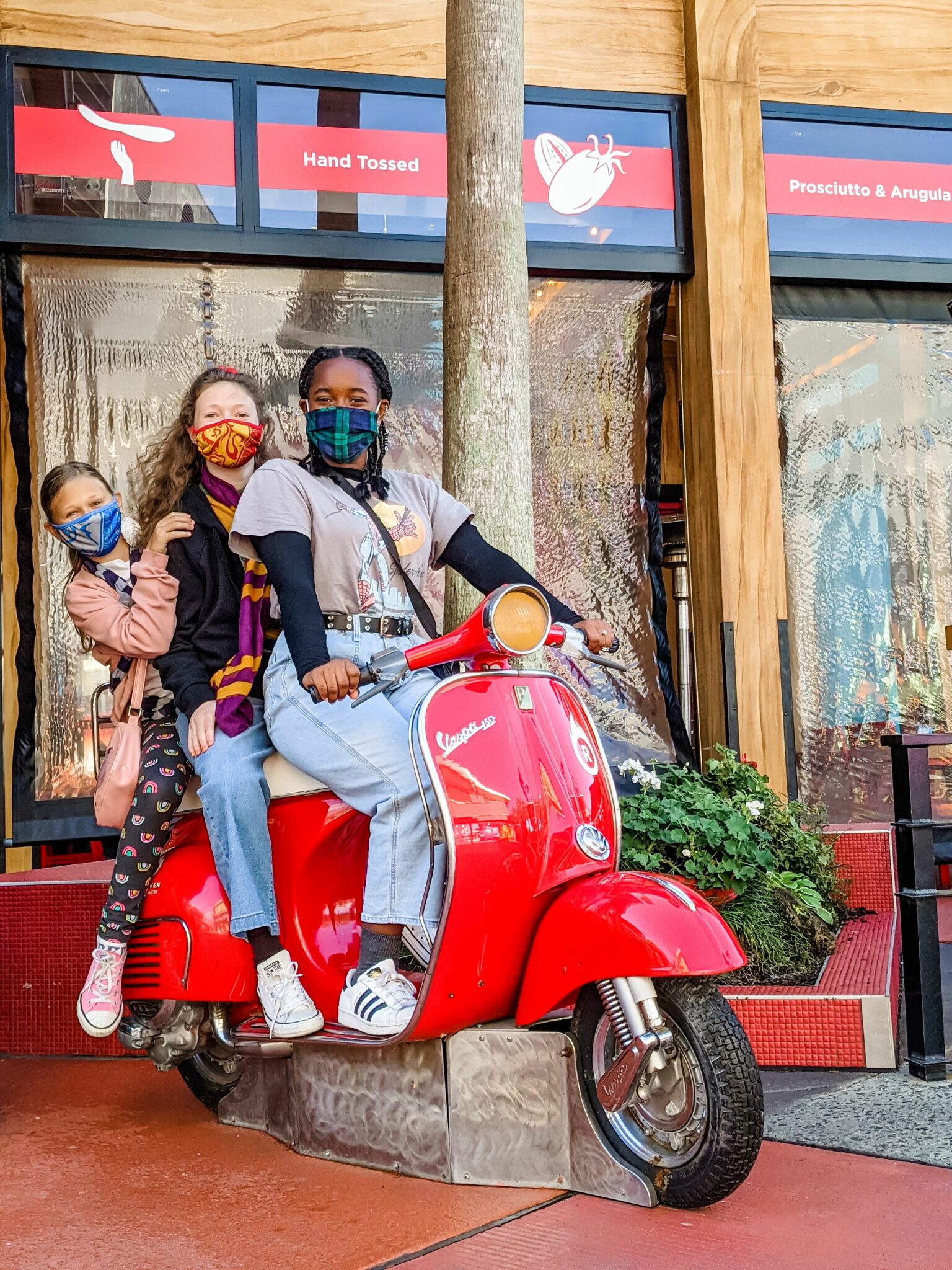 Honorable Mentions
There are a few things I haven't pictured that are worth noting! Universal Studios does offer a photo package that you can read about here: My Universal Photos
Here are some other great spots that aren't pictured but deserve an honorable mention:
In front of the Knight Bus at Universal Studios
In front of the Delorean or train from Back to the Future at Universal Studios
Lots of spots in Springfield at Universal Studios: Springfield sign, Simpsons characters, etc
With Jaws at Universal Studios
Seuss Landing at Universal Studios Island of Adventure
Pin-It!