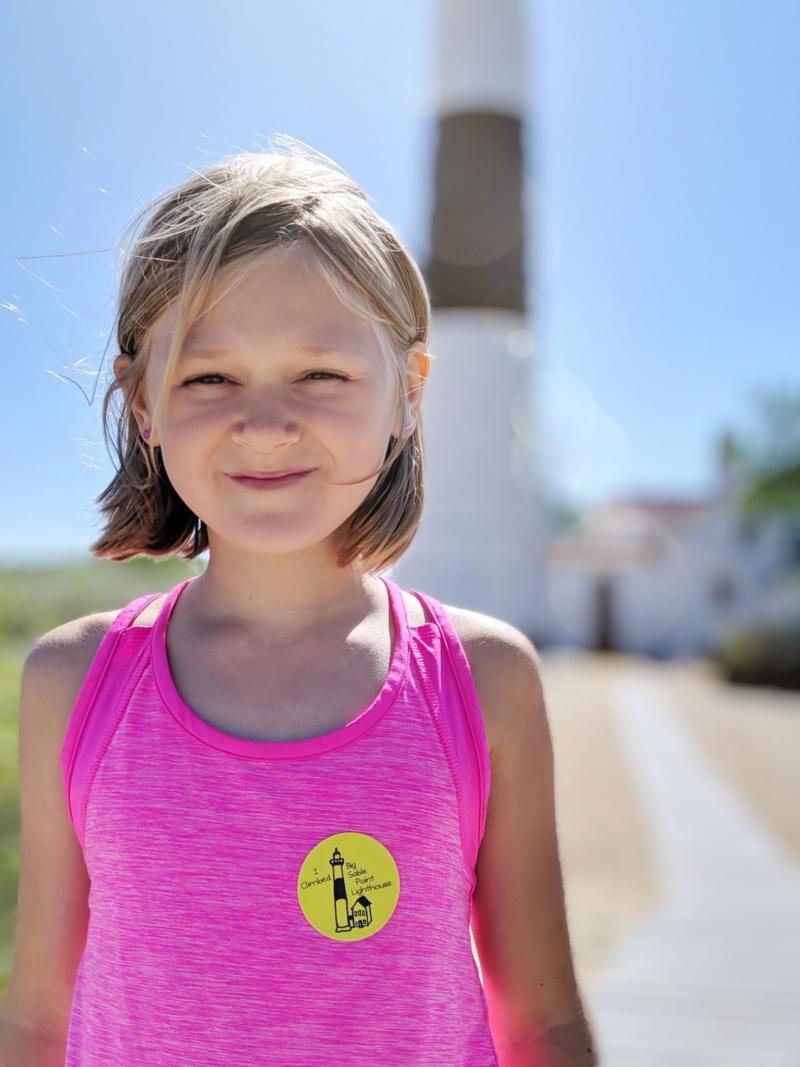 Taking Kids to the Big Sable Point Lighthouse
On our trip to Ludington, Michigan last month, we made a list of all the must-do things we had heard were beautiful and unique to the Ludington area. We had never really spent time exploring Ludington before, but I remember seeing pictures of the iconic Big Sable lighthouse, sprinkled throughout my news feed and on Instagram when other friends had visited. I knew we had to go see this lighthouse and climb to the top. If nothing else, it would be an adventure!
I'm here to tell you that we did it and made it back alive! So, should you go? Should you take your kids? What ages is it best for? I'll try to answer all those questions and more so you are as prepared as you can be!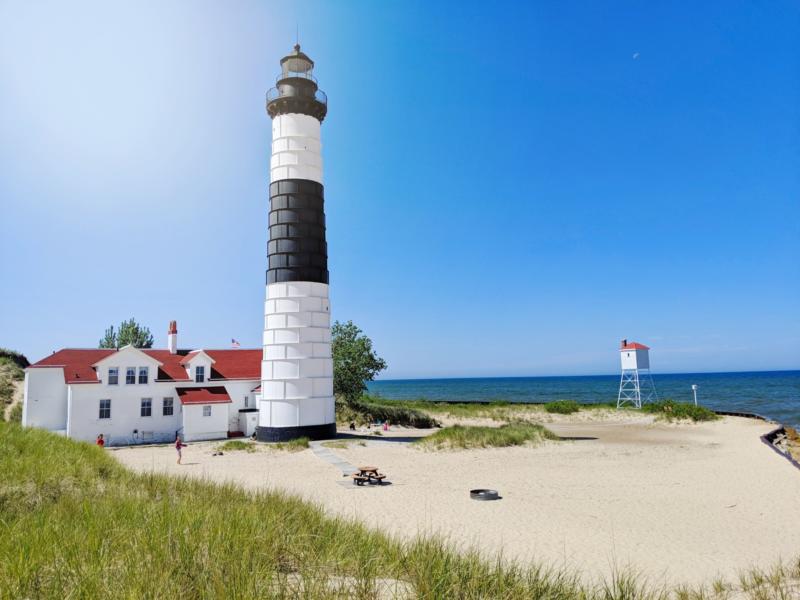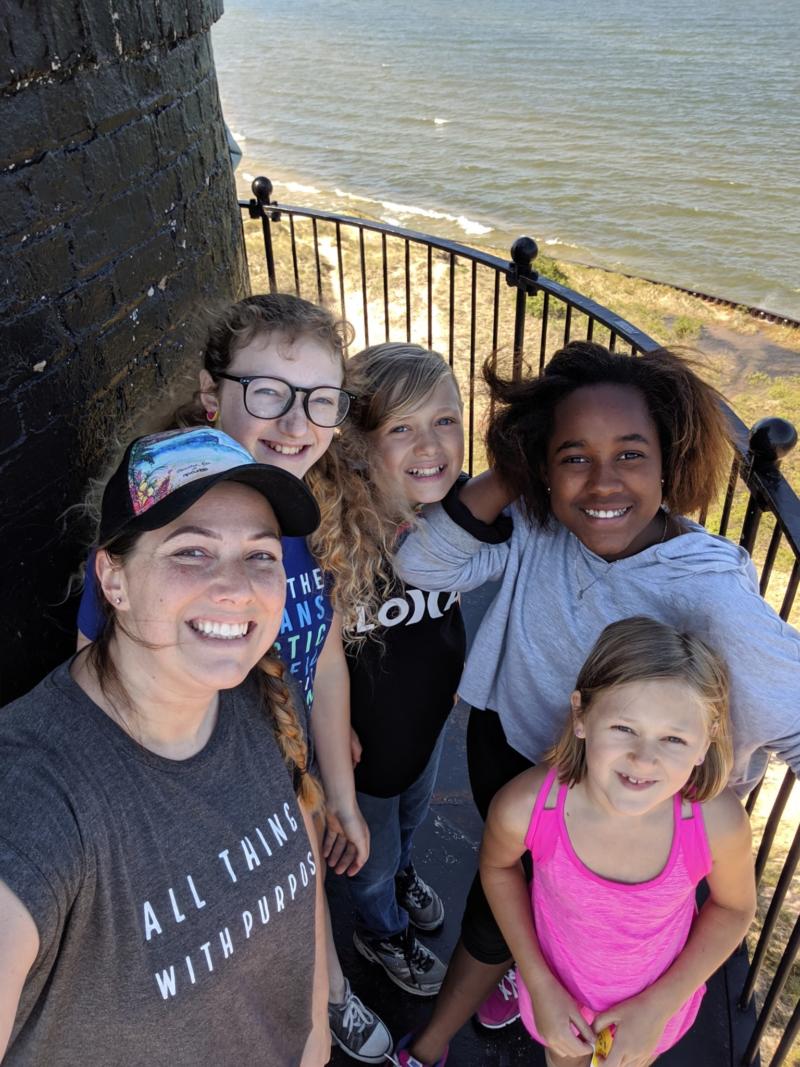 Know Before You Go
I had so many questions before we started our trek out to the lighthouse. We have 5 kids (ages 1 through 12), and my number one question was of course; are there bathrooms out there??? Here are a few of the things to consider before heading out on your adventure.
Bathrooms: There are no bathrooms along the path, but once you get to the lighthouse, there are "cute" pit toilets made to look like the original outhouses. They were actually really clean and nice!
Food and Drinks: There is a small case of cold drinks for sale in the gift shop and several picnic tables on the property. Pack a lunch or grab a drink from the gift shop before heading back!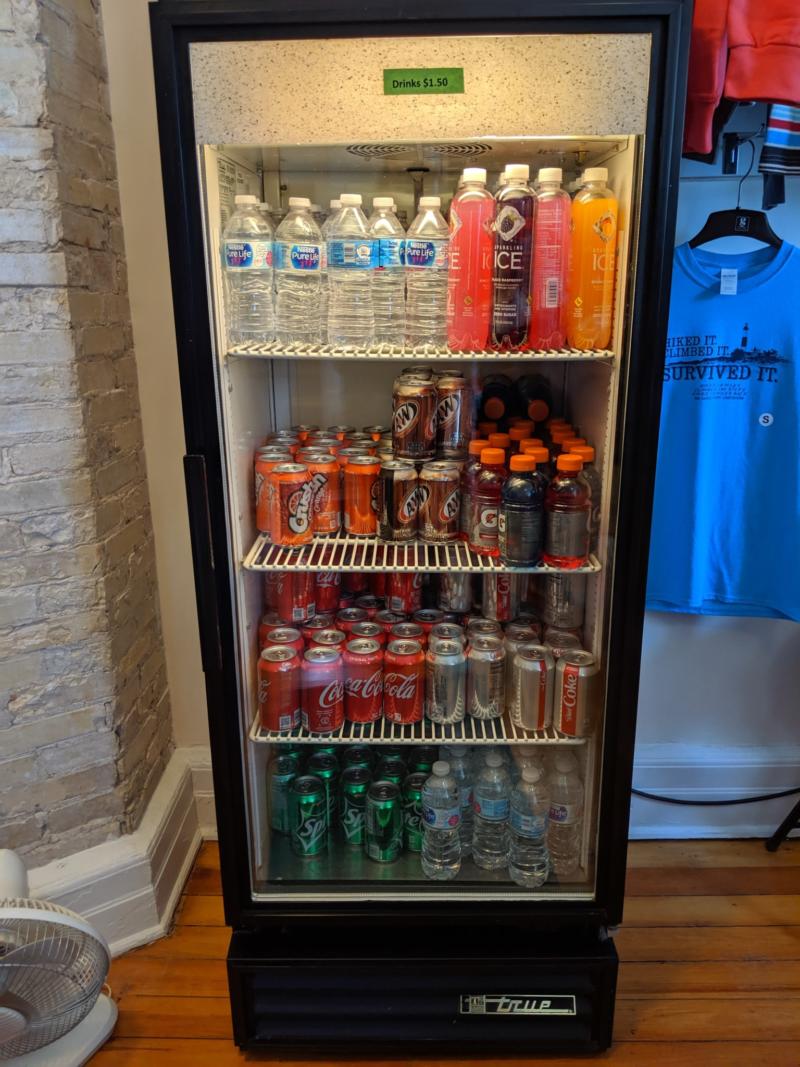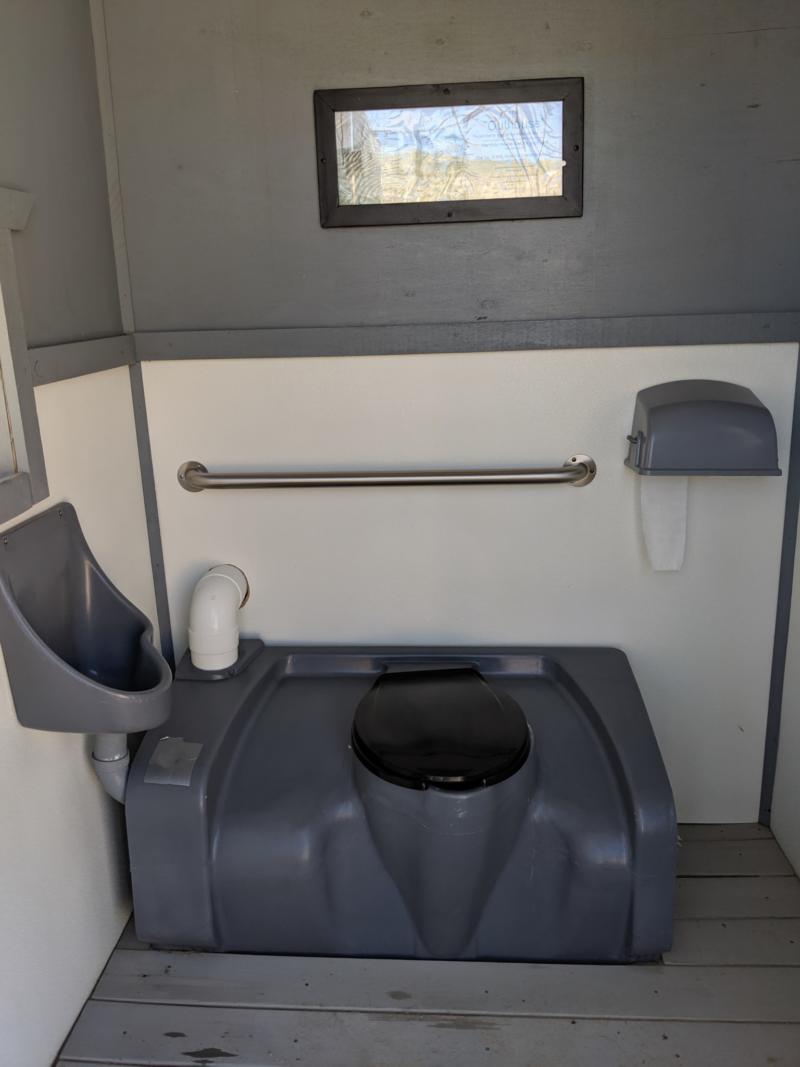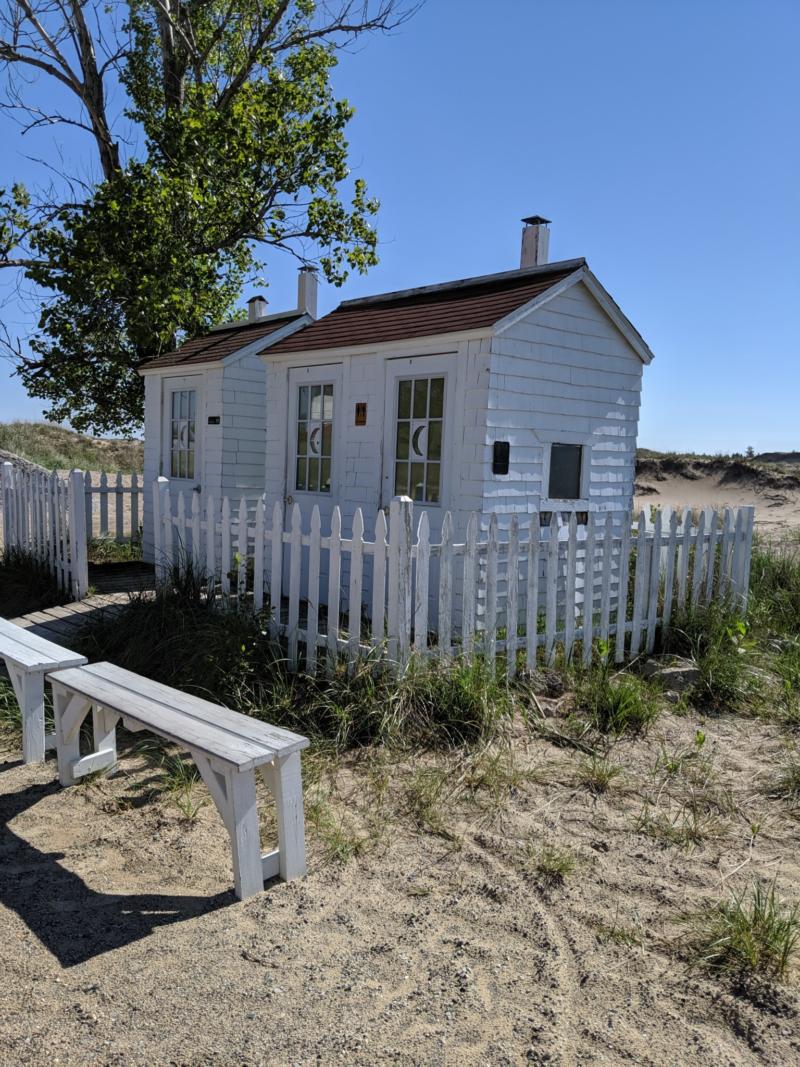 Who Can Climb?
Children must be 40″ tall to climb up the stairs to the top of the lighthouse. There is a measuring stick on the wall in the gift shop, and they do hold to this policy pretty strictly. Because the stairs are narrow and steep, and there are a couple tight spots to go through, it would be a safety hazard to have small children attempt the climb. They also will not allow infants or toddlers in back or front carriers. Believe me, we asked! I ended up taking our 4 older kids up to the top, while my husband waited with our toddler out on the beach.
Tickets
It is free to hike out to the lighthouse and visit the gift shop, but if you want to climb to the top, there is a small fee. The Sable Point Lighthouse Keepers Association offers an "All Access Pass". These passes provide the user with a discounted rate to climb all four Ludington area lighthouses. You may purchase these by contacting the SPLKA office by phone at 231-845-7417, email at [email protected] or at any of our four SPLKA lights. The price for these passes is $5.00 for children and $15.00 for adults. The passes provide a savings of $3.00 for children and $5.00 for adults over buying individual tower climbs. Passes are good for the whole season. Find out more on their website: www.SPLKA.org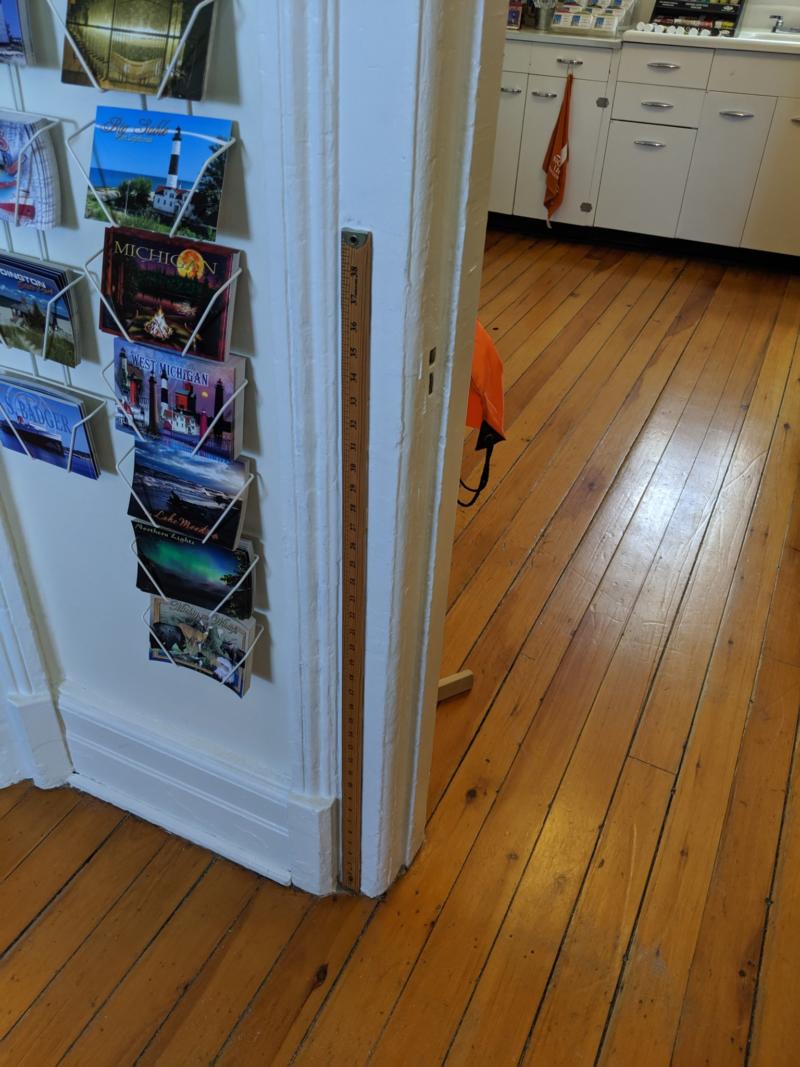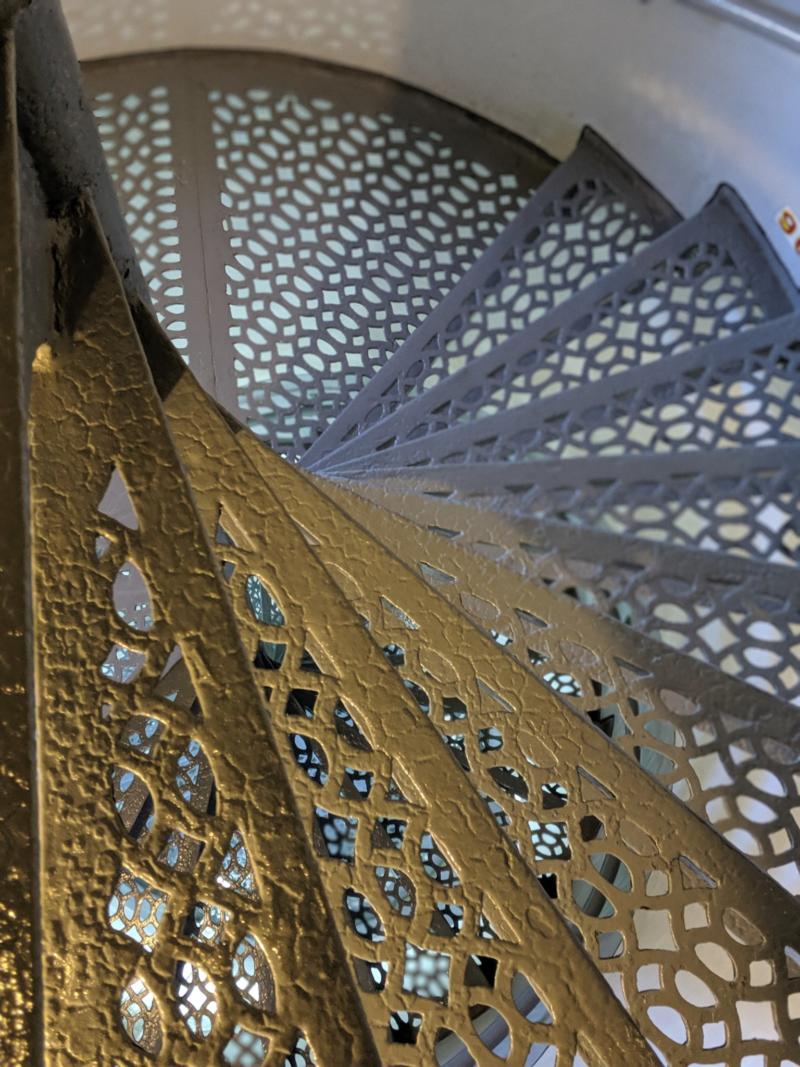 Getting There
There are actually a couple different options for getting out to the lighthouse! While we went on foot, there were lots of people passing us on bike, which we all agreed would have been fun. However you choose to get there, you will want to start at the Ludington State Park main parking lot. Visit their website for more details: Ludington State Park
Walking
From the trail head, which is actually a little ways into the campground, it is a 1 1/2 mile walk out to the lighthouse. From the parking lot, it is closer to 2 miles. We parked our RV in the lot and walked from there. The path is mostly sand or gravel, it is wide and clearly marked. The path is mostly flat with very few hills. It was an easy walk, but in the heat, it can feel a little long for the kids. Take a water bottle and wear comfy shoes!
There are a couple benches along the way and a couple sand dunes you can climb up for a view of the lake. There isn't much of a view along the way, for the most part you are just walking between sand or marsh areas with no view of the lake.
Bus Days
If you're hoping to climb to the top of the lighthouse, but are worried about being too tired after the walk out, take a bus! On certain days throughout the Summer, buses are scheduled to take groups out to the lighthouse and back. The cost for a bus pass is $5 for adults and $2 for kids 12 and under. For dates and times, see the calendar of events on the lighthouse keeper's website: Events
Biking and Strollers
If your littles are confident enough on a bike or you have a baby carriage, you may want to try biking! We were unsure about the terrain so we didn't want to risk it. After watching numerous families pass us along the way, we agreed that it would be fine. Small bikes or bikes with training wheels would have a difficult time, but for the most part, the trail is packed down really well. There are plenty of spots to park bikes at the lighthouse. An umbrella stroller with small wheels would have a hard time in some spots, but a larger stroller or jogging stroller would be perfect.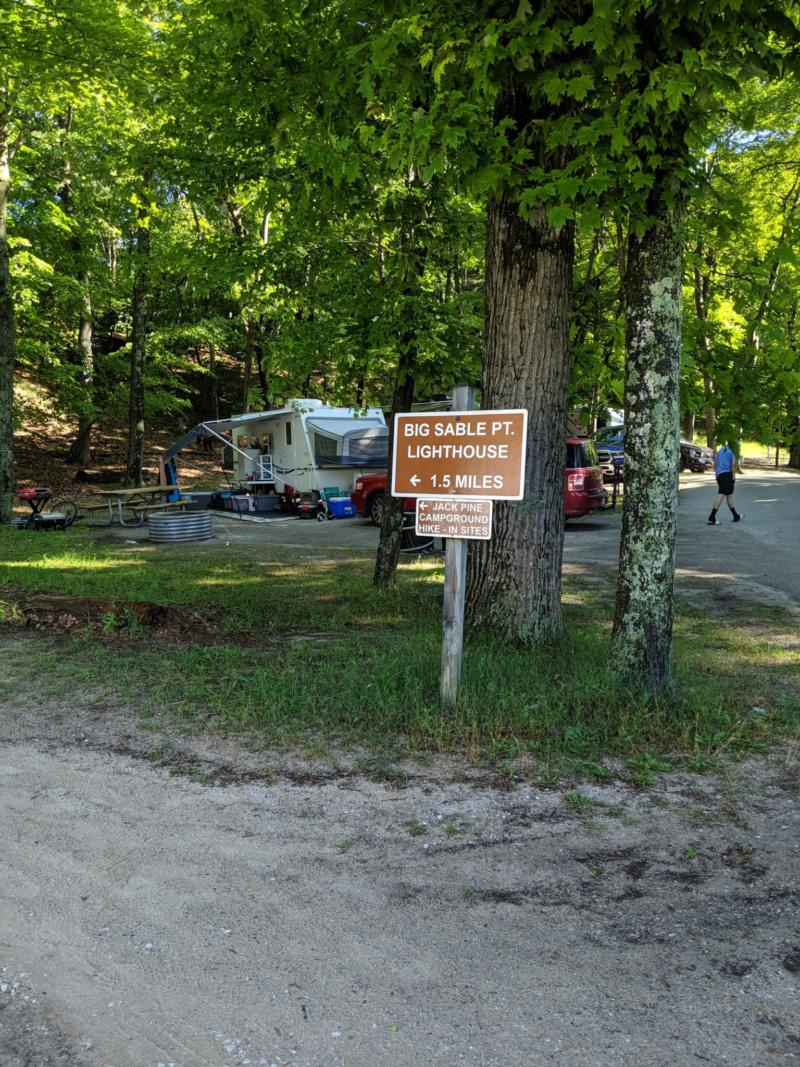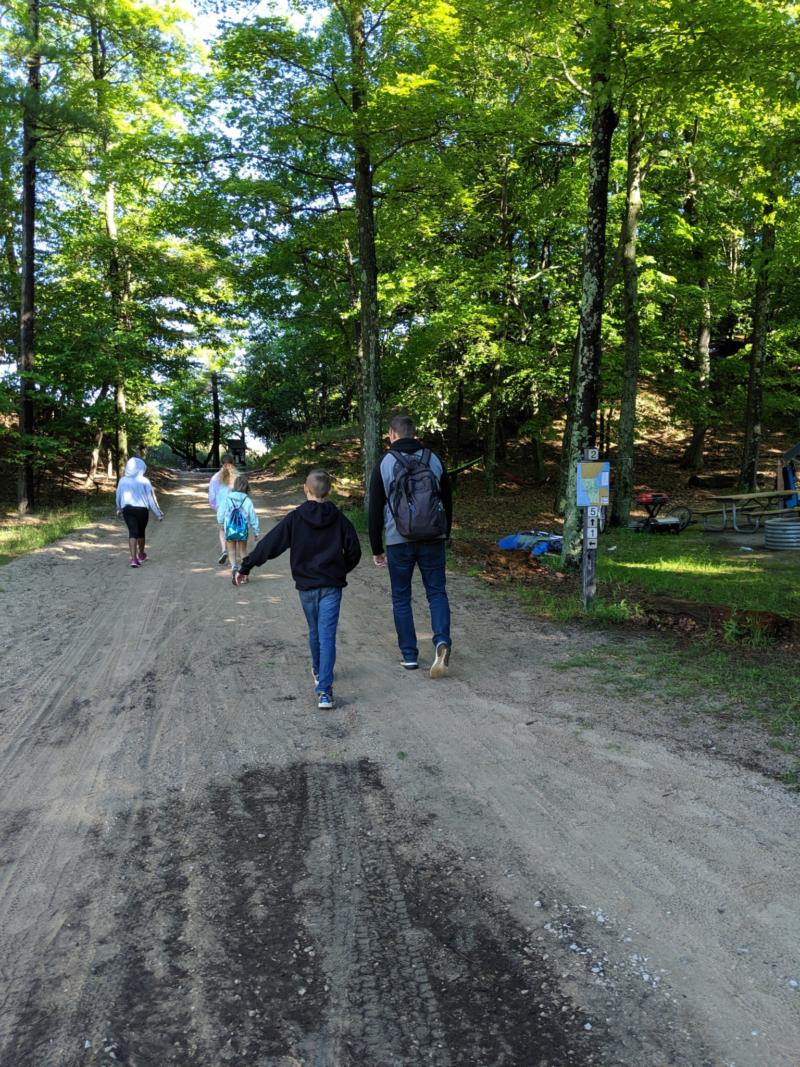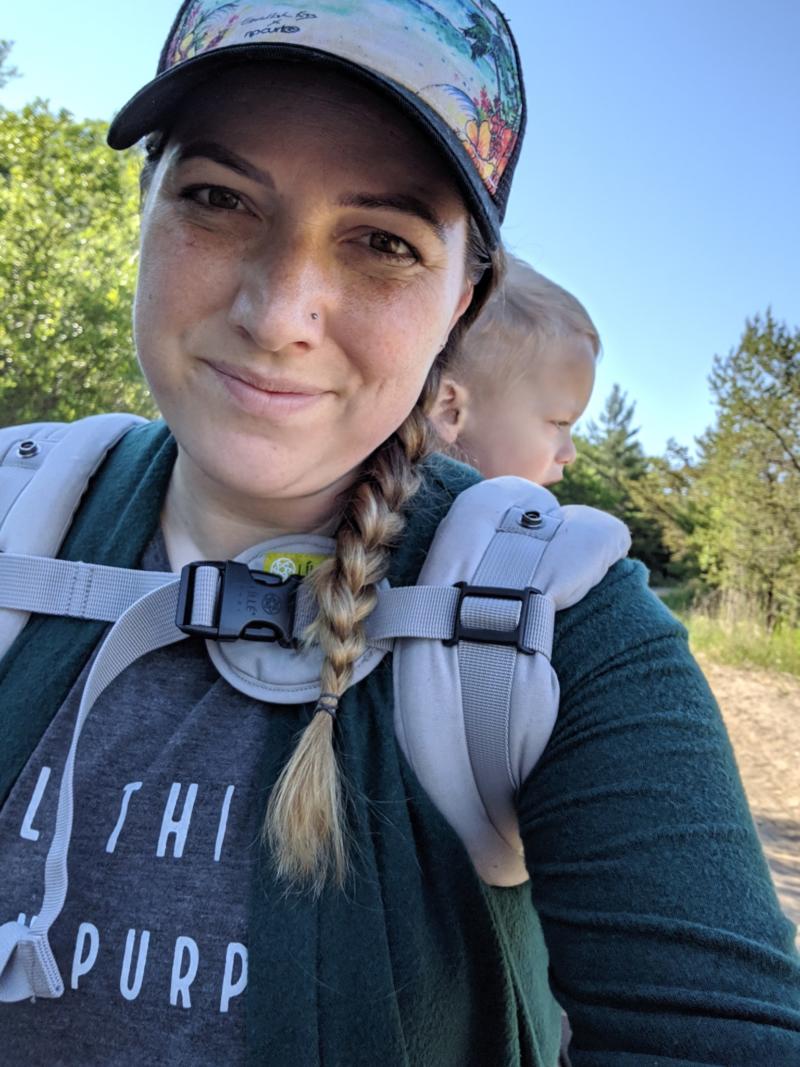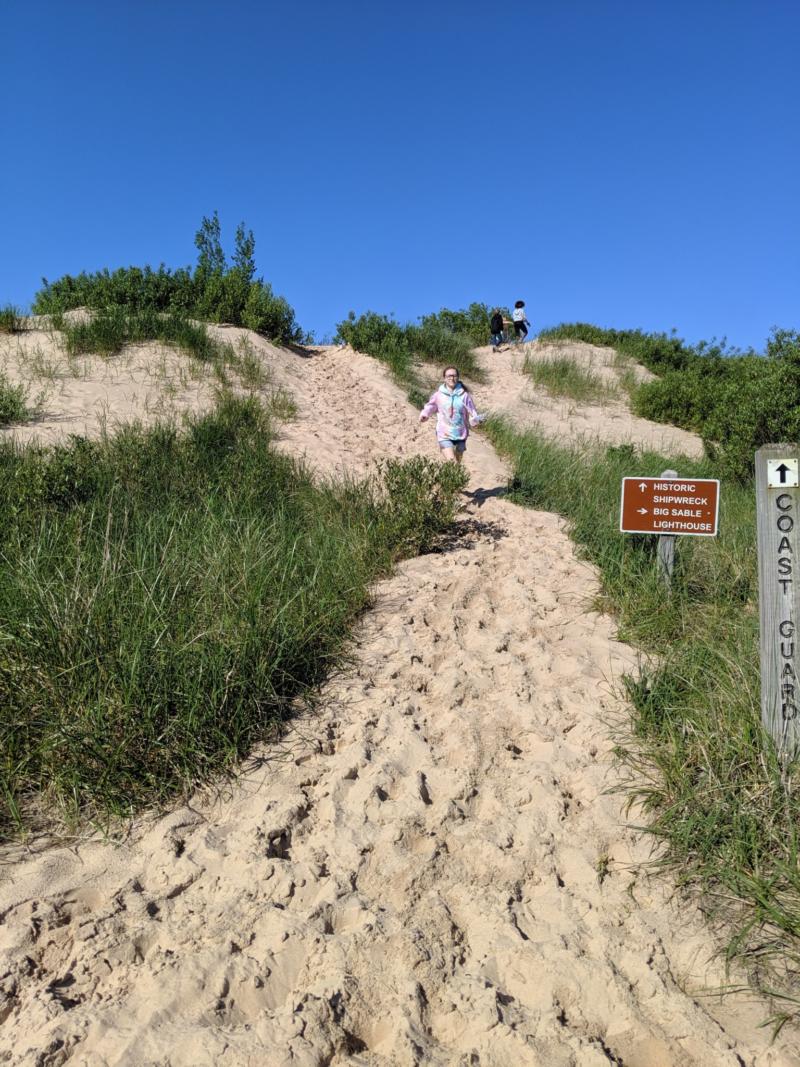 At the Lighthouse
We were greeted at the lighthouse by friendly lighthouse keepers! The keepers are actually volunteers and anyone can apply! Find details here: Lighthouse Keepers Association
After checking out the gift shop, we sat in a small room for a brief presentation and video about the history of the lighthouse. The kids were told that if they learned just one thing about the lighthouse, there would be a special surprise waiting them when they come back down! On the way up, the kids thought it was pretty cool seeing how the walls start at 6 feet thick and get thinner as you go up. They also loved that the stairs are numbered so you can see how many you are climbing. The lighthouse is actually 112 feet tall and you climb 130 stairs to get to the top! There were other small children there on the day that we visited, who turned back and didn't make it to the top because they were scared. It is definitely steep and tight. If you are afraid of heights or tight spaces, you may not want to climb. I got a little dizzy coming back down because of how fast I was walking down the spiral staircase!
The view at the top is worth the climb! We got pictures and enjoyed the cool breeze. You are handed an "I climbed the lighthouse" sticker by one of the keepers as soon as you reach the top. When we came back down, the kids shared what they had learned with the staff in the gift shop and were handed lighthouse activity books as their prize.
The climb up to the top of the lighthouse was definitely the highlight of our trip to Ludington! If you're planing on visiting, be sure to stop by Pure Ludington first, for everything you need to know about the area and attractions. You might also want to check out the light house event page for special events held all throughout the Summer: Big Sable Events.
Happy adventuring!