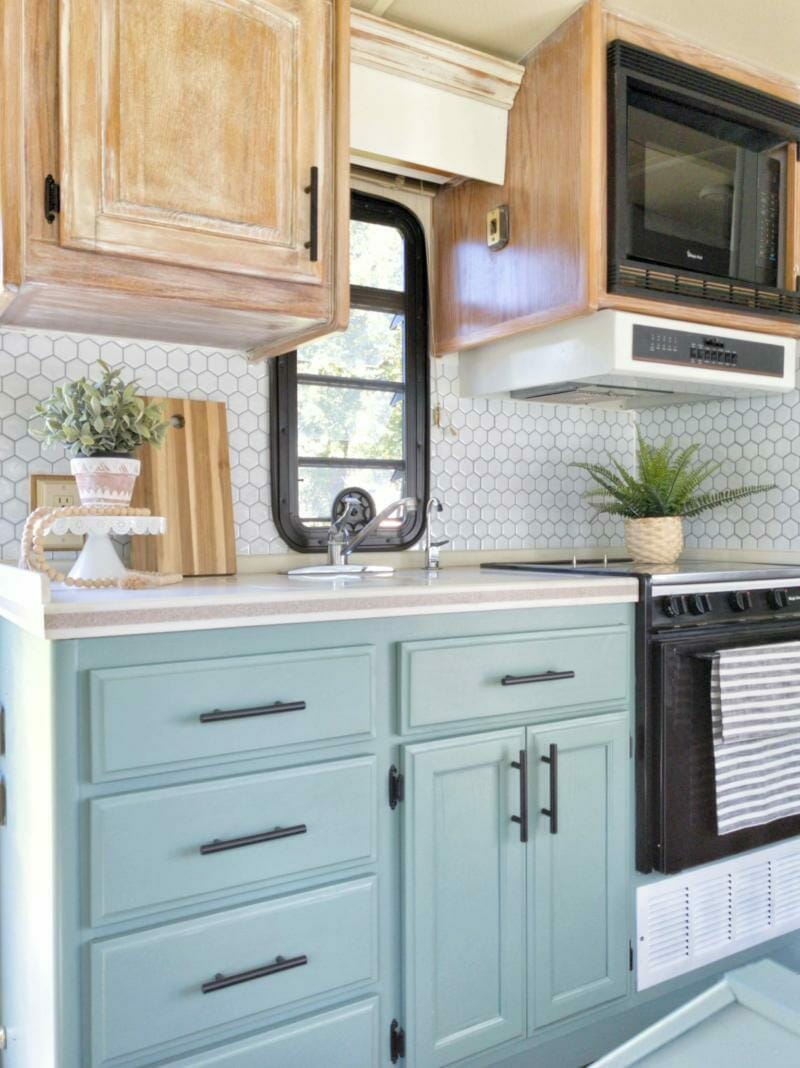 How To Bleach and White Wash Cabinets
When I started the renovation work on our 1994 Pace Arrow motorhome, I wanted to do something different. I could have played it safe and used the same, winning color combinations that I've used in the past, but for the sake of keeping things interesting, I decided to try something new. I decided to bleach and whitewash the yellow oak cabinets. Did it pay off? Am I happy with the outcome? Keep readying to find out!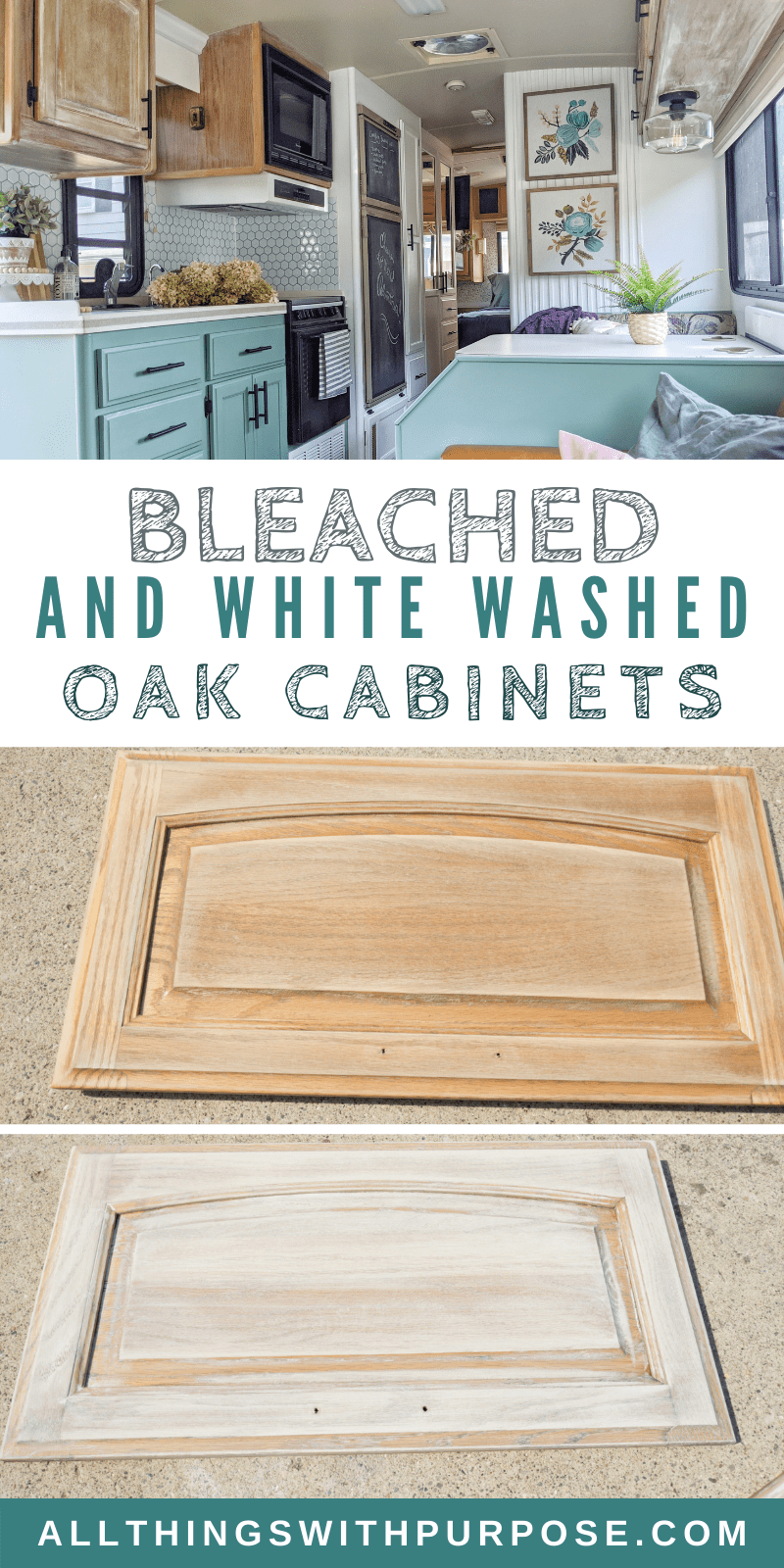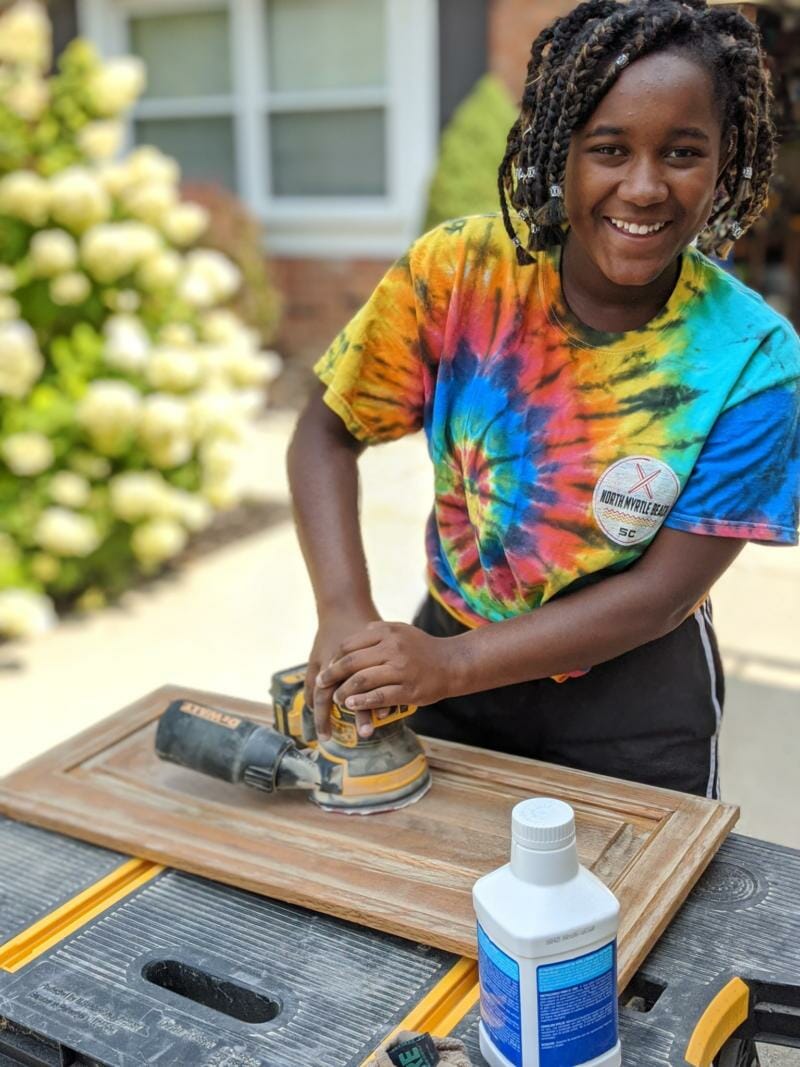 Get the Look
It took us some trial and error to bleach and whitewash these cabinets in a way that I liked. I originally wanted to attempt a bleached wood look, but after several rounds of bleach, decided it would be too labor intensive. We tried sanding, bleaching and liquid sanding before coming up with a combination that worked. Here's what worked:
Remove cabinet hardware and label the doors so you know where to put them back.
Using a palm sander, sand down the doors until most of the original finish is gone. This palm sander made this step almost effortless.
Using an old paint brush, brush on a layer of full strength bleach. TIP: we did this in the driveway on a sunny day. You'll want to do this outside where there is plenty of ventilation and the sun will help the bleach do it's job.
Once the sun had thoroughly dried the bleach, I painted on a mix of 1 part paint to 3 parts water. I used very little paint and wiped it off with a damp rag.
Once the paint was dry, I used the sander again to remove more of the paint.
Wipe the doors clean and then seal with a clear top coat.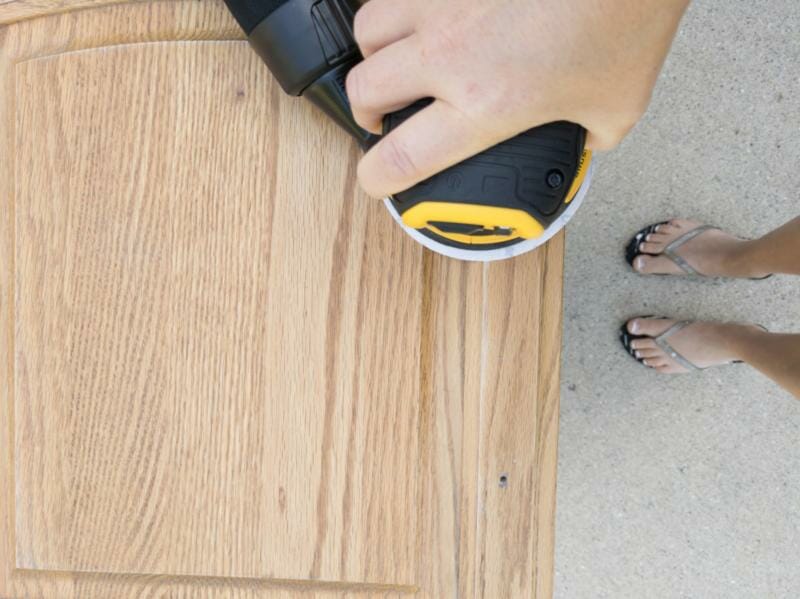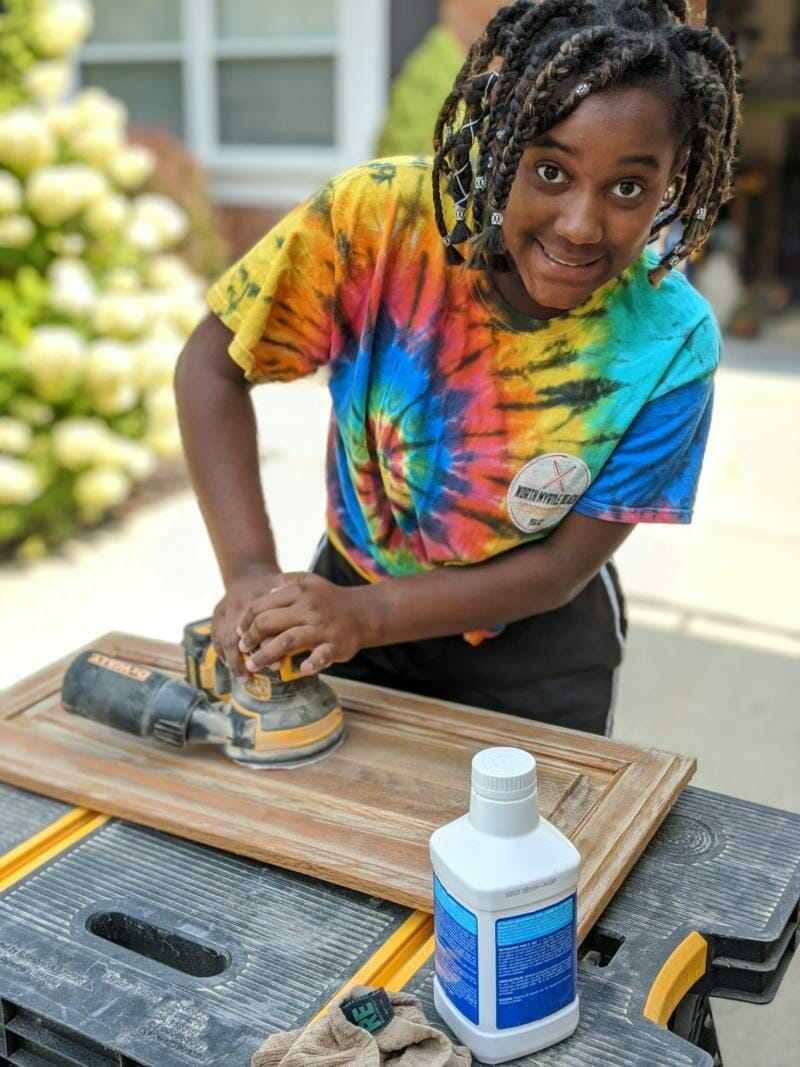 Keep Trying
Don't be afraid to play around with these steps until you achieve the look you are going for. I was VERY unsure how this would turn out and didn't know if I would end up loving or hating it. I put a survey out there on Instagram and the reactions were very mixed! I wanted a weathered, driftwood kind of look that would add interest and texture to this space. I liked the idea of having a natural wood grain element to this RV design, and knew I would be painting other areas.
As we experimented, we'd bring a door in and hold it up, only to feel like it wasn't quite right. Adding a little bit of watered down paint helped brighten it up without spending tons of time on bleach.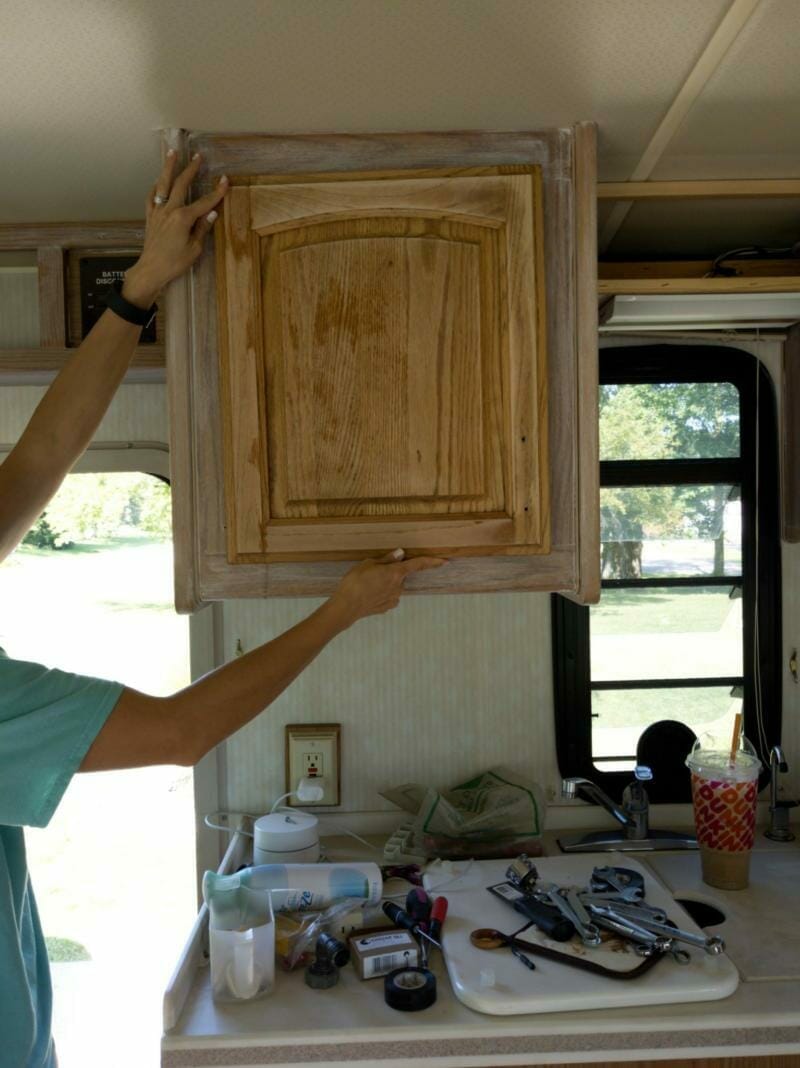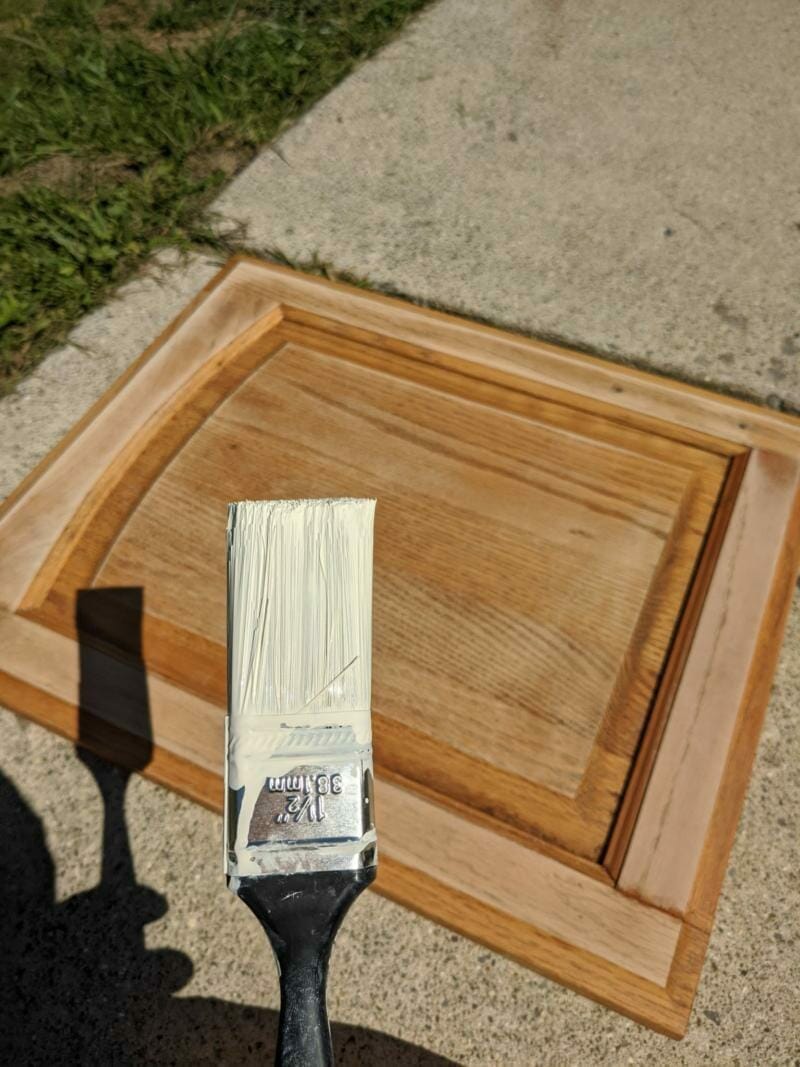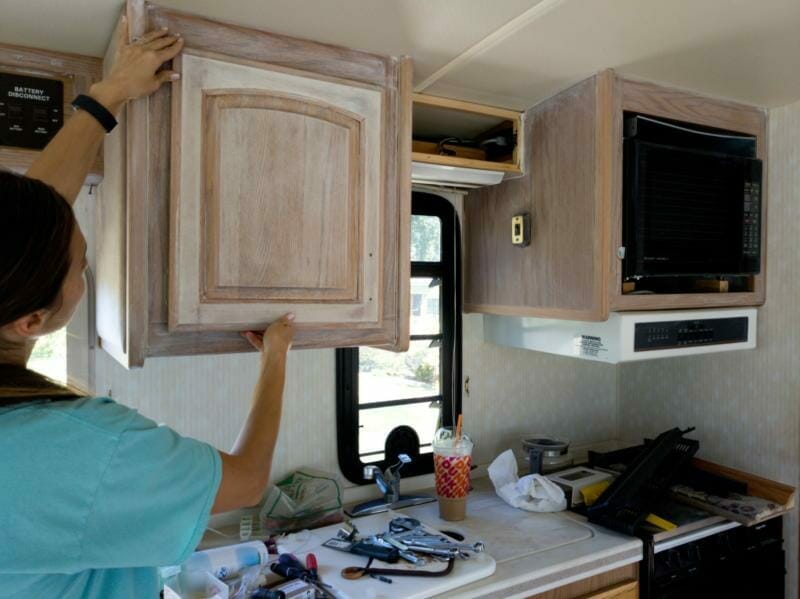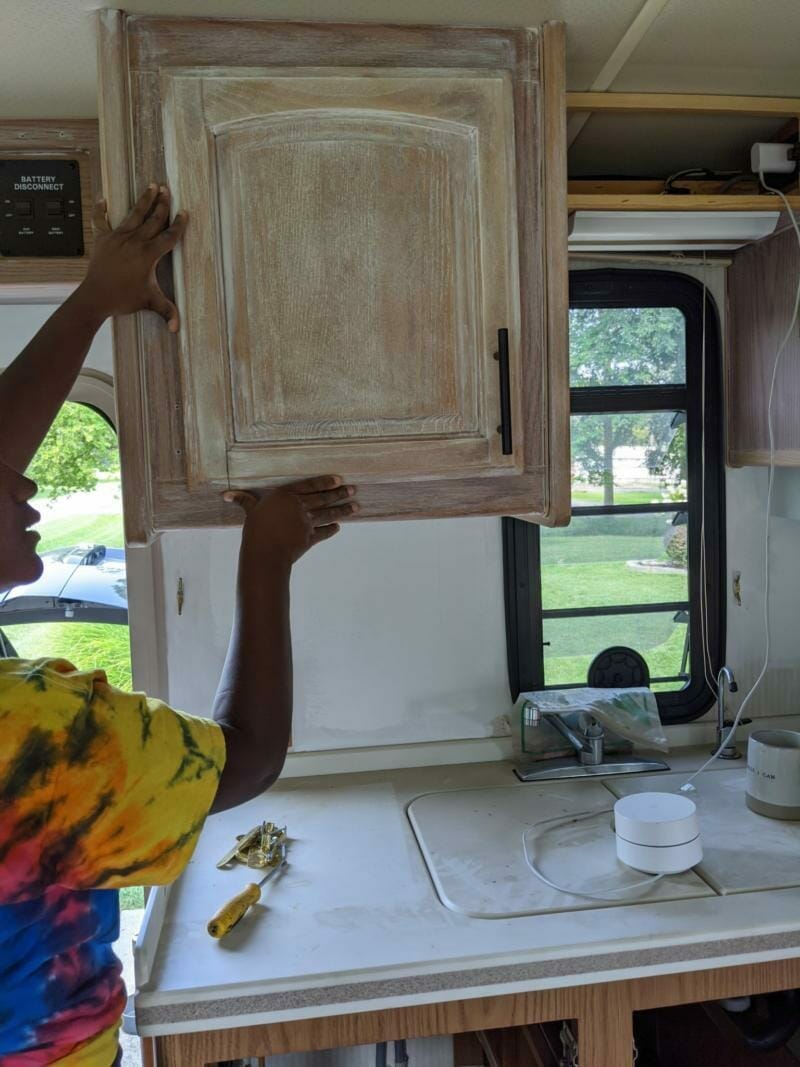 What to Do with Fake Wood
In many RV's the cabinet doors are solid wood, while the rest of the cabinet has a wood or wood-like veneer. This can't really be sanded down in the same way the doors can, so we had to get creative to match the look on the doors. For this portion of the cabinet, I used the white wash mixture and painted it on a little heavier than the doors. I used a damp rag to spread it around but left more on the wood. I covered this with the same clear coat as the doors.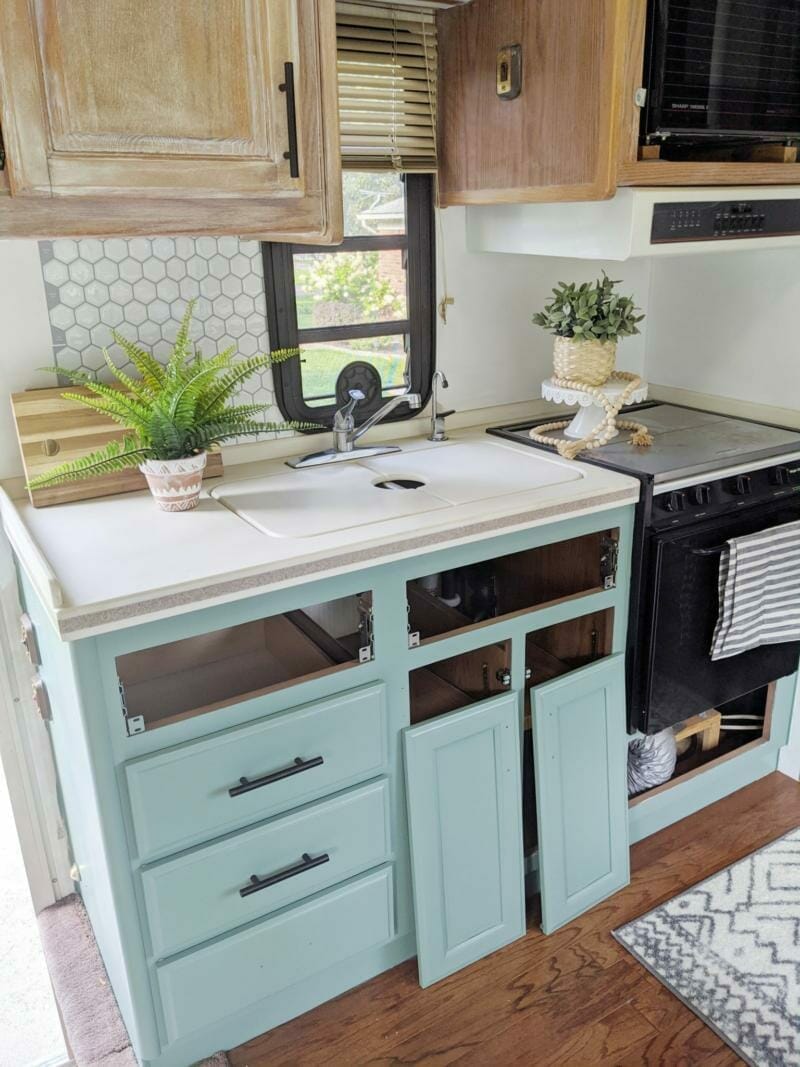 Putting it all Together
Once we got the hardware installed and painted the lower cabinets, it all started to come together. I realize this look is a matter of preference, but when the new owners signed off on it, that's all the approval I needed! I like the overall combination of wood, color and texture. What do you think?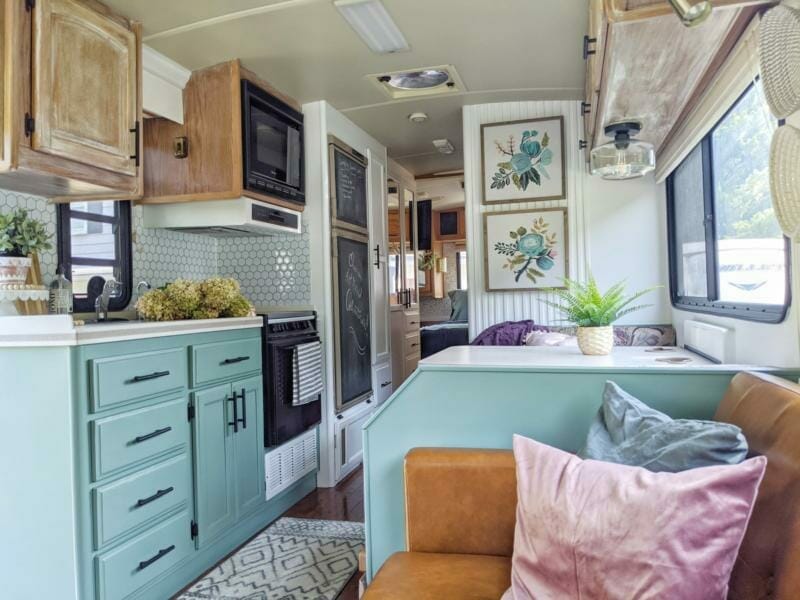 Pin-It!