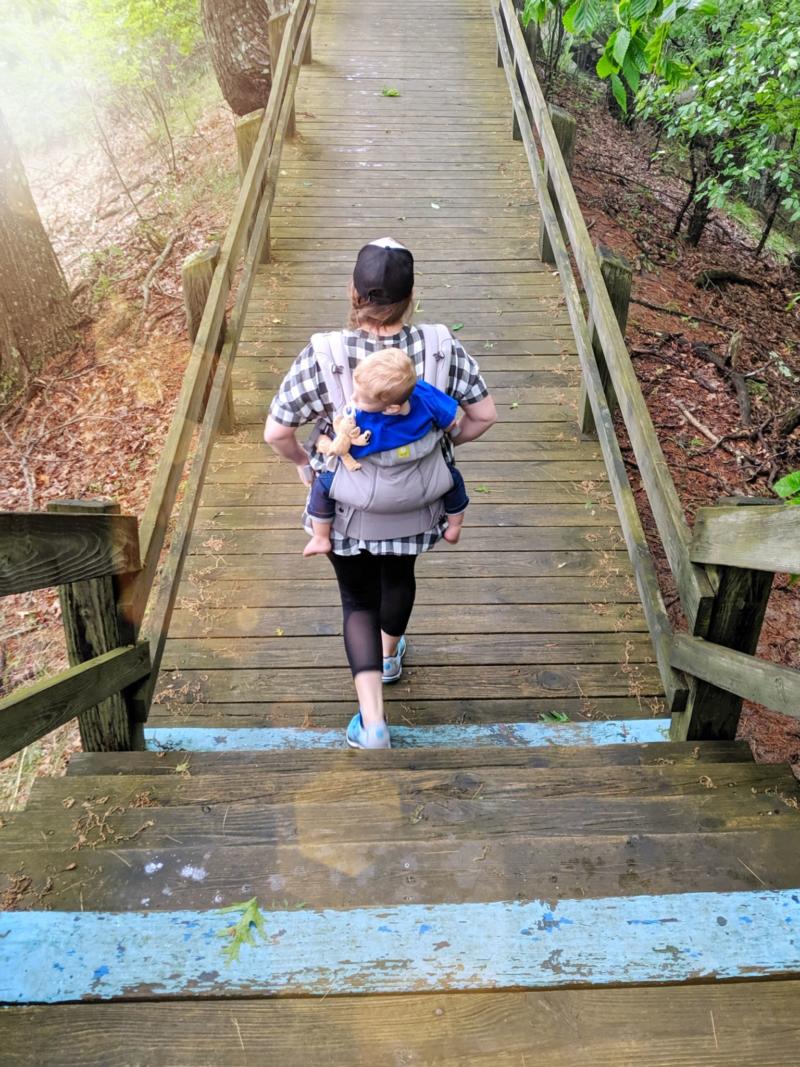 Our Stay at Ludington State Park in Ludington, Michigan
There are quite a few Michigan State Parks on my bucket list of places to camp. Ludington State Park was always at the top of that list! Ludington State Park is one of the most highly praised camping destinations in Michigan, and we were thrilled to experience it for the first time this Summer!
This sprawling, 5,300 acre park is a beautiful, wooded paradise. The park has 4 separate campgrounds with a total of 352 coveted campsites that book up as soon as they become available. There are 21.5 miles of hiking trail, 10 miles of cross-country ski trails, a 2-mile bicycle trail and a 4-mile canoe trail. There is fishing at Hamlin Lake, Big Sable River, and Lake Michigan. Go tubing down Big Sable River and swim in Hamlin Lake or Lake Michigan. In the Winter months, there is cross country skiing and ice fishing.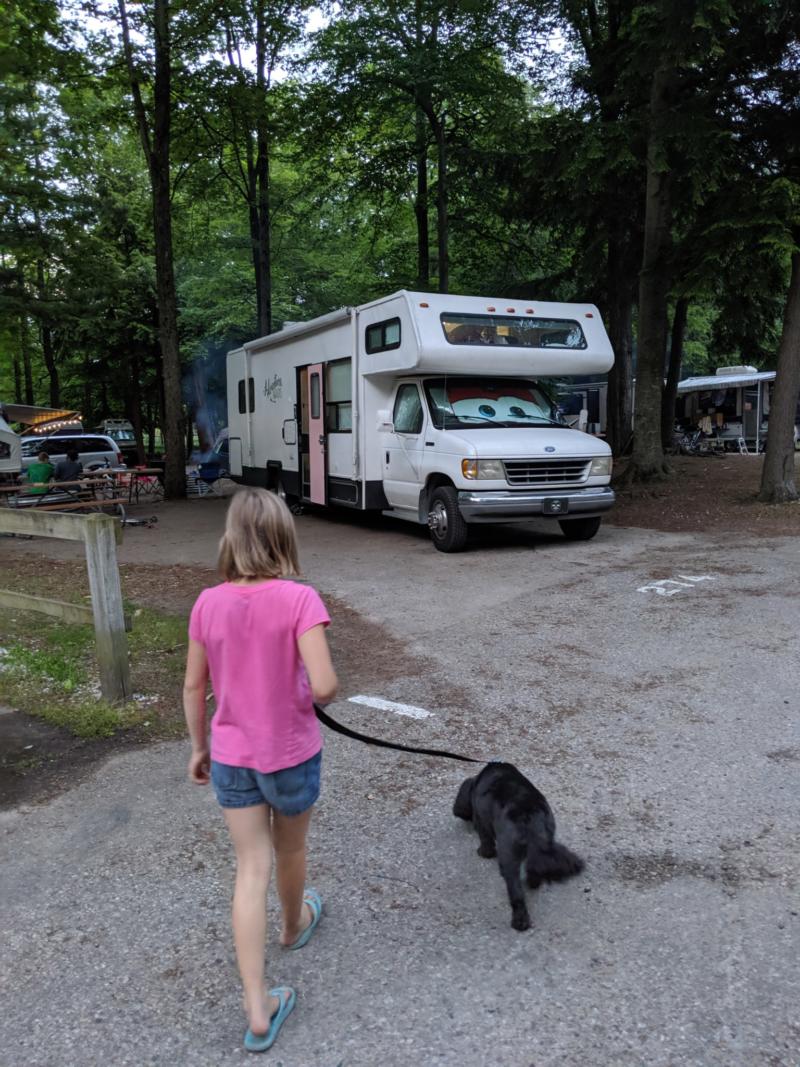 What Site to Choose
The park itself is huge, but spots can be a little tight for larger RVs and trailers. There is electric hook-up and water filling stations, but no water or sewage hook-up. There is a sanitation/dump station just outside the park (which was one of the nicest we've seen). Bath houses are clean and well stocked.
There are 50 AMP sites spread throughout 2 of the 4 campgrounds. These are larger sites, but they are very limited. You will have a much easier time finding a site if you are camping with a tent or a small trailer. There are lots of non electric sites available for anyone that is into rustic camping.
Familiarize yourself with the layout of the park and make a list of your top choices. Choose your spot based on distance from the activities you plan on doing, but always have a plan B and C. Find a map of the campground here.
From what we saw, each site had a picnic table and fire pit. Some spots are paved and others are gravel. All of them have plenty of shade. There are also several cabins available for rent.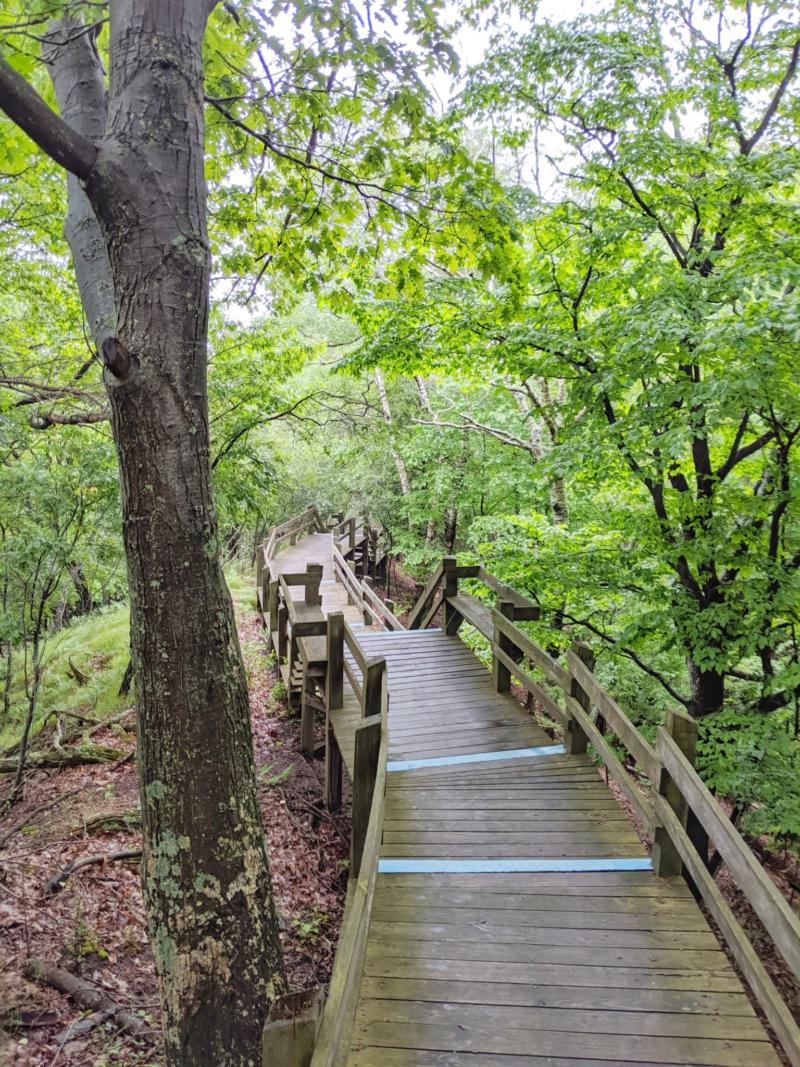 Pines
The first campground located in the park, Pines, contains 99 campsites, making it the smallest in the park. It is located just inside the park entrance. This campground is the closest to the beach and trailhead to the Big Sable Lighthouse. There are also small cabins located in this area.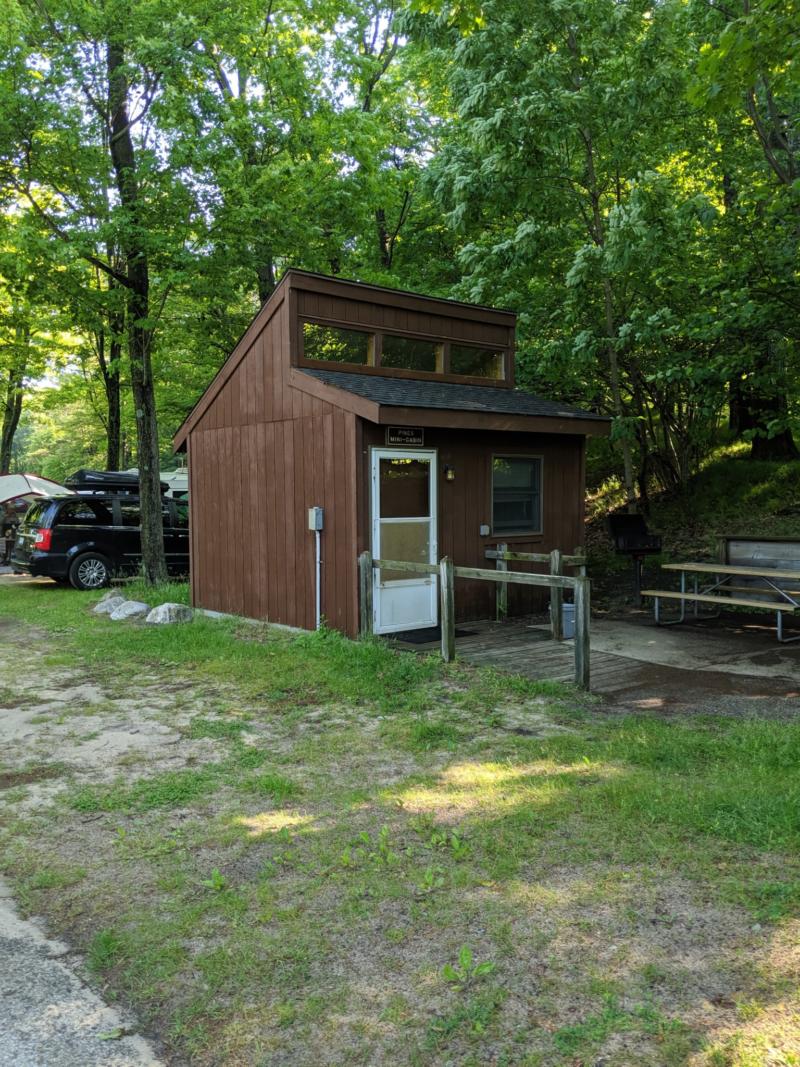 Cedar
Cedar is the second campground in the park. It contains 106 campsites and is located about 1/3 the way into the park. Cedar is home to the camp store, which sells T-shirts, food, camping equipment, firewood, ice cream and miscellaneous goods. It also rents out bicycles to use within the park. Cedar is the closest campground to the amphitheater and Skyline Trail.
Jack Pine
Jack Pine is a hike-in only rustic campground with 10 campsites. It is about 0.75 mile north of Pine Campground on the unpaved road to the Lighthouse.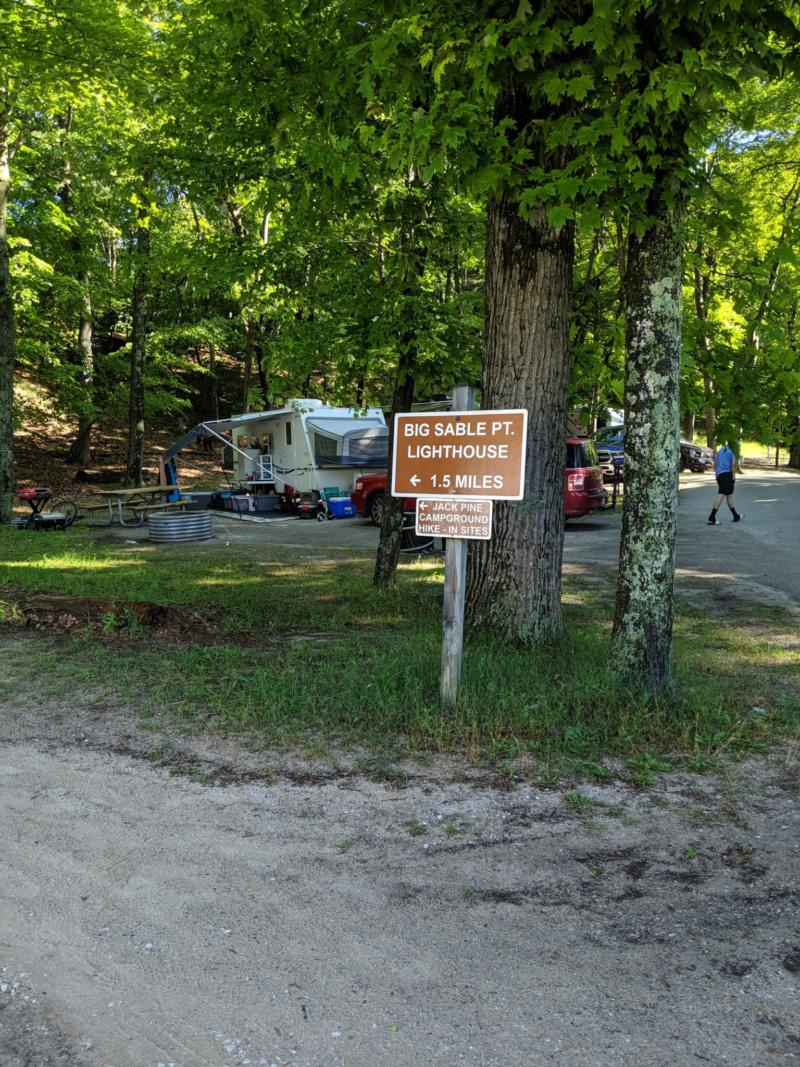 Beechwood
Beechwood is the largest campground in Ludington State Park with 147 campsites. It is located about 3/4 of the way into the park and is split into two sections. Beechwood is the most popular campground in the park. It has the most campsites, is more secluded and is one of the best areas in the park for recreation. Several trails run through or near this campground, including the Lost Lake Trail. There is a playground and small pond nearby. Small church services are conducted every Sunday morning. Beechwood was renovated somewhat recently. It contains the majority of the park's boardwalks where people can fish, walk, and relax.
Where We Stayed
When we stayed at Ludington State Park, we camped at Beechwood site #274. It was a really nice little area with 2 bathhouses a very short walk away. When we hiked to the lighthouse, we drove up to the front of the park and parked in the large parking lot.
Tip: We forgot to bring an extra long extension chord and had to borrow one from a neighboring camper. The electrical was a really far reach, so go prepared!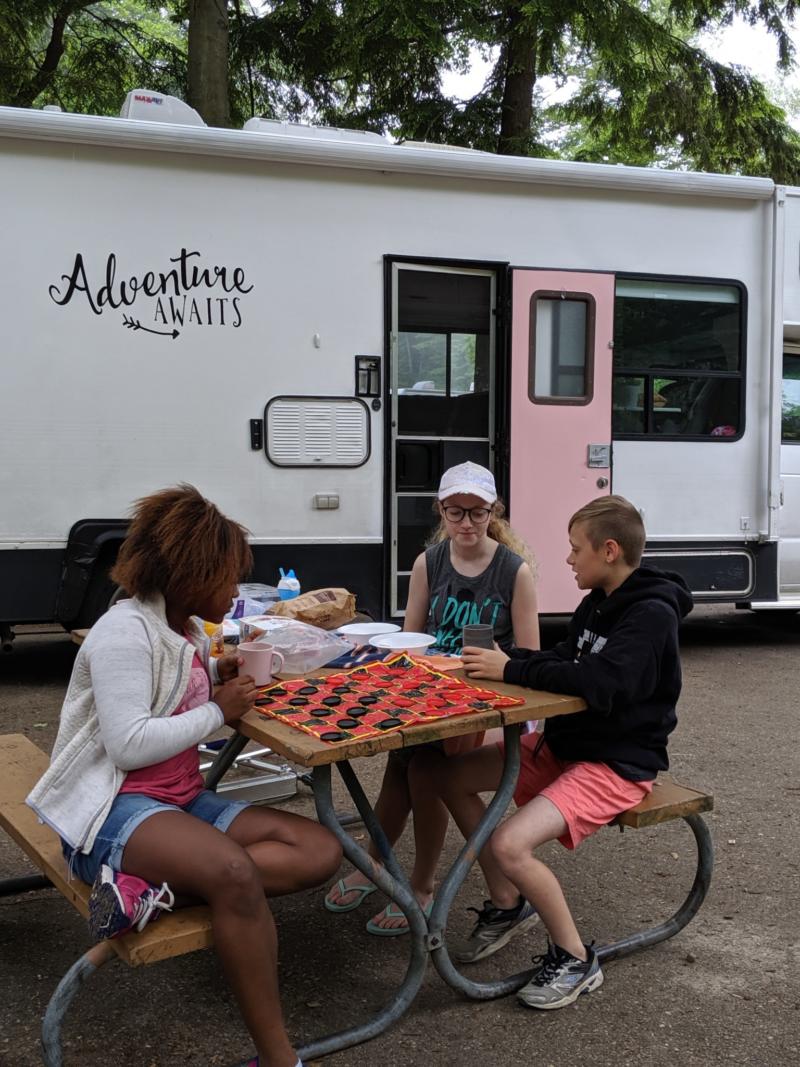 How to Get a Campsite
Getting a spot at the State Park is challenging. Spots fill fast, but you'll have a better chance if you book early. Mark your calendar and book as early as 6 months prior to your arrival date. Inventory opens up at 8am on weekdays and 9pm on weekends. Many people sit in front of their computers and book as soon as their chosen sites become available! If your schedule is flexible, there will be a better chance of finding a site on a weekday.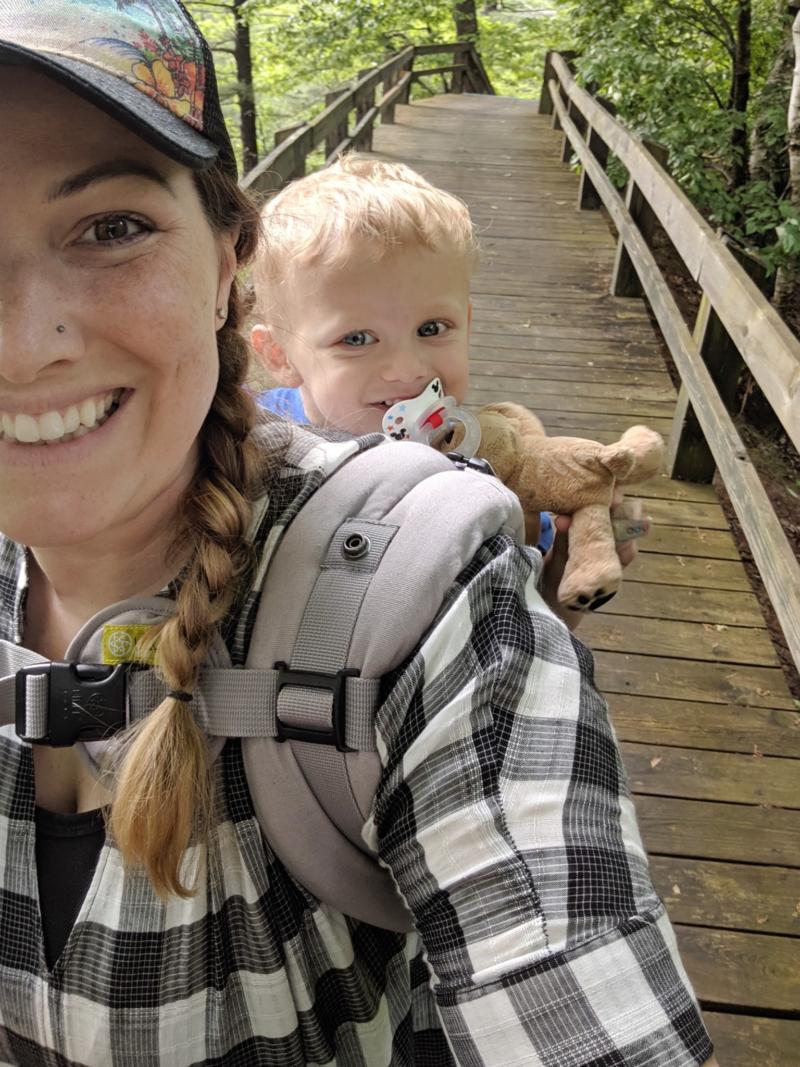 What to Do
We spent one night at Ludington State Park and it wasn't nearly enough time! We arrived a little under prepared for everything we wanted to do in such a short amount of time. For one, we definitely should have brought bikes!
Swimming
There are several places to swim in the greater Ludington area, but if you're staying at the State Park, there are a couple options close by. Lake Michigan is a little bit of a hike from most of the campgrounds, so I'd suggest biking or driving out to the park entrance and parking in the lakefront parking lot. There is a small beach area on Hamlin Lake, not far from the Beechwood campground area. You can take a trail or drive there from your campsite. There is a small playground, concession stand and bathhouse there.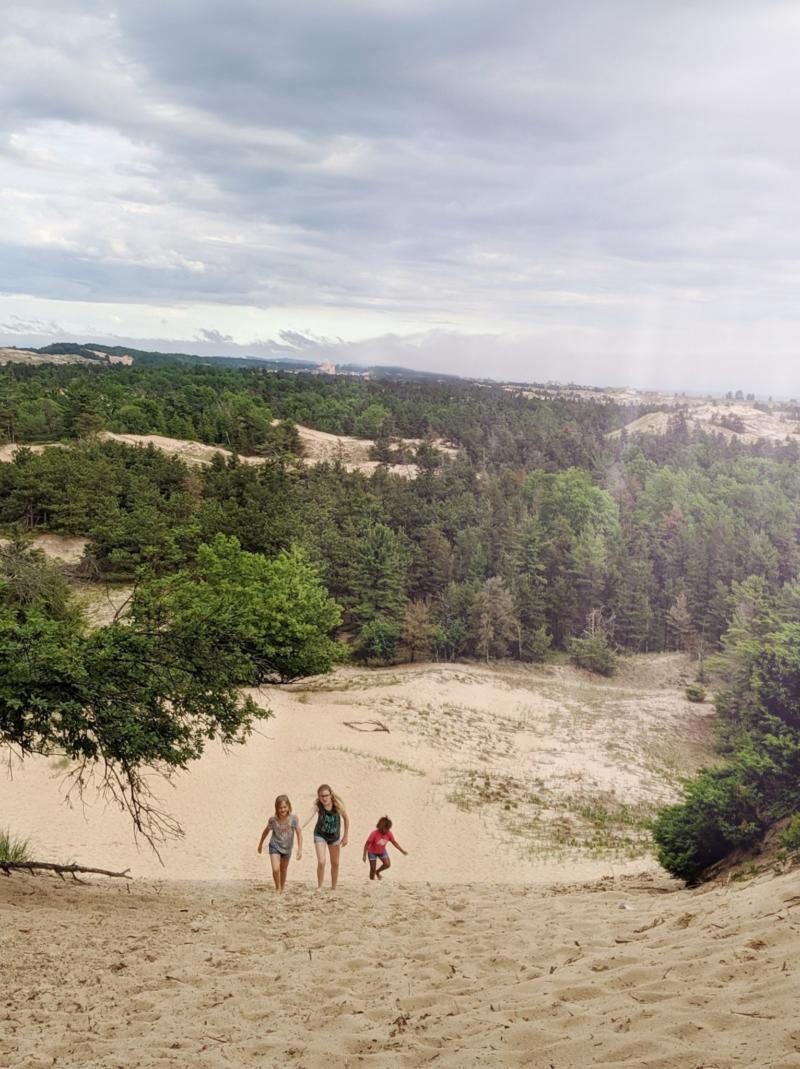 Hiking
There are so many beautiful trails within the park. Eight separately marked foot trails wind for 21.5 miles throughout woods and over the dunes. There are three rustic trail shelters located along the trails. A portion of the trail system is a hard surface and is ADA accessible. Our family hiked the Skyline trail which was a mostly wooden walkway with lots of stairs. Find a great map of all the trails here: Hiking trails
The Lighthouse
Our family enjoyed hiking out to the Big Sable Lighthouse. You can read more details about this adventure in my post here: Big Sable Lighthouse with Kids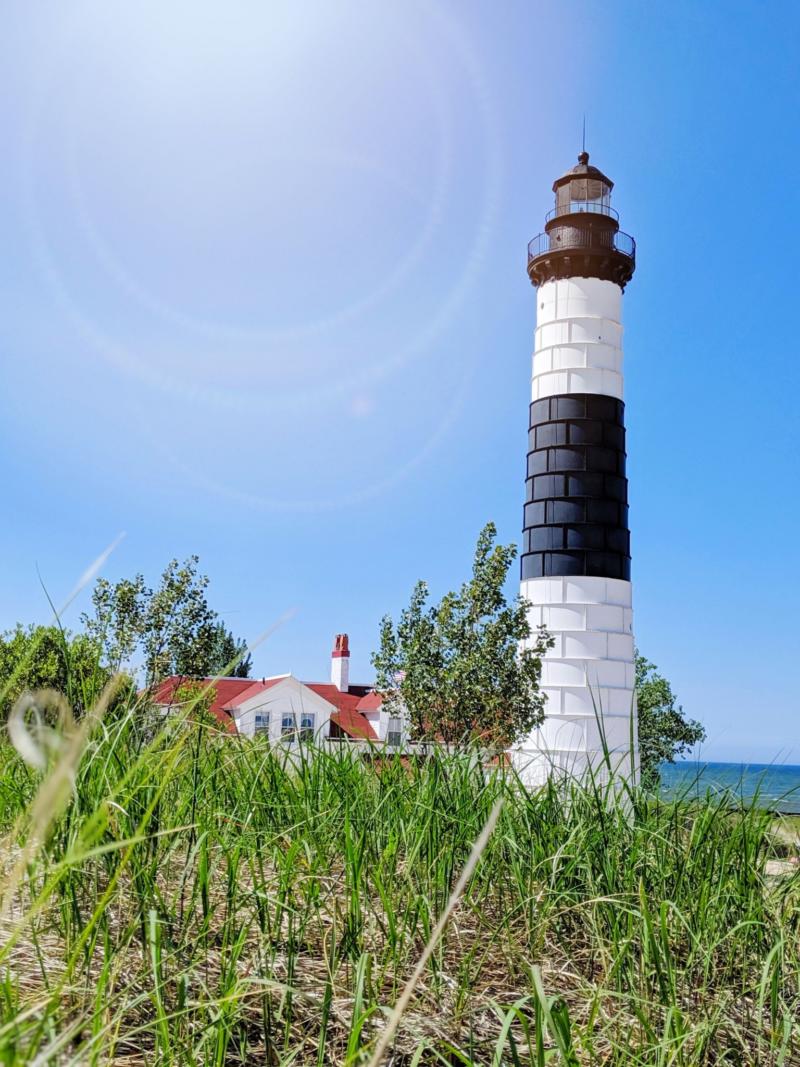 Biking
I mentioned earlier that we wish we had taken our bikes! There were so many cool looking bike trails that our kids could have explored. Plus, the park is so big, biking would have allowed us to explore more of it without having to drive.
Fishing
Great fishing spots can be found on Lake Michigan, Hamlin Lake, the Big Sable River and along the boardwalk through the campground.
Lake Michigan offers an abundance of Northern pike, largemouth and smallmouth bass, walleye, tiger musky and panfish. In the spring and fall, salmon, lake trout, steelhead and brown trout swim along the shoreline of Lake Michigan and in the Big Sable River below the Hamlin Dam.
Boating
Boats can be rented on Hamlin Lake. For more information call 231-843-1888
Snacks
There are concession stands at the Lake Michigan and Hamlin Lake beach areas. In addition, Dune Grass Concessions is open mid-May to mid-October and is located in the Cedar Campground.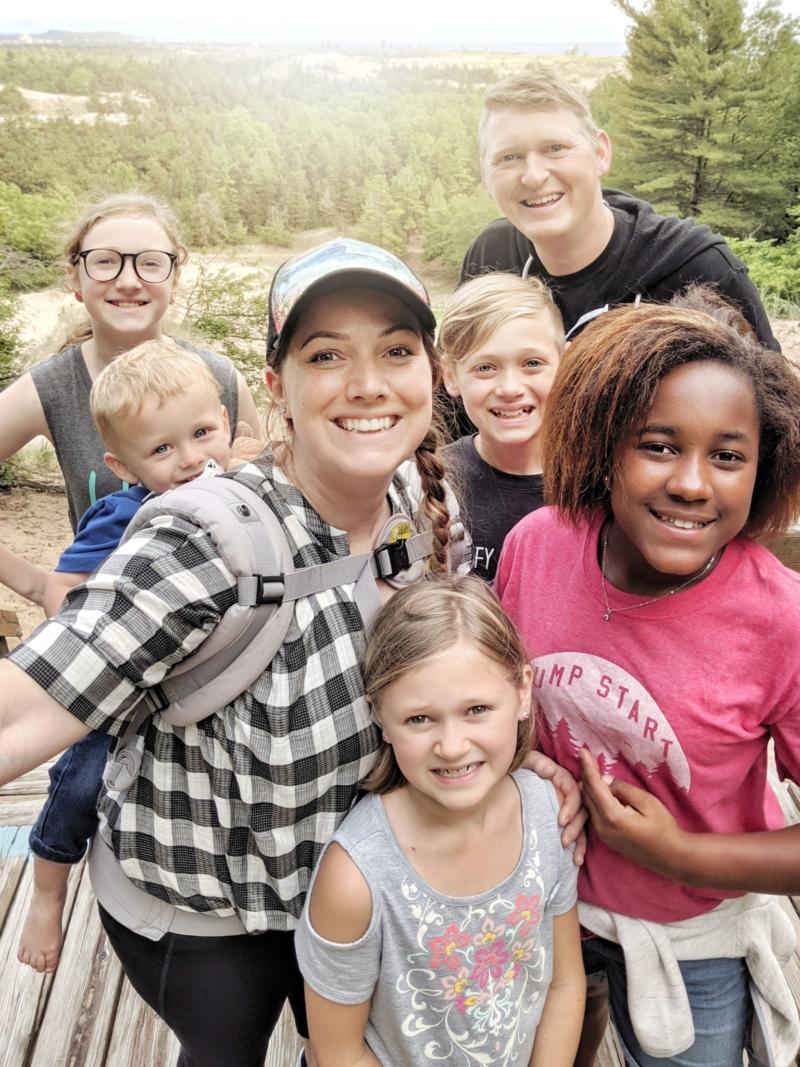 For more information, I always recommend starting your trip off with a stop at pureludington.com