Today I'm sharing how we decorated this cute, renovated camper for Christmas! I love Christmas in the camper and seeing how other people have decorated their RVs for Christmas. There is a fun Christmas home tour happening today! Welcome, if you are joining me after visiting Grace in My Space. Be sure to check out the other homes being featured at the end of this post!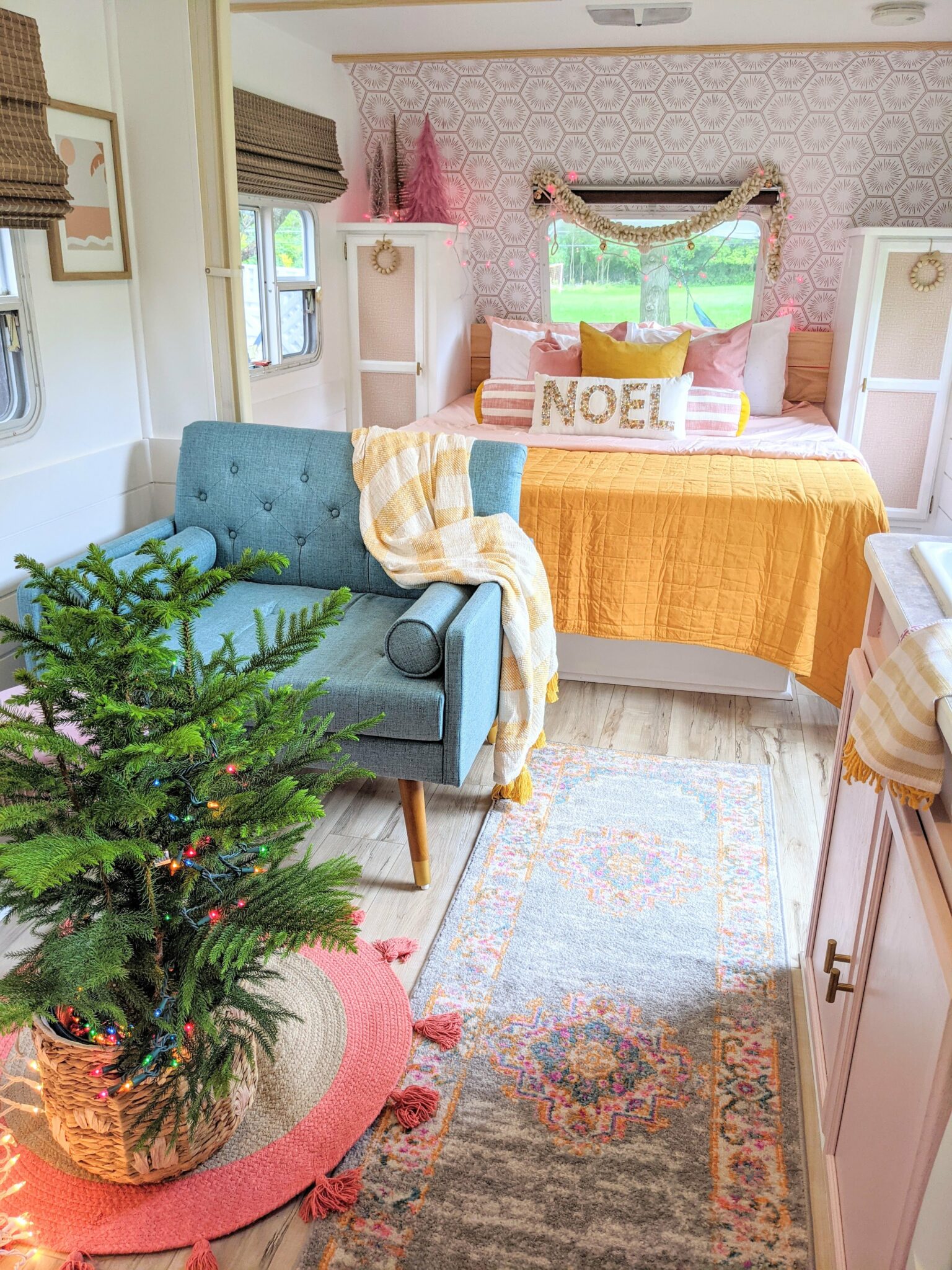 Christmas in Limbo
Merry Christmas everyone! Things look a little different around our house this year. We bought a fixer-upper in Florida at the beginning of the year and we have been slowly making repairs and moving things in. I moved all of our Christmas decorations down there over the Summer, hopeful that we would spend Christmas at our new house! Unfortunately, repairs have taken a long time and other issues (that are out of our control) have held us up! We are stuck in limbo currently, dividing our time between our home in Michigan and our Florida house that is still being renovated. Anyone that has moved this time of year or done a home renovation over the Christmas season can sympathize with how weird this feels!
In anticipation of the Christmas season (knowing I didn't have any of our usual decorations here in Michigan), I decided to decorate a camper!
We have very few decorations up inside our Michigan house, and if you know me, you know how weird that is. It's a little sad actually. But with all our decorations in Florida, I have had to purchase new things and scrounge for what was left behind. We are planning on getting a real tree this week, which is something we did for the first time, last year!
Camper Christmas Décor
While we were renovating this adorable little camper at the end of the Summer, I had a sinking feeling our Christmas would look different this year. I ran to Hobby Lobby and purchased a few new things (thanks to Hobby Lobby for having Christmas décor out early!), and decorated the camper. We have since sold this camper, but I just HAD to see what it would look like decorated for Christmas. Do you love seeing how people have decorated their RVs for Christmas? How cozy is a Christmas camper?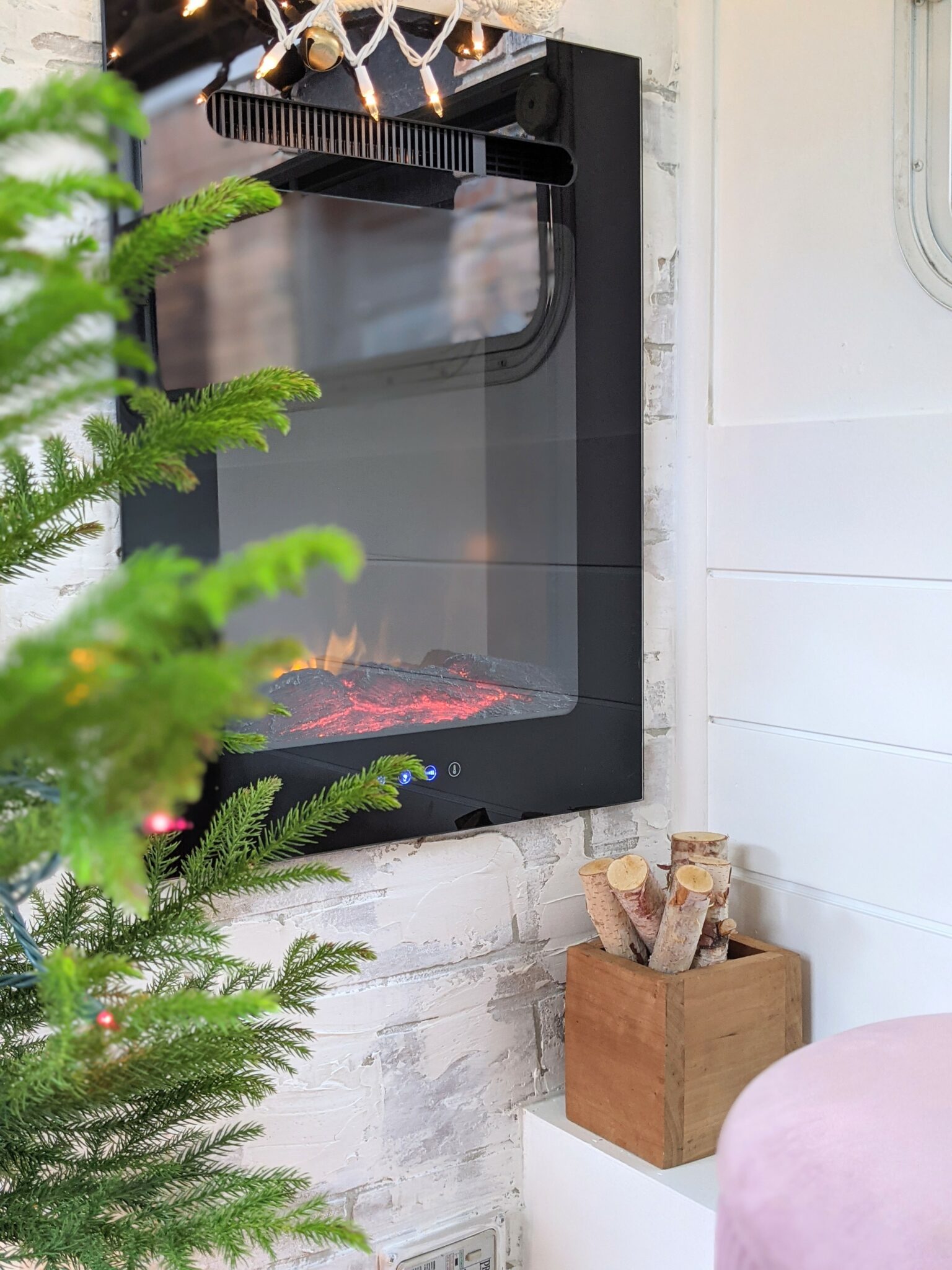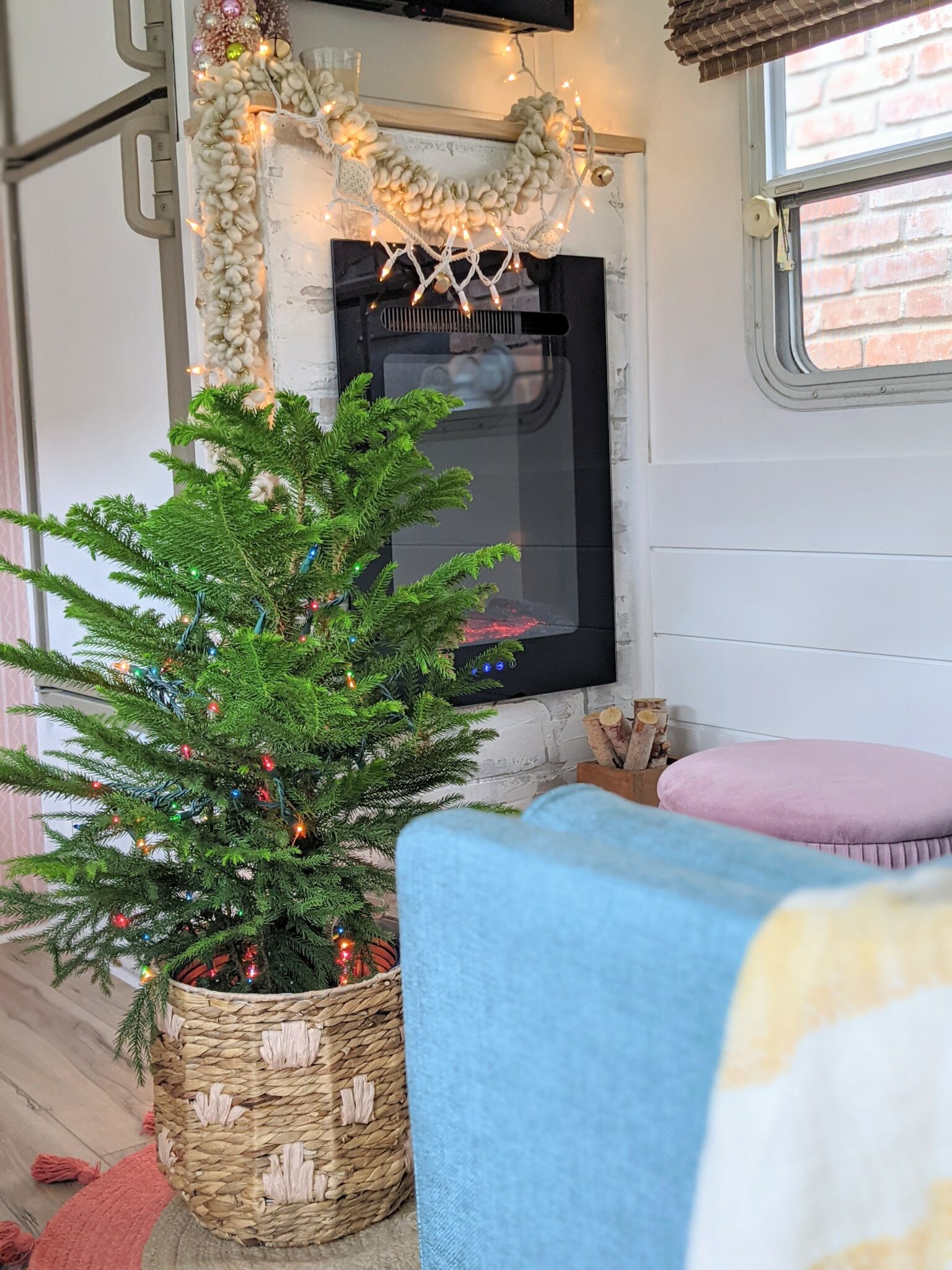 The Details
Literally all the decorations seen here came from Hobby Lobby. I love this chunky garland and all the pastel colored trees I was able to find. You can find more details on this camper here. I loved how this camper turned out; a fun mix of beachy, Mid-Mod vibes. Obviously we weren't completely done with the renovations when these photos were taken! The bathroom door is clearly missing in this shot.
Read: Renovation details and all décor sources for Trail Cruiser Camper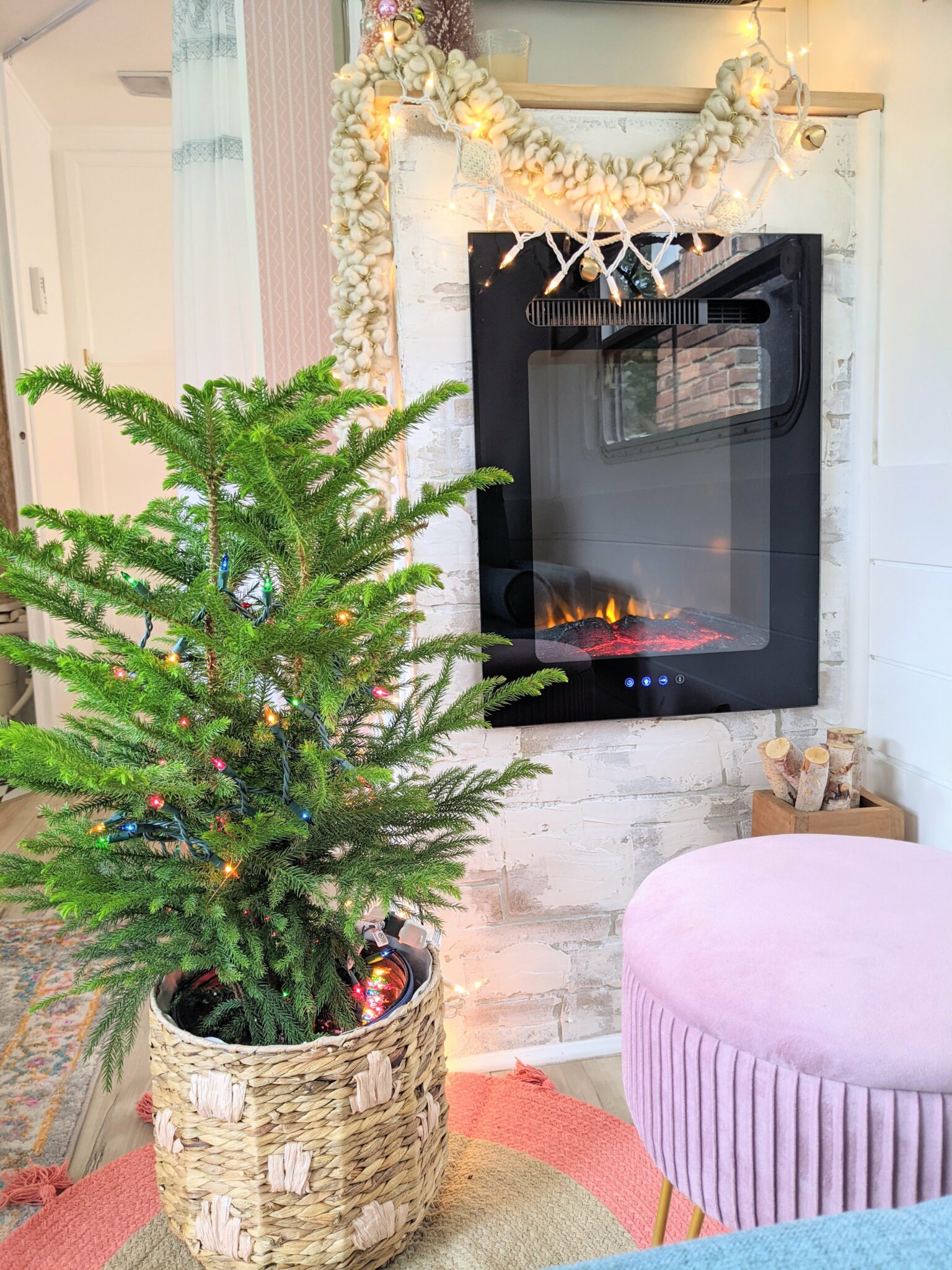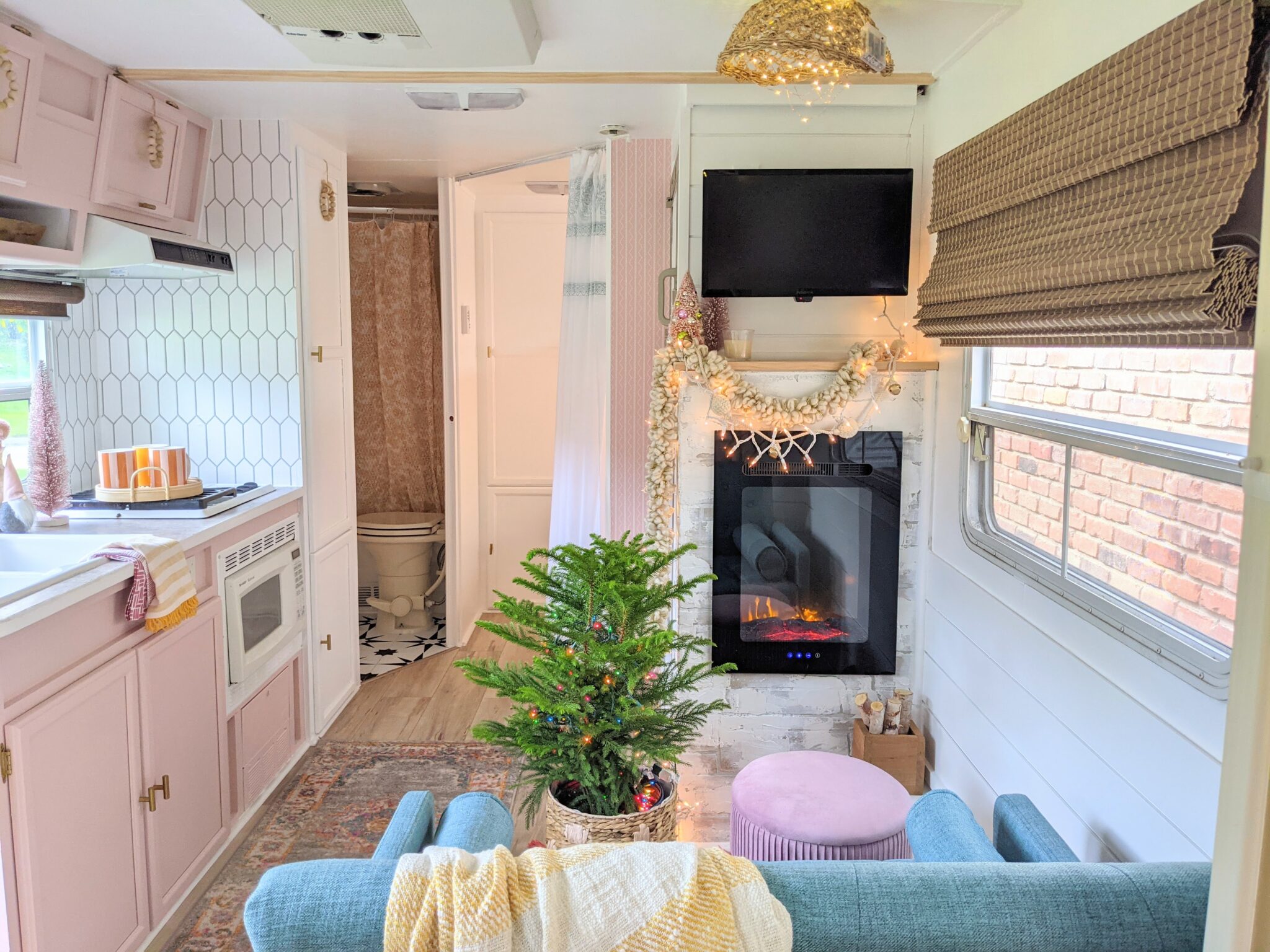 Before and After
Here's a fun before and after comparison of this camper. Use the slider below to see what it looked like before renovations!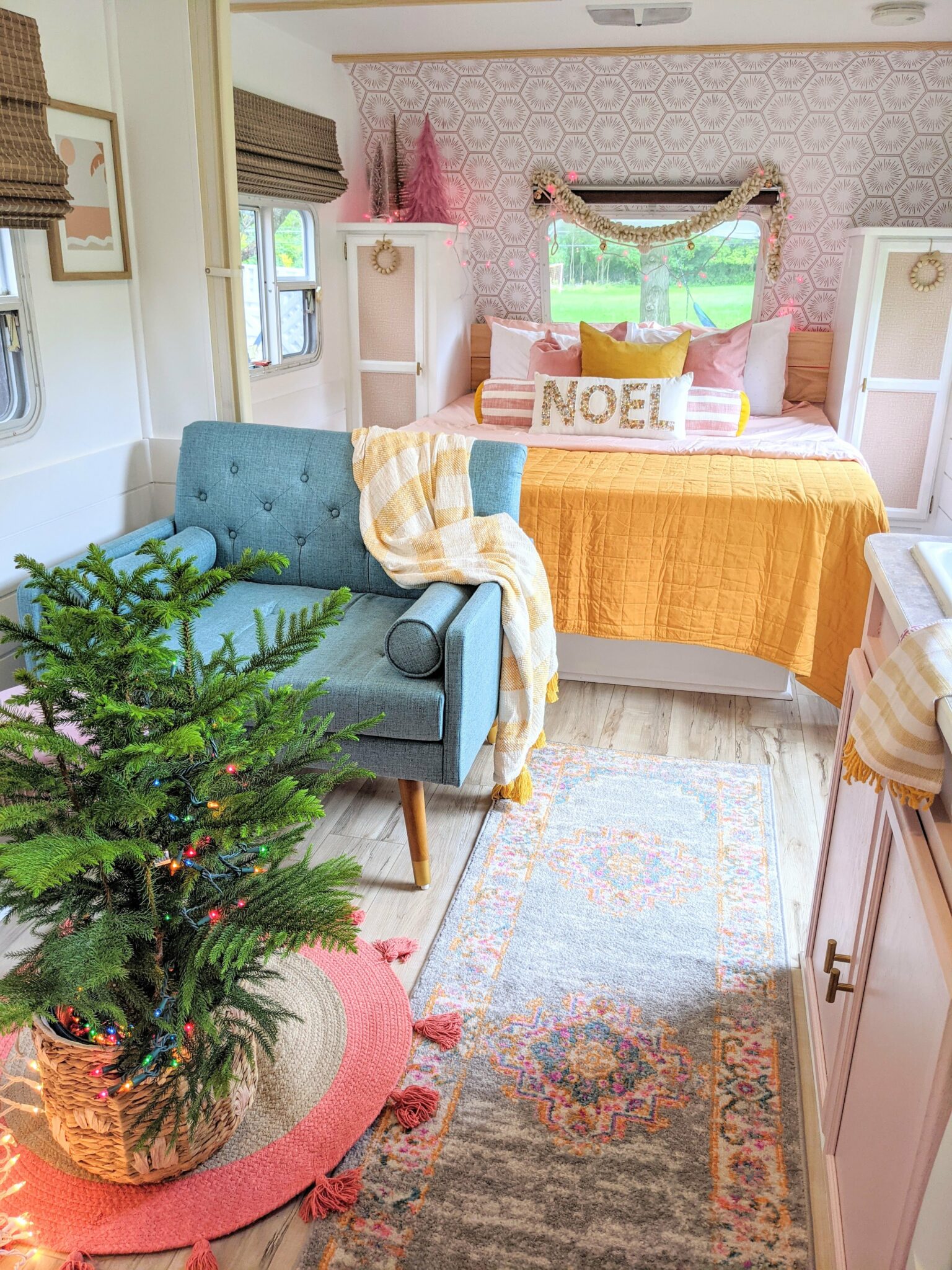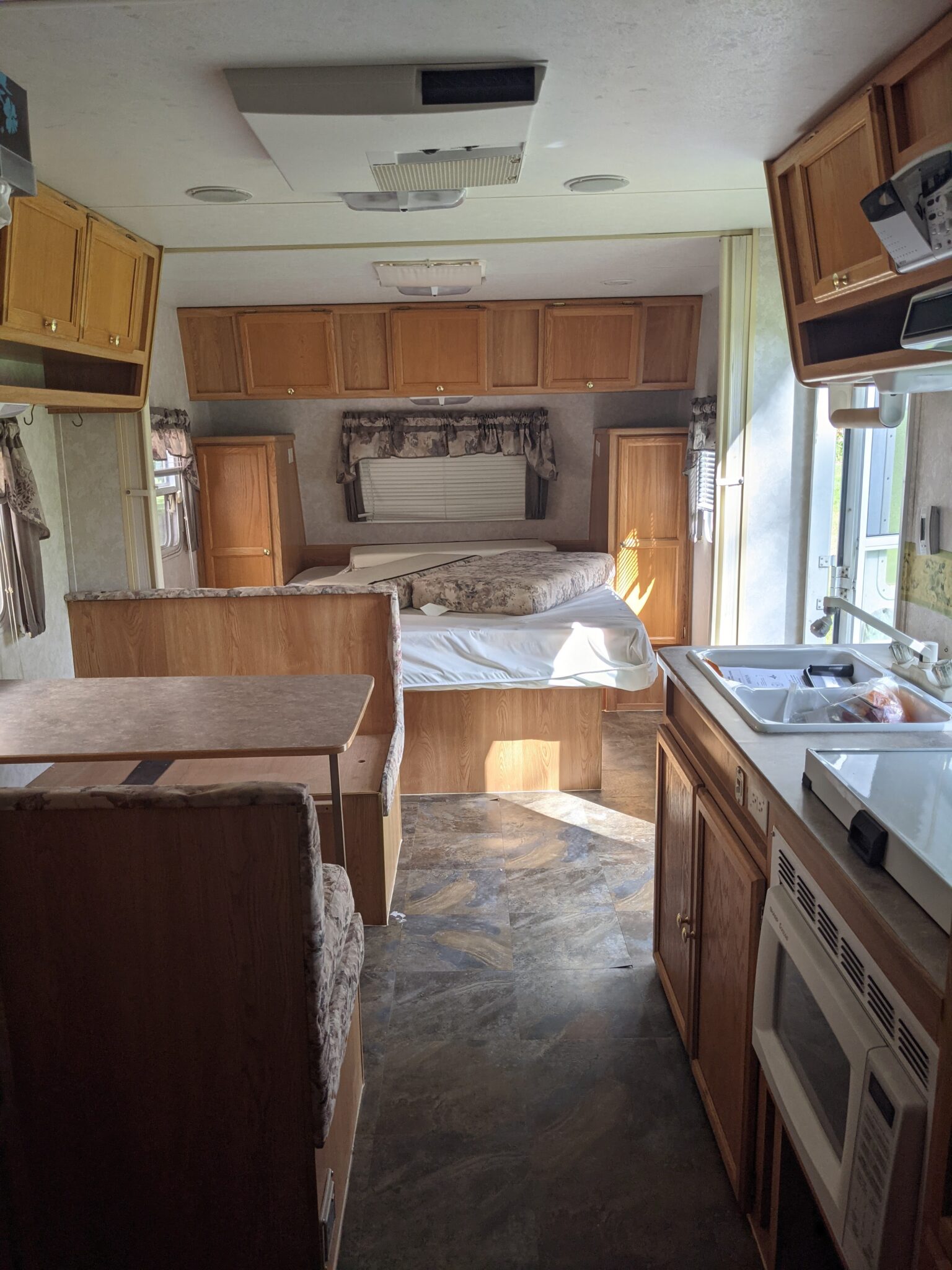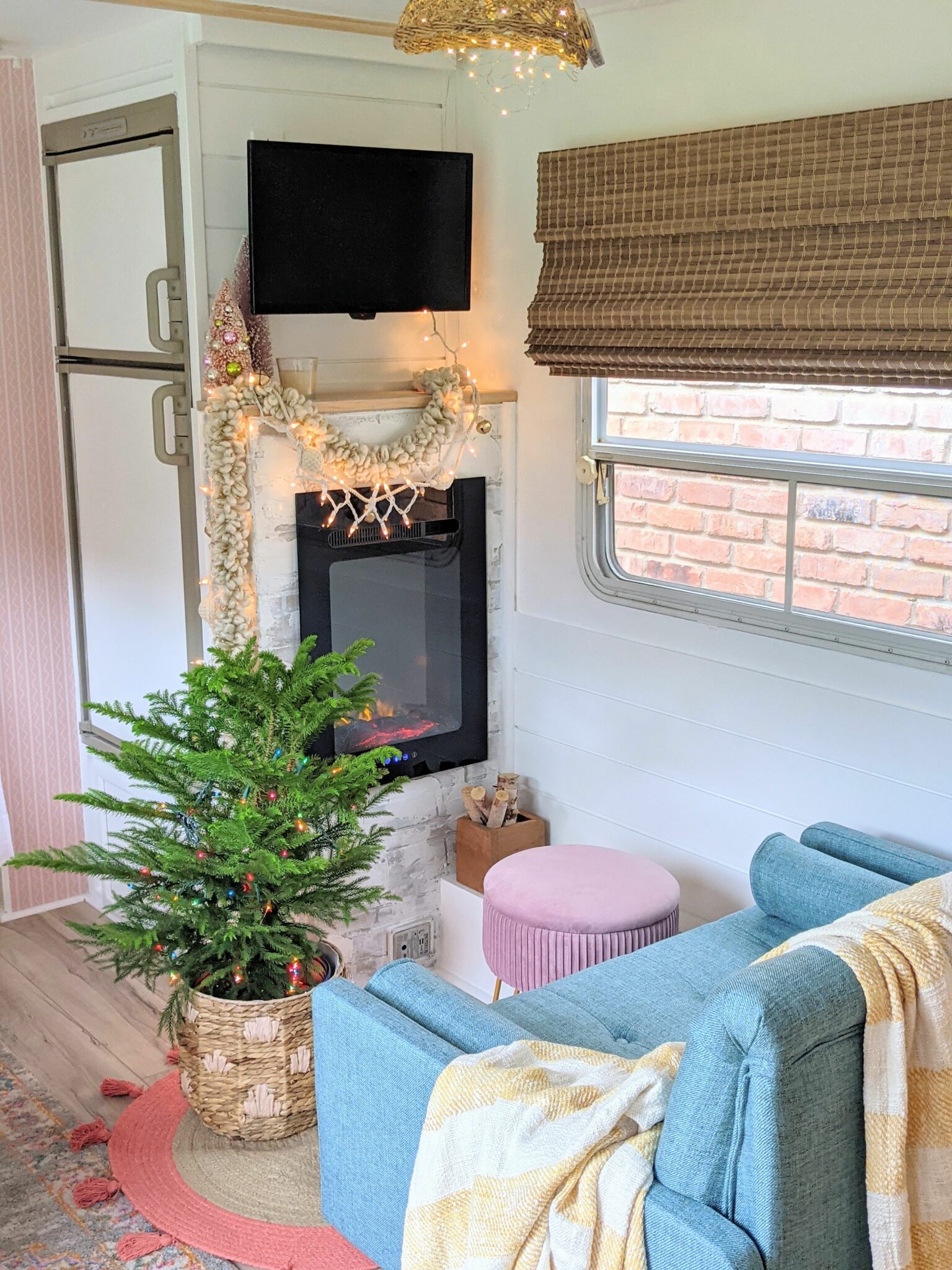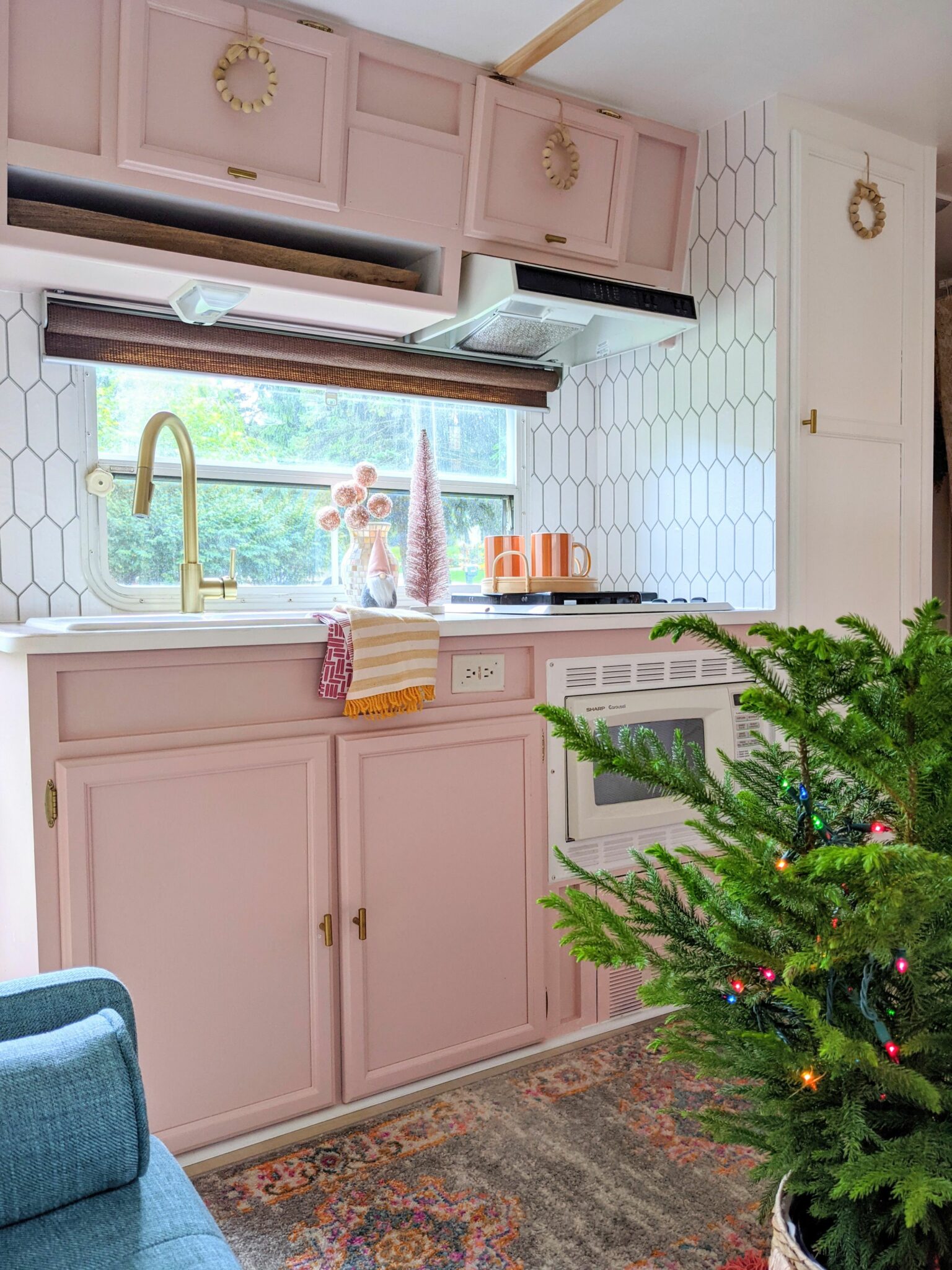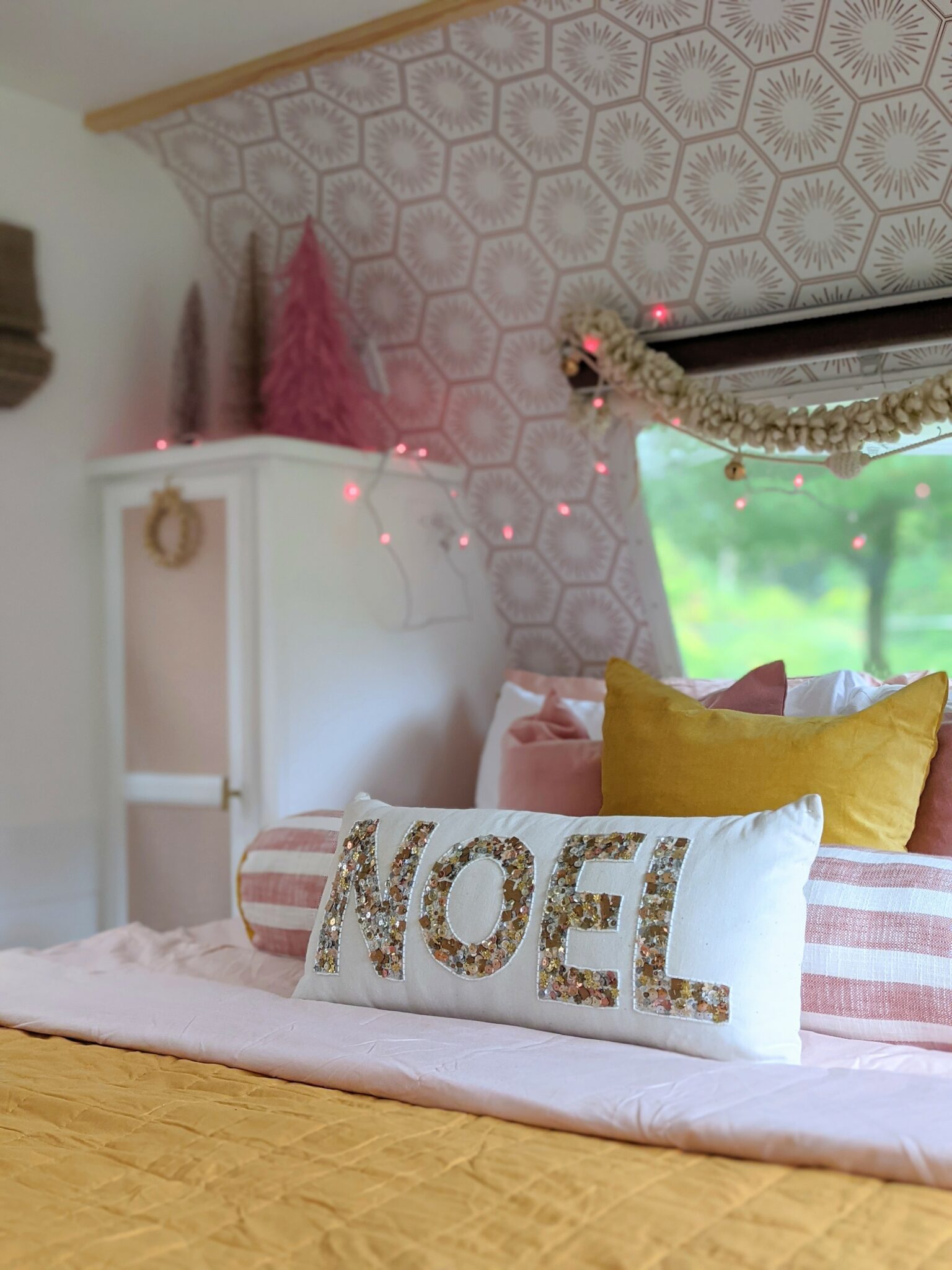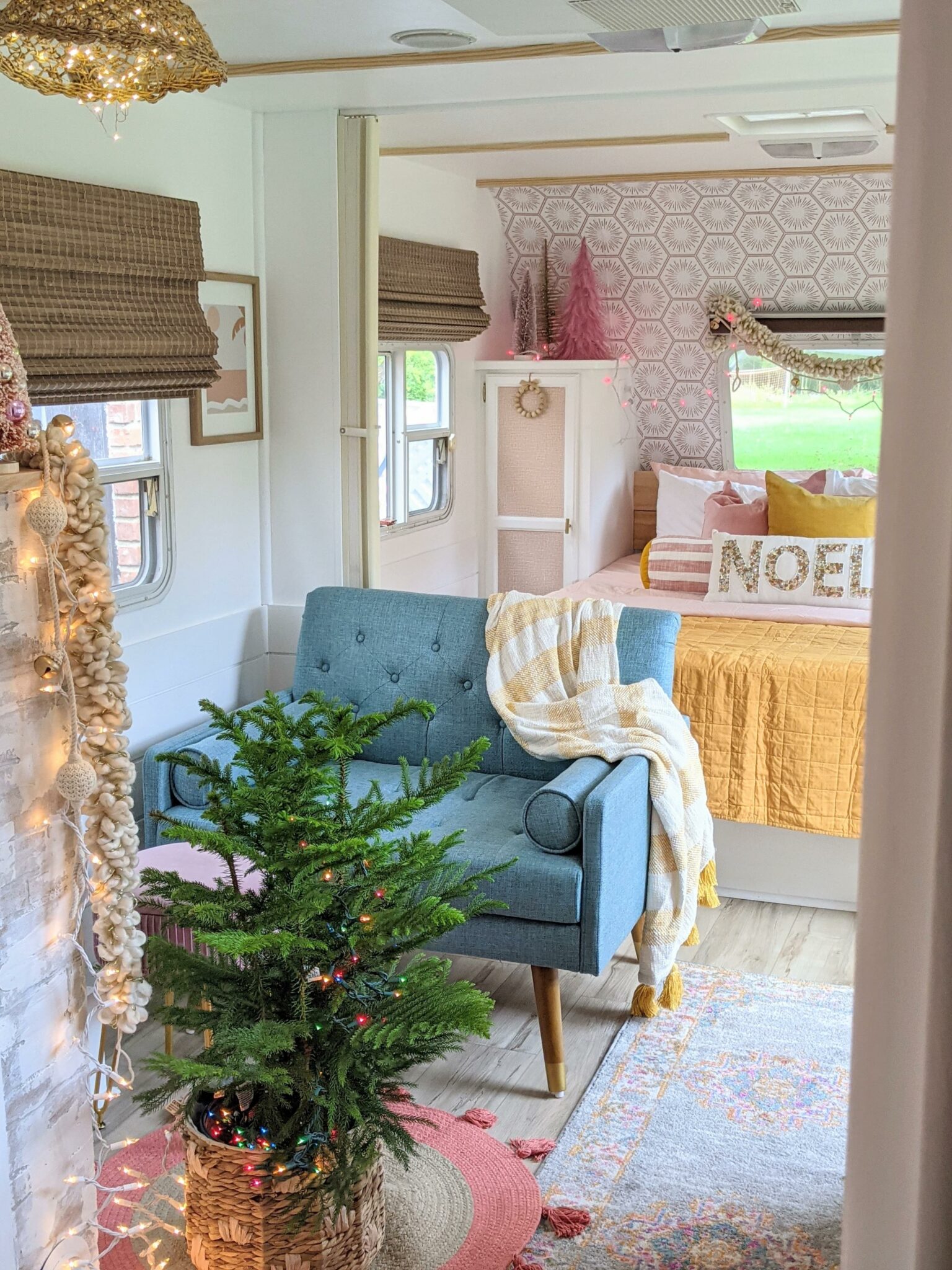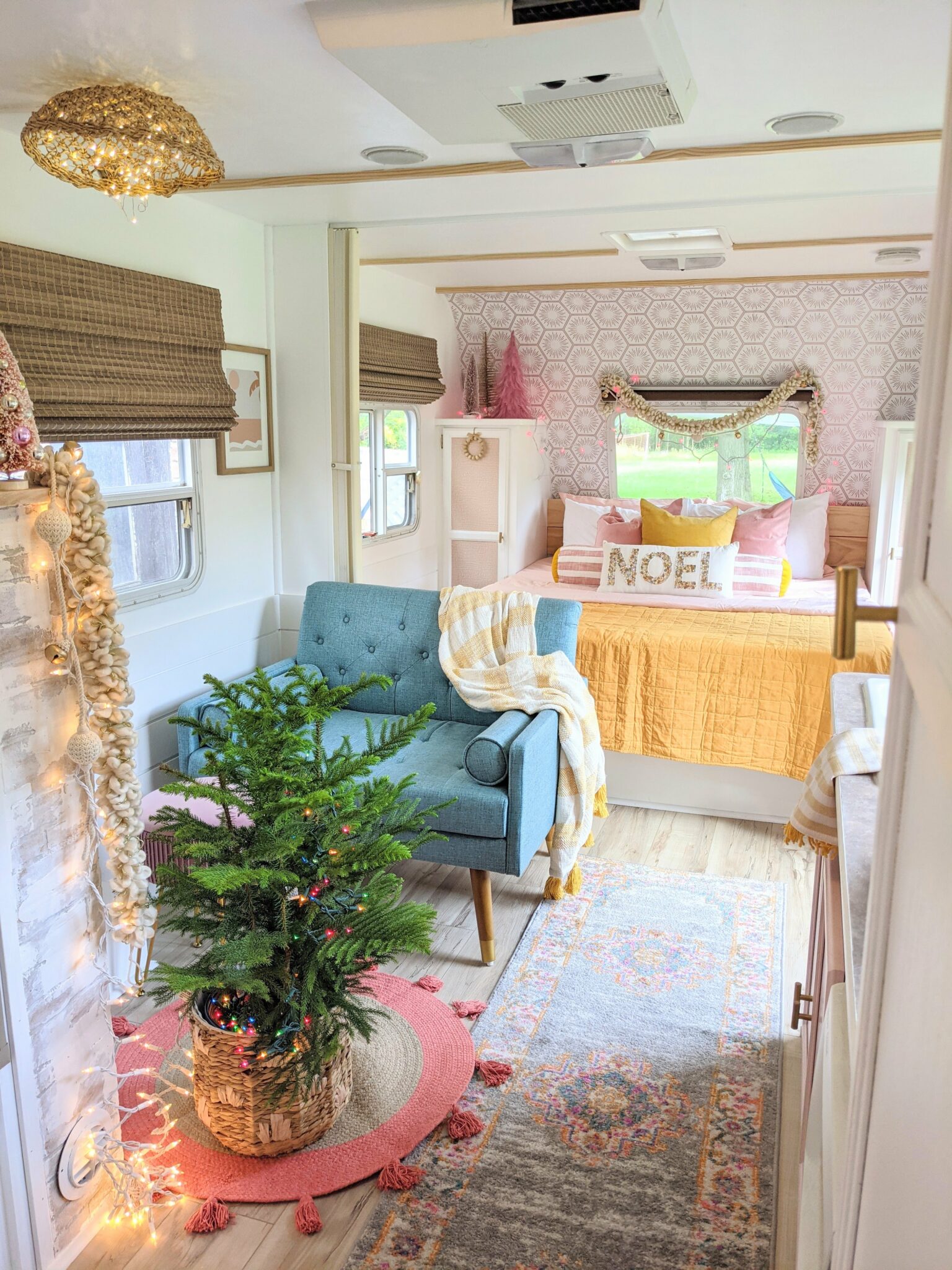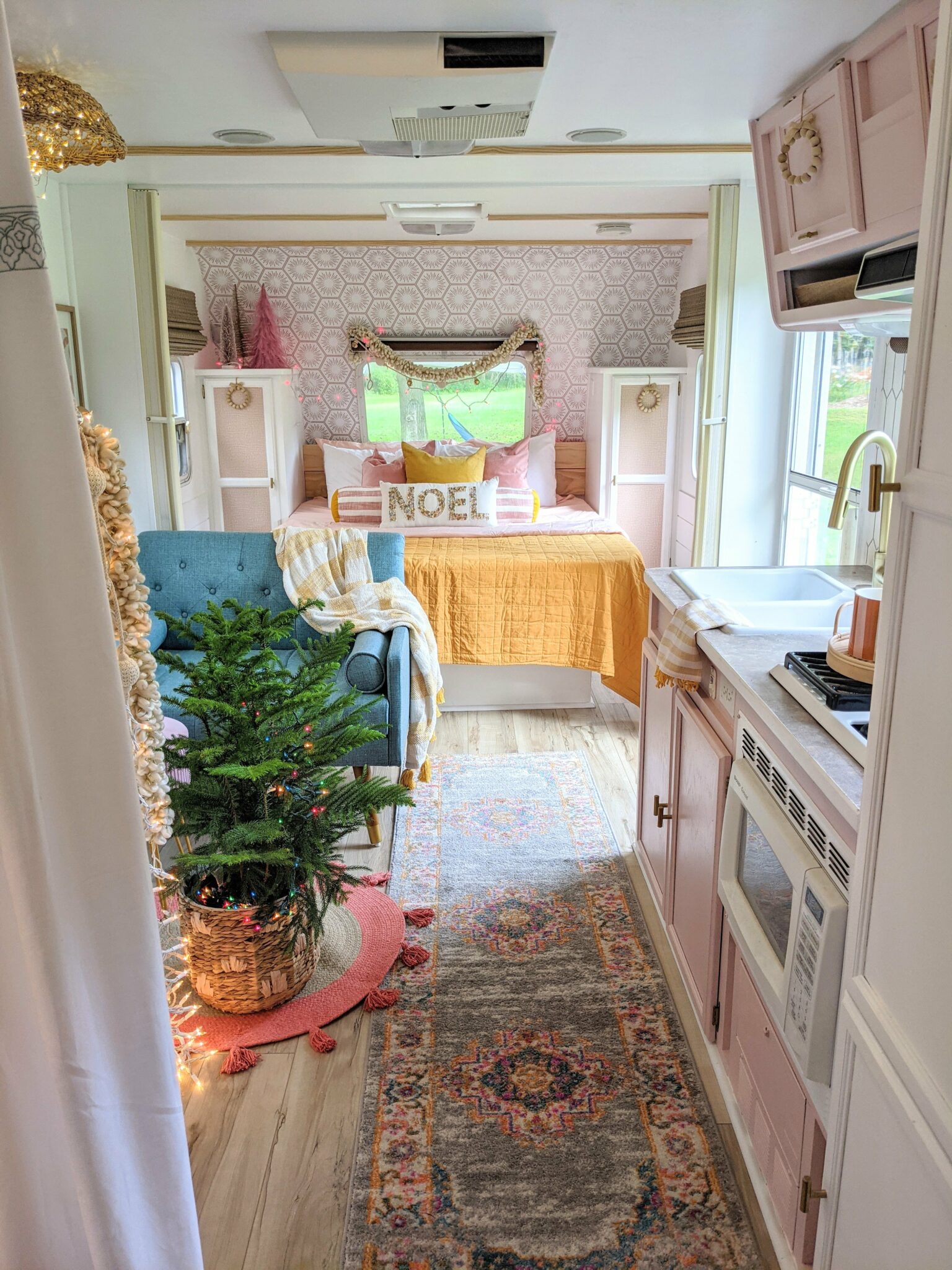 Florida House Update
I thought I'd share a little about the current state of our Florida house! We bought this house as a short sale and it was sold AS IS. The real estate market is crazy right now, but especially in Central Florida! We shopped for homes for close to 6 months and put multiple offers in, before finding this one. This home was actually bought sight-unseen. We could see it had potential from the pictures, and we liked the location. It was definitely risky, but in such a crazy market, God has truly blessed us with the location of this home!
The location, square footage, character, lake view and pool give this home so much potential. We had no idea how rough it would be though, after we literally started peeling back the layers. It has changed hands so many times over the years, and suffered from flippers who literally covered up multiple issues. There is so much I am excited to do with it once the structural issues and major repairs are done. Just like my camper renovations, I like to work from the outside-in. Not only does this help insure that the time and money you're investing on the inside will last, it's also a kind gesture to your neighbors. The neighbors surrounding this home have put up with a lot of ugliness over the years, and I wanted to communicate our intentions loud and clear; this house will no longer be an eye sore! Check out the before and after progress on the front of the home using the slider below.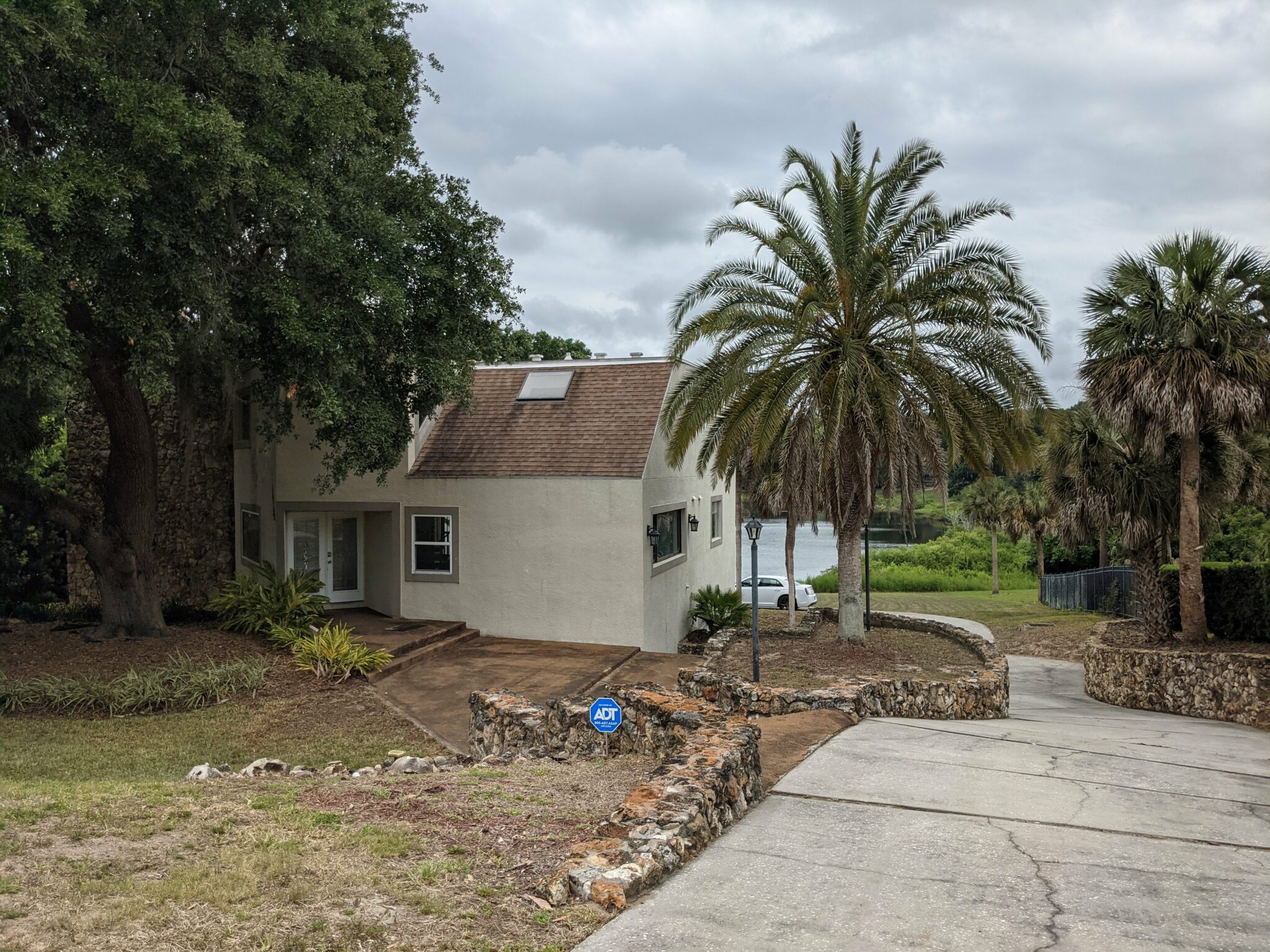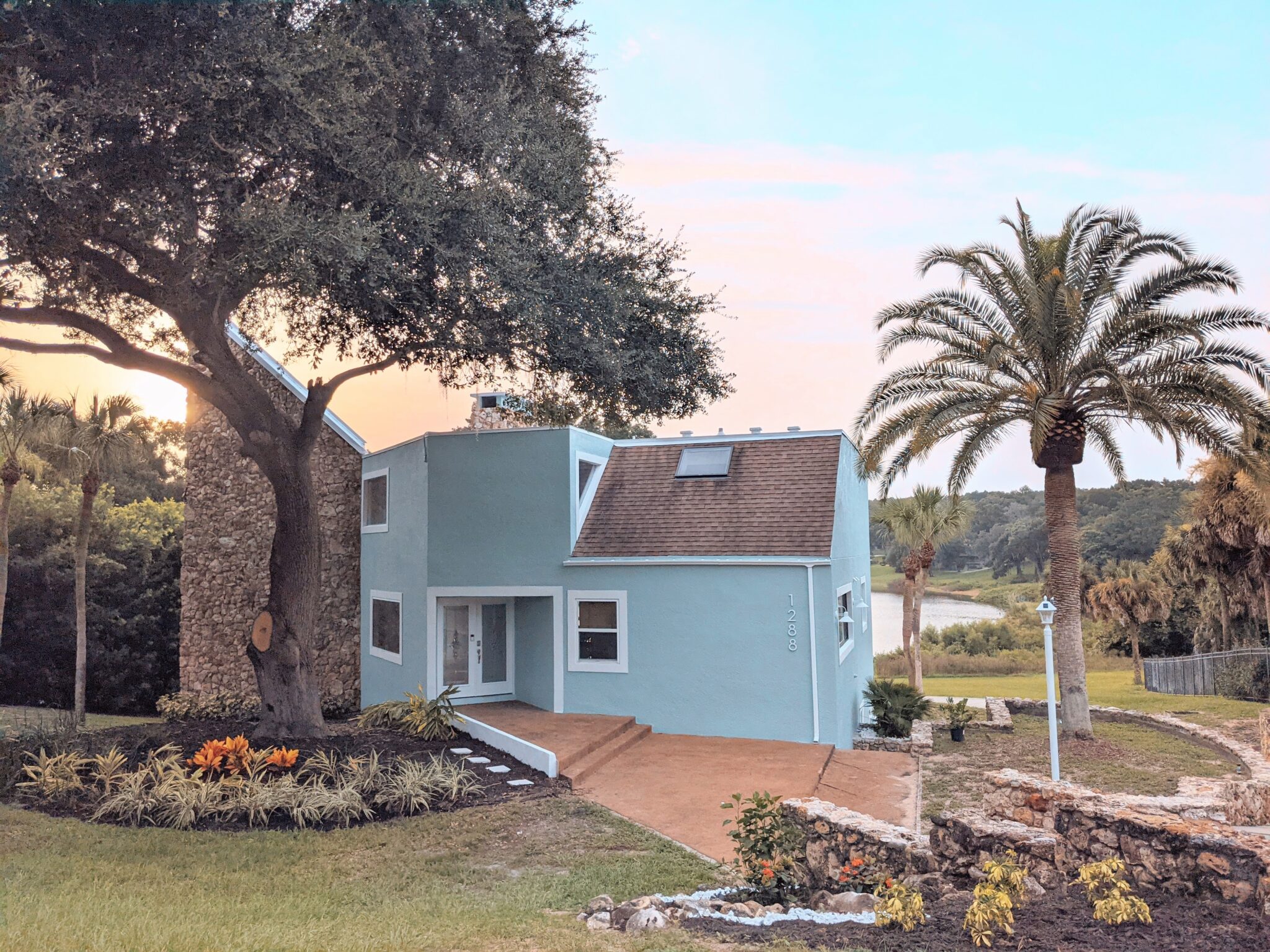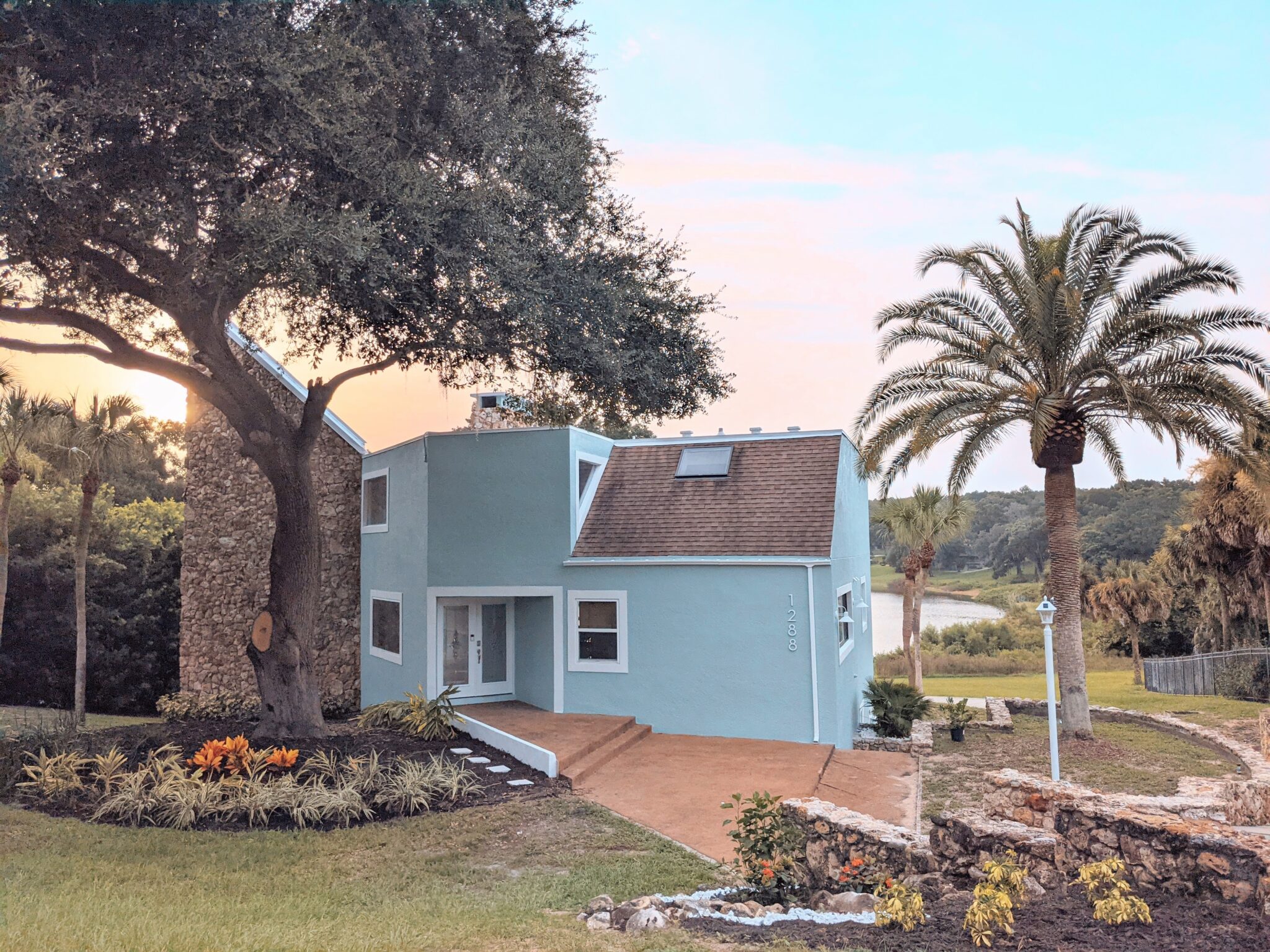 Read: Our Florida Home "Before" Tour
Do you remember my tropical inspired Christmas decorations from last year? I have subconsciously decorated with a tropical flare for most of my life. I've always been drawn to coastal colors and accents. I'm so exited to finally own a home with a palm tree right outside the window! My living room looks nothing like this picture currently. Most of these decorations, including the tree, are waiting for me down in Florida.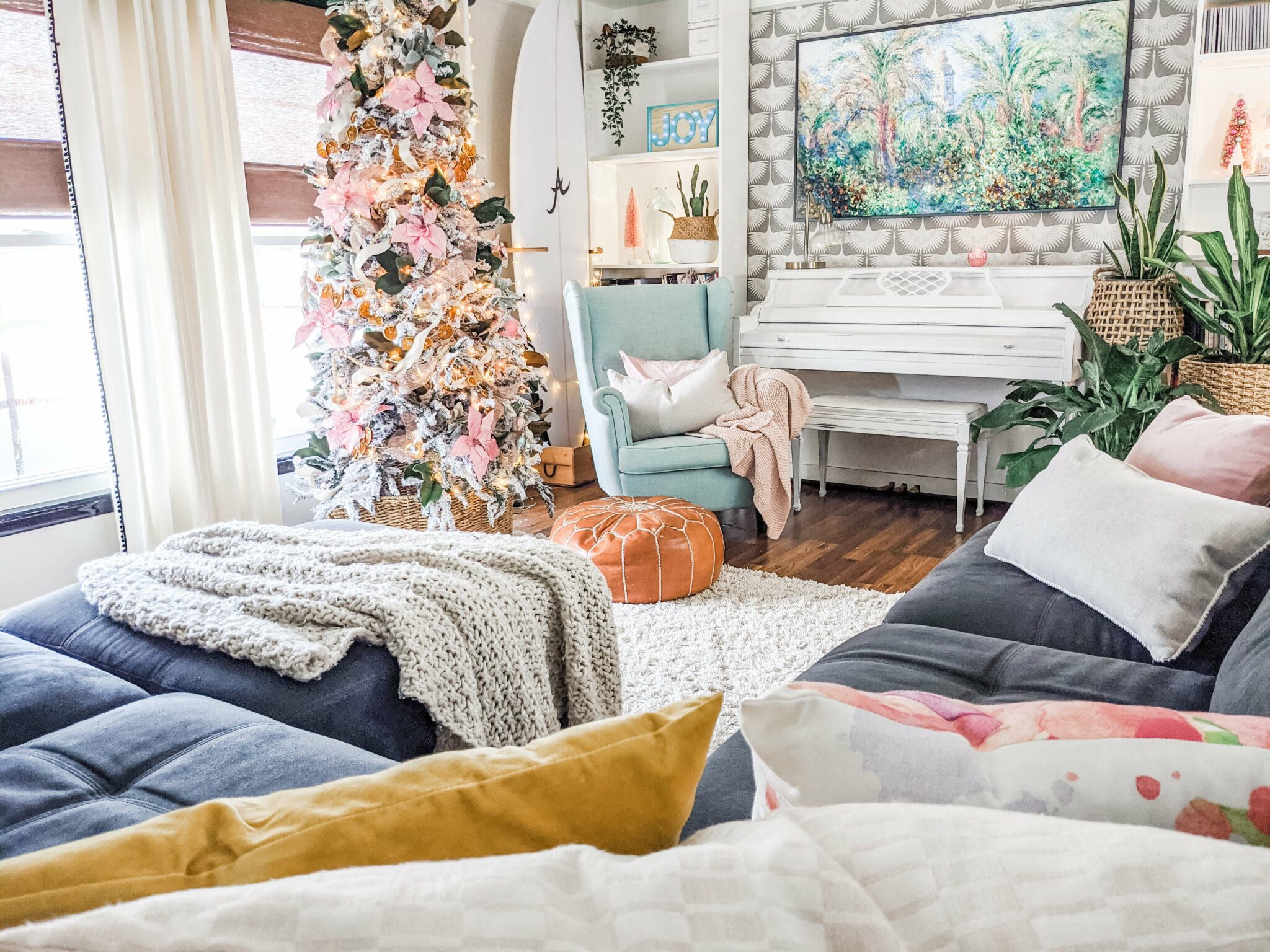 This week is Christmas Home Tour Week! Each day this week, some talented bloggers are sharing their tours with you – be sure to hop around and see what they've got in store! You can visit their posts by clicking on the links below the images. The next home on the tour is Life is Better at Home!
Sharing with me today…
Thursday
Grace in My Space / All Things with Purpose / Life is Better at Home
The Tattered Pew / A Pretty Life in the Suburbs / Just a Girl and Her Blog
And sharing the rest of the week…
Monday
The Happy Housie / Inspiration for Moms / Joanna Anastasia
She Gave it a Go / Modern Glam / Taryn Whiteaker Designs
Tuesday
Rambling Renovators / Life is a Party / Clean and Scentsible
House by Hoff / Rooms for Rent / The Happy Housie
Wednesday
Maison de Pax / Stacy Risenmay / Maison de Cinq
Place of My Taste / A Pop of Pretty / The Happy Housie
Friday
This is Simplicite / Deeply Southern Home / Lemon Thistle
Love Create Celebrate / Sincerely, Marie Designs / The Happy Housie
Pin-It!