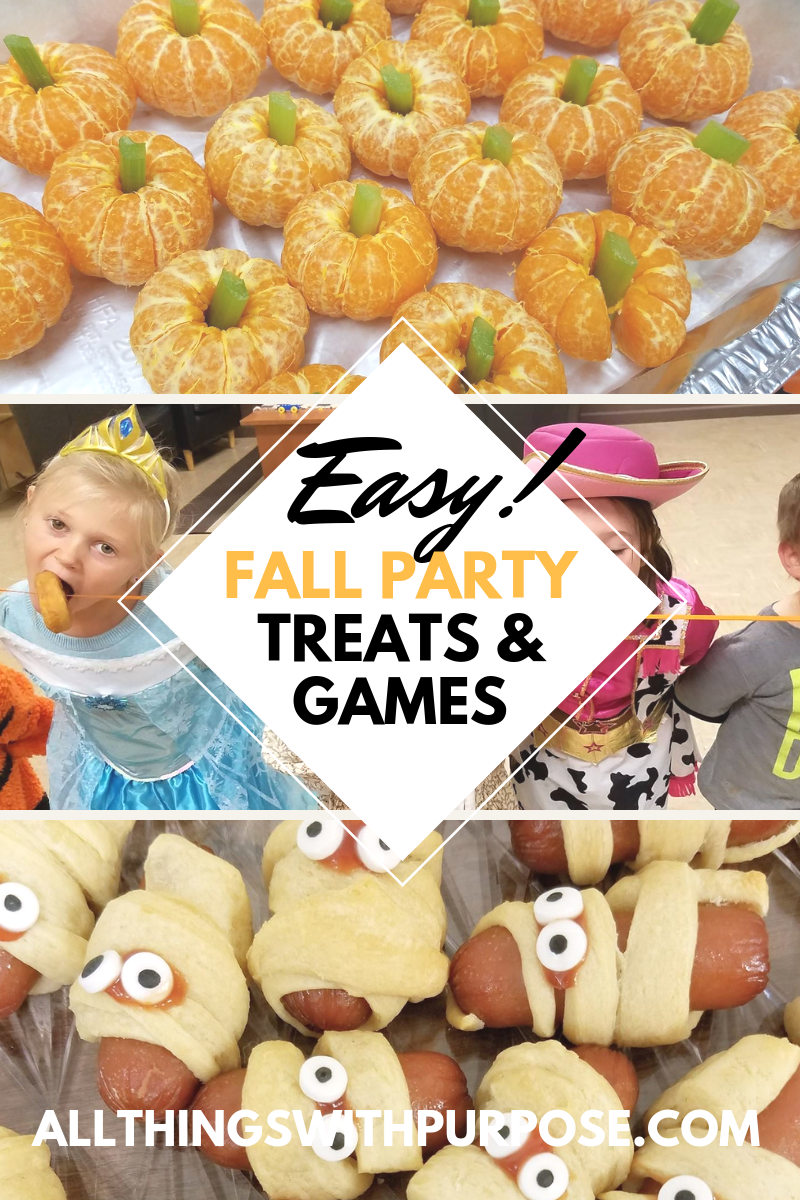 Fall Party Treats and Games
My husband and I have been planning youth group games and parties for children at our church for the entire 18 years of our marriage, and probably before that too! Yet, it's rare that I think about sitting down and blogging any of them. Crazy, right? I'd like to share with you, a few of the easy Halloween treats and party games we have used when planning Fall parties over the past few years. Whether it be for a group of high school kids or an Awana club, these are super simple crowd-pleasers!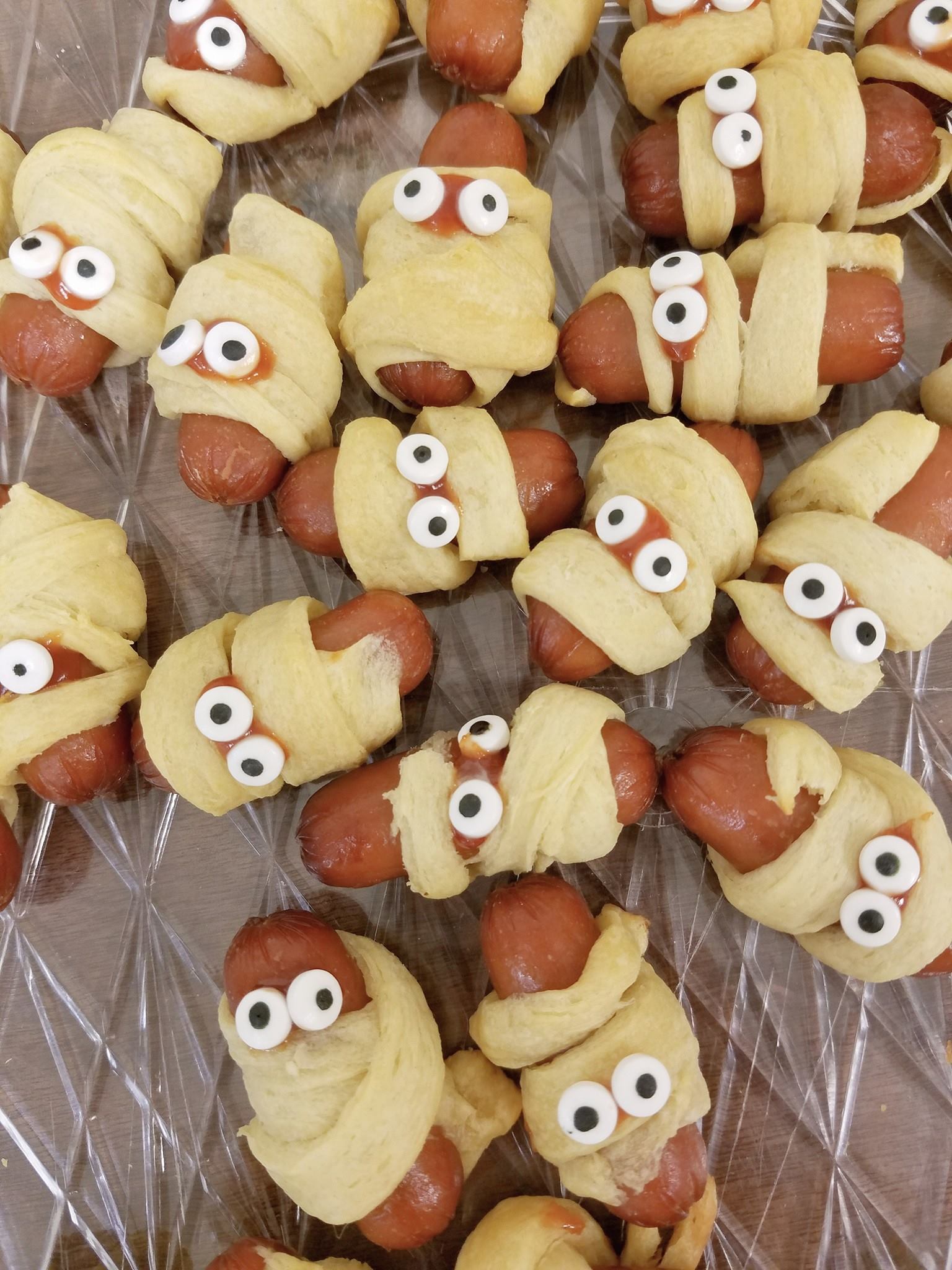 Treats
I'm always running low on time, so these are quick snack ideas that can be whipped up in a pinch!
Mummy Little Smokies

What you need: Tube biscuits, little smokies, candy eyes. Wrap little smokies in thins strands of biscuit dough and bake until golden brown. I used ketchup to adhere the eyes!

Mandarin Orange Pumpkins

Peel the orange and use a celery stick for the stem!

Mandarin Orange Jack-O-Lanterns

Leave the peel on the orange and draw a face using a permanent marker.

Broomsticks

What you need: Pretzel sticks, string cheese and "Pull and Peel" Twizzlers. Cut cheese into small sections and peel just one half into little strips. Poke a pretzel into the other end and tie the Twizzler around the cheese.

Pumpkin Patch Dirt Cups

Chocolate pudding, Oreo cookie crumbs and pumpkin candies make a cute twist on a classic kids treat.

Harvest Snack Mix

This is super easy to mix together with the ingredients of your choice! I made one with pretzels, Chex cereal, candy corn, pumpkin candy, marshmallows and Bugles chips.

Store Bought Halloween Cookies

When all else fails, throw in some festive cookies from the store!

Fruit and Veggies

To balance out all the sugar (and to make parents happy) we always try to include fruit and veggies, even if they're just put in a bowl with nothing special.

Cider and Donuts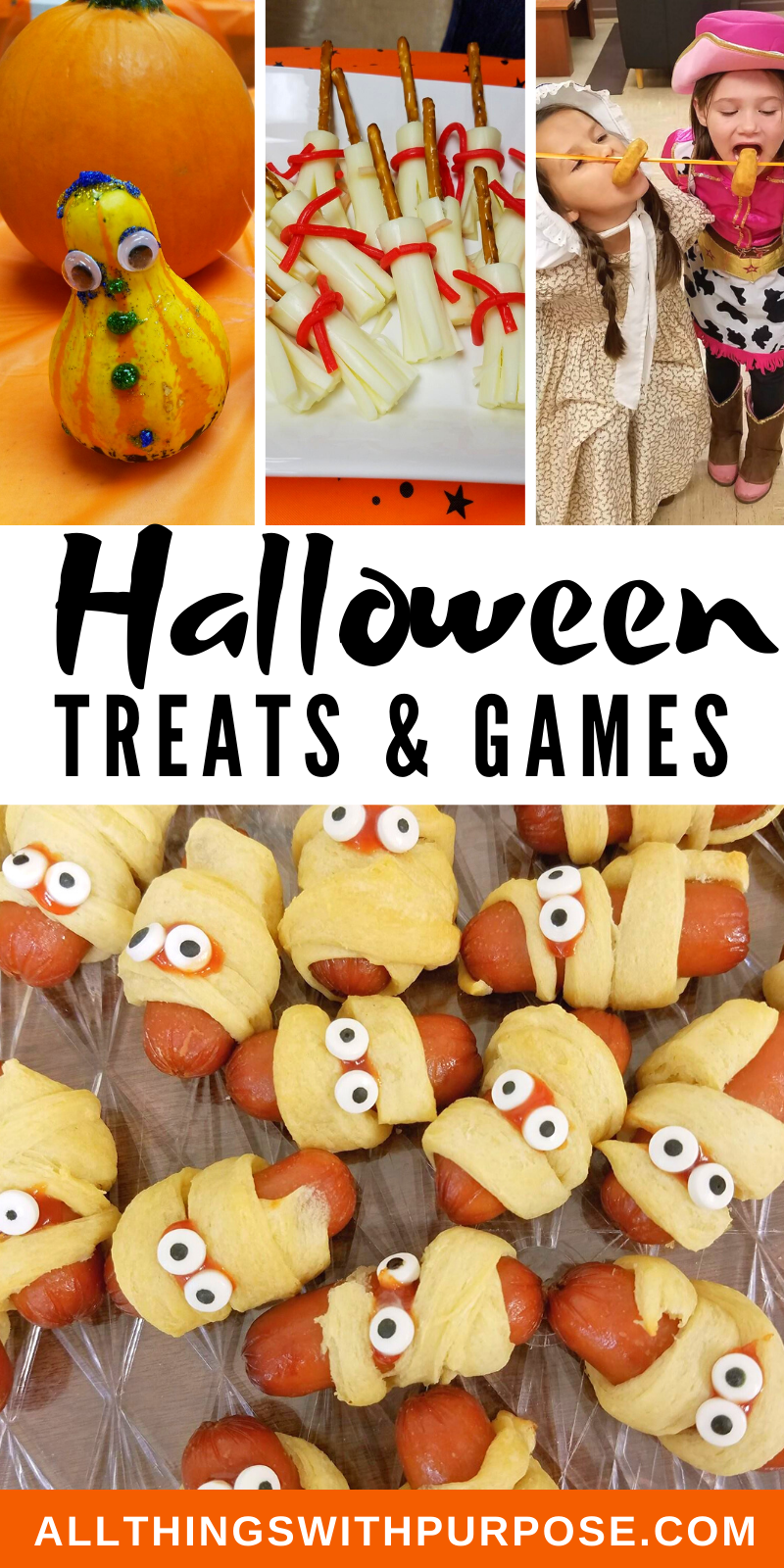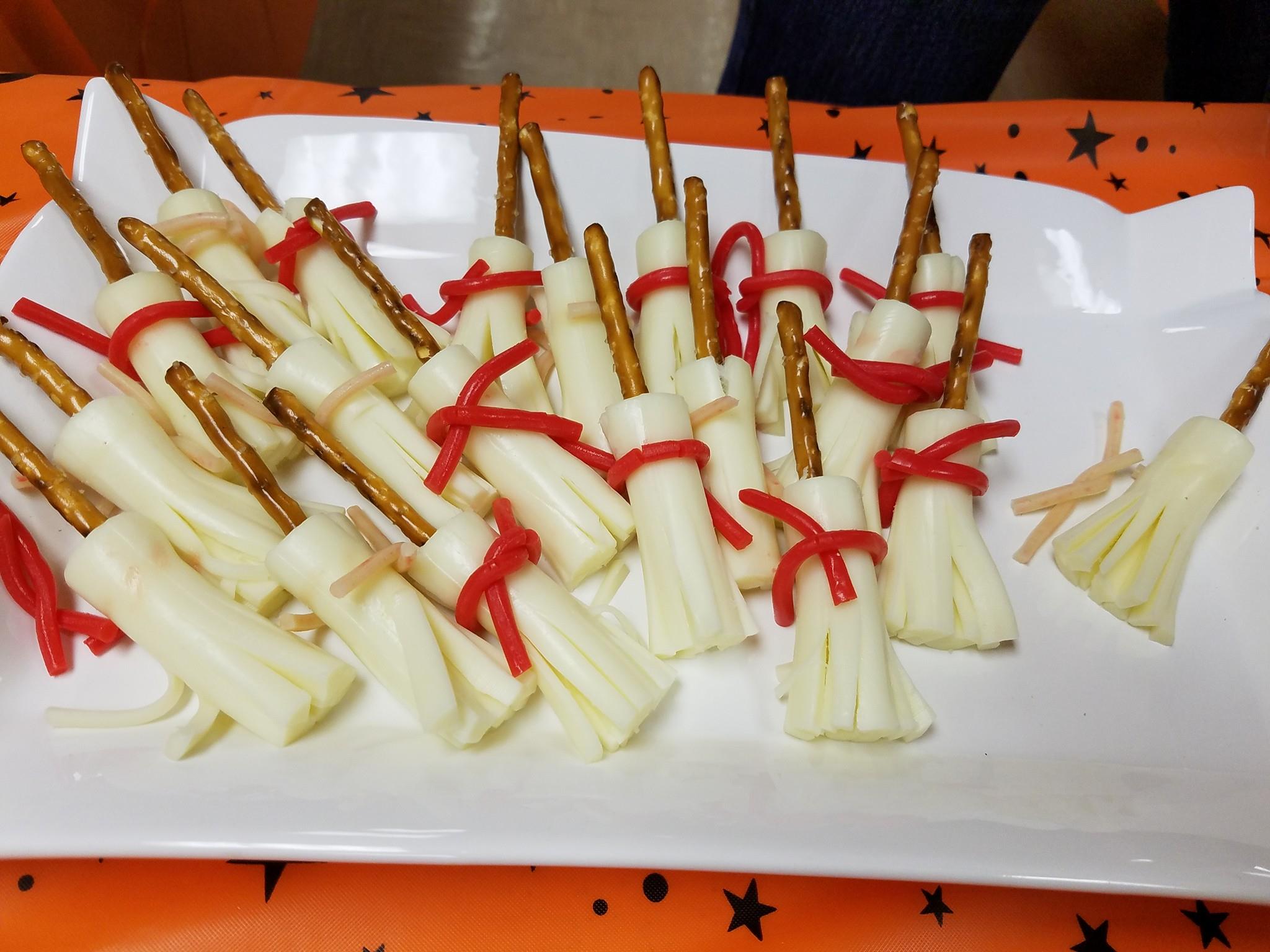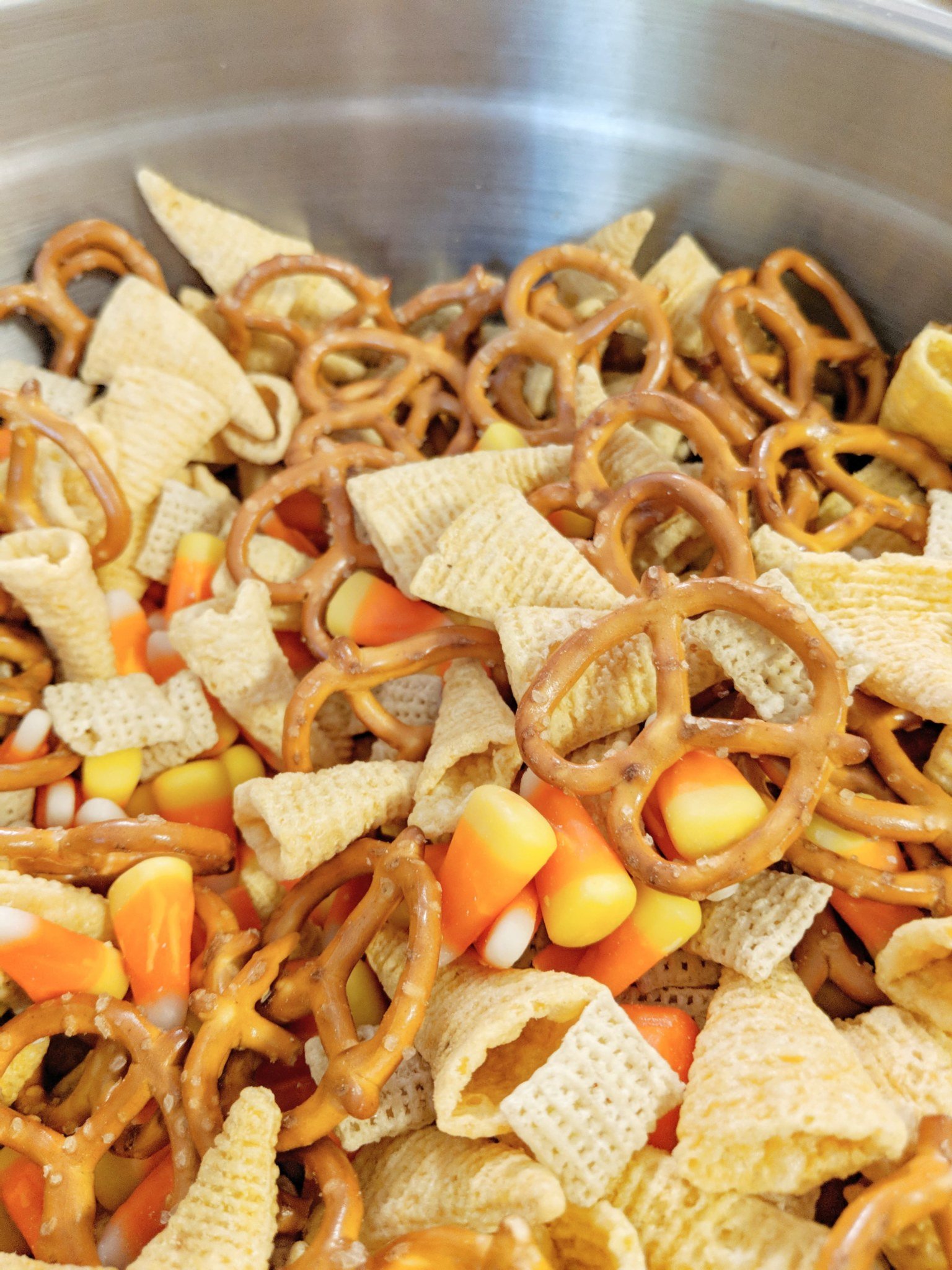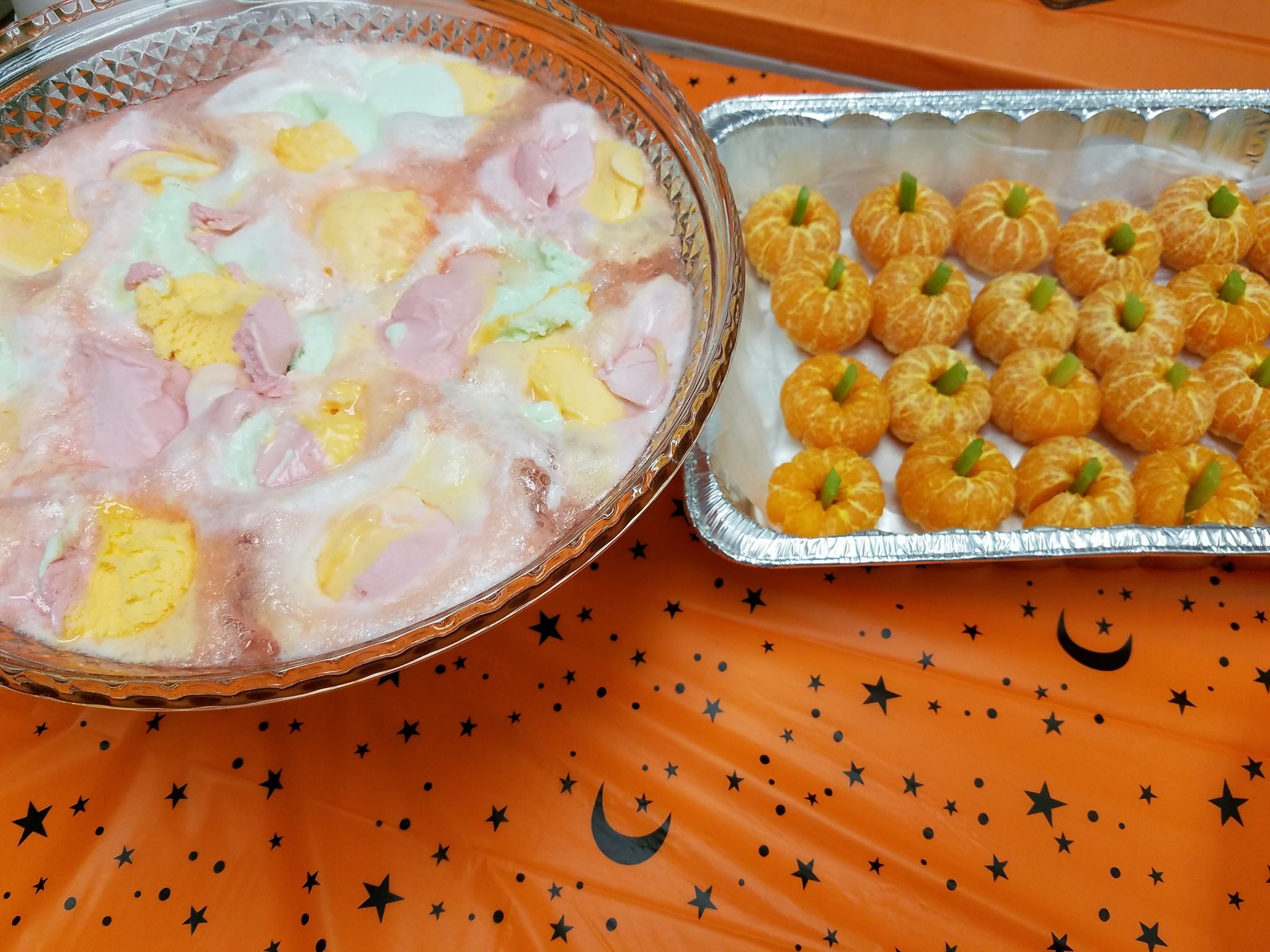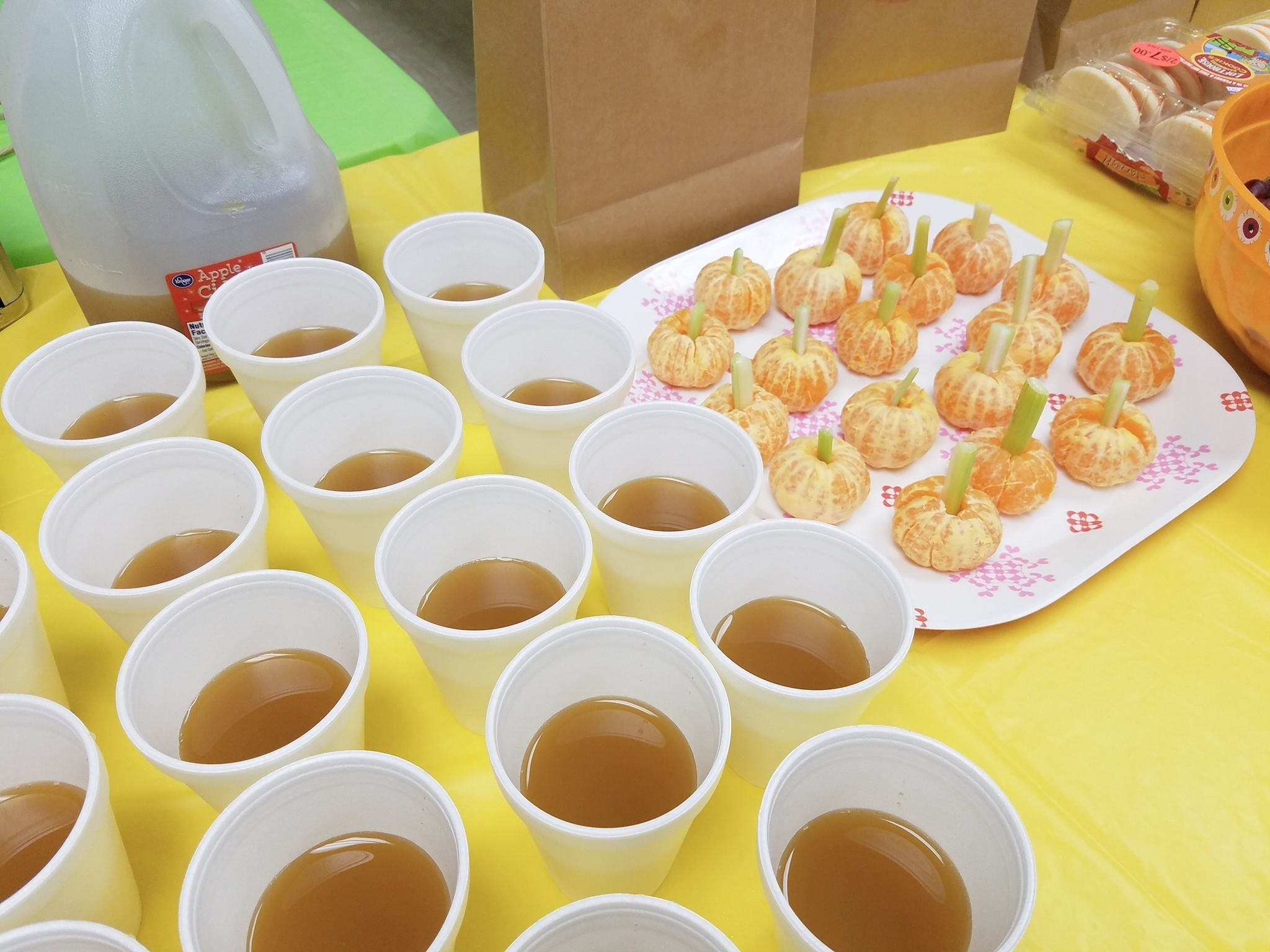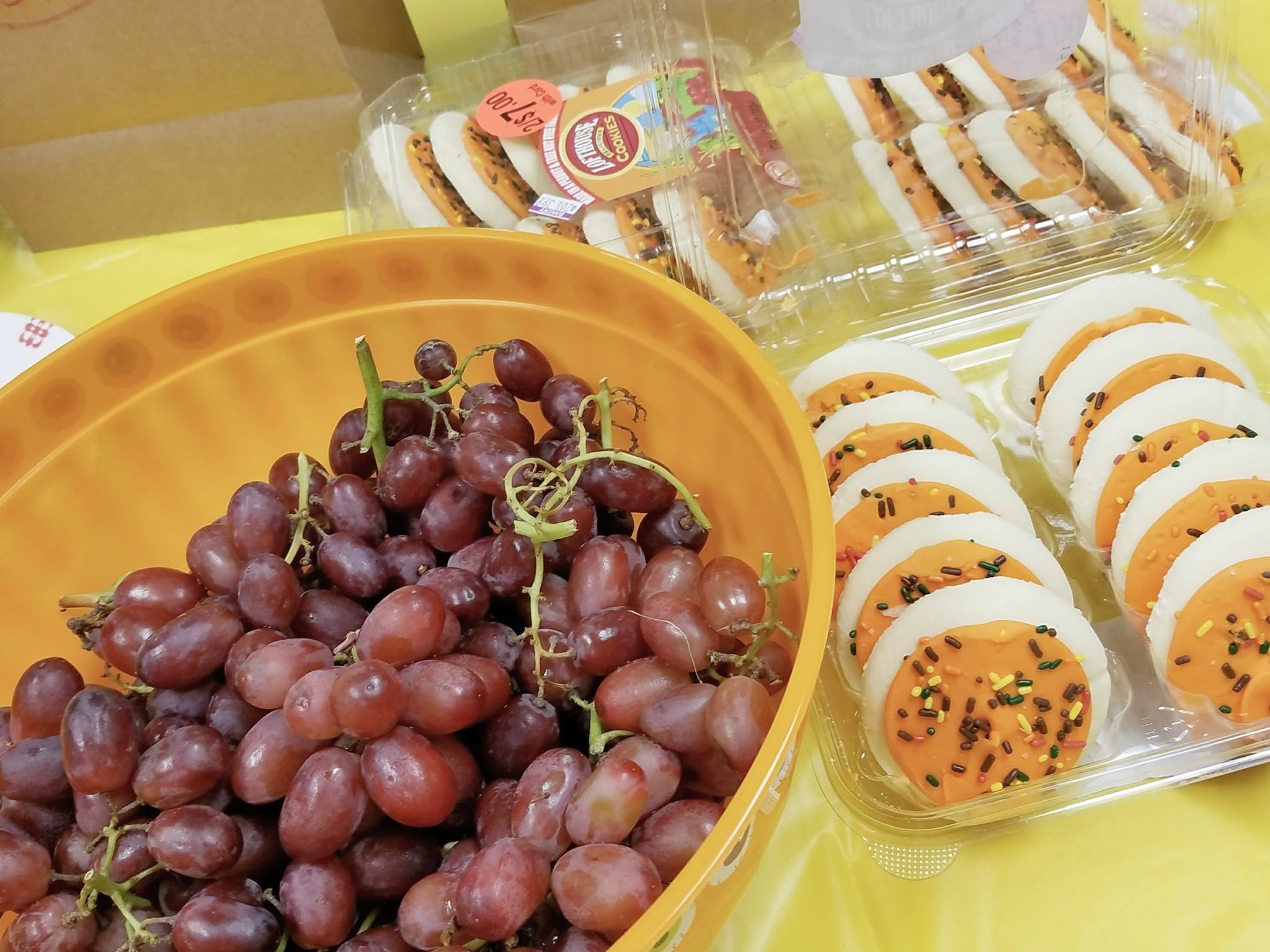 Games
Here are some easy games that are great for all ages:
Donut on a String

This sounds a little gross, but it's probably my kid's favorite game! Tie a donut to a string and hang it or stretch a line across a room like a clothes line. Each kid has to keep their hands behind their back and be the first to eat the entire donut without it falling off the string!

TP Mummy

Break into teams and set the timer. The team who can successfully transform one of their players into a mummy, using only toilet paper, wins!

Pumpkin Bowling

Using small, round pie pumpkins as your ball and soda bottles full of water as your pins, go bowling!

Bobbing for Apples

An old game, but always fun!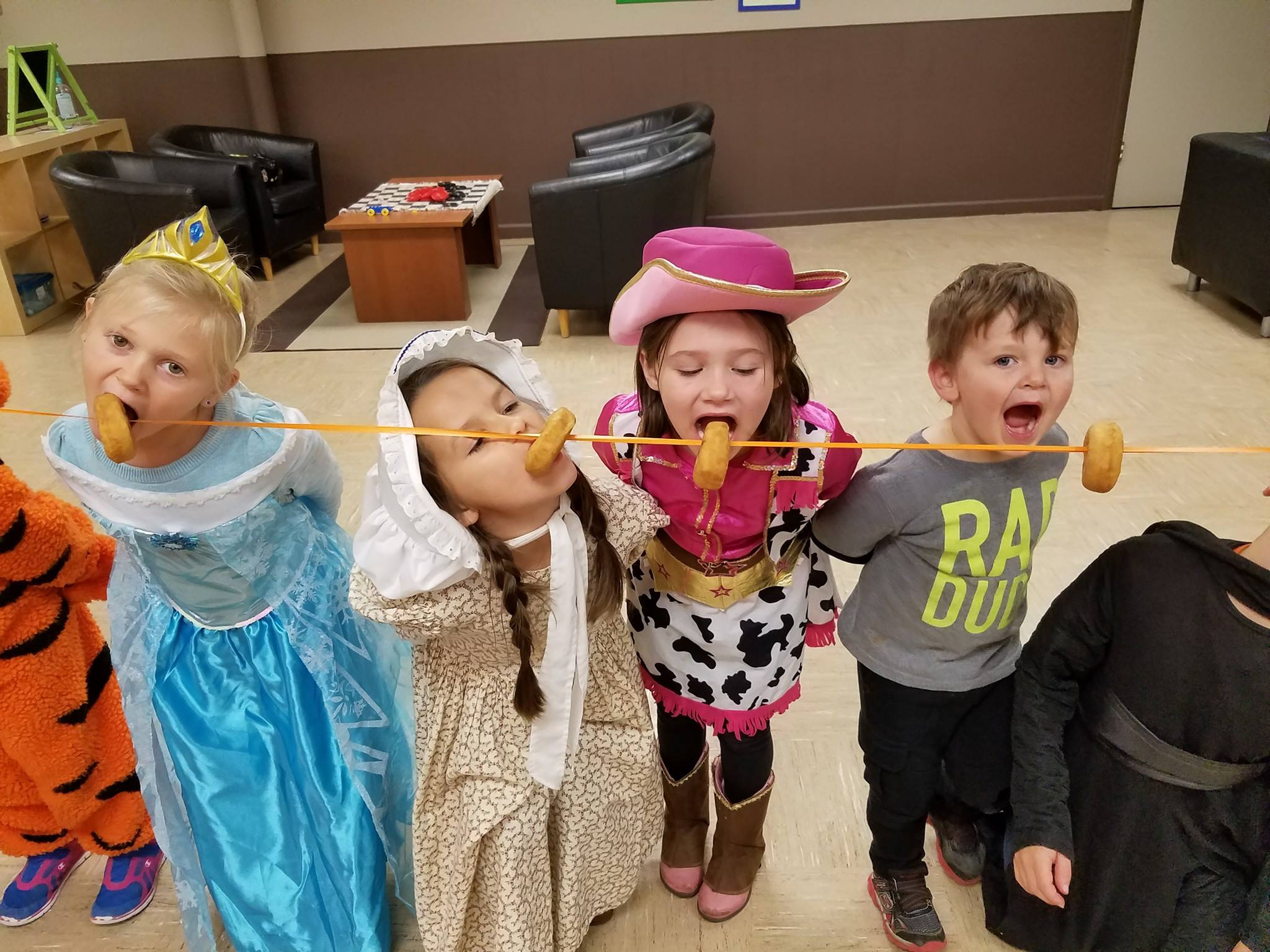 Crafts
Fun crafts using simple supplies.
Gourd Creatures

Using funny shaped gourds, transform them into crazy creatures using googly eyes, feathers, paint and glitter.

Pumpkin Painting

Provide small, pie pumpkins and washable paint

Pressed Leaves or Leaf Puppets

Using leaves, contact paper and Popsicle sticks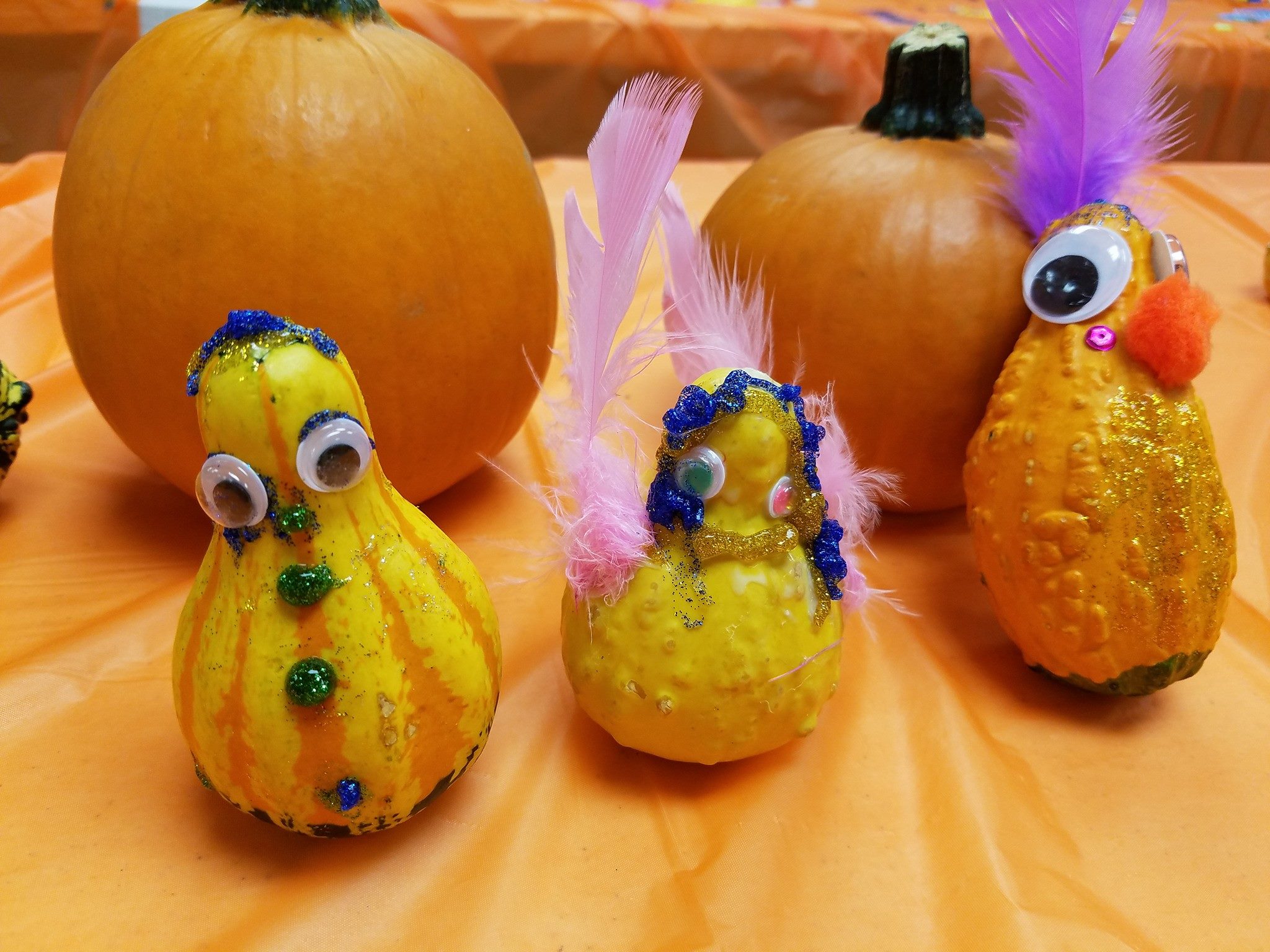 Pin-It for Later!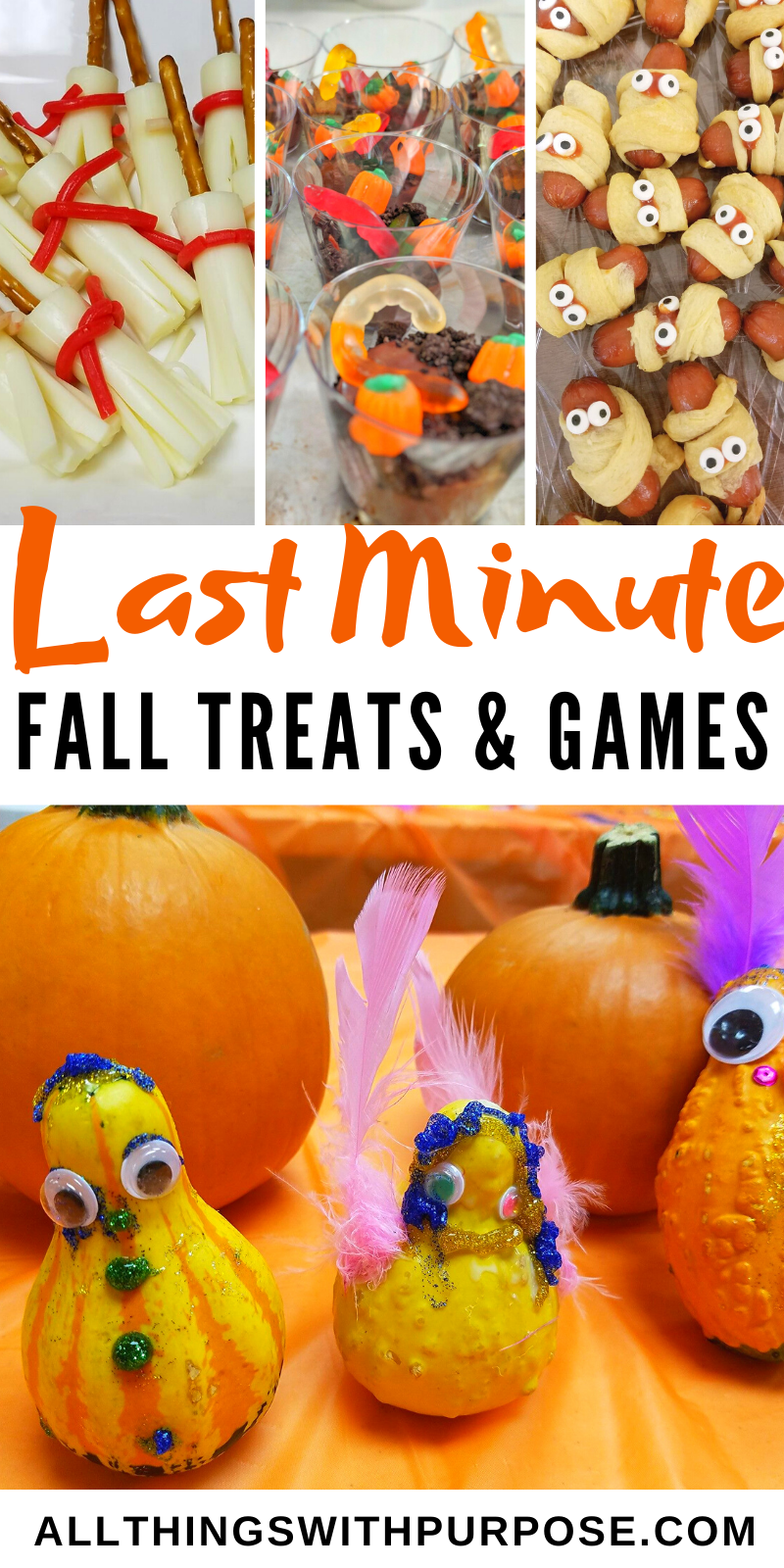 You Might Also Like…