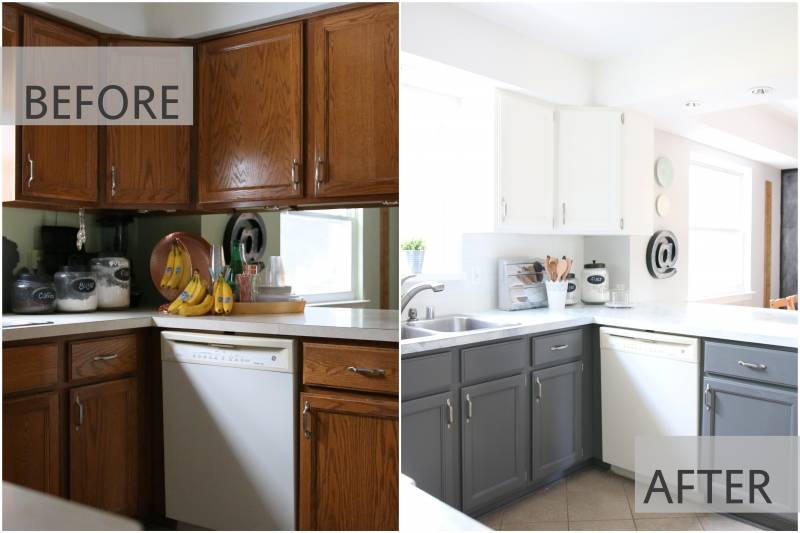 Budget Kitchen Makeover
I am SO excited to finally share the before and after shots of my Fixer Upper inspired kitchen redo!! I've been channeling my inner Joanna Gaines, tearing down walls, and installing shiplap like mad. Can you say "major improvement??!!" Can you believe the contrast from dark and dreary to light and bright? I am just smitten. And here's the real clincher; I did all this for about $300!!!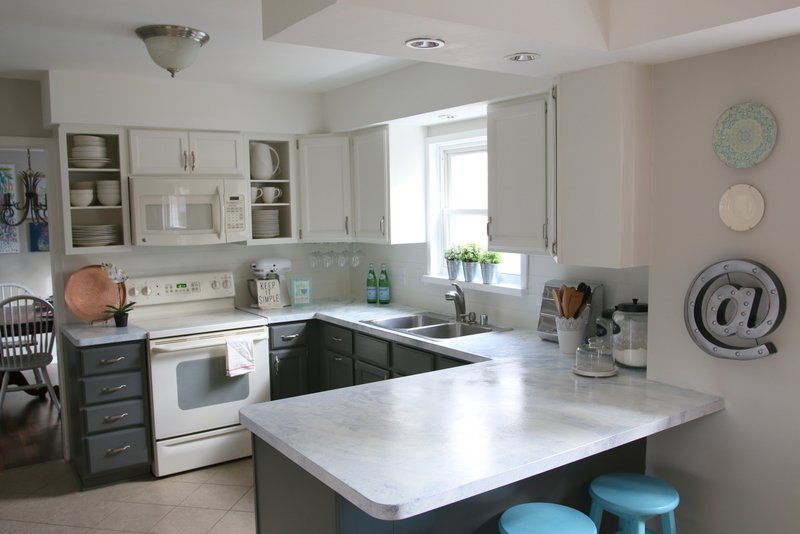 The Plan
I have been anxious to start on this project for years. I've dreamed and planned and pinterested up a storm. Now, after 2 weeks of non-stop painting, sanding, and faux marbling – I am ready to take a painting hiatus for a couple of years!
Did you catch my original post about achieving the "Fixer Upper" inspired look? You may want to check it out: HERE
Here's what I did
A summary of the steps I took:
Removed the upper cabinets from above the bar area
Removed the doors on two uppers around the stove
Primed everything using Stix Primer
Installed a faux shiplap backsplash using peel and stick vinyl floor planks
Removed the bi-fold doors to the pantry and all the shelves
Hung the upper cabinet (that was above the bar) in the old pantry
Bought a used lower cabinet at the Habitat for Humanity ReStore for in the pantry
Used 2×6 boards to create a faux butcher's block counter in the pantry turned coffee bar
Painted the upper cabinets with Benjamin Moore Advanced paint in Dove White
Lower cabinets painted with Benjamin Moore Advanced paint in Kendall Charcoal
Painted the walls with Glidden paint in Smooth Stone
Created a faux marble finish on the countertops using Stix primer, Glidden flat white paint, and charcoal craft paint, and a Giani brand Top Coat
Installed recessed lighting in bulkheads
New switch plate covers
Installed a new trash can inside a cabinet
Clean and organized, decluttered and downsized!!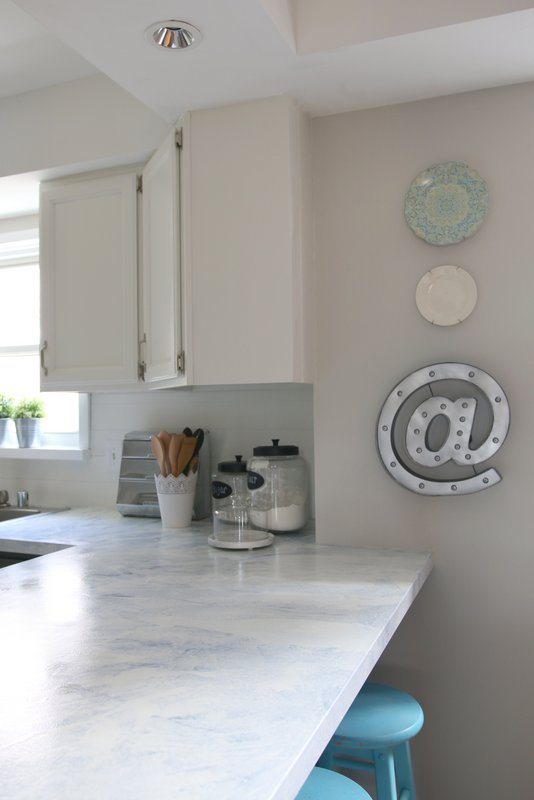 Price Breakdown of Major Improvements
Here's the cost involved in this project:
Stix Primer – $50
Benjamin Moore Advanced Paint for Cabinets – $100
Top Coat for Countertops – $25
Glidden Wall Paint – $25
Peel 'n Stick Vinyl Flooring (for backsplash) – $20
Used Lower Cabinet – $20
Recessed Lighting – $60
2 4X6 Wood Planks – $8
Things I Already Had:
All the tools needed
I updated the hardware on the cabinets a few years ago and spent about $40 on the value packs from Home Depot
The Glidden wall paint and colors I used on the countertops
Ceiling paint and black craft paint for countertops
Sandpaper
I updated the flooring a few years ago using groutable vinyl tile
Things I Almost Did, Then Didn't:
I was able to add a little shiplap into my life for about $20 and I really wanted to use SUBWAY TILE somewhere. Having purchased metal peel and stick subway tile from Menards, I was prepared to use them on my coffee bar area when I decided it just wasn't worth it. I couldn't justify the price for a spot that was almost completely covered by coffee pots!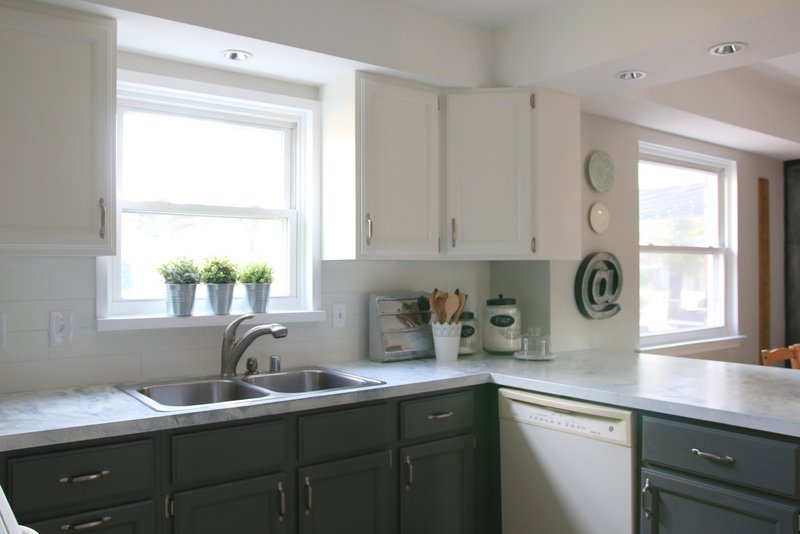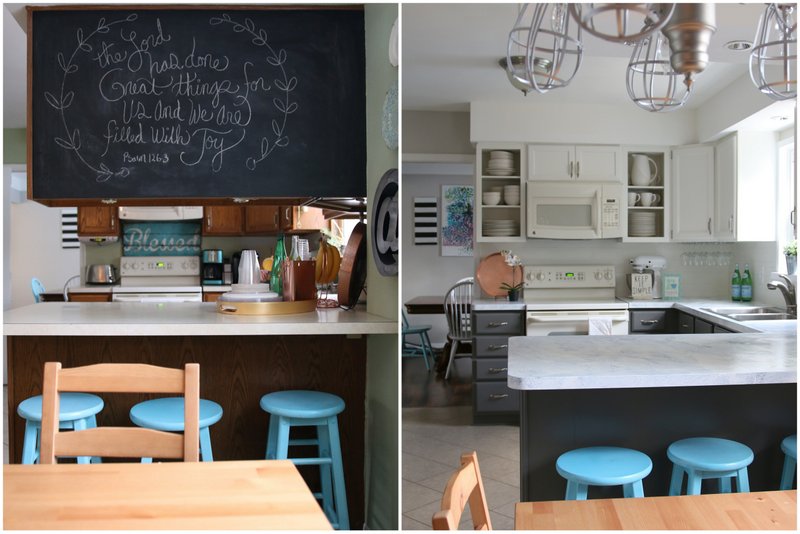 Supply List and Paint Colors
Here's what you'll need:

NEXT UP IN THIS SERIES…
Here are the next things on my to-do list:
Convert a Pantry to a Coffee Bar
Paint Cabinets without Sanding
Custom Cabinet Upgrades and Organization on a Budget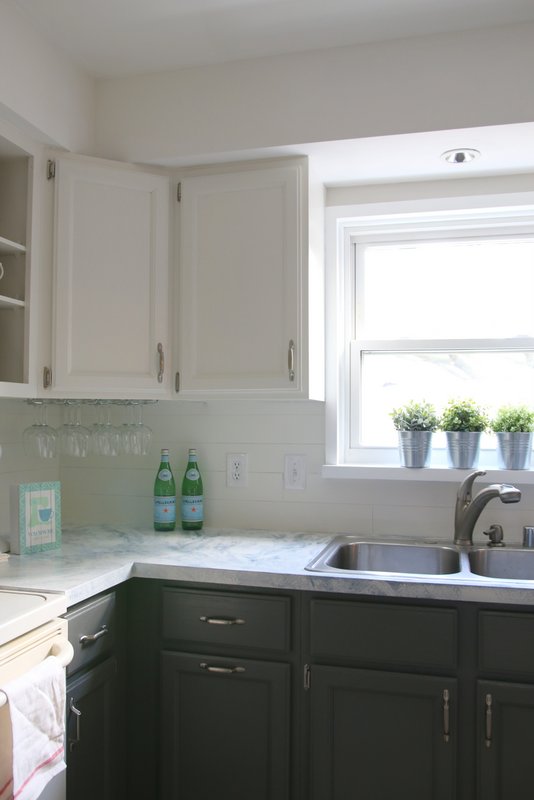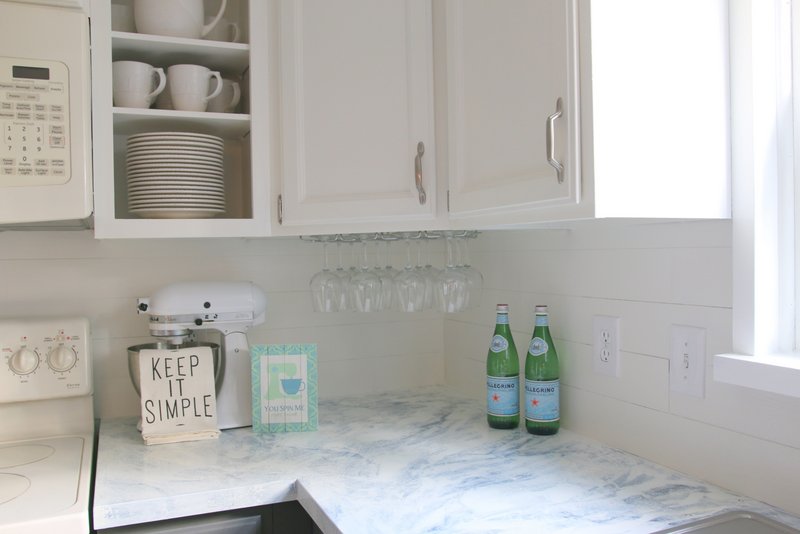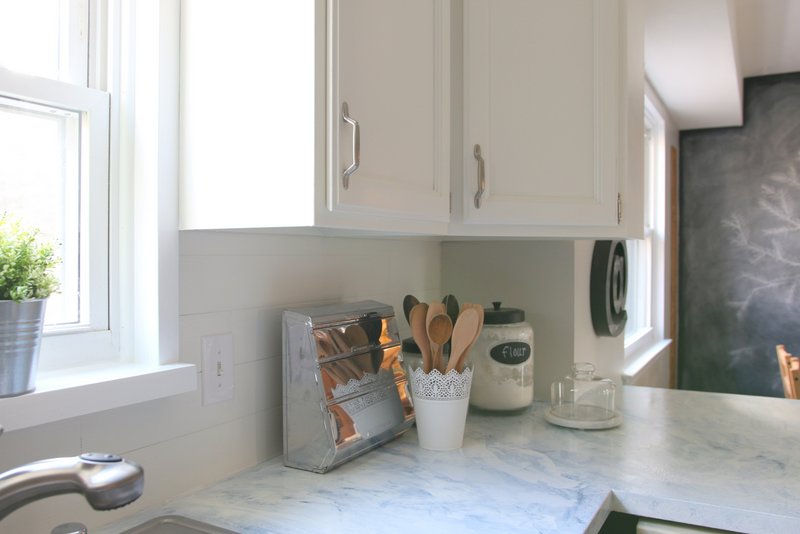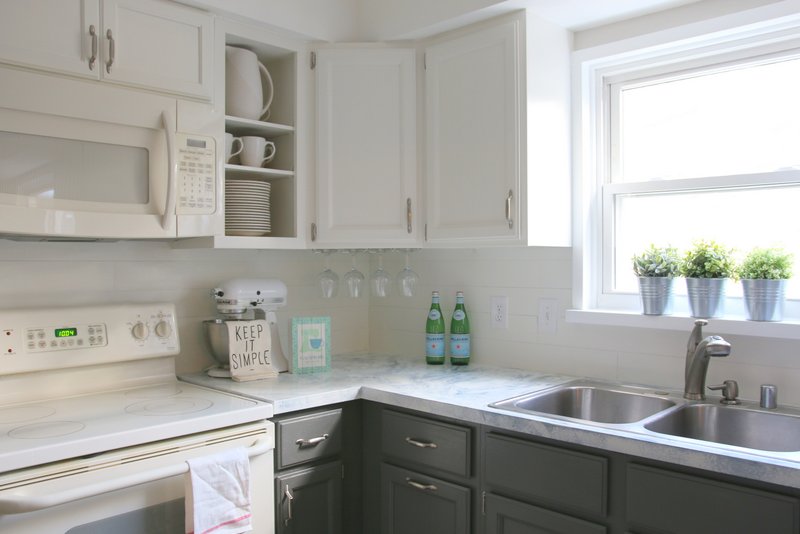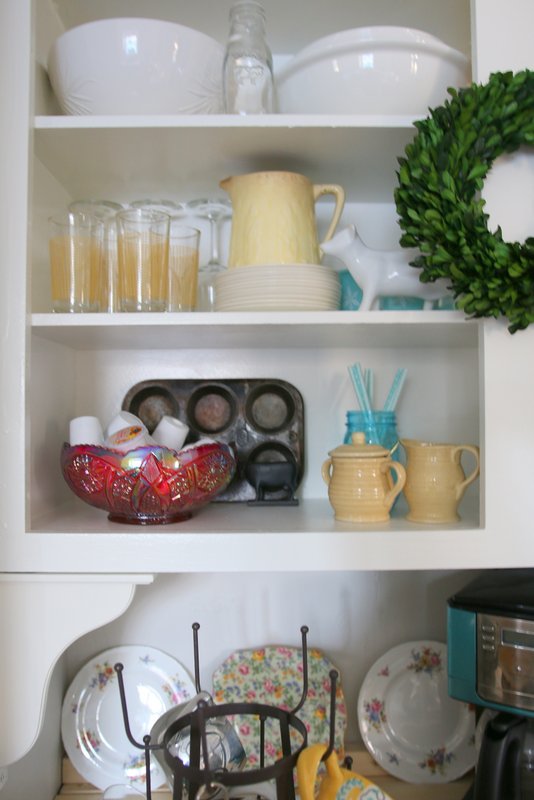 I'm so excited about this coffee bar area! The base cabinet was $20 from the Habitat for Humanity ReStore, the upper was repurposed from another part of the kitchen. I used 4×6 planks to create a faux butcher block counter. THIS IS NOT DONE! It's one major thing I have yet to finish. It still needs to be sealed and polyurethaned. But it was close enough to take a few pictures!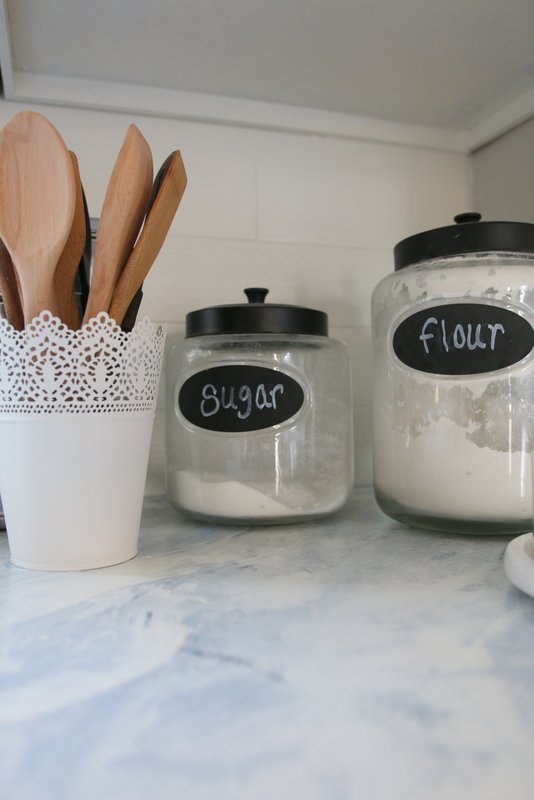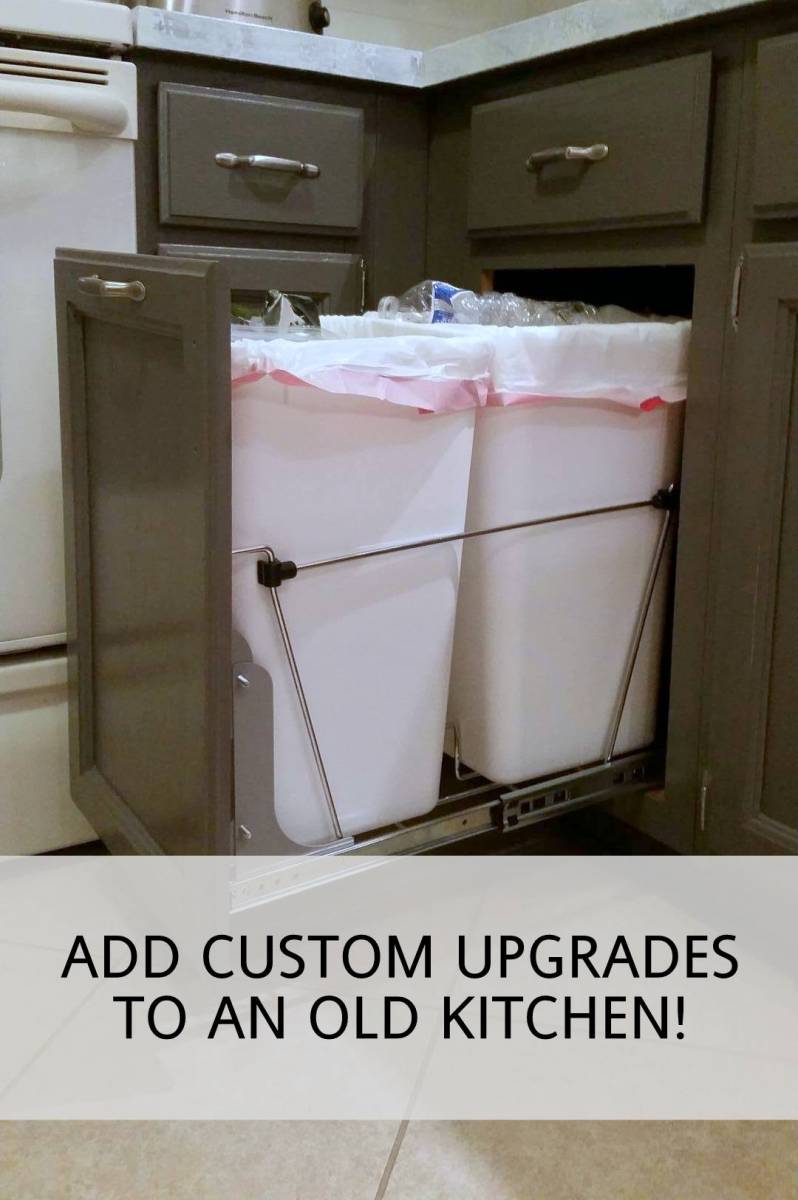 One issue that had to be tackled after demolishing the pantry and turning it into a coffee bar, was where to store the trash can! I am so excited about this kit I found which turned an annoying corner cabinet into a useful and custom-feeling feature! Find a kit like this here: Rev-A-Shelf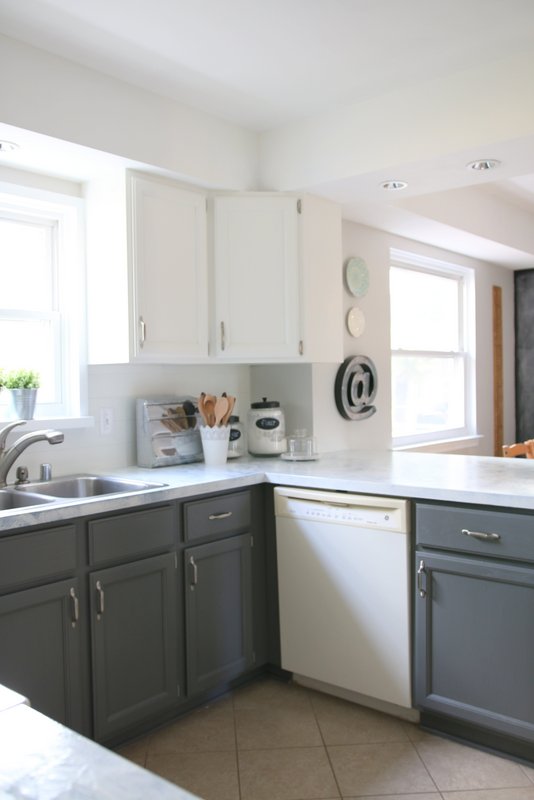 Here's a BEFORE of the Pantry!!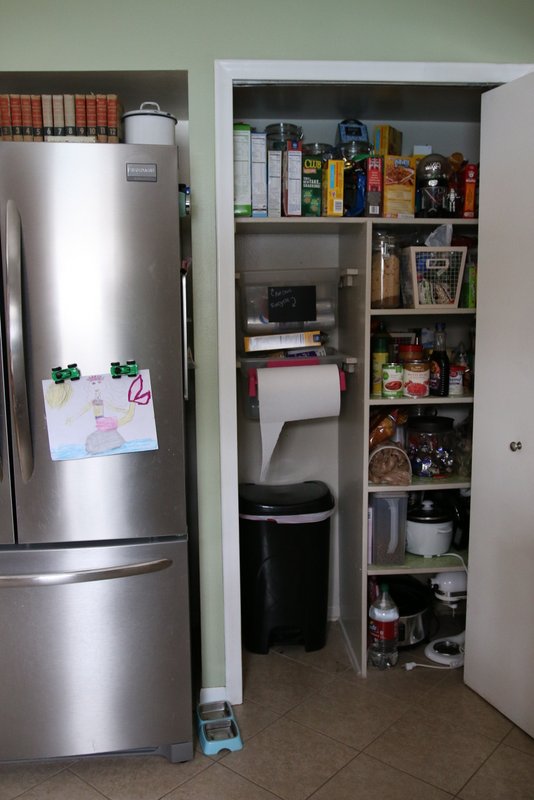 And NOW…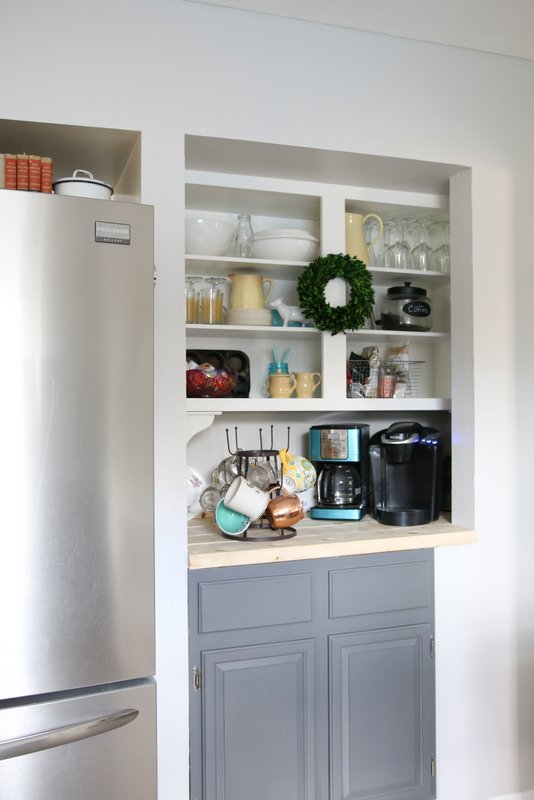 Thanks for stopping by to tour my new kitchen!
Stay tuned for the next post in this series. I'll be sharing a video tutorial on the
countertop painting, all the details on cabinets and more!!