We attended a special media night at the Detroit Opera House and were provided with tickets.
All opinions expressed here are our own!


My Experience at the Detroit Opera House
Experiencing "The Phantom of the Opera" in Detroit for the first time was really cool! I already knew a bit of what would happen because I have seen the movie version. In my opinion though, seeing it live on Broadway was (and still is) way better.
The actors were amazing, and the set looks so realistic. The lighting and special effects were cool too. I had to look away a couple times because the flames were so bright! The scene where the chandelier falls from the ceiling was very cool, but it made me jump out of my seat!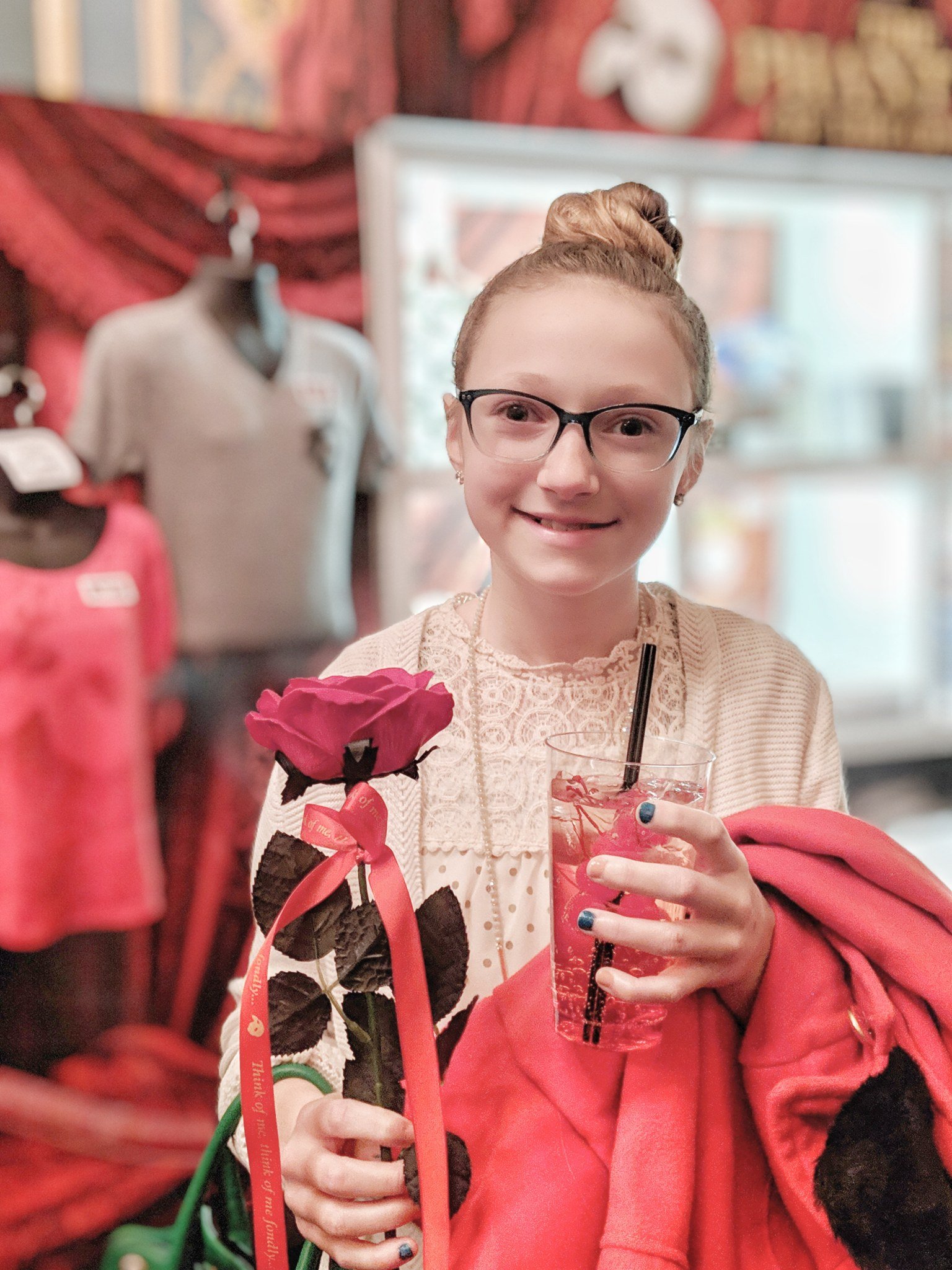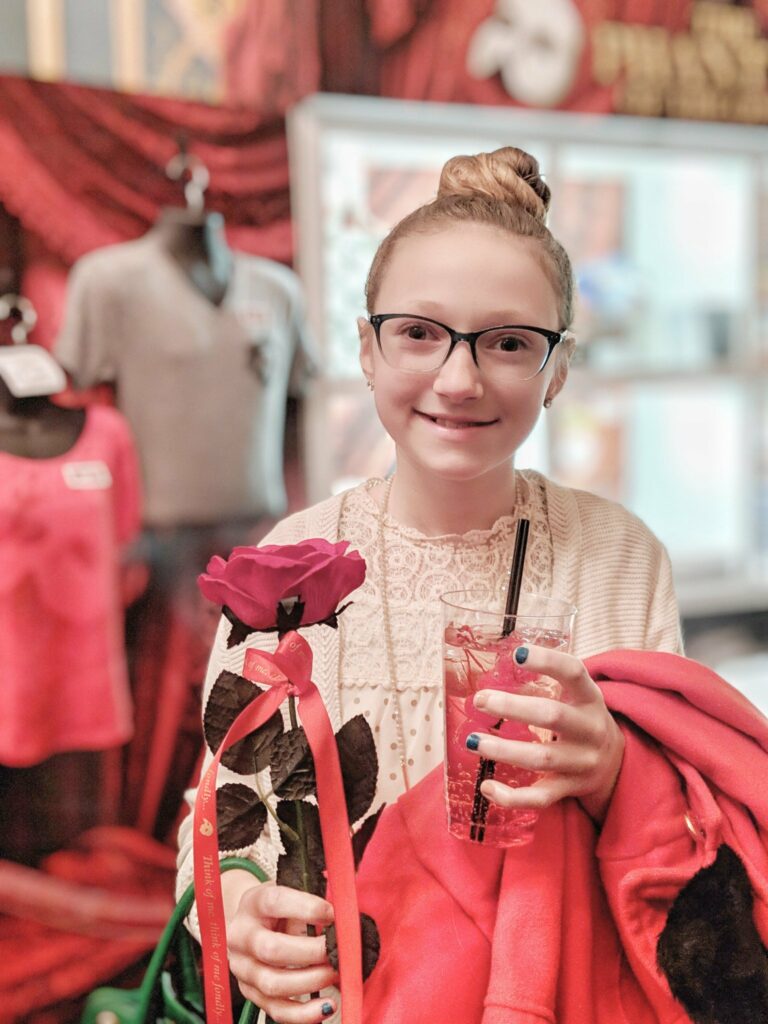 This was only the second Broadway show I have been to in my whole entire life! The first show I saw was, "Mary Poppins" in New York. I saw that when I was super-duper young.
TIP: One thing I learned is, don't drink so much that you have to go to the restroom during the performance! That's something I didn't want to have to do, but ended up needing to do. The Detroit Opera House allows beverages and snacks to be brought into the theater, so pace yourself! Side note, the Shirley Temples are really good!

A Few Things I Learned
Here are a couple other things to expect:
One thing I learned was that some people get dressed up and other people get really dressed up! There were some people there in fancy gowns.
Another thing I learned was that, people take enjoying-Broadway-shows-without any-distractions seriously (especially, the people in fancy gowns and tuxedos)!
If are late arriving, they will make you wait outside the auditorium until the end of an act. If you are late you will miss the whole first act!
Choose your snack wisely; the almonds were delicious but very loud and crunchy to eat!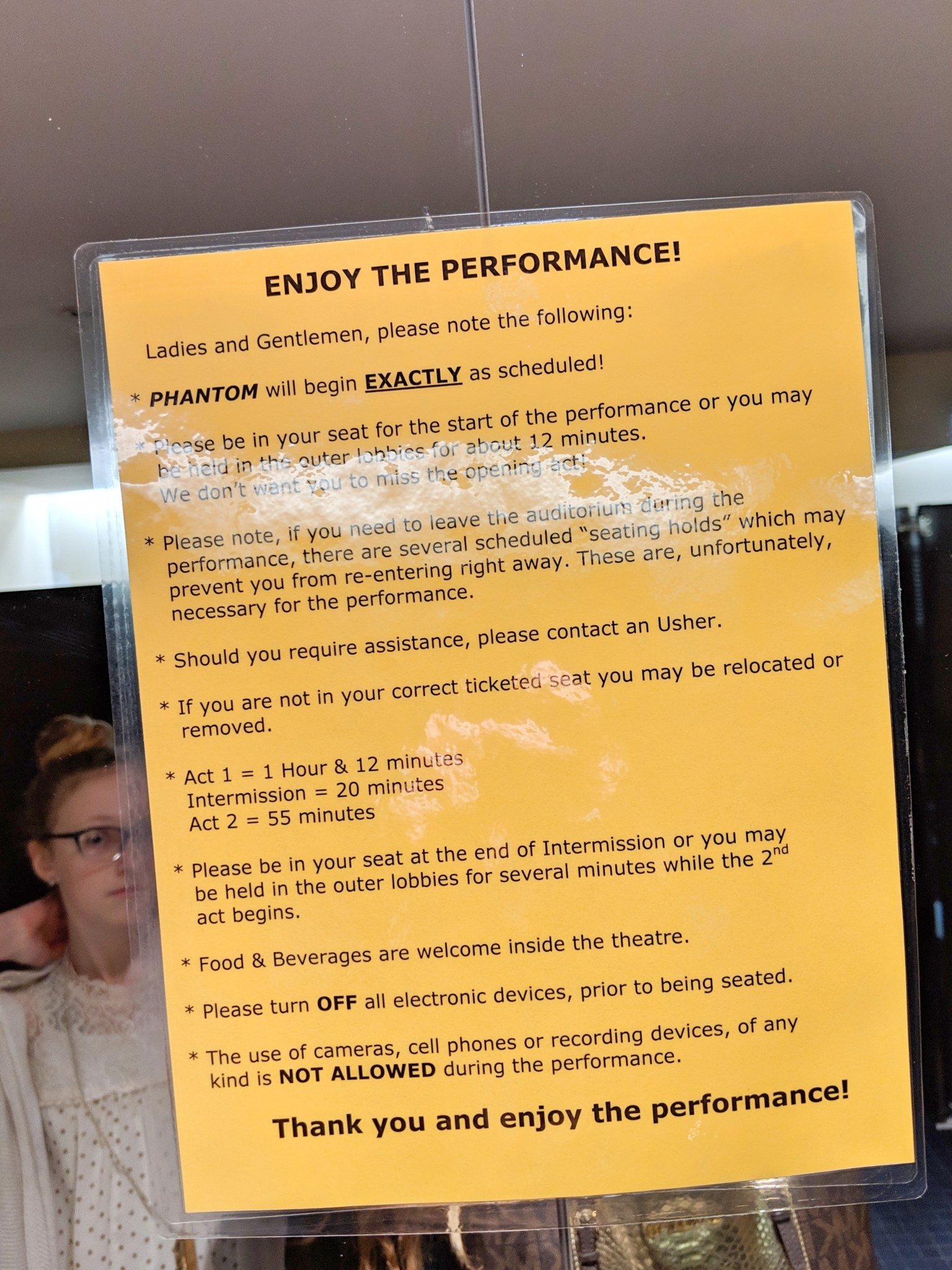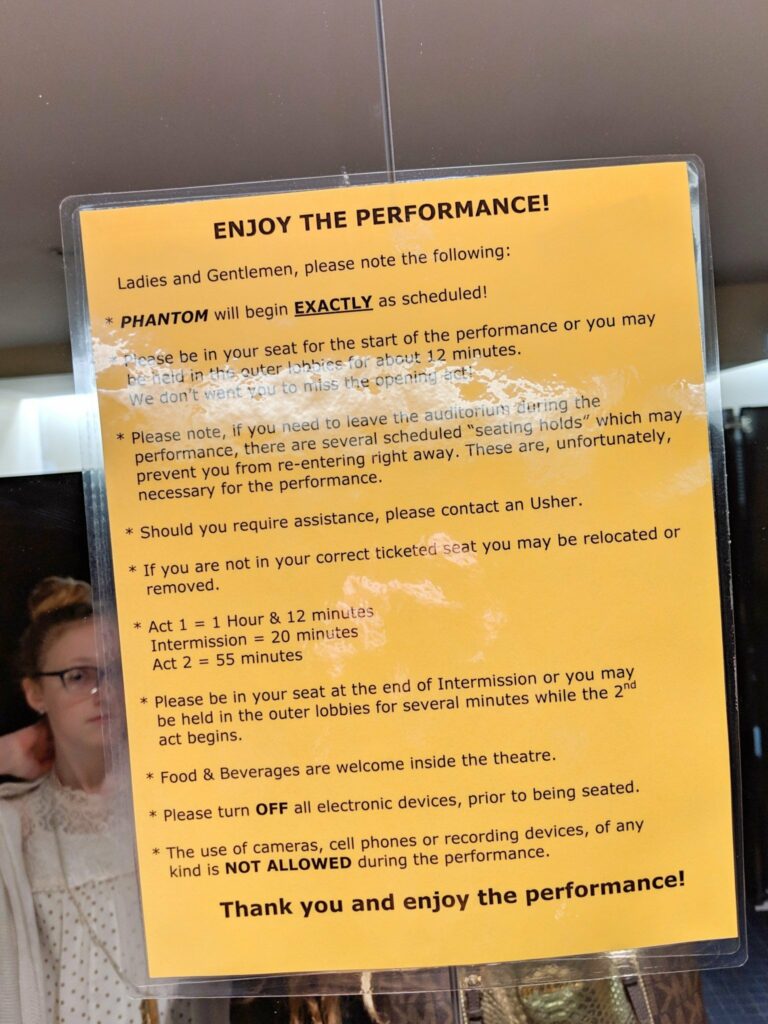 My Family…
My Dad grew up in New Jersey (40 minutes from New York), so he has seen "The Phantom of the Opera" more than anyone else in my family.
My brother, Taylor, has only watched half of the movie (because he was somewhere else), but he has made a "Phantom of the Opera" costume (he's obsessed).
My other sisters, Olivia and Carissa, have seen the movie.
My Mom (who went with me), has seen both the movie, and the Broadway show a few times.
And finally, there's my little brother, Asher, who doesn't know what it is yet.
My experience at "The Phantom of the Opera" was amazing. I hope to maybe see it again! My Mom was even thinking of taking me to see another Broadway show at some point!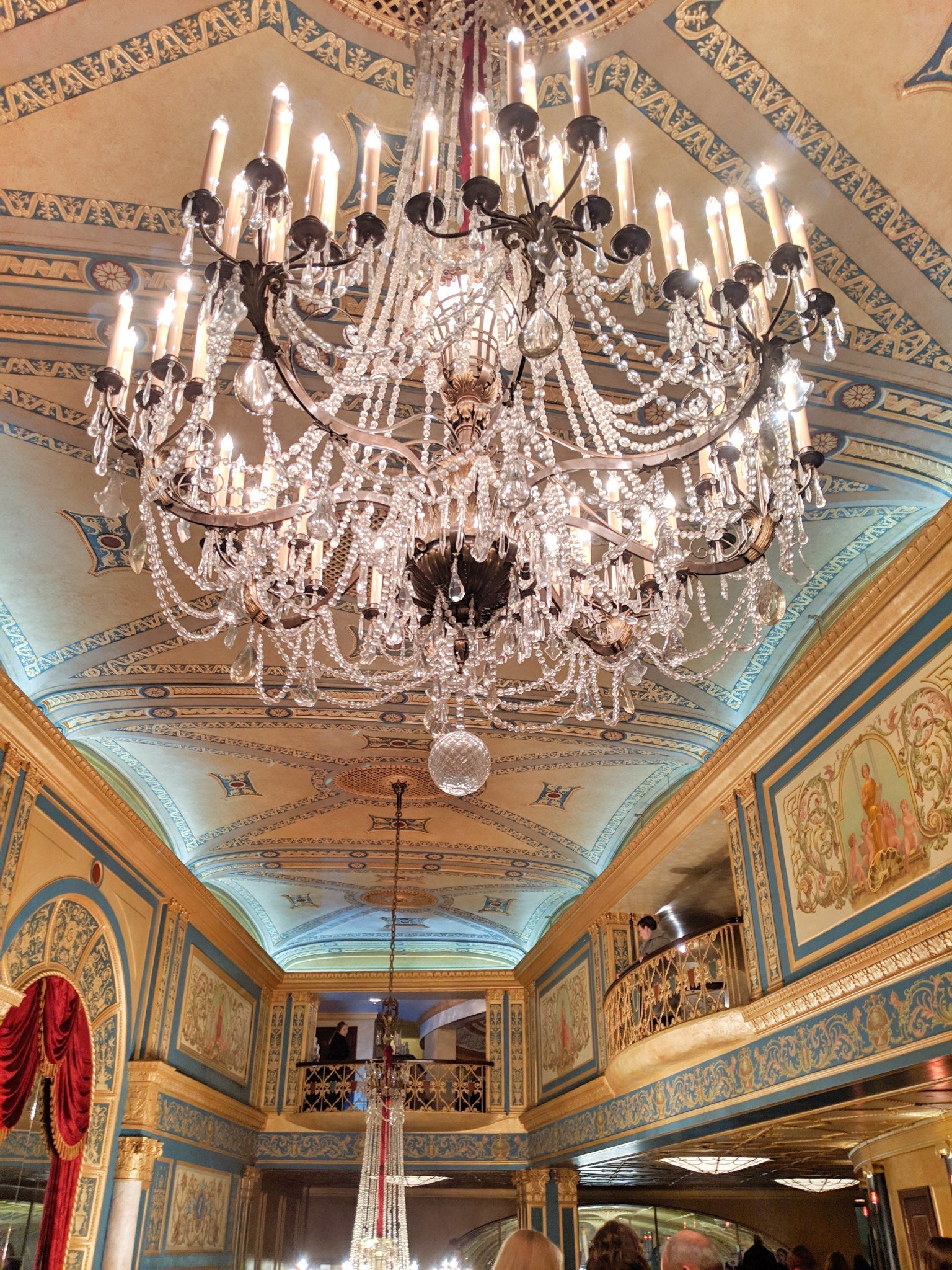 PERFORMANCE TIMES
Performance times for THE PHANTOM OF THE OPERA appearing January 24 – February 3, 2019 at the Detroit Opera House, located at 1526 Broadway, in Detroit are:
• Tuesday through Saturday evening performances at 8:00 p.m.
• Sunday evening performances at 7:30 p.m.
• Saturday & Sunday matinees at 2:00 p.m.
• Thursday. January 24 matinee at 1:00 p.m.
• Special open captioned performance on Sunday, January 27 at 7:30 p.m.
TICKETS
Tickets for THE PHANTOM OF THE OPERA start at $35 (includes facility fee) and go on sale Sunday, October 14. Tickets can be purchased online at www.broadwayindetroit.com or www.ticketmaster.com, and by phone at 800-982-2787. Starting Monday, October 15, tickets will also be available for purchase at the Fisher Theatre and Detroit Opera House box offices. For group sales (12 or more) please email [email protected] or call 313-871-1132. Tickets for the open captioned performance may be purchased in person at the Fisher Theatre Box Office or by phone at 313-872-1000, ext. 0. Performance schedule, prices and cast are subject to change without notice.
Broadway In Detroit uses Ticketmaster as its sole, authorized ticketing agent. Individual tickets purchased from a ticket broker or "third party" ticket reseller involves risk and may not be authentic, sold at box office prices, or with correct performance and venue information. Broadway In Detroit box offices cannot reprint or replace lost or stolen tickets sold through a third party or ticket reseller. Broadway In Detroit is also unable to contact third party purchasers with pertinent updates or changes regarding performances.
MORE INFORMATION
For more information, please visit www.BroadwayInDetroit.com.
Follow Broadway In Detroit on Facebook (BroadwayInDetroit), Twitter @BroadwayDetroit and Instagram @Broadwayindetroit.