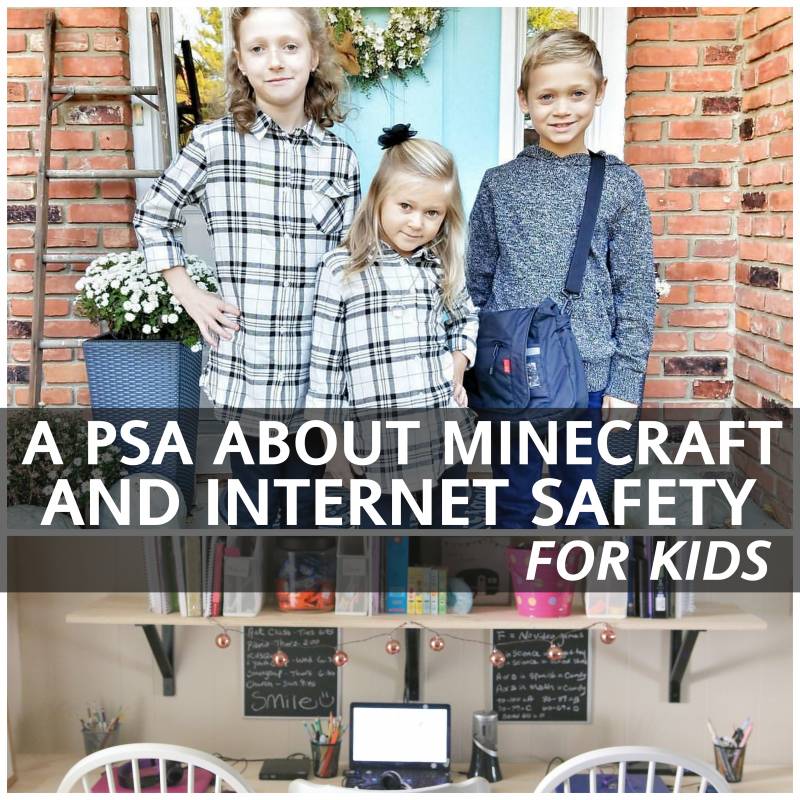 Hey everyone! I don't normally rant about stuff, but today, my news feed has been buzzing with shocked and horrified parents learning about the "Minecraft Sex Mod." If you haven't heard of this, google it. Or don't, just trust me.
Speaking from a parent who's kids love Minecraft, let me tell you, I'm not worried or upset in the slightest.
Does that shock you?
You see, my kids play Minecraft on their PC's, on the XBox and on the pocket edition of their phones. But, not a single one of their devices is connected to the internet (we've given them our old phones to play with and use for games, but we don't pay for cell service or connect them to the internet).
I thought it was common knowledge by now that the internet is a scary place for kids, but maybe it's not. Some good, well meaning, well intended people still don't get it. Please, please, please be aware of what your kids could be stumbling upon when connected to the internet. If your kids are playing Minecraft at home or on your private home network, then they are safe. But as soon as they connect with an online version of the game, sit down in front of YouTube to search for Minecraft videos, or are given access to download and install whatever games and apps they want, they're almost guaranteed to stumble upon something inappropriate that cannot be unseen.
In case you didn't know, anyone that's anyone can create their own Minecraft mod (or modification). Cool, normal people have made some pretty sweet mods. There's a unicorn mod, a Star Wars mod, etc. And hey, guess what? Sickos create mods too, and then they share videos of them on YouTube. These mods are not necessarily related or at all connected with the owners and original creators of Minecraft. They're just smart people that know how to code and create their own modifications to the game. In this case, the mod happens to include pixelated Minecraft dudes banging bikini-clad chicks in a nasty back room.
Don't get me wrong. I LOVE the internet. I love technology. As homeschoolers, we use technology a lot and rely on the internet for a number of helpful tools and resources. But you MUST be careful and proactive in guarding your kids from the dangers that lurk in unknown territory.
Here are some steps we have taken as a family to safeguard our kids:
No TV or Computers in kids rooms. Ever.
Computers that kids (and all of us for that matter) use are in public areas.
Handheld gaming devices and tablets are not connected to the internet. And if they ever are, it is only in our presence or with our approval and with all the following safeguards in place – we then disconnect them and hit "forget password" on the network.
Every single device we own, including mine and my husband's phones as well as the kids tablets have Accountable 2 You installed on them. This sends an alert to the designated person anytime something inappropriate has been searched for, typed, or viewed. Another good one is Covenant Eyes, but it's a little pricey.
YouTube child security settings are enabled, but not relied upon for 100% accuracy. It's just one piece to the puzzle, or one measure in the plan of defense. For good instructions go here or here
Google, web browser and PC settings have been adjusted for child security, but again, not relied upon for 100% accuracy.
Here is a good post about making your smartphone kid-safe: Smartphone Safety
I love everything blogger, Monica Swanson writes about internet safety, check out this post on social media and this post on porn.
We've talked as a family about the dangers of the internet, from predators to porn.
We've used tools like this book: Good Pictures, Bad Pictures Which talks about preparing your kids for when they DO see inappropriate stuff.
And this one: God Made All of Me
Right now, our kids only go on the internet from their PC's to use approved sites. These sites have shortcuts or bookmarks to them and include pbskids.org starfall.com americangirl.com and disneyjunior.com Any other sites are only used with one of us monitoring them.
When handing your own phone over to your kid, use an app like Zoodles Kids Mode that locks them into only approved apps and blocks web browsing and in-app purchases.
We filter all movies, shows and games our kids see and frequently check Plugged In for reviews before going to see a movie.
Using a service like VidAngel is a great tool for filtering out inappropriate content in movies!
Try Disney's Circle which is an easy way to manage and filter every device on your home network!
Yea, it seems like a lot… but we believe it's worth it. Our kids are all under the age of 10, and I know we will be adapting some of these rules and perhaps creating new ones as they get older. Our kids live in a much different world from the one we grew up in. Do you still remember channels going off the air at certain hours of the night and dial-up internet connections? Our kids have so much more and easier access to the world, and the world has easier access to them. My main concern here is to protect my kids from the sick individuals seeking to harm them, and to guard their hearts from images that will forever change the way they view relationships, interact with one another and treat their future spouse.
We're not talking about being psycho, over protective parents, intent on sheltering our kids from all things evil and bad about the world. I'm talking about teaching our kids about the bad stuff that's out there and equipping them with the wisdom to filter out what is harmful. Studies have proven, pornography is literally damaging to the individual on so many levels. It is just plain careless, to leave the door open to such damaging images and videos, for our toddlers, elementary and high school age kids to stumble upon.
We're in this together!