This trailer was renovated by my brother and sister-in-law in New Jersey! They did an awesome job and I think this trailer will sell fast. Interested in purchasing? Follow the link to their Facebook Marketplace listing: Fleetwood Mallard
2000 Fleetwood Mallard Travel Trailer
UPDATE: THIS TRAILER HAS SOLD
$9,200
Gorgeous, completely renovated camper, immediately ready for your next trip. Stuck in quarantine? Homeschooling your kids this fall? Get on the road with this beauty.
Gross Vehicle Weight Rating: 6,200 lb
Gross Axle Weight Rating: 2,800 lb
Unloaded Dry Weight: 4,321 lb
Check out the Facebook Marketplace listing here:
Fleetwood Mallard
– Everything works well and is ready to go.
– Sleeps 5-6 comfortably, depending on the size of your little ones.
– Master bedroom with full mattress.
– Dinette that converts to a small bed for 1-2 kids or 1 teen/adult.
– Sturdy bunk beds in the back.
– All new bedding (never slept in).
– Refrigerator with top freezer.
– Full bathroom, toilet, shower/bath, sink.
– All new faucets in kitchen, bathroom, and shower.
– All plumbing converted to Pex.
– 3 burner propane stove.
– Air conditioning with multiple ceiling vents.
– Heat and hot water.
– New wood (synthetic and waterproof) floor in the entire camper.
– Brand new wood dinette table with new removable pedestals to lower into a bed.
– Dual ceiling speakers with radio and aux input for mobile/tablet to play music.
– Stripped and painted just about everything.
– New master bedroom wall coverings.
– Dual purpose, swivel mounted TV for use in master bedroom and dinette/kitchen/bed.
– All 4 brand new tires.
– 1 axle is brand new, the other was recently checked and lubed.
– Re-caulked and re-sealed every seam, including the roof edging and all vents, cutouts, air conditioner, etc.
– Awning "works", but is a bit worn.
Comes with utility/extras too:
– Leveling jacks.
– Black water hose.
Check out the Facebook Marketplace listing here:
Fleetwood Mallard
Virtual Design Services Now Available!
Mike and Jamie used my virtual design services to renovate their camper. As a design client, I walk with you through your RV, talk about your style and what you're hoping to do. I create a mood board and share links where you can purchase your products online. I walk you through the entire project and answer any questions you might have along the way!
If you would like more details on this, find all the information on my design services page:
RV Design Services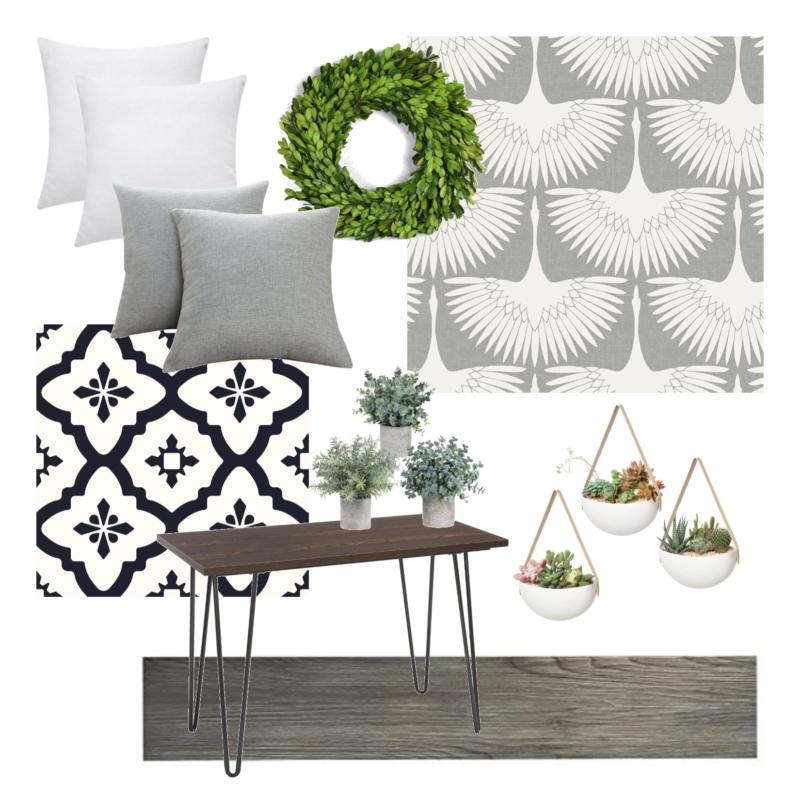 Use the slider below to see a before and after of this project!