We Visited Disney World During the Pandemic
We did it. We packed up our kids and visited Walt Disney World during the pandemic. [Insert nervous laughter] I wasn't sure if we would live to regret it, or if I'd be too embarrassed to even admit that we did. But here I am, openly sharing that we did it and that it was great! #judgementfreezone
I'm going to share why we felt safe and what extra measures our family took to add in extra safety on our trip.
I'm not necessarily advocating that it's for everyone right now, and I'm not intending to make a political statement here. I hope the information I have to share will help you in your own decision making. Please note, this is NOT a sponsored post and I was not #hosted by Disney for this particular trip! Everything I'm sharing with you is 100% my own opinion!

Some Background on Our Family
Like many people, we had been longing to get back to Disney World, but were torn about the timing. Having been there in February for the Creators Celebration right before everything shut down, we knew things would be different! Our family went into pretty serious lock-down early on, and have been labeled by many friends as "hardcore." I know everyone has differing opinions on this topic and different comfort levels in regards to masks and social distancing.
For some clarity, it might be helpful for you to note where we are coming from and what factors impacted our decision to go to Disney World during the pandemic.
For example, since March our family:
Has our groceries delivered about 95% of the time
Only goes into stores when absolutely necessary (and when we do, we leave the kids at home)
We do a mixture of homeschooing and virtual learning (at home 100% of the time)
Wears masks in public at all times
Attends outdoor church or virtual church at home
Does not eat inside at restaurants (we have only done outdoor dining)
Has only hung out with friends outside
Has really only attended outdoor activities where social distancing is enforced
Has traveled some, but only in our RV (where we have our own bathroom and food)
Has a season pass to Cedar Point but has not used it because we weren't convinced they would be great at enforcing safety rules
So, this is where we are coming from. We may be way too strict for some, and way too laid back for others, but this is where we are at. We take our national and local heath department's suggestions seriously, while still getting out and enjoying socially distanced activities. And oh yea, we went to Disney World.

Did We Feel Safe?
Before I go on, I thought I'd just get this question out of the way at the very beginning! Did we live to regret our trip or did we feel safe while at Disney World? Did we feel careless and irresponsible, or reassured and comforted by Disney's efforts to enforce the rules?
To answer the question, no, we did not regret our decision and yes, we felt very safe in the Disney bubble! We were very happy with the safety procedures we saw in place and the seamless way every cast member was enforcing them. As always, Disney has pulled together to create a plan and trained everyone to execute it with a smile.

Our Plan of Attack
Before heading to Florida, we had been studying rules, watching other bloggers share their experiences and forming a game plan. We convinced my sister to come along with her kids, since her husband is away on active duty. My sister and her kids have been part of our "Covid bubble." Meaning, we really don't hang out closely or go into anyone else's homes except hers and vice versa. Taking 10 kids to Disney World may sound like a nightmare to some people, but we were so excited to experience it with them!
Here's what we planned ahead of time to do, to give ourselves an extra level of comfort:
Camping: We drove our trailer down to Florida and used it exclusively for all over-night stays and bathroom breaks. We never had to use a public restroom on the way down or go inside anywhere to eat. We didn't stay at hotels on the way or while we were there. We camped the entire time at Disney's Fort Wilderness Campground, which we love! We packed almost all the food we would need while on the road and while there. This was a great level of extra comfort not to make contact with other people on the way down, not to use public facilities in multiple states and to give us open air and extra living space while we were there.
Eating: We packed most of our food and prepared the majority of our meals in the camper. For park days, we packed snacks, PB&J's, or ate at quick service outdoor restaurants only.
Transportation: We decided to drive our car to and from the parks and skip public transportation. Parking is free at the parks for resort guests, and it tends to be the fastest option. We did this almost every time with the exception of the day we went to the Magic Kingdom, when we took the ferry! The ferries all did an awesome job of spacing out groups, plus they are almost all completely open with lots of air flow. We road the skyliner one day just for fun, which currently seats parties in their own cabin where the air flow is also really nice.
Shopping and Rides: We planned ahead of time never to put ourselves in a position were we felt uncomfortable. We figured if we got there and felt like the crowds were too much and social distancing wasn't possible, we wouldn't do it. This was never our experience while there. All stores were counting and limiting the numbers inside, lines were spaced out and rides were filled with lots of spacing between parties.
Outside Activities: Overall, we feel much more comfortable outside. Add in masks and social distancing and you have a winning combo. Because it has gotten colder here in Michigan, gathering outside has come to an end, but in Florida it's possible all the time!! Aside from the humidity and occasional rain, being in Florida made outside activities easy to find.

The Parks
Overall, our experience was great! There are temperature screenings at the entrance to each park and signs everywhere asking you not to enter if you are experiencing any Covid-like symptoms. Everything is well marked and streamlined. In addition to a valid park ticket, you also need a reservation at the park of your choice. All park hopping has been suspended and resort hopping is discouraged.
If you are expecting low crowds like we saw reported right after Disney World opened back up, you may be disappointed. There were definitely times where the crowds felt pre-Covid, but wait times remained lower than "normal" and social distancing was always in place. I'm not going to lie, I was kinda hoping for less crowds, but we still had a great time.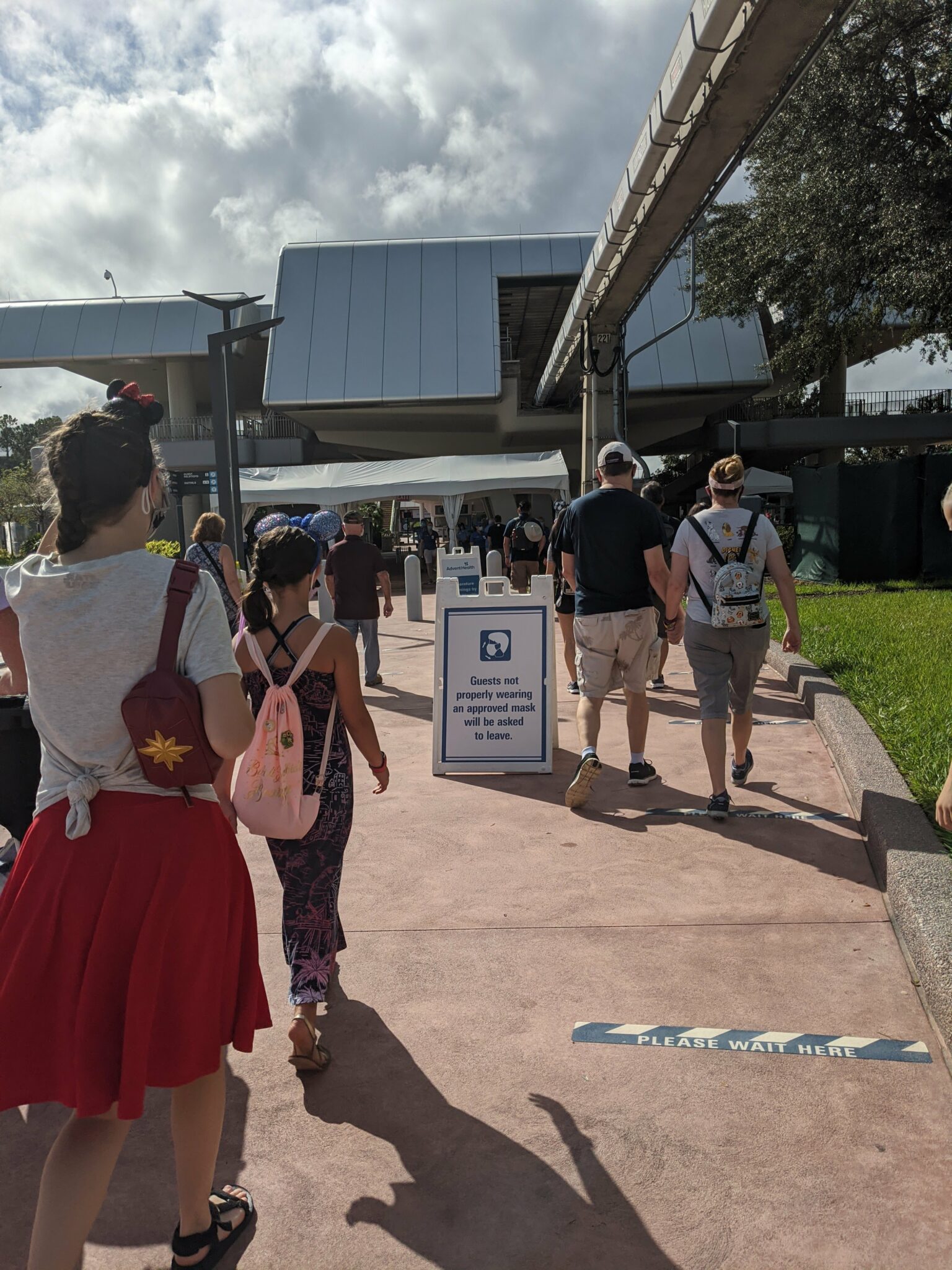 Because we make frequent trips to Disney World during different times of the year, we have experienced different levels of crowds. In recent years, I would tell you that there really is no "off season". Disney is always busy. So, compared to recent years, I would say the crowds were on the lower end of normal. Disney had been running at 25% capacity and announced recently it is increasing that to 35%. Though it didn't always feel like 25%, the wait times were lower than normal, many attractions are still closed, and many lines have been rerouted outside, which makes it feel busier than it really is. To read all of Disney's safety policies, go here: Experience Updates
Tip: At Hollywood Studios, we got in line for Slinky Dog right away and only waited 30 minutes. We saved Mickey and Minnie's Runaway Railway until later in the day when the sun was starting to go down. We figured that ride would always have the longest wait, and didn't want to stand in line in the hot sun.
Wait Times
We visited the parks on week days and weekends and kept an eye on wait times at all the parks while we were there. Wait times were pretty consistent at all the parks, across the board, regardless of day. Smaller rides were almost always 10 to 20 minute waits and popular rides were usually around 60 minutes. Compare a 60 minute wait for Flight of Passage to 3 hours, and yea, I'd say the wait times are still shorter than normal!
The big difference is that there are no FastPasses right now. As much as I love a good FastPass and have enjoyed my share of media events with walk-on privilege's, there were some positives to not having FastPasses! For one, we enjoyed going into the park without a FastPass to dictate where we went and when. We felt more free and laidback without the FastPasses. We also experienced really cool sections of the lines we would normally have missed by going through the FastPass line! The Frozen line at Epcot, for example, was really cute (we had never seen it before because we always used FastPasses).
In our experience, crowds thinned out a bit and wait times went down later in the afternoon. The late afternoon hours are actually my favorite time to be in the parks. The sun starts to go down and temperatures drop, many people head home and twinkly lights start coming on. It's extra magical between 4 and 6:00 and it's great lighting for pictures, which is why photographers call it the "magic hour."
Tip: Plan to arrive at the park an hour before opening. There is no "rope drop" right now, instead, we were allowed to enter the park early and get in line for rides before they officially opened. Only once did we wait in a line of cars before entering the parking lot. Parks are busier early in the day, but getting in line for the most popular ride right away is a good idea.

Comparison of Parks
Like I said, wait times across the board, regardless of day were about the same. Smaller rides were almost always 10 to 20 minute waits and popular rides were usually around 60 minutes. With that said, there were parks that just felt busier than others. This is due to a lot of factors: park size, number of big rides, park layout, etc.
Here are the parks in order of busiest to least crowded feeling:
Hollywood Studios
Magic Kingdom
Animal Kingdom
Epcot
Epcot was one of our favorite days, just because it felt the most laid back and unrushed. There was more open space and fewer crowds.

Social Distancing
We were pleased by the thoughtfulness Disney has put into every wait area. Anywhere that would normally draw a crowd has been reimagined. There are markings on the ground anywhere a line would form, to keep people distanced (and for the most part, everyone followed this!) Numbers are limited inside stores, parties are spaced out on rides and parades are quick and sporadic rather than scheduled, so a crowd doesn't have time to gather before it has passed.
Many of the lines have been rerouted so they are outside rather than inside. Plexiglass dividers have been added where lines double back on themselves and markings on the ground are spaced in such a way that you will never be stopped next to a group while going under a bridge or through a tunnel. In our experience, most lines looked longer because of being spread out, but kept you continually moving rather than stopping and standing for a long time. The waits were almost always shorter than the posted wait time on the app or on the ride itself.
Tip: Do not take your mask off on a ride for the picture! Your picture will be removed and you will not be able to access it if Disney notices that you don't have a mask on. Disney photographers are instructed never to take a picture that includes someone with a mask off, whether they are in your group or photo bombing you in the background, everyone must have their mask on.

Face Masks
I have never seen more people in one place, wearing their masks the correct way! In my home town, there is almost always someone with their nose hanging out or with no mask at all. Disney cast members were quick to stop and correct anyone who wasn't following the rules and signs everywhere reminded you that if you weren't following the rules, you would be asked to leave. Disney is also pretty specific about what kinds of masks are required. Here is what Disney says regarding masks:
"Face coverings are required for all Guests (ages 2 and up) and Cast Members. Please bring your own face coverings and wear them at all times, except when dining or swimming. You may remove your face covering while actively eating or drinking, but you should be stationary and maintain appropriate physical distancing.

All face coverings (whether disposable or reusable) must:
Be made with at least 2 layers of breathable material
Fully cover the nose and mouth and secure under the chin
Fit snugly but comfortably against the side of the face
Be secured with ties or ear loops and allow the Guest to remain hands-free
At this time, based on guidance from health authorities, neck gaiters, open-chin triangle bandanas and face coverings containing valves, mesh material or holes of any kind are not acceptable face coverings.

Costume masks are also not considered appropriate and are prohibited from being worn, in alignment with our existing rules.

The use of face coverings is not a substitute for physical distancing.
While staying at a Disney resort, masks can be removed while on the pool deck and swimming, but if you walk over to a line for food at the snack bar, you will need a mask. You can remove your mask to take a drink or eat something, but you must be standing still, no eating or drinking while walking!

Hand Washing and Sanitizing
Hand sanitizer was provided at the beginning and end of every ride and sometimes during the wait. Hand washing stations were positioned around each park.
Tip: Take extra face masks to switch out when one gets wet or dirty, but don't bother bringing hand sanitizer because Disney provides plenty for free!

Rides
Whenever possible, you are given one car per family unit/party. Because our group was pretty big, we always had an entire car to ourselves. On popular attractions, plexiglass screens have been added to the cars so more people can fit on them at a time. On many rides and attractions, groups are spaced out with empty rows left between them. On the safari ride at Animal Kingdom, for example, all rows were filled with plexiglass in between each row and only family members in a row together. Rise of the Resistance now has plexiglass in between each row to fit more people in a car, but you will never sit in a row with anyone other than your party.
Tip: Most ride lines will not permit food and drinks, so finish that drink or dessert before getting in line!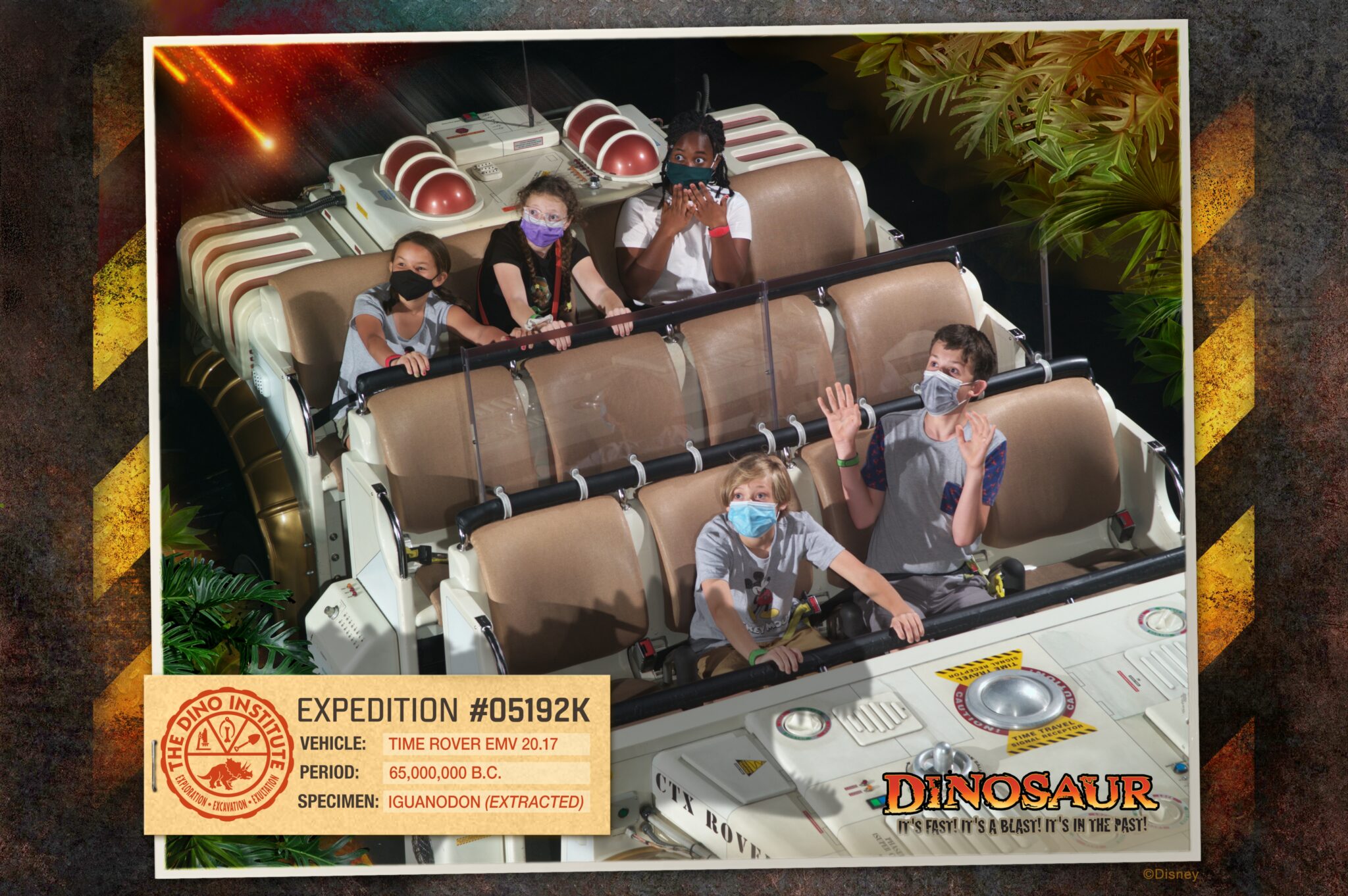 Restaurants & Food
Many restaurants are still closed, and others have adapted to include new policies and procedures. Most quick service restaurants require that you place a mobile order ahead of time and you are not allowed inside or in line until your order is ready. Inside tables are spaced out for eating, but we always found tables outside to eat at.
We were surprised to see that all the drinking fountains and water bottle filling stations were open, which was nice on hot days. We used to always take advantage of the free ice water at quick service restaurants, but found this a little harder to do. Ice water has been added as an option on the mobile ordering app, but many walk-up lines were too long to wait in just for water.

What Else is Different?
Obviously everything feels a little different right now. The biggest difference is the mask requirement, which most of us should be fairly used to by now anyway! We weren't sure how it would feel keeping a mask on all day long, in the heat and on rides. We also wondered if pictures would be lame and unnecessary.
There were times when I feel like we all forgot that we were even wearing a mask, and other times where we all felt extra hot and tired and realized it was probably because of the masks. They surprisingly didn't bother us on the rides, and pictures are kind of funny with them on, but it's also just part of the memories from 2020.
Tip: Adjust your expectations, plan on moving a little slower and taking rest breaks in between rides where you can remove your mask and drink some water. There are "relaxation stations" in each park for sitting with masks off, but we always found a spot away from the crowds where we could sit and eat a snack without a mask on.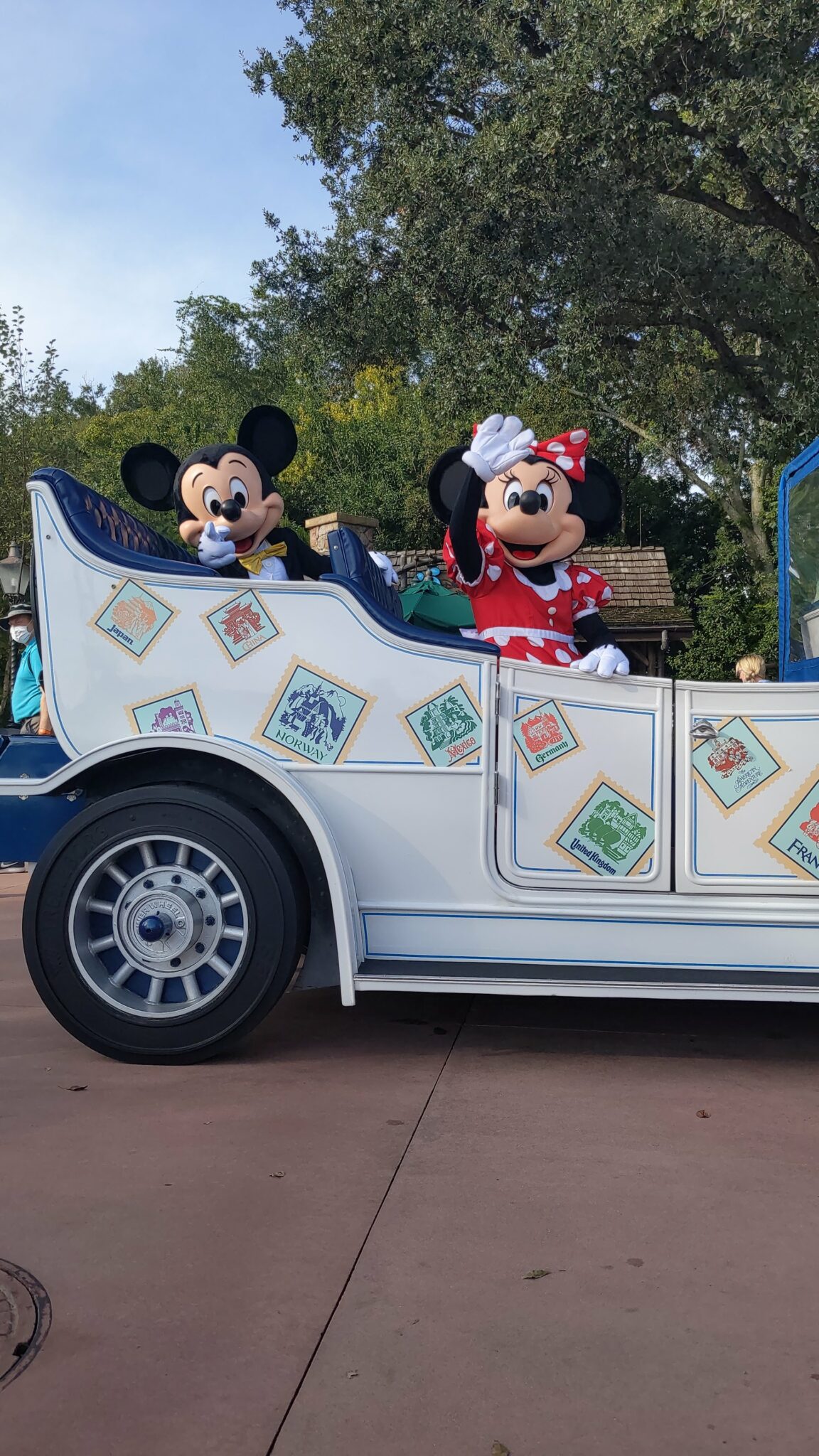 The other big difference is the lack of fireworks and parades. These scheduled events that usually draw big crowds have been reimagined. Instead of parades, you can catch character cavalcades, motorcades and floatillas that offer quick, pop-up magic. These are like mini parades that happen throughout the day and offer close-ups of your favorite characters. We caught quite a few of these as they were happening, and they were really neat!
Character meet and greets are not happening right now, but pop-up character sightings are spread throughout the parks. The princesses greeted us from a balcony at the Magic Kingdom, Anna and Elsa walked past us at Epcot, we got selfies with Piglet at the Magic Kingdom, watched Winnie the Pooh catch butterflies at Epcot, yelled at Storm Troopers stationed in a tower at Galaxies Edge, and waved at Disney Jr characters driving by at Hollywood Studios. There were lots of opportunities to catch glimpses of characters, and we didn't have to stand in a single line to see them!
Trash can doors are propped open to make them touchless, pin trading happens by pointing at a board and placing your pin into a box to be disinfected and special event maps have been discontinued. There are a lot of little changes that have been made to make things safer. Overall, we appreciated these changes and enjoyed the things that were added in their place. We had a magical experience at Disney World and made lots of memories!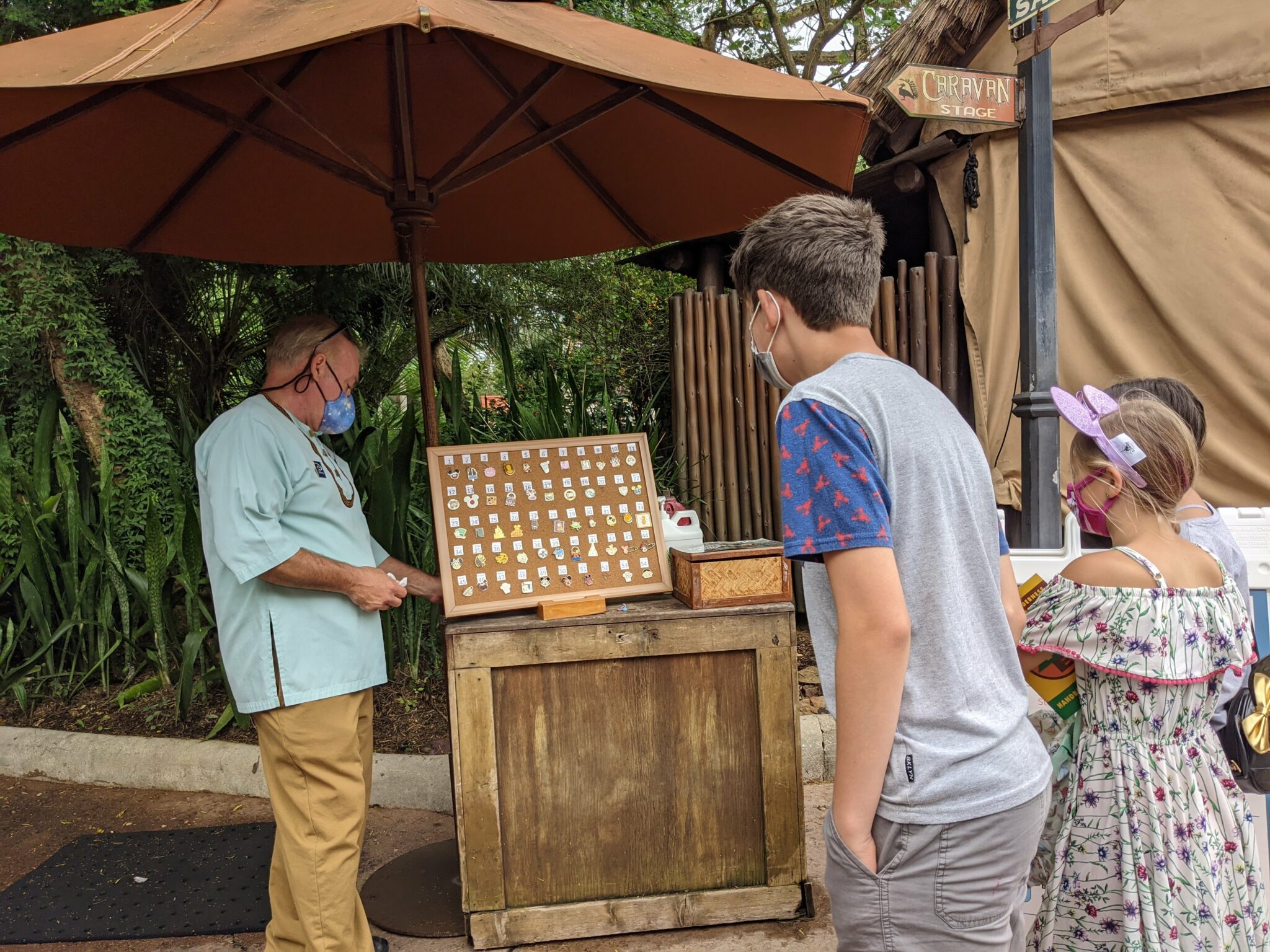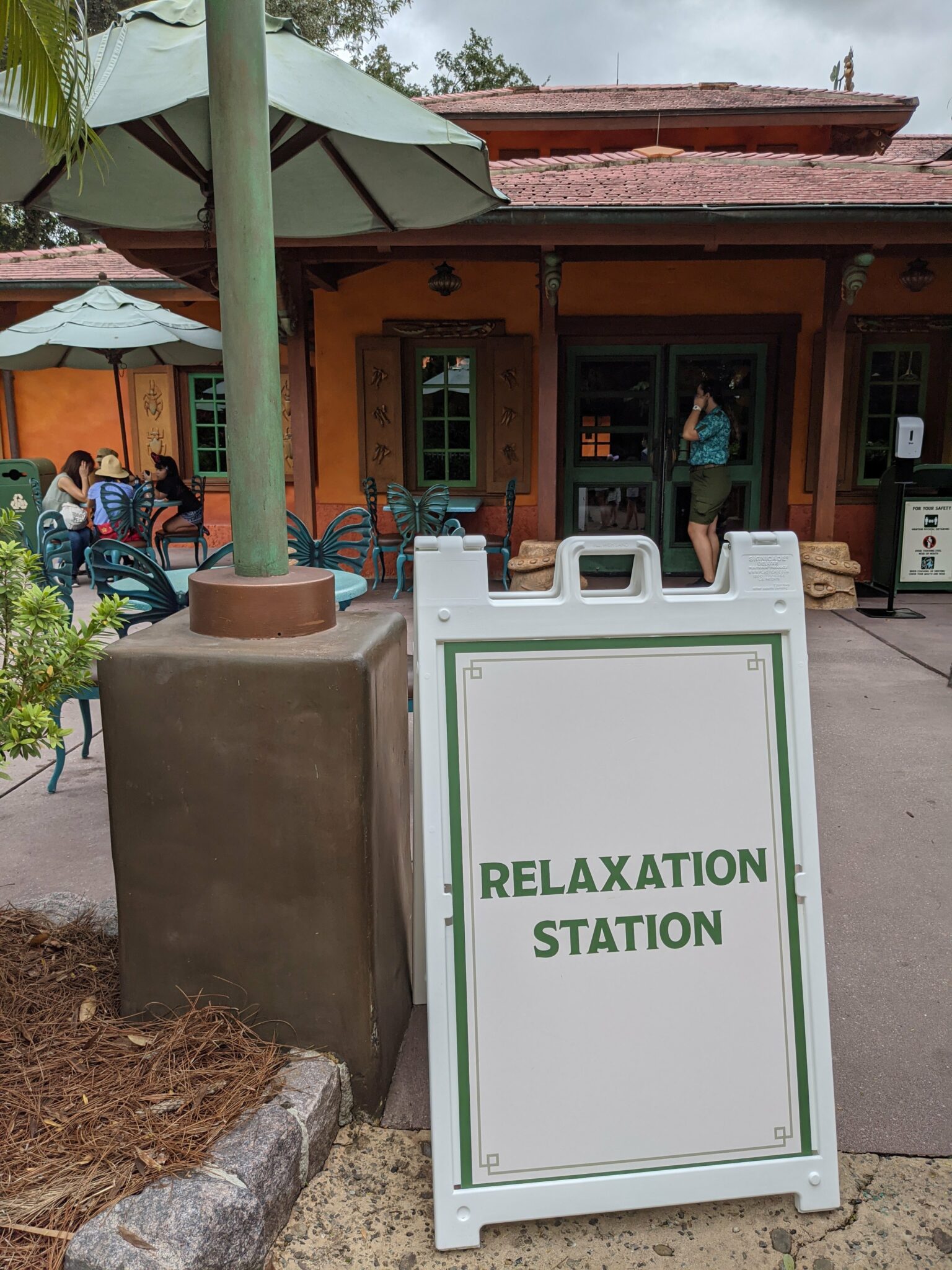 What Do You Think?
Are you planning a Disney World trip sometime soon or are you waiting? Do you have questions I didn't answer? Feel free to drop them in the comments below! I totally get that Disney World is not for everyone and that not all people will feel comfortable going right now (and not everyone should go right now). However, I won't be approving any politically driven comments, any anti-mask wearing comments, anything unconstructive or hateful. So, please be kind!
Pin-It!