Mickey's Very Merry Christmas Party
Every year, from November 1st through mid-January, Walt Disney World in Orlando, Florida transforms into a magical, Christmas wonderland! The beautiful Christmas decorations, special holiday foods and Christmas merchandise are available throughout the parks during normal hours. However, once the special ticketed event starts, be prepared for all kinds of exclusive treats! Mickey's Very Merry Christmas Party is the highlight of the Christmas season at the Magic Kingdom.
From the endless supply of Christmas cookies, Disney characters dressed in holiday costumes and special Christmas ride overlays, this is an experience you have to do at least once! I'm going to share everything you need to know, plus some first-timer tips!

This post was sponsored by Disney. I received tickets to Mickey's Very Merry Christmas Party so I could experience it for myself and report back to you, what I found out! All opinions are my own.
Dates and Ticket Prices
Dates are limited and advanced ticket purchases are encouraged. Many dates are already sold out! Prices fluctuate depending on the date but range from $159 to $199 for adults and $149 to $189 for kids ages 3-9. There is not a party every night of the week. Discounted tickets for annual passholders are available on a limited number of nights with a savings of $10 per ticket. Purchase tickets here. The dates for parties this 2022 season include:
November 8, 10, 11, 14, 15, 17, 18, 20, 22, 27, 29

December 1, 2, 4, 6, 8, 9, 11, 13, 15, 16, 18, 20, 22

What's Included in Your Ticket Price
Your special event ticket price includes the following:
Entry into the Magic Kingdom park at Walt Disney World from 4:00-12:00
Cookies and drinks at special snack locations
Ride all the rides you want with shorter wait times!
Special character meet-and-greets
Special parades, dance parties, shows and fireworks
INSIDER TIP: Official hours for the event are 7:00 to Midnight. However, if you get in line early you can enter the park as early as 4:00!! During the 4:00 to 6:00 window, you can catch regular parades and attractions that are going on during non-event hours.

How it Works
Purchase your tickets and bring them or load them onto your magic band. Once you get through security and the ticket line, cast members will put an event band on your wrist. The park closes at 6:00 for normal ticket holders. Cast members will slowly start encouraging non-party-goers to exit the park. From 6:00 to 7:00 many rides and attractions will shut down as the next step in encouraging non-party-goers to leave. By 7:00, you will be required to show your wrist band when entering certain areas and getting on rides.
Is it Worth it?
In my opinion, yes, it's definitely worth it! For the price you pay for the event, you get to experience so many unique things! Wait times are generally shorter, during a season when the Magic Kingdom is normally at it's busiest. Plus, because they allow you into the Magic Kingdom as early as 4:00, you get a full 8 hours in the park!
READ: How to Plan for Mickey's Not so Scary Halloween Party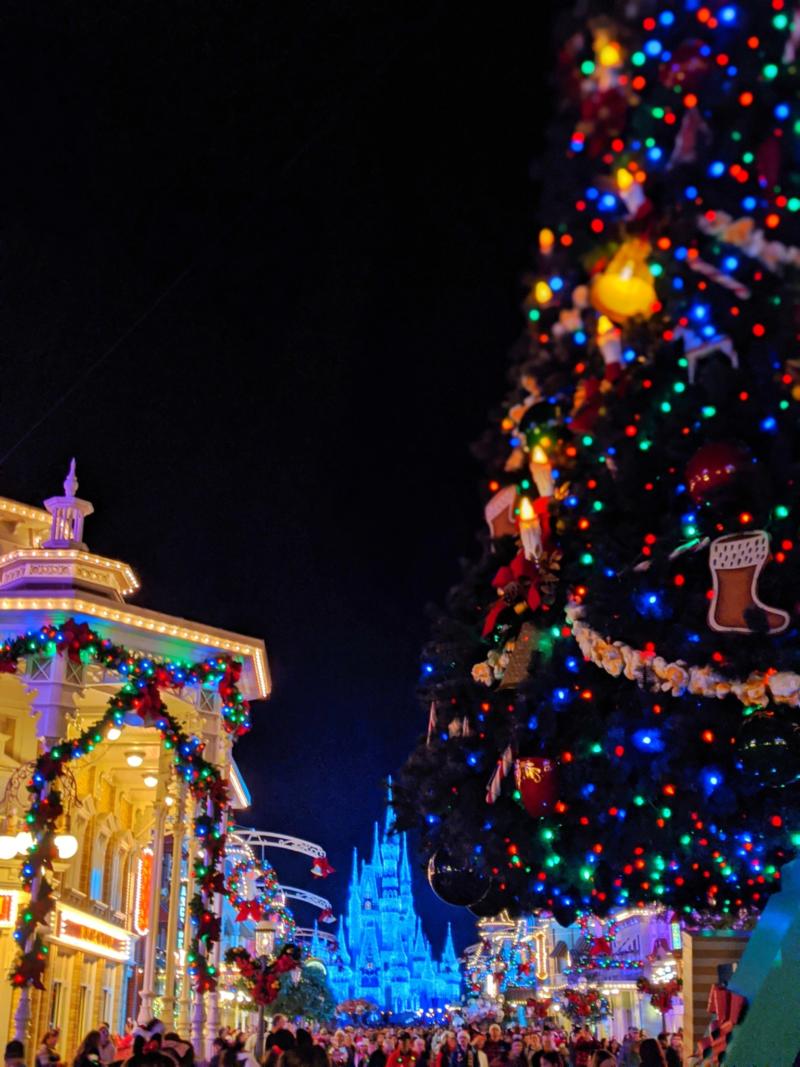 What Should You Wear?
I wish I had been better prepared for this one! I had no idea how many people we would see decked out in Christmas apparel, ugly Christmas sweaters and even Christmas PJ's! Be prepared for temps to go from mid 70's while the sun is out, to low 50's at night. We were freezing by the end of the night and had to break down and buy sweatshirts. I wish we had gone in our Christmas pajamas or at least a Christmas sweater. The year we went, my friend and her daughter met us there to celebrate our daughters turning 13. We wore special birthday shirts, but I wish we had brought a light-up Christmas necklace or something. We were definitely in the minority by not having anything Christmasy on.
INSIDER TIP: Wear your most festive holiday attire and dress warm!

Event Specific Parades and Shows
There are several event specific parades and shows going on during the party hours. You won't want to miss these special, warm-fuzzy inducing events!
Read: Plan a Disney World Vacation for Under $1500
Once Upon a Christmastime Parade
You won't want to miss this!
The Once Upon a Christmas Parade was one of my most favorite moments from the night! I'll be honest, the parades at Disney World aren't usually my favorite part, but this one was so above and beyond anything I've ever seen! From the elaborate floats and characters you'd expect from Disney, to the added snow fall, Christmas lights, and Christmas music, this parade is epic! Not to mention, the Santa Clause and sleigh that appears at the end is so beautiful, it will make a believer out of anyone!
Catch the Once Upon a Christmastime Parade at two different time slots: 8:30 and 11:00. This parade can be seen traveling from Adventureland, to Cinderella's castle and down Main street, USA.
INSIDER TIP: the second parade is usually less crowded!

INSIDER TIP: Go early and take pictures while it's still light outside!
Mickey's Most Merriest Celebration
Watch Mickey's Most Merriest Celebration stage show in front of Cinderella's castle at 7:40, 9:25, 10:35, and 11:55.
Minnie's Wonderful Christmastime Fireworks
Minnie's Wonderful Christmastime Fireworks happens once a night, at 10:00. The best place to see the fireworks is from Main Street, U.S.A.
Reindeer Wrangers at Coutnry Bear Jamboree
7:15, 8:05, 9:30, 10:30, 11:40
A Totally Tomorrowland Christmas
TBD – likey 7:45, 8:35, 9:25, 10:45, 11:35
Storybook Circus Disney Junior Jingle Jam
7 to midnight
Club Tinsel in Tomorrowland
7 to midnight
Main Street, U.S.A. Snow Fall
Is it snowing in Florida?! Of course it is, but only at Disney World! One of the most magical, beautiful things about this event is the snow fall! Once 7:00 hits, snow is pretty consistently falling for the rest of the night, but only on Main Street. With all the lights on, Christmas music playing, and snow falling, Main Street is my all-time-favorite place to be. It is breathtakingly beautiful and pictures do not do it justice!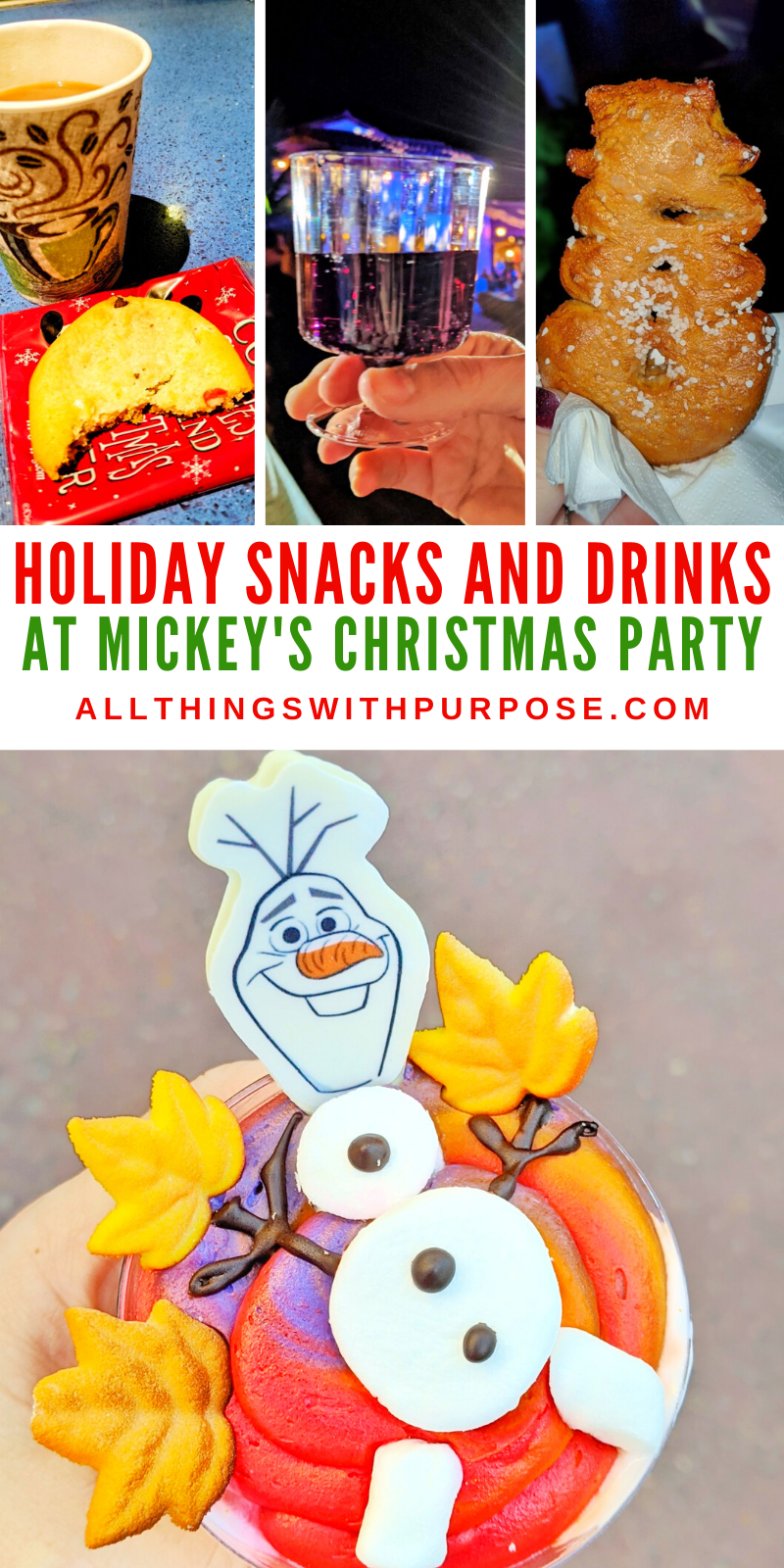 Special Event Snacks
Similar to Mickey's Not So Scary Halloween Party, Mickey's Very Merry Christmas Party includes endless snacks! Instead of candy stations, you can find Christmas cookies be handed out all over the park. Look for the big inflatable candy canes. There are different types of cookies at every location. Beverages include hot cocoa, Fanta soda, cider and eggnog! Special gluten free or allergy friendly options are available by request. All cookies are individually wrapped. Look for the inflatable candy cane!
Update! The following list is based on past events. I'll update this once I have heard new information for this year!
Here's the complete list of cookies and where to find them:
Welcome Holiday Treat: Follow the signs as soon as you enter the park for your very first sugar cookie of the night! This station is only open until 8:00 and designed to route party-goers away from the traffic of Main Street.
Ginger Molassess Cookie: Adventureland Jingle Cruise and Tomorrowland Lunching Pad
Snickerdoodle Cookie: Frontierland Golden Oak Outpost and Fantasyland Pinocchio Village Haus
Peppermint Cookie: Frontierland Miner's Cove and Tomorrowland Cosmic Ray's Starlight Cafe
Chocolate Chip Cookie: Liberty Square the Diamond Horseshoe and Fantasyland Storybook Snack Carts
Snowman Pretzel: Adventureland Tortuga Tavern and Fantasyland Storybook Snack Carts
Where to find drinks:
Fanta Soda: Adventureland Tortuga Tavern and Fantasyland Pinocchio Village Haus
Eggnog: Liberty Square the Diamond Horseshoe
Hot Chocolate: Fantasyland Pinocchio Village Haus and Tomorrowland Cosmic Ray's Starlight Cafe
Apple Cider: Tomorrowland Cosmic Ray's Starlight Cafe and Lunching Pad
Read: Everything for Free at Disney World
Special Event Ride Overlays
There are several rides that get a special Christmas makeover during the party! Here are the rides with a holiday twist:
Space Mountain – Holiday Run: Normal lights are switched to red and green and Christmas music plays!
Mad Tea Party: Christmas lights and music plays
The Jungle Cruise: Changes it's named to the "Jingle" Cruise! There are Christmas lights and decorations throughout this ride.
Monster's Inc Laugh Floor
Tomorrowland Speedway – Race Through the Holidays
Character Meet-and-Greets
Watch for special character appearances throughout the park! Jack Skellington can be found in his Santa outfit and many of the princesses are out and about with their princess by their side. The night we were there, we saw; Aurora and Prince Phillip, Snow White and Prince Charming, Tweedle Dee and Tweedle Dum, Winnie the Pooh and friends, Ariel and Eric.
Mickey's Very Merry Christmas Party Music and Dance Parties
There are several spots throughout the park, featuring live musical performances and dance parties.
Storybook Circus Disney Junior Jingle Jam: Dance with your favorite Disney Jr characters at Storybook Circus! (7:00-12:00)
A Totally Tomorrowland Christmas: Christmas party happening on the Rockettower Plaza Stage at 7:45, 8:35, 9:25, 10:45 and 11:35
The Edge Effect: An a capella concert happening at the Rockettower Plaza Stage at 8:10, 9:00, 10:20 and 11:10
Club Tinsel: Dance with polar bears at Cosmic Ray's Starlight Cafe from 7:00-12:00

Event Specific Foods
Many regular restaurants around the Magic Kingdom are closed during the event or serving special sweets. Be sure to sample some of these holiday themed treats that are only found at the event:
Red Velvet Mickey Santa Waffle Sundae at Sleepy Hollow
Deck and Halls Frozen Eggnog Cosmic Ray's Starlight Cafe
Christmas Cookie Sundae and Christmas Cookie Milkshake Auntie Gravity's Galactic Goodies
Tis the Season Specialty Drink Cool Ship
Gingerbread Soft-Serve Sundae Storybook Treats
Snowflake Brownie Casey's Corner
Cherry and Pistachio Swirl Soft-serve Float and Kakamora Float Aloha Isle
Jolly Tamale Christmas Pecos Bills Tall Tale Inn (open until 11:00)
Sven's Carrot Cake Pecos Bills Tall Tale Inn (open until 11:00)
Christmas Churros Pecos Bills Tall Tale Inn (open until 11:00)
Food Events at an Additional Cost
There are a couple ticketed events within this ticketed event! Call ahead to have these extra enhancements added to your ticket, or speak with someone in guest relations on the day of (spaces are limited). These special enhancements might be worth the splurge on a special occasion, but at an additional $100+ per person, they are not for everyone.
Minnie's Wonderful Christmastime Fireworks Dessert Party: Reserved seating for the fireworks and dessert buffet.
Tony's Most Merriest Town Square Party: Reserved seating for the parade and all-you-can-eat hors d'oeuvres, sweets, drinks, beer and wine.
Read: Doing Disney in One Day
Special Holiday Foods
Disney fans love their themed foods and limited addition snacks! Be sure to sample all these cute confections during the holiday season! I had to sample the Olaf hot chocolate because of how cute it is, but it was way too sweet for my taste. These snacks can be found throughout the holiday season during normal park hours:
Holiday Refillable Popcorn Bucket: Our favorite go-to snack! Find it at popcorn carts throughout all the parks.
Olaf's Frozen Hot Chocolate: Chocolate cake swirled with chocolate crisps and marshmallow fluff. Find it at Main Street Bakery.
To Be Jolly Float: Peppermint ice coffee and vanilla ice cream with a cute Minnie Mouse chocolate bow. find it at the Plaza Ice Cream Parlor.
An Orange Bird Christmas: Orange scented white chocolate mousse filled with orange curd and cute little orange bird on top. Find it at Sunshine Tree Terrace.

Where to Find Real Food
One of the things you may or may not be disappointed about is the fact that many of the regular quick-service restaurants are closed during special events. This can make eating a regular meal a little more challenging. For example, The Friar's Nook does not serve regular food after 7:00. It becomes a cookie station during the event, instead of serving delicious loaded tots. Many places serve dessert items but not food for a meal. Here are the places you can still find regular food during the event:
Liberty Square Market: Open until 9:00
Columbia Harbour House: Open until 8:00
Gaston's Tavern: Serving Gaston's cheese dip
Cosmic Ray's Starlight Cafe: Turkey sandwiches and frozen eggnog
Be Our Guest: Open until 10:00 (taking walk-ups and day-of reservations)
INSIDER TIP: Don't wait to eat a real meal before leaving the park. We never made time to eat dinner, and had to venture off-property to find anything open after midnight.
Party-Specific Merchandise
There are lots of adorable holiday ears, ornaments, gifts, and apparel available all season long! Some things are generic, while there are quite a few things available that say "Mickey's Very Merry Christmas Party."
Read: Creative ways to Save for a Disney Vacation
Disney Photopass Offer
There are several event-specific photo ops throughout the park, as well as event-exclusive "Magic Shots" where they add extra holiday surprises to your picture. Take advantage of a special Memory Maker offer for the event. Purchase a one-day PhotoPass at the Town Square Theater and get $10 off the regular price. See the party map for special picture spots throughout the park. Many of these photo locations had long lines, but got shorter towards the end of the night.
INSIDER TIP: All Disney photographers will gladly snap a picture using your phone before taking one with their camera!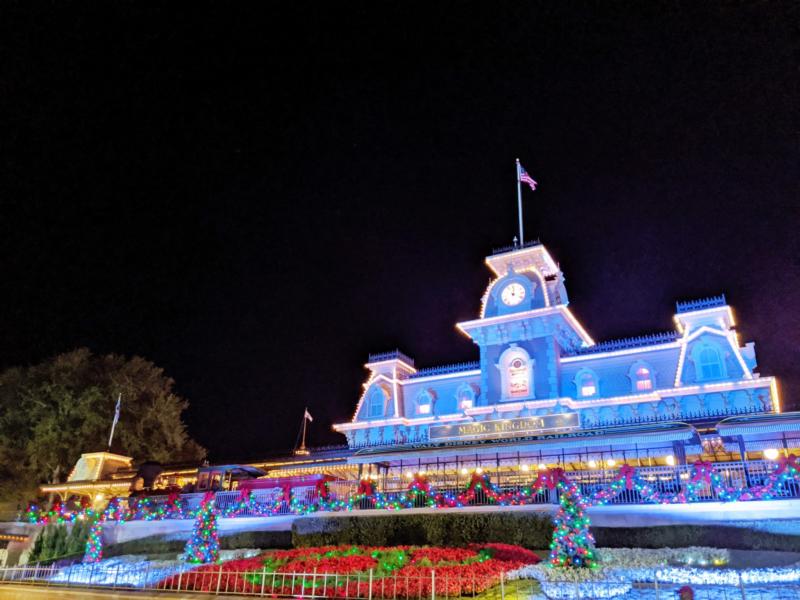 Mickey's Very Merry Christmas Guide Map
I took pictures of the event program because I know some people really like to plan things out ahead of time! Maybe you'd appreciate looking at the official guide, so here it is!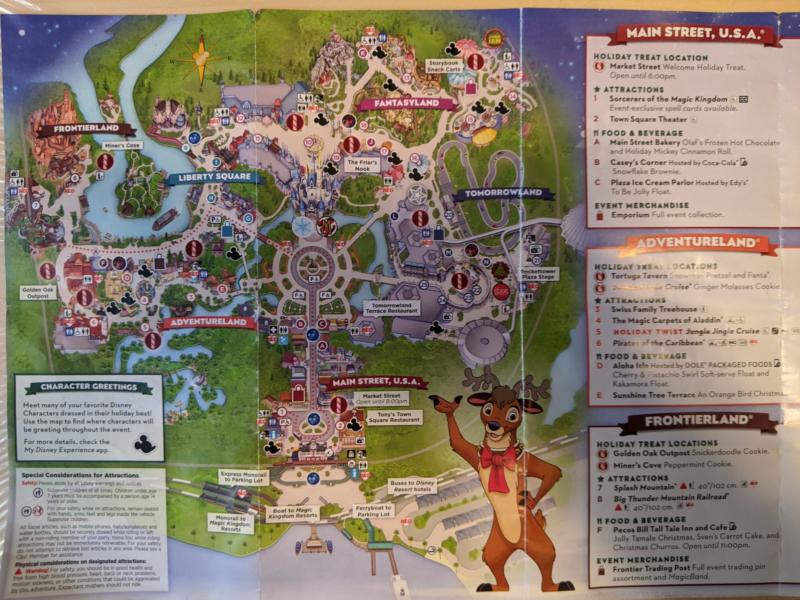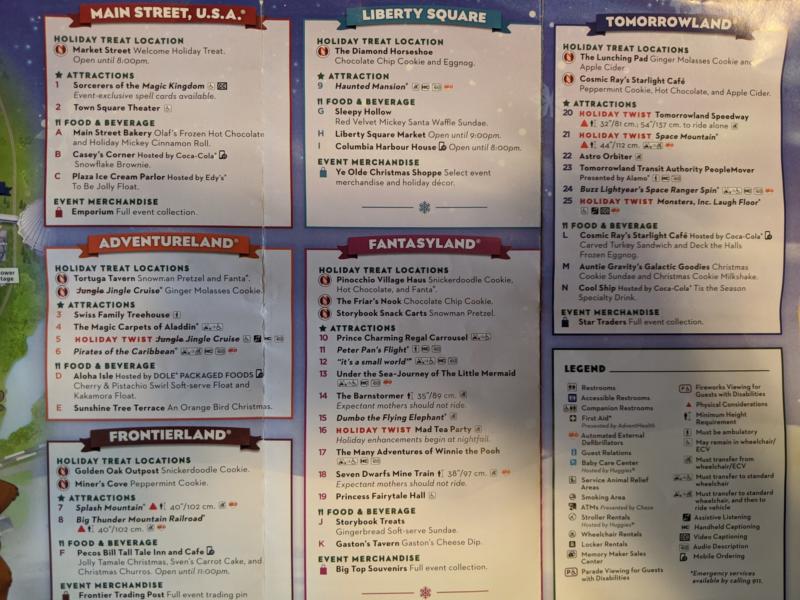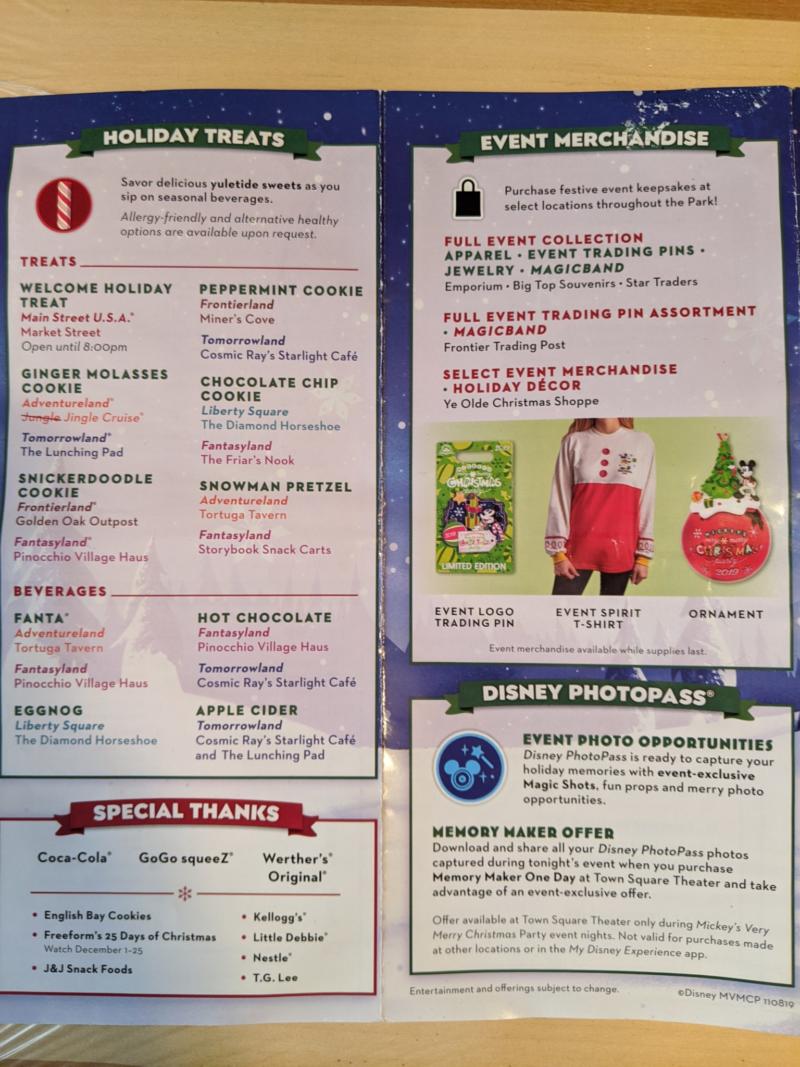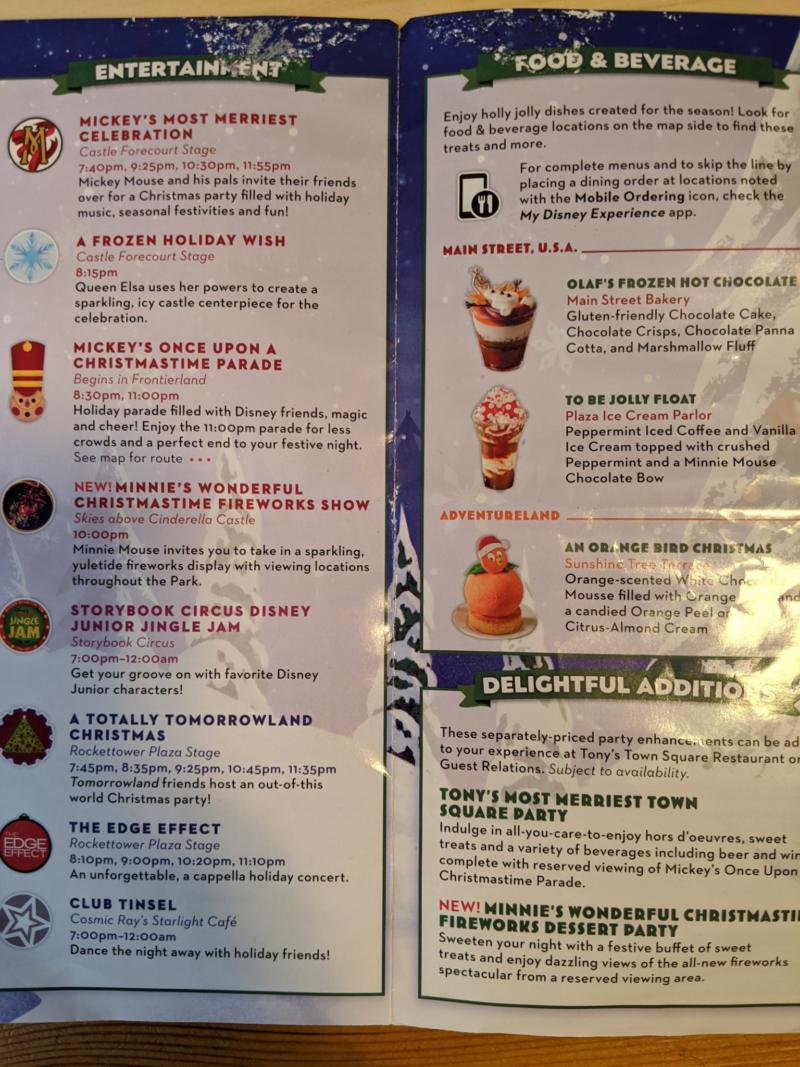 Are you planning a trip to Disney World this holiday season?
I'd love to hear about it!
Pin-It for Later!