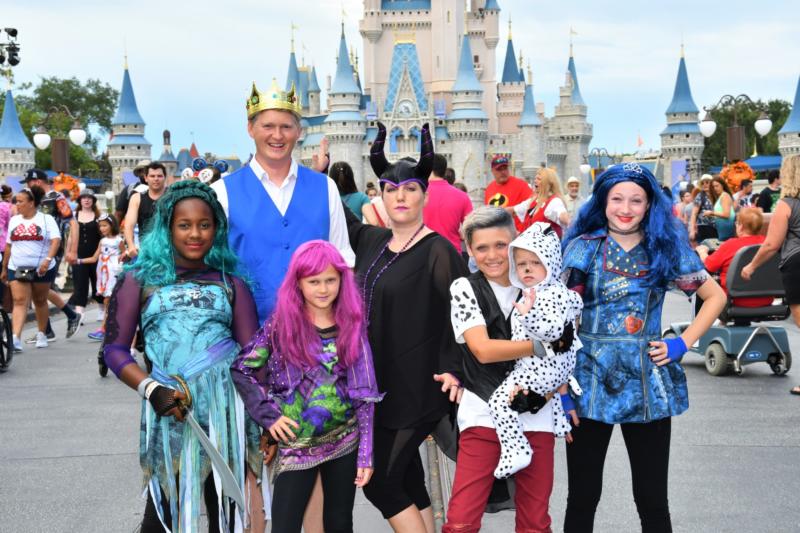 Mickey's Not So Scary Halloween Party
This year, our family got to experience Mickey's Not So Scary Halloween Party in the Magic Kingdom at Walt Disney World Resort in Florida. It was our first time and we were so excited (OK, I was excited)! This was a last minute trip for us, and I was scrambling at the last minute to learn everything I could about the party so we could go prepared. Here is everything we learned, liked, didn't like and wish we had known!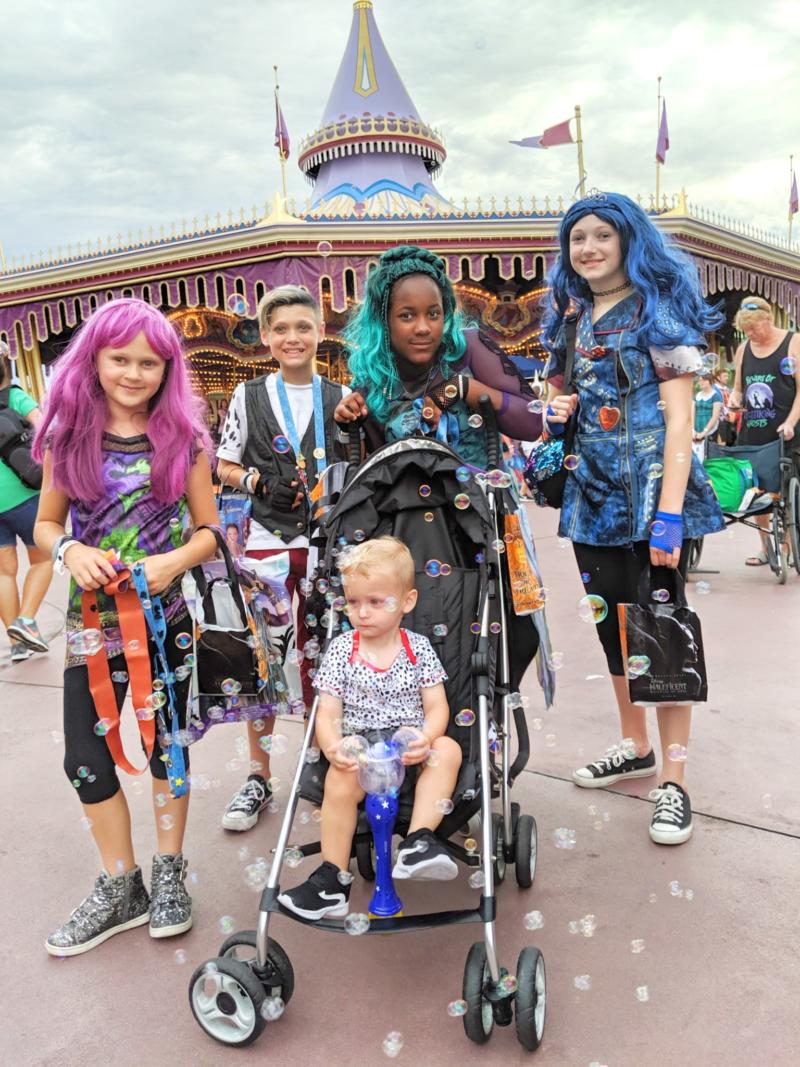 What is It?
Mickey's Not So Scary Halloween Party (MNSSHP) is an after hours ticketed event held at the Magic Kingdom in Walt Disney World, Florida. It's the only time at Walt Disney World where adults are allowed (and even encouraged) to dress in costume! Guests arrive in costumes and go trick-or-treating throughout the park. Several rides have special Halloween themed overlays (extra features that make them unique during the party). There are special themed foods and treats for sale at many of the restaurants. During the party, there are rare characters walking around and stationed for meet and greets throughout the park (the evil step sisters, Tarzan and Jane, Moana, etc.). There are special Halloween themed parades, entertainment and firework shows!
The general park hours end at 6:00, with resort guests getting Extra Magic Hours on most nights until 8:00. The party officially starts at 7:00 and goes until midnight. Guests are given a special event wrist band and regular ticket holders are gradually directed out of the park.
Read: Opening Day at Star Wars Galaxy's Edge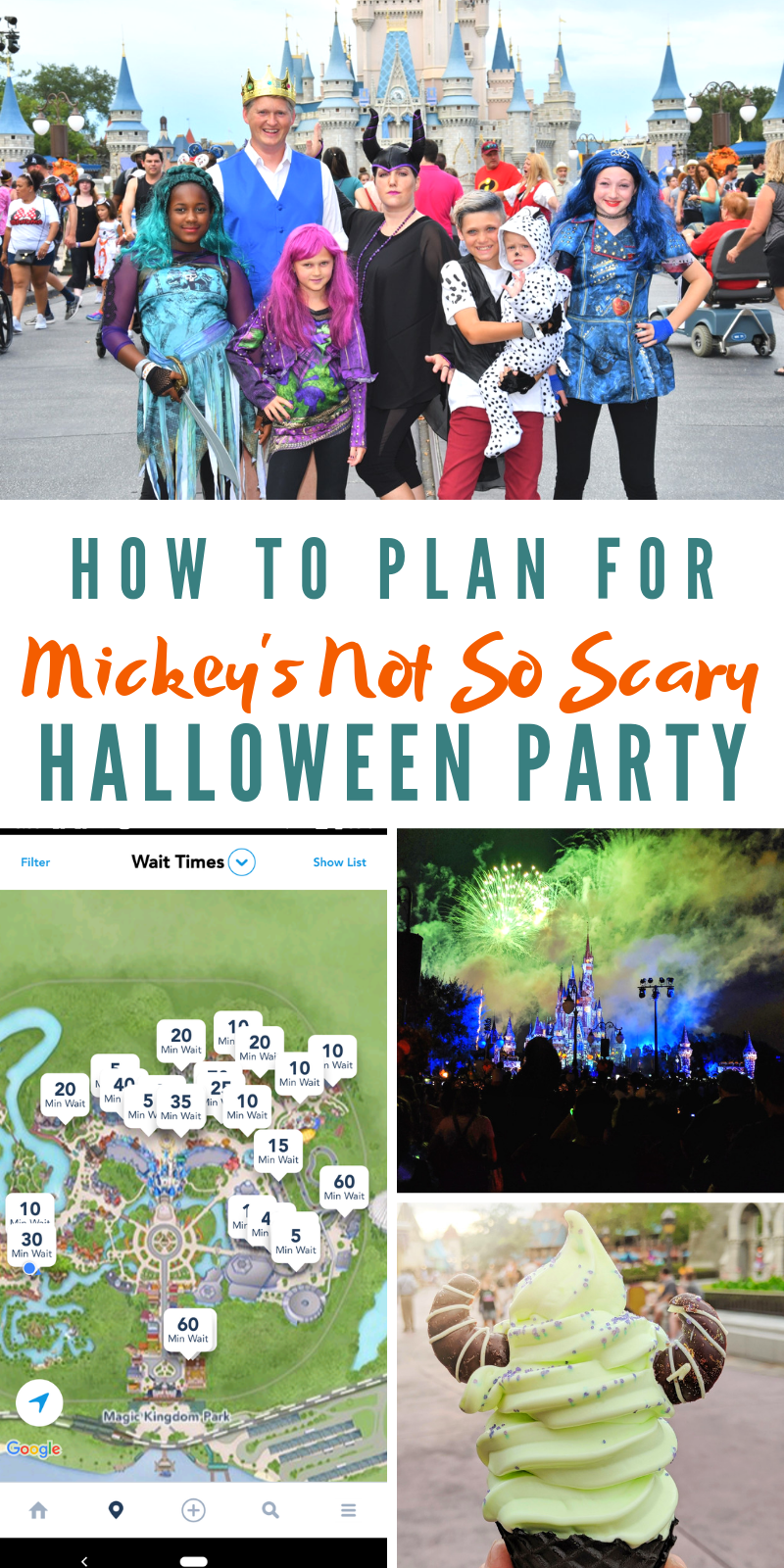 Secret Tips Disney Doesn't Tell You About
There are a couple MAJOR secrets you should know about that are not advertised to the public! These are all legitimate things that cast members will confirm (no sneaking around required!), they just don't advertise them up front.
First off, you can get into the park as early as 4:00. That's right, you don't have to wait until 7:00 when the party actually starts. I would actually advise you to be at the gate by 3:30 as the crowd of party goers lined up at 4:00 was pretty big! I only knew this from reading other blogs, because Disney does not advertise it!
Secondly, you can get FAST PASSES from 4:00 to 6:00. No one told us this, we just got on to try it out of curiosity, and low and behold, you can!
Same-day reservations to Be Our Guest! This was not advertised either, but you are much more likely to get a same-day reservation at Be Our Guest during Mickey's Not so Scary Halloween Party. The day we went, there was a person waiting at the entrance, taking reservations. If there isn't someone there, be sure to check directly with the restaurant.
Candy within some of the rides. There are large treat signs advertising candy spots throughout the park, but what isn't marked are the treat stations within the rides, either while in line or when exiting! We noticed this on several of the rides geared towards younger kids; the Dumbo ride and Under the Sea with the Little Mermaid for example. You'll want to be prepared for this if you're like us and left you treat bags outside in your stroller!
Read: Plan a Disney World Vacation for Under $1,500

Tickets
Tickets can be purchased online, at any Disney resort hotel or through the My Disney Experience app. Buying your tickets in advance will guarantee your spot and the price is $10 less than what you pay at the gate. The price for the party varies depending on the the day you visit. We went at the beginning of the season when prices are lower. Adult tickets range from $79 to $115 later in October. Compare that to a regular park ticket which ranges from $109 per day to $115 during the month of October. For our family of 7, we have one child that is free because he is under 3 and an 8 year old that is still at the child rate. That leaves 5 regular adult tickets, so the $79 party ticket was cheaper in the long run than buying 5 regular park tickets at $109 each.
Worth the Money
For the price of an event ticket, you get 8 hours of time in the park. Most of that time is with much shorter lines than normal hours! With the addition of all the candy you get, we thought it was a great price for 8 hours of park time. We didn't spend additional time in the Magic Kingdom the week that we went to MNSSHP. Our plan was to attend the opening day of Star Wars: Galaxy's Edge in Hollywood Studios, but wanted to get our Magic Kingdom fill. Going to this party was a great way to get in some time at the castle, without spending the full admission price on a ticket!
Tip: Go earlier in the season for cheaper ticket prices!
Have a Plan
There are six main things that set MNSSHP apart from a normal night at the Magic Kingdom; candy, adult costumes, special food, rare characters, special parades and Halloween themed fireworks. Plan ahead and decide which ones are your main reason for attending.
Here's what we did with our time:
Arrived at 3:30 and got in line to enter park
Stayed to the right upon entering the park to get the first treat station and treat bag (the largest treat package of the night)
Caught the last Move it! Shake it! MousekeDance it! Street Party at 4:40 on main street
Got some good pictures in front of the castle while it was still daylight
Walked back to Adventureland and used our Fast Passes on Splash Mountain, Big Thunder Mountain and the Magic Carpets of Aladdin
Once 7:00 hit, we stopped at treat stations only if we were passing one and didn't see a line. By the end of the night we had plenty of candy!
We made it a priority to experience the three rides with special Halloween overlays: Pirates of the Caribbean, Space Mountain and the Tea Cups
Made it a priority to experience the Descendants Dance Party
We sampled some of the special Halloween treats and meals
Everyone enjoyed the shorter lines on many of our favorite rides
We skipped lines for characters because they were all pretty long
Seeing the Halloween themed fireworks at the end of the night was fun, though I have to admit, it was not my favorite
Shopped at stores along main street on our way out – found all the cute Halloween themed merchandise
Read: Everything for Free at Disney World
Tip: Wear comfortable shoes! Our kids chose shoes that matched their outfits, not necessarily ones that were the most comfortable. Because the party goes until midnight and we didn't get back to our Disney hotel until closer to 2:00 am, every kid was in tears about their feet on the bus ride home. Lesson learned!

Costumes
We ALL went as Descendants characters, and I'm so glad we did a family theme!! Walking around the park and seeing all the other group themes was super fun. The families that dressed with a theme really stood out. We saw a family of the Incredibles, Inside Out, Toy Story, and so many others. There are several guidelines to follow when choosing your costume, be sure to check Disney's official rules here: Costume Guidelines
TIP: It can be SUPER hot in Florida in the Fall, so go with lightweight costumes or layers that can be removed as the night goes on. We had a cute but heavy dalmatian costume for our 2 year old that we put him in for pictures only and used a dalmatian onesie the rest of the time.


Food
Be sure to check your event guide for all the special food being offered on the night you are there. There are two categories of Halloween themed food – things found throughout the Halloween season and specials that are only available during MNSSHP. Our favorite party special was the Lots-O-Burger with strawberry bacon jam! It was literally the best burger I've ever had. The Maleficent ice cream cone won my vote for cutest Halloween food, but it wasn't my favorite to eat. Be on the look-out for special menus located inside each restaurant which spotlights the featured items. Disney Food Blog does a great recap of food as well. Find their complete checklist here: Disney Food Blog
Popcorn Bucket
One of our favorite Disney World snacks is the refillable popcorn bucket. There is a general Halloween themed bucket available throughout the park, with a slightly more expensive pumpkin version that is only available from 7:00 to midnight.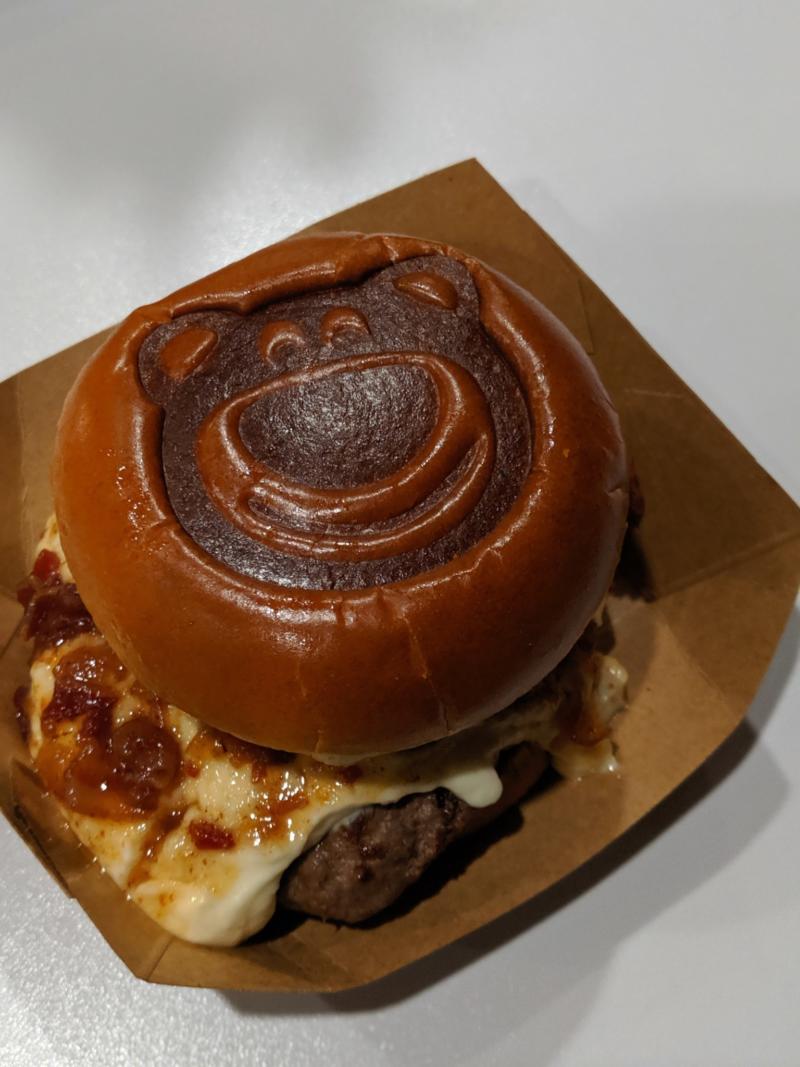 Pin-It!

Treat Stations (AKA Candy)
There were lots of treat stations set up around the park giving out candy, as well as a few snack stands giving away things like squeezable applesauce. We chose not to wait in long lines and only stopped when the line looked short. They give out small treat bags to every guest, but we each came prepared with a large bag and I'm glad we did. Every stop gave several pieces of candy per person, with cast members being extra generous towards the end of the night. We easily left with the same amount of candy we would get trick-or-treating on Halloween.
Tip: Take a large bag with you, the treat bag they give you for free is not big enough to hold all your candy!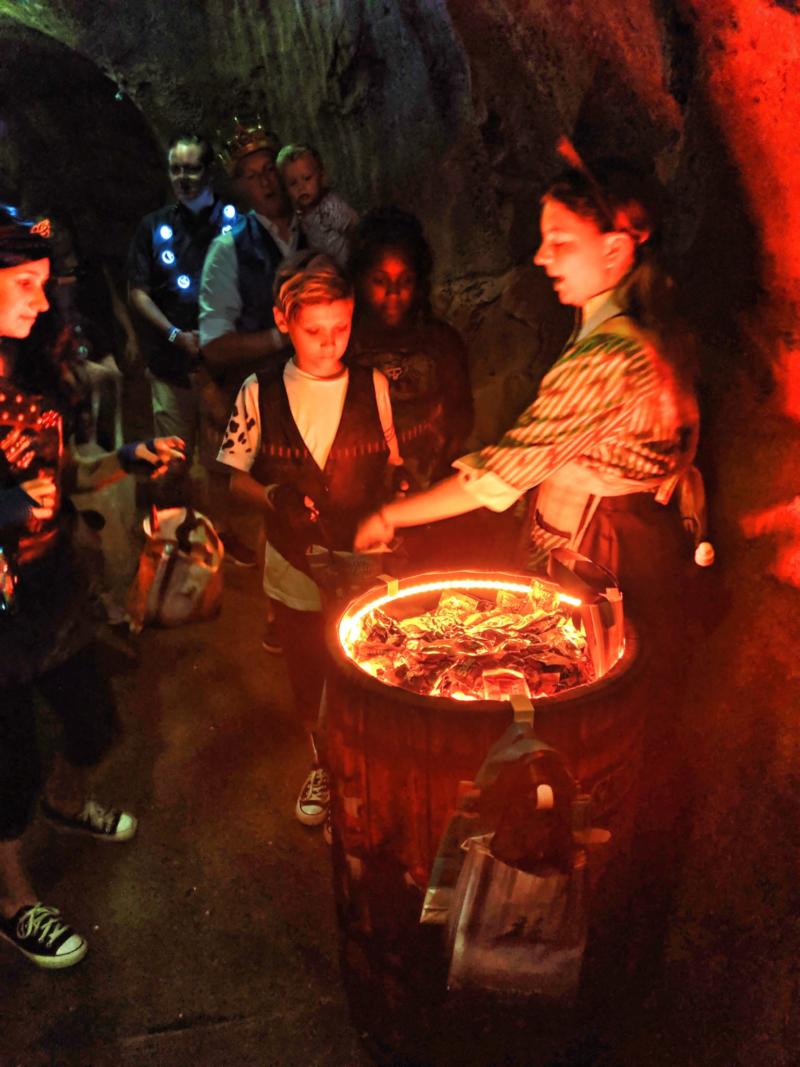 Special Photo Spots
There were lots of special photo ops set up throughout the park, but most of them had pretty long lines. We passed on most of these to save time. But, there were some really unique spots and photo opportunities available if you're interested. Several had signs or frames to hold and several spots offered spooky extras added in.
Tip: Take your pictures early on while it's still daylight!

Rides with Special Overlays
There are 3 rides with special features this season.
Pirates of the Caribbean – This ride has live actors stationed throughout the line and on the ride itself. It was fun looking for them and we thought their dialog was funny!
Space Mountain – Space Mountain goes completely dark during the party and plays a spooky soundtrack in the background.
The Tea Cups – Fun lighting, fog machine and Halloween themed music put a special twist on this ride. My kids waited in line for 5 minutes to ride, but I thought you could enjoy the special effects just from watching it.
Read: How to Do Disney World in One Day

Fireworks, Parades & Events
Special parades, Halloween themed music, a Halloween themed fireworks show and special stage performances make this event unique. While watching the Halloween themed fireworks over Cinderella's castle was a fun experience, I have to admit, it wasn't my favorite.
Dance Parties
We loved the addition of the special dance parties! Because we had all gone as the Descendants, our kids were especially excited about the Descendants themed dance party. The Monster's Inc. dance party was really fun as well.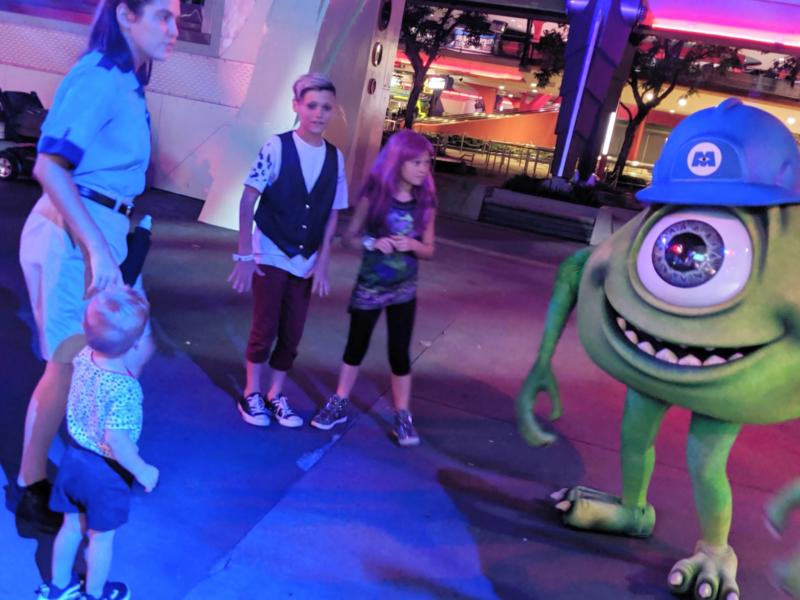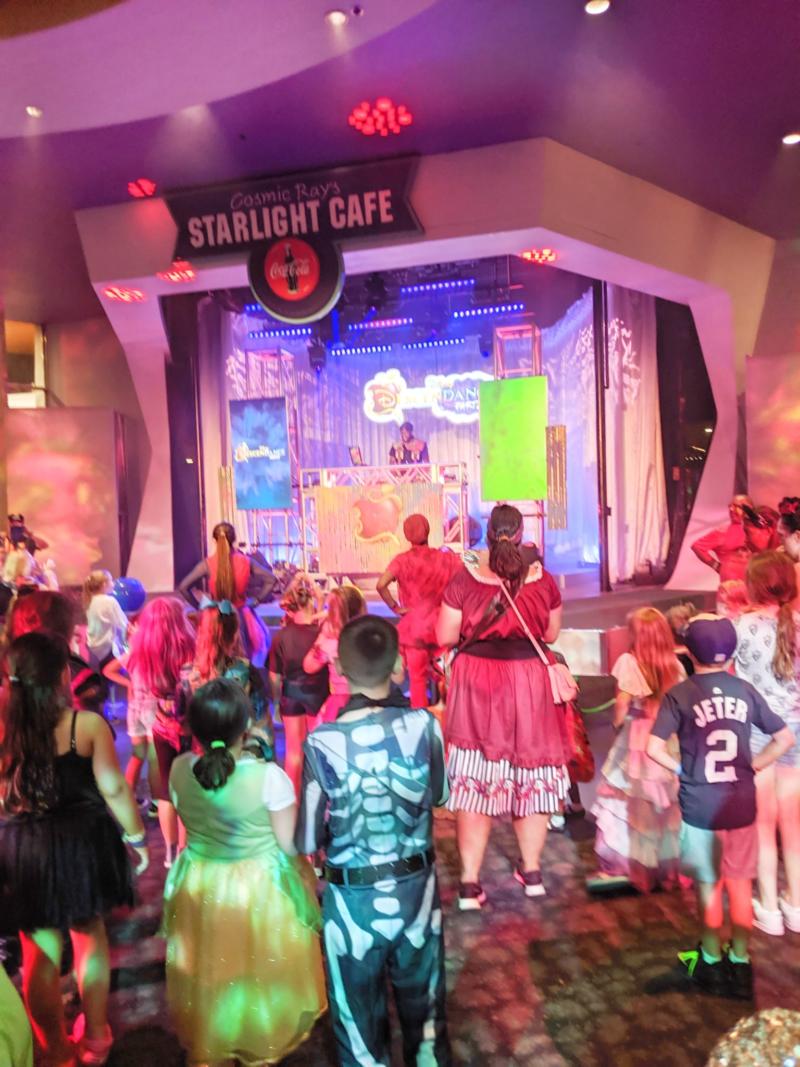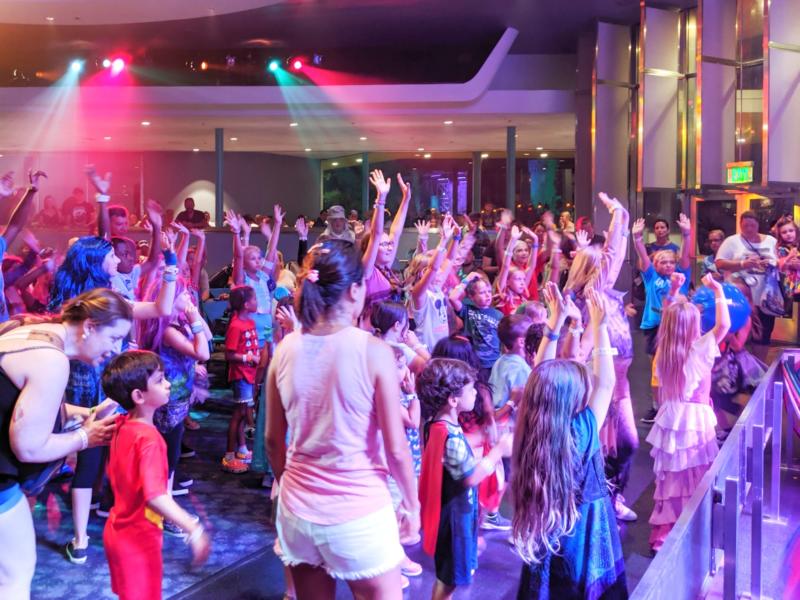 Pin-It!

What We Loved
This was our first time experiencing MNSSHP, but there are several reasons we loved it!
Shorter lines on big rides
Special features to our favorite rides
Rare character sightings – running into Cruella de Vil was our favorite!
Specialty food
Candy
Adults can dress up
What We Didn't Love
Overall, we had a lot of fun and really enjoyed our first time at MNSSHP! There were only a couple bummers that we experienced:
For one, not all the restaurants are open. We missed our chance to get an Orange Swirl at the Sunshine Tree Terrace because it was closed the entire time we were there. We were also disappointed not to get our favorite buffalo chicken tater tots at Friar Tucks – which was closed the whole time we were there.
If you are a fan of Halloween, you won't be disappointed. But, as much as I love to dress up and I love seeing the Fall decorations and pumpkins, I'm really not a huge Halloween fan. By that I mean, I'm not really into ghosts and witches and spooky stuff. I'm not a fan of The Nightmare Before Christmas or (gasp!) Hocus Pocus. #sorrynotsorry Yea, I know we willingly chose to go to a Halloween party (what did we expect?), so I'm not complaining. I knew going into it that it wouldn't be my favorite time of year to visit the Magic Kingdom – but I wanted to experience it because we never had before! It was still A LOT of fun, but I didn't cry during the fireworks over Cinderella's castle, and I always cry during the fireworks over Cinderella's castle. So, do you get what I mean?
Conclusion
We had an awesome first experience at MNSSHP and I would totally do it again, if we happen to be in Florida during the Fall. I would go back just for that Lots-O-Burger, I tell ya. Dressing up as a family was a lot of fun and getting to experience something unique at the Magic Kingdom was fun too! You can expect a large dose of Halloween themeing throughout the park, but Disney holds to their promise of keeping it "not so scary!"

Pin-It!