We Were at Galaxy's Edge on Opening Day
That's right, we were one of those crazy people!! We woke up at 3:30 am to leave our Disney resort hotel and make the drive over to Hollywood Studios. We just happened to be in Florida during the grand opening of Star Wars: Galaxy's Edge at Walt Disney World, and as a family of Star Wars fans, that's not an opportunity one simply passes up!
"Bright suns, fellow travelers!"
Oh, and did I mention that opening day was August 29th, which happens to be my birthday??! How perfect is that? BEST. BIRTHDAY. EVER.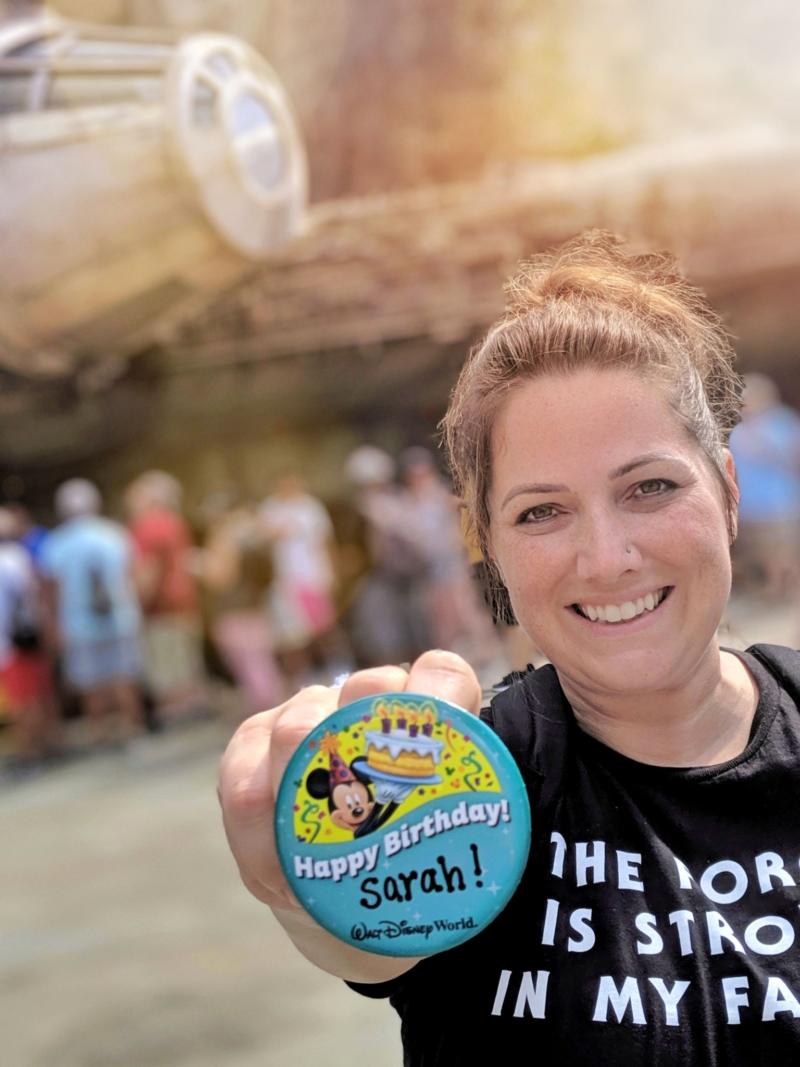 Our Summer vacation plans had undergone some very last minute changes and in a bizarre twist of fate, we ended up in Florida… in August. Never in my wildest dreams had I imagined visiting Florida in August, and after experiencing the heat and humidity, I can't say I'd ever do it again. Unless Disney tells me to be there, in which case I'd probably go.
I'm going to share some of the tips and tricks we picked up while there and what you can expect when planning your next trip to Batuu!
Disney Parks Blog Opening Day Video
As if the day couldn't get any better, we were approached by a crew filming an opening day video for the Disney Parks Blog! Watch all the way to the end. Our family is in the final scene!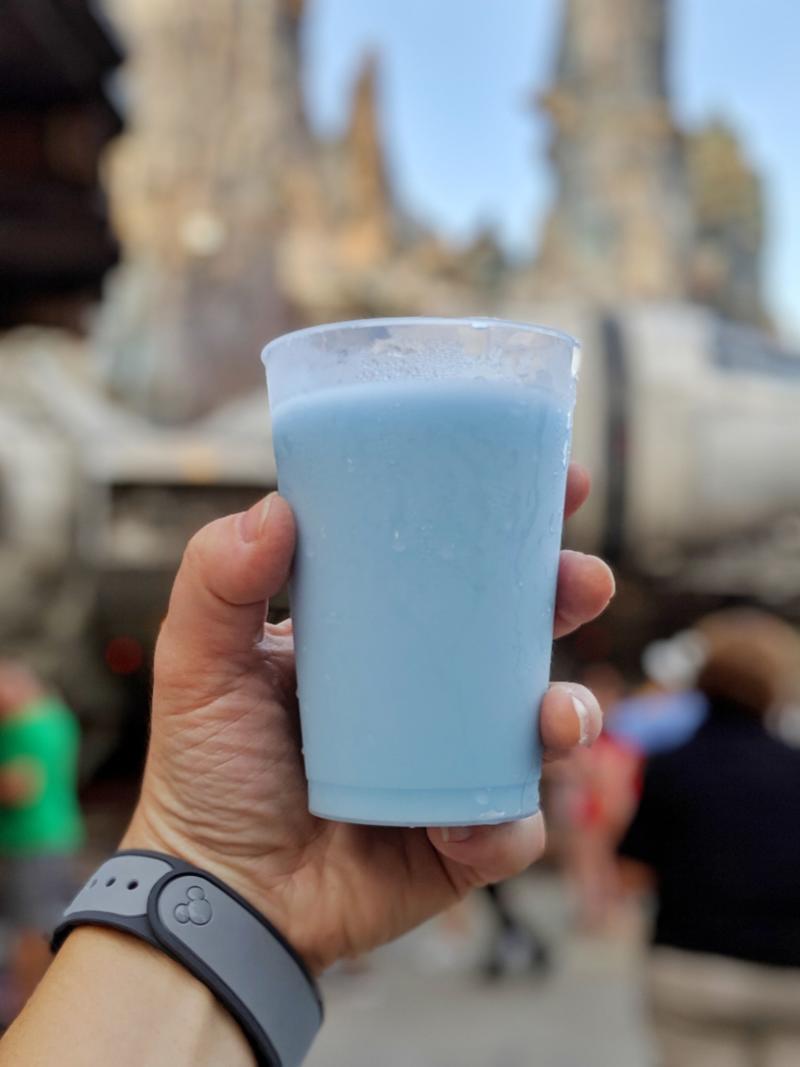 What to Expect
We arrived at Hollywood Studios by 4:30 am to find the roads and parking lot rather empty. We got a prime parking spot up front and going through the security checkpoint was a breeze. The crowd had gathered back at the opening of Galaxy's Edge, but the rest of the park was deserted. Once they opened the gate, the crowds were thick and the wait times were high. While the sun wasn't up yet, and temps were reasonable, but the humidity was a killer.
By now, you've probably seen enough video footage and pictures to realize this place is amazing! The sheer awesomeness of the full-scale Millennium Falcon, marketplace, mountains, cast member uniforms, sights and sounds is worth the visit. I was excited to just walk around and take it all in.
Read: Tips for Visiting Galaxy's Edge at Disneyland
Wait Times
On opening day, wait times were higher first thing in the morning, and slowed down as the day went on. I'm not sure if this trend will continue, but I've been checking the My Disney Experience app pretty frequently since leaving and it seems to be the case.
During high traffic days, there may be waits to get into some of the shops and popular quick service food places. For example, the blue milk line was between 1/2 an hour and an hour wait on the day we were there. Smugglers Run had a wait time of 5 hours by 6am but was down to around 1 hour later in the afternoon.
Tickets and Boarding Groups
There is no separate ticket needed to enter Galaxy's Edge. All you need is a regular Disney World park ticket. Once you are in Hollywood Studios, follow your map or app to the back of the park and the entrance to Galaxy's Edge. If crowds are high, Galaxy's Edge may reach capacity and start requiring a scheduled entry time. When this happens, the status of Galaxy's Edge will change to "closed" in your My Disney Experience app. You will need to join a "boarding group" and receive a return time. This is a window of time you can return and enter the land. Feel free to enjoy the rest of Hollywood Studios during this time and make your way back to Galaxy's Edge when your boarding time arrives. There is no required time to leave after this, feel free to stay in Galaxy's Edge for as long as you like. Just know, if you leave and want to go back, you may have to join another boarding group. Keep checking the app for status updates!
Hours
During the first 3 days of Galaxy's Edge, the park opened at 6am to the general public. Starting on September 1st, 6am to 9am will be considered extra magic hours just for Disney resort guests, opening to the general public at 9:00. Check the app for daily schedules and time changes.
Read: New Sew BB-8 Tutu Costume for Girls!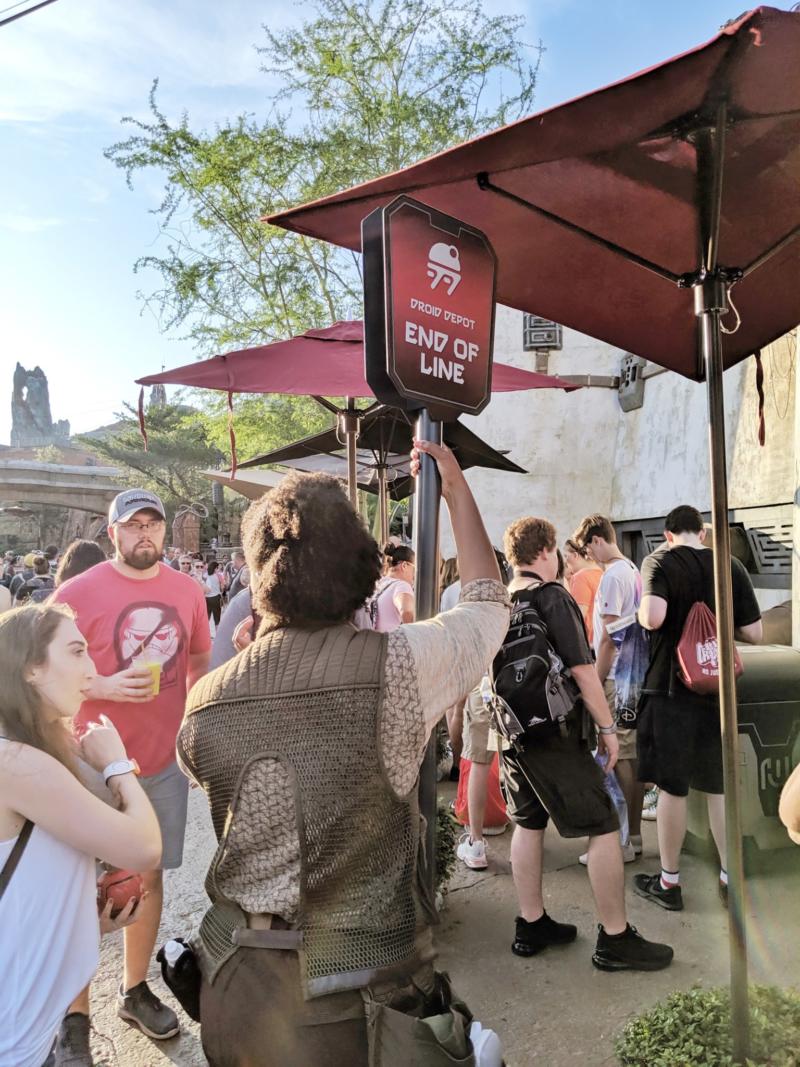 Authenticity
The imagineers behind the design and creation of Galaxy's Edge wanted you to feel like you were really on the planet Batuu. Disney is all about immersive experiences, which is what we all love about them! But here's the thing – on Batuu, this can be a really cool thing, or really annoying depending on how you look at it.
What we Loved:
Walking into Galaxy's Edge and being greeted by cast members calling out "bright suns, fellow travelers!"
The sights and sounds down to every detail being themed
Even the bathrooms were a cool experience
Cast members were all dressed in authentic Batuu attire
Seeing a full size Millennium Falcon
What You Need to Know:
Don't even attempt to ask a cast member for directions to "Toy Story Land" or "Star Wars" merchandise. You might get frustrated by there seeming lack of helpfulness until you realize they're just so deep in character, they can't help you! When we asked where the path to Toy Story Land was, the answer we got was "I've never heard of that land, it must be in a galaxy far, far away." When I asked where to find Star Wars shirts the answer I got was "what's Star Wars?" When I attempted to reword my question I was answered with "those must be off planet." Meaning: out in the main park area, not in Galaxy's Edge.
If you want anything that says "Galaxy's Edge" you'll have to find it elsewhere in the park. All Star Wars souvenirs are spread throughout Hollywood Studios. The only items for sale within Galaxy's edge are more authentic things like Jedi robes, shirts that say "Black Spire outpost" and realistic stuffed animals that you could "adopt" instead of purchase.
Read: Free Star Wars Party Printables and Epic Party Ideas
Lingo
There are a few phrases you need to know before visiting Batuu:
"Bright Suns!" – Good morning
"Till the spire" – Till we meet again
"Off planet" – Outside of Galaxy's Edge
"In a galaxy far far away" – Outside of Galaxy's Edge
"Riding moons" – Good evening
"Younglings" or "Padawan" – Child
"Younglings transport" – Stroller
"Hydrator" – Drinking fountain
"Refresher" – Restroom
"Data pad" – Smartphone
Warning: be cautious when using the phrase "May the force be with you." If Storm Troopers are within earshot they may start interrogating you!

Smugglers Run
Smugglers Run is a fully immersive, interactive ride like no other! I'm not sure I'd say it was my favorite ride at Disney World, but it is definitely worth the wait to experience it. The appeal to this ride is the entire experience leading up to the actual "flight." Once on board, you have a few minutes to walk around the Millennium Falcon and take pictures before heading to your seat. Each member of your 6 person crew is given a job assignment (2 captains, 2 gunners and 2 engineers). During the ride, you must perform your assigned role to ensure the Falcon's successful mission. I was a Gunner on my first mission aboard the Falcon. I sat in the middle row and was responsible for firing the blasters at oncoming Imperial ships. Each time you ride will be a different experience!
Smugglers Run is currently, the only ride open at Galaxy's Edge, with a second ride scheduled to open later this year. This is the number one attraction at Galaxy's Edge with the longest wait. Currently, there are no Fast Passes available for this ride, but I expect Disney to begin this feature sometime soon.
Honestly, I felt like this ride was just a new and improved Star Tours. I'm not necessarily bashing it, because it was definitely fun! Like I said, it is worth the wait for the entire experience of boarding the Millennium Falcon and truly feeling like you're operating a ship that is flying through space. You're in a smaller group, there are no 3D glasses, it just feels more legit!
TIP: Use the SINGLE RIDER line to cut down your wait! This line isn't always open, but if it is, you should definitely take advantage of it! We waited for just a little over a 1/2 hour compared to the 3 hour wait in the regular line. Our group of 4 was split up initially, but we still had a few minutes together on board the Falcon where we could grab a quick photo around the table!
Read: How to Plan for Mickey's Not so Scary Halloween Party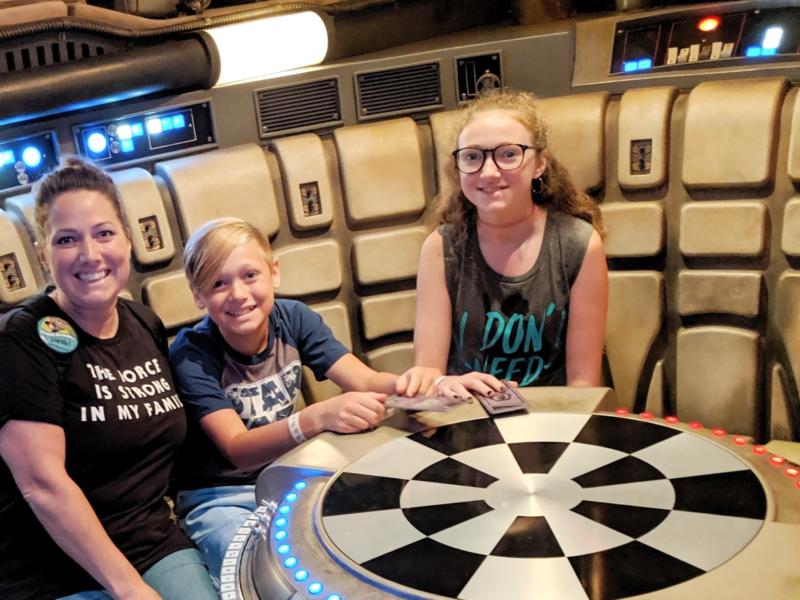 Food
In my opinion, Hollywood Studios was in desperate need of some new places to eat. I'm excited by the addition of Galaxy's Edge and all the new restaurants! Galaxy's Edge features several quick service options and one table service restaurant that feature authentic cuisine from out of this world. From blue milk, to ronto raps, I can't wait to try them all! Currently, Ogas Cantina remains one of the hottest reservations in the park. Don't even think about sneaking in for a picture without a reservation. Resort guests can make reservations up to 60 days in advance, while regular ticket holders can at the 30 day mark.
TIP: If you're unable to make a reservation, keep trying the night before and the morning of. People do change their reservations at the last minute, so it doesn't hurt to keep looking!


What We Tried
While we were there, we were unable to get into Oga's Cantina, but we sampled a few things that were super fun and less expensive!
Outpost Popcorn Mix from Kat Saka's Kettle – if you're a kettle corn fan, you will enjoy this mix of sweet and spicy! We upgraded to the souvenir bucket.
Blue and green milk from the Milk Stand – While neither one was amazing in our opinion, we all preferred the blue milk over the green.
Thermal detonator Sprite and Coke – We bought one of each bottle which can be found at stands throughout the park and at Kat Saka's Kettle. The kids each got one to keep as a souvenir.
Read: How to Plan a Disney World Vacation for Under $1,500!!

Shopping and Souvenirs
Like I mentioned earlier, everything here at Galaxy's Edge is authentic and completely immersive. That means, you won't find the same "build a lightsaber" toys like you find at Disney Springs and in other Disney Parks. Here, you must make a reservation to experience an interactive lightsaber building class to make a "real" lightsaber. You won't find regular souvenirs with phrases like "Disney World" or "Star Wars" on them. The shops at the Black Spire Outpost are more of an authentic experience. This is shopping as an art form. Star Wars geeks, rejoice!
Droid Depot: Purchase a droid and build it, or stop in to watch the process. Reservations required. Cost is $99.99 per droid.
First Order Cargo
Savi's Lightsaber Building: Reservations required! This is a lightsaber building experience for one paid person and their guest. The cost is $199.99 per lightsaber.
Dok-Ondar's Den of Antiquities
Black Spire Outfitters
Creature Stall – adopt a creature!
Toydarian Toymaker
TIP: My favorite souvenir was the reusable shopping bag for $2.50! These are not hanging in a visible spot because they take away from the authentic look of the area. You have to ask for them, but most shops in Galaxy's Edge have them under the counter.
Limited Release Merchandise
If you're looking for limited release merchandise, you'll want to act fast! Shirts, pins, hats and lanyards can all be found at Disney resorts and throughout the Hollywood studios, but NOT within Galaxy's Edge!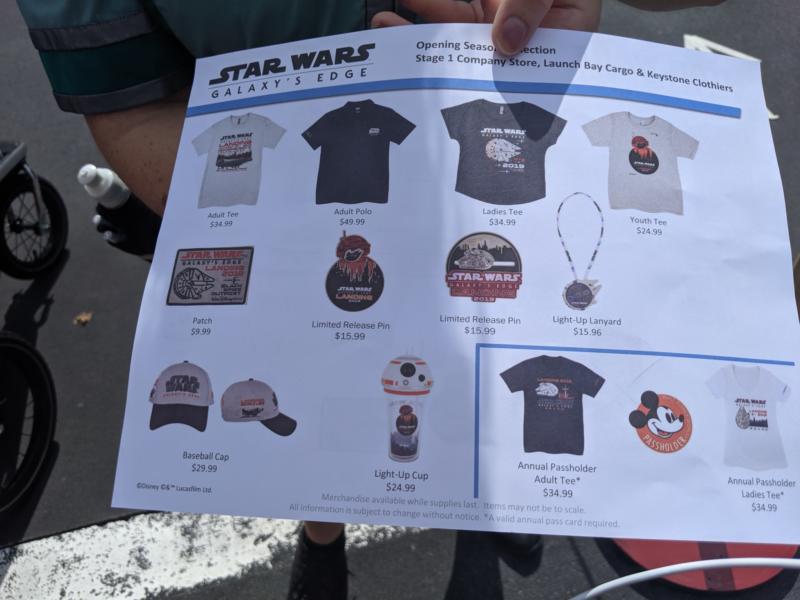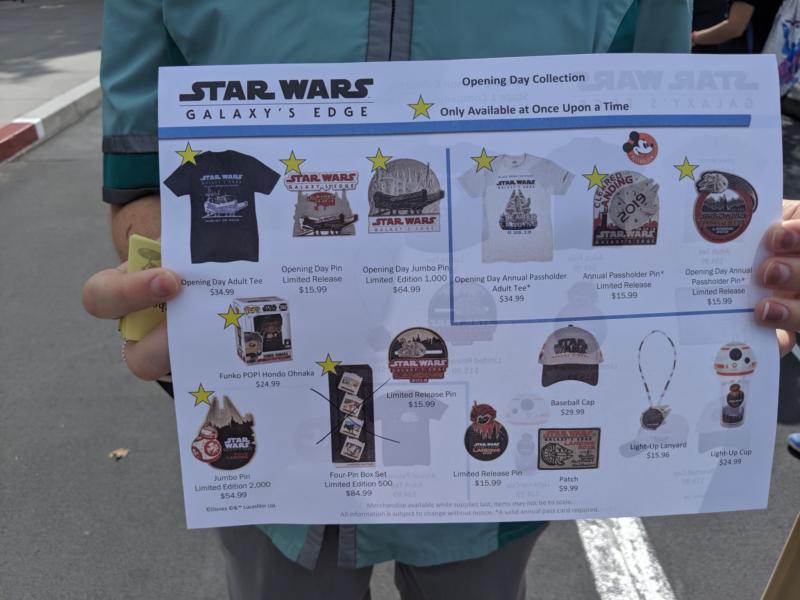 Common Questions
Q. Are costumes allowed?
A. Children 13 and under are allowed to wear costumes at any time. Adults wearing "Disney bounding" or Star Wars inspired clothes are allowed. No full costumes, masks, face paint, military style clothing, realistic weabons, etc. We saw adults wearing Rey and Princess Leia outfits. Go HERE to read more.
Q. Do I need a separate ticket to Galaxy's Edge?
A. No
Q. What time should I get to the park?
A. I always recommend being to the gate at least 1/2 hour before the park is scheduled to open. If you're staying on property, allow yourself a 1/2 hour for travel and parking.
Q. Are there fast passes available for rides in Galaxy's Edge?
A. At this time, no.
Q. Can I bring lightsabers into Galaxy's Edge?
A. Children may bring toy lightsabers, but realistic ones are not allowed. If building one within Galaxy's Edge, the lightsaber must be kept in the package.
Q. Can I fly with a lightsaber or thermal detonator bottle?
A. As of now, the official word I am hearing is "yes!"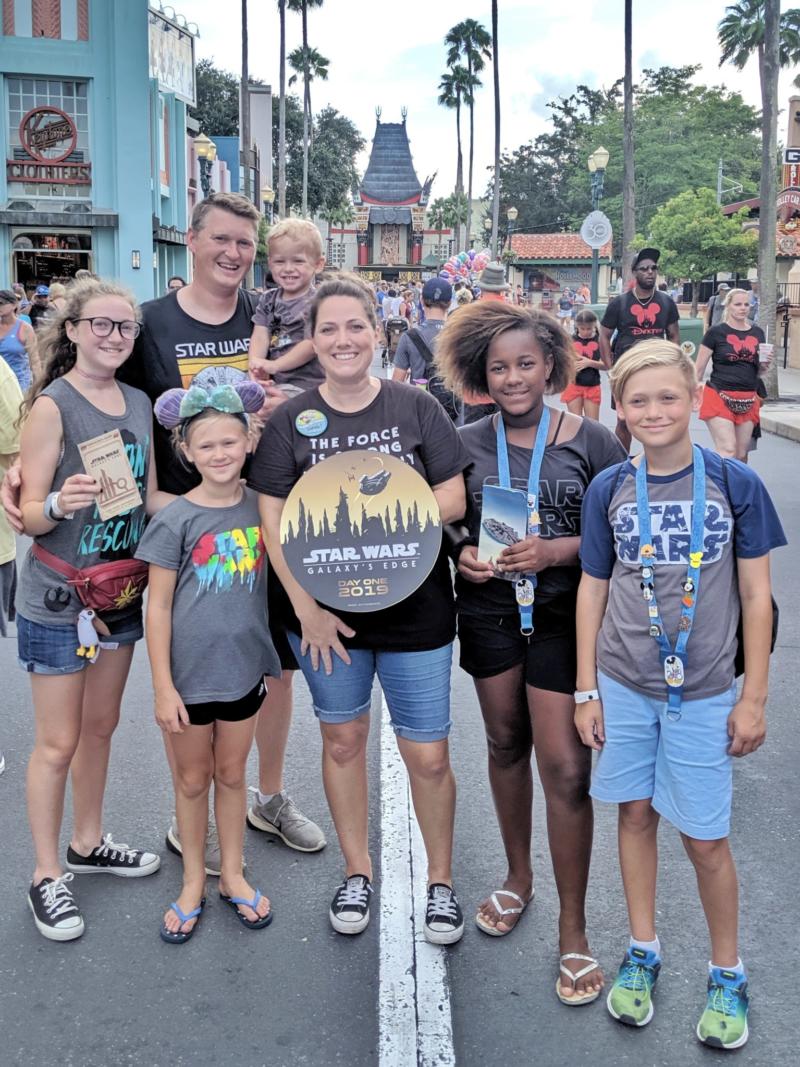 Pin-It!

You Might Also Like…
How to Plan a Disney Vacation for Under $1,500