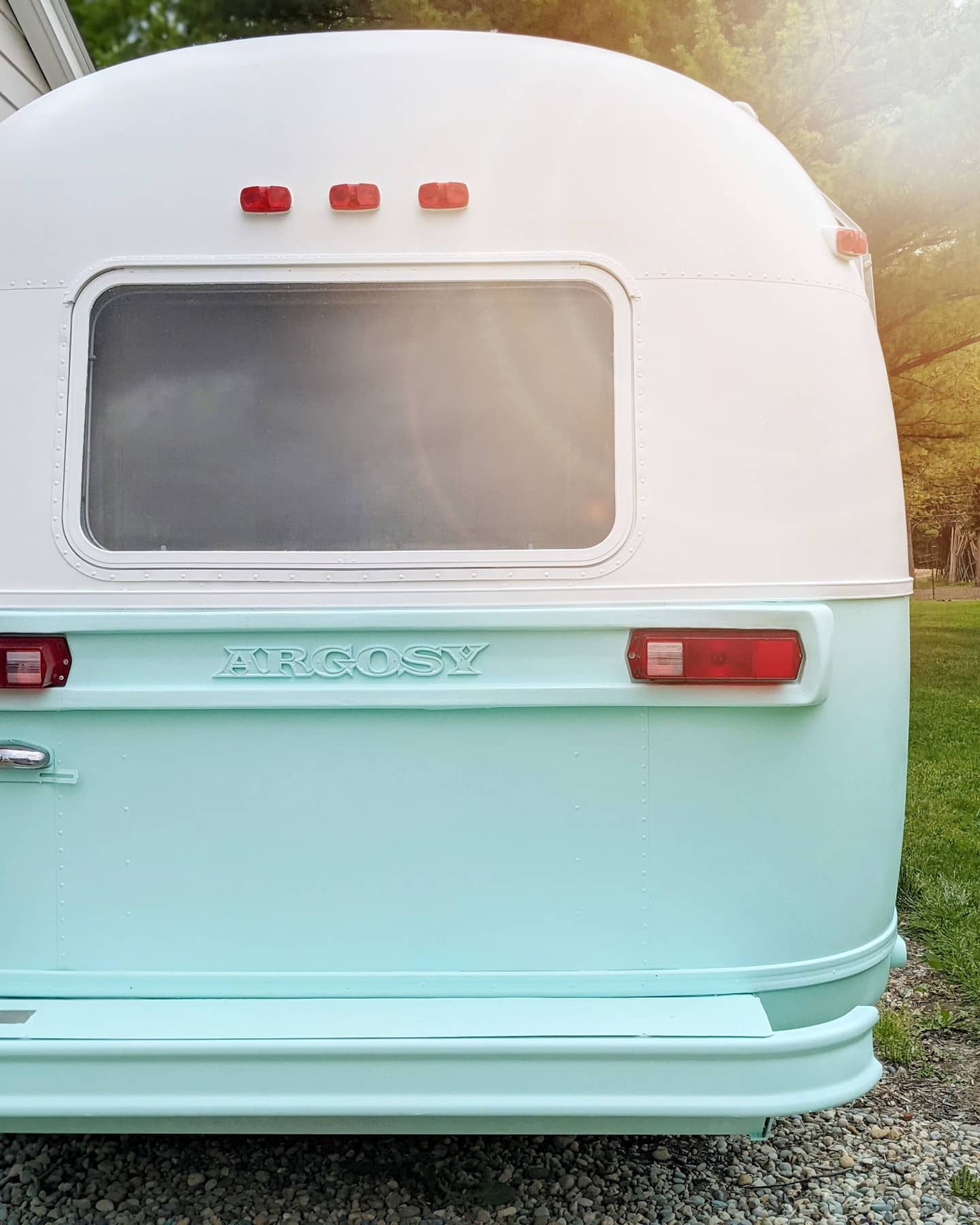 Airstream Argosy Exterior Paint
Today I am sharing the details on our exterior paint job for the Argosy! If you missed the before pictures and little history of the Argosy that I shared, you can find it here: Airstream Argosy Before. If you have followed me for a while now, you know that I have painted the exteriors of A LOT of RVs. It's kind of my thing. I don't do it the "professional way" per se. It's more of the "make it look better than it did" way. My moto is "done is better than perfect." However, with this Argosy, I really wanted it to be perfect!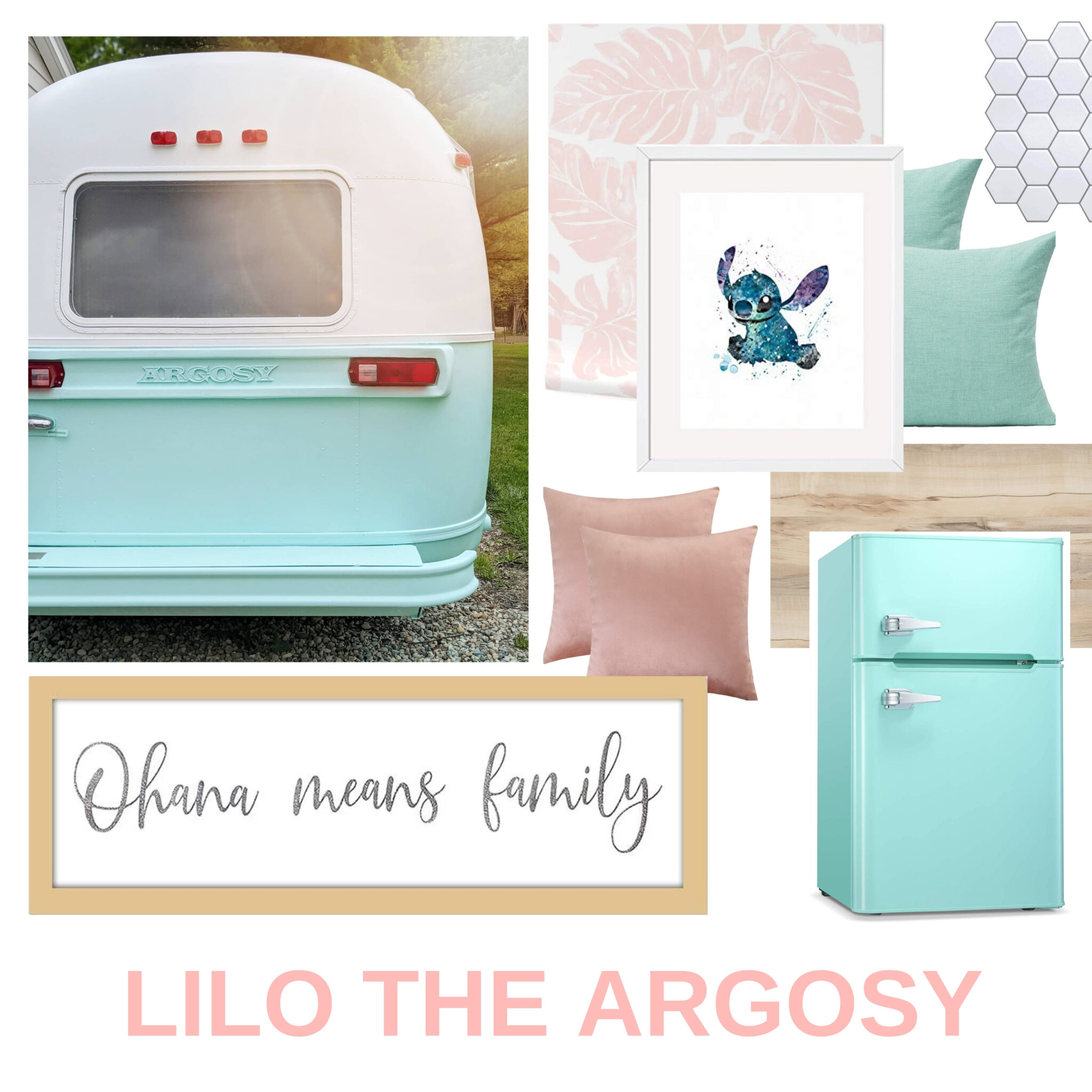 The Plan
I love starting with a mood/design board to give me a big picture goal for my project. I played around with colors and ideas to finally settle on this dreamy teal and pink theme. We decided to name our Argosy, Lilo after Lilo and Stitch. I liked the idea of a tropical vibe and also wanted something with a subtle Disney nod. After choosing colors, I started the prep work.

Prep
Regardless of the type of paint or technique you use, the prep is basically the same. I sanded the original paint really well to smooth any rough edges and remove any remaining gloss. Then, I power washed everything really well, including the roof. I re-caulked around windows and seems, removed light covers and covered windows and wheels in plastic.
Priming and Paint
I studied up on this long and hard. I spent weeks, watching YouTube videos and reading blog posts. I joined several Argosy Facebook groups and read multiple threads in several vintage forums. I really thought this was finally the moment when I would abandon my paint roller and latex paint and use a professional grade automotive paint. I DID research automotive paint, I even looked into renting a paint booth to do a professional job.
I also spent a lot of time researching the "roll and tip" method used with marine paint on boats. This method uses oil based marine grade paint, and is rolled on and then "tipped" off with a brush to smooth out any bubbles. In the end, I was nervous about this method because I had never done it before and because of all the different surfaces on the Argosy. Because the Argosy has an aluminum shell and steel end caps, you need a primer/paint that will adhere to both.
In the end, I was too nervous to try something new. My reasons for painting the way I have all these years has held up. I like doing what I am confident in, to get the quality results I can count on. My latex paint has always served me well. I have painted numerous RVs and vintage trailers with exterior latex paint, so that is what I decided to use. Specifically, I went with the same paint I had used on my first vintage camper, Gidget.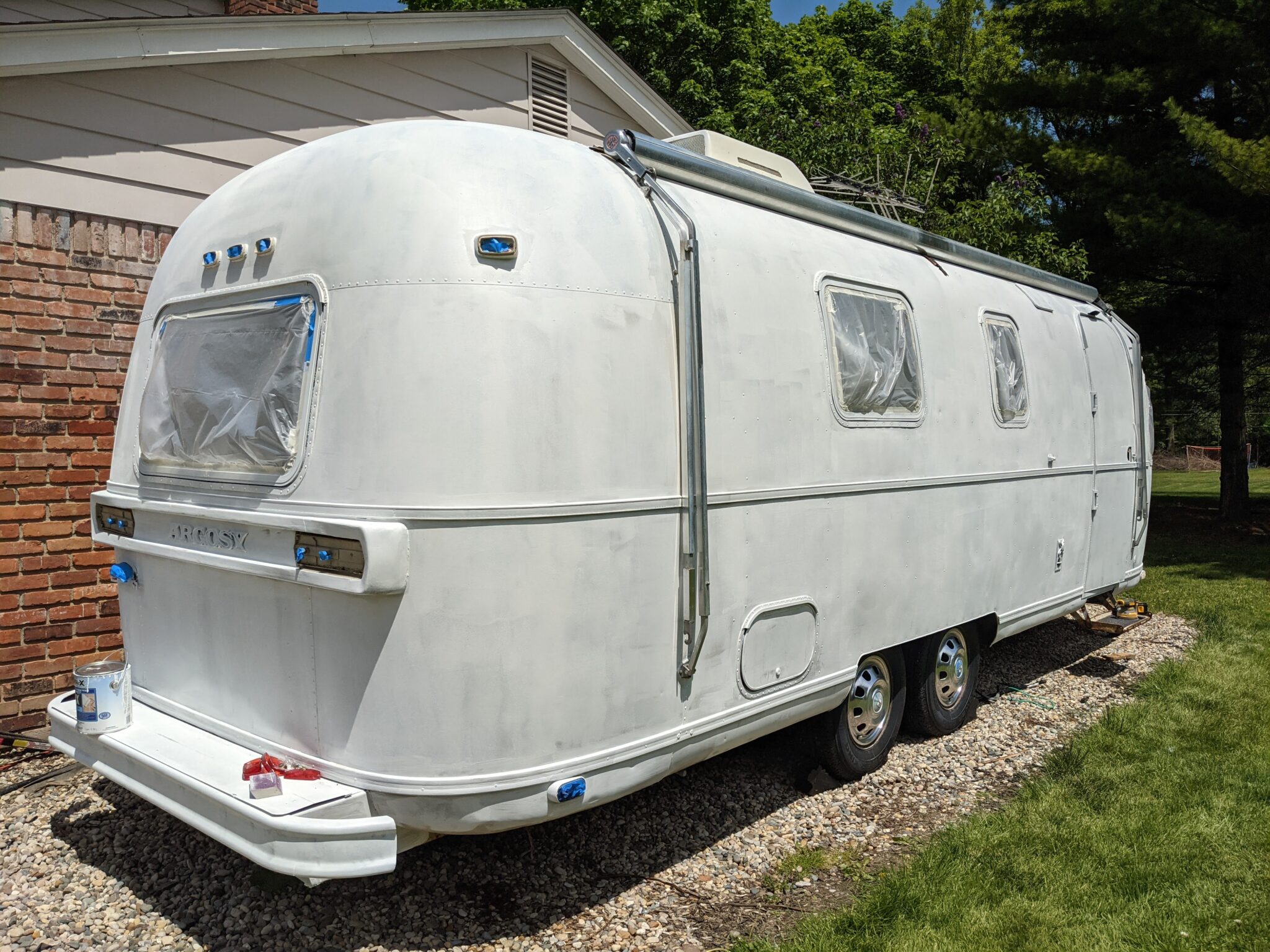 Spraying Vs Rolling
I have always used exterior latex paint in an eggshell finish and have rolled it on using a regular roller. You can read all about that HERE. What I did decide to do differently this time was to use a paint sprayer. I have never had amazing success with sprayers, but had recently purchased THIS ONE and absolutely love it. I have mastered the art of rolling without showing lines, and am pretty confident in this. A paint sprayer has the ability to go on much smoother, but I found it was pretty tricky to get an even coat without getting drips. More on this below.

Specifics
I chose to use latex paint because I've used it successfully many times, but I did use a sprayer this time for the first time ever.
I chose to use Stix acrylic-urethane bonding primer because I had used it on Gidget and knew it worked well on aluminum.


"Unparalleled adhesion to the most challenging surfaces, including glossy tile, PVC, vinyl, plastic, glass, glazed block, glossy paint, pre-coated siding, fiberglass, and galvanized metals. Bonding primer for drywall, plaster, ceiling, acoustical tile, wood trim and doors, Formica, ceramic tiles, glossy surfaces, PVC plastic, masonry walls, wood, trim, shutters, masonry, stucco, concrete, cement block, galvanized metal, aluminum, and other challenging surfaces. Bonds to "hard-to-coat" surfaces and can be top coated with almost any product."

I used Benjamin Moore Advance paint in high gloss in the colors "White" on top and "Florida Aqua" on the bottom. I have used Advance paint on my kitchen cabinets and also used it on Gidget for the top color. Because it is marketed and sold along side Stix primer and I had used them together before, I figured I'd play it safe and use them together once again. Advance paint has excellent self-leveling ability for a smooth finish and minimal "orange peel" texture.
I sprayed both of these on with this Graco Sprayer.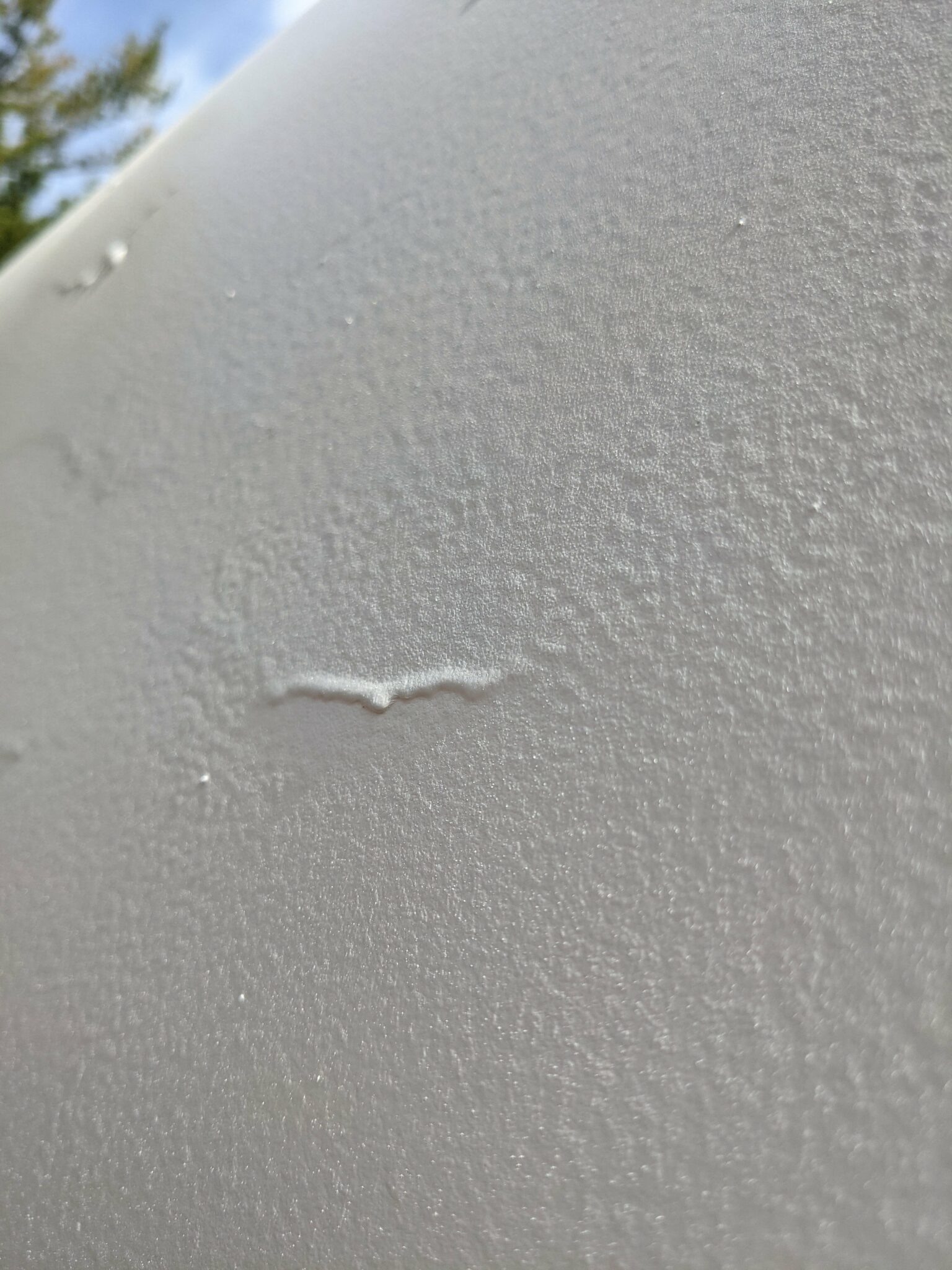 Am I happy with the Results?
Do I like the results I got? The short answer is no. I have always been happy with my paint jobs in the past, but this one was different. I'm not sure if it's because the spray was too thick or it was too humid, or because I was working with a high gloss paint instead of an eggshell, but I dealt with a lot of runs in the paint. I spent way more time doing multiple coats and sanding between coats because of the drips, then if I had just rolled it on. I also found it was really hard to get a even coat with the high gloss. Once everything was dry, the glossy finish was very blotchy and uneven looking. I then made the mistake of taking a foam roller to the final coat to stop the paint from running. Now I have a not-so-great coat of paint, and roller lines. After multiple coats and several rounds of sanding, I decided to try a soft wax to see if I could buff out the finish and even out the gloss.
Here is what I bought:
Did this help? Eh. I'm still not super happy, but it might have improved a bit. I may be overly critical about it. I know many of you are thinking, what do I expect from latex house paint? The thing is, I have always had great results with house paint. Again, I've painted multiple RVs using latex exterior paint. What I changed in this scenario was the use of high gloss instead of eggshell and a sprayer instead of a roller. If I were to do it again, what would I do differently? I'm not sure. I may have tried to do thinner coats with the sprayer, or I may have just stuck with a roller.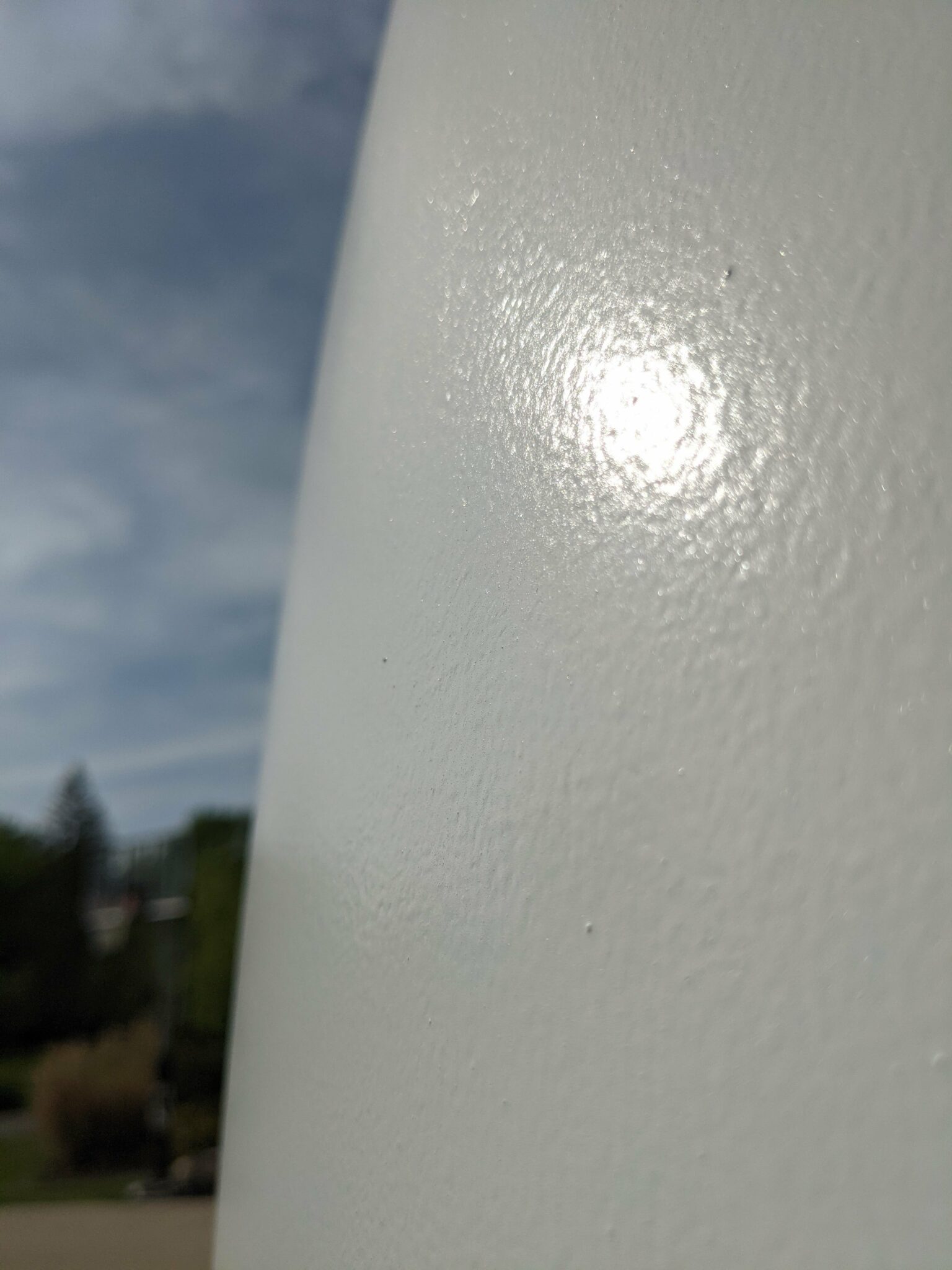 I enjoyed watching this video and others on this channel. He shows how he uses latex paint and buffs it to a high gloss. Yay for team latex paint!
This video shows the "roll and tip" method!
The End Results
In the end, if I stand back and look at the final product, it looks pretty good. Is it perfect? Definitely not. Is it an improvement? Yes! What would I do differently next time? I'm not sure! That's DIY for you. Sometimes it works great, sometimes it is trial and error. I've done this countless times before and I'm still learning and adjusting as I go. I DIY to save money and it just wasn't in the budget to take this to a professional autobody painting company. The gloss gives the trailer a more professional finish and makes it easier to clean, but in the future I may stick with a more forgiving eggshell finish.
Still To Do
I still need to spray paint the step and the tongue. I installed a new power lift jack and will be painting the tongue black. There are also several lightbulbs to replace and covers to put back on. You'll notice that I painted over the Argosy name plate and went back over the letters with a small artist brush. Many people remove the "rub rail" insert that goes around the middle of the Argosy and replace it. Mine was in pretty bad shape but I decided to leave it and paint over it.