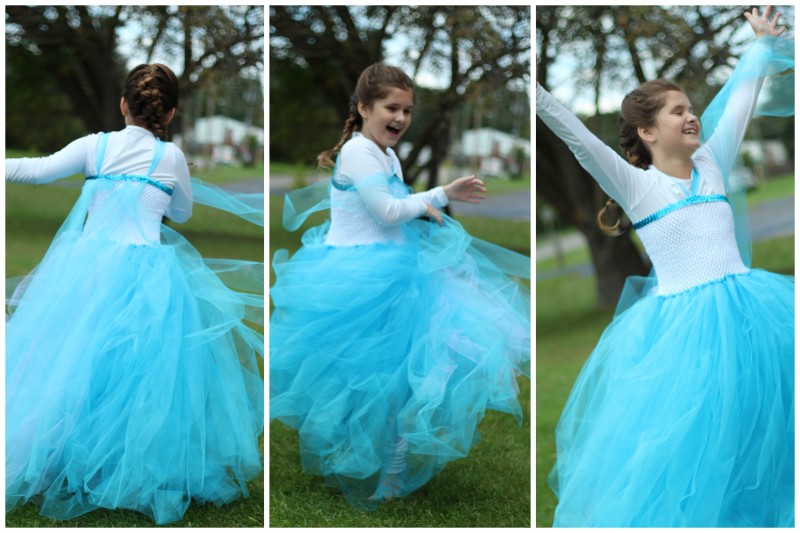 If you have a daughter any older than 8, good luck finding a princess dress that costs less than $50 and is not made out of fabric so cheap it will be in rags after one night of trick-or-treating. Seriously, if you've got other tips, please share!
I just happened to hit a great sale back in May at the Disney Store, and found some really nice princess dresses for around $20 which is almost unheard of. I bought 3 dresses to hide away till Halloween, knowing they would be hard to find come October. The dresses at the Disney Store, especially their "limited edition" or "deluxe" styles are VERY nice. But they're expensive. The dresses you buy at Halloween time in the costume isle, hardly last the night.
My friend Kristen came to me the other day and explained how hard it is to find a nice princess dress for her daughter who is 9. Most of the dresses out there are marketed at babies or toddlers and because she isn't old enough to fit an adult size, she was running into trouble. Well, I went to Pinterest for some ideas and we came up with a great solution that costs less than $20 and took only an hour to make.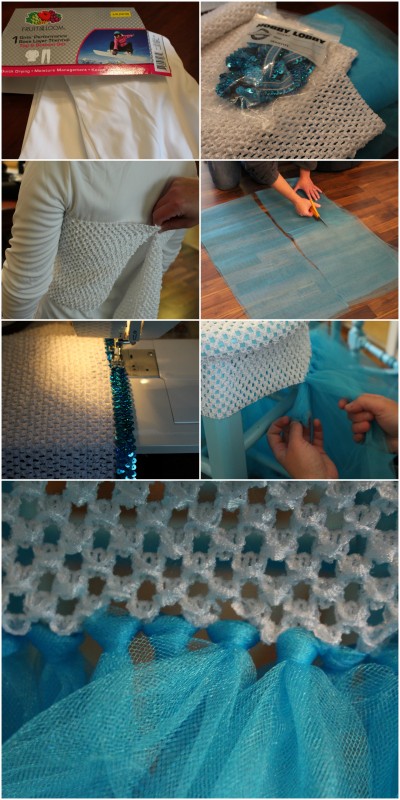 First off…
You have to believe me when I say: YOU CAN MAKE THIS!
This is definitely the easiest dress you can make with the cutest results!
Here's how…
Kristen picked up this great thermal top and bottom set from Walmart. I would link to it, but can't find it online. I bought a bolt of blue tulle, 1 yd. of stretchy sequin embellishment and 1 yd. of this white, stretchy woven material (yes, that's the technical name) at Hobby Lobby. I would have bought the blue version of the stretchy white material, but they only had white at the time! I thought I had bought enough tulle for several dresses, but turns out, this project uses A LOT OF TULLE.
     Top:
First, measure how much stretchy woven fabric you need to gently stretch around the torso of your model. We stretched it just tight enough to sty up and fit comfortably and allowed some extra for seam allowance. Cut to size.
If you buy the stretchy sequins like I did, you'll want to sew them onto the top of your white material first. Gently stretch as you sew so both materials remain stretchable (does that makes sense?)
Now, turn right sides together and sew the two ends together to form a tube top.
Congratulations,

you are done with the sewing.

 That was seriously it.


Bottom:

Cut strips of tulle about 6″ wide and long enough so when folded in half, they make the full length of the skirt.
Push the "loop" end of your tulle through the first hole in the bottom of your tube top, from the front to the inside. Now, pull the loop down and thread the ends of the tulle through the loop and pull tight.
Do this all the way around, threading tulle through every hole all the way around the bottom of the tube top.


Straps:

Once the bottom is done, have your model try the dress on.
Take a strip of tulle and thread it through a hole at the top and center of your tube top. Thread another end through and pull so you have equal lengths coming out the back.
Bring a piece up over the shoulder and knot on the other side of the tube top. I knotted mine under the sequin boarder to hide the knot. Let the access tulle hang for the cape.