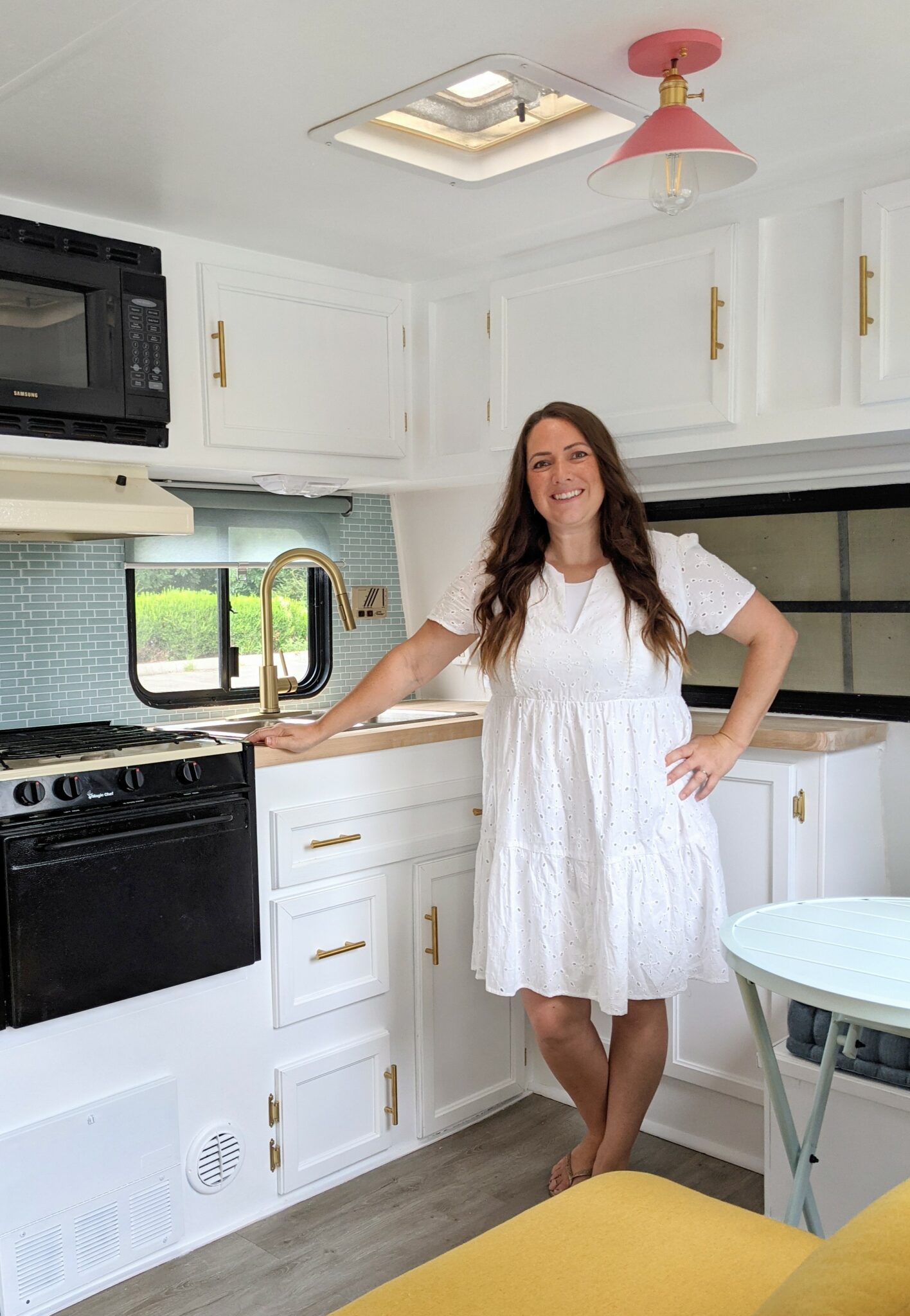 How to Paint RV Cabinets
How to paint RV cabinets is one of the most asked questions I receive on a regular basis. The reason I think people ask it so often, is because there are so many different opinions out there and people just want to know which way is the best. It can be confusing! With so many people starting new renovating accounts and sharing their own methods, how do you know which way is best?
I've been painting homes since I was 13 and renovating RVs for almost 10 years. I've tried numerous techniques over the years and have tried every brand of paint and method. I've made mistakes by trial and error, and I'm going to share with you what I now do for every single one of my RV renovations.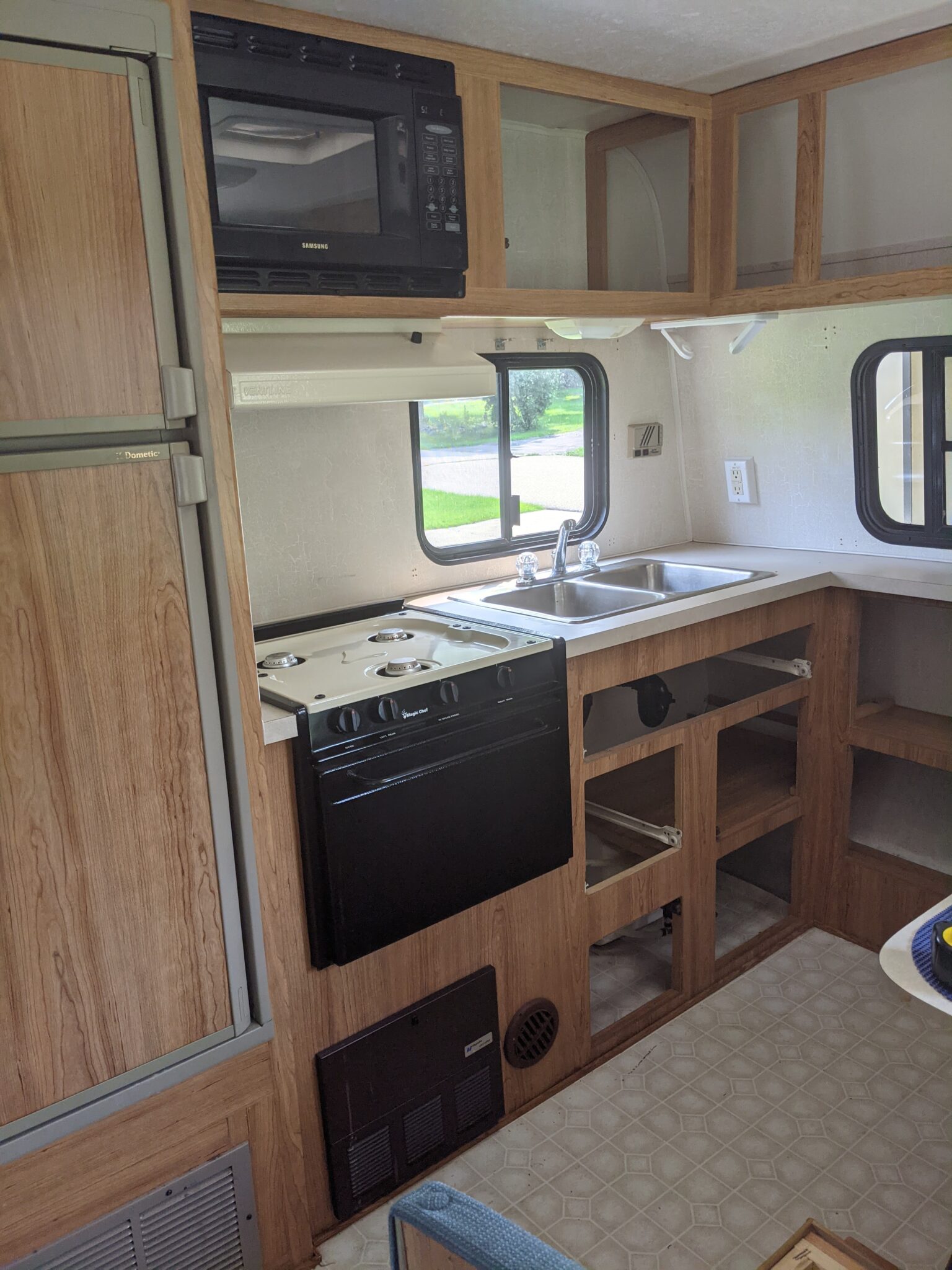 Prep Work
Solid wood cabinets will take paint a lot better than laminate or other types of faux wood. I love older RVs that were made with solid wood cabinets. Most newer models are designed to be lighter weight, and the cabinets are made of a lightweight particleboard with wood or laminate veneer. Regardless of the type of cabinet, I thoroughly prep the surface using the same steps and technique.
Remove all handles and hinges.
Lightly sand all surfaces (over sanding will cause the wood to swell).
Wipe all surfaces down with a liquid sander. Not everyone does this step, some people prefer the use of TSP or water. I've always had good results with liquid sander, so that's what I use. Find it here.
Allow to dry thoroughly.
READ: How to Paint RV Walls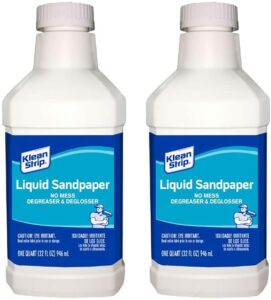 Liquid Sandpaper removes grease and gloss, helping paint adhere better.
Find it HERE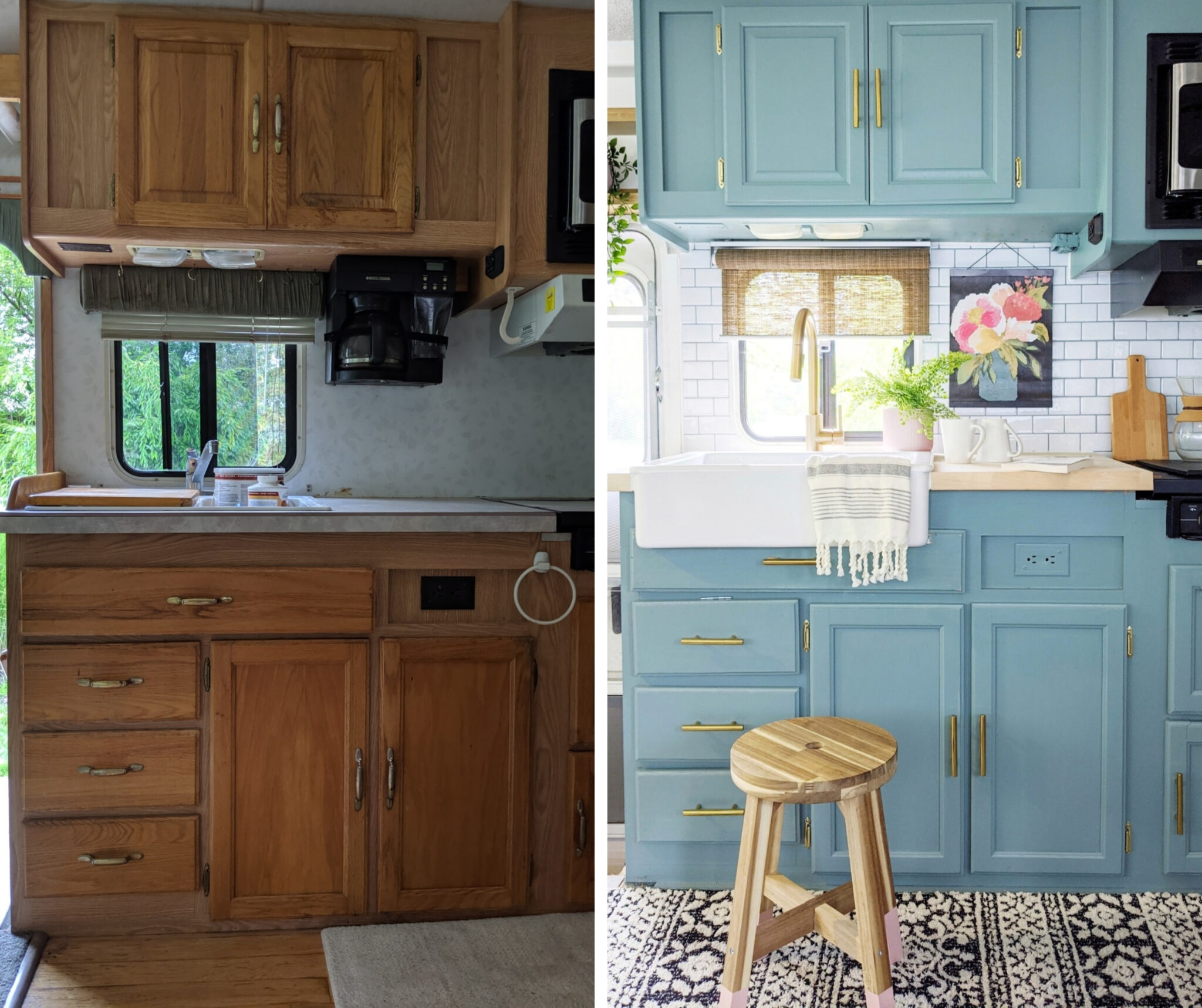 Equipment
I have sprayed and rolled paint onto cabinets and there are times that call for both. I don't necessarily feel that one is better than the other. If you are careful of your brush strokes and use a quality roller, a rolled cabinet will look great. Most paint on the market today does a great job of self-leveling. However, spraying does tend to go on smoother and will go faster. Keep in mind that spraying is messier and takes extra prep to cover areas you don't want painted. I prefer to spray when I'm going to be renovating the rest of the camper anyway and it doesn't matter if the walls or floor get some overspray on it.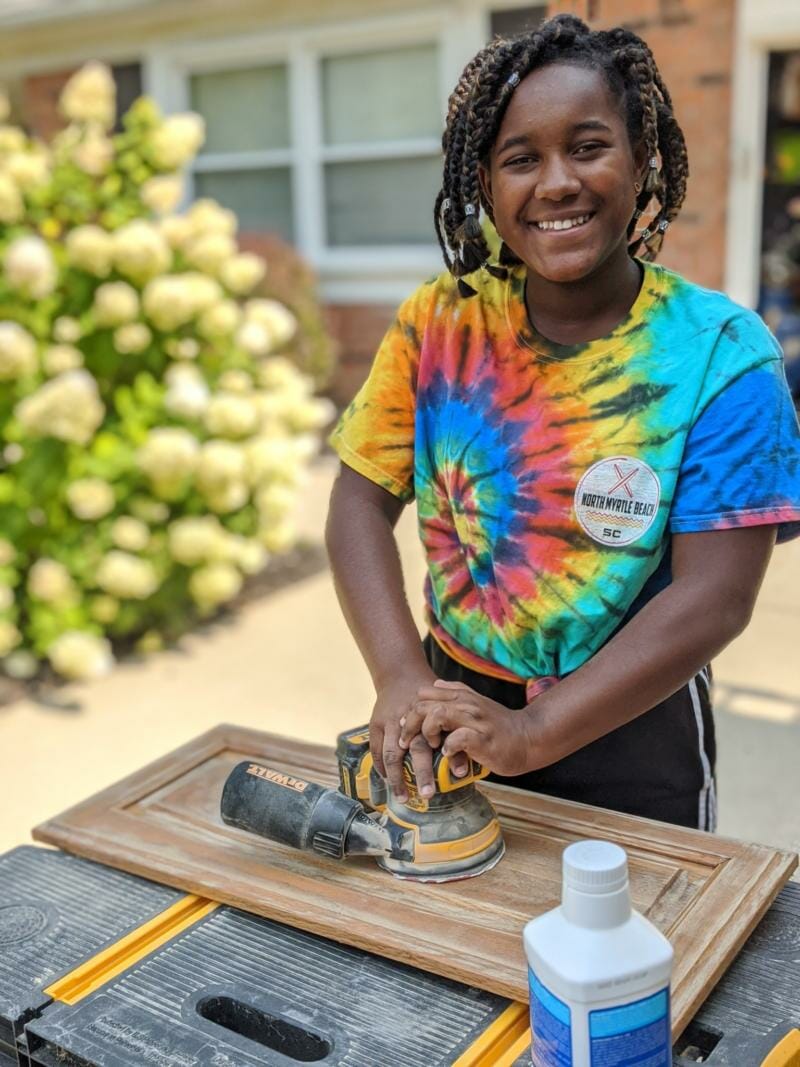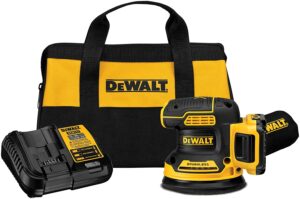 Invest in an orbital sander. Believe me, your arms will thank you!
This is the one I have, find it HERE or HERE
Prime
After the prep is done, it's time to prime. Over the years I have used paint and primer in one, chalk paint and other painting techniques that promise easier results. While paint and primer in one is great for painting over RV wallpaper, I prefer to use a separate gripping primer on cabinets or any wood/laminate surface. My preferred primer is Gripper primer found at the Home Depot. My favorite higher end brand is Stix. However, I have used several brands and haven't seen a huge difference. The brand is not as important as the prep.
Some renovators only use oil based primer. I have used oil based paints on occasion, but have always had good success with latex, so that is my paint of choice. Latex is way easier to clean up and creates less fumes.
Allow primer to thoroughly dry between coats and before painting. It will be dry to the touch in no time, but it won't fully cure for several hours. I find that the longer I give a primer to cure, the better it holds up.
Read: How to Paint an RV Exterior
Paint
I have used numerous brands and types of paint over the years. Again, I don't see a huge difference in the quality. The prep is more important than the amount of money you spend on paint. With that said, my go-to paint for cabinets is Behr Ultra Scuff Defense from the Home Depot. My high end favorite is Benjamin Moore Advance paint. I almost always use an eggshell finish but have also done satin. I do not like semi-gloss for anything and flat is not easily cleaned.
Read: How to Whitewash Cabinets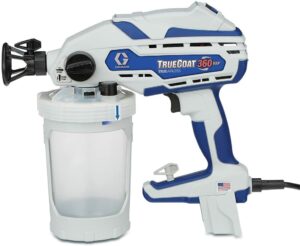 Investing in a paint sprayer will save you hours of work!
This is the one I have, find it HERE or HERE
Additional Tips
Remember that all paint will cure at different times. Read the can carefully and remember different brands will require different drying times. Your weather will also impact dry time. The best painting conditions are between 50 and 85 degrees with low humidity. If painting during the Summer in a camper, it will be best to run your air conditioner. If it's too humid, your paint will literally slide off the walls! Paint will not be fully cured for several days, so treat it with care during this time!
Read: How to Paint an RV Dash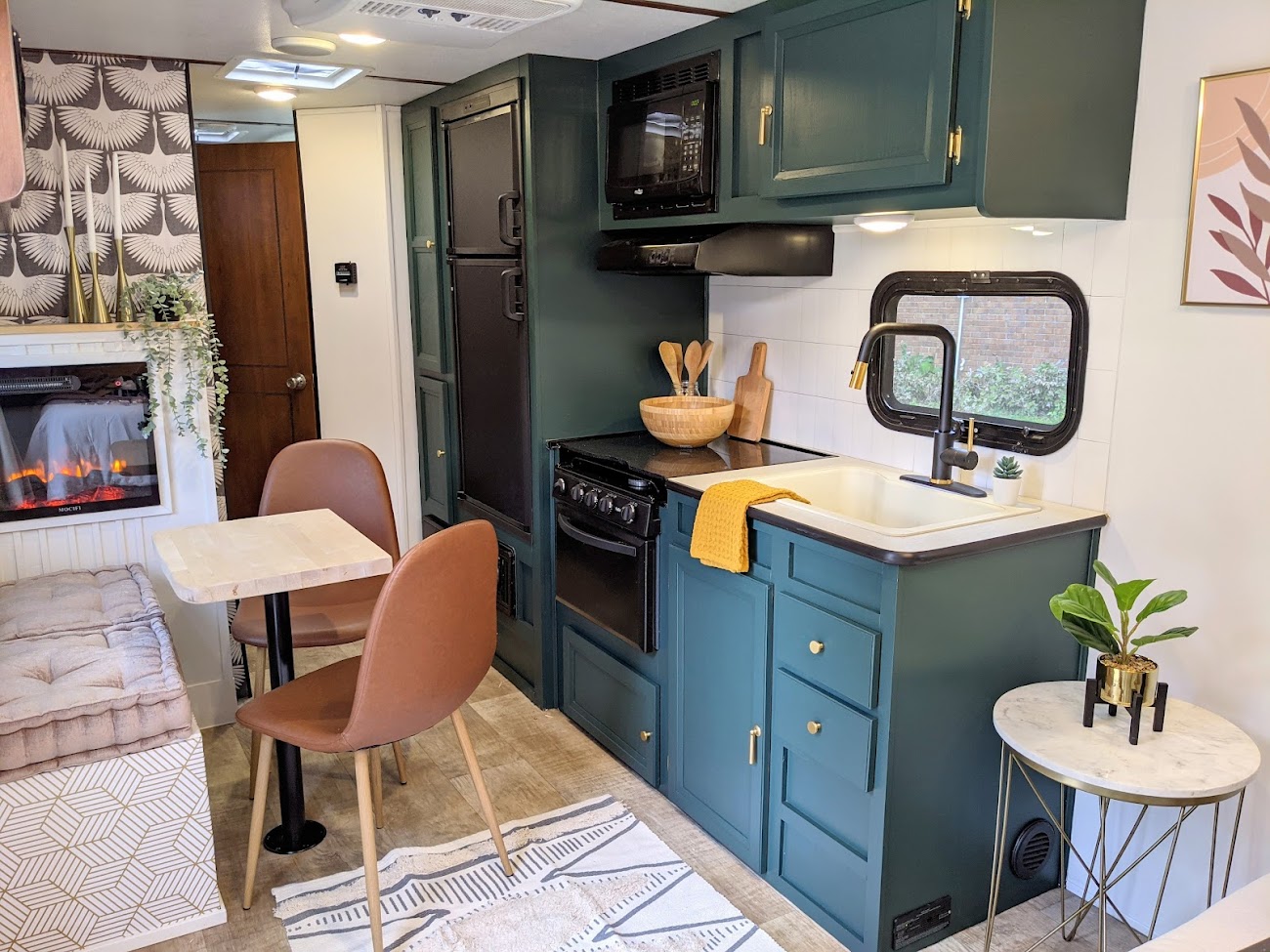 Pin-It!