Keeping Your Kids Active While Stuck at Home
Because of the COVID-19 Coronavirus outbreak, many of you have found yourselves stuck at home for the foreseeable future! Many schools are closed and some of them have provided families with online resources and homework to do. Others haven't come up with a game plan yet, and parents are concerned about all this time off of school and what it means for their child's education. Maybe you're concerned about continuing education, and maybe you're just looking for ways to keep your kids entertained without giving up and allowing unlimited screen-time!
Let me clarify, I used the phrase "stuck at home" to catch your attention. But "stuck at home" has a really negative connotation, doesn't it? If you are blessed with the ability to stay at home with your kids while their school is closed, take advantage of the gift of time that you have been given! Make the most of this very unique situation we find ourselves in and come up with a plan that encourages creativity, imagination and growth.
Our Schedule
Our situation is a little unique. I am a second generation homeschooler, with 3 kids currently at home and 2 that started at public middle school this year. There was a brief time period where all 5 were at home (4 of them were school-aged at the time) and I was homeschooling everyone. With 2 at public school and the rest at home, we've adapted our schedule a bit to fit our needs. Now, with all 5 back at home, I am frantically searching for a groove! Here is what our newly revised daily schedule looks like (notice there aren't real times, just a routine):
Early morning: Wake-up, eat breakfast, get dressed
Educational time: Homework, homeschool curriculum, online educational resources
Lunch: Kids prepare their own and help with Asher
Chores: Everyone has assignments that must be done each day before they are allowed to do video games or electronics. On top of their specific chores, their room must be clean as well.
Active Play: Everyone has to do something active each day. Whether it is just playing outside, running around, going for a walk or jumping on the trampoline. Our older girls are usually required to go for a mile walk or run and finish under 20 minutes, unless they lower themselves to playing in the backyard.
Reading time: The kids will either read a chapter book for 1/2 an hour, or I will read aloud a book while they draw or color.
Electronic free time: During a normal school week, we don't allow electronics until after dinner and only once chores and homework is done. During these unusual days ahead, I have backed the start time up to 3:00 (as long as everything else is done first). I usually allow one episode of a show and an hour of tablet or phone time before cutting them off.
Dinner
Family time: This is usually when we would either watch a movie as a family, run to the store together or play a game.
Bed routine: Everyone gets PJ's on, brushes teeth, says "goodnight" and then listens to an episode of Adventures in Odyssey.

Make a Plan
I called a family meeting when we first got the news about school being closed. I wanted to communicate to the kids that this would not be one giant snow day and electronic free-for-all. But, I did want it to be fun and I wanted us to make the most of this opportunity. I told them we would be giving them more electronic time than usual, but that we would also be doing some educational activities of my choice. Find my suggestions for online educational resources HERE
I'm not sure what situation you're in, and if you have 2 weeks or 6 weeks off. But, can you imagine the things you could learn to do or accomplish in that amount of time? I encourage you to have your kids brainstorm up a Coronavirus Bucket List! What goals would they like to set for themselves? What would they like to learn while they are at home? Depending on your child's age, they might be able to take up sewing, or the guitar, or learn to cook!
READ: The Best Digital Education and Homeschooling Resources, Websites and Apps
Coronavirus Bucket List
Disclaimer: This is by far the weirdest thing I've ever created!!
In an effort to make the most of a bad situation, I created this Coronavirus Bucket List to help us set some goals for our extended time at home.
Download it HERE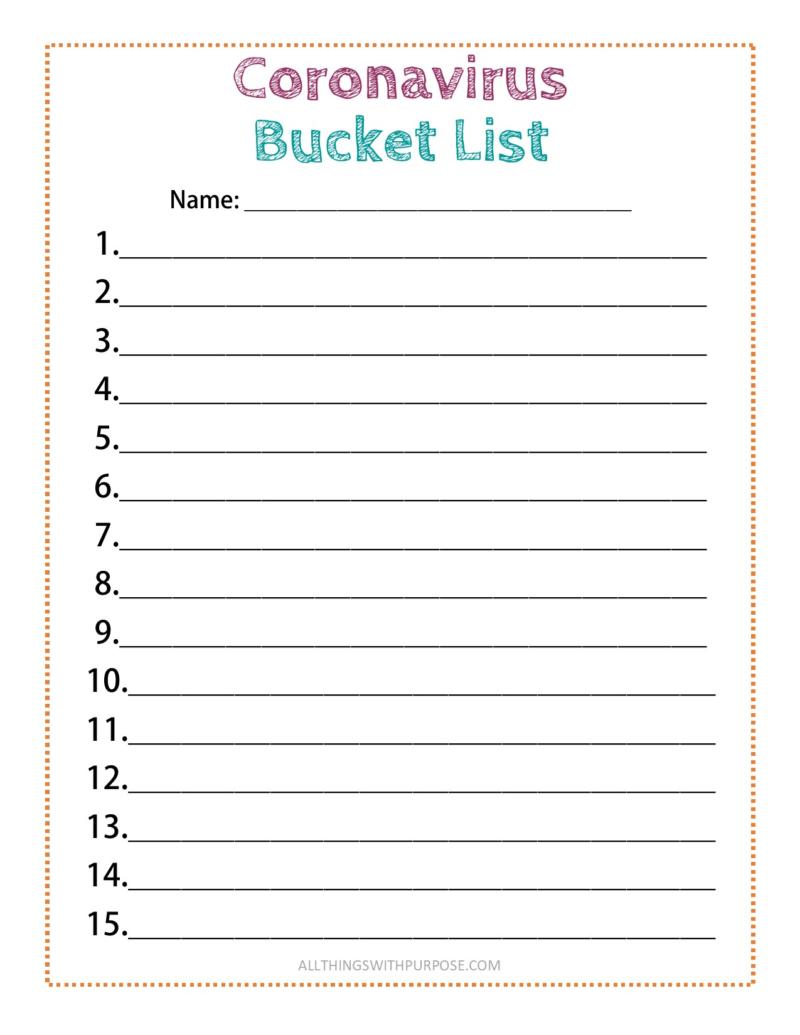 Create a Bucket List
Download my printable Bucket List HERE. Now, here are a some boredom busters, activities and DIY ideas to get you started!
BUILD A TREEHOUSE: Whether you hand your kids a pile of wood and some nails and let them go to town, or you follow a specific plan and create something awesome together, we can all agree that treehouses are the best! Find some inspiration and ideas from our DIY UP themed treehouse we made last Summer.
TEACH YOUR KIDS TO COOK: Start with some easy recipes or let your kids help prepare dinner! Making cupcakes together can be really fun, but don't forget to teach some basic meals that help your child feel more independent. By the time my kids were 7, they knew how to fix themselves a bowl of cereal, toast a bagel, make themselves a PB&J or grilled cheese sandwich and tomato soup. They loved being able to do it themselves and I loved the break from meal prep! By the time they were 10, they could make a box of mac & cheese, and by 12 they could bake chocolate chip cookies from scratch. If you find yourself at home for an extended period of time, make it a goal to have your kids fix an entire meal before school starts back up! Find some easy meal ideas here: Easy Recipes
MAKE CLEANING FUN: I feel like it would be a completely wasted opportunity if while your kids are at home, you don't make them clean something! Whether your goal is to get rid of a bag of clothes/toys each day, let them list unused items for sale on Facebook Marketplace, or print off my Deep Cleaning Bingo sheet, you should be including your kids in the cleaning responsibilities.
PLAY BOARD GAMES
MAKE A WREATH: Gather supplies from the dollar store and follow these simple steps: DIY Dollar Store Wreath
RENOVATE AN RV: While you were all stockpiling toilet paper, I sent my husband to Home Depot for paint, trim, flooring and caulk! If you've always wanted to renovate an RV, maybe now's the time? Have you thought about making it a family project? Read our story here: Our 1980's Trailer Renovation Project with all the Kids
THROW A DANCE PARTY IN THE KITCHEN
CREATE A SCHEDULE THAT WORKS: Set realistic expectations for your long stretch of time at home, but communicate these expectations to your kids. This is a really unusual situation, and they're probably looking to you to set the tone. If you're not wanting to allow 24/7 electronic use, set some ground rules ahead of time!
LET YOUR KIDS TAKE TURNS TEACHING YOU SOMETHING: Be sure to record it, this could be really funny! Some ideas: Have them teach you how to use Tik Tok, Minecraft, do the Renegade, etc.
BRING DISNEY WORLD TO YOU: Isn't it crazy to think that every single Disney theme park in the world (and the Disney Cruise Line) is closed at the same time? Feeling sad about canceling your plans to go to Disney World over Spring Break? How about having a Disney themed day! Make Disney themed snacks, dress in Disney attire and watch your favorite Disney movies on Disney+. Find some fun recipes here: Your Favorite Disney Food at Home
MAKE BLESSING BAGS FOR THOSE IN NEED: Find all my tips and free printable cards HERE
DECORATE THE DRIVEWAY WITH SIDEWALK CHALK
LEARN TO SEW: Check out my entire section on sewing for some really easy projects for the beginner. We've also got several sewing videos to help!
PAINT WITH ICE: This is such a fun craft using Epsom Salt! Find it HERE
GO FOR A WALK
MAKE A CRAZY SHAKE: What's even better than simple ice cream? Letting your kids create a wild, over-the-top sugar sensation, AKA the "Crazy Shake!" Find some ideas HERE
LEARN TO CROCHET: Search YouTube for tutorials and start with a basic chain.
LEARN AN INSTRUMENT: Dust off that old guitar, move the pile of laundry off of the piano, or download a digital keyboard! There are a lot of digital keyboard and note learning apps available for your tablet, and you can learn almost anything on YouTube.
READ A BOOK OUT LOUD: I absolutely love the times we have spent, reading a book together. Have your kids color or doodle while you read, to keep their hands busy. Make sure you choose an exciting book that keeps their interest! You can find some of my favorite read-alouds in my Amazon Store
CAMP OUT/IN AND BONFIRE: If you don't have the ability to do an outdoor bonfire, do you have a fireplace you can roast marshmallows over, or a grill you could use? How about setting up a tent inside or having a giant slumber party in the living room! Find some great new ways to create a S'more HERE
Pin-It!